Spring questions: Coaching changes
March, 20, 2013
3/20/13
9:00
AM ET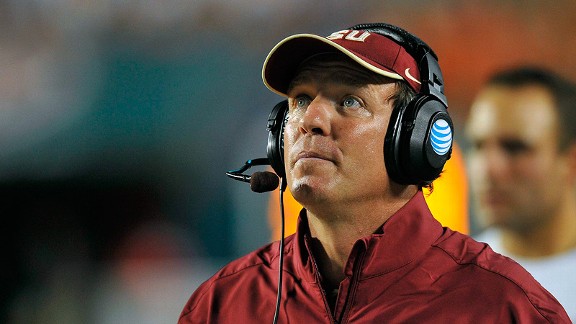 Steve Mitchell/USA TODAY SportsFlorida State coach Jimbo Fisher will be looking to six new assistant coaches for counsel this season.
Editor's note: Each day until the start of spring practice, we'll pose a question facing Florida State's football team as it moves toward the 2013 season. Today's question: Will new coaches bring big changes for FSU?
TALLAHASSEE, Fla. -- Jimbo Fisher said he's eager for spring practice to begin because it offers the first incites into the personality of this upcoming season's team. For the first time in four years, however, his players might be able to say the same about the coaching staff.
To continue reading this article you must be an Insider
Insider
Florida St. Hosts 2015 Targets vs. Clemson
National recruiting reporter Gerry Hamilton discusses ESPN 300 recruits who plan to take in Florida State's game Saturday against Clemson.
Florida St. Hosts 2015 Targets vs. Clemson
VIDEO PLAYLIST
FSU FB RECRUITING SCORECARD
Noles247

Noles247.com


Jimbo's talk with Jameis http://t.co/HM63o9OZS9 via @Noles247
8 minutes ago

DeionSanders

DeionSanders


Much Love. http://t.co/FIhzIZTQ7z
9 minutes ago

NolesTV

NolesTV


@FSU_Football's Sean Maguire believes he is ready for his first career start. http://t.co/hxzXmVPTU1 #Noles
12 minutes ago

DeionSanders

DeionSanders


I Love this dude to Life! Jesse Solomon! #Truth http://t.co/lAp96Gz0CZ
13 minutes ago

DeionSanders

DeionSanders


1 of my hero's Jesse Solomon. He took care of me at Fla. State and I returned the favor with the Falcons. #Truth http://t.co/eWPxzOm8aU
15 minutes ago

theACCfootball

ACC Football


Play as @ClemsonFB or @FSU_Football in rivalry mode of #ACCFootball Challenge! Download: http://t.co/yqE612NSwJ http://t.co/2xs6JXgcmf
17 minutes ago

FSU_Football

FSU Football


WATCH: Quarterback Sean Maguire meets with the media following Thursday's practice. http://t.co/7ScjyN0Z7h #Noles
22 minutes ago

DeionSanders

DeionSanders


That's my Bossy on the right! Miss u baby. Proud of you. Love you. #Truth http://t.co/V8z2QdJJJo
25 minutes ago

TomahawkNation

TomahawkNation.com


God's Tigers
26 minutes ago

joshdarrow

Josh Darrow


Jerrod Thomas finds D'Vonte Phillips for a 23 yd TD. Phillips goes up to get it!!!! Central 35 Columbus 0 @SFHSSports @duckedoff_v5
29 minutes ago

colecubelic

Cole Cubelic


Left Guard doesn't get off double team to LB that makes play in backfield on zone read. Play calls are fine. Execution up front lacking.
33 minutes ago

Noles247

Noles247.com


Sean Maguire met with the media post-practice. Here are the highlights http://t.co/jeyZt1QtpD via @Noles247
34 minutes ago

TomahawkNation

TomahawkNation.com


If Auburn's run game isn't working (I'm sure it will at some point) maybe try Johnson.
35 minutes ago

edsbs

Spencer Hall


Auburn's football god remains an awesome, weird, probably bankrupt and fleeing tax fraud charges kind of god
38 minutes ago

TJ_Pittinger

TJ Pittinger


@TomahawkNation I think you accidentally tweeted this twice... oh wait, about Auburn. Yeah, I expect it one more time tonight at least.
39 minutes ago

TomahawkNation

TomahawkNation.com


God's Tigers.
40 minutes ago

SBNationCFB

SB?Nation CFB


A few things K-State will use to try and upset Auburn tonight, by @Ian_A_Boyd: http://t.co/xFEyixRqK3 http://t.co/HXaHekGaTu
41 minutes ago

theACCfootball

ACC Football


Campus Insider's Rich Cirminiello takes a look ahead to Saturday: http://t.co/bMFNZ5RAcb
44 minutes ago

38Godfrey

Steven Godfrey


Multiple subtexts of trolling here. Scholars, record this. RT @celebrityhottub I think Auburn needs to give the ball to Todd Gurley.
49 minutes ago

TomahawkNation

TomahawkNation.com


God's Tigers
about an hour ago

Warchant

Warchant.com


Updated practice notes with comments from Jimbo Fisher: https://t.co/R9DPKN0GWO ($) Injuries, talk about Maguire, suspension, more.
about an hour ago

TomahawkNation

TomahawkNation.com


Curious to see if THIS Kansas State team is any good or if just living off recent program rep under Snyder.
about an hour ago

saintwarrick

Jeff


LOL! RT @Natalie_Pierre: FSU QB Sean Maguire's parents gave away their tickets to the Clemson game because they didn't think he would play.
about an hour ago

primediscussion

Adam T.


Mark May arrests = 3. Jameis Winston arrests = 0. Just for the record.
about an hour ago

Not1Day

Smithm01


@TomahawkNation I thought you were joking! Until I heard him and it pissed me off to listen! And nothing yet from Disney?!?!?
about an hour ago

FSU_Football

FSU Football


VIDEO: Florida State head coach Jimbo Fisher meets with the media following Thursday's practice. http://t.co/DrkHLZfj5t #Noles
about an hour ago

Noles247

Noles247.com


Thursday Practice Update (7 p.m. update) - http://t.co/rrLAsyaO6t
about an hour ago

Noles247

Noles247.com


Eligwe, Shanks out for Clemson - http://t.co/JPykGVJE7W
about an hour ago

Robbyrut

Robert Rutledge


@biggiep728 @TomahawkNation Listening to it now. It's incredibly racist and unprofessional.
about an hour ago

billhobsonIII

billy hobson


@TomahawkNation I never thought id hear an espn analyst play a sentence and scream out "listen to this moron's speech! he cant talk!" insane
about an hour ago

_TomLang

Tom Lang


@TomahawkNation Wow. That's not going to go over well up there
about an hour ago

Warchant

Warchant.com


Fisher (2/2): "We went with the consequences and we're ready to move on."
about an hour ago

Warchant

Warchant.com


Fisher asked if half game suspension is too light: "We're in charge. It's our team. That's what we thought. (1/2)..."
about an hour ago

Warchant

Warchant.com


Jimbo says this is Winston's first football discipline for off-field matter. "First time he's done something wrong during football season."
about an hour ago

fsufball

FSU Football


(b/r) Florida State's Ground Game—Not Sean Maguire—Could Be Difference vs. Clemson: The national narrative may... http://t.co/Oc5RBjk1T3
about an hour ago

DeionSanders

DeionSanders


.@D_Hest23 the greatest returner of alltime! Yeah I said that and I should know! #Truth http://t.co/xrIDeSGq3d
about an hour ago

DeionSanders

DeionSanders


Please tune into @CBS @nflnetwork tonight to watch Atlanta vs Tampa. Also I'm so clean I'm dirty! #Truth
about an hour ago

49ersMexico1

49ers Mexico


@AnquanBoldin #AcrossTheMiddle #ComeToPlay #Q81 #49ersmexico http://t.co/VOvtTqF6a6
about an hour ago

coops9ers

JC II


@AnquanBoldin Glad to support the #Q81 Foundation #Go9ers http://t.co/q0j4KZbpOc
about an hour ago

Misty_Hair

Misty


@AnquanBoldin I finally got my #AcrossTheMiddle shirt! I'm so excited! http://t.co/t2QFPHuAlL
about an hour ago

TroyMartinez23

Troy Martinez


@AnquanBoldin got my #AcrossTheMiddle shirt http://t.co/XZCBA2cQ5S
about an hour ago

NoSleepCapital

No Sleep Capital


Mehenti calls Winston (20 year old) "dumb, inarticulate, a moron, a criminal". @espn you're setting a great standard. Disney would be proud.
about 2 hours ago

TN_Hoops

Michael Rogner


A guy who may want to polish his resume RT @Andrew_Melnick: who the hell Zubin Mehenti?
about 2 hours ago

FSU_Football

FSU Football


#TBT to the Puntrooskie! LeRoy Butler's 78 yd run on a fake punt led the #Noles to a 24-21 win over Clemson in 1988. http://t.co/SwVVNEEgST
about 2 hours ago

theACCfootball

ACC Football


The five victories over Top 10 nonconference opponents the last two seasons are as many as every other league combined.
about 2 hours ago

TomahawkNation

TomahawkNation.com


Yeah, the "inarticulate" comment about Jameis Winston, and mockling his speech, some might take that as racist, ESPN http://t.co/rjAI3WtVxf
about 2 hours ago

TomahawkNation

TomahawkNation.com


ESPN's Zubin Mehenti (Mocking Jimbo's accent) "if all Jimbo does is bail me out with that ridiculius twang" http://t.co/rjAI3WtVxf
about 2 hours ago

ThisIsFlakes

Flakes


Yikes... RT @TomahawkNation: (Listen) ESPN analyst Zubin Mehenti goes way overboard on Jameis Winston http://t.co/P1bhHbdcuX
about 2 hours ago

ColeyHarvey

Coley Harvey


Marvin Jones is inching closer to getting back on the field for #Bengals, but he isn't giving many details on return http://t.co/E4fpOw9KWM
about 2 hours ago

DeionSanders

DeionSanders


"@AFC_Hope: @DeionSanders Yayyy thank you! So proud to rep for all my colored girls! #covergirl 😘" Proud of u sis!! I've never seen this b4
about 2 hours ago

TomahawkNation

TomahawkNation.com


(Listen) ESPN analyst Zubin Mehenti goes way overboard on Jameis Winston http://t.co/hUPgJa3jmT
about 2 hours ago

AFC_Hope

AFC_Hope


@DeionSanders Yayyy thank you! So proud to rep for all my colored girls! #covergirl 😘
about 2 hours ago

ComptonKnows

Ben Carlson


@TomahawkNation No wonder I didn't know who Zubin Mehenti was. That was horrible. Could he have taken any more personal shots?
about 2 hours ago

DavidHaleESPN

David Hale


Lots of numbers to like for #Cuse and #NCState, but also a reminder that it's still early: http://t.co/bDVPRWLd69
about 2 hours ago

laura_nelson

Laura J. Nelson


Ugh, this is awful. Thinking of all the talented folks at @TB_Times, one of the best papers in the country. http://t.co/v3F0nEgH97
about 2 hours ago

DavidHaleESPN

David Hale


Most targets for #VaTech this year:1 Byrn2 Hodges (freshman)3 Malleck (doubtful)4 Ford (freshman)5 Stanford (out)
about 2 hours ago

DavidHaleESPN

David Hale


#VaTech injury report:Malleck doubtfulMaddy probableMarshall not listed
about 2 hours ago

TomahawkNation

TomahawkNation.com


.@IAmEricPete I actually think he was unprepared (note all the factual errors) and tried to cover for it with contrived emotion.
about 2 hours ago

TomahawkNation

TomahawkNation.com


.@IAmEricPete part of me thinks it's because sports journos are looked down upon some by those covering more serious social issues
about 2 hours ago

TomahawkNation

TomahawkNation.com


.@IAmEricPete like, my competitor wrote about how much he hates domestic violence, so I'll write that I hate domestic violence infinity +1
about 3 hours ago

TomahawkNation

TomahawkNation.com


.@IAmEricPete there's this annoying thing where sports journalists try to outdo each other in showing outrage on social issues.
about 3 hours ago

fsufball

FSU Football


Little-known QB to start for No. 1 Florida St (The Associated Press): TALLAHASSEE, Fla. (AP) -- Welcome Sean M... http://t.co/AVDpB2VX6B
about 3 hours ago

TomahawkNation

TomahawkNation.com


Florida State football practice report: 9/18 http://t.co/nloCx0Pkco
about 3 hours ago

TomahawkNation

TomahawkNation.com


He basically mocks his dialect. Surprised ESPN let this out.
about 3 hours ago

Warchant

Warchant.com


Practice notes from an abbreviated open portion at FSU today: https://t.co/krkluuUNvY ($) Only one injured player not dressed.
about 3 hours ago

TomahawkNation

TomahawkNation.com


Just listened to the Zubin Mehenti ESPN podcast on Jameis. Jesus, this is bad.
about 3 hours ago

KiaAutosport

Kia AutoSport


We have new koozies! Come see us tomorrow night at the @FSU_BlockParty and Saturday at the game to get yours! http://t.co/qu6GkixZhB
about 3 hours ago

DavidHaleESPN

David Hale


Cuse wins but Seth writes better game story. "@grittree: Any insight @DavidHaleESPN & @SethEmerson on 'Cuse v Maryland? I like MD +1."
about 3 hours ago

_TomLang

Tom Lang


Bomani: Applying 35-40 yr old sensibilities to kids trying to show manhood will never work. But Jameis has to know his world @JCameronShow
about 3 hours ago

TJL_247

Thomas Liscio


Helmets and facemasks have been adjusted @Noles247 http://t.co/T7OCRFQIdP
about 3 hours ago

Noles247

Noles247.com


#FSU Thursday Practice Update - http://t.co/g4bzLvR7o5
about 3 hours ago

bomani_jones

Bomani Jones


doing radio with my man @JCameronShow http://t.co/J1C6WM612J
about 4 hours ago

SBNationCFB

SB?Nation CFB


Here comes Baylor in the Playoff odds: http://t.co/zqVpivnv0h http://t.co/c3H5GvCiAv
about 4 hours ago

Warchant

Warchant.com


Also dressed: Ukeme Eligwe, Ryan Green, PJ Williams, Ronald Darby.
about 4 hours ago

Warchant

Warchant.com


Nile Lawrence-Stample, Eddie Goldman dressed at FSU practice. Only Justin Shanks seems to be missing still.
about 4 hours ago

theACC

The ACC


RT @theACCDN: .@JeffFischel has a run down of the 2014 ACC Legends class led by Derrick Brooks and Art Monk http://t.co/DsEtNp1H9E
about 4 hours ago

ACCVolleyball

ACC Volleyball


With @FSU_Volleyball ranked No. 6 & @UNCVolleyball No. 13, the two schools own best combined ranking for an ACC duo in history of AVCA poll
about 4 hours ago

FSU_Football

FSU Football


Get set for the #ClemvsFSU game. New #Noles Doak Insider Podcast is up on iTunes. Download and subscribe today. https://t.co/WW9iPDkhd1
about 4 hours ago

SBNationCFB

SB?Nation CFB


Steve Addazio's entire Vine account, ranked: http://t.co/2Vd5aCR0NI https://t.co/txByZxO1S0
about 4 hours ago

ESPN_ACC

ESPN ACC


By the numbers: Atlantic contenders? http://t.co/hEti2bJV8l
about 4 hours ago

EdEnoch

Ed Enoch


Physical Properties Committee up next. First on the agenda is proposal for baseball stadium increasing budget from $35M to $42.6M.
about 4 hours ago

FSU_Recruiting

Seminoles Recruiting


@CollegeGameDay is back in Tallahassee. #goNoles #FEARtheSPEAR #ESPN http://t.co/bceIaBLCaw
about 4 hours ago

TomahawkNation

TomahawkNation.com


Vegas has never wavered in having FSU, Oregon, Bama, Oklahoma in the playoff. Every week. http://t.co/vqAQzjxW9k http://t.co/1mRUgExtiU
about 4 hours ago

FSU_Recruiting

Seminoles Recruiting


Espn College Gameday is setting up in Tallahassee .....again ! #GoNoles https://t.co/sjPHkeLJ5W
about 4 hours ago

JohnKincade

John Kincade


The new @cfbhall in ATL is a must visit! http://t.co/SGP4cCdCoW
about 4 hours ago

ColeyHarvey

Coley Harvey


It sounded quite bleak on Tuesday for the team, but an influx of Wednesday and Thursday sales have staved off a potential blackout again
about 4 hours ago

ColeyHarvey

Coley Harvey


#Bengals announce for the second straight week they won't have to blackout this game. They reached the tickets sold threshold again.
about 4 hours ago

ColeyHarvey

Coley Harvey


#Bengals injury report: DNP: Boling, Burfict, Burkhead, Porter, Thompson, Zeitler. LIMITED: Dunlap, Green, Williams. FULL: Whitworth, Pollak
about 4 hours ago

Noles247

Noles247.com


#FSU basketball hosting a couple 2016 four-star guards http://t.co/AZvrDh8TOO via @Noles247
about 4 hours ago

Noles247

Noles247.com


Derrick Brooks is #FSU's 2014 ACC Legend. To be honored at ACC Championship. http://t.co/Pg1VVNhF2z via @Noles247
about 4 hours ago

nflnetwork

NFL Network


We need your help!Grab your phones and recreate these throwback pics.The BEST will air after tonight's game! #TBTNF http://t.co/YwBRlhsOJU
about 4 hours ago

DeionSanders

DeionSanders


#ThursdayNightFootball on @CBS @nflnetwork Shoe game Black Tod's patent leather loafers classy,comfy&Effective. TRUTH http://t.co/0Mg3Y4LOzS
about 4 hours ago

tyduffy

Tyler Duffy


Peyton Manning is Lucky Social Media Wasn't Around in 1996 When He Sat on a Female Trainer's Face http://t.co/tjXInV2pcm via @thebiglead
about 4 hours ago

Noles247

Noles247.com


'You can't do what normal people do' - Part of the advice Jimbo Fisher gave Jameis Winston http://t.co/HM63o9OZS9 via @Noles247
about 4 hours ago

DavidHaleESPN

David Hale


Better hope Tulane doesn't have Tecmo Bo RT @DopeStallion Duke is using 8bit scoreboard for throwback game Saturday! http://t.co/8BmL7chgv6"
about 4 hours ago

DeionSanders

DeionSanders


Who's house? http://t.co/liK600JOhi
about 5 hours ago

TomahawkNation

TomahawkNation.com


Florida State football podcast: Jameis, Clemson #Noles #FSU w/ @ingramsmith http://t.co/luUKvaGNDa
about 5 hours ago

Corey_Clark

Corey Clark/TDO.com


From 1987-2000, Florida State had more Top 5 finishes (14) than the entire SEC combined (13).
about 5 hours ago

Noles247

Noles247.com


2nd official visit finalized for Porter Gustin - http://t.co/qNPQxcpLSc
about 5 hours ago

Bill_Kurelic

Bill Kurelic


Neville Gallimore in the process of scheduling official visit to #OhioState (VIP) http://t.co/YiH6NYkFvv @CNee247 @LukeStampini @TomLoy247
about 5 hours ago
BLOG ARCHIVE:
CATEGORIES: