It isn't time to panic...yet
January, 31, 2013
1/31/13
10:00
AM ET
Florida State fans are frustrated with this 2013 recruiting class.
Compared to what they have grown accustomed to over the past couple of cycles, it's understandable.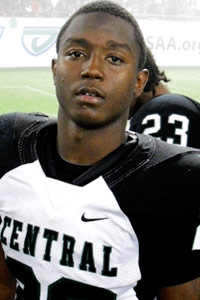 Corey Long/ESPN.comA strong start to the 2014 class, led by RB Joseph Yearby, should calm some anxiety abou the state of FSU recruiting.
There aren't 10 ESPN 150 members. There aren't 10 ESPN 300 members.
To continue reading this article you must be an Insider
Insider
Jimbo Talks Defending Title, Winston
Jimbo Fisher talks about his mindset as his team comes back together to defend their national championship and the evolution of Jameis Winston since last season.
Jimbo Talks Defending Title, Winston
VIDEO PLAYLIST
FSU FB RECRUITING SCORECARD
Rawlings Florida State Seminoles Hail Mary Youth-Size Football Shop »
DavidHaleESPN

David Hale


Highest% 2013 TDs from def/ST, power 5 confs: 1.) #UNC 16.4%, 2.) Iowa St 16.2%, 3.) Iowa 14.3%, 4.) Colo 13.9%, 5.) Ark 13.3%
about a minute ago

Noles247

Noles247.com


F5U: Breakout Candidates for #FSU in 2014 http://t.co/ZpB3NaULZN via @Noles247
3 minutes ago

ESPN_ACC

ESPN ACC


Why North Carolina will win the Coastal http://t.co/eH1gjw7XcR
3 minutes ago

Noles247

Noles247.com


Replay: #FSU Team and Recruiting Chat from earlier today http://t.co/ZZjAYokFbr via @Noles247
4 minutes ago

Noles247

Noles247.com


Video: Jimbo Fisher goes back to his roots, coaching up the QBs at camp http://t.co/wi86Kzz8pk via @Noles247
5 minutes ago

Natalie_Pierre

Natalie Pierre


Fisher on ACC ending SEC streak: "Did any Pac-12, Big 10, any other league do it? We did. ... I think we can play with anybody in America."
5 minutes ago

Noles247

Noles247.com


Jimbo Fisher's day through the ESPN Car Wash is coming to an end http://t.co/DqZwHRkToS via @Noles247
6 minutes ago

FSU_Football

FSU Football


Last stop of the #ESPNACC Car Wash...chatting with a few national writers. http://t.co/Fezz4IQTgw
12 minutes ago

ColeyHarvey

Coley Harvey


Not sure what you're asking. Didn't have Oklahoma. Doubt they will RT @Mitchell_Clee: @ColeyHarvey Any detailed info about Oklahoma drill?
16 minutes ago

Noles247

Noles247.com


Roberto Aguayo is No. 85 on ESPN's Top 100 CFB Players http://t.co/jf5pjEskJ1 via @Noles247
18 minutes ago

FSUAlumni

FSU Alumni Assoc.


Player's Table seating for the #FSUkickoff luncheon is sold out! General seating is still available; more info at http://t.co/Sdx6KLKZyR
19 minutes ago

ColeyHarvey

Coley Harvey


Adam Jones also isn't dressed today. Even though there wasn't any tackling, seems yesterday's first day of pads was pretty physical #Bengals
19 minutes ago

ColeyHarvey

Coley Harvey


Still no Dre Kirkpatrick (hamstring) for #Bengals today. Robert Geathers also isn't dressed as team goes on field for practice.
21 minutes ago

Noles247

Noles247.com


Hoops: 2015 center schedules three official visits, including one to #FSU http://t.co/JsELKFGgZj via @Noles247
26 minutes ago

FSU_Football

FSU Football


Taping last radio interview of the day. #ESPNACC #CarWash #1moreStop http://t.co/Aer86sMm5x
30 minutes ago

Noles247

Noles247.com


Jimbo Fisher: 'Nothing's changed' in the way he treats QBs http://t.co/st9v0kUAWH via @Noles247
35 minutes ago

AKRivals

Adam Krohn


Another quote from my De'Andre Johnson interview: "Odds are, Jamies will leave (after this year)." Full story on its way. #Noles
39 minutes ago

TomahawkNation

TomahawkNation.com


Jimbo Fisher says he's no different with Jameis Winston than he was with EJ Manuel.
46 minutes ago

TomahawkNation

TomahawkNation.com


Line play RT @schadjoe: One ACC coach said Florida State and Clemson are "different animals."
46 minutes ago

DeionSanders

DeionSanders


Every action begins with a thought. Watch your words,let's think ourselves clear and then act using wisdom and understanding. #TRUTH:
about an hour ago

ESPN_ACC

ESPN ACC


Take 2: Will ND help or hurt the ACC? http://t.co/39OTTKJ330
about an hour ago

TomahawkNation

TomahawkNation.com


Interesting transition for MD. ACC has more talent than the B1G, but much of that is due to speed on defense. B1G probably bigger OLines.
about an hour ago

TomahawkNation

TomahawkNation.com


Legit? MD OL was tiny in 2013 RT @PaulMyerberg: Rutgers and Maryland players being asked, "Are you ready for the Big Ten's size?" #B1G
about an hour ago

dev_go_deep

Devonaire Clarington


My final http://t.co/kJvqdXFG4v
about an hour ago

FSU_Football

FSU Football


Tune into @SVPandRussillo in the 2 o'clock hour to hear Coach Fisher with @ryenarussillo @SedanoESPN! #ESPNACC http://t.co/uUaCFFv4GR
about an hour ago

Warchant

Warchant.com


Full breakdown of 2016 five stars, Rivals100 #FSU targets, including notes & where the Noles stand http://t.co/s2FsSCSdGg ($)
about an hour ago

ColeyHarvey

Coley Harvey


No surprise, but #Bengals' Carlos Dunlap has his sights set on Pro Bowl. A text from his DC energized him in January http://t.co/JNsJZi4O3A
about an hour ago

schadjoe

Joe Schad


One ACC coach said Florida State and Clemson are "different animals."
about an hour ago

ESPN_ACC

ESPN ACC


Video: Jimbo talks defending title, Winston http://t.co/MoQBOuP4Mo
about an hour ago

ColeyHarvey

Coley Harvey


RT @pauldehnerjr Updated win total o/u from @BovadaLV has #Bengals at 9, Ravens &Steelers are 8 1/2.
about an hour ago

SBNRecruiting

SB Nation Recruiting


.@AlligatorArmy @SBN_Wescott @TomahawkNation 4-star TE recruit RT @dev_go_deep: My final http://t.co/8vyAkPsfEe
about an hour ago

schadjoe

Joe Schad


Jimbo Fisher said: "If it was the right time, I'd have no problem scheduling Alabama." Concedes facing Saban would be "no fun."
about an hour ago

Noles247

Noles247.com


#DallastoDallas? RT @leefitting: Week 1 site for @CollegeGameDay to be announced this week. Getting close to kickin' er' off!
about an hour ago

FSU_Football

FSU Football


Visiting former #Noles quarterback @dannykanell! #ESPNACC http://t.co/qPcB7SQWIG
about an hour ago

ESPN_ACC

ESPN ACC


ACC in the Top 100 player rankings http://t.co/tnVYnGAs4K
about 2 hours ago

_DCReeves

D.C. Reeves


I know I wouldn't. RT @Tide991fm: Don't miss @_DCReeves and @tom_hart in our second hour.
about 2 hours ago

Noles247

Noles247.com


Non-conference schedules of the ACC - #FSU considered the toughest http://t.co/4hjQRTVEN0 via @Noles247
about 2 hours ago

TomahawkNation

TomahawkNation.com


Jimbo said the 8' bull he caught came when they were going for grouper and snapper.
about 2 hours ago

theACC

The ACC


via @ACCPix Instagram: #ACCFB coaches are in Bristol for the next two days for the #ESPNACC Car Wash: http://t.co/uyT9AwCpc0
about 2 hours ago

jireland80

Jeremy Ireland


@TomahawkNation This is how it's done. http://t.co/4WRvH9ctRG
about 2 hours ago

TomahawkNation

TomahawkNation.com


Jimbo Fisher says Jameis Winston can absolutely be better in 2014 http://t.co/eRu386Lzv8
about 2 hours ago

TomahawkNation

TomahawkNation.com


Booooo ESPN, plastic bottles don't work with goobers and coke! Glass bottles only.
about 2 hours ago

TomahawkNation

TomahawkNation.com


Numbers Never Lie was a good show for a bit. Then they realized they shared audience demographics w/ First Take and dumbed it down a ton.
about 2 hours ago

TomahawkNation

TomahawkNation.com


Jimbo Fisher about to be on ESPN again http://t.co/eRu386Lzv8 Updates in comment section
about 2 hours ago

Osceola_Tim

Tim Linafelt


ICYMI: Fisher, 'Noles look to sports legends for inspiration. http://t.co/lOFFI4Voa5
about 2 hours ago

sbncollege

SB Nation College


Florida State football recruiting: Receiver, tight end outlook http://t.co/dGhKPpdOil
about 2 hours ago

FSU_Football

FSU Football


Headed to see if @ESPN_Numbers is ready for Jimbo Fisher Live around 12:40! #ESPNACC #NumbersNeverLie
about 2 hours ago

ColeyHarvey

Coley Harvey


Also, as the #Bengals get ready for this afternoon's practice, here are three areas we'll be watching. http://t.co/xVZaEsZCnT
about 2 hours ago

ColeyHarvey

Coley Harvey


Today's #Bengals Quick Thoughts begin with an item on Giovani Bernard and what his "touches" might look like this yr http://t.co/7ARC8O8RDM
about 2 hours ago

ColeyHarvey

Coley Harvey


From this a.m., we take a look at where the #Bengals' projected roster stands (in my eyes) after 4 days of practice http://t.co/E1KZ1MCzpw
about 2 hours ago

ColeyHarvey

Coley Harvey


#Bengals RB coach Kyle Caskey says BenJarvus Green-Ellis "is still one of our guys. Nothing's been taken away." http://t.co/FKjPfg6PaD
about 2 hours ago

TomahawkNation

TomahawkNation.com


Florida State football recruiting: Receiver, tight end outlook #Noles #FSU http://t.co/VeW13ZJrNb
about 2 hours ago

Rivals

Rivals.com


2016 #Rivals100 Pres. By @UnderArmour is here! Breakdown: http://t.co/0qwVIIcLwsFull Ranks: http://t.co/4nVLG7vpVZ http://t.co/E2KnwxYhHs
about 2 hours ago

Rivals

Rivals.com


2016 #Rivals100 Pres. By @UnderArmour is here! Breakdown: http://t.co/0qwVIIcLwsFull Ranks: http://t.co/4nVLG7vpVZ http://t.co/E2KnwxYhHs
about 2 hours ago

FSU_Football

FSU Football


A closer look at the @SportsCenter set and @CFBPlayoff trophy! http://t.co/iO4fOwlOeC
about 2 hours ago

FSU_Football

FSU Football


A closer view of sportscenter and the @tgock14 Trophy! #ESPNACC #Noles http://t.co/4HAzXvg75t
about 2 hours ago

ESPN_ACC

ESPN ACC


ACC lunch links: Bulk on the O-line http://t.co/GNiNL1VzRV
about 3 hours ago

Noles247

Noles247.com


#FSU makes final seven for five-star http://t.co/3o1ubRyi66 via @Noles247
about 3 hours ago

TomahawkNation

TomahawkNation.com


All the Jimbo Fisher ESPN stuff, and other #FSU discussion here in one spot http://t.co/eRu386Lzv8
about 3 hours ago

TomahawkNation

TomahawkNation.com


Fisher says when teams put a target on the #Noles, #FSU shoots back. http://t.co/eRu386Lzv8
about 3 hours ago

FSU_Football

FSU Football


The awesome new sportscenter set. #ESPNACC http://t.co/NSjbhvvPwf
about 3 hours ago

FSU_Football

FSU Football


Ready for @SportsCenter now! #ESPNACC http://t.co/zGLnOOaTXt
about 3 hours ago

TomahawkNation

TomahawkNation.com


Again to the comments section as Jimbo Fisher is going live on Sportscenter http://t.co/eRu386Lzv8 #Noles #FSU
about 3 hours ago

FSU_Football

FSU Football


Coach Fisher visits with a few kids from Make-A-Wish Maine. Up next @SportsCenter http://t.co/d50rMaOEL7
about 3 hours ago

TomahawkNation

TomahawkNation.com


Oh, @ESPN associate producer Natasha @BlueRose2000? #FSU #Noles BTW what show do you produce? http://t.co/xrXA92c6ln
about 3 hours ago

Noles247

Noles247.com


Join in on the Team and Recruiting Chat @Noles247 http://t.co/IaLdY5Dmtm
about 3 hours ago

Noles247

Noles247.com


Jimbo Fisher praises insurance policies for college athletes http://t.co/YKyJE3AvIq via @Noles247
about 3 hours ago

Noles247

Noles247.com


Baseball is good for Jameis Winston. Details ...... http://t.co/5Z8NmgRMiC
about 3 hours ago

FSU_Football

FSU Football


Coach Fisher checks out the new @SportsCenter live set around 11:40. #ESPNACC
about 3 hours ago

Warchant

Warchant.com


New five stars for 2016 class just released. Here's a list, notes for the #FSU targets out of that group. http://t.co/35qLVOefDj ($)
about 3 hours ago

theACC

The ACC


Be sure to follow @theACCfootball for #ESPNACC Car Wash updates!
about 3 hours ago

Seminoles_com

Seminoles.com


#Noles store is offering FREE SHIPPING for a limited time! Shop new #Nike Sideline Gearhttp://t.co/55KzCGY7Zj http://t.co/mL0PBc4L13
about 3 hours ago

ESPN_ACC

ESPN ACC


Video: Petrino on return to Louisville http://t.co/wTKDxlGBx8
about 3 hours ago

ricobert1

rob hodges


@TomahawkNation ...tells you something about Jimbo's desire to coach in NFL? Certainly not being political here. @schadjoe
about 3 hours ago

FSU_Football

FSU Football


Talking college football with ACC Coaches! #ESPNACC http://t.co/1UHIAhAfrX
about 3 hours ago

TomahawkNation

TomahawkNation.com


Thank You! RT @schadjoe: Jimbo Fisher says you don't want rules to make college football "less diverse" and "cookie cutter" like NFL
about 3 hours ago

Noles247

Noles247.com


#FSU Team and Recruiting Chat starts now http://t.co/ZZjAYokFbr via @Noles247
about 4 hours ago

TomahawkNation

TomahawkNation.com


Called it the greatest thing going in CFB right now.
about 4 hours ago

TomahawkNation

TomahawkNation.com


Jimbo Fisher said that loss of value insurance policies let a player wait on the NFL because the money is guaranteed http://t.co/eRu386Lzv8
about 4 hours ago

Noles247

Noles247.com


Fisher has no problems with #FSU being favored to repeat http://t.co/taw7UyYkvA via @Noles247
about 4 hours ago

Paula_White

Paula White


You are the only keeper of your #happiness! Stop giving people the power to control your smile, your worth, your attitude and your day!
about 4 hours ago

Noles247

Noles247.com


Fisher reiterates that he believes all conferences should have championship games http://t.co/SoUrCJwqAv via @Noles247
about 4 hours ago

JustinBarneyTU

Justin Barney


First Coast Bucs crew: Pittman (9), Payton (6), Washington (2), Johnson (14), Sweet (50). http://t.co/Vf8lSQFQGW
about 4 hours ago

FSU_Football

FSU Football


Coach Fisher and the @ESPN_FirstTake Crew at the #ESPNACC Car Wash. http://t.co/v113Vvwu6a
about 4 hours ago

StuartROwens

Stuart R. Owens


Lol Jimbo... "We have a great kicker, great pu.... Uh great kick returners."
about 4 hours ago

TomahawkNation

TomahawkNation.com


More updates from Jimbo Fisher on ESPN's First Take here in comment section http://t.co/PWgueyG8hS #Noles #FSU http://t.co/oppPSdPFe8
about 4 hours ago

TomahawkNation

TomahawkNation.com


Not touching that punting comment
about 4 hours ago

Noles247

Noles247.com


Fisher on Winston's pro prospects http://t.co/f8xmbMVLau via @Noles247
about 4 hours ago

_TomLang

Tom Lang


Should #FSU be favored to win it all? "I have no problem with that" - Fisher
about 4 hours ago

TomahawkNation

TomahawkNation.com


Jimbo Fisher on SEC "Great to break a streak and be able to say 'hey, take notice, we play ball over here, too.'"
about 4 hours ago

TomahawkNation

TomahawkNation.com


Jimbo Fisher making sure to get in the praise for wife @canfish16 on ESPN. Says without her he can do nothing.
about 4 hours ago

Noles247

Noles247.com


Five potential breakout candidates for the #Noles this season!Who do you think is most likely to explode onto... http://t.co/onKnGOMpJ1
about 4 hours ago

TomahawkNation

TomahawkNation.com


Lots of updates from Jimbo Fisher on Jameis Winston in comment section http://t.co/PWgueyG8hS
about 4 hours ago

FSU_Football

FSU Football


We are live on @ESPN_FirstTake. #ESPNACC http://t.co/beUyLaiUd2
about 4 hours ago

TomahawkNation

TomahawkNation.com


Jimbo on ESPN's First Take now. Updates in comments section http://t.co/PWgueyG8hS
about 4 hours ago

DeionSanders

DeionSanders


Every action begins with a thought. Watch your words,let's think ourselves clear and then act using wisdom and understanding. #TRUTH,
about 4 hours ago

rivalsmike

Mike Farrell


Meet the 2016 five stars http://t.co/xyyHSyD4yE
about 4 hours ago

Noles247

Noles247.com


Beginning of our F5U series - 5 Breakout Candidates for the #Noles in 2014 http://t.co/ZpB3NaULZN via @Noles247
about 4 hours ago

FSU_Football

FSU Football


Countdown to Coach Fisher on @ESPN_FirstTake around 10:40.
about 4 hours ago

TideSports

TideSports.com


An #Alabama commitment is one of the NEW @Rivals 5-stars for 2016. Check out the story here: https://t.co/iJnAIA6025 http://t.co/SUnGFu4IB7
about 4 hours ago
ACC SCOREBOARD
Thursday, 8/28
Friday, 8/29
Saturday, 8/30
Monday, 9/1
BLOG ARCHIVE:
CATEGORIES: