Miami tight end commit flips to FSU
January, 23, 2013
1/23/13
8:22
AM ET
Jeremy Kerr
(St. Petersburg, Fla./St. Petersburg) has made the switch.
[+] Enlarge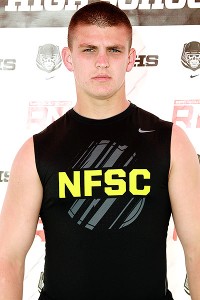 Tom Hauck for ESPNJeremy Kerr could bulk up and eventually move to the offensive line at Florida State.
A Miami commitment since June, the 6-foot-5, 240-pound tight end will stay in the ACC, but not with the Hurricanes.
After a long flirtation process that included an official visit on Jan. 11, the three-star prospect has flipped to Florida State according to his head coach Joe Fabrizio.
To continue reading this article you must be an Insider
Insider
College Football Player Rankings: 21-40
Chris Spielman and Brian Griese discuss the players ranked 21-40 in ESPN.com's top 100 college football players.
College Football Player Rankings: 21-40
VIDEO PLAYLIST
FSU FB RECRUITING SCORECARD
Nike Men's Florida State Seminoles Black #5 Replica Game Football Jersey Shop »
DavidHaleESPN

David Hale


Not enough #ShouldntOfKepts "@ByDavidMurphy: Sneak peak at tomorrow's column. http://t.co/izu8zel68P"
4 minutes ago

CNee247

Chris Nee


#Gamecocks interested in 2017 QB Cade Weldon, a #Seminoles legacy http://t.co/gtLF5xWTZY via @TheBigSpur247
10 minutes ago

TomahawkNation

TomahawkNation.com


Y'all watching doomsday preppers? These folks in Georgia are making IEDs and putting them in taxidermied animals. Crazy.
about an hour ago

TomahawkNation

TomahawkNation.com


Watching the Baylor OSU game we discussed on email thread? Yeah... RT "@idontwan2know: God, Baylor's defense is horrendous."
about an hour ago

DeionSanders

DeionSanders


Let's stop trying 2 change people & change ourselves because if we were changed we would've seen thru the mess and stress awhile ago! Truth
about an hour ago

DeionSanders

DeionSanders


Don't misinterpret your mistakes made by a lot of bad decisions with the devil attacking u. God is Omnipresent the devil aint! #Truth
about an hour ago

Noles247

Noles247.com


Best QB class in the nation is bound for #FSU http://t.co/gkVptZFuse via @Noles247
about an hour ago

DeionSanders

DeionSanders


Always be mindful of how u treat people because u will learn 50% is What u know & 50% is Who u know. The 1 u ignored maybe your opportunity.
about an hour ago

Noles247

Noles247.com


Deondre Francois commits http://t.co/z4cJ39F7JB Unfazed by competition http://t.co/BGSF2HGbEQ @Elite11 http://t.co/pX6nBSng7h via @Noles247
about an hour ago

Noles247

Noles247.com


Kai Locksley commits http://t.co/1ienp3YXjw He speaks on his decision http://t.co/mKWxBkyqik via @Noles247
about an hour ago

Noles247

Noles247.com


#FSU basketball to host five-star official visitor in a little over a month http://t.co/mVMboGbBFi via @Noles247
about an hour ago

Noles247

Noles247.com


ICYMI: Jesus Wilson entered a plea deal, felony charge reduced http://t.co/3Br42zihdG via @Noles247
about an hour ago

Noles247

Noles247.com


The F5U today focused on top opposing players that #FSU will face during the 2014 season http://t.co/uMNXDCj86y via @Noles247
about an hour ago

TimBrewster

Tim Brewster


"@melinasphotos: @fsuzeigler @TimBrewster I just joined the #FSU faculty in January. Love it!" You do great work Melina!! GoNoles!
about an hour ago

DeionSanders

DeionSanders


The BEST Athletes,Singers,Actors,Rappers,Lawyers,Doctors,Politicians, Teachers & others Never made it big because of their decisions. Truth
about an hour ago

DeionSanders

DeionSanders


99% of the people that are Successful can name 1 person that was better but that person took a left when they stayed right! #realtalk TRUTH
about an hour ago

_DCReeves

D.C. Reeves


Fall Camp is here, and we've got 1 page to help you keep up with it all. Video, photos, highlights, stories & more: https://t.co/YsaXBFK9Tc
about an hour ago

DeionSanders

DeionSanders


When u see people that you feel are successful or celebrities stop asking for autographs or pics and ask them how they made it! Truth
about an hour ago

DeionSanders

DeionSanders


You can tell a lot about a person by what they talk about,the company they keep,how they act under pressure&what they do with their money.
about an hour ago

DeionSanders

DeionSanders


Young people look around u & see where you're headed that's why your parents don't approve of your friends. You ain't far from yo company!
about an hour ago

DeionSanders

DeionSanders


"@Dumpedordie: @DeionSanders damn Deion but just 5mins tho lmaoo" Kids! Lol
about 2 hours ago

DeionSanders

DeionSanders


If you're still in high school enjoy school,life,friends & any activities you're in because when u graduate life and people get real. Truth
about 2 hours ago

DeionSanders

DeionSanders


Young people listen please don't make a decision out of your lust that last 5 min and create a Responsibility that last a lifetime. Truth
about 2 hours ago

DeionSanders

DeionSanders


Young Athletes men and woman this is so REAL! If don't see yourself EVER marrying the person why would u risk raising a child together?Truth
about 2 hours ago

LOCKSnLOADED_3

Kai Locksley


"@boyrazor: @LOCKSnLOADED_3 http://t.co/liqBbxiwd3"
about 2 hours ago

fsuzeigler

Mark Zeigler


It's fun teaching here too, but I want one of those new lockers. RT @TimBrewster: Damn it's fun coaching at Fla St!!! :)
about 2 hours ago

DeionSanders

DeionSanders


Young Professional athletes please understand it's hard for someone to tell you the Truth when they're receiving a check from you. Truth
about 2 hours ago

TomahawkNation

TomahawkNation.com


I mean, Clemson fans constantly ***** about the S&C program, but I guess they have reason to. That's pretty bad.
about 2 hours ago

TomahawkNation

TomahawkNation.com


Clemson's going to need that run game to offset the loss of Boyd/Watkins/Bryant, and I don't see them getting movement w/ those guys.
about 2 hours ago

TomahawkNation

TomahawkNation.com


SMH Clemson's line coach has reason to ***** about the S&C program. Those tackles are way tiny. http://t.co/CAlhk09628 285, 276, 283? Damn
about 2 hours ago

DeionSanders

DeionSanders


College and Highschool athletes please protect your opportunities by not posting ignorant stuff on Instagram twitter or social media. Truth
about 2 hours ago

TimBrewster

Tim Brewster


Damn it's fun coaching at Fla St!!! :)
about 2 hours ago

TomahawkNation

TomahawkNation.com


The #FSU 2014 season hype video is finally here #Noles http://t.co/s1kiNosoVf
about 2 hours ago

DeionSanders

DeionSanders


Young Football players please know YOU will NEVER get a BIG long term contract in the NFL If they can't TRUST you OFF the field! Truth
about 2 hours ago

LukeStampini

Luke Stampini


#Gators 2015 class moves up to No. 38 in the nation with the addition of Mike Horton. http://t.co/eJIJzp1Gdj #UF
about 2 hours ago

Warchant

Warchant.com


Will three highly touted QBs in #FSU's 2015 class be company or a crowd? Free story. https://t.co/QDJy1N7Vqd http://t.co/hmhIJ4dnVo
about 2 hours ago

ColeyHarvey

Coley Harvey


Get it while it's hot: today's #Bengals practice report. Heavy on special teams, injuries and some James Wright love http://t.co/Urvs0cx3bm
about 2 hours ago

904Preps_David

David Hickox


First Coast QB reacts to today's #FSU commitments & where he stands."Still strong as day one, it will be a fun competition" @DredaDon14
about 2 hours ago

RivalsCamp

Rivals Camp Series


Congrats to 5-star #RivalsChallenge QB Deondre Francois (@Deondre_3) on his commitment to #FSU! #GoNoles http://t.co/LE7FZQS3SY
about 3 hours ago

double_J16

JJ Cosentino


Congrats to @Deondre_3 on becoming a Nole! Can't wait to grind with ya! 🏈🎯
about 3 hours ago

Deondre_3

Dre


Officially committed to florida state university.
about 3 hours ago

Deondre_3

Dre


#tbt Always been a Nole! In the cut freshman year. bigtime_koos http://t.co/Cy8lqFXz8i
about 3 hours ago

LOCKSnLOADED_3

Kai Locksley


Got some good insight for nole nation, could be in for another get here soon.. Stay tuned😎😏😈 #NoleFam15'
about 3 hours ago

LOCKSnLOADED_3

Kai Locksley


@Deondre_3 @DredaDon14 #NoleFam15' 😈🙌💯
about 3 hours ago

Deondre_3

Dre


Can't wait to compete against two studs in @LOCKSnLOADED_3 @DredaDon14. Hope y'all have great senior seasons. God bless.
about 3 hours ago

Noles247

Noles247.com


#FSU's three quarterback commitments tweet at each other http://t.co/2blOAzUUOo via @Noles247
about 3 hours ago

double_J16

JJ Cosentino


Jameis tough on me, but he teaches me so much. Great one to learn from #BeASponge
about 3 hours ago

TomahawkNation

TomahawkNation.com


Former FAU All-Conference punter is in Tallahassee. But he's not enrolling at FSU for Fall 2014. Must sit out a year. http://t.co/hsCAuVr1jC
about 3 hours ago

JamesWagnerWP

James Wagner


Woah. RT @MLB The @Tigers now have the last 3 AL Cy Young Award winners (Scherzer, Price, Verlander) & last 3 AL MVPs (Miggy, Verlander).
about 3 hours ago

MASSonJOX

Matt and Scot


Coming up tonight, @_DCReeves will join us at 5:15pm to talk about Bama starting fall camp & @TheSaintsBeat will be on at 6pm to talk Saints
about 3 hours ago

Deondre_3

Dre


Can't wait to compete against two studs in @LOCKSnLOADED_3 @DredaDon14. Hope y'all have great senior seasons. God bless.
about 3 hours ago

TomahawkNation

TomahawkNation.com


Funny but serious: Florida State fans beg for a transfer punter on twitter -- is he coming? #FSU #Noles http://t.co/NSBnR7VHBj
about 3 hours ago

AnquanBoldin

Anquan Boldin


Great trip to Oxbridge Academy. The Q81 Foundation is doing great things this summer for high schoolers. http://t.co/2rEmzmdCKA
about 3 hours ago

LOCKSnLOADED_3

Kai Locksley


Got some good insight for nole nation, could be in for another get here soon.. Stay tuned😎😏😈 #NoleFam15'
about 4 hours ago

ChrisWeinke16

Chris Weinke


IMG Academy QB Deondre Francois verbally commits to Florida State Seminoles: IMG Academy QB Deo... http://t.co/ZSzTdmIMJR
about 4 hours ago

ColeyHarvey

Coley Harvey


By the way, checked in w DC Paul Guenther on Geno Atkins. Said his absence was nothing to be concerned about. Just part of limiting his time
about 4 hours ago

Noles247

Noles247.com


One QB @Deondre_3 talks about coming in with other QBs @LOCKSnLOADED_3 & @DredaDon14 http://t.co/NW4MpsWiNF via @Noles247
about 4 hours ago

Noles247

Noles247.com


In-depth with @LOCKSnLOADED_3 http://t.co/gnF7PU3VTc via @Noles247
about 4 hours ago

gobig3

Logan Wells


Follow Dominique Rodgers Cromartie @drc_two1 #NFL #Giants #941 #GoodPeople
about 4 hours ago

Warchant

Warchant.com


Warchant TV: Deondre Francois announces his #FSU commitment & 1-on-1 video interview. https://t.co/g7ocAs0uoa http://t.co/m5Ny7xESdT
about 4 hours ago

TomahawkNation

TomahawkNation.com


Wow, A&M's facilities are awesome. Did they save any room for advertising their titles?
about 4 hours ago

Noles247

Noles247.com


The athlete, the arm, and the baller gives #FSU nation's top QB class for 2015 http://t.co/zuCeJh9shF via @Noles247
about 4 hours ago

247Sports

247Sports


#247Sports' @bartonsimmons breaks down what each of the #FSU QB commits could bring to #Noles http://t.co/38lQuT3xxW http://t.co/sF9ebi9Eoa
about 4 hours ago

_DCReeves

D.C. Reeves


Get primed for #Alabama Fall Camp right here. Me & @AaronSuttles Preview it all (Free): https://t.co/s11s222MVA http://t.co/8z1acprnX8
about 4 hours ago

_DCReeves

D.C. Reeves


Get primed for #Alabama Fall Camp right here. Me & @AaronSuttles Preview it all (Free): https://t.co/s11s222MVA http://t.co/j0TPX8KrpF
about 4 hours ago

TomahawkNation

TomahawkNation.com


.@bejums They started to ignore Tedford QBs ... then Aaron Rogers came along ... so no.
about 4 hours ago

TomahawkNation

TomahawkNation.com


Jimbo Fisher's last 3 draft picks at QB: $42M GUARANTEED in signing bonuses. Not even counting salary. That's such a huge QB recruiting tool
about 4 hours ago

ColeyHarvey

Coley Harvey


Said it in May and I'll keep saying it ... James Wright is going to make this team. WR getting a lot of reps today. Just converted key 3rd/5
about 4 hours ago

ColeyHarvey

Coley Harvey


As they have all camp, Dalton/Eifert have looked strong in the seam today. One of them might have gotten broken up by Iloka at game speed
about 4 hours ago

SWiltfong247

Steve Wiltfong


247Sports Director of Scouting @bartonsimmons gives his take on the three #FSU QB commits: http://t.co/xuxrEhCZu5 @CNee247 @joshnewberg247
about 5 hours ago

ColeyHarvey

Coley Harvey


During the 11-on-11 that's lasted the last 10 or 15 min, Dalton had been perfect (7-for-7) before DE Geathers broke up pass at line.
about 5 hours ago

Noles247

Noles247.com


Former #Nole Stephen Drew traded to the Yankees http://t.co/nfzKcR04DT via @Noles247
about 5 hours ago

Noles247

Noles247.com


#FSU's Tre Jackson and Cameron Erving named best OL duo in ACC http://t.co/37yoMUElUR via @Noles247
about 5 hours ago

ColeyHarvey

Coley Harvey


Lol. It's been a very slow practice RT @thewanderer2020: @ColeyHarvey did PBS blow up? no one has tweeted anything in nearly 20 minutes!
about 5 hours ago

Warchant

Warchant.com


ICYMI: Our Recruiting Mill that was posted on Sunday. Had a lot of #FSU recruiting news that occurred today http://t.co/X4kJzxnOyT ($)
about 5 hours ago

MichaelWarchant

Michael Langston


Well that was fun wasn't it. Two QB's in about a twenty min span by Fisher. Not bad, not bad Jimbo. Finally heading home.
about 5 hours ago

LOCKSnLOADED_3

Kai Locksley


Appreciate all the love I've gotten from family and friends today, couldn't of done it without y'all and the man above 🙏🙌☝️💯
about 5 hours ago

JeremyTannahill

Jeremy Tannahill


@Deondre_3 I've shared blood sweat and tears with this warrior. Get ready world, here comes one of the greats.
about 5 hours ago

Noles247

Noles247.com


What did Deondre Francois have to say about Kai Locksley committing to #FSU just minutes before his scheduled... http://t.co/oZLzcwdePD
about 5 hours ago

TomahawkNation

TomahawkNation.com


Florida State recruiting: Will #FSU really sign 3 quarterbacks? #Noles http://t.co/f4htHmH6YX
about 5 hours ago

ESPN_ACC

ESPN ACC


Patience paying off for Isaiah Johnson http://t.co/nMOhX9oRQq
about 5 hours ago

TomahawkNation

TomahawkNation.com


Thanks @DAVIDprice14 for some great years in Tampa.
about 5 hours ago

ColeyHarvey

Coley Harvey


#Bengals working on two-minute offense right now.
about 5 hours ago

ColeyHarvey

Coley Harvey


So far, it's been a very low-speed day. ... Although, that's about to change slightly. 11-on-11 coming up.
about 5 hours ago

TomahawkNation

TomahawkNation.com


Detroit gets David Price? Hope we got something back.
about 5 hours ago

ColeyHarvey

Coley Harvey


#Bengals prob had a practice like this scheduled all along,but after all the injuries, concussion protocol, etc., they needed day like today
about 5 hours ago

Noles247

Noles247.com


Deondre Francois comments on the commitment of Kai Locksley http://t.co/NW4MpsWiNF via @Noles247 
about 5 hours ago

mattyports

Matt Porter


Interesting that Heaps is the only #Canes QB doing radio appearances (and appearing photos like this) ... http://t.co/TIBOI8vc06
about 5 hours ago

fsufball

FSU Football


(b/r) Elite QB Deondre Francois Commits to FSU; Meet the Future Jameis Winston: Deondre Francois is a top quar... http://t.co/1cofXNMOeN
about 6 hours ago

TomahawkNation

TomahawkNation.com


Article coming. Not giving it away on twitter RT @KeithMerritt78: @TomahawkNation You think all 3 will still be in this class on NSD?
about 6 hours ago

ColeyHarvey

Coley Harvey


Heavy special teams day, so far. A lot of kickoff work to this point for #Bengals
about 6 hours ago

Noles247

Noles247.com


2015 QB @LOCKSnLOADED_3 provides great insight on why he chose #FSU over #Texas http://t.co/gnF7PU3VTc via @Noles247
about 6 hours ago

SEK_8

Sean Kelly


Where's a good place to eat in Tally ?
about 6 hours ago

TomahawkNation

TomahawkNation.com


#FSU media will be really happy, as @DredaDon14 @Deondre_3 and @LOCKSnLOADED_3 are all great quotes/interviews.
about 6 hours ago

ColeyHarvey

Coley Harvey


.@MWWhalen Not sure. Tough to tell. He's on a bike now. He may just not feel ready to get going again. (Geno)
about 6 hours ago

Noles247

Noles247.com


Great day to commit to @Noles247. 30-day FREE Trial being offered https://t.co/72MrRgUylf http://t.co/vfvQpZfdAN
about 6 hours ago

ColeyHarvey

Coley Harvey


Dre Kirkpatrick and Domata Peko are back practicing. Leon Hall appears to be taking a vet day off. Geno Atkins not dressed ... #Bengals
about 6 hours ago

Noles247

Noles247.com


"If he stays hungry and motivated think he has a very high ceiling, just scratching the surface" Elite 11 on Francois http://t.co/SJtYPJ7J2D
about 6 hours ago

jacques_patrick

The Boy Nino


"You might want to delete this lol @chandlercox10: Welcome to the family bro!!! #WDE #FamilyForever 🐅🐾@Deondre_3"
about 6 hours ago

Noles247

Noles247.com


Francois is a big get for #FSU http://t.co/LN0ZonC2Nm via @Noles247
about 6 hours ago
ACC SCOREBOARD
Thursday, 8/28
Friday, 8/29
Saturday, 8/30
Monday, 9/1
BLOG ARCHIVE:
CATEGORIES: