#BlueChipBattles: Feeding Frenzy
January, 18, 2013
1/18/13
12:18
PM ET
By
RecruitingNation
| ESPN.com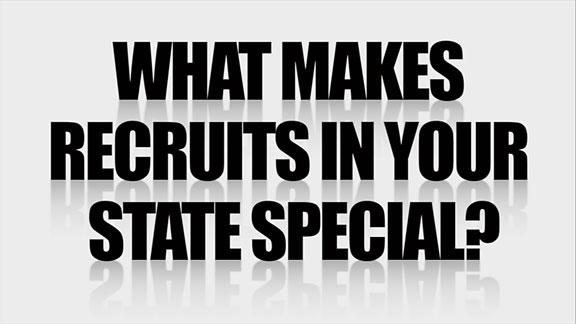 RecruitingNation has been ranking the top 10 battles for elite college football recruits for the past few months, but now it's time to switch things up a bit. Instead of pitting the top athletes against each other,
this week we rank the top 10 states

that have historically housed the most and most sought-after prospects to discover which is the best and which states will be the future hotbeds for elite talent.
Use the hashtag
#BlueChipBattles
to comment on the list, make a prediction or if you disagree with anything we say. Your tweet could end up on that week's page. And you can
rank the top recruiting hotbeds
in SportsNation.
Scene and Heard: Top 10 Predictions
In a conversation with ESPN's Antonietta Collins, national recruiting reporter Gerry Hamilton breaks down the recruiting momentum building at Auburn and offers predictions for where the top 10 recruits will commit.
Tags:
Trenton Thompson
,
Kerryon Johnson
,
Jeffery Holland
,
Martez Ivey
,
Torrance Gibson
,
Cece Jefferson
,
ESPN 300
,
RecruitingNation
,
high school football recruiting
,
Gerry Hamilton
Scene and Heard: Top 10 Predictions
VIDEO PLAYLIST
Scene and Heard: Top 10 Predictions

Scene and Heard: Top 10 Predictions

In a conversation with ESPN's Antonietta Collins, national recruiting reporter Gerry Hamilton breaks down the recruiting momentum building at Auburn and offers predictions for where the top 10 recruits will commit.

Tags: Trenton Thompson

,

Kerryon Johnson

,

Jeffery Holland

,

Martez Ivey

,

Torrance Gibson

,

Cece Jefferson

,

ESPN 300

,

RecruitingNation

,

high school football recruiting

,

Gerry Hamilton

FSU Recruiting Builds On BCS Title Win

FSU Recruiting Builds On BCS Title Win

Spring Game Wrap-Up

Spring Game Wrap-Up
NOLENATION RECRUITING NEWS
FSU FB RECRUITING SCORECARD
Nike Men's Florida State Seminoles Garnet #5 Replica Football T-Shirt Shop »
TimBrewster

Tim Brewster


"@BALOG1953: @TimBrewster go get them coach!" Thx buddy! Havin a blast on the trail!
11 minutes ago

Noles247

Noles247.com


Game Story: #FSU takes it to the #Hatters http://t.co/wT2haOAqmT via @Noles247
33 minutes ago

_DCReeves

D.C. Reeves


RT @Saints: #Saints primetime games:Sept 28 at Cowboys SNFOct 26 vs Packers SNFOct. 30 at Panthers NFLNNov 24 vs Ravens MNFDec 15 at B…
49 minutes ago

Noles247

Noles247.com


#FSU co-leader for 5-star TE http://t.co/r77Hu7QKEr via @Noles247
53 minutes ago

Noles247

Noles247.com


#FSU football notebook: Fisher pleased with depth development (w/ full Fisher transcript) http://t.co/xr8eRTotvr via @Noles247
about an hour ago

theACC

The ACC


.@MiamiHurricanes' Al Golden Finds a Starter in Kevin Olsen http://t.co/1usXgqybt0
about an hour ago

Noles247

Noles247.com


RT @Shizzeee_: Mr. FSU @pass_the_brock and I after workouts. #OneDeMatha #brotherhood #FSU #Noles http://t.co/LQBxhaZaNv
about an hour ago

ColeyHarvey

Coley Harvey


And yes, like the always awesome @PatMcManamon says, it's April. It's pretty early to be making such predictions, but there you have them.
about an hour ago

ColeyHarvey

Coley Harvey


With the sked now out, @ESPNNFL's reporters predict each teams 2014 records. What type of yr should #Bengals expect? http://t.co/CKFf8EeRQp
about an hour ago

_DCReeves

D.C. Reeves


Wow @GatorZoneBB: Florida A&M's Jeremy Barlow hits a two-run shot to left. #Gators trail 4-2 in the 7th.
about an hour ago

Pdub80

Peter Warrick


For all bookings contact Logan Wells 941-343-7393 @gobig3 purplegorilladeals@gmail.comCHECK OUT MY SITE … http://t.co/QxSU6U4Kuh
about an hour ago

Warchant

Warchant.com


RT @TimBrewster: Great day in Bama, Noles now in The Sip! You gotta lov spring recruiting! #NationalChampions
about an hour ago

TimBrewster

Tim Brewster


Great day in Bama, Noles now in The Sip! You gotta lov spring recruiting! #NationalChampions
about an hour ago

Warchant

Warchant.com


RT @EricLuallen: Former FSU pitching coach Jamey Shouppe is in his 1st year as head coach at FAMU. Rattlers currently lead UF 2-1 in the 4t…
about an hour ago

ColeyHarvey

Coley Harvey


QBs #Bengals face in the first seven games: Flacco, Ryan, Locker, Brady, Newton, Luck, Flacco again.
about 2 hours ago

Noles247

Noles247.com


Mike Martin on Jameis Winston near-HR - 'At least he didn't pull a Gomez.'
about 2 hours ago

ColeyHarvey

Coley Harvey


Had to figure w/ that Week 12 bye last season that #Bengals would get an early bye this year. Goal was 5-0 post-bye last yr. This yr? 13-0?
about 2 hours ago

ColeyHarvey

Coley Harvey


Here are a few other thoughts on the #Bengals' schedule. More on early bye, primetime games, late tilts with Steelers http://t.co/HJSGvvncgn
about 2 hours ago

ColeyHarvey

Coley Harvey


... it's a lot like the MNF game against PIT in Week 2 last yr. The DEN game in Week 16 is big because it could hold postseason implications
about 2 hours ago

ColeyHarvey

Coley Harvey


I say NE game is big because it's right after Week 4 bye and is an early chance for #Bengals to prove they belong on big stage ...
about 2 hours ago

ColeyHarvey

Coley Harvey


Aside from division games (which are always big), the two biggest games for #Bengals seem to be Oct. 5 (at New England) & Dec. 22 (vs. DEN)
about 2 hours ago

ColeyHarvey

Coley Harvey


This is 3rd straight yr #Bengals to appear on Sunday (NE; possible flex, 10/5), Monday (Denver, 12/22), Thursday (Cleveland, 11/10) nights
about 2 hours ago

ColeyHarvey

Coley Harvey


And now the #Bengals' schedule is official. They open on the road at Baltimore, Atlanta is the home opener. Primetime games vs NE, CLE, DEN
about 2 hours ago

Warchant

Warchant.com


Recap as FSU goes smallball without DJ Stewart for a big win before this weekend's massive series: https://t.co/KMez7Bgdx1 #FSU #noles
about 2 hours ago

Warchant

Warchant.com


Coaches on the road: Even more visits from the #FSU staff on Wednesday http://t.co/wwuDFvAdMe ($) (7:48 pm)
about 2 hours ago

Warchant

Warchant.com


Mike Martin says DJ Stewart took the day off and treated his ankle, which "flared" a little bit. Trying to get him healthy for the weekend.
about 3 hours ago

theACC

The ACC


Dabo Swinney Talks Confidence In @ClemsonFB QBs http://t.co/XG4t7QkE1Z
about 3 hours ago

Noles247

Noles247.com


FSU defeats Stetson 13-3 to sweep mid-week series. FSU used 5-run 7th inning to bust it open. Dylan Silva gets win http://t.co/SvnnuEx7Lr
about 3 hours ago

Warchant

Warchant.com


Baseball FINAL: FSU sweeps Stetson in midweek series with 13-3 win on Wednesday. Noles plate five runs in seventh inning. #FSU
about 3 hours ago

Warchant

Warchant.com


So, after 8 innings, #FSU leads Stetson 13-3. Noles have 11 runs in past 3 innings. Brandon Johnson in to close this one out
about 3 hours ago

DeionSanders

DeionSanders


"@crucialcoach67: @DeionSanders keep up the good work my son love your show and want to go to prime prep" Thank u so much.
about 3 hours ago

DeionSanders

DeionSanders


RT @TheSoulMantv: Hold on to your girl Boyce! 90s PRIME has his eyes on Lolli TONIGHT 10:30/9:30C @tvland @CedEntertainer @DeionSanders htt…
about 3 hours ago

Warchant

Warchant.com


Winston takes a 2b high off the RF wall, then throws up his hands in mock frustration that it wasn't a home run. Dude blasted that one. #FSU
about 3 hours ago

DeionSanders

DeionSanders


So excited for the Padded Truth Dallas 9&10z football tryout tonight at PrimePrep. Parents,Coaches & Kids let's do this baby! #Truth
about 3 hours ago

Warchant

Warchant.com


Deluzio's sac fly is FSU's 3rd today, and Noles lead 10-3 in bottom 7th.
about 3 hours ago

Warchant

Warchant.com


Wild pitch scores Justin Gonzalez from third, and Stetson's coach is tossed while arguing the play at the plate. FSU up 9-3 now.
about 3 hours ago

Warchant

Warchant.com


Now a double from John Sansone scores two more runs. FSU up 8-3, breaking this one open.
about 3 hours ago

Warchant

Warchant.com


Justin Gonzalez is hit by a pitch to score Jameis Winston from third. FSU now up 6-3 in the bottom of the 7th.
about 3 hours ago

Warchant

Warchant.com


Winston draws a full-count walk, bringing up Nogowski with a runner on base.
about 4 hours ago

Warchant

Warchant.com


Winston up to pinch hit in the bot 7th.
about 4 hours ago

Warchant

Warchant.com


And that looks like it'll be all for Silva. Gage Smith coming in now, 2 outs, bases loaded in 6th. Smith's 28th appearance this season. #FSU
about 4 hours ago

Warchant

Warchant.com


Excuse me, that's just a double off the wall for Stetson. runner at 2nd base still, 2 outs.
about 4 hours ago

Warchant

Warchant.com


Stetson goes deep for another solo home run, this one off Silva. 5-4 #FSU leads still.
about 4 hours ago

Warchant

Warchant.com


Through 6 innings, #FSU leads Stetson 5-3. Speed kills from Deluzio. (3b, scored on sac fly.
about 4 hours ago

Warchant

Warchant.com


And Deluzio scores on a really shallow sac fly. 5-3 FSU now. Man, the freshman has wheels.
about 4 hours ago

Noles247

Noles247.com


#FSU now leads 5-3 http://t.co/ozPNpu8TMf via @Noles247 
about 4 hours ago

DavidHaleESPN

David Hale


New iOS update for iPhone appears to royally screw up group text messaging. Anyone know how to uninstall?
about 4 hours ago

Noles247

Noles247.com


#FSU takes 4-3 lead in fifth http://t.co/NpEME7Dq1S via @Noles247 
about 4 hours ago

Warchant

Warchant.com


Ben Deluzio puts FSU back on top with an RBI triple in the 6th. 4-3 Noles, and that's Deluzio's 3rd triple this season.
about 4 hours ago

Warchant

Warchant.com


Dylan Silva fans the final two batters of the top of the 6th, and FSU and Stetson remain tied 3-3. #FSU
about 4 hours ago

_DCReeves

D.C. Reeves


Working on a story about the physical improvement Bama is showing at the plate in 2014. Already eclipsed HR totals from 11, 12 & 13.
about 4 hours ago

_DCReeves

D.C. Reeves


In a 14-week span starting with fall ball, #Alabama's baseball team combined to add 248(!) pounds of muscle. That's like adding another guy.
about 4 hours ago

Warchant

Warchant.com


Dylan Silva now on the mound for FSU. He's 2-0 this season with a 2.19 ERA.
about 4 hours ago

Warchant

Warchant.com


#FSU and Stetson still tied 3-3 thru 5 innings. Both teams went 1-2-3 that inning.
about 4 hours ago

theACC

The ACC


.@FSU_Football's Jimbo Fisher Talks 2-Sport Spring For Jameis Winston http://t.co/BW4ctZ0Tkx
about 4 hours ago

DavidHaleESPN

David Hale


Always looking out for the media. RT @_andrewcarter: Fedora figures QB comp gives people something to talk about... http://t.co/vzPJ6gJRR0
about 4 hours ago

theACC

The ACC


RT @ACCWTennis: RECAP http://t.co/NI9HcIBofM @WakeWTennis, @BCeaglestennis and @VT_WTennis earn 1st round #ACCWTEN Championship wins http:/…
about 4 hours ago

Warchant

Warchant.com


Rivals250 TE Hale Hentges breaks down his #FSU visit last weekend & the impression the Noles made. http://t.co/IO9wFI7iGO
about 5 hours ago

Warchant

Warchant.com


Through 4 innings, FSU and Stetson tied 3-3. Miller on mound for #FSU.
about 5 hours ago

Noles247

Noles247.com


#FSU and Stetson tied 3-3 after four innings. Follow: http://t.co/HpUQFAae0J via @Noles247 
about 5 hours ago

Warchant

Warchant.com


Sac Fly from DeLaCalle ties the game at 3 in the bottom 4th.
about 5 hours ago

DavidHaleESPN

David Hale


That total cost #FSU $710,385 for the game. #Auburn, by comparison, had just 211 tickets absorbed at cost of $58,315.
about 5 hours ago

Warchant

Warchant.com


Casey Smit in to pinch hit for Truluck now in the bot 4th after Deluzio gets beaned.
about 5 hours ago

Warchant

Warchant.com


Thru 3.5 innings, Stetson leads #FSU 3-2.
about 5 hours ago

Noles247

Noles247.com


#FSU trails Stetson 3-2 http://t.co/fubVXnI1Ph via @Noles247 
about 5 hours ago

Warchant

Warchant.com


And DeLaCalle with the hose: flags down Stetson runner trying to steal 2nd base easily. 2 gone now.
about 5 hours ago

Warchant

Warchant.com


Stetson takes the lead with a double followed by an RBI single to CF. 3-2 Hatters leading in top 4th, 1 out. #FSU
about 5 hours ago

Warchant

Warchant.com


FSU and Stetson tied at 2-2 after 3 innings. Peter Miller pitching after Taylor Blatch, who started, lifted after 2.1 innings.
about 5 hours ago

Warchant

Warchant.com


thru 3 innings, FSU 2, Stetson 2. Sansone's deep fly ball is tracked down to end the 3rd, good play by Stetson OF to save a hit. #FSU #noles
about 5 hours ago

Warchant

Warchant.com


Miller works out of bases-loaded jam but gives up one run to tie the game 2 in the middle 3rd.
about 5 hours ago

Seminoles_com

Seminoles.com


RT @calebw8: Beautiful day for some @FSU_Baseball http://t.co/tMpOgWxqlc
about 5 hours ago

Noles247

Noles247.com


#FSU-Stetson tied 2-2 in third http://t.co/C7DqywrA97 via @Noles247 
about 5 hours ago

Warchant

Warchant.com


Taylor Blatch walks/beans the bases loaded with 1 out, and in comes Peter Miller in relief. #FSU
about 5 hours ago

Warchant

Warchant.com


FSU strands two men on base. Seminoles up 2-1 as we head to the third.
about 5 hours ago

ColeyHarvey

Coley Harvey


#Bengals will enter 2014 w a comparatively easier schedule. They rank 23rd in strength of sked using 2013 W-L numbers http://t.co/av7YkdT9kP
about 5 hours ago

ColeyHarvey

Coley Harvey


MT @SandoESPN With schedule thoughts in the air: In 2013, CIN was 4-0 vs teams that finished w winning record. TB/JAC/GB/ATL combined 0-29
about 5 hours ago

Noles247

Noles247.com


#FSU leads Stetson 2-1 after an inning. Follow along here: http://t.co/YCBBxfpbxh via @Noles247 
about 6 hours ago

Warchant

Warchant.com


Nogowski scores from third on a double steal, becoming the first FSU player to steal home since Giovanny Alfonzo on April 27, 2012.
about 6 hours ago

Warchant

Warchant.com


RT @chadmavety55: Tracy Martin....the newest Seminole Fan! http://t.co/taEui64Uru
about 6 hours ago

_DCReeves

D.C. Reeves


Things can change based on Fri/Sat of course, but my guess is #Alabama would go Eicholtz on short leash Sunday followed by Bramblett/Hawley.
about 6 hours ago

Warchant

Warchant.com


Jose Brizuela bloops a single to right center, and FSU ties the game 1-1 in the bottom of the first.
about 6 hours ago

Warchant

Warchant.com


FSU going for the sweep of Stetson this afternoon. Here's our live chat as the game gets started: https://t.co/nHYyzYXpAs (FREE)
about 6 hours ago

Warchant

Warchant.com


Stetson's Patrick Mazeika blasts one over the RF wall in the top of the 1st to give the Hatters a 1-0 lead. FSU up to bat next.
about 6 hours ago

Noles247

Noles247.com


#FSU trails 1-0 http://t.co/al65megBkG
about 6 hours ago

Warchant

Warchant.com


RT @D1Circuit: Florida State has also reached out to Cornish (@JordanCornish5_). Former #NTL guard is a hot commodity this late in the game.
about 6 hours ago

ESPN_ACC

ESPN ACC


ACC teleconference notebook http://t.co/UNuGh1fHDl
about 6 hours ago

Noles247

Noles247.com


#FSU football notebook: Fisher pleased with depth development http://t.co/A9ufzgiOBW via @Noles247 
about 6 hours ago

Warchant

Warchant.com


Coaches on the road: Another visit to a new target for #FSU by the staff. Full list of visits here. http://t.co/c9TeFRlL3P ($)
about 6 hours ago

Warchant

Warchant.com


"@Cannon_Bawl68: Got a great visit from coach trickett #FSU #gonoles" 2015 lineman Austin Cannon
about 6 hours ago

Noles247

Noles247.com


A look at some visits by the #FSU coaching staff (VIP) http://t.co/HsOnGryN4x via @Noles247
about 6 hours ago

_DCReeves

D.C. Reeves


Still, Alabama's bullpen has gone from stellar to shaky the past two weeks, but it'll have to come up big in place of Keller on Sunday.
about 6 hours ago

_DCReeves

D.C. Reeves


Gaspard said that Keller would be reinstated on Monday. Will only miss the South Carolina series.
about 6 hours ago

Noles247

Noles247.com


#FSU's Rick Trickett drops in on familiar Virginia school (VIP) http://t.co/EKqk1IgiCX via @Noles247
about 6 hours ago

Warchant

Warchant.com


Live chat for FSU baseball vs. Stetson: https://t.co/RLRFVRWykw About 30 minutes away from first pitch with Taylor Blatch on the mound.
about 6 hours ago

Warchant

Warchant.com


Brett Knief is in LF today, with Hank Truluck playing DH for just the third time this year. He's batting .333 on 12 ABs with 6 walks.
about 6 hours ago

Noles247

Noles247.com


Latest on #FSU 4-star WR target John Burt (VIP) http://t.co/3GBm4WHYog via @Noles247
about 6 hours ago

Noles247

Noles247.com


Blatch starting. Stewart scratched. More from #FSU vs. #Stetson before first pitch http://t.co/FaXz8BZtwI via @Noles247
about 7 hours ago

Warchant

Warchant.com


DJ Stewart has the day off, FSU says. Has started 34 of FSU's 40 games this season, 33 in LF. Missed 4 due to suspension.
about 7 hours ago

Warchant

Warchant.com


FSU LineupDelph RFKnief LFNogowski 1BBrizuela 3BGonzalez SSSansone 2BDeLuzio CFTruluck DHDeLaCale CSP: Taylor Blatch
about 7 hours ago

Noles247

Noles247.com


RT @Hustle_6: Can't wait to knock some of these QB's Out an stand over them an do the Tomahawk Chop #Nolenation
about 7 hours ago
ACC SCOREBOARD
Thursday, 8/28
Friday, 8/29
Saturday, 8/30
Monday, 9/1
BLOG ARCHIVE:
CATEGORIES: