By the Numbers: EJ's inconsistency
January, 11, 2013
1/11/13
9:00
AM ET
With the 2012 season officially in the books, we took a look through the stats to determine some of the most significant improvements and problems Florida State endured this year, with five stats that defined 2012.
The numbers don't always tell the whole story, but these numbers shed some light on some of the biggest reasons Florida State won 12 games and its first ACC title in seven years, and also why those other two games got away.
We started with a look at the
ground game
on Monday.
We looked at some
curious playcalling
by Jimbo Fisher on Tuesday.
We looked at the
impressive work by FSU's secondary
on Wednesday.
We looked at the depth on the Seminoles' defensive line on Thursday.
[+] Enlarge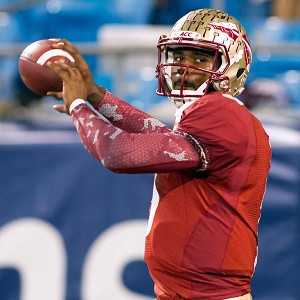 Jeremy Brevard/USA TODAY SportsQB EJ Manuel had a career year, but the numbers suggest that he wasn't necessarily getting better as the season went along.
And finally:
156.03
.
That was
EJ Manuel
's passer rating this season, which ranked second in the ACC and 15th nationally, just a tick behind Heisman finalist
Collin Klein
.
That rating was an improvement over 2011, as were virtually all of his other stats -- passing yards (3,392), touchdowns (23), completion percentage (68.0) and yards per attempt (8.8). And yet, it's hard to call Manuel's season a complete success.
Big picture, Manuel took a step forward in his fifth year in the program and his second as the full-time starter, but he was maddeningly inconsistent at times, with the loss to Florida -- in which he accounted for five turnovers -- as the low point.
And while the season as a whole represented progress for Manuel, the numbers suggest he might have regressed as the year went along.
| Month | Att/Game | Comp% | YPA | TD/INT |
| --- | --- | --- | --- | --- |
| September | 24.0 | 73.3% | 9.6 | 9/1 |
| October | 27.5 | 66.4% | 10.6 | 7/3 |
| Nov./Dec. | 29.8 | 63.8% | 6.6 | 6/6 |
| Bowl Game | 38.0 | 68.4% | 7.7 | 1/0 |
In FSU's final five games of the season, the offense mustered fewer than 400 yards four times -- it had topped that total in every other game in 2012 -- and Manuel threw for fewer than 200 yards three times.
The battle to become the next starting quarterback at FSU will be the biggest story of the spring, and while replacing Manuel won't be easy, there are reasons a sizable contingent of fans are excited about the alternatives.
College football
ACC reporter.
Joined ESPN in 2012.
Graduate of the University of Delaware.
Ticket Prices Through The Roof
Real Money takes a look at BCS Championship, NBA Finals and World Series ticket prices.
Ticket Prices Through The Roof
VIDEO PLAYLIST
Ticket Prices Through The Roof

Ticket Prices Through The Roof

Real Money takes a look at BCS Championship, NBA Finals and World Series ticket prices.

Playoff Field: Week 9

Playoff Field: Week 9

Cary Chow, Heather Dinich, and Adam Rittenberg take a look at where things stand after week 8 of the college football season, and what the playoff selection committee will have to do when sorting out all of the one-loss teams.

Playoff Top 4: Week 9

Playoff Top 4: Week 9

Heather Dinich gives her weekly look at the College Football Playoff picture and picks the four teams she would put in the playoff if the season ended today.
FSU FB RECRUITING SCORECARD
ESPN_ACC

ESPN ACC


UVa focused on stopping UNC's Marquise Williams http://t.co/eif663X2Xu
about a minute ago

accwbb

ACC WomensBasketball


Last chance to get your question in for any players or coaches attending #ACCmediaday today! Tweet us using #ACCWBBLive to get them answered
11 minutes ago

JonGordon11

Jon Gordon


You have to have an ego to want to be great BUT you must give up your ego, serve others and a bigger cause in order to be great.
21 minutes ago

DeionSanders

DeionSanders


It doesn't matter where u come from it matters where you're going. Focus & Stay on course you're closer than u think. You got this!#TRUTH
48 minutes ago

TomahawkNation

TomahawkNation.com


Noles News 10/22: Karlos Williams comes up big #FSU http://t.co/2o56C9FWpQ
about an hour ago

bran2385

Brandon Smith


@TomahawkNation He sounds like a guru when we are winning but I remember those early years it all kinda sounded a little like excuses lol
about 8 hours ago

logandowner

logan downer


@TomahawkNation you also have to slow down your audio to 50% to understand what he's saying. Dude has some RPM when he talks.
about 8 hours ago

TomahawkNation

TomahawkNation.com


Jimbo will talk a lot of ball in interviews but you really have to know lingo & listen for slips because he doesn't stop & explain it
about 8 hours ago

TomahawkNation

TomahawkNation.com


.@brian_warwick SEC East Teams v. Power 5 competition: 40 Passing TDs, 40 INTs thrown.
about 8 hours ago

TomahawkNation

TomahawkNation.com


In the preseason, we asked if any East team could exploit UGA's secondary. And the answer is clearly NO. https://t.co/40f8hpe8Py
about 8 hours ago

idontwan2know

Alan Mundy


@TomahawkNation When South Carolina, as bad as they've played, leads the pack...that's bad.
about 8 hours ago

idontwan2know

Alan Mundy


Alright...caffeine, snacks and remote. Time for late night film review session.
about 8 hours ago

TomahawkNation

TomahawkNation.com


Look at these yards/attempt v. Power 5 teams. East teams rank 6,8,9,10,11,12,13,14 in SEC. http://t.co/ypnr5VLNE9
about 8 hours ago

TomahawkNation

TomahawkNation.com


The QB play in the SEC East is the worst I've ever seen, I think. Might be worst division of QB play in the major conferences.
about 8 hours ago

TomahawkNation

TomahawkNation.com


Tomorrow we'll have both the podcast and film review. Keeping #Noles fans happy during the bye week.
about 8 hours ago

ToddFuhrman

Todd Fuhrman


Kenny Hill was once the favorite to win the #Heisman trophy. As of this morning, @BovadaLV removed him from their futures pool entirely
about 8 hours ago

Warchant

Warchant.com


Insider Report: With extra days to prepare for Louisville, FSU gives key veterans a break. https://t.co/fEhVpK9ZIY http://t.co/wUF2TUXkUm
about 9 hours ago

FSU_Football

FSU Football


Remember this guy? @Jaguars LB Telvin Smith is up for NFL Rookie of the Week. Vote now: http://t.co/ngjZfHWS9v http://t.co/qV8XRQ78th
about 9 hours ago

Jaguars

Jacksonville Jaguars


LB @TelvinSmith_22 caused 2 turnovers on Sunday.He's up for @pepsi @nfl Rookie of the Week: http://t.co/UxWnd3agwQ http://t.co/1Yp9fTm9Qg
about 9 hours ago

theACC

The ACC


.@ACCSwimDive Players of the Week, Presented by Havoline: North Carolina's Nyquist Earns Second Weekly Award: http://t.co/fOk2EsE6Ql
about 10 hours ago

theACC

The ACC


.@ACCMSoccer Player of the Week, Presented by Havoline: Louisville's Tim Kubel: http://t.co/OHqoYkZ2ua
about 10 hours ago

theACC

The ACC


.@ACCFieldHockey: Player of the Week, Presented by Havoline: Boston College's Eryn McCoy: http://t.co/THJqwZ1juM
about 10 hours ago

D1_Richhh_

R\u00EFchard R\u00F8\u0161e


Pause for a min ..........."We them Boys "👌🔥 http://t.co/jvz1gYkJFb
about 10 hours ago

theACC

The ACC


.@ACCWSoccer Player of the Week, Presented by Havoline: Wake Forest's Kim Marshall: http://t.co/J2kbxGRuId
about 10 hours ago

Warchant

Warchant.com


#FSU benefits from huge recruiting weekend. Nice write-up by @rivalsmike. http://t.co/3lFyPtUYUK via @sharethis
about 10 hours ago

theACC

The ACC


#ACC Cross Country Players of the Week, Presented by Havoline: Boston College's Westphal and Syracuse's Hehir: http://t.co/AGcXcZ15Cw
about 10 hours ago

DeionSanders

DeionSanders


Stop allowing your Yesterday to dominate Today and affect your Tomorrow. #Truth
about 10 hours ago

Ranzington

mr


@PhenomeNoles @jmnpb996 gotta be something that rest won't help
about 10 hours ago

jmnpb996

jmnpb996


Darby pretty clearly isn't 100%. Dude limps, runs wide circles to turn around. Hammy?
about 10 hours ago

Saivion3

#?8?


Just received an Offer from the University of Georgia #GoDawgs 🐾🐶
about 10 hours ago

theACC

The ACC


.@ACCVolleyball Players of the Week, Presented by Havoline: Miami's Savanah Leaf and Louisville's Tess Clark: http://t.co/D63IiKsMqj
about 10 hours ago

BriBaby64

Queen of the stars


@Traceyeedmonds @DeionSanders @OWNTV GET READY GET SET GO!!! NOV 1 http://t.co/DcBOIJYKeD
about 11 hours ago

DeionSanders

DeionSanders


I Love and Live the #Truth.
about 11 hours ago

ina_flash_4

?Flash Kid ?


I am thankful & blessed to say that I am committed to Florida St University 🏃💨🔴🔶 #GoNoles http://t.co/oNhbZGYV6N
about 11 hours ago

accwbb

ACC WomensBasketball


#ACCmediaday is tomorrow! Have a question for any of the coaches or student-athletes attending? Ask them using #ACCWBBLive.
about 11 hours ago

_DCReeves

D.C. Reeves


Alabama is also a 16-point road favorite this week.
about 11 hours ago

_DCReeves

D.C. Reeves


This is the 1st time in the history of the Tennessee-Alabama rivalry that one team has won 3 straight by 30+. Alabama has won 4 by 30+.
about 11 hours ago

TeranJ_WUTK

Teran Johnson


The exodus from Gainesville begins.."@Landgrant33: Jerome Baker has flipped to Ohio State from UF (@SBNRecruiting): http://t.co/K5kMn8LffB
about 12 hours ago

Landgrant33

Land-Grant Holy Land


Jerome Baker has flipped to Ohio State from Florida (@SBNRecruiting): http://t.co/dZg695SbxZ
about 12 hours ago

ZMart33

Zach


@urbanbobby5 @TomahawkNation It looks really sharp, too http://t.co/0VAGQE3lgL
about 12 hours ago

jonnyfray

Jonathan Fraser


@TomahawkNation boom http://t.co/Jw2cFslj5X
about 12 hours ago

ComptonKnows

Ben Carlson


Mobile viewing is elite "@TomahawkNation: . @jonnyfray we don't need an app. Our mobile site is fully responsive. So much better."
about 12 hours ago

urbanbobby5

RU


@TomahawkNation can also make a shortcut on the iPhone to have it go directly to the site
about 12 hours ago

TomahawkinNole

Trey


@TomahawkNation @jonnyfray mobile site works great!
about 12 hours ago

TomahawkNation

TomahawkNation.com


. @jonnyfray Yup. Make us your homepage on your mobile browser!
about 12 hours ago

TomahawkNation

TomahawkNation.com


. @jonnyfray we don't need an app. Our mobile site is fully responsive. So much better.
about 12 hours ago

Warchant

Warchant.com


Good stuff from Jimbo Fisher following #FSU's Tues. practice looking back at Notre Dame. https://t.co/fhsa6eEOWa http://t.co/Zg0tukqAWj
about 12 hours ago

TomahawkNation

TomahawkNation.com


. @BylineBrandon @CNN but those might not produce, uh, ratings for a network that continues to tank
about 12 hours ago

BylineBrandon

Brandon Larrabee


Now we know why @CNN didn't want Florida reporters at the debate: They might have demanded relevant questions
about 12 hours ago

PaulAzinger

Paul Azinger


AGREED..RT @HuddleT Now THAT is how our National Anthem should be sung! BEAUTIFUL!!! Great job @trishayearwood ! #WorldSeries
about 12 hours ago

cblunt58

Chuck Blunt


consider what? that it was the right call? https://t.co/KMjwvdGlFK
about 13 hours ago

TomahawkNation

TomahawkNation.com


Lol. So many talented folks at ESPN then we get this ***** https://t.co/ZfpWYipait
about 13 hours ago

_DCReeves

D.C. Reeves


Don't you dare think your going to read defenses assume a pass is coming and make the playoff
about 13 hours ago

_DCReeves

D.C. Reeves


Pass inference penalties should be considered IMO http://t.co/70VjcupfvK
about 13 hours ago

Moody54TMB

Nick Moody


Stop making excuses for Notre Dame ESPN
about 13 hours ago

TomahawkNation

TomahawkNation.com


lol high speed rail. in florida.
about 13 hours ago

TomahawkNation

TomahawkNation.com


Love when our competitors let high schoolers like @hc3onthediamond write articles in the #noles section.
about 13 hours ago

fsufball

FSU Football


(b/r) Florida State's Character on Full Display with Winston, Fisher's Actions: On 4th-and-goal from the 2-yar... http://t.co/G2ns3dLJqU
about 13 hours ago

tmartinmss

Terry Martin


@JBradEdwards didn't ASU give up 100 to UCLA...
about 13 hours ago

Noles247

Noles247.com


#FSU WR Jesus Wilson on needing to start faster - "We have got to start hunting" http://t.co/JnPMosMwYp via @Noles247
about 13 hours ago

theACC

The ACC


Pick against @theACCDN experts @TheRealC_Portis, @Riley_Skinner and @BMac_120 in this week's #ACC Fan Pick'em: http://t.co/QE7SvNBkpg
about 13 hours ago

TomahawkNation

TomahawkNation.com


.@NoleDigest absolutely. Karlos lacked explosive plays but played an extremely physical game. All his yards were physically earned too
about 14 hours ago

Warchant

Warchant.com


#FSU recruitniks: Join us for a recruiting chat @ 8 p.m. ET! We'll wrap up the #FSU-ND game weekend & of course we'll have a few nuggets!
about 14 hours ago

TomahawkNation

TomahawkNation.com


.@cpaul1285 Most likely the refs did not see it. They had just thrown a flag for the OPI and were discussing the flag.
about 14 hours ago

FSU_Football

FSU Football


Tune in to ESPNU tomorrow at 6pm as the road Trip crew highlight the full weekend in #Tallahassee when @FSU_Football took on @NDFootball
about 14 hours ago

Warchant

Warchant.com


Updates from Jimbo Fisher after practice: https://t.co/mE0l4DTI9X ($) Injuries, assessing team at bye week, quick assessment of ND game.
about 14 hours ago

TomahawkNation

TomahawkNation.com


Read more. Our readers knew preseason if FSU lost either DT starter D was in trouble. RT @Venti_Ocho: DL and OL are underachieving this year
about 14 hours ago

TomahawkNation

TomahawkNation.com


And yeah, Notre Dame was blitzing 6 and the 7th guy was a green dog. That is ballsy as hell against FSU. Eventually FSU's WRs burnt 'em.
about 14 hours ago

TomahawkNation

TomahawkNation.com


Nice, nice blitz pickup here in the 2H. 6 rushers, 6 blockers, nobody free. Film review comes tomorrow. http://t.co/aWgUjyhqH6
about 14 hours ago

Noles247

Noles247.com


Back to work for Rick Trickett http://t.co/WiFaDoRcOl via @Noles247
about 14 hours ago

Noles247

Noles247.com


Updated in the first post - #FSU's Tuesday practice http://t.co/saERa7RSaX via @Noles247
about 14 hours ago

AnquanBoldin

Anquan Boldin


Looking for some suggestions of where to watch the @SFGiants start their World Series battle this evening. #SFUnite
about 14 hours ago

Noles247

Noles247.com


Practice Update: FSU back at it - Fisher post-practice comments http://t.co/HboQIhIp7M via @Noles247
about 14 hours ago

TomahawkNation

TomahawkNation.com


hey @jmnpb996 you're missing a great third quarter to review. Winston was NFL level there. Sick anticipation.
about 14 hours ago

Noles247

Noles247.com


Practice Update: FSU back at it - Jimbo Fisher set to speak http://t.co/R5L8qyBbmi
about 14 hours ago

Noles247

Noles247.com


Have you seen how cool these Yeti's are? Enter to win a FREE FSU Yeti Cooler! #Dallas2Dallashttps://t.co/wG7n6jAWMY http://t.co/oXkVZpRVCm
about 15 hours ago

fsufball

FSU Football


(b/r) Jameis Winston's Best Career Path Is to Declare for 2015 NFL Draft: Jameis Winston's college football ca... http://t.co/at7rR1Uwer
about 15 hours ago

Noles247

Noles247.com


4-star S Calvin Brewton on his time at #FSU this weekend and more http://t.co/iSxh1PGQMq via @Noles247
about 15 hours ago

Noles247

Noles247.com


4-star DQB Kai Locksley talks about his #FSU official visit and more http://t.co/pT3lrATjXS via @Noles247
about 15 hours ago

TheRecruitScoop

Alex Kline


2017 Oak Hill (VA) PG Lindell Wigginton has been offered by Florida State.
about 15 hours ago

ESPN_ACC

ESPN ACC


ACC, Notre Dame announce opponents through 2025 http://t.co/xRXKJrV6UI
about 15 hours ago

_DCReeves

D.C. Reeves


RT @Vol_Football: Saturday's Game vs. @AlabamaFTBL is officially a selloutThanks #VolNation! http://t.co/DfXtLg0MBl http://t.co/pYFINbdxs7
about 15 hours ago

Warchant

Warchant.com


FSU practice notes: https://t.co/3LCwFX82ux ($) A former ACC coach on the sidelines, and a bunch of players sitting out.
about 15 hours ago

TomahawkNation

TomahawkNation.com


Florida State football practice report: 10/21 http://t.co/Yu8RTmjax5
about 15 hours ago

Noles247

Noles247.com


Jimbo Fisher and Jim Grobe chatting at FSU's practice http://t.co/Okvn0pwX2Z
about 15 hours ago

Noles247

Noles247.com


#FSU returned to practice on Tuesday. Here is an update from the practice fields: http://t.co/saERa7RSaX via @Noles247
about 15 hours ago

Warchant

Warchant.com


FSU OL coach Rick Trickett back at practice today. Could be heard and seen. Bunch of players sitting out, but could be precaution on bye.
about 16 hours ago

theACC

The ACC


.@NDFootball vs @FSU_Football: most-viewed October college football telecast across all networks on record: http://t.co/ownnd4hudF #NDvsFSU
about 16 hours ago

Noles247

Noles247.com


Practice Update: #FSU back at it http://t.co/saERa7RSaX via @Noles247
about 16 hours ago

_ChrisHatfield

Chris Hatfield


Wake Forest is only team to give Jameis Winston a QBR below 130 and they've done it both times they've faced him (124 & 126.3)
about 16 hours ago

JennaLaineBucs

JennaLaineBucs


Bucs also announce another move I reported earlier, signing of former FSU LB Mister Alexander to the practice squad - http://t.co/3tp54SI5xA
about 16 hours ago

sammyeanes

Sammy Eanes


So the #Hokies play Notre Dame 4 times between 16-21, more than FSU, Clemson & Louisville combined, who are, ya know, in the same conference
about 16 hours ago

NINAZ_

Nina Z


Come watch @DeionSanders & celebrity friends play against @PrimePrepBball this Sat. 7PM! #PrimePrepMidnightMadness http://t.co/j8HmM8Ald6
about 16 hours ago

DeionSanders

DeionSanders


You don't need faith to stand up. You got that part covered. You need your undeniable faith to get up out of your situation. #TRUTH..
about 16 hours ago

Noles247

Noles247.com


Davante Davis talks about his official visit to #FSU http://t.co/HGCEtAlEUK via @Noles247
about 16 hours ago

SBN_BillC

Bill Connelly


Study Hall: FSU 31, Notre Dame 27. Irish should've run more, 'Noles should've run less. http://t.co/PeeBGbkVRR
about 16 hours ago

joshnewberg247

Josh Newberg


Miami Central WR Da'Vante Phillips has a midseason highlight you should watch (FREE) http://t.co/YfHOo3zw2p
about 16 hours ago

BGI_AndrewOwens

Andrew Owens


Brian VanGorder discusses what went well and what didn't in #NotreDame's trip to #FSU on Saturday: http://t.co/WjZYxIWJBh
about 16 hours ago

TomahawkNation

TomahawkNation.com


Notre Dame Florida State most viewed CFB regular season game since 2012 http://t.co/injkiArtHz
about 17 hours ago

richarddeitsch

Richard Deitsch


Florida State-Notre Dame drew 13,251,000 viewers, the most-viewed CFB game of 2014 season. The details from TASS: http://t.co/bmHhzTBxo4
about 17 hours ago
ACC SCOREBOARD
Thursday, 10/23
Saturday, 10/25
BLOG ARCHIVE:
CATEGORIES: