Officials lined up for 4-star OT Kirkland
December, 30, 2012
12/30/12
1:14
PM ET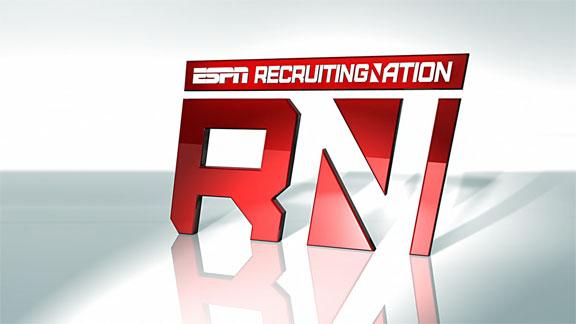 LAKE BUENA VISTA, Fla. --
Denver Kirkland
(Miami/Booker T. Washington) entered the room with a big smile on his face. And who could blame him?
As the offensive tackle checked in at the Under Armour All-America Game, he made the rounds seeing the jerseys, gloves, cleats and other gear that would soon be his own. This, though, is just the start.
Practicing all week at Disney's ESPN Wide World of Sports against other top prospects has its own appeal.
To continue reading this article you must be an Insider
Welcome
!
We see that you are not an ESPN Insider. Upgrade today and gain access to our exclusive coverage.
ESPN The Magazine subscribers

Need more information?
ACC recruiting rewind: Dec. 9
Juco OL Chad Mavety could bring more help to FSU, while Miami and Pitt wait on commitments who could help close the gap against the Noles.
ACC recruiting rewind: Dec. 9
VIDEO PLAYLIST
FSU FB RECRUITING SCORECARD
theACC

The ACC


MT @uncwbb What a great time we had with @UNCWBBCoach yesterday at her house! She looks great and feels even better!!...
about a minute ago

DavidHaleESPN

David Hale


RT @mattmoore3476: @DavidHaleESPN #Auburn wrst tot def to make BCS ncg at 88, prev was 08 OU at 68; they are 3rd wrst scor def at 38, 10 AU…
2 minutes ago

fsufball

FSU Football


(b/r) Florida State Is Far More SEC Caliber Than Auburn Is: TALLAHASSEE, FL- In the coming weeks, Florida Stat... http://t.co/l1cGlMPyjj
2 minutes ago

cdowlar

Corey Dowlar/ESPN


Could be a significant boost, but already at high level RT @Yroc2010: @cdowlar what do you think this season will do for recruiting
3 minutes ago

TomahawkNation

TomahawkNation.com


Pro tip: use []_[] instead of U for 305 tweets RT @TimBrewster: U got to lov walking into the #305 13-0 and playin for a Natty!! #NoleNation
3 minutes ago

Noles247

Noles247.com


RT @TimBrewster: U got to lov walking into the #305 13-0 and playin for a Natty!! #NoleNation
5 minutes ago

TimBrewster

Tim Brewster


U got to lov walking into the #305 13-0 and playin for a Natty!! #NoleNation
5 minutes ago

cdowlar

Corey Dowlar/ESPN


Saban RT @Flurish863: @cdowlar who does FSU target to replace Jimbo+
6 minutes ago

DavidHaleESPN

David Hale


Wasn't the best quote, but was one of the smartest guys I've interviewed... http://t.co/WkK3EAQ752
6 minutes ago

Noles247

Noles247.com


A summer official and in-season unofficial proved crucial to #FSU landing Chad Mavety http://t.co/aKTLlKFdrE via @Noles247
10 minutes ago

DavidHaleESPN

David Hale


RT @JWerthsBeard: http://t.co/jjWhs3VCV2
10 minutes ago

DavidHaleESPN

David Hale


RT @KShaw81: Jus lettin da camera people kno after my TD in the ACC Champs game that I'm #3hunna 💯💯💯.... Now off to… http://t.co/tWoRQ6S89j
10 minutes ago

TomahawkNation

TomahawkNation.com


RT @hymnforrachel: um you win today RT @Mengus22: .@celebrityhottub Jesus: "It was then that I carried you." @TomahawkNation: "Yeah, that's…
11 minutes ago

DavidHaleESPN

David Hale


For 2 years, I never had to sweat a deadline when Halladay started. Shame it fell apart so fast, but when he was good, he was unhittable.
12 minutes ago

TomahawkNation

TomahawkNation.com


RT @celebrityhottub: When @TomahawkNation dies, he's gonna tell St. Peter how he wouldn't even make third string for the 2013 Noles.
16 minutes ago

cdowlar

Corey Dowlar/ESPN


Florida State fills need with the addition of Chad Mavety this morning - http://t.co/FW2zjnkt6c
18 minutes ago

ESPNFSU

ESPN Florida State


Florida State fills need with juco OL http://t.co/7w84Tiapwc
21 minutes ago

TomahawkNation

TomahawkNation.com


RT @osfsu: #3hunna is back MT @KShaw81: Jus lettin da camera people kno after my TD in the ACC Champs game that I'm #3hunna...http://t.co/J…
21 minutes ago

_DCReeves

D.C. Reeves


AJ McCarron wins Johnny Unitas Golden Arm Award, given to top senior/RS junior QB http://t.co/tZfLX5ZfyE #Alabama
25 minutes ago

TomahawkNation

TomahawkNation.com


#Noles face huge challenge against Johnny Manziel, Todd Gurley, Jadeveon Clowney & the All-SEC Team http://t.co/igaVfGCj9m
26 minutes ago

DavidHaleESPN

David Hale


RT @mattmoore3476: @DavidHaleESPN in last 9 gms, #FSU is outscoring opps 246-28 in 1st hlf, + def has scrd 28; add 3rd qrt, 374-38, def wit…
29 minutes ago

ESPNFSU

ESPN Florida State


Two stand out for ESPN Junior 300 DE http://t.co/XkiCuHCYtg
33 minutes ago

Warchant

Warchant.com


With the commitment of OL @chadmavety55 #FSU moves up to #3 in the @Rivals team recruiting rankings. http://t.co/d0EFs2GcFx
37 minutes ago

Noles247

Noles247.com


#FSU's Rick Trickett moves up in the rankings http://t.co/5SHNih9QBi via @Noles247
38 minutes ago

Warchant

Warchant.com


RT @IzzoRyan: Welcome to the fam @chadmavety55 can't wait to see u down in tally boy
40 minutes ago

Warchant

Warchant.com


RT @rivalsmike: For more on Mavety check out http://t.co/txki4V6ZBD and if you're an #fsu fan and not a subscriber, what's wrong with you?
41 minutes ago

Noles247

Noles247.com


RT @chadmavety55: "@IzzoRyan: Welcome to the fam @chadmavety55 can't wait to see u down in tally boy" yessirrr! Lets go brotha
42 minutes ago

Noles247

Noles247.com


With addition of Mavety, #FSU up to No. 7 class http://t.co/vuYIGQMLZP via @Noles247
46 minutes ago

TomahawkNation

TomahawkNation.com


By the way, to follow the new 6'6, 320lb FSU recruit, he's at @chadmavety55 #Noles I'm adding him to the FSU recruit list.
46 minutes ago

TomahawkNation

TomahawkNation.com


RT @rivalsmike: Chad Mavety is a big get for #fsu, gotta keep recruiting big, physical and nasty linemen and he's one of them
47 minutes ago

TomahawkNation

TomahawkNation.com


Agree with @CNee247 because FSU has almost no offensive line depth.
49 minutes ago

_DCReeves

D.C. Reeves


Alabama players cleaning up some national awards. AJ McCarron wins Johnny Unitas Golden Arm Award, CJ Mosley won Butkus Award last night.
49 minutes ago

TomahawkNation

TomahawkNation.com


RT @CNee247: I would term Chad Mavety as FSU's most important offensive commitment to date. That is no slight on any other offensive pledge…
50 minutes ago

_DCReeves

D.C. Reeves


Alabama players cleaning up some national awards. AJ McCarron wins Johnny Unitas Golden Arm Award, CJ Mosley won Butkus Awards last night.
50 minutes ago

_DCReeves

D.C. Reeves


RT @Transamerica: Congrats to Crimson Tide QB, @10AJMcCarron for winning the 2013 Johnny Unitas #GoldenArmAward http://t.co/tLo3pAVFnq
51 minutes ago

TomahawkNation

TomahawkNation.com


RT @SolidVerbal: RT @JasonKirkSBN: Hey, @sbn_billc made you eight different 2013 playoff brackets, from four to 32 teams http://t.co/43Qgch…
53 minutes ago

Noles247

Noles247.com


RT @CNee247: For the best #FSU recruiting coverage, you should join http://t.co/QJlUbJXsKC. FREE Trial: https://t.co/GihbwoN6i2
about an hour ago

Noles247

Noles247.com


RT @247_ACC: #FSU Asst HC Rick Trickett up to No. 12 in @247Sports ACC Recruiter Rankings with Chad Mavety (@chadmavety55) commit http://t.…
about an hour ago

Noles247

Noles247.com


RT @chadmavety55: I have officially Committed to Florida State University! 🔥🔥🔥 I just want to thank everyone who helped me through this pro…
about an hour ago

Noles247

Noles247.com


Recruiting Developments: #FSU staff hits the recruiting trail http://t.co/Sl59mUVwxA via @Noles247
about an hour ago

FSU_Football

FSU Football


RT @BrandonMellor: #Noles shattered school record Saturday for total yards in 1 season. At 6,882 now w/ title game to go. Set 6,591 previou…
about an hour ago

Noles247

Noles247.com


#FSU believes Chad Mavety can be an instant impact player http://t.co/aKTLlKFdrE via @Noles247
about an hour ago

Warchant

Warchant.com


RT @chadmavety55: I have officially Committed to Florida State University! 🔥🔥🔥 I just want to thank everyone who helped me through this pro…
about an hour ago

_DCReeves

D.C. Reeves


RT @TideSports: INSIDER REPORT: Stoops asked about SEC remarks: Bob Stoops stands by his SEC comments, Saban wants to gauge hi... http://t.…
about an hour ago

Noles247

Noles247.com


The latest on JUCO OL target Kareem Are http://t.co/JohLaNTKbG via @Noles247
about an hour ago

Noles247

Noles247.com


RT @247_ACC: #FSU up a spot to No. 7 in @247Sports Team Recruiting Rankings with 4-star OT Chad Mavety (@chadmavety55) commit http://t.co/i…
about an hour ago

Noles247

Noles247.com


RT @247recruiting: #FSU up a spot to No. 7 in @247Sports Team Recruiting Rankings with 4-star OT Chad Mavety (@chadmavety55) commit http://…
about an hour ago

FSU_Football

FSU Football


Gear up for the national championship. http://t.co/guPOln9EPw
about an hour ago

Noles247

Noles247.com


RT @247_ACC: 61% of #CrystalBall predictions had 4-star JUCO OT Chad Mavety picking #FloridaState http://t.co/Agfdo304nj
about an hour ago

Noles247

Noles247.com


Tim Brewster roaming South Florida RT @_MoneyLane: FSU say they coming to visit sometime this week
about an hour ago

Warchant

Warchant.com


#FSU lands a commitment from Four-star JUCO OT Chad Mavety this morning http://t.co/HXxYkGSCeY
about an hour ago

TomahawkNation

TomahawkNation.com


http://t.co/TDONZ6KbjT RT @TimBrewster: Welcome To The Family....The #NoleNation!!!!
about an hour ago

Noles247

Noles247.com


RT @BobFerrante: Few #FSU notes: No Jimbo Fisher press conference this afternoon. Heisman finalists named at 6 on ESPN, http://t.co/WDlMai5…
about an hour ago

Noles247

Noles247.com


RT @SWiltfong247: This past weekend #Pitt showed Top247 RB Shai McKenzie he's a priority. More on his official: http://t.co/6fUqdzxjHP via …
about an hour ago

Noles247

Noles247.com


RT @TimBrewster: Welcome To The Family....The #NoleNation!!!!
about an hour ago

Noles247

Noles247.com


RT @BobFerrante: #FSU law school grad Tony La Russa has been elected to baseball Hall of Fame.
about an hour ago

TimBrewster

Tim Brewster


Welcome To The Family....The #NoleNation!!!!
about an hour ago

TomahawkNation

TomahawkNation.com


RT @SBNRecruiting: Chad Mavety commits to Florida State: #Noles beat Ohio State for JUCO tackle recruit http://t.co/AtNWyzkuhS
about an hour ago

cdowlar

Corey Dowlar/ESPN


Florida State lands Chad Mavety, big piece of the offensive line puzzle.
about an hour ago

Noles247

Noles247.com


4-star JUCO OT chooses #FSU over #OhioState http://t.co/aKTLlKFdrE via @Noles247
about an hour ago

Warchant

Warchant.com


No surprise - Jameis Winston wins weekly MVP honors for the 5th time this season. The big award comes Saturday. http://t.co/y2MAH0020f
about an hour ago

TomahawkNation

TomahawkNation.com


We are resuming the normal podcast schedule. Recording Tuesday nights.
about an hour ago

Noles247

Noles247.com


RT @joshnewberg247: I've learned Chad Mavety has informed one coaching staff of where he'll be going: http://t.co/xmOgG8ZHyf
about an hour ago

TomahawkNation

TomahawkNation.com


My clay travis filter on tweetdeck seems to be broken. Have to figure that one out.
about an hour ago

_DCReeves

D.C. Reeves


RT @PaulPabst: "Other than the LSU and Alabama fans...all the SEC fans are cool." Charles Barkley on the fans at SEC title game.
about an hour ago

TomahawkNation

TomahawkNation.com


RT @SBNRecruiting: Should have the Chad Mavety announcement fairly soon. Will the big JUCO tackle select Ohio State or FSU? Stay tuned.
about an hour ago

FSU_Football

FSU Football


RT @BrandonMellor: Monday Morning Photo Gallery: ACC Championship Game edition - http://t.co/oofv2v9JGj #Noles
about an hour ago

ESPN_ACC

ESPN ACC


ACC weekend rewind: Week 15 http://t.co/URJFbwRqFg
about an hour ago

_DCReeves

D.C. Reeves


RT @YahooSports: Here is the official 2013-14 college football bowl schedule: http://t.co/q7z4bnJntg #NCAA http://t.co/hnpdrksxhJ
about an hour ago

ESPNFSU

ESPN Florida State


ACC weekend rewind: Week 15 http://t.co/SRAc9TMVgu
about an hour ago

Noles247

Noles247.com


RT @joshnewberg247: 5-star RB Dalvin Cook's grandma makes her prediction. Hey @sbterry247 how do we get her on #CrystaBall?? http://t.co/8…
about an hour ago

fsufball

FSU Football


(fsu) Monday Morning Photo Gallery: ACC Championship: Check out some additional action shots from the 'Noles' ... http://t.co/e3mKPVRYvl
about an hour ago

Noles247

Noles247.com


http://t.co/G0YxGVEcRX was at the FSU basketball game last night. Despite what others may have stated.
about an hour ago

TomahawkNation

TomahawkNation.com


RT @RunTheFloor: If you want post game quotes from the game, don't go to the pay sites because they weren't there. As always, TN was http:/…
about an hour ago

TomahawkNation

TomahawkNation.com


RT @robneyer: In just a few minutes, SB Nation's @ChrisCotillo will make his @MLBNetwork debut!
about an hour ago

TomahawkNation

TomahawkNation.com


VIDEO: Watch the #Noles react to being officially selected to play in the national title game. http://t.co/Atz4uH1c3B
about 2 hours ago

Noles247

Noles247.com


#FSU men's basketball comfortably defeats the Gamecocks http://t.co/0Vv849qV72 via @Noles247
about 2 hours ago

Noles247

Noles247.com


#FSU's Jimbo Fisher and #Auburn's Gus Malzahn talk about big game http://t.co/Er6ROjbaRd via @Noles247
about 2 hours ago

Noles247

Noles247.com


Date Set: #FSU will face Auburn for BCS National Championship http://t.co/V4FjF9zfy9 via @Noles247
about 2 hours ago

Noles247

Noles247.com


Column: The 2013 version of #FSU football is making their own way http://t.co/WQVYjxPxSv via @Noles247
about 2 hours ago

TomahawkNation

TomahawkNation.com


Home Sweet Home: FSU dominates Jacksonville State, Ham talks rebounding, turnovers, Turpin, and more. http://t.co/LPL8NoX0mA
about 2 hours ago

Noles247

Noles247.com


RT @joshnewberg247: What I'm hearing regarding the eligibility of #FSU RB Mario Pender: http://t.co/XsLRwNqSHQ
about 2 hours ago

Noles247

Noles247.com


RT @jcshurburtt: #InsideWord from @RyanBartow coming up has the latest intel on Raekwon McMillan and Dalvin Cook. #247Sports
about 2 hours ago

cdowlar

Corey Dowlar/ESPN


RT @GodbyFootball: Excited to have Stephen Gabbard sign his financial aid papers to play football at FSU today at 1 pm! #allblue #noles
about 3 hours ago

DeionSanders

DeionSanders


Am I really in Dallas? Wow! Ice Freezing cold and many can't drive in this mess. #Fireplaces Let's go. Truth http://t.co/htgowfaW0t
about 3 hours ago

cdowlar

Corey Dowlar/ESPN


Weekend recruiting wrap: ACC. Jimbo Fisher armed with recruiting pitch, Cook visits Miami, McKenzie visits Pitt http://t.co/bCh5Ekmrt2
about 3 hours ago

ESPN_ACC

ESPN ACC


Weekend recruiting wrap: ACC http://t.co/4ocMEADgN8
about 3 hours ago

ESPNFSU

ESPN Florida State


Weekend recruiting wrap: ACC http://t.co/uBZDXSGxEr
about 3 hours ago

Noles247

Noles247.com


One hour until 4-star JUCO OT Chad Mavety announces between #FSU and #OhioState http://t.co/8jDkfud40i via @Noles247
about 3 hours ago

cdowlar

Corey Dowlar/ESPN


Good morning. It never ends. http://t.co/d6oeLQTDKm
about 3 hours ago

DeionSanders

DeionSanders


LIFE don't revolve around YOU or your TIME. Life and Time goes on with or without you. Make EVERYDAY count your Time is NOW!!!TRUTH.
about 4 hours ago

DeionSanders

DeionSanders


LIFE don't revolve around YOU or your TIME. Life and Time goes on with or without you. Make EVERYDAY count your Time is NOW!!!TRUTH
about 5 hours ago

fsufball

FSU Football


FSU, Auburn score points aplenty in different ways (The Associated Press): Judging by the statistics, the BCS ... http://t.co/37VBebeXsJ
about 7 hours ago

DeionSanders

DeionSanders


RT @Bible_Time: Love always protects, always trusts, always hopes, always perseveres. -1Cor 13:7
about 8 hours ago

DeionSanders

DeionSanders


Thank u Jesus 4 another wonderful Blessed day. I didn't deserve it but u gave it 2 me anyway. I pray I can be who YOU called me 2 be. Truth
about 9 hours ago

ESPN_ACC

ESPN ACC


Will Florida State end SEC's streak? http://t.co/kqyzfvkXJe
about 10 hours ago

TomahawkNation

TomahawkNation.com


I'll have some thoughts on Heather Cox /Jameis tomorrow. And probably not via Twitter.
about 10 hours ago

ESPNFSU

ESPN Florida State


Will Florida State end SEC's streak? http://t.co/8wuITBbsE1
about 10 hours ago

TomahawkNation

TomahawkNation.com


RT @richarddeitsch: ESPN's Heather Cox explains why she asked Jameis Winston the questions she did. The @SInow media column: http://t.co/Hl…
about 10 hours ago

TomahawkNation

TomahawkNation.com


RT @idontwan2know: Take this how you will, I think Duke and Auburn's secondaries are very comparable.
about 10 hours ago
BLOG ARCHIVE:
CATEGORIES: