The Big Board: Managing missed tackles
November, 28, 2012
11/28/12
9:00
AM ET
The mantra for any defense preparing for Georgia Tech's triple option is the same: Stay on your assignments, mind your gaps, don't try to do too much.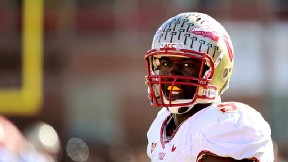 Mark Goldman/Icon SMIThe loss of defensive end Cornellius Carradine will be felt against Georgia Tech's tricky triple-option offense.
For an FSU defense that hasn't faced a true option team in years, that may be a tall order, but it's also not its only concern.
As Florida racked up rushing yards and converted nearly half its third-down tries last week, one problem continued to haunt the Seminoles: Missed tackles.
To continue reading this article you must be an Insider
Welcome
!
We see that you are not an ESPN Insider. Upgrade today and gain access to our exclusive coverage.
ESPN The Magazine subscribers

Need more information?
The Word: Florida State The New Dynasty?
The Word: Florida State The New Dynasty?
VIDEO PLAYLIST
FSU FB RECRUITING SCORECARD
DeionSanders

DeionSanders


Who YOU are when Nobody's looking is really who YOU are! #thinkaboutthat TRUTH
about an hour ago

TomahawkNation

TomahawkNation.com


On the flip side of those media who assumed Winston guilty are these rumor sites who put a ton of incorrect ***** out there.
about an hour ago

TomahawkNation

TomahawkNation.com


. @jdubs88 Zimmerman. But that was way different. I don't know anyone, including myself, who expects charges.
about an hour ago

TomahawkNation

TomahawkNation.com


. @CarsonJones1 don't out think the room. Burgundy is canceled because you can't have a comedian anchor a real newscast.
about an hour ago

TomahawkNation

TomahawkNation.com


"Gut" implies a guess. I'm not guessing. I fully expect no charges. RT @LINja_Assassin: @TomahawkNation what's your gut feeling about it all
about an hour ago

TomahawkNation

TomahawkNation.com


So, Jameis Thursday?
about an hour ago

theACC

The ACC


#ACC Basketball Splits #B1GACC Challenge with Big Ten 6-6: http://t.co/eBDJIsJ9c4
about 2 hours ago

theACC

The ACC


RT @accmbb FINAL: @UNC_Basketball upends #1 Michigan State 79-65, had 5 players in double figures. #B1GACC
about 3 hours ago

Warchant

Warchant.com


RT @JeffFischel: Great convo w/ @Warchant's Gene Williams [@WarchantGene] re:#ACCFCG & how Jameis Winston & FSU are handling pressure: http…
about 3 hours ago

ESPN_ACC

ESPN ACC


Video: Is Florida State the next dynasty? http://t.co/U8RGm2wfjO
about 3 hours ago

TomahawkNation

TomahawkNation.com


RT @saintwarrick: @TomahawkNation Seriously. Never batted an eye. Like "Fat dude to eat at Macaroni Griil"
about 3 hours ago

TomahawkNation

TomahawkNation.com


That's how messed up this has been. Many media covering this believed the SAO would do a 1-hour live special on TruTV. Didn't think twice.
about 3 hours ago

TomahawkNation

TomahawkNation.com


RT @PeterL_FSU: @TomahawkNation @wisejohnp it's really sad that none of us were shocked by it.
about 3 hours ago

TomahawkNation

TomahawkNation.com


.@wisejohnp the reason people took it so seriously is because he is a huge attention ***** who gave statements almost daily on this.
about 3 hours ago

TomahawkNation

TomahawkNation.com


RT @wisejohnp: Sorry gang, didn't realize that Jim Gray tweet would be taken so seriously; had to take it down. Thought folks would see it …
about 3 hours ago

TomahawkNation

TomahawkNation.com


Winner. RT @brewmeone @TomahawkNation @jmnpb he won't be making an appearance on Lizard Lick Towing?
about 3 hours ago

TomahawkNation

TomahawkNation.com


If forensic files or mystery detectives gets bumped so help me... RT @jmnpb Man, ***** Willie Meggs. TruTV? Really?
about 3 hours ago

TomahawkNation

TomahawkNation.com


For real? RT @wisejohnp BREAKING: Jim Gray to interview Willie Meggs in a live, one-hour special on @truTV tomorrow.
about 4 hours ago

_DCReeves

D.C. Reeves


RT @finebaum: I think tonight would be a good time for Saban to call a news conference and deny for the 478,099 time he's going to Texas.
about 4 hours ago

theACC

The ACC


RT @accwbb: #ACCWBB wins 5 of first 6 games in the #WB1GACC Challenge! http://t.co/iaaKF2Mdv1 #UNC #Irish #GaTech #Noles #Terps
about 4 hours ago

TomahawkNation

TomahawkNation.com


.@blueeyed2012 @drewjjones84 @FSUNOLE21 hey now. that narrows it down a lot.
about 4 hours ago

TomahawkNation

TomahawkNation.com


RT @blueeyed2012: @TomahawkNation @drewjjones84 @FSUNOLE21 Florida statute 68.07 says you must reside in county you file.
about 4 hours ago

theACC

The ACC


RT @accwbb: FINAL: @ndwbb defeats #10 Penn State 77-67 #WB1GACC
about 4 hours ago

Warchant

Warchant.com


Warchant Man Cave Show features a visit from Kirk Carruthers, we talk cult Hero Red Lightning, UF beatdown. http://t.co/H54PbVtara
about 4 hours ago

TomahawkNation

TomahawkNation.com


.@drewjjones84 @blueeyed2012 So I'd have to request every county if I didn't know in what county the person filed the legal name change? ugh
about 4 hours ago

fsufball

FSU Football


No. 20 Duke looks to slow down top-ranked FSU QB (The Associated Press): Florida State's Jameis Winston has di... http://t.co/UHf9efnM3F
about 4 hours ago

theACC

The ACC


RT @accmbb: FINAL: @PackMensBball defeats Northwestern 69-48 #B1GACC
about 5 hours ago

theACC

The ACC


RT @accwbb: RT @GTWBB And the Jackets win, 93-69, against Illinois! Tech is now 6-1 in the ACC/Big Ten challenge #WB1GACC #techtough
about 5 hours ago

theACC

The ACC


RT @accwbb: RT @FSU_WBasketball Florida State wins this one by a score of 60-58 over Michigan State #BeMORE
about 5 hours ago

_DCReeves

D.C. Reeves


Drexel is in its 5th overtime in the past two games. 3 vs Bama, double OT vs. Cleveland State.
about 5 hours ago

TomahawkNation

TomahawkNation.com


.@blueeyed2012 thanks. Didn't know if they were in Florida. Never had to file one before.
about 5 hours ago

TomahawkNation

TomahawkNation.com


RT @blueeyed2012: @TomahawkNation yes. I'm a lawyer and have filed name changes in court. They're public.
about 5 hours ago

TomahawkNation

TomahawkNation.com


Are legal name change requests public record in Florida? I know they are in New York.
about 5 hours ago

TomahawkNation

TomahawkNation.com


.@IAmNumber24 na, I'm saying when the flight leaves does not matter at all.
about 5 hours ago

theACC

The ACC


RT @accmbb: FINAL: @TieDyeNation defeats Tulane 72 - 57 #B1GACC
about 5 hours ago

theACC

The ACC


RT @accwbb: RT @umdwbb FINAL: #Terps defeat Ohio State, 67-55. AT finishes with 25 and 12. Pfirman pulled down 10 boards. #GoTerps #WeWill …
about 5 hours ago

_DCReeves

D.C. Reeves


RT @ESPNNBA: There has been a short-circuit in the electrical system at the Timberwolves-Spurs game in Mexico City and the stadium has been…
about 5 hours ago

TomahawkNation

TomahawkNation.com


More than one plane in the state RT @FSU97Grad: @TomahawkNation @VinBioDiesel Won't he be on a flight tomorrow at that time?
about 5 hours ago

DeionSanders

DeionSanders


There's comes a point in every persons life that you will have 2 STAND up 4 yourself or sit in the seat of Ignorance & Wrongdoing. #TRUTH..
about 5 hours ago

TomahawkNation

TomahawkNation.com


Clay Travis has moved on from ***** about Jameis to new business. RT @jmnpb: Seeing a lot of Saban jokes, what's going on?
about 5 hours ago

TomahawkNation

TomahawkNation.com


#Noles RT @VinBioDiesel: Jameis Winston press conference tomorrow night at 7pm in the Hotel Duval foyer. He will be in attendance.
about 5 hours ago

TomahawkNation

TomahawkNation.com


RT @Jonathan_DeMott: "@SportsCenter: Ron Burgundy's appearance Thurs. has been canceled in light of breaking news out of FSU regarding Jame…
about 5 hours ago

TomahawkNation

TomahawkNation.com


RT @LiaPicard: If you watch the ESPN promo for the ACC Championship FSU is the only team playing #Noles
about 5 hours ago

TomahawkNation

TomahawkNation.com


Never have for the entire time. RT @WCGiddens22: @TomahawkNation all I want to know is do you think he will be charged?
about 5 hours ago

theACC

The ACC


MT @GoPittFootball Donald: "I would like to thank my Pitt coaches and teammates because they share in this award." @theACCfootball Def. POY
about 5 hours ago

TomahawkNation

TomahawkNation.com


How quickly will those who wrote ***** without regard to guilt/innocence suddenly develop sources saying Winston would never be charged?
about 5 hours ago

TomahawkNation

TomahawkNation.com


RT @NWDuval904: Check out @jmnpb avi RT @osfsu: Jimbo asked about his immense knowledge of FSU trivia, said he was always a Florida State f…
about 5 hours ago

TomahawkNation

TomahawkNation.com


.@jireland80 I did see that. But, when the full report is released, you'll see TPD did a lot more investigating than has been implied.
about 5 hours ago

TomahawkNation

TomahawkNation.com


My partner in blogging inspecting the tree http://t.co/gW88Pp0Q3c
about 6 hours ago

Warchant

Warchant.com


ICYMI: some Cameron Erving, a little acc ticket sales and some clutter http://t.co/VqeoXhs2xC
about 6 hours ago

Warchant

Warchant.com


EXCLUSIVE: Rivals100 RB Dalvin Cook talks with @RivalsKynon about signing financial aid papers with #FSU & #Miami: http://t.co/JrwhwuQbyx
about 6 hours ago

theACC

The ACC


RT @accwbb .@uncwbb scores first #WB1GACC win of the Challenge. Defeats No. 15/13 Nebraska 75-62.
about 6 hours ago

TomahawkNation

TomahawkNation.com


Oh *****, y'all, the Christmas tree stand was next to a Target and a hobby lobby. Can't tell me what this wasn't planned by the Gf.
about 6 hours ago

TomahawkNation

TomahawkNation.com


RT @Blake_Johnston7: .@TomahawkNation if y'all want to support #RedLightning he has a hockey game at Skate World on Capital Circle at 9
about 6 hours ago

fsufball

FSU Football


Winston among 5 finalists for Walter Camp award (The Associated Press): NEW HAVEN, Conn. (AP) -- Florida State... http://t.co/1xy9VGko0i
about 6 hours ago

theACC

The ACC


.@TheRealC_Portis & @RenaldoWynn Break Down the 2013 #ACCFCG: http://t.co/Aiw2cfp3ed
about 6 hours ago

FSU_Football

FSU Football


Watch the #Jimbo Fisher Call-In Show live here. http://t.co/l53RDIF94D
about 7 hours ago

ESPN_ACC

ESPN ACC


Jameis Winston results due Thursday http://t.co/ceDIqHgXAu
about 7 hours ago

DavidHaleESPN

David Hale


RT @laurakeeley: A few of the large casinos have taken the #Duke-Florida State line off the board, Most notably Atlantis (h/t @Mikezilles)
about 7 hours ago

theACC

The ACC


The FSU Defense has been dominant, helping @FSU_Football reach the #ACCFCG. Get your tickets [http://t.co/f3gxWiShZy] to watch them LIVE!
about 7 hours ago

cdowlar

Corey Dowlar/ESPN


Has been since day one. Why change? RT @EricLuallen: @cdowlar And this guy will act like he's guilty ------>@ClayTravisBGID
about 7 hours ago

Noles247

Noles247.com


RT @joshnewberg247: I've learned that a 5-star prospect signed a Financial Aid Agreement with #FSU last week: http://t.co/fZOMeBqOUy
about 7 hours ago

TomahawkNation

TomahawkNation.com


RT @Natalie_Pierre: Tim Jansen: "(Winston's) not going to go into great details about it. But he would like to put closure to this, so he c…
about 7 hours ago

FSU_Football

FSU Football


The Jimbo Fisher Call-In Show airs live at 7:00. Tweet your questions using #JIMBO & watch the show for free here. http://t.co/l53RDIF94D
about 7 hours ago

DeionSanders

DeionSanders


My Name Should be David because u Slay the Giants that many are Afraid of. Truth
about 7 hours ago

Warchant

Warchant.com


So the schedule tomorrow is: State Attorney press conference on Winston at 2 p.m., Jansen at some point after. It'll be a full day.
about 7 hours ago

TomahawkNation

TomahawkNation.com


.@harlenshack @TylerCommaJohn I've known since the 14th. But publishing it is just not the right thing to go.
about 7 hours ago

TomahawkNation

TomahawkNation.com


Not from mainstream media unless she's charged. #Ethics RT @TylerCommaJohn: Will the accuser's name become public after the case is closed?
about 7 hours ago

TomahawkNation

TomahawkNation.com


By the way, Jameis did practice today. And the Jimbo Fisher call-in show is in about 40 minutes now.
about 8 hours ago

theACC

The ACC


RT @DemonDeacons .@TieDyeNation will be sporting pink gear for tonight's "Make a Difference" game #GoDeacs http://t.co/erG70ewcPx
about 8 hours ago

Seminoles_com

Seminoles.com


RT @CoachBondFSU: Congrats to former Seminole @CarolineWestrup on her 69 in the first round at LPGA Q-school. Keep up the great work!
about 8 hours ago

cdowlar

Corey Dowlar/ESPN


RT @ESPNprDScott: Thursday's press conference re: #JameisWinston (2p ET) will be live on @SportsCenter on @ESPN
about 8 hours ago

TomahawkNation

TomahawkNation.com


I'm confident I'll be covering Jameis Winston Saturday in Charlotte. Now I'm going to dinner and buying a Christmas tree.
about 8 hours ago

TomahawkNation

TomahawkNation.com


RT @jmnpb: Look, Jansen has been the only professional through this whole leak filled mess of a public investigation. And he's saying stron…
about 8 hours ago

TomahawkNation

TomahawkNation.com


RT @SLRoss528: @TomahawkNation this makes me more confident he isn't being charged. Would be ludicrous grandstanding to let the accused kno…
about 8 hours ago

TomahawkNation

TomahawkNation.com


.@KimLawNoles and if you're expecting your client will be charged, you're not lobbying Heisman voters
about 8 hours ago

fsufball

FSU Football


Prosecutor: Sex investigation of FSU QB over (The Associated Press): The prosecutor overseeing the investigati... http://t.co/BVb6ghceGg
about 8 hours ago

TomahawkNation

TomahawkNation.com


"It's easy when you're confident he did nothing wrong," Jansen says, noting Winston is focusing on exams, football, etc.
about 8 hours ago

TomahawkNation

TomahawkNation.com


Jameis Winston's attorney tells WCTV that he hopes that Heisman voters will wait until tomorrow before voting.
about 8 hours ago

Noles247

Noles247.com


RT @Eric_Eggers: If #Jameis gets charged 2moro it will be this towns best kept secret. And that's not how #Tallahassee works. All my contac…
about 8 hours ago

TomahawkNation

TomahawkNation.com


Jansen: hopeful that Mr. Winston will be "completely exonerated"
about 8 hours ago

TomahawkNation

TomahawkNation.com


Jansen: Confident that if Meggs and his office did thorough job, they'll find Mr. Winston did nothing wrong. Defense team is confident.
about 8 hours ago

TomahawkNation

TomahawkNation.com


Winston attorney tells WCTV he is hopeful that Meggs did thorough job & has not been contacted. Hopes to hear before public.
about 8 hours ago

Warchant

Warchant.com


Hearing also that Tim Jansen, Winston's attn, will hold a press conf after state attorney tomorrow. Waiting on jansen to confirm.
about 8 hours ago

TomahawkNation

TomahawkNation.com


So defense team wants Jameis to be at the post-presser presser and make a statement. I still have no reason to believe charges are coming.
about 8 hours ago

TomahawkNation

TomahawkNation.com


RT @MattGalka: #BREAKING: Tim Jansen will hold press conference tomorrow. Told me "I want Jameis to be there. I want Jameis to make a state…
about 8 hours ago

cdowlar

Corey Dowlar/ESPN


RT @jmportman: Jansen is not speculating on what Meggs will decide. He had not heard from the State Attorney yet.
about 8 hours ago

cdowlar

Corey Dowlar/ESPN


RT @jmportman Jameis Winston's attorney Tim Jansen is planning to have his own press conference with Winston after Meggs' decision.
about 8 hours ago

TomahawkNation

TomahawkNation.com


RT @jmportman: Jameis Winston's attorney Tim Jansen is planning to have his own press conference with Winston after Meggs' decision.
about 8 hours ago

Noles247

Noles247.com


RT @jmportman: Jameis Winston's attorney Tim Jansen is planning to have his own press conference with Winston after Meggs' decision.
about 8 hours ago

cdowlar

Corey Dowlar/ESPN


No. 1 RT @ClayTravisBGID: If he doesn't get charged with *****, FSU fans are going to react like Winston just won the Nobel Peace Prize.
about 8 hours ago

Pdub80

Peter Warrick


"@gobig3: Want Peter Warrick at your party, event, or club for the national championship? Email me GoBig3@gmail.com"
about 8 hours ago

TomahawkNation

TomahawkNation.com


.@Mengus22 Agree. But realistically, this is where statements given from the family outside the process will make the backlash much worse.
about 8 hours ago

Noles247

Noles247.com


RT @Joey_Mo33: Ron Burgundy going over the Jameis Winston case tomorrow on sportscenter after it's conclusion?
about 8 hours ago

cdowlar

Corey Dowlar/ESPN


Going to be some more hot takes tomorrow.
about 8 hours ago

theACC

The ACC


ACC Youth Football Skills & Drills Clinic to Take Place on Saturday, Dec. 7: http://t.co/46ij9FvRVZ
about 8 hours ago

Warchant

Warchant.com


All over that there will be a PC tomorrow at 2 p.m. regarding Winston investigation. Warchant will be on hand with live reports.
about 8 hours ago

Noles247

Noles247.com


Decision coming in Jameis Winston investigation tomorrow http://t.co/VRHvSSd4s1 via @Noles247
about 8 hours ago

_DCReeves

D.C. Reeves


So if he was charging JW, Meggs would just be giving an alleged criminal an extra day to hang out with his pals?
about 8 hours ago

TomahawkNation

TomahawkNation.com


RT @Pcola_EddieT: @hula5150 @sterlingtyler @TomahawkNation not always true...George Zimmerman's prosecutor did a press conference announcin…
about 8 hours ago
BLOG ARCHIVE:
CATEGORIES: