Florida State and Florida rise again
November, 21, 2012
11/21/12
1:00
PM ET
Back in March, I did a three-city tour around Florida, stopping in Gainesville, Tallahassee and Miami with a very serious question:
When will the state of Florida
rise again
?
At the time, Florida State finished 2011 as the top-ranked team among the Big Three, at No. 23. Will Muschamp was getting heat from Florida fans after a disappointing season. Miami was under the cloud of an NCAA investigation. (And still is.)
[+] Enlarge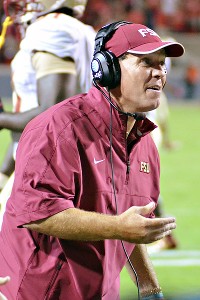 Rob Kinnan/US PresswireJimbo Fisher is 5-0 against FSU's in-state rivals, Florida and Miami, since taking over as head coach.
Perhaps only Muschamp and Jimbo Fisher anticipated the rise back up would happen in just a handful of months. Indeed, No. 4 Florida and No. 10 Florida State meet Saturday as Top 10 teams for the first time since 2000. That probably has surprised many college football observers, but not Fisher.
"You have great programs, you have great availability of players, both groups have gotten good players and they've got a great staff and I feel we've got a great staff," Fisher said Wednesday on the ACC coaches call. "Things are never as good as they seem, they're never as bad as they seem. We knew we would be back, and it doesn't surprise me one bit they're back."
Simply put, this rivalry is better when national championship stakes are on the line. Thirteen times between 1990-2000, both were ranked in the Top 10. They played for the national championship in 1996, after the regular-season finale between the two featured No. 2 Florida State upsetting No. 1 Florida.
In fact, six times in those 13 meetings the lowe- ranked team won the game. Several times national championship hopes were dashed -- aside from the title game in the Sugar Bowl. In 1997, Florida upset No. 2 and unbeaten Florida State, in a stunning upset, thanks to the way Steve Spurrier rotated his two quarterbacks.
Those were the good ol' days. Then we saw a streak of five times within seven seasons that only one team was ranked headed into the game, taking away much of the luster surrounding the matchup, especially from a national perspective.
But now here we are again, with national championship hopes on the line for the Gators. If they can win and Notre Dame loses, there could be another potential SEC vs. SEC national championship game. If Florida State wins, the Noles would have their first three-game winning streak in the series since 1998-2000.
Fisher has yet to lose to Florida or Miami, going 5-0 against the two in-state rivals. In fact, the Seminoles have gone 1,091 days since losing to a team from Florida.
"When you're both having outstanding seasons like we both are it definitely does (add something extra), because it has more national ramifications," Fisher said. "But our own personal deal, no. We take pride in playing against Florida much like they take pride in playing against us, but from a fan standpoint and everything that goes on, hopefully it's back to where it should be, where it's like this every year. It is a good thing, and I'm not against it, I promise."
College Football
ACC reporter.
Joined ESPN.com in 2010.
Graduate of the University of Florida.
Auburn Fan Hopes To Cash In
Auburn Fan Hopes To Cash In
VIDEO PLAYLIST
Auburn Fan Hopes To Cash In

Auburn Fan Hopes To Cash In

Remembering 'The Puntrooskie'

Remembering 'The Puntrooskie'

Bobby Bowden, LeRoy Butler and others recall Florida State's trick play against Clemson on the 25th anniversary of the "Puntrooskie."

Tags: College GameDay

,

Puntrooskie

,

Brent Musburger

,

LeRoy Butler

,

Bobby Bowden

,

Florida State

,

Seminoles

,

Clemson

,

Death Valley

,

trick play

,

Tom Rinaldi

,

Corky Rogers

,

Danny Ford

Better Freshman Season: Manziel Or Winston?

Better Freshman Season: Manziel Or Winston?
NOLENATION RECRUITING NEWS
FSU FB RECRUITING SCORECARD
ESPNFSU

ESPN Florida State


3-point stance: Heisman secrecy http://t.co/56dmvpkf5y
about an hour ago

Pdub80

Peter Warrick


RT @gobig3: "@ahmadblack35: @gobig3 @Pdub80 lol almost hell. Thanks fellas"follow 2 of the coolest dudes n the world! #goGatasSorryDub
about 5 hours ago

Pdub80

Peter Warrick


"@gobig3: Hey @Pdub80 our boy just turned 30 @ahmadblack35 big upsssssss!!!!!!" Old *****! Even though a gator still #family
about 5 hours ago

DeionSanders

DeionSanders


@mowilliams @HideokiBespoke OK Lil bro- That's bigtime! Truth
about 6 hours ago

DeionSanders

DeionSanders


@mowilliams @HideokiBespoke OK sir!!!! You are PrimeTime Approved. Truth
about 6 hours ago

DeionSanders

DeionSanders


RT @GodPosts: God will take your hurt, and give you the greatest strength if you believe.
about 6 hours ago

fsufball

FSU Football


(fsu) Seminoles Arrive at 2013 College Football Awards: Hear from Lamarcus Joyner, Jameis Winston, and Roberto... http://t.co/cie2ZOJWaJ
about 7 hours ago

theACC

The ACC


RT @LarryFitzgerald: Congrats to @AaronDonald97 on winning the Bronco Nagurski Award! #h2p http://t.co/c0qSnfklf5
about 7 hours ago

fsufball

FSU Football


Winston humbled by Heisman talk, awards attention (The Associated Press): The first time Florida State quarter... http://t.co/OoygpiMLF7
about 7 hours ago

FSU_Football

FSU Football


Hear from Lamarcus Joyner, Jameis Winston, and Roberto Aguayo as the #Noles arrived in Orlando. http://t.co/G9H1RWp0xd
about 8 hours ago

theACC

The ACC


RT @GoPittFootball: Proud mom and dad! @LombardiAward HAIL TO PITT! http://t.co/I46aCDgLaG
about 8 hours ago

DeionSanders

DeionSanders


You shouldn't have to see Something to "Believe" you Need to "Believe" in order to see Something! #Faith. TRUTH
about 8 hours ago

TomahawkNation

TomahawkNation.com


RT @FSUTickets: ATTENTION: A BCS Championship Game ticket update was just emailed to all @SeminoleBooster with ticket requests. http://t.co…
about 9 hours ago

Pdub80

Peter Warrick


Text "dub" to 941-343-7393 and RT to enter twice for free SIGNED JERSEY XMAS DAY! @gobig3 @PurpleDeals
about 9 hours ago

TomahawkNation

TomahawkNation.com


RT @WagerMinds: @RJinVegas Your article misrepresents reality. The "liability" is not "massive" even when you don't count offsetting liabi…
about 9 hours ago

TomahawkNation

TomahawkNation.com


RT @WagerMinds: This article claims LVH has "massive liability" on Auburn http://t.co/bykdeJYg97. This article claims opposite: http://t.co…
about 9 hours ago

_DCReeves

D.C. Reeves


RT @_kellyparsons: Amid resignation rumors, Texas coach Mack Brown paid Plant LB and Longhorns commit Andrew Beck a visit Wednesday: http:/…
about 9 hours ago

cdowlar

Corey Dowlar/ESPN


RT @DerekTysonESPN: Interesting RT "@_MoneyLane: I might feel like Lebron when he left Cleveland 😬😎"
about 9 hours ago

FSU_Football

FSU Football


Three #Nole award finalists havin' fun at the ESPN Club reception! http://t.co/9X6XiWbz5t
about 9 hours ago

TomahawkNation

TomahawkNation.com


The tweet from the Tampa reporter said the family said it, not the attorney, so calling for her to be disbarred is inappropriate.
about 9 hours ago

TomahawkNation

TomahawkNation.com


RT @rbanditt: @WTSPMelanie @TomahawkNation Insane and a insult to victims. Also unprofessional!!
about 9 hours ago

TomahawkNation

TomahawkNation.com


RT @Gaizkacrowley: Aka chicken nuggets. @darrenrovell: Buffalo Wild Wings says boneless chicken wing sales have now surpassed sales of trad…
about 9 hours ago

TomahawkNation

TomahawkNation.com


I will not be at the presser Friday. I'm covering the state HS title games. Jameis has already been cleared and is focusing on the BCS.
about 10 hours ago

TomahawkNation

TomahawkNation.com


RT @perrykos: "We want this to go away" has turned into "it's gonna be good", because why not
about 10 hours ago

TomahawkNation

TomahawkNation.com


RT @nolanolegal: Pressers about ***** allegations are "gonna be good," said no one ever.
about 10 hours ago

TomahawkNation

TomahawkNation.com


"It's gonna be good" I don't even...?
about 10 hours ago

TomahawkNation

TomahawkNation.com


RT @TheHyperCritic: @WTSPMelanie @TomahawkNation what an awful choice of words. There's nothing good that can come from this for either par…
about 10 hours ago

TomahawkNation

TomahawkNation.com


RT @WTSPMelanie: BREAKING: Just spoke with family of Jameis Winston's accuser. Her lawyer plans to hold presser Friday. Family says, "It's …
about 10 hours ago

Noles247

Noles247.com


RD: #FSU staff on the recruiting trail (Update: 12/11 8:10 p.m.) http://t.co/jFjOZcbDqK via @Noles247
about 10 hours ago

TomahawkNation

TomahawkNation.com


RT @osfsu: Jameis Winston said to Orlando-based media that Kenny Shaw gave him a message to relay to Central Floridians: #3hunna
about 10 hours ago

Noles247

Noles247.com


The latest on #FSU commitment Jojo Robinson http://t.co/nNWo59qoQ8 via @Noles247
about 10 hours ago

DeionSanders

DeionSanders


PrimePrep 8th Grade team. Truth. 1st game great win guys! http://t.co/KDnUlatniK
about 10 hours ago

Noles247

Noles247.com


RT @Natalie_Pierre: FSU's Lamarcus Joyner: I was appointed to be a leader. Jameis was born to be a leader. http://t.co/x6TLHI5UyS
about 10 hours ago

TomahawkNation

TomahawkNation.com


RT @AmandaCerny: Who do you think is going to win the #BCSNationalChampionship? You already know my choice 😘 #FSU… http://t.co/cYplg3W7Qd
about 10 hours ago

TomahawkNation

TomahawkNation.com


. @GentlemanLawyer @davidraider88 yeah, his demeanor seemed consistent with his story.
about 10 hours ago

TomahawkNation

TomahawkNation.com


. @craigdmiller Democrat and WCTV have it. It's just the video of the interviews that were in the document dump Friday.
about 10 hours ago

TomahawkNation

TomahawkNation.com


. @GentlemanLawyer @davidraider88 what her own friend said to investigators might have been more important than what Jamies' friends said.
about 10 hours ago

TomahawkNation

TomahawkNation.com


. @davidraider88 like they said, Jameis knowing the truth allowed him to be confident and remain focused.
about 10 hours ago

TomahawkNation

TomahawkNation.com


RT @WALTBACON: @TomahawkNation just interviewed in Orlando 10 minutes for TV and 10 for beat writers still happy self
about 10 hours ago

ChrisWeinke16

Chris Weinke


RT @JamieNewberg: Under the watchful eye of @chrisweinke16 IMG had a big inaugural season... it's just the beginning Under construction htt…
about 10 hours ago

TomahawkNation

TomahawkNation.com


I didn't think we would ever get the old Jameis back in terms of interacting with the media. Very happy to be wrong.
about 10 hours ago

TomahawkNation

TomahawkNation.com


RT @schadjoe: Jameis Winston says he's not thinking about his legacy he just wants his team to make history in Pasadena
about 10 hours ago

TomahawkNation

TomahawkNation.com


RT @jkrelldavis: LOL RT @Natalie_Pierre: Winston said Scooby-Doo is his favorite cartoon character... "The new Scooby-Doo is getting out of…
about 10 hours ago

TomahawkNation

TomahawkNation.com


RT @consagrado: Heard @TomahawkNation on the radio on my ride back home in #Nashville... Should have had you on a couple weeks ago #WILDSPE…
about 10 hours ago

FSU_Football

FSU Football


Jameis Winston flashes that award-winning smile at the media session in Orlando. http://t.co/WoFNtnxoks
about 10 hours ago

ColeyHarvey

Coley Harvey


None. But he does have eight games with a completion rating 70% or higher (re: Carson's 6 80% games) RT @Hursshhh how many does Andy have?
about 11 hours ago

ColeyHarvey

Coley Harvey


Since his injury, #Bengals CB Leon Hall hadn't spoken to reporters. Until today. An update as he eyes July return http://t.co/bcoNHnEWY3
about 11 hours ago

FSU_Football

FSU Football


.@jimthorpeaward finalist Lamarcus Joyner and .@LouGrozaAward finalist Roberto Aguayo following their media session. http://t.co/Vtld9YHkpR
about 11 hours ago

theACC

The ACC


RT @accwbb: Great news for #ACCWBB & Greensboro today! Greensboro to Serve as Host Site for 2015 NCAA Regional http://t.co/SuvQya5BZn
about 11 hours ago

cdowlar

Corey Dowlar/ESPN


Tarvarus McFadden offered by Cincinnati
about 11 hours ago

FSU_Football

FSU Football


Roberto Aguayo takes his turn with the media on Thursday night. http://t.co/WvidosBSzP
about 11 hours ago

DeionSanders

DeionSanders


If it ain't worth Fighting for do you Really Love it?!! Truth
about 11 hours ago

Warchant

Warchant.com


RT @Ballou1010xl: Just spoke with @coachingsearch. He has no inside information that Jimbo would go to Texas. #FSU
about 12 hours ago

Noles247

Noles247.com


RT @NoahStanley247: Love that college coaches are noticing the #CrystalBall. It is officially part of recruiting nomenclature
about 12 hours ago

_DCReeves

D.C. Reeves


RT @tuscaloosanews: Alabama's AJ McCarron says he expects Saban to stay http://t.co/P0GHCaz6oB
about 12 hours ago

FSU_Football

FSU Football


Lamarcus Joyner talks with the media at the Boardwalk at Disney the night before the College Football Awards. http://t.co/x4eKZIAUIy
about 12 hours ago

Noles247

Noles247.com


Worth a watch RT @BroylesAward Jeremy Pruitt (@CoachJPruitt) introduction & speech at 2013 #BroylesAward Ceremony http://t.co/e7mdOqxoCV
about 12 hours ago

_DCReeves

D.C. Reeves


Catch up on all things Bama recruiting w/ @AndrewJBone. Talking Bama-Miss All Star game & more on a LIVE Chat (6 pm) http://t.co/cmEBAyrT4n
about 12 hours ago

Noles247

Noles247.com


Added the #FSU visit to Ermon Lane to our Recruiting Developments http://t.co/u3XFiG5Do4 via @Noles247
about 12 hours ago

_DCReeves

D.C. Reeves


RT @Foster_43: Dear Cade (#43), life has it's setbacks. I know! However, you will be stronger with time..Sincerely- George Bush http://t.c…
about 12 hours ago

Noles247

Noles247.com


RT @_MoneyLane: FSU came to see me today 😎
about 12 hours ago

TomahawkNation

TomahawkNation.com


RT @tomdangelo44: ESPN showing most lopsided Heisman votes in history anticipating a Jameis Winston "landslide." #FSU.
about 12 hours ago

_DCReeves

D.C. Reeves


RT @Brett_Hudson: Cade Foster got a letter from George Bush RT @Foster_43: "Dear cade (#43), Life has its setbacks. http://t.co/fkm1eztE27
about 12 hours ago

_DCReeves

D.C. Reeves


RT @osfsu: McCarron asked thoughts on Saban to Texas rumors: To me, he's not leaving...if I had to pick, I'd say 'no'"
about 13 hours ago

Noles247

Noles247.com


RT @FSU_Volleyball: We've made it safely 2 Champaign 4 the Sweet 16 & yes folks, its quite brisk outside. 20 degrees to be exact. Well, tim…
about 13 hours ago

DeionSanders

DeionSanders


The Right thing to do isn't always the easiest thing to do but the Right thing to do is Right. Wrong is Wrong! Do what's Right!!#TRUTH....
about 13 hours ago

_DCReeves

D.C. Reeves


RT @rivalsmike: According to mentor of one high level recruit, Saban told said recruit he wasn't going anywhere and was looking for bigger …
about 13 hours ago

ColeyHarvey

Coley Harvey


Carson RT @joshweinfuss Palmer has 6 games of 80% comp %:84.38 - 201384.21 - 200783.33 - 200981.82 - 200580.56 - 200480.00 - 2011
about 13 hours ago

theACC

The ACC


RT @acctrackfield: .@suxc's Fox & @FSU_XCountry's Harvey announced as 2013 #ACCXC Coaches of the Year http://t.co/XgqXBzE2fc Congrats!
about 13 hours ago

ESPN_ACC

ESPN ACC


Video: Remembering 'The Puntrooskie' http://t.co/k1tCRAYk2L
about 13 hours ago

Noles247

Noles247.com


RD: #FSU staff on the recruiting trail (Update: 12/11 5 p.m.) http://t.co/69KraqUQEw via @Noles247
about 13 hours ago

TomahawkNation

TomahawkNation.com


RT @Alonsoknows: @TomahawkNation So "Robot" Aguayo is 1st Team USA Today All-American and 1st Team All-Acc per ACC coaches but 2nd team All…
about 13 hours ago

theACC

The ACC


RT @ACCTrackField: .@PackXC's Colley & @FSU_Xcountry's Quigley recognized as 2013 #ACCXC Performers of the Year http://t.co/EspyZpZZWu Cong…
about 13 hours ago

_DCReeves

D.C. Reeves


RT @12NewsSETX: #Alabama coach Saban at #Ozen HS today to get @JustDoIt_TB Tony Brown to the Tide. . #Sabanwatch http://t.co/Zd9SDWGdjR
about 14 hours ago

ColeyHarvey

Coley Harvey


Also, from @ESPNStatsInfo, here's a look at the Offensive Rookie of the Yr race, which seems headlined by Mr. Bernard http://t.co/TQynSUdyof
about 14 hours ago

ColeyHarvey

Coley Harvey


Next, a look at #Bengals safety George Iloka clearing concussion protocol. That's one bit of good news for secondary http://t.co/x24tpRIy2p
about 14 hours ago

ColeyHarvey

Coley Harvey


A couple of links coming. Here's the first. It's our weekly #Bengals buzz video. It has to do with Whitworth/Dalton http://t.co/a5Y0uBcNoF
about 14 hours ago

Noles247

Noles247.com


RT @joshnewberg247: Note on #FSU's visit with 4-star WR Travis Rudolph today http://t.co/g7LmM049fA
about 14 hours ago

Warchant

Warchant.com


Recent #FSU commitment OL Chad Mavety comes in at No. 5 overall in the 2014 JUCO rankings (#2 OL). http://t.co/On4Hp1Z075
about 14 hours ago

Noles247

Noles247.com


Stork's beard RT @rimingtontrophy: Tomorrow's the big day! Announcing the #winner of #RimingtonTrophy. Who do you think title should go to?
about 14 hours ago

Noles247

Noles247.com


RT @sbterry247: was speaking with prominent assistant coach yesterday. asked what makes Jimbo Fisher special and his star on the rise ...
about 14 hours ago

Noles247

Noles247.com


RT @sbterry247: BCS Title game features 2 of the hottest names & most respected HCs among their peers in Fisher and Malzahn.
about 14 hours ago

Noles247

Noles247.com


RT @sbterry247: along w/ being one of the best HC recruiters, Jimbo Fisher has a special ability to call a game. play calling is instinctiv…
about 14 hours ago

Noles247

Noles247.com


#FSU's Rick Trickett checks in on commitment today http://t.co/LPLNva9RCZ via @Noles247
about 14 hours ago

Noles247

Noles247.com


Fisher a finalist for Bowden Award http://t.co/uQe9mouy5i via @Noles247
about 14 hours ago

fsufball

FSU Football


ACC coaches vote FSU's Winston player of year (The Associated Press): The Atlantic Coast Conference's coaches ... http://t.co/0eY8PS4Vhx
about 14 hours ago

ColeyHarvey

Coley Harvey


Didn't notice BJGE absent earlier, but he joined Newman in not practicing Wednesday (illness). Limited: Burfict, Gilberry, Iloka, Jones
about 14 hours ago

ESPN_ACC

ESPN ACC


Video: Louisville coach Charlie Strong http://t.co/lb8psIvHsu
about 14 hours ago

Noles247

Noles247.com


#FSU target RT @DeMathaHoops NC State, including HC Doeren, will be in attendance tonight to watch Brock Ruble @pass_the_brock play hoops
about 14 hours ago

_DCReeves

D.C. Reeves


RT @TideSports: Stay up to date on everything Alabama football by liking us on Facebook. Breaking news, recruiting updates & more https://t…
about 15 hours ago

Warchant

Warchant.com


RT @si_ncaafb: Florida State's Jameis Winston, Auburn's Ryan White grace cover of Sports Illustrated http://t.co/NUEpYwZgHL
about 15 hours ago

Warchant

Warchant.com


RT @Noles_T8: Need this ASAP.. http://t.co/goWhyVaIgW
about 15 hours ago

MichaelWarchant

Michael Langston


RT @Warchant: #FSU head coach Jimbo Fisher will make a visit to a major target today. Full list of visits here http://t.co/qxvmjkxByq ($) (…
about 15 hours ago

MichaelWarchant

Michael Langston


RT @Warchant: Update on Fort Scott (KS) JUCO OL Kareem Are & when a decision could come? #FSU http://t.co/6ioI9848VS ($) (6:32 pm)
about 15 hours ago

MichaelWarchant

Michael Langston


RT @JakePughIII: Coach Jimbo Fisher stopped by my house and paid me a visit tonight for about an hour!! #GoNoles
about 15 hours ago

MichaelWarchant

Michael Langston


RT @Warchant: Coaches on the Road: Wednesday recruiting stops & Tuesday recaps of visits for #FSU http://t.co/D93LHIXHv6 ($)
about 15 hours ago

MichaelWarchant

Michael Langston


RT @Warchant: Coaches on the road: Wednesday afternoon visits for #FSU, including a possible visit to a 5-star http://t.co/D93LHIXHv6 ($) (…
about 15 hours ago

MichaelWarchant

Michael Langston


RT @Warchant: #FSU commits, targets in @UnderArmourGame & the teams they are on. Game is Jan. 2nd at 4:00 pm on ESPN http://t.co/qADFzOwxgb…
about 15 hours ago

Warchant

Warchant.com


#FSU head coach Jimbo Fisher will make a visit to a major target today. Full list of visits here http://t.co/qxvmjkxByq ($) (3:30 pm)
about 15 hours ago

_DCReeves

D.C. Reeves


RT @DanWolken: Asked about status of extension talks, Battle repeated: "The Sugar Bowl is where his efforts are & that's where mine are."
about 15 hours ago
BLOG ARCHIVE:
CATEGORIES: