By the Numbers: FSU 28, VT 22
November, 9, 2012
11/09/12
10:00
AM ET
It would have been easy to dismiss Virginia Tech's chances in Thursday night's game, particularly given how badly the Hokies had played just a week earlier against Miami. And it would've been easy to assume Florida State would cruise to an easy win.
So the fact that the Seminoles needed a desperate final drive and a big interception by
Tyler Hunter
in the game's final seconds to secure a win was something of a surprise. The funny thing, however, is that there were plenty of numbers before the game that gave cause for concern, and most of them showed up in a big way Thursday night.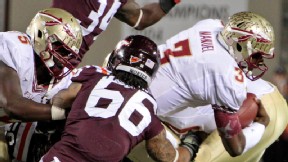 AP Photo/Steve HelberEJ Manuel was under attack from Virginia Tech on Thursday, something that's been a theme in FSU road games.
Here are five key stats that defined Florida State's dramatic 28-22 victory.
5.
That's the number of times
EJ Manuel
was sacked by the Virginia Tech defense Thursday, a season high. Four of the Hokies' sacks came on third down, when Bud Foster's defense was exceptionally aggressive, blitzing Manuel routinely. The line had no answer in a performance eerily similar to the struggles at NC State last month. Manuel was sacked four times in that game, meaning that half of FSU's 18 sacks allowed this season came in the two games played outside the state of Florida. Overall, 13 of the 18 have come on the road.
-15.
That's Florida State's rushing total for the game, the fourth-worst output on the ground in school history. To be fair, 44 yards were lost to sacks, but the Seminoles' 20 designed runs still amounted to just 29 yards total -- more than 200 yards less than what FSU had been averaging for the season. In Florida State's second game without
Chris Thompson
, things got extremely ugly, and the tailback tandem of
James Wilder Jr.
and
Devonta Freeman
ended up getting just two carries in the second half.
1.
That's the number of fourth-down conversions Florida State has this year after Wilder fought through contact at the line of scrimmage for a 7-yard run on fourth-and-1 to extend FSU's game-winning drive in the final 2 minutes of action. The play call by Jimbo Fisher was a gutsy one. FSU's ground game had been brutal, and he'd called just two other running plays in the quarter. The first ended with a
Lonnie Pryor
fumble. The second ended with Freeman tossing away an illegal forward pass in the end zone for a safety. The third was magic, however, and FSU became the last team in the country to pick up its first fourth-down conversion of the season.
13.
That's the number of fumbles by Florida State players in the last three games, including three against Virginia Tech. Luckily for the Seminoles, they've recovered six of the 13.
Rashad Greene
and Pryor were responsible for the two recovered by FSU on Thursday, while Hunter -- who is starting at punt returner because Greene couldn't hold onto the football -- fumbled for the second time in as many games. Miraculously they're 3-0 in those games despite the gaffes. How have they done it? On their seven fumbles and one interception in the last three games, the opposition has managed just seven total points. Virginia Tech didn't score following either of FSU's turnovers Thursday.
385 and 311.
That was Virginia Tech and Florida State's total yardage, respectively, Thursday. The Hokies outgained FSU by 74 yards, marking the first time all season an opponent tallied more yards than the Seminoles. In fact, it's the first time FSU was outgained since last season's regular-season finale against Florida, which, ironically, was also a win. As it turns out, FSU has won its last four games in which it was ougtained, and its last three losses came in games that the Seminoles had the better offensive output. Of course, Thursday's struggles were also a sign of what's been common on the road this season. At home, the Seminoles have averaged 584.5 yards per game, third best in the nation. On the road, that number drops by more than 200 yards per game to just 381.5, which would currently rank 68th nationally.
Haskins, McElwain Shine At IMG Regional
ACC SCOREBOARD
Thursday, 9/3
Saturday, 9/5
Monday, 9/7