J.C. Jackson takes a trip to Florida
October, 23, 2012
10/23/12
7:00
AM ET
J.C. Jackson
(Immokalee, Fla./Immokalee), a 2014 commitment to Florida State, traveled to Gainesville to see their in-state rivals Florida host South Carolina over the weekend.
The 6-foot, 185-pound ESPN Watch List member hadn't been to the Florida for a game yet, but definitely enjoyed his time there.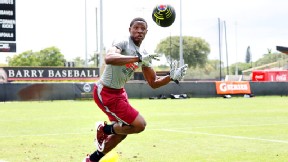 Tom Hauck/ESPNHS2014 ESPN Watch List athlete J.C. Jackson is committed to Florida State, but attended Florida's win over South Carolina.
"It was an exciting game," he said. "That was my first time going to a Gator game.
To continue reading this article you must be an Insider
Insider
Winston Crippling His Own Draft Stock?
Todd McShay explains why questions about Florida State QB Jameis Winston's off-the-field issues and maturity may scare some NFL teams away from drafting Winston.
Winston Crippling His Own Draft Stock?
VIDEO PLAYLIST
FSU FB RECRUITING SCORECARD
ESPN_ACC

ESPN ACC


Sean Maguire steps into spotlight for FSU http://t.co/XI4wuSYMo3
about a minute ago

ESPN_ACC

ESPN ACC


Our weekly Spreecast has been moved to 3:30 p.m. ET. Drop by and bring us your questions! http://t.co/p7BfGv6z9M
2 minutes ago

DavidHaleESPN

David Hale


Throughout all his trouble, Winston has said the field is his sanctuary. Taking that away might be best way to make him grow up.
3 minutes ago

TomahawkNation

TomahawkNation.com


.@Nick_Verola I think Jimbo was pissed at Jameis for saying it, but I think suspension decision came from administration.
11 minutes ago

SportsCenter

SportsCenter


BREAKING: Jameis Winston suspended for first half of Saturday's game vs. Clemson. http://t.co/eCXsQ7qVaq
17 minutes ago

TomahawkNation

TomahawkNation.com


Florida State QB Jameis Winston to miss first half of game against Clemson, per FSU release. http://t.co/xT8UKD1tKP
17 minutes ago

ranger5171

Jerry Anderson


@Noles247 I met Sean at the kick off luncheon. He is cool as the other side of the pillow!
19 minutes ago

ESPN_ACC

ESPN ACC


Wolford shoulders lots of responsibilities http://t.co/TQESx4NtZh
31 minutes ago

ColeyHarvey

Coley Harvey


Speaking of A.J., he said a little earlier that he hasn't ruled out playing this wknd. If toe feels fine,he's playing http://t.co/TRFEoY014y
33 minutes ago

CoachBush23

Devin Bush


@Warchant can Charlie Ward please call this kid. # Role Model
34 minutes ago

Noles247

Noles247.com


Updated our 'Getting to know' piece on Sean Maguire, #FSU's starting QB this weekend http://t.co/oV1riyXr0r via @Noles247
34 minutes ago

ColeyHarvey

Coley Harvey


Some video from this morning, too. This wk's #Bengals buzz video looks at Sanu and how he important he'll be w/o A.J. http://t.co/4tFsggBGcl
36 minutes ago

ACCVolleyball

ACC Volleyball


#ACCVB occupies three of the top 10 spots for blocks per set nationally, with North Carolina ranking 4th, Syracuse 5th & Clemson 10th
38 minutes ago

ColeyHarvey

Coley Harvey


Also from this morning, a first look at the #Bengals' next foe, the Titans. Tennessee is on deck http://t.co/o2aQzYhc36
40 minutes ago

ColeyHarvey

Coley Harvey


From this morning, with Kevin Zeitler shelved for what appears to be a few weeks, Mike Pollak is taking over #Bengals http://t.co/TEj8bBz9n4
41 minutes ago

fsufball

FSU Football


(b/r) Will Latest Incident Ruin Jameis Winston's Back-to-Back Heisman Hopes?: Florida State's Heisman-winning ... http://t.co/MUFtvBXVtO
44 minutes ago

thaRD5

Ryan Davis


I'm in tally this weekend for FSU game 👋👋
50 minutes ago

TomahawkNation

TomahawkNation.com


Something doesn't have to be wrong for it to be stupid. This was stupid.
51 minutes ago

TomahawkNation

TomahawkNation.com


Recording podcast early Thursday morning so @IngramSmith and I will discuss Jameis in depth.
52 minutes ago

Warchant

Warchant.com


Transcript of Jameis Winston's press conference Wednesday. ($) #FSU #Clemson https://t.co/grCwJA0ySY http://t.co/fyd0bpZbyO
54 minutes ago

TomahawkNation

TomahawkNation.com


But you're not famous. That's the point. Also, HR would like a word. RT "@DenCarter: hell im 33 and i just said that last week at work lol"
about an hour ago

TomahawkNation

TomahawkNation.com


At 29? No. At 20 in college, can't rule it out. RT "@Nole_Man: @TomahawkNation would you personally do that in public to get a joke?"
about an hour ago

TomahawkNation

TomahawkNation.com


.@joeovies I don't think he saw anything wrong with what he said.
about an hour ago

ColeyHarvey

Coley Harvey


Yeah, no Zeitler. Forgot to include him earlier RT @Nopepper1: @ColeyHarvey Zeitler?
about an hour ago

TomahawkNation

TomahawkNation.com


Mixed thoughts RT "@Tuffgong55: @TomahawkNation do you agree with the suspension?"
about an hour ago

Noles247

Noles247.com


Get to know #FSU's starting QB against Clemson - Sean Maguire http://t.co/oV1riyXr0r via @Noles247
about an hour ago

TomahawkNation

TomahawkNation.com


But Winston has to assume that anything he does, unless surrounded only by teammates, will get discussed on social media.
about an hour ago

TomahawkNation

TomahawkNation.com


Not the normal college experience example billionty: Winston can't mock a popular joke without it blowing up all over social media.
about an hour ago

bartonsimmons

Barton Simmons


In light of his newest incident, I revisit a telling question that Jameis Winston asked at the '11 #Elite11: http://t.co/zvdsBioOO8 @CNee247
about an hour ago

ColeyHarvey

Coley Harvey


Have to think Marvin Jones/Rex Burkhead start easing back into practice at some point soon. Late this week or next. We'll see. #Bengals
about an hour ago

ColeyHarvey

Coley Harvey


#Bengals not practicing: Whitworth, Pollak, Porter, A.J. Green, Burfict, Thompson, Marvin Jones, Burkhead. Pollak/Whitworth just a vet day
about an hour ago

fsufball

FSU Football


FSU benches Winston for 1st half of Clemson game (The Associated Press): Jameis Winston has been benched for t... http://t.co/IvgLzIt2BB
about an hour ago

ESPN_ACC

ESPN ACC


We have moved our weekly spreecast chat to 3:30 p.m. ET. Get your questions in! http://t.co/88fPzrp7c0
about an hour ago

Noles247

Noles247.com


Some comments from Kirk Herbstreit on #FSU-Clemson (Pre-Winston) http://t.co/avvJevQje5 via @Noles247
about an hour ago

Warchant

Warchant.com


Video of Jameis Winston's apology during today's #FSU press conference. https://t.co/4JLas6JJXj http://t.co/MIcnMS8HtI
about an hour ago

JShankerESPN

Jared Shanker


Jameis Winston: "I want to apologize to the university, my coaches, my teammates .. because I have now made a selfish act for them."
about an hour ago

Warchant

Warchant.com


Jameis Winston: "It eats me alive that I did something like that. I can't carry myself that way."
about an hour ago

Noles247

Noles247.com


Jameis Winston addresses suspension, apologizes http://t.co/UPtw9BChEP via @Noles247
about an hour ago

Osceola_Tim

Tim Linafelt


Jameis Winston is finished. Apology, other comments here: http://t.co/t0nhtseEBH
about an hour ago

Warchant

Warchant.com


Jameis Winston: "I have to tone it down. I have to."
about an hour ago

Warchant

Warchant.com


FSU spokesman has twice cut questions off to Jameis about off-field things, saying he and the university have already addressed it.
about an hour ago

theACC

The ACC


Pick this weekend's games against @theACCDN experts @TheRealC_Portis, @BMac_120 & @Riley_Skinner in ACC Fan Pick'em: http://t.co/8B2tiuns2S
about an hour ago

Warchant

Warchant.com


Winston says he texted backup QB Sean Maguire earlier today. They'll watch film together to prepare for Clemson on Saturday.
about an hour ago

Warchant

Warchant.com


Winston 3/3: "I really want to apologize to my teammates, because I've done a selfish act."
about an hour ago

Warchant

Warchant.com


Winston 2/3: "...a me person but in that situation it was a selfish act and that's not how you do things around here.... (cont)
about an hour ago

Noles247

Noles247.com


Jameis Winston now speaking http://t.co/h7v9j9nhpn via @Noles247
about an hour ago

Warchant

Warchant.com


Jameis' opening statement: "First of all I want to apologize to the university, to my coaches and to my teammates. I'm not (cont)... (1/3)
about an hour ago

BushidoNole

????? ????


Shouldn't someone go smack Winston upside the head for acquiring Manziel disease? Didn't he give us permission to do so?
about an hour ago

Warchant

Warchant.com


You can watch Jameis Winston's PC live here on a feed from #FSU. Should start any minute. http://t.co/UsjQRSGJNm
about an hour ago

fsufball

FSU Football


(b/r) Cam Erving vs. Vic Beasley the Most Important Matchup in FSU vs. Clemson: Vic Beasley had 13 sacks in 20... http://t.co/jSQOive6VD
about an hour ago

Noles247

Noles247.com


Jameis Winston Coverage: Fisher comments http://t.co/WNS3MsGq4n Winston suspended http://t.co/m7YjWYVdBL Winston PC http://t.co/gUEkhEOwDC
about an hour ago

TomahawkNation

TomahawkNation.com


Our roundtable on #FSU's backup QB situation from early August http://t.co/2K5woXhkJF Meet Sean Maguire
about an hour ago

ESPN_ACC

ESPN ACC


Says early on "you're in a foot race to maximize your team and figure out ur identity" hard to do when don't have intensity in practice.
about 2 hours ago

ESPN_ACC

ESPN ACC


Addazio says he doesn't know if he can sustain physicality of practices forever. "I worry about it and I think about it. ..."
about 2 hours ago

ESPN_ACC

ESPN ACC


Addazio says team continuing physical practices to set the tone and the message for this week.
about 2 hours ago

TomahawkNation

TomahawkNation.com


Florida State QB Jameis Winston to miss first half of game against Clemson, per FSU release. http://t.co/xT8UKD1tKP
about 2 hours ago

Noles247

Noles247.com


Jameis Winston still scheduled to speak with media. Updates here starting in next 5-to-10 minutes: http://t.co/3sYR8ZhzFB via @Noles247
about 2 hours ago

ESPN_ACC

ESPN ACC


London asked what he told his PK Ian Frye last week before the GW kick vs Louisville. "Two words. Make it."
about 2 hours ago

Warchant

Warchant.com


Jameis Winston suspended for first half Saturday. Story updated with statement from FSU officials: https://t.co/0Sm2UYY3jV
about 2 hours ago

martinrickman

martin rickman


he can just copy and paste all his other ones RT @TomahawkNation: Also expecting that Jameis Winston will apologize today.
about 2 hours ago

RyanBartow

Ryan Bartow


Jameis Winston out for the 1st half against #Clemson. What's next for #FSU? @joshnewberg247 & @CNee247 have the latest all day on @Noles247
about 2 hours ago

Noles247

Noles247.com


As of right now, Jameis Winston still scheduled to speak with media at 12:30 p.m. http://t.co/gUEkhEOwDC via @Noles247
about 2 hours ago

TomahawkNation

TomahawkNation.com


Also expecting that Jameis Winston will apologize today.
about 2 hours ago

ESPN_ACC

ESPN ACC


London says the biggest diff w/BYU this year is Hill. "He does a fantastic job running their offense. ... He's improved a lot."
about 2 hours ago

TomahawkNation

TomahawkNation.com


More coming on the Jameis Winston suspension on http://t.co/SJ0vQXqTRM
about 2 hours ago

ESPN_ACC

ESPN ACC


London on now, says the plan is to go w/the QB who is executing the offense the best.
about 2 hours ago

Matt_Fortuna

Matt Fortuna


#FSU statement on Jameis Winston's first-half suspension vs. #Clemson: http://t.co/JUuY0i8rUM
about 2 hours ago

ColeyHarvey

Coley Harvey


Marvin Lewis jokes, "I'm a huge fan of early bye weeks now." Banged-up #Bengals off next week.
about 2 hours ago

ESPN_ACC

ESPN ACC


Beamer says he still is not sure whether injured DL Maddy and Marshall will play. Alford will work at DT this week in case they can't go.
about 2 hours ago

BobFerrante

Bob Ferrante


Sean Maguire was the No. 4 QB in March 2013. Will start for FSU on Saturday now.
about 2 hours ago

Warchant

Warchant.com


Saying his comments were "offensive and vulgar," FSU announces Jameis Winston will be suspended for the first half against Clemson.
about 2 hours ago

ESPN_ACC

ESPN ACC


Florida State announces Jameis Winston has been suspended for the first half vs. Clemson for shouting obscenities on campus.
about 2 hours ago

Noles247

Noles247.com


Story: Jameis Winston suspended for first half against #Clemson http://t.co/m7YjWYVdBL via @Noles247
about 2 hours ago

DavidHaleESPN

David Hale


Jameis Winston will be suspended for 1st half of Clemson game, per statement from #FSU
about 2 hours ago

247Sports

247Sports


One school from #SEC is making a push with five-star DE Terry Beckner Jr. via @SWiltfong247 http://t.co/jfArnq7Q94 http://t.co/3i6wIukHpd
about 2 hours ago

ESPN_ACC

ESPN ACC


Beamer asked about Facyson. "He needs more reps out there. He's just getting back in the flow of it." Says he's not 100 percent yet.
about 2 hours ago

ESPN_ACC

ESPN ACC


Beamer says w/o Stanford, VT will rely on Newsome, Ford, Phillips. Asante is back in the mix. "We'll miss Josh's production, his toughness."
about 2 hours ago

ESPN_ACC

ESPN ACC


Beamer says potential is there for the run game to keep improving from a personnel stdpt. But can't get behind 21-0.
about 2 hours ago

ESPN_ACC

ESPN ACC


Beamer says Carden made some "great, great throws," put the ball where it needed to be. "We'll b better in the future on the deep balls."
about 2 hours ago

ColeyHarvey

Coley Harvey


Yep RT @andreperrotta13: @ColeyHarvey key word "anymore", meaning the low attendance has frustrated the players in the past.
about 2 hours ago

ColeyHarvey

Coley Harvey


Remember, A.J.'s big TD came in the fourth quarter of that game. #Bengals
about 2 hours ago

ESPN_ACC

ESPN ACC


Memories of epic Nebraska-Miami battles http://t.co/z4EzDlqjjk
about 2 hours ago

FSUChiefs

Marching Chiefs


Join us for Skull Session this week before the game, 6p, Howser Stadium. #fsu #noles #mcatdt #beatClemson
about 2 hours ago

ColeyHarvey

Coley Harvey


Says it's "something like a turf toe, but not as bad." Said it happened in first quarter at Baltimore, but that he gutted thru injury.
about 2 hours ago

ESPN_ACC

ESPN ACC


Golden with high praise for Ameer Abdullah, calls him one of the best RBs in the country. (Great RB matchup btw Abdullah and Johnson)
about 2 hours ago

ColeyHarvey

Coley Harvey


A.J. Green says if he feels good Sunday, he'll go. Hasn't closed door on playing. This will be big week of practice. #Bengals
about 2 hours ago

ESPN_ACC

ESPN ACC


FSU QB Jameis Winston may face punishment after he was seen shouting obscenities on campus. http://t.co/2iAcUO48Rr
about 2 hours ago

ESPN_ACC

ESPN ACC


Golden says you have to be physical with the Nebraska front. "Down to down plays in the trenches r going 2 b a big part of this game."
about 2 hours ago

ESPN_ACC

ESPN ACC


But Golden also notes the last time UM-Neb played, Canes players were 6 or 7. Needs players to focus in on the game.
about 2 hours ago

ESPN_ACC

ESPN ACC


Al Golden on now says there is a respect for Nebraska for the success they had and the tradition, venue.
about 2 hours ago

ColeyHarvey

Coley Harvey


As context, he was saying team was so focused on itself and trying to get to Super Bowl that low attendance doesn't frustrate it anymore
about 2 hours ago

ColeyHarvey

Coley Harvey


Normally, Whitworth would make a plea about getting fans to come out w threats of blackout (like this wkend). Said today, team doesn't care
about 2 hours ago

Noles247

Noles247.com


Noles247 Team and Recruiting Chat http://t.co/NHIQ2kMu3V via @Noles247
about 2 hours ago

theACCfootball

ACC Football


ICYMI - you can listen in LIVE to the #ACCFootball Coaches Teleconference, going on right now: http://t.co/TAR98vYzYj
about 2 hours ago

ESPN_ACC

ESPN ACC


Asked Paul Chryst if he had any thoughts on Big Ten struggles in preparation 4 Iowa said, "I'm afraid of the Big Ten this week."
about 2 hours ago

ESPN_ACC

ESPN ACC


Paul Chryst on now, says Iowa defense is good against the run. "Well designed scheme, players know it well. And they've got good players."
about 2 hours ago

ColeyHarvey

Coley Harvey


As of now, Chris Lewis-Harris' roster exemption is finished. #Bengals are keeping him. Team at 53 now.
about 2 hours ago

ESPN_ACC

ESPN ACC


Fedora says ECU is much improved defensively. "That's the hidden thing nobody realizes."
about 2 hours ago

ESPN_ACC

ESPN ACC


Fedora, "I don't think our guys have to be convinced that this game is going to be intense."
about 2 hours ago

Warchant

Warchant.com


Notes from Dabo Swinney on today's ACC teleconference: https://t.co/jHjMLLahXE ($) Talking Jameis, FSU's roster, home field advantage, more.
about 2 hours ago
BLOG ARCHIVE:
CATEGORIES: