J.C. Jackson takes a trip to Florida
October, 23, 2012
10/23/12
7:00
AM ET
J.C. Jackson
(Immokalee, Fla./Immokalee), a 2014 commitment to Florida State, traveled to Gainesville to see their in-state rivals Florida host South Carolina over the weekend.
The 6-foot, 185-pound ESPN Watch List member hadn't been to the Florida for a game yet, but definitely enjoyed his time there.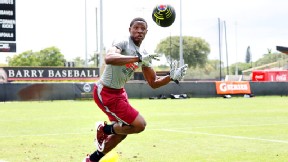 Tom Hauck/ESPNHS2014 ESPN Watch List athlete J.C. Jackson is committed to Florida State, but attended Florida's win over South Carolina.
"It was an exciting game," he said. "That was my first time going to a Gator game.
To continue reading this article you must be an Insider
Welcome
!
We see that you are not an ESPN Insider. Upgrade today and gain access to our exclusive coverage.
ESPN The Magazine subscribers

Need more information?
FSU Students React To Winston Decision
Mark Schwarz talks to Florida State students following the news that QB Jameis Winston won't be charged after a sexual assault investigation.
Tags:
Florida State Seminoles
,
Jameis Winston
FSU Students React To Winston Decision
VIDEO PLAYLIST
NOLENATION RECRUITING NEWS
FSU FB RECRUITING SCORECARD
Noles247

Noles247.com


#FSU Soccer to play for the National Championship http://t.co/GtOgQpDmWB via @Noles247 Will face winner of #UVA/#UCLA which is in 2OT
6 minutes ago

theACC

The ACC


Congrats @FSU_Volleyball! MT @adamamin: Upset in @AVCAVolleyball regional. @FSU_Volleyball knocks out @GatorZoneVB. Huge win for Noles!
13 minutes ago

MichaelWarchant

Michael Langston


Hey @Eric_Clark28 what's the score of the East Lake game since I heard someone say it was over???
17 minutes ago

cdowlar

Corey Dowlar/ESPN


@DavidHaleESPN There is only one choice http://t.co/OWQtUuGiJa
34 minutes ago

TheBobbyBowden

Bobby Bowden


Much deserved! "@Duke_FB: ACC Night of Legends-congrats Perry Simmons Wes Chesson & Coach Cutcliffe 4 being honored http://t.co/Eo5yK0CYiz"
35 minutes ago

DavidHaleESPN

David Hale


Hey @cdowlar how's your Heisman ballot looking tonight? Any emails or MAC games sway your vote? http://t.co/jadwGZkNVC
35 minutes ago

Noles247

Noles247.com


RT @Osceola_Tim: FSU soccer to the national championship game, FSU volleyball in the Sweet 16 and FSU football playing for the ACC title to…
51 minutes ago

Noles247

Noles247.com


RT @edsbs: This NIU secondary is so bad I think Florida could pass for three or four field goals on it.
52 minutes ago

Noles247

Noles247.com


#FSU Volleyball just took down the #Gators in the NCAA Tournament. Sweet 16 bound.
53 minutes ago

Noles247

Noles247.com


Soccer Update: UVA and UCLA are 0-0 at the half. Winner faces #FSU on Sunday for Nat'l Championship.
about an hour ago

MichaelWarchant

Michael Langston


The fact that with a win in this MAC Title game N Illinois could be in a BCS bowl game is an embarrassment. Qualifications need to change.
about an hour ago

Warchant

Warchant.com


Congrats to #FSU Women's soccer 3-2 win over Va. Tech to advance to NCAA finals.
about an hour ago

FSU_Football

FSU Football


Jameis Winston interview with the @theACCDN at tonight's #ACC Legends Dinner. http://t.co/7OvZPlAfsJ
about an hour ago

Warchant

Warchant.com


Interview With# FSU QB Jameis Winston | ACC One-on-One http://t.co/MXeZNW8mho via @YahooSports
about an hour ago

TheBobbyBowden

Bobby Bowden


RT @TomFornelli: #OneHandedMACtion
about an hour ago

cdowlar

Corey Dowlar/ESPN


That was a great catch.
about an hour ago

Warchant

Warchant.com


Warchant intern Brandon with FabioNole at WhiskyRiver in Charlotte. http://t.co/SEBZi30vPD
about an hour ago

TheBobbyBowden

Bobby Bowden


@dannykanell Only a QB who bleeds G&G would say on TV that Lynch is a better player than TT. That's my boy! Lynch does deserve a trip to NY
about an hour ago

_DCReeves

D.C. Reeves


Cliff's Notes for Alabama fans: if you want a chance for the Orange Bowl to pass on Alabama/better opponent in Sugar you want Bowling Green.
about 2 hours ago

cdowlar

Corey Dowlar/ESPN


RT @saintwarrick: Bowling Green, you'll win if you really love America.
about 2 hours ago

theACC

The ACC


#ACC Fans! For classic throwback games and your favorite football moments, be sure to visit the Toyota ACC Vault: http://t.co/Oksj9I6dbS
about 2 hours ago

FSU_Football

FSU Football


Jameis Winston and Cam Erving with their ACC Awards haul from tonight! http://t.co/tb19Rymo2L
about 2 hours ago

TomahawkNation

TomahawkNation.com


RT @ScottKotick: Jameis Winston and Cam Erving honored tonight by the ACC. Lots of awards on that table. #Noles http://t.co/aAJORMbzrv
about 2 hours ago

TomahawkNation

TomahawkNation.com


RT @NikiNoto: This is what an almost 20 min interview with Famous Jameis looks like. #Noles #MommaDressedHim… http://t.co/uBCvCX2QSx
about 2 hours ago

Noles247

Noles247.com


RT @theACCfootball: David Cutcliffe: "Cam and Jameis, I'm so thrilled for all that you've accomplished this year. I'm giving you the day of…
about 2 hours ago

TomahawkNation

TomahawkNation.com


RT @FSU_Football: Winston is the first freshman ever to capture the ACC Player of the Year award in the 61-year history of the league. http…
about 2 hours ago

FSU_Football

FSU Football


Winston is the first freshman ever to capture the ACC Player of the Year award in the 61-year history of the league. http://t.co/2XWdErEhTJ
about 2 hours ago

fsufball

FSU Football


Column: FSU, Ohio St wins should eliminate SEC (The Associated Press): If top-ranked Florida State and No. 2 O... http://t.co/3yEGi3DwXc
about 2 hours ago

FSU_Football

FSU Football


Winston is back on the stage as the #ACC Player of the Year and the Offensive Player of the Year! http://t.co/BZbqPrGb1T
about 2 hours ago

Noles247

Noles247.com


RT @FSU_Football: Jameis Winston takes home the #ACC Rookie of the Year and the Offensive ROY! Here he is with Commissioner Swofford. http:…
about 2 hours ago

FSU_Football

FSU Football


Jameis Winston takes home the #ACC Rookie of the Year and the Offensive ROY! Here he is with Commissioner Swofford. http://t.co/BLvqkO7SBn
about 2 hours ago

TomahawkNation

TomahawkNation.com


RT @ScottKotick: Awesome to watch Jameis Winston get a great applause here at the ACC night of legends dinner.
about 2 hours ago

Noles247

Noles247.com


RT @FSU_Football: Congrats to LT Cam Erving for winning the #ACC Jacobs Blocking Trophy! Here he is accepting the honor. http://t.co/rAc2rZ…
about 2 hours ago

FSU_Football

FSU Football


Congrats to LT Cam Erving for winning the #ACC Jacobs Blocking Trophy! Here he is accepting the honor. http://t.co/rAc2rZpnPe
about 2 hours ago

Noles247

Noles247.com


RT @tomdangelo44: #FSU OT Cam Erving is picking up his Jacobs Blocking trophy at ACC banquet.
about 2 hours ago

fsufball

FSU Football


(b/r) ACC Championship Game 2013: Keys for Duke to Put Florida State on Upset Alert: The BCS No. 20 Duke Blue ... http://t.co/tgrcdhsjMV
about 2 hours ago

Noles247

Noles247.com


RT @CoachTreyFSU: Congrats to Coach K and our @FSU_Soccer team for qualifying for the championship game on Sunday.
about 2 hours ago

Noles247

Noles247.com


RT @WhiskyRiverCLT: If you're not here kicking off the #ACC championship weekend, you're missing out!! @FSUAlumni has taken over! http://t.…
about 2 hours ago

TomahawkNation

TomahawkNation.com


#Noles beat Virginia Tech 3-2 in soccer and are set to play for the national title.
about 2 hours ago

TomahawkNation

TomahawkNation.com


So FSU can win the national title in football and futbol? #Noles
about 3 hours ago

Noles247

Noles247.com


RT @coachstanjones: How about FSU Women's soccer? They will play for national championship on Sunday! FSU Athletics = UNCONQUERED STRONG!
about 3 hours ago

Seminoles_com

Seminoles.com


RT @FSU_Soccer: And that's the game. NOLES WIN...NOLES WIN!!! FSU advances to the national championship game for the second time in schoo…
about 3 hours ago

Noles247

Noles247.com


#FSU Soccer defeats Virginia Tech 3-2 in the national semifinal. They will face UVA/UCLA winner for national championship.
about 3 hours ago

MichaelWarchant

Michael Langston


RT @FSU_Soccer: HOLY COW...what a goal by Jamia Fields....blast from 22 yards that goes off the far post and into the net! You have got to …
about 3 hours ago

Seminoles_com

Seminoles.com


RT @FSU_Soccer: HOLY COW...what a goal by Jamia Fields....blast from 22 yards that goes off the far post and into the net! You have got to …
about 3 hours ago

TomahawkNation

TomahawkNation.com


Hey @daonlyBigRed have you run a 40? And if so, what was your time.
about 3 hours ago

TomahawkNation

TomahawkNation.com


#Noles ball boy Red Lightning (@daonlyBigRed) tells @Corey_Clark "... We ride together, we die together." http://t.co/mALE4nFedA
about 3 hours ago

TomahawkNation

TomahawkNation.com


Did Peyton Manning get hair plugs?
about 3 hours ago

Warchant

Warchant.com


RT @YSportsRadio: Powell Latimer from @Warchant discussed the announcement about #FSU QB Jameis Winston. LISTEN: http://t.co/Ye37CVfx5A
about 3 hours ago

TomahawkNation

TomahawkNation.com


My favorite prof. Congrats, Mark. RT @fsuzeigler Today was my 20th anniversary at Florida State. I couldn't be any luckier.
about 3 hours ago

theACC

The ACC


The ACC FanFest presented by AT&T is tomorrow from 12 to 7 pm with performances by Rodney Atkins & Sara Evans! http://t.co/3K2zck5Z7c
about 3 hours ago

MichaelWarchant

Michael Langston


RT @FSU_Soccer: GOALLLLL!!! Jamia Fields on the goal on a great play by Campbell with long throw to Dagny takes to endline, pass back to r…
about 3 hours ago

theACC

The ACC


RT @FSU_Football #Noles having fun at Friday's walk through at the Carolina Panthers Practice Facility. http://t.co/SJja3GoVWU
about 3 hours ago

Noles247

Noles247.com


Friday Night Lights: #FSU commitments results http://t.co/OUQREAKb6n via @Noles247
about 4 hours ago

TomahawkNation

TomahawkNation.com


RT @chrismcgee71: @TomahawkNation it will be much cooler and different tomorrow. I'm there either way!
about 4 hours ago

DeionSanders

DeionSanders


If Time Heals all then why would we need Medicine!!! #thinkaboutthat TRUTH
about 4 hours ago

cdowlar

Corey Dowlar/ESPN


RT @cbfowler: Happy 21st, @JManziel2. Now, you can finally find out what a beer tastes like. Party safe!
about 4 hours ago

Seminoles_com

Seminoles.com


RT @FSU_Soccer: Halftime in Cary as FSU's late goal by Grubka ties it at one.
about 4 hours ago

TomahawkNation

TomahawkNation.com


RT @GreenBean612: @TomahawkNation Good story here from reporter in Hueytown yesterday. Spoke with Winston's dad and JW's gf's dadhttp://t.…
about 4 hours ago

MichaelWarchant

Michael Langston


RT @FSU_Soccer: GOALLLL!!!!! NOLESSSS Grukba ties its as she heads in the free kick from Marta Bakowska-Mathews! tied 1-1 with 3 minutes l…
about 4 hours ago

MichaelWarchant

Michael Langston


RT @Powell_Warchant: Near-death experience : @WarchantGene saw a Duke ACC Coastal champions billboard, started staring and almost ran off t…
about 4 hours ago

TomahawkNation

TomahawkNation.com


Charlotte weather much warmer and drier than expected earlier in the week. 70s, maybe slight sprinkles tomorrow. Bad stuff Sunday.
about 4 hours ago

TimBrewster

Tim Brewster


#BeatDuke #ChampionshipsFSU!!
about 4 hours ago

TomahawkNation

TomahawkNation.com


RT @saintwarrick: SWAG! RT @_TomBlock: BREAKING NEWS: I just rode the elevator with #RedLightning http://t.co/vUJbMfAxrW
about 4 hours ago

Warchant

Warchant.com


RT @Powell_Warchant: Near-death experience : @WarchantGene saw a Duke ACC Coastal champions billboard, started staring and almost ran off t…
about 4 hours ago

TomahawkNation

TomahawkNation.com


Think I figured out the problem with my snapchat. Gf keeps sending snaps of the cat watching TV. Maybe she thinks it is called SnapCat?
about 4 hours ago

theACC

The ACC


RT @JeffFischel @Duke_FB big guys get together for a pic. The team is taking a look around BofA Stadium. http://t.co/Ax0tn3em15
about 5 hours ago

cdowlar

Corey Dowlar/ESPN


Feels like the weekend, don't it?
about 5 hours ago

TomahawkNation

TomahawkNation.com


RT @___cass: Can't make it to Charlotte tomorrow, any recommendations on Durham/Raleigh bars to watch the game? @TomahawkNation @jmnpb
about 5 hours ago

Noles247

Noles247.com


Staff's take: #FSU vs. Duke in ACC Championship Game http://t.co/2wmvmF243q via @Noles247
about 5 hours ago

TomahawkNation

TomahawkNation.com


RT @Carl_Lisle: Help me out: Best place to watch the Noles in New York City? @TomahawkNation
about 5 hours ago

TomahawkNation

TomahawkNation.com


RT @BrenBures: Hey Twitter. Do y'all know of any local, unique bars and pubs in Charlotte? We're roaming around downtown looking for a brew.
about 5 hours ago

TomahawkNation

TomahawkNation.com


RT @IamOden: @TomahawkNation the wearher is concerning. Adds to the value of not making mistakes.
about 5 hours ago

TomahawkNation

TomahawkNation.com


RT @thedevilwolf: @TomahawkNation when they do turn the ball over they normally don't compound the mistake. Lots of TOs without points allo…
about 5 hours ago

TomahawkNation

TomahawkNation.com


. @thedevilwolf Duke reminds me some of those good Jim Grobe Wake teams. Never in second and 18, not many penalties or dumb mistakes.
about 5 hours ago

TomahawkNation

TomahawkNation.com


But is not beating yourself enough in a title game? Probably not.
about 5 hours ago

TomahawkNation

TomahawkNation.com


No wifi on the plane. Watched some more saved Duke tape. Blue Devils are solid. Best thing they do is rarely beat themselves.
about 5 hours ago

theACC

The ACC


RT @BrandonMellor PHOTO: #Noles endzone painted and ready here at Bank of America Stadium - http://t.co/0HAvLUuesG
about 5 hours ago

DeionSanders

DeionSanders


RT @welton6: Gotta get @DeionSanders one of the new Truth Basketball bands http://t.co/P71lMqYUWK
about 5 hours ago

Warchant

Warchant.com


One-on-one interview with #FSU head coach Jimbo Fisher from @theaccdn talking about overcoming distractions. http://t.co/rTtWo0UQ8I
about 5 hours ago

fsufball

FSU Football


With Winston cleared, Florida State eyes ACC title (The Associated Press): Duke cornerback Ross Cockrell is no... http://t.co/4pX4yndWOJ
about 5 hours ago

fsufball

FSU Football


Coach: Winston showed no stress from investigation (The Associated Press): CHARLOTTE, N.C. (AP) -- Florida Sta... http://t.co/sv4QiDrmWj
about 5 hours ago

fsufball

FSU Football


(fsu) Game Preview: No. 1 FSU vs. No. 20 Duke: Top-ranked 'Noles face Blue Devils Saturday night in Charlotte ... http://t.co/xdpzU3Pvas
about 5 hours ago

DavidHaleESPN

David Hale


RT @Corey_Clark: Rest easy, loyal followers. I was just informed I will in fact be able to interview Red Lightning.
about 6 hours ago

ESPN_ACC

ESPN ACC


Video: FSU coach Jimbo Fisher http://t.co/1atUHQ315o
about 6 hours ago

ESPN_ACC

ESPN ACC


ACC mailblog http://t.co/KpN910xKgA
about 6 hours ago

ESPNFSU

ESPN Florida State


Video: FSU coach Jimbo Fisher http://t.co/291HJR0o9J
about 6 hours ago

ESPNFSU

ESPN Florida State


ACC mailblog http://t.co/m04Qf3x6VI
about 6 hours ago

theACC

The ACC


#ACCNow: @Duke_FB & @FSU_Football Arrive In Charlotte: http://t.co/opyYcud0wI #ACCFCG
about 6 hours ago

ESPNFSU

ESPN Florida State


Video: Duke coach David Cutcliffe http://t.co/RibgxiDAfS
about 6 hours ago

ESPN_ACC

ESPN ACC


Video: Duke coach David Cutcliffe http://t.co/BWl14jsQi3
about 6 hours ago

DeionSanders

DeionSanders


RT @bigbrando25: With @DeionSanders advice last night, I was able to step up, make a decision, and go with it! Thank you Sir for ur guidanc…
about 6 hours ago

fsufball

FSU Football


(fsu) Fisher, Cutcliffe Talk ACC Championship: Hear from Florida State head coach Jimbo Fisher and Duke head c... http://t.co/PC0O1RwzJo
about 6 hours ago

_DCReeves

D.C. Reeves


RT @CecilHurt: Mike Slive on @finebaum says the 2015 SEC football schedule will be announced "soon."
about 6 hours ago

DavidHaleESPN

David Hale


#FSU prepping for ACC championship game... http://t.co/KUdCau4gZG
about 6 hours ago

theACC

The ACC


Get hyped for Duke vs Florida State in the #ACCFCG tomorrow! http://t.co/c6sYhLvdbx Tickets: http://t.co/f3gxWiShZy
about 6 hours ago

DavidHaleESPN

David Hale


#FSU offensive walk-through... http://t.co/JZbiIS9PE0
about 6 hours ago

Noles247

Noles247.com


RT @FSU_Football: #Noles having fun at Friday's walk through at the Carolina Panthers Practice Facility. http://t.co/JCzIscDK9v
about 6 hours ago

FSU_Football

FSU Football


#Noles having fun at Friday's walk through at the Carolina Panthers Practice Facility. http://t.co/JCzIscDK9v
about 6 hours ago

Noles247

Noles247.com


Jimbo Fisher, David Cutcliffe speak on ACC Championship Eve http://t.co/vdMzNq7y1k via @Noles247
about 7 hours ago
BLOG ARCHIVE:
CATEGORIES: