Dick Vitale's Preseason Top 40
October, 8, 2012
10/08/12
2:15
PM ET
By
RecruitingNation staff
| ESPN.com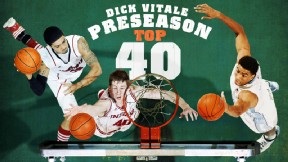 ESPN.com Illustration
Midnight Madness is just days away, so it's time to take at the college basketball landscape and identify the top teams in 2012-13, starting in Kentucky... Louisville, Kentucky that is.
There are a lot of quality contenders looking to cut down the nets in Atlanta.
Where are the Seminoles ranked?
Dick Vitale's Preseason Top 40
Challenges Facing No. 1 FSU
Travis Haney discusses the challenges facing Florida State, which is ranked No. 1 in the preseason coaches' poll and teams outside of the Top 25 to watch.
Challenges Facing No. 1 FSU
VIDEO PLAYLIST
FSU FB RECRUITING SCORECARD
TideSports

TideSports.com


Full Photo Gallery from Day 1 of Fall Camp. Photos of Jake Coker & Lane Kiffin (FREE): https://t.co/HKqQlrBWUf http://t.co/dv8lZHjmOJ
6 minutes ago

DavidHaleESPN

David Hale


Returning #ACC players w/1000+ yards from scrimmage last year: Crowder (1431), Parks (1360), Boyd (1282), Greene (1137).
12 minutes ago

TomahawkNation

TomahawkNation.com


Why I'm betting Duke and Pitt to win the Coastal Division: http://t.co/WUjSlFyvEN
20 minutes ago

ESPN_ACC

ESPN ACC


Reminder to start following AA @aadelsonESPN ... Want to try and hit 9,000 followers today. Go!
21 minutes ago

SBNationCFB

SB?Nation CFB


It's our college football gambling column, called COLLEGE FOOTBALL GAMBLING. The ACC: http://t.co/XbHHNkKYjv http://t.co/BtVoitUbJ8
24 minutes ago

Noles247

Noles247.com


#Noles DB announces he's cleared for contact after frightening neck injury last season!Details:... http://t.co/74WLWgRAQO
27 minutes ago

CoachSBeamer

Shane Beamer


BIG thanks to the @saints & @seanpayton for allowing our staff to visit today. #Hokies #Saints http://t.co/yRJovC66O1
31 minutes ago

AaronSuttles

Aaron Suttles


Eddie Jackson was there, Ryan Anderson worked at inside linebacker and more in the season's first practice report. https://t.co/zKaKaWOvpW
39 minutes ago

Warchant

Warchant.com


Impact analysis: More on #FSU commit @Deondre_3 , Weinke thoughts, breakdown from @rivalsmike http://t.co/dmvS25nMpf http://t.co/3wL5fOiDjH
42 minutes ago

Seminoles_com

Seminoles.com


True RT @SectionBAnimals: @Seminoles_com will be using StatBroadcast--There will be live stats too but not Game Tracker. Free live audio too
47 minutes ago

TomahawkNation

TomahawkNation.com


Expected, but now it's officially official. #Noles get better. RT @THunterOne: Oh it's on now.... I'm cleared for contact y'all in trouble
49 minutes ago

_DCReeves

D.C. Reeves


Yes. RT @JKF256: @_DCReeves do the freshman practice separate tonight?
about an hour ago

_DCReeves

D.C. Reeves


We will have full highlights of Coker and the QBs and a photo gallery from @mcarterphotog up at @TideSports shortly.
about an hour ago

bigdinglebury10

BigDings


@TomahawkNation That Duke # is outrageous. Great find by you. I'm looking at +525. Can't play it at that #.
about an hour ago

_DCReeves

D.C. Reeves


Day 1 of fall camp - Jake Coker in Alabama gear: http://t.co/jUBGQMgBgb
about an hour ago

TomahawkNation

TomahawkNation.com


My #ACC football bets. http://t.co/cZ4To7kWHw #Noles #Canes #Hokies #Pitt #Duke #Cards #Cuse
about an hour ago

iJohnNelson

? uosl?N u?o? ?


Totally digging the new @seminoles_com website! Nice redesign.
about an hour ago

ColeyHarvey

Coley Harvey


From this a.m., here's what we'll be watching during tonight's #Bengals practice. An addendum: might team go live? http://t.co/FIP9Wb9t6W
about an hour ago

Seminoles_com

Seminoles.com


BRAND NEW #Noles site launched. Designed for mobile devices. Register to win a free jersey http://t.co/BmPCD4JfKy http://t.co/6Es9VLaI7e
about an hour ago

DavidHaleESPN

David Hale


Returning ACC players w/100+ yards rush, rec & return in '13: Tyler Boyd (#Pitt), TJ Logan (#UNC), Taquan Mizzell (#UVA), Matt Dayes (#NCST)
about an hour ago

Seminoles_com

Seminoles.com


BRAND NEW #Noles site launched. Designed for mobile devices. Register to win a free jersey http://t.co/YtLcpZC23V http://t.co/tbTmZRvBct
about an hour ago

Noles247

Noles247.com


Good read from @joshnewberg247 on how yesterday transpired with the commitments of @LOCKSnLOADED_3 & @Deondre_3 http://t.co/OifMPBaqqx
about an hour ago

Noles247

Noles247.com


Today's F5U focuses on some of the top opposing coaches (HC, OC, DC) that #FSU will face in 2014 http://t.co/u2SNVsyZUY via @Noles247
about an hour ago

rivalsmike

Mike Farrell


Just when you think you've seen it all in this business, something like this happens. #FSU is popular place for QBs! #Noles
about an hour ago

IraSchoffel

Ira Schoffel


Very cool! FSU's radio broadcasts of games will now be free on the school's official site. That is an awesome move.
about an hour ago

TomahawkNation

TomahawkNation.com


Today marks exactly 500 weeks since Miami #Canes last beat a major conference opponent in a bowl game (2004, over #Gators).
about an hour ago

TomahawkNation

TomahawkNation.com


Smart! RT @IraSchoffel: Very cool! FSU's radio broadcasts of games will now be free on the school's official site. That is an awesome move.
about an hour ago

Cuse

Syracuse Athletics


.@ESPNCFB has taken notice of #ACCvsFallon: http://t.co/ViKBoxVKvw. There's still time to vote for Otto's song: http://t.co/xmwCAj0HSl
about an hour ago

AT___25

Aaron Thomas


My main focus is to remain focused.
about an hour ago

JKGriff

Kyle Griffis


The new @Seminoles_com is awesome! Total redesign. Much cleaner.
about an hour ago

Seminoles_com

Seminoles.com


Thanks. We are looking into that now. MT @jmnpb996: While new @Seminoles_com mobile site is great, anything baseball related...
about an hour ago

jmnpb996

jmnpb996


Ooh, I like the new @Seminoles_com mobile site. Far better than the previous iteration.
about an hour ago

SectionBAnimals

Animals of Section B


@Seminoles_com The 'Sports' menu on the desktop is a massive improvement. Everything is usable on mobile now, too. Great job.
about an hour ago

DeionSanders

DeionSanders


If you don't provoke change things will stay the same. The things u condone u will regret. Living a life with regret ain't living! #TRUTH
about an hour ago

ColeyHarvey

Coley Harvey


Here's more Spikes from his visit Thursday. He likes the #Bengals' new edge. Senses "guys are pissed" by playoff loss http://t.co/BrfYOCErhC
about an hour ago

BrandonMellor

Brandon Mellor


New update to #Noles locker room since yesterday: ceiling graphics lit up http://t.co/gQGZ2xSsYy
about an hour ago

ColeyHarvey

Coley Harvey


"..."Now it's damn near the entire staff that has credibility. Proven winners. Proven teachers. That's what I see." #Bengals
about an hour ago

ColeyHarvey

Coley Harvey


Good quote from Takeo Spikes on development of staff under Lewis: "Used to be that you would have...one coach that would have credibility...
about an hour ago

ESPN_ACC

ESPN ACC


Is Florida State's toughest game at Miami? http://t.co/skyHQYkNRi
about an hour ago

ColeyHarvey

Coley Harvey


Click,folks RT @SeifertESPN We'll soon find out how ambitious #Bengals are.They satisfied just by shedding "Bungles?" http://t.co/WBPuqm8YKN
about an hour ago

ColeyHarvey

Coley Harvey


Yep. Watch the hands MT @mitchcarrtv If refs are calling this prac as they will call gms, this is going to be a rough yr for EVERY secondary
about 2 hours ago

Noles247

Noles247.com


Jameis Winston was named No. 1 on ESPN's countdown of the Top 25 players in the ACC! #Noles... http://t.co/wCico0ZMBy
about 2 hours ago

woodywhitehurst

Woody Whitehurst


New FSU pitch to WR recruits: EVERYONE gets their own QB.
about 2 hours ago

Noles247

Noles247.com


New S&C hire: Travis Roy on his way to Florida State http://t.co/rwFD0zH2W2 via @Noles247
about 2 hours ago

CNee247

Chris Nee


#FSU to get official from 4-star DL http://t.co/2dtkPiLyd9 via @Noles247
about 2 hours ago

Noles247

Noles247.com


Jameis Winstn is No. 1 in ESPN's ACC Countdown http://t.co/e8XhzmIX2O via @Noles247
about 2 hours ago

woodywhitehurst

Woody Whitehurst


@TomahawkNation at this point, Clemson fans just have to hope that the 2015 OT class's talent overcomes s/c challenges. @jmnpb996
about 2 hours ago

mattyports

Matt Porter


2016 WR Sam Bruce on #Canes hiring his mentor Kevin Beard RT @_QUICK6: I got KB down there w/ me, I definitely ain't going nowhere now! 🙌🙌 💯
about 2 hours ago

TomahawkNation

TomahawkNation.com


.@jmnpb996 But Clemson's not going to face obstacles like that except for v. UGA, FSU and USCe. Should win 9.
about 2 hours ago

jmnpb996

jmnpb996


@TomahawkNation their OT size issue is something that can't be understated. FSU's 5 techs are each significantly (10+ LBs) heavier.
about 2 hours ago

ESPN_ACC

ESPN ACC


Miami undergoes staff re-shuffle http://t.co/EfT0RkcmLs
about 2 hours ago

TomahawkNation

TomahawkNation.com


Added some updated notes and thoughts on #Clemson in our #Noles opponent preview piece. http://t.co/17f2F2NrXm #FSU
about 2 hours ago

Noles247

Noles247.com


TWO #Noles among top five players in the ACC!... http://t.co/xqxYyok9sK
about 2 hours ago

AnquanBoldin

Anquan Boldin


RT: @NFLPlayerEngage: .@49ers WR @AnquanBoldin's work off the field is just as impressive as his on-field success http://t.co/hFoDo5Yusm
about 2 hours ago

Noles247

Noles247.com


Rashad Greene No. 4 on ESPN's Countdown http://t.co/7r4feysNfq via @Noles247
about 2 hours ago

TimBrewster

Tim Brewster


The new player suites here at FSU are goin to blow recruits minds!! #DoinItBig! #NationalChampions
about 2 hours ago

IGotHART

Bobby T. Hart ??


If you want to be apart of something special come play for @FSU_Football ! Winners only !
about 2 hours ago

Noles247

Noles247.com


Behind the scenes info on how #FSU landed Francois and Locksley http://t.co/NjW8oukkv5 via @Noles247 
about 2 hours ago

TimBrewster

Tim Brewster


Booooooom!!! #FSU #NationalChampions
about 2 hours ago

TimBrewster

Tim Brewster


Damn it's fun coaching at Fla St!!! :)
about 2 hours ago

ESPN_ACC

ESPN ACC


Top ACC players: Nos. 5-1 http://t.co/W8QwE5MLlO
about 2 hours ago

TomahawkNation

TomahawkNation.com


Florida State football, recruiting news 08/01 http://t.co/xDhVxU5Xcn
about 2 hours ago

CaneSport

CaneSport


Golden moves fast to adjust staff in wake of Barrow surprise Thurs. night resignation. https://t.co/P8BMWDL0F9
about 3 hours ago

TomahawkNation

TomahawkNation.com


So how is having three top QB recruits going to work? Will they all stick? Will FSU take all 3? what then? http://t.co/XfZDAbjOUe
about 3 hours ago

_DCReeves

D.C. Reeves


I'm concerned with the rampant neglect of ice cream sandwiches in the past week
about 3 hours ago

SBNationCFB

SB?Nation CFB


Sorry, #FSUTwitter, you're not getting a transfer punter (yet). http://t.co/nbQTG3L4sh http://t.co/uIMC04yt36
about 3 hours ago

Warchant

Warchant.com


#FSU hoops to host five star visitor next month. http://t.co/Zfjv0HND4W ($)
about 3 hours ago

edsbs

Spencer Hall


WHO'S MY FAVORITE PLAAAAAYERMISTER DERRICK BROOKS https://t.co/f81tWb0tRn
about 3 hours ago

DeionSanders

DeionSanders


If you don't provoke change things will stay the same. The things u condone u will regret. Living a life with regret ain't living! TRUTH
about 3 hours ago

Noles247

Noles247.com


Catch up on #FSU's Crazy QB Day yesterday http://t.co/LYDd5PB8H4
about 3 hours ago

Noles247

Noles247.com


Brooks and Jones to be enshrined to Pro FB HOF on Sat. night http://t.co/L3x0KKJKFX via @Noles247
about 3 hours ago

ESPN_ACC

ESPN ACC


ND, Cuse team up in #ACCvsFallon http://t.co/Mb3N1qJVIr
about 3 hours ago

IMGAcademy

IMG Academy


@MichaelWarchant Thank you so much for covering @Deondre_3 announcement! We look forward to you visiting again! Glad you enjoyed it!
about 11 hours ago

TomahawkNation

TomahawkNation.com


Maybe Miami will hire a QB coach?
about 12 hours ago

TomahawkNation

TomahawkNation.com


Congrats KB! @Kevin_Beard9
about 12 hours ago

MichaelWarchant

Michael Langston


Also great seeing a very familiar face at IMG in RB coach @5gohard and fellow @GodbyFootball alum today. Boy I'm getting old.
about 13 hours ago

MichaelWarchant

Michael Langston


Special thanks to @IMGAcademy for the fantastic hospitality today. Great football facilities, but even better people.
about 13 hours ago

TomahawkNation

TomahawkNation.com


.@chuckycrater they're subtitling native english speakers
about 13 hours ago

TomahawkNation

TomahawkNation.com


This show hunny boo boo. ummmm. Discovering this whole world of trash TV gf watches while I'm usually recording podcasts. This is so weird.
about 14 hours ago

BassinDawg

GATA Dawgs


Hey @NAWTADIGM here's one of the better Famous Jameis Photoshops (not mine) I've seen today! #DontShootYourEyeOut http://t.co/BDErtVqx8K
about 14 hours ago

DavidHaleESPN

David Hale


Not enough #ShouldntOfKepts "@ByDavidMurphy: Sneak peak at tomorrow's column. http://t.co/izu8zel68P"
about 14 hours ago

CNee247

Chris Nee


#Gamecocks interested in 2017 QB Cade Weldon, a #Seminoles legacy http://t.co/gtLF5xWTZY via @TheBigSpur247
about 14 hours ago

TomahawkNation

TomahawkNation.com


Y'all watching doomsday preppers? These folks in Georgia are making IEDs and putting them in taxidermied animals. Crazy.
about 15 hours ago

TomahawkNation

TomahawkNation.com


Watching the Baylor OSU game we discussed on email thread? Yeah... RT "@idontwan2know: God, Baylor's defense is horrendous."
about 15 hours ago

DeionSanders

DeionSanders


Let's stop trying 2 change people & change ourselves because if we were changed we would've seen thru the mess and stress awhile ago! Truth
about 15 hours ago

DeionSanders

DeionSanders


Don't misinterpret your mistakes made by a lot of bad decisions with the devil attacking u. God is Omnipresent the devil aint! #Truth
about 15 hours ago

Noles247

Noles247.com


Best QB class in the nation is bound for #FSU http://t.co/gkVptZFuse via @Noles247
about 16 hours ago

DeionSanders

DeionSanders


Always be mindful of how u treat people because u will learn 50% is What u know & 50% is Who u know. The 1 u ignored maybe your opportunity.
about 16 hours ago

Noles247

Noles247.com


Deondre Francois commits http://t.co/z4cJ39F7JB Unfazed by competition http://t.co/BGSF2HGbEQ @Elite11 http://t.co/pX6nBSng7h via @Noles247
about 16 hours ago

Noles247

Noles247.com


Kai Locksley commits http://t.co/1ienp3YXjw He speaks on his decision http://t.co/mKWxBkyqik via @Noles247
about 16 hours ago

Noles247

Noles247.com


#FSU basketball to host five-star official visitor in a little over a month http://t.co/mVMboGbBFi via @Noles247
about 16 hours ago

Noles247

Noles247.com


ICYMI: Jesus Wilson entered a plea deal, felony charge reduced http://t.co/3Br42zihdG via @Noles247
about 16 hours ago

Noles247

Noles247.com


The F5U today focused on top opposing players that #FSU will face during the 2014 season http://t.co/uMNXDCj86y via @Noles247
about 16 hours ago

TimBrewster

Tim Brewster


"@melinasphotos: @fsuzeigler @TimBrewster I just joined the #FSU faculty in January. Love it!" You do great work Melina!! GoNoles!
about 16 hours ago

DeionSanders

DeionSanders


The BEST Athletes,Singers,Actors,Rappers,Lawyers,Doctors,Politicians, Teachers & others Never made it big because of their decisions. Truth
about 16 hours ago

DeionSanders

DeionSanders


99% of the people that are Successful can name 1 person that was better but that person took a left when they stayed right! #realtalk TRUTH
about 16 hours ago

_DCReeves

D.C. Reeves


Fall Camp is here, and we've got 1 page to help you keep up with it all. Video, photos, highlights, stories & more: https://t.co/YsaXBFK9Tc
about 16 hours ago

DeionSanders

DeionSanders


When u see people that you feel are successful or celebrities stop asking for autographs or pics and ask them how they made it! Truth
about 16 hours ago

DeionSanders

DeionSanders


You can tell a lot about a person by what they talk about,the company they keep,how they act under pressure&what they do with their money.
about 16 hours ago

DeionSanders

DeionSanders


Young people look around u & see where you're headed that's why your parents don't approve of your friends. You ain't far from yo company!
about 16 hours ago
ACC SCOREBOARD
Thursday, 8/28
Friday, 8/29
Saturday, 8/30
Monday, 9/1
BLOG ARCHIVE:
CATEGORIES: