Dick Vitale's Preseason Top 40
October, 8, 2012
10/08/12
2:15
PM ET
By
RecruitingNation staff
| ESPN.com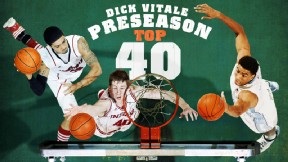 ESPN.com Illustration
Midnight Madness is just days away, so it's time to take at the college basketball landscape and identify the top teams in 2012-13, starting in Kentucky... Louisville, Kentucky that is.
There are a lot of quality contenders looking to cut down the nets in Atlanta.
Where are the Seminoles ranked?
Dick Vitale's Preseason Top 40
Goodell Has Sit-Down With Jameis Winston
ESPN NFL Insider Field Yates discusses Roger Goodell's meeting with presumptive No. 1 draft pick Jameis Winston.
Goodell Has Sit-Down With Jameis Winston
VIDEO PLAYLIST
FSU FB RECRUITING SCORECARD
Baden Florida State Seminoles 2013 Bcs National Champions Mini Football Shop »
AndrewJBone

Andrew Bone


4-star DB Jared Mayden will commit end of July. http://t.co/w7swijZahA #RivalsCamp #Oklahoma #Alabama #FloridaState #Oregon #OhioState #TCU
about a minute ago

Noles247

Noles247.com


Elite Eight Game Thread: FSU - South Carolina - http://t.co/HzyDH9csGL via @Noles247
10 minutes ago

TomahawkNation

TomahawkNation.com


Can the ACC end Final Four drought? http://t.co/EqyVQM9A6C http://t.co/0jghQsSM4Z
19 minutes ago

TomahawkNation

TomahawkNation.com


Florida State and Virginia Tech: Game 3 - Sunday, 1PM http://t.co/UDm11WRefL
20 minutes ago

DavidHaleESPN

David Hale


This would make for a great book cover blurb. RT @PatrikNohe: Some men want to see the world burn. Tom Rinaldi just wants to see it cry.
39 minutes ago

_Legit_2

John Broussard \u2122


Good visit at FSU today ✊👌
39 minutes ago

WellOffForever

Well Off


Get 25% off on your next Well Off purchase by using the code WOF!! Buy here at http://t.co/ys2bt5BouI http://t.co/8J8gWa3E88
42 minutes ago

DavidHaleESPN

David Hale


Longest concurrent tenures for football/men's hoops in FBS:BYU-2005MTSU-2006Mich St-2007Duke-2008Baylor-2008
about an hour ago

DavidHaleESPN

David Hale


Ding ding ding! Thats our winner. Mendenhall & Rose both came on board in 2005. RT @furrer4heisman: byu?
about an hour ago

DavidHaleESPN

David Hale


GREAT guess… but they're No. 2. RT @GTRecruiting: Middle Tennessee?
about an hour ago

DavidHaleESPN

David Hale


3rd longest in football, but mccaffrey only there since 2010. RT @ChrisLeighty: Iowa?
about an hour ago

DavidHaleESPN

David Hale


another good guess… they're no. 5. RT @Eric_Jaames: Baylor
about an hour ago

DavidHaleESPN

David Hale


longest in football, but just a year in men's hoops. RT @alexFSU: Virginia Tech?
about an hour ago

Seminoles_com

Seminole Athletics


.@FSU_WBasketball ready for @GamecockWBB in battle for Final Four spot. Tipoff's at noon! http://t.co/eaR47tATfZ http://t.co/POvri99R5H
about an hour ago

DavidHaleESPN

David Hale


When I grow up, I want to go to Bovine University! RT @petzrawr: @DavidHaleESPN Subway University?
about an hour ago

DavidHaleESPN

David Hale


Good guess, but Sparty is No. 3 RT @illiam_william: Mich State
about an hour ago

DavidHaleESPN

David Hale


close. Devils are No. 4 RT @BrettMGibbons: Duke
about an hour ago

DavidHaleESPN

David Hale


Trivia: Which FBS school has gone the longest without changing HCs in either football or men's hoops?
about an hour ago

DavidHaleESPN

David Hale


Crazy that Mac Brown & Rick Barnes were HCs at Texas since 1998 & both fired in last 15 months. http://t.co/NPLhEpgrjM
about an hour ago

TomahawkNation

TomahawkNation.com


Florida State vs. South Carolina in Elite 8 via @AriyaMassoudi http://t.co/HJofsHriDf http://t.co/27EUfhS5Nh
about an hour ago

mrjakehumphrey

Jake Humphrey


PLEASE retweet this. It will take you a moment & may save the life of my friends beautiful sonhttp://t.co/vEXumYZouR http://t.co/izabnLJaPW
about an hour ago

WellOffForever

Well Off


We all have the same 24 hours. What will you do with yours? #WellOffForever http://t.co/l9M2sMlEak
about an hour ago

DeionSandersJr

Deion Sanders Jr


Good Morning World! Thank You God for waking us up this morning. Make sure you follow @WellOffForever for the verse of the day!
about 2 hours ago

DeionSanders

Deion Sanders


Single Mothers and Single woman please know you may be Single but you're not alone. God has you covered. Trust him. I LOVE YALL! #Truth
about 2 hours ago

DeionSanders

Deion Sanders


Good Morning and God Bless you. God is so good let's praise him and be thankful for all he's done for us. He ain't done yet! #Truth
about 2 hours ago

TomahawkNation

TomahawkNation.com


Everything else I've tried you still have to re-apply after four or five.
about 3 hours ago

TomahawkNation

TomahawkNation.com


Unsolicited product endorsement: solbar zinc sunblock. Takes time to rub in but if you can't reapply, gotta have it. Really get 8-10 Sun hrs
about 3 hours ago

NolesTV

NolesTV


It's Gameday! #Noles in the Elite 8. Here's our 1-on-1 w/ @FSU_WBasketball's Sue Semrau. http://t.co/WQQYLchGE0 http://t.co/2nac5ZmWRb
about 3 hours ago

Noles247

Noles247.com


#FSU women's hoops plays in the Elite Eight at noon today. Sue Semrau previews it in this Q&A (FREE) http://t.co/SsiYSpy4Tk via @Noles247
about 3 hours ago

Noles247

Noles247.com


#FSU Baseball pounds Virginia Tech behind big 8th inning (FREE) http://t.co/EIC8DU1tfM via @Noles247
about 3 hours ago

Noles247

Noles247.com


Video: Jimbo Fisher talks Saturday practice (FREE) http://t.co/Fqjh6FBWki via @Noles247
about 3 hours ago

Noles247

Noles247.com


#FSU Practice Notes (FREE) http://t.co/Qb1AAX1Dmc #FSU pass rush improving? (FREE) http://t.co/cAHCBHbbr4 via @Noles247
about 3 hours ago

Noles247

Noles247.com


Photos from #FSU's Saturday Practice (FREE) - HC Jimbo Fisher and his QBs http://t.co/oZCilUgR1l via @Noles247 http://t.co/fSw8xBUfDQ
about 3 hours ago

Noles247

Noles247.com


Photos from #FSU's Saturday Practice (FREE) - DE Lorenzo Featherston http://t.co/oZCilUgR1l via @Noles247 http://t.co/IAxd6sIf9R
about 3 hours ago

Noles247

Noles247.com


Photos from #FSU's Saturday Practice (FREE) http://t.co/oZCilTZfCL via @Noles247 http://t.co/vasm2dZX9H
about 3 hours ago

Noles247

Noles247.com


Photos from #FSU's Saturday Practice (FREE) - Jalen Ramsey http://t.co/oZCilUgR1l via @Noles247 http://t.co/XYvdUu34Nk
about 3 hours ago

Noles247

Noles247.com


Photos from #FSU's Saturday Practice (FREE) - WR Travis Rudolph http://t.co/oZCilUgR1l via @Noles247 http://t.co/AsQrd13fsp
about 3 hours ago

Noles247

Noles247.com


Photos from #FSU's Saturday Practice (FREE) - TE Mavin Saunders http://t.co/oZCilUgR1l via @Noles247 http://t.co/ssmxcxZXGB
about 3 hours ago

joshnewberg247

Josh Newberg


Watch: FSU commit Janarius Robinson puts talents on display in New Orleans (FREE) http://t.co/bZaKVRfGS5
about 4 hours ago

TomahawkNation

TomahawkNation.com


Stay clicky RT @bctswg: @TomahawkNation stay classy. Nvm, we all know better.
about 4 hours ago

WellOffForever

Well Off


Get 25% off on your next Well Off purchase by using the code WOF!! Buy here at http://t.co/ys2bt5BouI http://t.co/mbX2PvcMgR
about 11 hours ago

AaronSuttles

Aaron Suttles


FULL STORY: Alabama defensive tackle Jonathan Taylor arrested for domestic violence. https://t.co/mS8Rexxi27
about 12 hours ago

accmbb

ACC Men\'s Basketball


#ACCMBB Recap: @NDmbb's Run Ends in #Elite8: http://t.co/vAAqMlW8SE
about 12 hours ago

WellOffForever

Well Off


Get 25% off on your next Well Off purchase by using the code WOF!! Buy here at http://t.co/ys2bt5BouI http://t.co/dXw4Br6q1J
about 13 hours ago

WellOffForever

Well Off


The money don't sleep! #WellOffForever http://t.co/2JTbShONkw
about 13 hours ago

idontwan2know

Alan Mundy


Luck = preparation + opportunity. RT @TomahawkNation: Was worried ND was actually going to win and I wouldn't be able to use that tweet.
about 13 hours ago

TomahawkNation

TomahawkNation.com


Was worried ND was actually going to win and I wouldn't be able to use that tweet.
about 13 hours ago

TomahawkNation

TomahawkNation.com


Notre Dame fails to stop historic streak. Again. http://t.co/BbjB7IZuY6 http://t.co/2DpjbtaYHc
about 13 hours ago

TomahawkNation

TomahawkNation.com


"We did a great job of winning"Karl Anthony-Towns is already qualified to be a TBS analyst.
about 13 hours ago

accmbb

ACC Men\'s Basketball


Final: @NDmbb falls to Kentucky 68-66.
about 13 hours ago

BrianHamiltonSI

Brian Hamilton


That's how you beat Kentucky.And Kentucky still wins.Wildcats 68, Irish 66.
about 13 hours ago

TomahawkNation

TomahawkNation.com


I feel like there are too many timeouts for a 40-minute game
about 13 hours ago

TomahawkNation

TomahawkNation.com


Who benefits if this goes to OT? Kentucky because of its depth?
about 13 hours ago

TomahawkNation

TomahawkNation.com


Length.
about 13 hours ago

FSU_Swimming

FSU Swimming/Diving


Connor Knight closes out his career with an #AllAmerica honorable mention in the 200 fly. Placing 9th. #Noles http://t.co/aZxZB96vKf
about 13 hours ago

Noles247

Noles247.com


Gamer: #FSU pounds Virginia Tech 19-9 http://t.co/EIC8DU1tfM via @Noles247
about 13 hours ago

Warchant

Warchant.com


The scoreboard couldn't even keep up. John Sansone started FSU's 11-run 8th inning Saturday: https://t.co/Om5Ijc2Irz http://t.co/NO1Xt5GCuj
about 13 hours ago

TomahawkNation

TomahawkNation.com


So at what point do we start to think UK might go down
about 13 hours ago

_ALLWORLD24

? Geno Smith \u2122 ?


I know I have lost respect from alot of Alabama fans and thats understandable but I will be better from these events in my life!
about 13 hours ago

_ALLWORLD24

? Geno Smith \u2122 ?


Moving forward I am praying to make better choices and decisions . So Learn from my mistakes and mis judgement!
about 13 hours ago

_ALLWORLD24

? Geno Smith \u2122 ?


I apologize to the University of Alabama , the football program and all the Alabama fans. I have made an awful decision on my part.
about 13 hours ago

WellOffForever

Well Off


Get your new Well Off shirt with 25% off by using the code WOF!! Buy here at http://t.co/ys2bt5BouI http://t.co/3k9MiEUJ5U
about 13 hours ago

TomahawkNation

TomahawkNation.com


Lol and Kentucky breaks its slump with an oop.
about 13 hours ago

NolesTV

NolesTV


An 11 run eighth broke open a close game for @FSU_Baseball #Noles HIGHLIGHTS: http://t.co/bkkVFJ2XPB http://t.co/neNqR0Exnu
about 14 hours ago

FSU_Baseball

FSU Baseball


The #Noles take the 2nd game of the series 19-9 over the Hokies http://t.co/iT7OS21eRH
about 14 hours ago

Warchant

Warchant.com


FINAL: Florida State 19, Virginia Tech 9. It's finally over. Seminoles poured on 11 runs in the 8th to win this one.
about 14 hours ago

DeionSanders

Deion Sanders


Kentucky done ran Into some @UnderArmour dogs with @NotreDame. This is when u got to have 2 dogs stand up 4 real Ain't no time to rotate!
about 14 hours ago

Warchant

Warchant.com


FSU's 11-run 8th inning is over. That's 14 runs between the two teams in the 8th, and 20 in the last 2 innings. FSU leads 19-7.
about 14 hours ago

Warchant

Warchant.com


FSU's first 10 batters this inning all reached base. Seminoles up 15-7 on Virginia Tech now (7 runs this inning) with one out.
about 14 hours ago

Warchant

Warchant.com


FSU taking its turn roughing up the Virginia Tech bullpen now. Seminoles have scored 4 in the 8th, have two on, no outs.
about 14 hours ago

Warchant

Warchant.com


FSU gets out of the 8th inning ahead 8-7. Those insurance runs are gone, though.
about 15 hours ago

Warchant

Warchant.com


FSU's bullpen falling apart in the 8th now. Seminoles started the inning with an 8-4 lead, now 8-7 with bases loaded and one out for Va Tech
about 15 hours ago

georgewhitfield

George Whitfield Jr.


The incomparable Bobby Bowden #FloridaState http://t.co/JRJsmdXKhp
about 15 hours ago

elwinter

Eric Winter


PRIME TIME: The http://t.co/G3FZTBIHER team is honored @DeionSanders showed up to represent @UnderArmour #RivalsCamp http://t.co/Pqs32II2qr
about 15 hours ago

TomahawkNation

TomahawkNation.com


Ugh Clark Kellog. PICK your poison. Nobody chooses their poison.
about 15 hours ago

TomahawkNation

TomahawkNation.com


Preciate y'all. What's better than google? 39,000 twitter followers.
about 15 hours ago

TomahawkNation

TomahawkNation.com


What channel is the kentucky game on?
about 15 hours ago

accmbb

ACC Men\'s Basketball


Tune to TBS now to see @NDmbb take on Kentucky for a spot in the #FinalFour!
about 15 hours ago

Noles247

Noles247.com


#FSU leads 8-4 in the 8th http://t.co/rXofFXllop via @Noles247
about 15 hours ago

Warchant

Warchant.com


Jameis Winston hanging out in the dugout as FSU baseball takes an 8-4 lead to the 8th inning against Virginia Tech.
about 15 hours ago

AGallina2010

Anthony Gallina


FSU leads 8-4 after seven innings. http://t.co/Rwa970au00
about 15 hours ago

Warchant

Warchant.com


Danny De La Calle doubles, and FSU's big inning continues. FSU is now up 8-4 after scoring 5 runs in the 7th.
about 15 hours ago

Warchant

Warchant.com


Hank Truluck draws ball four, and FSU is now up 6-4 with no outs in the 7th. Unraveling for Virginia Tech.
about 15 hours ago

Warchant

Warchant.com


Dylan Busby draws a bases loaded walk and FSU takes a 5-4 lead in the bottom of the 7th. Still no outs. Hank Truluck coming up.
about 15 hours ago

Noles247

Noles247.com


#FSU and #VT in a tight one. Follow along: http://t.co/37vomIWygf via @Noles247
about 15 hours ago

Warchant

Warchant.com


FSU not trying to repeat yesterday's 7th inning. Marconcini ties it up with an RBI single. 4-4 now, still no outs for Nieporte.
about 16 hours ago

theACC

The ACC


RT @accwbb: Tough day for #ACCWBB today. Both @Duke_WBB & @UofLWBB go down in the Sweet 16. http://t.co/8thtHoesdX
about 16 hours ago

FSU_Softball

FSU Softball


NOLES WIN! A strikeout from Burroughs ends it! FSU defeats Pitt, 7-0! #LTS http://t.co/1DbR3dctlU
about 16 hours ago

Warchant

Warchant.com


FSU ties up the game in the bottom of the 6th on a 2-run single from Josh Delph. 3-3 now.
about 16 hours ago

DeionSanders

Deion Sanders


Highschool Athletes if you're Tripping in highschool you will FALL in college. College coaches are looking for kids with Character! #Truth
about 16 hours ago

WellOffForever

Well Off


Work hard and never give up! #WellOffForever http://t.co/CwXx828rUV
about 17 hours ago

WellOffForever

Well Off


Get your new Well Off shirt with 25% off by using the code WOF. Buy here at http://t.co/ys2bt5BouI http://t.co/vLyBlJEEP0
about 17 hours ago

Warchant

Warchant.com


Virginia Tech back on top after two errors in the top of the 4th. Hokies take a 2-1 lead on FSU.
about 17 hours ago

Noles247

Noles247.com


#FSU leads 1-0 over VT in the 4th inning http://t.co/37vomIWygf via @Noles247
about 17 hours ago

TomahawkNation

TomahawkNation.com


Interested to see how some teams look tomorrow when they don't rotate their BCS-level QBs with guys who are DII/DIII level kids.
about 17 hours ago

Warchant

Warchant.com


Drew Carlton has now struck out 5 straight batters. FSU due up in the bottom of the second with a 1-0 lead.
about 17 hours ago

Warchant

Warchant.com


FSU takes a 1-0 lead in the first inning against Virginia Tech. Taylor Walls reached on an error, scored on a wild pitch. Hokies due up now.
about 17 hours ago

dylankidd

Dylan Kidd


@TomahawkNation @DwightAKAJP2 completely true. @TN_Hoops @RodMahoney and others just kill it and go under appreciated for it traffic-wise.
about 18 hours ago

Warchant

Warchant.com


Drew Carlton and FSU get through the first inning 1-2-3. Live chat here: https://t.co/mAncJwtJls (FREE)
about 18 hours ago

TomahawkNation

TomahawkNation.com


Very much like the idea of Travis Rudolph in the slot. http://t.co/iqmeWw0ThM #Noles #FSU
about 18 hours ago
ACC SCOREBOARD
Thursday, 9/3
Saturday, 9/5
Monday, 9/7
BLOG ARCHIVE:
CATEGORIES: