The Big Board: FSU's road woes
October, 4, 2012
10/04/12
9:00
AM ET
TALLAHASSEE, Fla. -- EJ Manuel grew up a fan of former Indiana Pacers guard Reggie Miller. Manuel remembers Miller draining a dramatic 3-pointer to silence a raucous New York crowd at Madison Square Garden, then holding a finger to his lips to further taunt the distraught fans.
[+] Enlarge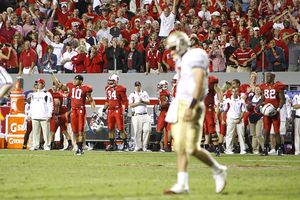 Bob Donnan/US PresswireCarter-Finley Stadium hasn't been kind to the Seminoles historically, as Christian Ponder can attest to after his Seminoles fell to N.C. State in 2010.
That's how to win a road game, Manuel said.
"When we get an opportunity to do that to an opposing crowd, that makes us feel good," Manuel said.
To continue reading this article you must be an Insider
Insider
College Football Minute
Heather Dinich goes over Texas A&M lighting up the scoreboard, Oklahoma State facing a monumental challenge and three things to watch for this week. It's all ahead in the "College Football Minute."
College Football Minute
VIDEO PLAYLIST
FSU FB RECRUITING SCORECARD
TomahawkNation

TomahawkNation.com


Holy crap, Vandy!
17 minutes ago

ColeyHarvey

Coley Harvey


Finishing paid off for Margus Hunt in what Marvin Lewis considered an unsurprisingly "dominate" performance #Bengals http://t.co/19ko55XyAc
about 4 hours ago

ESPN_ACC

ESPN ACC


Louisiana Monroe 17, Wake Forest 10 http://t.co/yMFMT2esOZ
about 4 hours ago

DeionSanders

DeionSanders


My ***** told me they said he waited for awhile and didn't cry. I wonder when he realized I wasn't coming back? Lolol http://t.co/GmOupIFTWe
about 4 hours ago

DeionSanders

DeionSanders


Lord 4Give me I told TJ to stop crying sit here & I'm going 2 the van to get him his football helmet. I left. Truth http://t.co/OyV9rFp4tm
about 5 hours ago

DeionSanders

DeionSanders


TJ looking at me saying if you leave me at this nursery I'm gon scream!! And he did..#Truth #Deionsfamilyplaybook http://t.co/3qwMjJoKZP
about 5 hours ago

theACC

The ACC


#ACCFootball Recap: @WakeFB Falls to ULM 17-10. Brandon Chubb tallied 18 tackles in the loss: http://t.co/NKtDeZ13cb
about 5 hours ago

Noles247

Noles247.com


LIVE: #FSU targets under the lights http://t.co/CjhiIJm7CC via @Noles247
about 5 hours ago

Noles247

Noles247.com


Safe travels to all those heading to Dallas.
about 5 hours ago

FlaStateGameday

FSU Gameday


#FSU has landed safely in Dallas! http://t.co/il4uscUZjo
about 5 hours ago

Noles247

Noles247.com


Preview and Predictions: #FSU vs. Oklahoma State http://t.co/gzm0nnNPLv via @Noles247
about 5 hours ago

ColeyHarvey

Coley Harvey


Just realized the #Bengals did something that probably made Hue Jackson smile: they didn't turn the ball over tonight. Second straight game.
about 6 hours ago

ColeyHarvey

Coley Harvey


From right at the buzzer, here's this week's Observation Deck on the #Bengals' 35-7 win over the Colts http://t.co/0xDqEgmK47
about 6 hours ago

DavidHaleESPN

David Hale


Who says print is dead?! "@DanWolken: Sumlin credited a USATODAY calling A&M the most overrated team in the nation w/motivation."
about 6 hours ago

k_trahan

Kevin Trahan


Looking at those Georgia Dome crowd shots … man. Here's @38Godfrey on why that's bad news for Ole Miss: http://t.co/r1AZS5yfVw
about 6 hours ago

TomahawkNation

TomahawkNation.com


We had over 850 people submit a ballot. Take a look at the TN top 10: http://t.co/PXIQ7iW2Lz
about 6 hours ago

DavidHaleESPN

David Hale


On the upside for #Wake, the D kept Pete Thomas in check for the 2nd straight year. That's something. Right? Right? Hello?
about 6 hours ago

theACCfootball

ACC Football


.@theACCDN #MustSeeACC Moment: @WakeFB Blocks Punt for Touchdown! http://t.co/L01Y1kd2F5 #ACCFootball
about 6 hours ago

Year2

David Wunderlich


Ole Miss is going to lose this game 9-7 and deserve every ounce of it.
about 6 hours ago

DavidHaleESPN

David Hale


Gardner-Webb's last 3 games vs FBS teams were losses by combined 158-15 score. #Wake should at least break 100 yds offense next week.
about 6 hours ago

DavidHaleESPN

David Hale


4 punts, 5 TOs vs. #FSU 1st-team D last year in W-S. Can it get worse? RT @dirtybirdcrow: they have to play in Tallahassee this year. #yikes
about 6 hours ago

DemonDeacons

Wake Forest Sports


Final Score: ULM 17, Wake Forest 10. The Deacs return home to host Gardner-Webb on Sept. 6 http://t.co/5Q7XtPKNPT
about 6 hours ago

TomahawkNation

TomahawkNation.com


Wake Forest gave up EIGHT sacks to Louisiana Monroe tonight and did not score an offensive TD or break the 100-yard total yards mark.
about 6 hours ago

DavidHaleESPN

David Hale


There'll be better days for #Wake. But yikes. 5 first downs, minus-3 rushing, 94 total yards. Gained > 10 yards on just 2 of 12 drives.
about 6 hours ago

TomahawkNation

TomahawkNation.com


Wake Forest QB 11 rushes, -38 yards ...
about 6 hours ago

lmoj2

James


@TomahawkNation It's tough to watch. What is UL-Monroe at? Like 7 sacks?
about 6 hours ago

DeionSanders

DeionSanders


"@lakakilia: Coach Prime wishing Legaci a Happy Birthday after football scrimmage game!!! http://t.co/BKxG5oQgsd" She is so beautiful! Truth
about 6 hours ago

lakakilia

Lakakilia


Coach Prime @DeionSanders wishing Legaci a Happy Birthday after football scrimmage game!!! http://t.co/7XhD2HwPq3
about 6 hours ago

TomahawkNation

TomahawkNation.com


Wake almost certainly has the worst OL in the Power 5 by a wide margin, and it could be the worst OL in FBS.
about 6 hours ago

NotMattHalton

Meezy


@TomahawkNation their o-line is getting DOMINATED by UL Monroe... I would take FSU against wake eleven if the spread was 56
about 6 hours ago

TomahawkNation

TomahawkNation.com


Ole Miss OL you supposed to be SEC ...
about 6 hours ago

TomahawkNation

TomahawkNation.com


Oh noes! Wake Forest lost 9 yards and is now back under 100! Game almost over.
about 6 hours ago

TomahawkNation

TomahawkNation.com


Still can't believe you got +145 for going Under 3.5 wins on Wake.
about 6 hours ago

FSUChiefs

Marching Chiefs


Here we go! Our pep band of 215 Marching Chiefs is off for Dallas (by bus) to support the defending the National Champions! #DallastoDallas
about 6 hours ago

lebrownlow

Lauren Brownlow


Why can't John Swofford step in and just let FSU have Kinal and FSU can give Wake like one offensive lineman maybe? That they're not using?
about 6 hours ago

ralphDrussoAP

Ralph D. Russo


Setting up for a punt on 4th and 3 Boise State? I don't even know who you are anymore.
about 6 hours ago

DavidHaleESPN

David Hale


Last season, ULM ranked 91st nationally, allowing 427 yards/game. With 3:37 left tonight, #Wake has mustered just 104 yards.
about 6 hours ago

TomahawkNation

TomahawkNation.com


Houston Nutt questions this team's football IQ.
about 6 hours ago

ColeyHarvey

Coley Harvey


Seems Marvin wanted Jeremy Hill to get used to playing a lot of snaps in a game. That's why he explained running him out often in 2nd half
about 6 hours ago

TomahawkNation

TomahawkNation.com


Wake Forest and Louisiana Monroe have combined for 125 plays and 416 yards. There are 3:30 left in the game.
about 6 hours ago

ColeyHarvey

Coley Harvey


Only injury coming out of tonight's game, Sean Porter's hamstring, Marvin Lewis said. #Bengals
about 6 hours ago

TomahawkNation

TomahawkNation.com


If Boise wins I'm requesting my Under 8.5 Ole Miss wins ticket to be cashed right now.
about 6 hours ago

edsbs

Spencer Hall


This game is the script for the next Purge movie.
about 6 hours ago

TomahawkNation

TomahawkNation.com


Lole Miss. Sloppy as hell.
about 6 hours ago

TomahawkNation

TomahawkNation.com


Wake Forest just cracked 100 yards. There are less than 10 minutes left in the 4th quarter.
about 7 hours ago

TomahawkNation

TomahawkNation.com


Ole Miss backup OL were the ones supposed to struggle, not the starters.
about 7 hours ago

DeionSanders

DeionSanders


Bossy is always happy when she's shopping with Daddy. #Truth http://t.co/Bdxo1oFXsb
about 7 hours ago

ColeyHarvey

Coley Harvey


And that'll do it. Preseason 2K14 is officially over. #Bengals pound the Colts, 35-7. Cincy's next in action Sept. 7 at Baltimore.
about 7 hours ago

_DCReeves

D.C. Reeves


Here every Thursday this season - RT @TideSports: TideSports' NEW Weekly Preview Show is here talking Bama Football: https://t.co/Xen2KVwFcj
about 7 hours ago

ColeyHarvey

Coley Harvey


(Cameron Erving is FSU's left tackle. Wilder was known to jump into Erving's arms to celebrate TDs in college)
about 7 hours ago

ColeyHarvey

Coley Harvey


#Bengals now up 35-7. Only two RBs have had rushing TDs this preseason. Wilder now, and Giovani Bernard ... who had a 1-yard TD two wks ago
about 7 hours ago

ColeyHarvey

Coley Harvey


And James Wilder Jr. with a 2-yard TD run. He has no Cameron Erving, whose arms he can jump into. Simply takes a knee. #Bengals
about 7 hours ago

ColeyHarvey

Coley Harvey


Wilder w a 17-yd run to start the #Bengals' latest series. He ran about 13 of those yards without a shoe. About 15 came w defenders on him
about 7 hours ago

ColeyHarvey

Coley Harvey


Wilder with a 17-yd run to start the #Bengals' latest carry. He ran about 13 of those yards without a shoe. About 15 came w defenders on him
about 7 hours ago

theACCfootball

ACC Football


RT @WakeFB: Chubb with his 18th tackle on the night. Most in a game by a Deacon since Brad White had 24 against Navy in 2002
about 7 hours ago

ColeyHarvey

Coley Harvey


A jumping (and perhaps generous) crowd of 42,020 is announced for attendance in Cincinnati tonight. #Bengals
about 7 hours ago

DavidHaleESPN

David Hale


"And with the 22nd pick in the 2016 NFL draft, the Cleveland Browns select Kenny Hill, quarterback, Texas A&M."
about 7 hours ago

TomahawkNation

TomahawkNation.com


There ya go, Louisiana Monroe
about 7 hours ago

TomahawkNation

TomahawkNation.com


Good thing Hugh Freeze has two hands
about 7 hours ago

_DCReeves

D.C. Reeves


There's Texas A&M, picked to finish 6th in the SEC West. That Miss/MSU resurgence seems a little tougher than it did 3 hours ago.
about 7 hours ago

ColeyHarvey

Coley Harvey


The Tyler Wilson-Cobi Hamilton connection was strong on #Bengals' last series. Two catches for Cobi, including a 50-yd TD. Cincy up 28-0
about 7 hours ago

TomahawkNation

TomahawkNation.com


Knew A&M had a ton of talent at WR, just didn't think the lack of experience would mean so little.
about 7 hours ago

_DCReeves

D.C. Reeves


South Carolina's going to give up 60?
about 7 hours ago

TomahawkNation

TomahawkNation.com


Gotta be 4-down territory for Boise.
about 7 hours ago

TomahawkNation

TomahawkNation.com


Boise State still cannot block Ole Miss. But, Ole Miss plays awfully dumb. So maybe?
about 7 hours ago

Warchant

Warchant.com


In-depth analysis of Darvin Taylor's commitment to #FSU - scouting report, impact & more. https://t.co/w5i9MRwCSZ http://t.co/dgPIzGmBL0
about 7 hours ago

accwbb

ACC WomensBasketball


Former @ndwbb standout Kayla McBride, the 3rd pick in the '14 WNBA Draft, is 1 of 3 unanimous selections to the 2014 @WNBA All-Rookie Team.
about 7 hours ago

ColeyHarvey

Coley Harvey


Looks like we're officially in the Wilder phase of the game. Just had 2 straight carries. #Bengals trying to burn clock and get out of here
about 7 hours ago

TomahawkNation

TomahawkNation.com


What an awful throw. Way too much air.
about 7 hours ago

TomahawkNation

TomahawkNation.com


Wake's special teams >>>. Blocked punt for TD, then a 60 yard punt downed at the 3. Deacs w/ 73 total yards on 30 plays.
about 8 hours ago

ColeyHarvey

Coley Harvey


The defensive MVP for the #Bengals tonight has been Margus Hunt, who now has three sacks. This one, while being simultaneously blocked.
about 8 hours ago

ColeyHarvey

Coley Harvey


The only starter on both sides tonight? Russell Bodine. He's a rookie, though, so that's not too suprising. #Bengals
about 8 hours ago

ColeyHarvey

Coley Harvey


Just looking back at last year's preseason finale gamebook. #Bengals started every offensive/defensive starter (Collins for hurt Whitworth)
about 8 hours ago

TomahawkNation

TomahawkNation.com


Another Bo Wallace interception. So far, it's the same Bo.
about 8 hours ago

ColeyHarvey

Coley Harvey


By the way, Wilder just checked in on an unsuccessful third down. He's only played two snaps today. #Bengals
about 8 hours ago

TomahawkNation

TomahawkNation.com


ECU is air raid as well. They're scoring 30+ on the Gamecocks and these cornerbacks.
about 8 hours ago

ColeyHarvey

Coley Harvey


Really surprised to see that. This should be James Wilder Jr. time, especially after the injury, even if it wasn't anything major. #Bengals
about 8 hours ago

ColeyHarvey

Coley Harvey


How about this? After getting hurt at the end of the second quarter, Jeremy Hill is checking back in at RB on #Bengals first drive of 3rd Q
about 8 hours ago

TomahawkNation

TomahawkNation.com


Over 59.5 cashes. Now come on, Louisiana Monroe.
about 8 hours ago

TomahawkNation

TomahawkNation.com


Weight room
about 8 hours ago

DavidHaleESPN

David Hale


"@YahooForde: Texas A&M now with more passing yards on South Carolina than anyone since Oct. 2012. And there are 20 minutes remaining."
about 8 hours ago

ColeyHarvey

Coley Harvey


The Colts are about to have their third drive of the second half. The #Bengals' offense still has yet to hit the field in the third quarter.
about 8 hours ago

BarrettSallee

Barrett Sallee


Laquon Treadwell just got into it big time with a Boise State CB. Helmet ripped off the CB.
about 8 hours ago

ColeyHarvey

Coley Harvey


Now, the #Bengals go up 21-0 as Danieal Manning jumps in front of a pass and returns the interception 33 yards for a touchdown.
about 8 hours ago

TomahawkNation

TomahawkNation.com


Ole Miss on pace for 22 first starts. Really.
about 8 hours ago

VNewsSports

Josh Mathews


STORY: (By: @jwherron10) @TDKnightsFB standout Darvin Taylor II (@DT2_28) is officially a Florida State #Seminole. http://t.co/IE5ijrQZBU
about 8 hours ago

TomahawkNation

TomahawkNation.com


@DavidHaleESPN tyler
about 8 hours ago

CollinsDrew

Drew Collins


@TomahawkNation - I just took Ole Miss -3 live feeling the same way.
about 8 hours ago

VNewsSports

Josh Mathews


Darvin Taylor got emotional on stage when he called #FSU HC Jimbo Fisher to give him the news. Great moment for the @TDKnightsFB star.
about 8 hours ago

TomahawkNation

TomahawkNation.com


Boise's offensive line is pretty bad. And I say that knowing how talented Ole Miss' DL is.
about 8 hours ago

ColeyHarvey

Coley Harvey


We won't get a chance to see if he comes back in just yet. Dane Sanzenbacher just returned a punt for a touchdown. #Bengals now up 14-0.
about 8 hours ago

ColeyHarvey

Coley Harvey


A fix on Jeremy Hill's status from earlier. It was misreported to the press box as him being Questionable. He's actually Probable. #Bengals
about 8 hours ago

TomahawkNation

TomahawkNation.com


Man, Dylan Thompson sees ghosts in the pocket.
about 8 hours ago

DavidHaleESPN

David Hale


Kenny Hill is my favorite college QB/son of random 90s baseball player since Mickey Tettleton's kid played at Ohio.
about 8 hours ago

TomahawkNation

TomahawkNation.com


Seeya Serderius Bryant
about 8 hours ago

TomahawkNation

TomahawkNation.com


Feeling really good about Ole Miss Under 8.5 wins after seeing Bo Wallace continue to be totally average and A&M's offense hummmm like this.
about 8 hours ago

TomahawkNation

TomahawkNation.com


Oh, picking on the 3-star true freshmen corners again. A few freshmen can play corner well. These dudes are not that quality.
about 8 hours ago

DavidHaleESPN

David Hale


Well played, sir! "@Brett_Jensen: Would be rather surprised if South Carolina didn't win and cover the 10.5 spread."
about 8 hours ago

TomahawkNation

TomahawkNation.com


These fans about to sandSTORM out of the stadium.
about 8 hours ago

ColeyHarvey

Coley Harvey


As Hill goes in the locker room, he exits with 20 touches (15 carries, 60 yds ... 5 catches, 63 yds). And came up a half-yd short of a TD.
about 8 hours ago
ACC SCOREBOARD
Thursday, 8/28
Friday, 8/29
Saturday, 8/30
Monday, 9/1
BLOG ARCHIVE:
CATEGORIES: