The Big Board: Enjoying the rush
September, 20, 2012
9/20/12
9:00
AM ET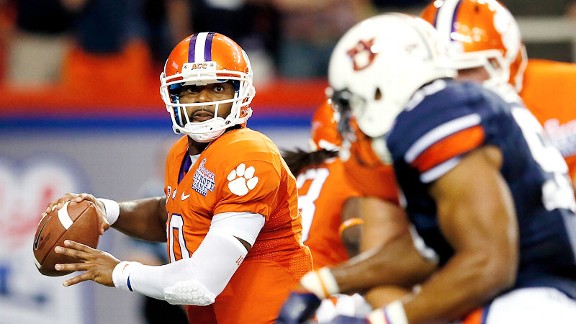 Kevin C. Cox/Getty ImagesClemson QB Tajh Boyd would be better off in the pocket, but FSU will try to make him uncomfortable.
Bjoern Werner
won't admit that his first three games of the year have been easy. Sure, he's racked up 6.5 sacks already, the best tally in the nation. And sure, his defense has dominated, with the pass rushers leading the way. But every game is tough, Werner insists.
Whether it's lip service or an honest assessment, one thing is certain: This week's opponent will be a legitimate challenge, and Werner knows Clemson quarterback
Tajh Boyd
won't be quite as easy to bring down in the backfield as the three passers he has tormented to open the season.
For one, Boyd has two big-play wide receivers who will be inviting targets. Secondly, there's the running game, led by
Andre Ellington
, who racked up 228 yards in the opener against Auburn.
To continue reading this article you must be an Insider
Insider
Jameis Winston's Accuser Speaks Out
Erica Kinsman, who accused Jameis Winston of sexual assault, spoke out in the film "The Hunting Ground." ABC's "Good Morning America" has the story.
Jameis Winston's Accuser Speaks Out
VIDEO PLAYLIST
FSU FB RECRUITING SCORECARD
rod_bridgers

Rod Bridgers


Dwayne Bacon has scored 1,000 points in one season at Oak Hill 😳😳😳😂😂😂😂
11 minutes ago

JLMcCuistion

Josh McCuistion


I'm told #Sooners summer camper, and GA 2017 DB offer Isaiah Pryor just picked up a #Seminoles offer. @MichaelWarchant
35 minutes ago

JLMcCuistion

Josh McCuistion


I'm told #Sooners summer camper, and GA 2017 DB offer Isaiah Pryor just picked up a #Seminoles offer. @MichaelWarchant
35 minutes ago

DeionSanders

Deion Sanders


Athletes when its time PLEASE walk away from the game with more than just memories. Get wisdom,understanding,knowledge and Wealth. #Truth
45 minutes ago

DeionSanders

Deion Sanders


A organization and a fans love consist of what you do on the field. When you're not able to do what u once did their Love will cease. #Truth
49 minutes ago

DeionSanders

Deion Sanders


Players UNDERSTAND teams & fans don't love you! They don't even know your middle name or your favorite color. They LOVE what you do! #Truth
51 minutes ago

DeionSanders

Deion Sanders


If a player plays for 1 team 10 years or more he should have a moderate cap number. This will let the player know if they want him or not.
54 minutes ago

Noles247

Noles247.com


LB TJ Brunson impressed by his visit to #FSU http://t.co/MLqpmVN9AY via @Noles247
about an hour ago

DeionSanders

Deion Sanders


When a player has a great year and wants out of his deal fans & media crucify him but when a team wants out they cut the player regardless!
about an hour ago

DeionSanders

Deion Sanders


This is why I tell Athletes and People to stop falling in Love with things that can't Love you back! #Truth
about an hour ago

DeionSanders

Deion Sanders


Sports is Business&Business is sports but fans get upset when a player realizes that fact. A smart man is a man that knows his worth. Truth
about an hour ago

Noles247

Noles247.com


#FSU Junior Day Coverage Index http://t.co/Hmh7KdhN6k via @Noles247
about an hour ago

DeionSanders

Deion Sanders


You don't allow Andre Johnson the greatest Texan ever to go play for another team when he has only 2 years left on his contract. #Truth
about an hour ago

accmbb

ACC Men\'s Basketball


Final: @UVAMensHoops defeats @Cuse_MBB 59-47.
about an hour ago

Noles247

Noles247.com


Report: 'Famous Jameis' being trademarked by Winston http://t.co/M4HiYxqwSK via @Noles247
about an hour ago

Noles247

Noles247.com


Notes: #FSU Baseball hosts USF for two-game series http://t.co/eC8BbgyHhI via @Noles247
about an hour ago

DeionSanders

Deion Sanders


Andre Johnson deserves to play out his 2 years left on his contract and retire with the Texans. They owe him 4 playing with those QBs he had
about an hour ago

Noles247

Noles247.com


Report: 'Famous Jameis' being trademarked by Winston (FREE) http://t.co/2UqWgjfyjy
about an hour ago

DeionSanders

Deion Sanders


"@McClain_on_NFL: Johnson, 7 Pro Bowls, had 85 catches for 936 yards and 3 TDs last season." Those stats just ain't laying around waiting!
about an hour ago

DeionSanders

Deion Sanders


"@ESPNNFL: Marshawn Lynch's business casual is a little different than everyone else's http://t.co/155jHs9W8a" Lolol. #HOP
about an hour ago

theACC

The ACC


Get hyped for the @ACCWBB Tournament with this @theACCDN Hype Video! http://t.co/Uvssvud3Tj
about an hour ago

TomahawkNation

TomahawkNation.com


Seth Davis could not have asked for a better game to happen after writing that column today.
about 2 hours ago

theACC

The ACC


Still need tickets or travel to the #ACC Men's Basketball Tournament? @PrimeSport can help you get to the game http://t.co/vD4K7EAYke
about 2 hours ago

StillDat_

Chauncey Gardner II


Talked to Coach Trickett Today Great guy always keeps you laughing, told him I'm coming up 🙏☝️#GoNoles🍢♦️🔶 #FSU🏈🙏✊❗️❗️❗️❗️
about 3 hours ago

MockingTheDraft

Dan Kadar


The run some of you give complete morons who make stuff up is astounding.
about 3 hours ago

SweepTheLeg337

Sweep The Leg


Fat? Nope. Interview poorly? nope. Throw poorly? Nope. Well, guess we will create a new controversy RE https://t.co/O5p6h7k4it
about 3 hours ago

DeionSanders

Deion Sanders


#iwish I could've met and had a conversation with Dr. Martin Luther King. #Truth
about 3 hours ago

DeionSanders

Deion Sanders


#iwish I could've met a had a conversation with Martin Luther King. #Truth
about 3 hours ago

DeionSanders

Deion Sanders


#iwish I would've met Redd Foxx before he passed. He wore my Jersey on a episode of his show b4 he left us and I was so honored. #Truth
about 3 hours ago

DeionSanders

Deion Sanders


I'm so glad we don't follow thru on our thoughts. If we did this world would be a mess. #Truth
about 3 hours ago

Paula_White

Paula White


"God created and intended marriage and family..." Read this great article on Relationships!! --> http://t.co/hYVTEdkzNK
about 3 hours ago

Traceyeedmonds

Tracey Edmonds


Happy Monday Fam! Don't take time for granted. Love, treasure, and make the most of every moment you are afforded with family & loved ones!
about 3 hours ago

EJManuel3

EJ Manuel


#MotivationalMonday - "Happiness is when what you think, what you say and what you do are in harmony" - Ghandi
about 3 hours ago

_DCReeves

D.C. Reeves


Just bought my first Kamado, what to do first....
about 4 hours ago

Warchant

Warchant.com


Dalvin Cook is back. Jacques Patrick is on campus. What's in store for the backfield? https://t.co/xu2PdL8xvt ($) http://t.co/EYX8Znp3Vc
about 5 hours ago

Noles247

Noles247.com


SNL comedians Kenan Thompson and Colin Jost talk #FSU Football (FREE) via @katie_matuska http://t.co/E15bMvff1a
about 5 hours ago

DavidHaleESPN

David Hale


Then some caveman derided it on prehistoric Twitter. "@UberFacts: The 1st verbal convo between early humans was probably about tool-making."
about 5 hours ago

DavidHaleESPN

David Hale


I'm 4 mos. late on this, but wow, this story about Mars One from @Elmo_Keep is astoundingly good on so many levels: https://t.co/DzljBy8z6i
about 5 hours ago

calebkkelly

KANAI\u2122


🙏🏈💰😈 http://t.co/VLCrWAsuGS
about 5 hours ago

Noles247

Noles247.com


High praise for #FSU signee Dwayne Bacon http://t.co/3o5YCUj9dT via @Noles247
about 5 hours ago

Noles247

Noles247.com


#FSU offered a JUCO LB today who originally hails from South Florida http://t.co/VbGwsCbrT4 via @Noles247 @Thorton_10
about 5 hours ago

Noles247

Noles247.com


The visit to #FSU surprised OL @AndrewBoselli. He values football and academics equally http://t.co/ksQWXUFczX via @Noles247
about 5 hours ago

Noles247

Noles247.com


Big OL from @FPCFootball checks out #FSU over the weekend. Tallahassee is his kind of town: http://t.co/CHcrBhko8Z via @Noles247
about 5 hours ago

DavidHaleESPN

David Hale


#UNC has hired former Nebraska assistant Charlton Warren as DBs coach.
about 5 hours ago

Noles247

Noles247.com


#FSU offered @beckercarlos5 on Wednesday. He visited on Saturday. He talks #Noles here: http://t.co/xmSOnzbvNk via @Noles247
about 5 hours ago

Noles247

Noles247.com


#FSU's LB coaches are fighting over which spot they may pursue @BrandonHill_5 for http://t.co/ZaduL4XgVT via @Noles247
about 5 hours ago

Noles247

Noles247.com


RB @SC_Qua checks out #FSU. #Seminoles like him but have yet to offer http://t.co/SbsLrhzMrJ via @Noles247
about 6 hours ago

Noles247

Noles247.com


DE @jordansmith125 was offered by #FSU on Saturday. We spoke to him before he knew about the offer: http://t.co/srIOxRi0Rh via @Noles247
about 6 hours ago

Noles247

Noles247.com


Peach State RB has excellent film. Lots of praise. If he gets the grades, he will become a nat'l target http://t.co/jpppfDm5zA via @Noles247
about 6 hours ago

Noles247

Noles247.com


DT Stephon Taylor (@lah_bama) offered by #FSU on Saturday. Can the #Noles beat out LSU and others? http://t.co/DEuf5kHaWa via @Noles247
about 6 hours ago

Noles247

Noles247.com


DB Jayvaughn Myers, brother of 5-star WR, enjoys first visit to #FSU. How will #FSU recruit the duo? http://t.co/rNfWR3fMay via @Noles247
about 6 hours ago

Seminoles_com

Seminoles Athletics


Congrats to @FSU_Baseball's Billy Strode - @ACCBaseball Pitcher of the Week! http://t.co/xKarTLqK98 http://t.co/AI1f4mUH5U
about 6 hours ago

Noles247

Noles247.com


#FSU makes top ten for California's top player http://t.co/u1umE8iPVj via @Noles247
about 6 hours ago

accmbb

ACC Men\'s Basketball


.@theACCDN Host @JeffFischel has updated his weekly #ACCMBB Power Poll! Check it out: http://t.co/QYmYlPu5iO http://t.co/PVGUwlyxzH
about 6 hours ago

Warchant

Warchant.com


Closer Billy Strode named ACC pitcher of the week. He had 4 saves in 4 games and 10 strikeouts in 3.2 IP: http://t.co/qu2JMWRViQ
about 6 hours ago

theACC

The ACC


.@ACCBaseball Players of the Week, presented by Havoline: @ClemsonBaseball's Wilson & @FSU_Baseball's Strode: http://t.co/QAIWlcq6ZG
about 6 hours ago

Noles247

Noles247.com


#FSU's Billy Strode earns ACC weekly baseball honor http://t.co/pa1rfKJKQH via @Noles247
about 6 hours ago

Seminoles_com

Seminoles Athletics


RT @NolesTV: Two mid-week games for @FSU_Baseball against in-state rival USF. #NolesPREVIEW: http://t.co/RyrTY0O1ey http://t.co/GwkDE9nWlv
about 6 hours ago

Noles247

Noles247.com


#Noles in the NFL - Darnell Dockett to meet with 49ers http://t.co/sx4W2Fc1Ym via @Noles247
about 6 hours ago

theACC

The ACC


Check out this week's RAM Power Plays Powered by RAM Trucks: http://t.co/HodVqoERLv
about 6 hours ago

Noles247

Noles247.com


#FSU's Rathan-Mayes earns ACC honors http://t.co/vHBTqbk0ZZ via @Noles247
about 6 hours ago

theACC

The ACC


.@ACCMBB Players Of The Week, presented by Havoline: @BCHoopNews' Hanlan, @FSU_MBasketball's Rathan-Mayes: http://t.co/Dui4x7V3Zn
about 6 hours ago

ToddHuberSS

Todd Huber


Hard to believe Calvin Ashley (@whiteboii_Cali) is in high school, let alone a sophomore. #GETOPEN http://t.co/j1llUH3Fkn
about 6 hours ago

theACC

The ACC


. @ACCWBB Players Of The Week, Presented by Havoline: @UVaWBBHoops' Randolph, @Duke_WBB's Stevens: http://t.co/ezUAFLL48B
about 6 hours ago

Noles247

Noles247.com


#FSU's Lacey Waldrop earns ACC weekly honors http://t.co/BVLp3Wz2pX via @Noles247
about 6 hours ago

CecilHurt

Cecil Hurt


Alabama forward Shannon Hale will have foot surgery on Friday and miss the remainder of the season, per Anthony Grant.
about 7 hours ago

ESPN_ACC

ESPN ACC


Brent Venables ready for new D at Clemson http://t.co/V6b4iQR5cl
about 7 hours ago

theACC

The ACC


.@ACCSoftball Players of the Week, presented by Havoline: @pittsoftball's Jenna Modic & @FSU_Softball's Lacey Waldrop http://t.co/W17MsMvyvh
about 7 hours ago

RivalsCamp

Rivals Camp Series


#CampWeek #BallHard #IWILL March 7: Phoenix #RivalsCombine Orlando S&S #RivalsChallenge March 8: Miami #RivalsCamp http://t.co/WAqfKnCLJn
about 7 hours ago

Noles247

Noles247.com


FSU visit "surprises" instate offensive lineman http://t.co/ksQWXUFczX via @Noles247
about 7 hours ago

theACC

The ACC


Check out ACCPix on Instagram for a chance to win an autographed basketball & 2 tickets to #ACCTourney Opening Day: https://t.co/2DigfYaR5O
about 8 hours ago

TallyPD

Tallahassee Police


Come out and support the Special Olympics of Leon County and The Kidz 1st Fund! http://t.co/jiEFLlvKPh
about 8 hours ago

accmbb

ACC Men\'s Basketball


#ACCMBB in @AP_Top25 Poll: 2) @UVAMensHoops 3) @Duke_MBB 12) @NDmbb 16) @GoCards 19) @UNC_Basketball Full Poll: http://t.co/4Ft8Q6ASMO
about 8 hours ago

SBNRecruiting

SB Nation Recruiting


5-star Auburn commit @NateCraig2016 enjoyed #FSU recruiting visit #Noles #WDE #Tribe16 http://t.co/7PGhcU9l0B http://t.co/BhKP4u475L
about 8 hours ago

Noles247

Noles247.com


Stewart Reese recaps his latest #FSU visit - Clarity on his prospective position and more http://t.co/CHcrBhBZ0x via @Noles247
about 8 hours ago

Noles247

Noles247.com


#FSU women's basketball claims highest AP ranking ever at No. 7 http://t.co/MWERfrEkrT via @Noles247
about 8 hours ago

ACCBaseball

ACC Baseball


Coaches Poll:1) @UVABaseball 16) @CanesBaseball 18) @DiamondHeels 19) @FSU_Baseball 20) @UofLBaseball RV) N. Dame, Duke, Ga Tech, Clem
about 8 hours ago

Noles247

Noles247.com


#FSU interested in S.C. LB http://t.co/ZaduL4FFxj via @Noles247
about 9 hours ago

ESPN_ACC

ESPN ACC


How Pitt landed its top coaching target without an AD http://t.co/Nx8b7rOzgr
about 9 hours ago

Noles247

Noles247.com


JUCO LB talks #FSU offer, early favorite http://t.co/VbGwsBTQuu via @Noles247
about 9 hours ago

WarchantGene

GeneWilliams


Looking forward to talking #FSU FB & recruiting to @RealJaxNoles at Black Finn tomorrow. http://t.co/XTXT6QpNgJ http://t.co/EJFQvovwmF
about 9 hours ago

ESPN_ACC

ESPN ACC


Nate Craig-Myers talks FSU visit http://t.co/mY2r2dTePZ
about 9 hours ago

Andy_Staples

Andy Staples


Punt, Pass and Pork examines freshman ineligibility and juicy burgers. http://t.co/vUxxaZZWmg http://t.co/LqOS21TSCm
about 9 hours ago

theACC

The ACC


Can't get enough basketball? Tickets for the #ACCTOURNEY's Opening Day are going fast! Get yours today: http://t.co/5Ukt44CD7l
about 9 hours ago

Noles247

Noles247.com


#FSU Baseball moves up to No. 21 in Baseball America Poll http://t.co/30DYLot7pc via @Noles247
about 9 hours ago

VergeSupport

Verge Product Team


We are continuing to investigate the spike in errors on the Vox Media network. Our apologies for the trouble.
about 9 hours ago

TomahawkNation

TomahawkNation.com


Hope to be back up soon RT @CSnowSpaceFL: .@TomahawkNation getting "bad gateway" on your site. Everything working ok?
about 9 hours ago

Thorton_10

Tyree Horton


Just got offered by Florida state #Blessed🙏 http://t.co/GugtPWnyMW
about 10 hours ago

Noles247

Noles247.com


Mike Mayock releases updated positional rankings for NFL Draft. Where are #FSU players now ranked? http://t.co/X1lMRIwTcg via @Noles247
about 10 hours ago

Seminoles_com

Seminoles Athletics


Congrats to one of our own #Noles @DanielBerger59 on a wonderful Honda Classic and second place finish in a playoff.
about 10 hours ago

Noles247

Noles247.com


The water got @DanielBerger59 on the 2nd hole of playoff. Finishes second @TheHondaClassic. First top-two finish in early PGA Tour career.
about 10 hours ago

FSU_Football

FSU Football


Several #Noles came out to support @DM_FSU this weekend. Congrats on raising over $1 million! http://t.co/0o3ElkHBwc
about 10 hours ago

Thorton_10

Tyree Horton


Just got offered by Florida state #Blessed🙏 http://t.co/GugtPWnyMW
about 10 hours ago

Noles247

Noles247.com


Second hole of playoff between @padraig_h and @DanielBerger59 at @TheHondaClassic about to get underway on @GolfChannel.
about 10 hours ago

Noles247

Noles247.com


Warchant breaks out at @TheHondaClassic with former #Nole @DanielBerger59 in playoff.
about 10 hours ago

FSU_track

Florida State Track


Photo stroll with the #Noles on the final day of #ACCITF Indoors http://t.co/pP2EK6p58M http://t.co/xNAo63aaXI
about 10 hours ago

Noles247

Noles247.com


#FSU offers JUCO LB http://t.co/rlg8InmCIr via @Noles247
about 10 hours ago

TomahawkNation

TomahawkNation.com


#FSU offers JUCO linebacker @thorton_10 #Tribe16 #Noles http://t.co/mwe90aImAk
about 10 hours ago

Matt_Fortuna

Matt Fortuna


Spring overview: 10 burning ACC questions http://t.co/wVC0mEcSwS http://t.co/ghkFPeRZd4
about 10 hours ago

Noles247

Noles247.com


Padraig Harrington just forced a playoff with former #Nole Daniel Berger at @TheHondaClassic. Coverage on @GolfChannel.
about 10 hours ago
ACC SCOREBOARD
Thursday, 9/3
Saturday, 9/5
Monday, 9/7
BLOG ARCHIVE:
CATEGORIES: