Marquez White brings family to FSU
August, 17, 2012
8/17/12
11:22
AM ET
Marquez White
(Dothan, Ala./Northview) will bring his parents down to Tallahassee, Fla. to see Florida State for the first time this weekend.
[+] Enlarge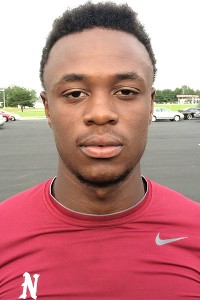 Greg Ostendorf/ESPN.comCornerback Marquez White, an FSU commit, has three cousins who played at Alabama.
The Seminoles cornerback commitment has been there plenty of times before and knows all about the program and the school. Now he wants his folks to see it, too.
"My parents haven't been yet," he said. "I want them to go down there and see the same thing that I see in the school."
To continue reading this article you must be an Insider
Insider
Corso's Pick: Florida State vs. Oklahoma State
Former WWE superstar "Stone Cold" Steve Austin and Lee Corso make their predictions for Florida State versus Oklahoma State.
Corso's Pick: Florida State vs. Oklahoma State
VIDEO PLAYLIST
FSU FB RECRUITING SCORECARD
Nike Men's Florida State Seminoles Garnet Football Training Day T-shirt Shop »
ESPN_ACC

ESPN ACC


Run up the middle. Run up the middle. Ask Johns to make a tough throw on 3rd. The #UVA offense falters again, settles for FG. 28-20 UCLA.
4 minutes ago

theACC

The ACC


FINAL SCORE: @GoPittFootball wins 62-0, their largest margin of victory since 1977! #PITTvsDEL
5 minutes ago

TomahawkNation

TomahawkNation.com


Wow, UVA OL leaving the game over and over again
5 minutes ago

ESPN_ACC

ESPN ACC


I think we'll find out in coming weeks that was no gimmick. Part of the Cuse offensive install RT @DavidHaleESPN Except fake FGs. #Cuse
5 minutes ago

TomahawkNation

TomahawkNation.com


UVA going for it makes sense, too, because you have to believe that you need 31 points to win/get this to overtime.
6 minutes ago

ESPN_ACC

ESPN ACC


Johns delivers a bullet to convert a fourth-and-long into the red zone for #UVA.
6 minutes ago

DavidHaleESPN

David Hale


Except fake FGs. #Cuse RT @ESPN_ACC: I really don't like that NCSU call. No gimmicks on 4th down.
7 minutes ago

ESPN_ACC

ESPN ACC


I really don't like that NCSU call. If you want to go Wildcat on 4th, you better be GREAT at the Wildcat. No gimmicks on 4th down.
7 minutes ago

_DCReeves

D.C. Reeves


Alabama takes the field for warmups. Nick Saban pretty animated before sending em out: http://t.co/1vPHnPha66
8 minutes ago

ESPN_ACC

ESPN ACC


NC State goes Wildcat offense, and the Wolfpack gain nothing. Georgia Southern ball.
8 minutes ago

ESPN_ACC

ESPN ACC


Not ball game on this play for NCSU, but close to it.
9 minutes ago

InTheBleachers

Michael Felder


@UnderwoodSports @TomahawkNation I liked the call, wish he just threw the damn screen instead of standing waiting to get sacked
10 minutes ago

ESPN_ACC

ESPN ACC


To steal a Jimbo-ism, Matt Johns is bouncing around and doing some things right now for #UVA.
11 minutes ago

ESPN_ACC

ESPN ACC


Frustrating 2nd & 3rd downs for NC State. Now facing a 4th and 1 from the Georgia Southern 9. End of Q, so Doeren has a few minutes to think
11 minutes ago

TomahawkNation

TomahawkNation.com


UCLA going for it is absolutely the right call, however.
12 minutes ago

ESPN_ACC

ESPN ACC


#UVA defense at it again. Sacks Hundley and he fumbles. Hoos' ball at own 35.
12 minutes ago

_DCReeves

D.C. Reeves


LANE KIFFIN UPDATE: White pullover, baggy khaki pants and a white visor for his debut
13 minutes ago

ESPN_ACC

ESPN ACC


With a cupcake non-conference schedule, Georgia Tech might have its passing game humming (by GT standards) by ACC opener vs VT on 9/20
13 minutes ago

_DCReeves

D.C. Reeves


I hardly know what it's like to cover a college football team without the presence of Clint Trickett or Jake Coker
16 minutes ago

DavidHaleESPN

David Hale


The look on the lady's face! Priceless! RT @Matt_HayesSN: Straight sexy. RT @CohenHal: only at a Bama game. http://t.co/E9oJQYmH5l
16 minutes ago

TomahawkNation

TomahawkNation.com


It's almost as if UCLA didn't want to resort to running Hundley this much, but finally gave in and he's having success.
16 minutes ago

ESPN_ACC

ESPN ACC


Pitt RBs: James Conner 13-145-2 ... Chris James 14-78-2 .... Rachid Ibrahim 11-75-0 .... Isaac Bennett 7-41-1
17 minutes ago

TomahawkNation

TomahawkNation.com


Andrew Zow, I think. RT @perrykos: Legitimate question: when was the last time a black quarterback started for Alabama?
17 minutes ago

ESPN_ACC

ESPN ACC


Your 15-minute Pitt running backs update: 48 carries, 363 yards, 7 TDs.
18 minutes ago

theACC

The ACC


RT @GoPittFootball: Pitt just set a new overall Heinz Field scoring record with 62 points! #H2P
18 minutes ago

ESPN_ACC

ESPN ACC


Pittsburgh leads 62-0 now. The freshman Chris James with his second rushing TD
19 minutes ago

ESPN_ACC

ESPN ACC


Big stand inside the 20 for NC State. A Georgia Southern touchdown would have really stunted the second-half momentum for the Pack. 20-10
22 minutes ago

DavidHaleESPN

David Hale


#GT currently has 206 pass yards, 155 rush. Only finished 1 game with more rush than pass yards since 2009.
22 minutes ago

aadelsonESPN

Andrea Adelson


CPJ said he thought Thomas would give GT more of an opportunity to pass. Thomas 9-13 for 206 2 TDs. #WOFvsGT
23 minutes ago

DavidHaleESPN

David Hale


#GT currently has 206 pass yards, 155 rush. Only finished 1 game with more rush than pass yards since 2009.
23 minutes ago

DavidPurdum

David Payne Purdum


"We need Auburn big. Wise guys are all on (Arkansas). Line moved from 21 to 17 now." -- MGM sports book director Jay Rood.
24 minutes ago

ESPN_ACC

ESPN ACC


At halftime, I was already seeing tweets calling for Paul Johnson's job. A convincing second half will quiet them .. for another week.
24 minutes ago

ESPN_ACC

ESPN ACC


And on cue, that could be the nail in the coffin in Atlanta. Georgia Tech scores again, this one on a long TD pass. 24-12 Jackets.
25 minutes ago

ESPN_ACC

ESPN ACC


Big plays are really hurting NC State today. That should have been stopped before the extra 25 yards of YAC.
26 minutes ago

DarrylSlater

Darryl Slater


Jets release QB Tajh Boyd. Never contended for third-string job after being Rex Ryan's hand-picked draft choice. http://t.co/nzDscY7Pzu
26 minutes ago

DeionSanders

DeionSanders


My Babygirl Bossy. Truth http://t.co/ODU5fRF20F
26 minutes ago

_DCReeves

D.C. Reeves


Jake Coker warming up in pregame: http://t.co/lE8TtIXFfp
26 minutes ago

ESPN_ACC

ESPN ACC


7 of #UVA's 23 completions have gone to backs. They're avg 3.5 yards/completion. Maybe stop calling those. (WR avg 12 ypc)
26 minutes ago

DeionSanders

DeionSanders


Truth 12U let's pray n play. Truth http://t.co/TbPEfIQUZD
27 minutes ago

_DCReeves

D.C. Reeves


Blake Sims warming up before WVU: http://t.co/OGwtq5GCbw
28 minutes ago

Noles247

Noles247.com


#Noles in the NFL - @Browns cut Jacobbi McDaniel http://t.co/zNCfhoQRW9 via @Noles247
31 minutes ago

ESPN_ACC

ESPN ACC


Hundley wills his way into the end zone for #UCLA. Big score for the Bruins (and why #UVA shouldn't be so conservative offensively). 28-17.
31 minutes ago

ESPN_ACC

ESPN ACC


There's some life from NC State. Easy TD pass on a PA pass from Brissett.
32 minutes ago

TomahawkNation

TomahawkNation.com


Still got pressure. Credit Hundley for staying in RT @sgw94: So much holding by that UCLA OL not called
32 minutes ago

ESPN_ACC

ESPN ACC


Wofford responds, kicks a 51-yard FG. GT up 17-12. If you're Paul Johnson, you want this drive to be the one to put the nail in the coffin
34 minutes ago

ESPN_ACC

ESPN ACC


David Dean, who has had a heck of a game, limping off the field for #UVA now.
35 minutes ago

TomahawkNation

TomahawkNation.com


Lost in all this: UCLA's receivers are not that good and aren't consistently getting open. UVA D always dares teams to make plays & go deep.
35 minutes ago

ESPN_ACC

ESPN ACC


In 402 attempts vs AQ teams last year, #UVA QBs had 6 TD passes. Matt Johns has 2 in his first 6 throws this year. #UCLAvsUVA
39 minutes ago

DavidHaleESPN

David Hale


In 402 attempts vs AQ teams last year, #UVA QBs had 6 TD passes. Matt Johns has 2 in his first 6 throws this year. #UCLAvsUVA
39 minutes ago

ESPN_ACC

ESPN ACC


3 def TDs will do this, but worth noting: Possession time so far— #UCLA 14:46, #UVA 24:44.
42 minutes ago

ESPN_ACC

ESPN ACC


UCLA is 3-of-11 on 3rd down, 0-1 on 4th today. #UVA takes over at its own 20 with a chance to take the lead.
42 minutes ago

ESPN_ACC

ESPN ACC


Paul Johnson gambles twice on fourth down and converts both. Big drive for Georgia Tech. Touchdown to open the half. 17-9 over Wofford.
43 minutes ago

ColeyHarvey

Coley Harvey


Still thinking 9 on OL. Can't see 7 LBs. Possible, but unlikely w all the safeties RT @sigmunoz what about O-Line? 8 or 9 w perhaps 7 LBs?
44 minutes ago

Noles247

Noles247.com


'Noles in the NFL - Greg Reid to be cut by the @STLouisRams http://t.co/OlGOgSj3ht via @Noles247
44 minutes ago

ColeyHarvey

Coley Harvey


That was a couple days before the game at Arizona. Perhaps Still was about to play better? Unfortunately for him, hurt hammy four plays in
47 minutes ago

ColeyHarvey

Coley Harvey


Never got to write it,but I remember Paul Guenther was needling Devon Still a little bit last week. Seemed to suggest he needed to show more
49 minutes ago

ESPN_ACC

ESPN ACC


Gutsy, but puzzling decision in my opinion, to go for it there for Georgia Tech. But they get it on fourth down by a half yard.
50 minutes ago

_DCReeves

D.C. Reeves


Jake Coker takes the field in warmups with a heavily taped left leg.
50 minutes ago

VT_Football

VT Football


ATTENTION: #WMvsVT will likely start on ESPN3 due to preceding game running long after a lightning delay. Be advised.
50 minutes ago

ESPN_ACC

ESPN ACC


They're back on the field in Atlanta. Georgia Tech leads Wofford 10-9 early in the third quarter.
51 minutes ago

TomahawkNation

TomahawkNation.com


both starting offensive tackles out for UVA and they drive the field on UCLA for another score.
52 minutes ago

ESPN_ACC

ESPN ACC


Don't think I'm overstating things to say if Matt Johns had started this game, #UVA might be up 2 scores right now. #UCLAvsUVA
52 minutes ago

TomahawkNation

TomahawkNation.com


UVA has outplayed UCLA today on most snaps.
53 minutes ago

ESPN_ACC

ESPN ACC


Johns with a beautiful 23-yard touchdown… #UVA pulls to within 5, pending the PAT.
53 minutes ago

_DCReeves

D.C. Reeves


AJ McCarron on the sideline, embraced Blake Sims for a moment before Sims started warmups. Sims getting the start as expected.
about an hour ago

TomahawkNation

TomahawkNation.com


How does OSU OL look? Figured the Buckeyes would really struggle to run it this year.
about an hour ago

ESPN_ACC

ESPN ACC


Vs. No. 7 team in nation. Ouch. RT @DavidTeelatDP: 44,749 is crowd for #UVa-#UCLA. Smallest crowd for Cavs' home opener since 1998.
about an hour ago

ESPN_ACC

ESPN ACC


Fans in Charlottesville getting restless with the conservative play calling. Can't say I blame them. #UCLAvsUVA
about an hour ago

FSU_Football

FSU Football


What's youth pregame lunch #Noles #HardEight http://t.co/ADJgVl9fLS
about an hour ago

TomahawkNation

TomahawkNation.com


Gotta pick 4. RT @bluedevils1977: @TomahawkNation How is UCLA being picked by some to be in the playoff?
about an hour ago

DavidHaleESPN

David Hale


Honestly have to wonder what London saw during fall camp. Johns looks so much more poised than Lambert. #UCLAvsUVA
about an hour ago

ESPN_ACC

ESPN ACC


Regardless of the outcome, #UVA fans should be incredibly excited about this D line. Really impressive.
about an hour ago

TomahawkNation

TomahawkNation.com


Don't like judging a team based on one half, but this UCLA offense looks a lot like it did last year, which is to say not that good.
about an hour ago

ESPN_ACC

ESPN ACC


#UCLA wanted the dagger, passed up FG try. #UVA D line dominates again, forces fumble & takes over at the 40.
about an hour ago

ESPN_ACC

ESPN ACC


Another rushing TD for Pitt, its sixth of the afternoon. Combined, Pitt has rushed 32 times for 279 yards.
about an hour ago

theACCfootball

ACC Football


At the half: @PackFootball trails 17-3. #GASOvsNCSU
about an hour ago

ESPN_ACC

ESPN ACC


Matt Johns looks exceptional in final drive of first half… so of course, #UVA opens 2nd w/2 runs into the line of scrimmage that go nowhere.
about an hour ago

ESPN_ACC

ESPN ACC


Video of the carnage in Charlottesville: All three #UCLA defensive touchdowns… http://t.co/IOslchtoXa
about an hour ago

ColeyHarvey

Coley Harvey


Mentioned in my final 53-man projection Fri that I thought so. Closest battle is Mays/Williams/Manning RT @Timmyb29 think mays will make it
about an hour ago

ESPN_ACC

ESPN ACC


Correction: Georgia Tech over Wofford. Georgia Southern leads over NC State at the half.
about an hour ago

ESPN_ACC

ESPN ACC


Pitt's Tyler Boyd dislocated his finger and will not return.
about an hour ago

DeionSanders

DeionSanders


Truth Cheerleaders. http://t.co/QGHVTBdtxp
about an hour ago

ColeyHarvey

Coley Harvey


.@RckyMntnWarMchn @BengalsTalk @CincyJungle Sorry, not happening. Team is all-in on Ryan Hewitt.
about an hour ago

DeionSanders

DeionSanders


Michael Pogue 10 yr old. Has been with us since he was 5. A great kid and center. Truth http://t.co/eHyIDUIPxy
about an hour ago

ESPN_ACC

ESPN ACC


A 30-yard field goal and Georgia Tech leads 10-9 heading to the half over Georgia Southern.
about an hour ago

FlaStateGameday

FSU Gameday


CONFIRMED:Former #Nole LB Christian Jones has made the Chicago Bears 53 man roster today! http://t.co/FPme1pteO5
about an hour ago

theACCfootball

ACC Football


RT @GTAthletics: Butker connects on 30-yard FIELD GOAL to take 10-9 lead into halftime #TogetherWeSwarm #WOFvsGT
about an hour ago

ESPN_ACC

ESPN ACC


Georgia Southern now up 17-3 against NC State, which is hoping to get a late field goal before half.
about an hour ago

ESPN_ACC

ESPN ACC


Watch: UCLA pulls off rare feat with three defensive touchdowns in first half at UVa http://t.co/eVBhmZSzRd
about an hour ago

Noles247

Noles247.com


#Noles in the NFL - Extension for Garrison Sanborn http://t.co/tsTGrnlqcd via @Noles247
about an hour ago

ESPN_ACC

ESPN ACC


Jamal Golden with a very good return for GaTech, and the Yellow Jackets have a chance to re-take the lead before half.
about an hour ago

ESPN_ACC

ESPN ACC


So far in 2014, #ACC QBs not named Voytik are combined 42-of-70, 5.0 YPA, 0 TD, 3 INT. One got pulled in 1st half, 1 got ejected. #GoACC
about an hour ago

ESPN_ACC

ESPN ACC


Big plays killing the ACC today. Wofford with a 92-yard touchdown in the final minute of the half. PAT blocked. 9-7 over Georgia Tech.
about an hour ago

DavidHaleESPN

David Hale


In the last decade, no team has returned 3 turnovers for TDs in 1 half vs. a Power 5 team… until #UCLA today. (h/t @ESPNStatsInfo)
about an hour ago

DavidHaleESPN

David Hale


In the last decade, no team has returned 3 turnovers for TDs in 1 half vs. a Power 5 team… until #UCLA today. (h/t @ESPNStatsInfo)
about an hour ago

ESPN_ACC

ESPN ACC


Georgia Southern in NC State territory in the final minutes of the first half.
about an hour ago

ESPN_ACC

ESPN ACC


Wofford has a chance to take a lead going into halftime over Georgia Tech. Have the ball with 1:15 left, trailing 7-3.
about an hour ago

theACCfootball

ACC Football


At the half: @UVa_Football trails 21-10. #UCLAvsUVA
about an hour ago

ESPN_ACC

ESPN ACC


We go to the half with #UCLA up 21-10… in a game #UVA has handed to them with turnovers. Total offense: UVA, 245; UCLA 136.
about an hour ago

ColeyHarvey

Coley Harvey


Lockett getting waived has minimal effect at WR. Was expected. LBs? Impacts Sean Porter most directly. Not good sign for him @MrKCincy
about an hour ago
ACC SCOREBOARD
Saturday, 8/30
Thursday, 8/28
Friday, 8/29
Monday, 9/1
BLOG ARCHIVE:
CATEGORIES: