Marquez White brings family to FSU
August, 17, 2012
8/17/12
11:22
AM ET
Marquez White
(Dothan, Ala./Northview) will bring his parents down to Tallahassee, Fla. to see Florida State for the first time this weekend.
[+] Enlarge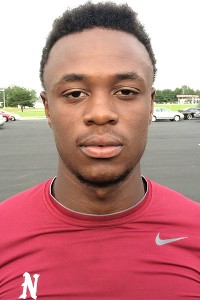 Greg Ostendorf/ESPN.comCornerback Marquez White, an FSU commit, has three cousins who played at Alabama.
The Seminoles cornerback commitment has been there plenty of times before and knows all about the program and the school. Now he wants his folks to see it, too.
"My parents haven't been yet," he said. "I want them to go down there and see the same thing that I see in the school."
To continue reading this article you must be an Insider
Insider
Blue Chip Battles: ESPN 300 Update
National recruiting reporter Jeremy Crabtree breaks down the top three recruiting tugs-of-war for uncommitted four- and five-star recruits.
Blue Chip Battles: ESPN 300 Update
VIDEO PLAYLIST
FSU FB RECRUITING SCORECARD
Nike Youth Florida State Seminoles Garnet #20 Football Game Jersey Shop »
Warchant

Warchant.com


The Chant: Freshmen defenders release rap video (FREE) https://t.co/O5XXKU5Zus http://t.co/8ex7Z4gCRq
about a minute ago

ESPN_ACC

ESPN ACC


Pitt's Boyd feels debt to hometown http://t.co/iI2w1sUUsu
3 minutes ago

TomahawkNation

TomahawkNation.com


People will correctly note that only 18% of Miami's 22 commitments are 4/5-stars, but it's fair to expect a couple to be elevated later.
4 minutes ago

_DCReeves

D.C. Reeves


Just posted home & away SEC opponents for #Alabama Baseball in 2015 on the message board: https://t.co/mAJES6EE5y
6 minutes ago

jireland80

Jeremy Ireland


@Beebo42 First hat with the new logo #FSU #Noles. http://t.co/47VFKaxqH6
7 minutes ago

Beebo42

Lamarcus Brutus


That new FSU logo looks good on things!
7 minutes ago

TomahawkNation

TomahawkNation.com


Thanks to multiple readers who follow rap more than me for speculating it's a parody video http://t.co/PmTusfGLcp #Noles #FSU
12 minutes ago

TomahawkNation

TomahawkNation.com


Players liking it ... RT @Beebo42: That new FSU logo looks good on things!
19 minutes ago

AlligatorArmy

Alligator Army


Another: The vocals are, pretty clearly, IceJJFish homage and/or parody. It's bad, but arguably ironically/intentionally so.
23 minutes ago

TomahawkNation

TomahawkNation.com


RT @willjohns82: I'm pretty sure this is not serious and more like a parody of this guy who has over 25 million views http://t.co/9Y21TlVKD8
25 minutes ago

TomahawkNation

TomahawkNation.com


Well played. RT @stpete2you @TomahawkNation The vocals were a little pitchy, but overall it has a good vibe. I'm feeling it. #FSUTwitter
30 minutes ago

TomahawkNation

TomahawkNation.com


The falsetto. Lost it.
30 minutes ago

TomahawkNation

TomahawkNation.com


Also, the job the video guy did in making Legacy Suites look good is amazing http://t.co/PmTusfGLcp
34 minutes ago

TomahawkNation

TomahawkNation.com


A rap video that four #FSU freshmen football players will never live down. Ever. #Noles http://t.co/mmRf6ZBi8t
43 minutes ago

Noles247

Noles247.com


#FSU targets Shane Simmons and Deondre Francois decide this week http://t.co/kohI986XmA via @Noles247 
45 minutes ago

mirko_jurko64

Mirko Jurkovic Jr ?


Shoutout to Tyree on his commitment to Miami, and @evanmallory96 on his commitment to Cincinnati!
50 minutes ago

IMGAInsider

IMG Academy Insider


Senior @evanmallory96 has officially committed to @Bearcats_FB @GoBearcats #BecomeMore http://t.co/UCxaHyb0bu
51 minutes ago

TomahawkNation

TomahawkNation.com


Top teams in the ACC have as much talent as the SEC's best teams, but the SEC has many more teams close to that level. I think that's fair.
about an hour ago

ESPN_ACC

ESPN ACC


Why Pittsburgh will win Coastal http://t.co/jOc7p5kVtR
about an hour ago

TomahawkNation

TomahawkNation.com


Oklahoma State gets its practice time back thanks to some INTERESTING NCAA accounting. #FSU #Noles http://t.co/X9sXUStVv6
about an hour ago

DeionSanders

DeionSanders


Please help me reach the head football coach for Booker T. In Tulsa Oklahoma. Thank u all so much. #Truth
about an hour ago

TomahawkNation

TomahawkNation.com


ACC had more top-150 draft picks. But ... RT @schadjoe: Dabo Swinney says the talent level between the SEC and ACC is "splitting hairs."
about an hour ago

DeionSanders

DeionSanders


The more u concern yourself with pleasing others the less you're focused on pleasing God. Isn't it enough to Please God!! #TRUTH*
about an hour ago

TomahawkNation

TomahawkNation.com


RT @accfootballnews: College football look ahead: Nos. 11-15 (Clemson shouldn't tumble far as it reloads on offense) http://t.co/GWtE5471h8
about 2 hours ago

AndrewJBone

Andrew Bone


Heard a few hours ago #Alabama signee Montel McBride was heading to Iowa Western. Been waiting on confirmation which has been received.
about 2 hours ago

Noles247

Noles247.com


#Noles head coach Jimbo Fisher hints that the defense could be more aggressive this season under new DC Charles... http://t.co/BNXVeyGBld
about 2 hours ago

SteveReedAP

Steve Reed


Kelvin Benjamin said he woke up today "feeling like a new man." Said he hopes to participate in preseason games.
about 2 hours ago

FSU_Football

FSU Football


Head's up to #Noles fans. Tickets will be sent out in mid-August. Can't wait to see you in Doak! http://t.co/NrHIKf8EI4
about 2 hours ago

TomahawkNation

TomahawkNation.com


Bovada does one hell of a job of acting like its odds are somehow news, or unique. The emails to media members work.
about 2 hours ago

ESPN_ACC

ESPN ACC


Video: Swinney talks winning, having fun http://t.co/hhmmHyz99L
about 2 hours ago

TomahawkNation

TomahawkNation.com


I actually figured that was the reason for the Crowder pick, I just didn't expect to see it put out there on social media
about 2 hours ago

_DCReeves

D.C. Reeves


Alabama a big 7/5 favorite to win the SEC (bet $50 to win $70) per Bovada. Auburn and South Carolina are next at 5/1.
about 2 hours ago

DavidHaleESPN

David Hale


#Duke gets the Rodney Dangerfield treatment. RT @caneswatch: Bovada has UNC odds at winning Coastal at 8/5. UM & VT at 3/1.
about 2 hours ago

DavidHaleESPN

David Hale


Flip side: Best offensive conv% on 3rd&short: 1) #Cuse 71.7% 2) #GT 71.2% 3) #FSU 70.7% 4) #Clemson 63.5% 5) #UVA 62.5%
about 2 hours ago

TomahawkNation

TomahawkNation.com


Good to keep in mind that some people use pre-season voting as a way to protest someone or something.
about 2 hours ago

DavidHaleESPN

David Hale


FWIW: Opp. converted 18 of 26 rushing on 3rd & short vs. #FSU (10th in ACC), 10 of 19 passing (9th).
about 2 hours ago

SBNRecruiting

SB Nation Recruiting


.@msmeraglinolo because for some, their gifts are physical, and football related, and they can't handle school. And no NFL w/o college.
about 2 hours ago

patrick_hruby

Patrick Hruby


Wrote this last Dec, but worth remembering in light of proposed NCAA concussion settlement: http://t.co/jar5FxnWFA
about 2 hours ago

TomahawkNation

TomahawkNation.com


.@joshnewberg247 @TomahawkNation how many MLB players would never have made it if they would have been forced to get into college? A lot.
about 2 hours ago

ESPN_ACC

ESPN ACC


ACC's lunchtime links http://t.co/XYOwhhPONe
about 3 hours ago

DavidHaleESPN

David Hale


actually middle of pack (45). GT had fewest. RT @DipRip: I bet they also had the fewest 3rd and short attempts in the acc
about 3 hours ago

SBNRecruiting

SB Nation Recruiting


While it's great that recruits get an education http://t.co/VFHcqyvvO7, it's unfair that we force some to make it in school to play football
about 3 hours ago

DavidHaleESPN

David Hale


#FSU allowed opponents to convert 62% of third-and-short tries last year… 12th in the ACC (only BC & Wake worse)
about 3 hours ago

DavidHaleESPN

David Hale


Best 3rd&short defense in #ACC in 2013: 1) #UVA (40.5% conv) 2) #Clemson (41.5%) 3) #VT (45.2%) 4) #Maryland (46.7%) 5) #Cuse (56%)
about 3 hours ago

Drammafree

ShayB


@DeionSanders GREATFUL TESTIMONY. . IMPACT THE YOUTH.#TRUTH. PRICELESS http://t.co/2Q5KnQCOZn
about 3 hours ago

Justinsua

Justin Su'a


"Teams with great players don't win; teams with players who work great together do." -@ChrisWeinke16 @IMGAFootball http://t.co/WZkO8XccS9
about 3 hours ago

AFLGuru

Adam Markowitz


@TomahawkNation Saw Bright play in the AFL couple years ago (shocking, right?). Dude just looked fat. @ArenaFan http://t.co/0FeLrffjFu
about 3 hours ago

TomahawkNation

TomahawkNation.com


Whatever happened to Callahan Bright? @chaddnielsen finds out, along with three other bright former HS stars. http://t.co/FEFlpnou6B
about 3 hours ago

Rivals

Rivals.com


#Rivals100 OT Martez Ivey has five official visits in mind: #LSU #Alabama #UF #Auburn #FSU ($) http://t.co/iYWua9OMVT
about 3 hours ago

TomVH

Tom VanHaaren


ESPN Jr. 300 DE Shane Simmons' @Shizzeee_ commitment will be live on http://t.co/rE8U9vhq1E tomorrow at 2pm ET http://t.co/avp7IJ81rb
about 3 hours ago

Noles247

Noles247.com


With CFB Playoff in 2013, Michigan State would be Nat'l Champs http://t.co/kRaudx3Kba via @Noles247
about 4 hours ago

Noles247

Noles247.com


#Seminoles http://t.co/nUDSbeD0yn
about 4 hours ago

DeionSanders

DeionSanders


The more u concern yourself with pleasing others the less you're focused on pleasing God. Isn't it enough to Please God!! #TRUTH
about 4 hours ago

Noles247

Noles247.com


Darby No. 76 in ESPN's top 100 list http://t.co/ELnf5VxHpj via @Noles247
about 4 hours ago

DavidTeelatDP

David Teel


@TomahawkNation @KegsnEggs I'm not convinced they would have made semis. #stanford #strengthofschedule
about 4 hours ago

TomahawkNation

TomahawkNation.com


Oh RT @KegsnEggs Mark Dantonio on if playoff started last year: "I'll be honest with you, I think we would have been national champions."
about 4 hours ago

FSU_Football

FSU Football


Check out some great behind-the-scenes photos of Head Coach Jimbo Fisher at the ESPN Car Wash here: http://t.co/5VMonaZ4OX
about 4 hours ago

ESPN_ACC

ESPN ACC


Parker looks to make mark among ACC elite http://t.co/0FsDuiipeT
about 4 hours ago

FSU_nolesserve

FSU Student Services


@TravisRudolph5 @JR8_Noles @jf3_11 Visit @ChildcareNetwk and Read to some little Seminoles. http://t.co/JRWe2qqTcB
about 4 hours ago

Noles247

Noles247.com


Ramsey, O'Leary and Williams on ESPN's top players in ACC http://t.co/8i9rJPPpX7 via @Noles247
about 4 hours ago

FSU_Football

FSU Football


Go behind the scenes with Jimbo Fisher at the ESPN Car Wash. http://t.co/uDRzhKhhWP
about 4 hours ago

Noles247

Noles247.com


Charles Kelly set to enter Wiregrass Sports Hall of Fame http://t.co/oo4PMxSRwh via @Noles247
about 5 hours ago

Noles247

Noles247.com


#FSU's five toughest games in 2014. Which one do you think will be the toughest test for the #Noles?... http://t.co/kPyDvRjtFs
about 5 hours ago

ESPN_ACC

ESPN ACC


ESPN 300: 5 things to know in the ACC http://t.co/yPB3Go767y
about 5 hours ago

DeionSanders

DeionSanders


The more u concern yourself with pleasing others the less you're focused on pleasing God. Isn't it enough to Please God!! TRUTH
about 5 hours ago

Noles247

Noles247.com


F5U: Toughest Games in 2014 for #FSU http://t.co/JHrKWHlOVs via @Noles247
about 5 hours ago

Noles247

Noles247.com


#FSU stands out to DE/LB target Shelton Johnson, along with another school http://t.co/9UToehGXGK via @Noles247
about 5 hours ago

Noles247

Noles247.com


Talented 2016 DB @_RealDeal_22 names #FSU among top 6 http://t.co/nCjzoN0xN9 via @Noles247
about 5 hours ago

Noles247

Noles247.com


More blitzing for #FSU in 2014? Fisher explains why. http://t.co/WYkT6CFvL4 via @Noles247
about 5 hours ago

theACC

The ACC


Follow @theACCfootball for Day 2 updates of #ESPNACC Car Wash throughout the day!
about 5 hours ago

InsideDMFB

Inside DM Football


2morrow @ 2pm on http://t.co/Wefvm9Iu3g @DeMathaFootball Shane Simmons (@Shizzeee_ ) will make his college decision http://t.co/xXip0zfW72
about 6 hours ago

ESPN_ACC

ESPN ACC


Top ACC players: Nos. 20-16 http://t.co/ftZHvjWslU
about 6 hours ago

Warchant

Warchant.com


With Jesus Wilson's status in question, @WarchantGene, @IraSchoffel & @JCameronShow tackle FSU's early WR rotation. https://t.co/2v2miISyML
about 6 hours ago

philsteele042

Phil Steele


Upset Meter: Which teams pulled a lot of upsets LY & will be overvalued in 2014. http://t.co/kWcijDm4az
about 6 hours ago

TheStateOfTheU

StateOfTheU.com


Nothing official yet, no RT @TomahawkNation: Did Trayone Gray get into Miami today? Seeing a lot of tweets about him tonight.
about 15 hours ago

TomahawkNation

TomahawkNation.com


Did Trayone Gray get into Miami today? Seeing a lot of tweets about him tonight.
about 15 hours ago

_DCReeves

D.C. Reeves


I never pegged grumpy cat as the next #Bachelor
about 16 hours ago

tomdangelo44

Tom D'Angelo


Nick O'Leary returns to #FSU to improve draft stock. My story.http://t.co/WLLhKbbY8p
about 16 hours ago

_DCReeves

D.C. Reeves


I think Nick and Andi still have a chance together
about 16 hours ago

TomahawkNation

TomahawkNation.com


ESPN posts some insanely high win percentages for #Noles games. http://t.co/aiQacTWFwJ
about 16 hours ago

_DCReeves

D.C. Reeves


Tonight marks the first UGA win in Atlanta since 2005
about 16 hours ago

KCChiefs

Kansas City Chiefs


Winner! Congrats to @aaronmurray11's brother Josh on winning the @BacheloretteABC. http://t.co/qITV2fTpl5
about 16 hours ago

BinjimenVictor

BEN #9?


TOP 15 NO ORDER!!! 👌👌👌👌👌💰💰🙏 http://t.co/JGT4WtctkK
about 17 hours ago

mhenton1519

Marlon Henton


@DeionSanders THIS IS the exact reason we love and need U Prime!! ALWAYS looking out for the kids. Christian, Dad, Role model!! #Truth
about 17 hours ago

_DCReeves

D.C. Reeves


Didn't they give away the result at the beginning when they said the bachelorette loser was borderline stalking Andi? Nick is very stalk-y
about 17 hours ago

osfsu

Brendan Sonnone


#FSU to use GPS tracking devices in ACC games http://t.co/KRnEXlDo9L
about 17 hours ago

Noles247

Noles247.com


#FSU makes Top 15 for @BinjimenVictor http://t.co/4H7YwFZE7z via @Noles247
about 18 hours ago

AndrewJBone

Andrew Bone


RT @AKRivals: The latest on CeCe Jefferson's recruiting process: (http://t.co/7RTa65jOTv) #Bama #UCLA #UGA #LSU
about 18 hours ago

perklisa1973

Lisa Perkins


Report: Emmanuel Mudiay cleared by NCAA, will still play overseas instead of at SMU http://t.co/fHotxMMeYP @DanWolken
about 18 hours ago

DeionSanders

DeionSanders


"@rchunter: Is it true @DeionSanders is going to be on #runningwildwithBearGrylls?" YES SIR BUDDY!
about 18 hours ago

Josephlenmiller

Joey Miller


@DeionSanders can I get a RT to inform people of @UnitedWayKC's free #summermeals for kids and teens? Visit http://t.co/Kco0VqVYHx for info!
about 18 hours ago

Noles247

Noles247.com


OG wants to visit a few schools, #FSU included http://t.co/N4vzqgOmjY via @Noles247
about 18 hours ago

DeionSanders

DeionSanders


The TRUTH is not as fast as a LIE but the Truth is consistent and always on time. #Truth
about 18 hours ago

DeionSanders

DeionSanders


Remember all the lies & speculation regarding Emmanuel Mudiay when he decided to go play in China and skip college? http://t.co/CuAs3Lugex"
about 18 hours ago

UncleDreRozay

BIG MAN


#PrimePrepBasketball #Bugatti Now what who got next??? http://t.co/WOYiV5ggcL
about 18 hours ago

Noles247

Noles247.com


Broussard names a top six http://t.co/SYqGsKeJc4 via @Noles247
about 19 hours ago

CFBMatrix

Dave Bartoo


Reminder: Some of us aren't buying into #SOS hype unless U believe @CFBPlayoff committee is going to make stuff up http://t.co/Mr80YrvsIo
about 19 hours ago

DredaDon14

Deandre Johnson


There was No shots fired at Francois ,sorry to disappoint you all but the media will blow things out of proportion just to have a story.
about 19 hours ago

Nickilishious

Nicole Adamo


@DeionSanders & that's why we are friends. Because you are the #TRUTH and having a positive impact on others is what life is about!!!! 👏
about 19 hours ago
ACC SCOREBOARD
Thursday, 8/28
Friday, 8/29
Saturday, 8/30
Monday, 9/1
BLOG ARCHIVE:
CATEGORIES: