Johnson could have been on other side
January, 4, 2014
Jan 4
3:54
PM ET
NEWPORT BEACH, Calif. -- Auburn defensive coordinator Ellis Johnson wouldn't have missed this for the world.
The only question, as it turns out, was which side of the field he would be on Monday night in the VIZIO BCS National Championship.
[+] Enlarge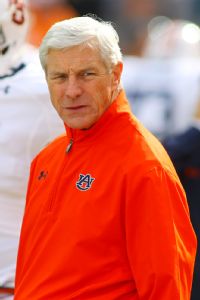 Greg McWilliams/Icon SMIWhile Ellis Johnson's defense has had its struggles, the Tigers are second in the SEC red zone defense and third in sacks.
Johnson, one of the most respected defensive minds in college football, was one of Florida State coach Jimbo Fisher's top targets when Mark Stoops left Florida State to become Kentucky's head coach.
But one of the first calls newly hired Auburn coach Gus Malzahn made after getting the job was also to Johnson, who was fired after one forgettable 0-12 season as Southern Miss' head coach.
"It was close. I guess I could have been on the other side," Johnson said Saturday during media day. "I actually got a call from someone Jimbo and I both know before I even got fired at Southern Miss."
To say the least, Johnson was intrigued and remembers telling his wife, Caroline, that the Florida State situation was ready-made.
"We really thought we were looking at a three-year deal here at Auburn," Johnson said. "Nobody expected this, but I knew they were going to win at Florida State."
After meeting with Malzahn, Johnson was scheduled to meet with Fisher, but didn't want to drag it out any further; he knew Auburn was where he belonged.
Getting back into the SEC was important for Johnson, as was getting a chance to work under Malzahn. But, ultimately, Johnson made his decision for family reasons.
He'd taken his family out of Columbia, S.C., which was home to his wife, to accept the Southern Miss job and felt as though they'd be happier in Auburn. Plus, he wasn't too far away from locking in a nice pension from the state of Alabama after working previously on Alabama's coaching staff.
"There were a lot of reasons to go to Florida State, and I knew Jimbo was on the verge of something special there," Johnson said. "But there were some other reasons outside football that made Auburn the right choice for us, and it's been unbelievable the way this season has unfolded."
Johnson's first defense at Auburn has had its moments, both good and bad. But the Tigers have consistently made key plays during crucial situations and were second in the SEC in red zone defense.
"We're going to have to play a lot more consistently in this game," Johnson said. "If we give up some of the cheap plays we have this season at times, we're going to have a hard time."
ESPN.com SEC reporter.
Joined ESPN.com in 2007.
Graduate of the University of Tennessee.
Drawing Conclusions: Week 8
A look at the aftermath in the wake of all of the week 8 college football action.
Drawing Conclusions: Week 8
VIDEO PLAYLIST
Drawing Conclusions: Week 8

Drawing Conclusions: Week 8

A look at the aftermath in the wake of all of the week 8 college football action.

Ticket Prices Through The Roof

Ticket Prices Through The Roof

Real Money takes a look at BCS Championship, NBA Finals and World Series ticket prices.

Playoff Field: Week 9

Playoff Field: Week 9

Cary Chow, Heather Dinich, and Adam Rittenberg take a look at where things stand after week 8 of the college football season, and what the playoff selection committee will have to do when sorting out all of the one-loss teams.
FSU FB RECRUITING SCORECARD
SBNRecruiting

SB Nation Recruiting


Texas paying players shouldn't be a recruiting advantage, since everybody else will be doing it too. http://t.co/lOr9zs6sYP
about 8 hours ago

247recruiting

Football Recruiting


This freshman class has been impressive. Did the recruiting industry rank them right? http://t.co/VyZFmuL5JZ http://t.co/TOUL2YFMLj
about 9 hours ago

Noles247

Noles247.com


Here is the deal: Three months for the price of one http://t.co/27gswNNicl via @Noles247
about 9 hours ago

dcotton247

Dan Cotton


Only an hour left in our special sub offer @247Sports. http://t.co/8x5tgEPayN. Don't miss out on this great deal. #247Sports
about 9 hours ago

theACC

The ACC


Entering the 2014-15 season, the @ACCwbb's 15 head coaches have combined for 4,899 career wins the second most of the Power 5 conferences.
about 9 hours ago

Warchant

Warchant.com


FSU practice notes: https://t.co/b0R3P7GFJK ($) A few vets still sitting out during the bye week today.
about 9 hours ago

Noles247

Noles247.com


Lott IMPACT Trophy Names Quarter-Finalists - Ronald Darby makes the list http://t.co/OQipEvxgs7 via @Noles247
about 9 hours ago

DeionSanders

DeionSanders


It doesn't matter where u come from it matters where you're going. Focus & Stay on course you're closer than u think. You got this!#TRUTH:
about 9 hours ago

_DCReeves

D.C. Reeves


No surprise, Bama's go-to personnel packages in SEC: 21 (2RB/1TE) - 140 times. 11 personnel (1RB/1TE) - 95 times. That's 79.6% of the O.
about 9 hours ago

TomahawkNation

TomahawkNation.com


Florida State football film review: Notre Dame 3rd quarter #Noles #FSU #Irish http://t.co/dkQxEPcsrE
about 9 hours ago

247Sports

247Sports


Five-star DE shows off "land shark bite" #OleMiss http://t.co/5wjrJ0pqKv http://t.co/I9LqbLl3Ml
about 9 hours ago

TomahawkNation

TomahawkNation.com


Florida State football practice report: 10/22 http://t.co/CKEUO38Lp6
about 9 hours ago

FSU_Football

FSU Football


"We're a family at Florida State and it take the offense, defense and fans to win." - DE Mario Edwards Jr. http://t.co/z4FOWoelZk
about 9 hours ago

_DCReeves

D.C. Reeves


.@Ben_Litvin Amari Cooper in SEC play: Wide left 95 times, wide right 115 times, slot left 21 times, slot right 16 times.
about 9 hours ago

DoakSCampbell

Doak Campbell


Risky business as a business owner spouting slander all over the radio waves, Fran.
about 9 hours ago

MockingTheDraft

Dan Kadar


Draft report: DeVante Parker bolsters WR class -- plus my top 10 receivers eligible http://t.co/Xi4HYB3maz
about 9 hours ago

TomahawkNation

TomahawkNation.com


Fran Tarkenton is still alive? Had no idea.
about 10 hours ago

Noles247

Noles247.com


Practice Update: #FSU continues to heal up http://t.co/acpxp21eK5 via @Noles247
about 10 hours ago

_DCReeves

D.C. Reeves


Played 97 snaps in 4 non-SEC games. 56 of 295 in SEC play. RT @AustinLatham25: @_DCReeves % of snaps Chris Black has played?
about 10 hours ago

TomahawkNation

TomahawkNation.com


So FSU is giving everyone some rest during the bye week. Right move, IMO. Lots of guys playing hurt.
about 10 hours ago

Warchant

Warchant.com


Rashad Greene, Roberto Aguayo, Terrance Smith still not practicing. Tyler Hunter is back but wearing a noncontact jersey.
about 10 hours ago

_DCReeves

D.C. Reeves


Joked today that Bama should've had OJ Howard commit a penalty on last play vs. Ole Miss so it could be 'controversial.' & worth more.
about 10 hours ago

_DCReeves

D.C. Reeves


Joked today that Bama should've had OJ Howard commit a penatly on last play vs. Ole Miss so it could be 'controversial.' & worth more.
about 10 hours ago

_DCReeves

D.C. Reeves


+1 RT @GreggDoyelStar: ND could have the "best loss" of the yr. At 11-1, would that be enough for a playoff spot? - http://t.co/Mu8y37pclF
about 10 hours ago

Noles247

Noles247.com


Fisher shares early thoughts on Louisville http://t.co/tUDHuLRrdW via @Noles247
about 10 hours ago

TomahawkNation

TomahawkNation.com


Ehh maybe? RT @DrKlin @PhenomeNoles @TomahawkNation can this defense be 20-25% better? Or is this what the defense is this year?
about 10 hours ago

Noles247

Noles247.com


Great Offer: Three months for the price of one http://t.co/27gswNNicl via @Noles247
about 10 hours ago

fsufball

FSU Football


ACC cherishes exposure of Thursday Night Lights (The Associated Press): Atlantic Coast Conference football has... http://t.co/PFMbZ4AMV1
about 10 hours ago

Noles247

Noles247.com


Video: No. 1 Josh Sweat Gets UA All-American Jersey http://t.co/MiISnLOxGQ via @Noles247
about 10 hours ago

DavidHaleESPN

David Hale


Worst records against the spread this year (per http://t.co/JreAwTK6Xv)UConn - 0-6#FSU 1-6UCLA 1-6SCar 1-6Wisc 1-5ULM 1-5SMU 1-5
about 11 hours ago

Noles247

Noles247.com


The @Noles247 Team and Recruiting Chat Transcript http://t.co/GyBQfBOqi7 via @Noles247
about 11 hours ago

_DCReeves

D.C. Reeves


Of #Alabama 295 non-penalty SEC snaps, Amari Cooper has only missed 48. 39 of those snaps were in 2H garbage time with 21+ pt leads.
about 11 hours ago

ESPN_ACC

ESPN ACC


Daughter provides extra motivation for Georgia Tech's Shaq Mason http://t.co/JiuJ0CCVLT
about 11 hours ago

TomahawkNation

TomahawkNation.com


This is fun http://t.co/OTFVHcGbvN http://t.co/sCk83Z71PS
about 12 hours ago

TomahawkNation

TomahawkNation.com


Film review! #Noles v. #Irish 1st quarter. http://t.co/OTFVHcGbvN Share it http://t.co/QOfXY0ug66
about 12 hours ago

joshnewberg247

Josh Newberg


#FSU could get the fifth and final visit from 5-Star CeCe Jefferson (VIP) via @LukeStampini http://t.co/d0GJPLApUg
about 12 hours ago

DavidHaleESPN

David Hale


The only QBs in the nation avg more yards/attempt on throws of 20+ than #Miami's Brad Kaaya (min 25 att) are Marcus Mariota & Brett Hundley.
about 12 hours ago

DavidHaleESPN

David Hale


#Miami QB Brad Kaaya leads #ACC in completions (13), comp% (52%), yards (493), YPA (19.7) & TDs (7) on throws of 20+ yards.
about 12 hours ago

DavidHaleESPN

David Hale


#FSU LB Terrance Smith is on pace to have 130 tackles this season. No FSU defender has had 100+ since Buster Davis in 2006.
about 12 hours ago

DavidHaleESPN

David Hale


I think you spelled "fired" wrong. RT @DM_Shirley: It's time for Mike Bobo to get some credit @BillShanks http://t.co/lPRWLRRj5H
about 13 hours ago

ESPN_ACC

ESPN ACC


In an hour join @aadelsonESPN, @Matt_Fortuna and @JShankerESPN on the weekly ACC spreecast! http://t.co/31L1zDquqW
about 13 hours ago

ESPN_ACC

ESPN ACC


Doeren on how close NCSU is to winning 1st ACC game: "We're close. Bottom line is we need 2 b more consistent."
about 13 hours ago

DeionSanders

DeionSanders


It doesn't matter where u come from it matters where you're going. Focus & Stay on course you're closer than u think. You got this!#TRUTH.
about 13 hours ago

ESPN_ACC

ESPN ACC


Doeren asked how close his team would be to full speed after bye. "We'll never be back to 100 percent but we'll b as close as we can b."
about 13 hours ago

_DCReeves

D.C. Reeves


The answer: Of the 295 snaps in SEC play, DeAndrew White is second behind Cooper with 194. Yeldon 3rd, Vogler 4th, Fowler 5th.
about 13 hours ago

Warchant

Warchant.com


New senior scouting video for 5-star #FSU safety commitment @derwinjames6 http://t.co/bv3RsA6lOu http://t.co/AQryaVZxrN
about 13 hours ago

ESPN_ACC

ESPN ACC


Dave Doeren has already started watching film on Syracuse, next team up after the bye. Game plan will be put 2gether Sunday.
about 13 hours ago

_DCReeves

D.C. Reeves


#VALUE! RT @CoachBeaumont: @_DCReeves I'm going to need a breakdown of how many times Lane covered his mouth with his gigantic playsheet.
about 13 hours ago

ESPN_ACC

ESPN ACC


Cutcliffe says David Helton has been one of the best stories this season. Moved into Brown's position, leading league in tackles.
about 13 hours ago

ESPN_ACC

ESPN ACC


Cutcliffe asked if his program is in position to reload every yr, says he keeps rosters at hand into future 2 look ahead, help w/recruiting.
about 13 hours ago

ESPN_ACC

ESPN ACC


Cutcliffe says early preparations for Pitt are being made during bye. Says offense/defense are physical. Backs tough 2 tackle.
about 13 hours ago

DeionSanders

DeionSanders


#Deionsfamilyplaybook November 1st on @OWNTV . Real family real people real problems real solutions real Love. #Truth http://t.co/srLA3IPiQU
about 13 hours ago

ESPN_ACC

ESPN ACC


Addazio on his team: "We've had an opp to close 2 games out and we didn't. That's a step we need to take. Those need to become Ws."
about 13 hours ago

NolesTV

NolesTV


Now available on demand full #Noles vs. @NDFootball replay. FREE and avaiable when you want to watch it http://t.co/8QYNL0mzSh
about 13 hours ago

Tim_Linafelt

Tim Linafelt / FSU


Karlos Williams has 18 TDs in 19 games as an RB. That and other @FSU_Football notes: http://t.co/sY9My7yF6d
about 13 hours ago

ESPN_ACC

ESPN ACC


Addazio on Clawson: "Dave Clawson has been successful everywhere he's been. He will win at Wake Forest."
about 13 hours ago

ESPN_ACC

ESPN ACC


DYK: Wake QB John Wolford's big brother, Bobby, plays fullback for Boston College.
about 13 hours ago

_DCReeves

D.C. Reeves


That can be done. RT @Ben_Litvin: @_DCReeves ... a breakdown of where each WR/TE lined up possible? Or at least for Coop?
about 13 hours ago

_DCReeves

D.C. Reeves


Alabama has played 295 non-penalty snaps in SEC play. After Amari Cooper and TJ Yeldon, which skill player do you think has the most snaps?
about 13 hours ago

_DCReeves

D.C. Reeves


Working on a midterm report for Alabama's O. Any numbers you wanna know? Already have snap counts for each skill guy + personnel groupings.
about 13 hours ago

ESPN_ACC

ESPN ACC


London says CB Maurice Canady has earned respect as a top cover corner, but he still has to earn it every day.
about 13 hours ago

ESPN_ACC

ESPN ACC


London asked about how he is going to handle QBs: Everybody will find out Saturday, but says he is optimistic about where Lambert is.
about 13 hours ago

DavidHaleESPN

David Hale


Failing at all 3 this yr. MT @ESPN_ACC: Beamer says when VT is good, no big plays on D, run football & don't work against urself b4 snap.
about 13 hours ago

ESPN_ACC

ESPN ACC


Beamer: "We're to the point in the season where we should have grown ... consistency shd be coming."
about 13 hours ago

ESPN_ACC

ESPN ACC


Beamer: says when VT is successful, don't give up big plays on D, run football and don't work against urself b4 the ball is snapped.
about 13 hours ago

ESPN_ACC

ESPN ACC


Beamer mentions eliminating pre-snap penalties, better run game as 2 biggest keys to offensive improvement.
about 13 hours ago

ESPN_ACC

ESPN ACC


Golden on Lane Stadium: "We know what the environment is, we know the team we're playing. It's going to be a great challenge."
about 14 hours ago

247Sports

247Sports


Is there #SEC bias at @ESPN? Read @cbfowler response & VOTE! http://t.co/t1B2bNA00S @katyperry http://t.co/nJ2Pnq6LfO
about 14 hours ago

ESPN_ACC

ESPN ACC


Golden says Kaaya is protecting the ball better, playing with more confidence and poise.
about 14 hours ago

ESPN_ACC

ESPN ACC


Golden on Coastal: "This is far from over, and we've just got to take it 1 game at a time. It will sort itself out."
about 14 hours ago

ESPN_ACC

ESPN ACC


Al Golden asked what areas they worked on during the bye, says he doesn't want to discuss bc might give away game plan 2morro.
about 14 hours ago

HankJoness

Hank Jones


The game is finally slowing down for Telvin, played better last few games, and then on Sunday he made plays all over field. Size be damned.
about 14 hours ago

accwbb

ACC WomensBasketball


Nora Lynn Finch on Play for Kay: Kay Yow's idea was to unify coaches across the nation for a purpose bigger than themselves. #ACCmediaday
about 14 hours ago

FSU_Football

FSU Football


#Noles game versus @NDFootball was the most-watched October game EVER http://t.co/5RaNnOLdtI
about 14 hours ago

ESPN_ACC

ESPN ACC


Chryst: Voytik is like the team. "Far from where we want to be but done some good things. Things we want to get better at are correctable."
about 14 hours ago

ESPN_ACC

ESPN ACC


Chryst on zone-read w/Voytik: Said he saw an area where they could exploit VT defense, and Voytik did a great job w/it.
about 14 hours ago

FSU_Football

FSU Football


Still talking about that game against Notre Dame? Check out the Top Plays from the #Noles thrilling win: http://t.co/uYqkTJwlHm
about 14 hours ago

ESPN_ACC

ESPN ACC


Fedora says Marquise Williams' big runs have been improvised. "You can count on 1 hand how many times we call a QB run in a game."
about 14 hours ago

Warchant

Warchant.com


With everything going right, #FSU is facing a recruiting smorgasbord for the 2015 class. https://t.co/4xbIJTFqLU http://t.co/gRaBGyfMCl
about 14 hours ago

Noles247

Noles247.com


Jaguars rookie Telvin Smith is AFC Defensive Player of the Week http://t.co/21DLwyBM0P via @Noles247
about 14 hours ago

ESPN_ACC

ESPN ACC


Larry Fedora asked about release of Wainstein report today. "I'm just glad there will be closure with it."
about 14 hours ago

Noles247

Noles247.com


Freshman Report: Florida State http://t.co/f67Ad0qZai via @Noles247
about 14 hours ago

TomahawkNation

TomahawkNation.com


Single-episode reality show RT "@NickdelaTorreGC: Muschamp: "We've been really searching on offense for an identity of things we do well."
about 14 hours ago

accwbb

ACC WomensBasketball


@WakeWBB's Coach Hoover and Dearica Hamby at the #ACCmediaday social station! http://t.co/xAGCD4AbZo
about 14 hours ago

accwbb

ACC WomensBasketball


.@uoflwbb Coach Walz: I think our league, top to bottom, is the best league in the country. #ACCmediaday
about 14 hours ago

Noles247

Noles247.com


Team and Recruiting Chat @Noles247. Ask your question now: http://t.co/U2WGqDl30M
about 14 hours ago

ESPN_ACC

ESPN ACC


Clawson says BC DC Don Brown is one of the best defensive coaches in college football.
about 14 hours ago

ESPN_ACC

ESPN ACC


Clawson says Wolford will start vs. BC. Wolford wanted to go back in after hit vs. Cuse; Doctors made the call 2 hold him out 4 precaution.
about 14 hours ago

Warchant

Warchant.com


Notes from Jimbo Fisher & Bobby Petrino on this week's ACC teleconference: https://t.co/rlsWeIvfi9 ($)
about 14 hours ago

ESPN_ACC

ESPN ACC


Clawson on now -- he played vs. Addazio in the MAC. Clawson says BC plays with an edge, a hallmark of an Addazio team.
about 14 hours ago

TomahawkNation

TomahawkNation.com


Oh, Facebook ... "So many more bad plays than good." Huh? They start selling drugs at Doak? Not passing them out in the press box.
about 14 hours ago

ESPN_ACC

ESPN ACC


Shafer says the goal always is to make a bowl: "That's what we're going to bust our (rear) to do."
about 14 hours ago

TomahawkNation

TomahawkNation.com


Rollout of film review to be delayed by about an hour, but make sure to catch up on our five new stories http://t.co/5Rrhuy9pA9
about 14 hours ago

Noles247

Noles247.com


ACC Teleconference Updates: Jimbo Fisher and Bobby Petrino http://t.co/7j9BxyasTC via @Noles247
about 15 hours ago

coachingsearch

Pete Roussel


Jimbo Fisher on Todd Grantham... http://t.co/qrsp8PxM10
about 15 hours ago

Seminoles_com

Seminoles.com


Jimbo Fisher Minute: October 22 http://t.co/qpxYz1H2hm
about 15 hours ago

ESPN_ACC

ESPN ACC


Petrino says he has been impressed w/his team in the 4Q, keeping poise to at the end of games.
about 15 hours ago

Seminoles_com

Seminoles.com


Jimbo Fisher Minute: October 21 http://t.co/Dh1HuwyYsS
about 15 hours ago

Noles247

Noles247.com


Louisville coach Bobby Petrino provides a few injury updates http://t.co/DRpyMvAgxt via @Noles247
about 15 hours ago

Warchant

Warchant.com


Bobby Petrino & UofL opened season with 8 straight games: "It's been a good grind, but our players have done a good job of handling it."
about 15 hours ago
ACC SCOREBOARD
Thursday, 10/23
Saturday, 10/25
BLOG ARCHIVE:
CATEGORIES: