October, 16, 2012
10/16/12
6:32
PM ET
TALLAHASSEE, Fla. -- Florida State was down two receivers for Tuesday's practice, but Jimbo Fisher said he expects
Kelvin Benjamin
and
Kenny Shaw
to return to action within the next day or two.
The two receivers, who also happen to be roommates, missed Tuesday's full-pad workouts with an illness, though Fisher said both were showing signs of improvement by Tuesday afternoon.
[+] Enlarge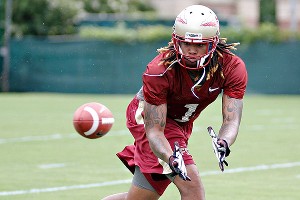 AP Photo/Don Juan MooreSix-foot-5 wide receiver Kelvin Benjamin has become EJ Manuel's favorite deep target.
"They both got the bug together, but it's about run its course," Fisher said. "We thought it'd be better to hold them [Tuesday] and they'll be back [Wednesday]."
Shaw and Benjamin have both figured heavily into the Florida State passing game this season, ranking first and second, respectively, in receiving yards, while combining for six of the team's 15 receiving touchdowns.
Shaw's 77-yard touchdown grab opened the scoring against Boston College last week, while Benjamin has been
EJ Manuel
's top deep threat in the past two games. Benjamin has caught seven passes for 116 yards in the past two weeks, but his numbers could have been even better. Manuel has targeted him on a number of deep balls that just missed turning into big plays, including two that were reviewed by booth officials.
The first was a leaping grab along the sideline against NC State that was ruled incomplete after the ball bounced free when Benjamin hit the ground. Fisher said he thought the catch was good, but the ruling was not overturned on replay.
In last week's game, Benjamin made a spectacular one-handed grab of a ball Manuel slightly overthrew. As he fell toward the ground, the ball sprung loose, was tipped by the defender, grazed the ground and landed back in Benjamin's grasp.
October, 16, 2012
10/16/12
9:00
AM ET
Florida State got a handful of impressive performances in its bounce-back win over Boston College, which won't go too far in erasing the damage done in a loss the previous week, but should help bolster the cases for a number of Seminoles still in the hunt for postseason awards.
RISING
DE Cornellius Carradine, Sr. (Bednarik)
Carradine didn't record a sack, but he did have two QB hurries and racked up five tackles.
K Dustin Hopkins, Sr. (Groza)
Hopkins connected on all three of his field-goal tries and was perfect on PATs, giving him 15 points for the game to establish a new Florida State and ACC record for career scoring.
DT Timmy Jernigan, So. (Outland)
Jernigan was in on his first sack of the season and recorded 1.5 tackles-for-loss in the win over Boston College. He had three tackles overall. His 41 tackles this season ranked second among defensive linemen in the ACC.
LB Christian Jones, Jr. (Butkus)
For the second straight game, Jones was Florida State's leading tackler. He made eight tackles, giving him 39 for the season -- just two behind Carradine for the team lead. More importantly, Jones and the linebacking corps handled BC's short passing game far better than it did a week earlier against NC State.
S Lamarcus Joyner, Jr. (Bednarik, Nagurski, Thorpe)
Joyner's interception of a
Chase Rettig
pass at the end of the second quarter likely sealed the win for FSU. Boston College had driven to the Seminoles' 21-yard line and was aiming to trim the FSU lead to 14 when Joyner picked off the pass, returned it 33 yards and set up a last-second field goal for Florida State.
QB EJ Manuel, Sr. (Heisman, Maxwell, O'Brien, Unitas)
It probably wasn't enough to make anyone forget his struggles against NC State, but on a Saturday when Heisman favorite
Geno Smith
came up short, Manuel did his best to get back into the discussion, passing for a career high 439 yards and four TDs.
DE Bjoern Werner, Jr. (Bednarik, Lombardi, Nagurski)
For the fourth straight game, Werner was held without a sack, but his impact was nevertheless felt. On BC's opening drive, Werner was at the center of three of FSU's four stops from inside its own 1-yard line.
HOLDING STEADY
DT Everett Dawkins, Sr. (Outland)
Dawkins had two tackles in the game and was part of a solid pass rush from the middle of the FSU line. Boston College's 75 yards rushing in the first half did keep the Eagles in the game and was one of the more unimpressive efforts by the usually stout FSU run defense.
CB Xavier Rhodes, Jr. (Bednarik, Nagurski, Thorpe)
BC's leading receiver,
Alex Amidon
, had just 44 yards in the game, including a 22-yarder that represented the Eagles' longest passing play of the day. Rhodes finished with just one tackle, but he was largely effective in keeping Rettig from finding any big plays downfield as BC played catch-up in the second half.
FALLING
WR Willie Haulstead, Jr. (Biletnikoff)
Nine different receivers caught passes Saturday, but Haulstead wasn't one of them.
DE Brandon Jenkins, Sr. (Bednarik)
Jenkins is out for the season with a foot injury.
LB Nick Moody, Sr. (Butkus)
Moody assisted on one tackle, but he saw only limited playing time as Boston College fell behind early and FSU spent much of the game in nickel packages.
October, 16, 2012
10/16/12
7:00
AM ET
Florida State's offensive line coach Rick Trickett usually likes to wait until summer camp before really zeroing in on targets. But NoleNation will take a look at five guys that the Seminoles have already evaluated enough to offer out of the Class of 2014.
Garrett Brumfield
(Baton Rouge, La./University Laboratory): At 6-foot-3, 265 pounds, Brumfield is about how you would draw up an offensive guard for his age. He already has earned offers from Florida, Florida State, Louisiana Tech, LSU and Miami. Although Brumfield is right in LSU's backyard, the Florida schools have made an impression on him and figure to be in it until the end.
Mason Cole
(Tarpon Springs, Fla./East Lake): The Seminoles got on Cole early having seen the in-state prospect several times in person. He camped at FSU this summer and had the chance to work with Trickett directly. Cincinnati, Florida, Florida State, Michigan, Notre Dame, Ohio State, South Carolina, USF, Stanford, USC and West Virginia have all already offered, speaking to his ability and long-term potential. Distance, Cole has said, won't be a factor, so the teams from the North are in it.
To continue reading this article you must be an Insider
October, 16, 2012
10/16/12
7:00
AM ET
Kobe McCrary
(Chipley, Fla./Chipley) has been a mainstay on the sidelines at Doak Campbell Stadium before kickoffs this season.
The 5-foot-11, 208-pound junior tailback has a reason for that, though. He says Florida State is where he wants to go, so he might as well spend as much time as he can there.
"That is the school I am trying to go to," McCrary said. "I know a couple of guys on the team and I went to camp there. Every time I go there, it is exciting no matter who they play. Savannah State, Clemson, anybody."
To continue reading this article you must be an Insider
October, 15, 2012
10/15/12
8:44
PM ET
TALLAHASSEE, Fla. -- Jimbo Fisher was busy breaking down film of Saturday's win over Boston College when he noticed an odd trend midway through the fourth quarter: One play after another finished with a tackle by freshman linebacker
Reggie Northrup
.
"I'm going through it, and I'm like, 'Daggone,'" Fisher said. "He was just jumping out."
Northrup didn't see significant action until the fourth quarter, and yet he still managed to finish second on the team with six tackles, including one for a loss. It was a huge performance for a player who had just two tackles for the season entering the game, but it wasn't exactly evidence that Northrup had refined his skill set just yet.
"It was hilarious," middle linebacker
Vince Williams
said. "He didn't know what he was doing, just running around making all these tackles, blitzing, shooting gaps and stuff. I was like, 'I don't know what he's doing, but he's making plays.'"
Fisher chalks it up to instincts, which Northrup has in abundance.
For linebackers, Fisher said, a big chunk of execution is simply having a nose for the football. Northrup still needs to work on recognizing keys and adjusting to different formations, but once the play starts, he's got a knack for finding the ball carrier.
"You can only teach so much," Fisher said. "He reads and pulls that trigger and does a nice job."
October, 15, 2012
10/15/12
2:55
PM ET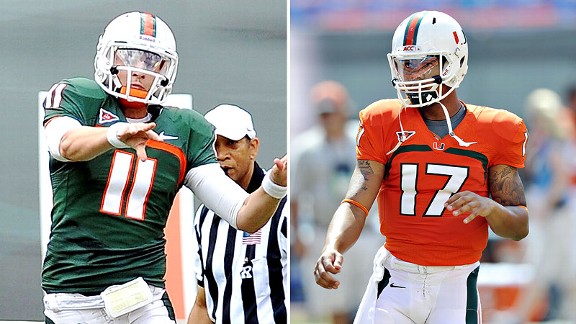 US PresswireFlorida State will prepare for both Ryan Williams (11) and Stephen Morris (17) in practice this week. The Seminoles face Miami on Saturday night.
TALLAHASSEE, Fla. -- Jimbo Fisher doesn't believe he's run into any luck this week just because Miami figures to be without its starting quarterback. In truth, it probably just means Florida State will have to work all that much harder to be prepared for what's in store when it faces off against a Hurricanes offense likely to be led by backup
Ryan Williams
.
Starter
Stephen Morris
went down with a shoulder injury in last week's loss to North Carolina, and Miami coach Al Golden said he's expecting Williams to start this week. But Fisher isn't taking anything for granted.
"You have to prepare for both," Fisher said.
Morris had started all seven of Miami's games this season, and he leads the ACC in passing yards with 1,991, and he played against the Seminoles last year, too. Williams, on the other hand, has thrown just 15 passes in a Miami uniform, having transferred from Memphis last year.
That means digging a bit deeper into the film archives, as Fisher said he'll likely study some of Williams' work at Memphis from the 2010 season to get a handle on what Miami's backup quarterback brings to the table.
"You can get a judge of what he can do, so you may buzz through a film," Fisher said. "But after that you've got to key the guys around him."
October, 15, 2012
10/15/12
1:00
PM ET
Let's take a sneak peek at the top three games in the ACC in Week 8, and the rest of the schedule.
Virginia Tech (4-3, 2-1) at No. 19 Clemson (5-1, 2-1).
These two teams got quite familiar with each other last year, when they played twice -- once during the regular season and once in the ACC Championship Game. Clemson won both -- the only time in Virginia Tech history it lost to the same team twice in one season. Are the Hokies truly back, or did they get the benefit of playing a Duke team last week that was not quite ready for prime time? They got an incredible performance from running back
J.C. Coleman
, who ran for 183 yards against the Blue Devils. He will be a key to watch, as Clemson has struggled once again to stop the run, ranking No. 99 in the nation. Clemson, meanwhile, goes into the game off a bye and brings its own outstanding running back to the table in
Andre Ellington
. Virginia Tech also has struggled to slow down the run, so Ellington could be in line for a big game.
NC State (4-2, 1-1) at Maryland (4-2, 2-0).
Your Atlantic Division leaders ladies and gentlemen -- Maryland! Bet you did not think this game would be critical in the race for the division crown back when the season started. But this is the ACC, so we always expect the unexpected. NC State has to win this game if it wants to keep pace in the race. The Wolfpack had a bye after their huge victory over then-No. 3 Florida State, so we will see if they can pick up where they left off and avoid any letdowns. They will face a huge test in slowing down
Stefon Diggs
, who had 239 all-purpose yards last week in a win over Virginia. Maryland, meanwhile, has to find a way to cut down on its turnovers to give itself a chance. The Terps rank No. 110 in the nation in turnover margin.
No. 14 Florida State (6-1, 3-1) at Miami (4-3, 3-1).
It has been years since this game had the national spotlight, but this remains an intense in-state rivalry. Florida State has won three of the last four in the series and can become bowl eligible with a victory. Miami, meanwhile, could be without starting quarterback
Stephen Morris
, whose availability is in question because of a sprained ankle. Florida State will no doubt try to attack Miami on the ground with
Chris Thompson
, who is having a resurgent season after a back injury forced him out in 2011. The Hurricanes are giving up an average of 253.7 yards rushing, and until they figure out how to stop the run, this is going to be an area that will be attacked for the remainder of the season.
The rest of the schedule
North Carolina (5-2, 2-1) at Duke (5-2, 2-1).
This will be the 99th meeting between the two programs. The Blue Devils are trying to win their first game over the rival Tar Heels since 2003, and their first in Durham since 1988. The question is whether Duke can rebound after blowing a 20-0 first-quarter lead on Virginia Tech. The player to watch will be North Carolina running back
Giovani Bernard
, who has 439 yards rushing in the last two weeks.
Wake Forest (3-3, 1-3) at Virginia (2-5, 0-3).
These teams are mired with struggles right now. Virginia has the longest losing streak in the ACC (five straight defeats); Wake Forest has lost three of its last four. The Deacs were off last week and hope to be healthier going into this game, but recent suspensions have just added to what has been a tough season.
Boston College (1-5, 0-3) at Georgia Tech (2-4, 1-3).
The Eagles are still looking for their first win over an FBS team after getting blown out at Tallahassee. Georgia Tech, meanwhile, comes into this game off a bye. We will get our first chance to see interim defensive coordinator Charles Kelly in his new role. How much improvement will we see out of the defense?
October, 15, 2012
10/15/12
11:21
AM ET
Florida State coach Leonard Hamilton isn't afraid of recruiting project players (see Okaro White and Ian Miller). While most are more apt to opt for the sure thing, Hamilton's patient enough and secure enough in his ability to cultivate players he spends the time molding one or two a year.
Hamilton's next project is
Jarquez Smith
(Haddock, Ga./Jones County) after the ESPN 100 senior post committed to the Seminoles Sunday night. Smith stands at 6-foot-9 and 215 pounds, ideal measurables for a post player. But is he a post player? Who is Smith and why is he possibly the biggest riddle in the senior class?
This is one of those commitments that register more on the upside and potential scale than it does on the production side of the ledger. Don't get me wrong; Smith's had his big games but not nearly enough to match his immense talent level. His biggest marketable long-term asset is his capacity to play facing the basket. That aspect of his game also lends to his biggest weakness: avoiding responsibilities in the lane.
To continue reading this article you must be an Insider
October, 15, 2012
10/15/12
11:00
AM ET
The ACC has done it again.
From hope to heartache in a matter of weeks, ACC fans and their teams have run the gamut of emotions in the first half of the season.
The conference started out strong with a nationally televised showdown between top-10 teams Florida State and Clemson. It was prime-time entertainment with ESPN's "College GameDay" crew in Tallahassee, Fla., and both teams lived up to the billing and looked worthy of their preseason hype and rankings. The conference puffed out its chest even more with the news that Notre Dame would commit to playing five games against the ACC annually, a solid steppingstone to the Irish possibly joining the conference full-time one day.
[+] Enlarge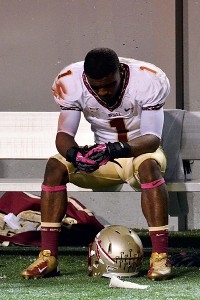 Rob Kinnan/US PresswireFlorida State's stunning loss at NC State not only hurt Seminoles receiver Kelvin Benjamin, it resonated throughout the ACC, depriving the league of its best hope for a national champion.
For six weeks, the ACC had its national title contender in unbeaten and No. 3-ranked Florida State. It had its Heisman hopeful in FSU quarterback
EJ Manuel
. And it had enhanced its stability and reputation for the future with its partnership with Notre Dame.
And then came the crash.
What was pure bliss for NC State in Week 6 was devastating to the ACC. In stunning, dramatic fashion, NC State quarterback
Mike Glennon
completed three fourth-down passes in the final drive of the fourth quarter, leading the Pack to a 17-16 upset of Florida State. Instantaneously, the league faded back into irrelevance in the national picture. No longer could the ACC mask an otherwise abysmal season with its top-five team.
Suddenly, the rest of the ACC's warts seemed uglier.
Georgia Tech fired its defensive coordinator, Al Groh. After coming up short in losses to two Big East teams, Bud Foster's Virginia Tech defense allowed North Carolina to score more points -- 48 -- than any other ACC team has ever scored against the Hokies. Boston College lost to a previously winless Army team, further indicating this could be Frank Spaziani's last season as head coach. Wake Forest suspended six players for its game at Maryland and two more the following week. Two of the league's brightest stars -- NC State cornerback
David Amerson
and Clemson receiver
Sammy Watkins
-- have yet to shine like they did a year ago, but two rookies -- Maryland's
Stefon Diggs
and Miami's
Duke Johnson
-- emerged as household names in ACC country.
With Duke and Miami briefly leading the Coastal Division standings, and Maryland atop the Atlantic Division standings, the ACC was officially turned upside down in the first half of the season. Preseason Coastal favorite Virginia Tech was out of the Top 25 by Week 3 and Georgia Tech sank into a four-loss crater, leaving the door wide open. The Blue Devils knocked it down with a 5-1 start, and the wildly unpredictable Cardiac Canes elbowed their way to the top of the division standings. Miami overcame its youth, and Duke found a way to overcome numerous injuries -- including ones to several key starters on defense and also to starting quarterback
Sean Renfree
-- for its best start since 1994. Duke entered Week 7 with the best record in the state of North Carolina, but couldn't hold onto the magic and was shut out for the final three quarters of a 41-20 loss at Virginia Tech. Meanwhile, the postseason-ineligible Tar Heels looked like the most complete team in the division.
Four teams in the Coastal Division have one league loss. Maryland is the only ACC team still undefeated in conference play. About the only predictable thing in this conference is its unpredictability -- and its failure to maintain a national title contender through November.
Offensive MVP: Clemson WR DeAndre Hopkins.
Hopkins needed only the season opener to set the Clemson single-game record for receptions with 13 against Auburn. Hopkins has been near the ACC lead in receiving yards per game all season, and has a 129.5 average entering the game with Virginia Tech. He has 370 receiving yards on 18 catches in the past two games and was leading the nation in total receiving yards entering games of Oct. 13.
Defensive MVP: FSU DE Bjoern Werner:
Werner has looked like a pro this season. Nobody had more sacks in the opening weekend of FBS college football, and he has been relentless in pursuit of opposing quarterbacks. Of Werner's 21 tackles on the season, 10 are tackles for loss, including 6.5 sacks.
Biggest surprise: Duke.
The Blue Devils' 5-1 start was their best since 1994, also the last time the program went to a bowl game. Duke started out 2-0 in ACC play with wins against Wake Forest and Virginia. That the team was able to overcome so many injuries to key players and leap Virginia Tech in the Coastal Division standings was evidence the recruiting and depth have improved significantly.
Biggest disappointment: Virginia Tech.
The Hokies were ranked No. 16 in The Associated Press Top 25 preseason poll, but fell out entirely after an embarrassing road loss to Pitt in Week 3. Instead of that being an anomaly, Virginia Tech went 0-2 against the Big East and lost back-to-back games against Cincinnati and North Carolina. With eight starters having to be replaced on offense, struggles were expected, but the defense fell far below expectations.
Best game: Florida State at NC State.
This one changed the entire season, and it couldn't have come in more thrilling fashion. On fourth down with 16 seconds left, Mike Glennon threw what would be the game-winning 2-yard touchdown pass to
Bryan Underwood
for the 17-16 win. It was the highest-ranked opponent NC State has defeated since beating No. 2 Florida State 24-7 in 1998, and it opened up the Atlantic Division race.
Newcomer of the year: Maryland wide receiver Stefon Diggs.
He became the only Maryland freshman to record back-to-back 100-yard receiving games since at least 1985, and one of those performances came against West Virginia. Diggs is the only player in the ACC, and one of two nationally, with 350 receiving yards, 150 punt return yards and 150 kickoff return yards (joining
Bernard Reedy
of Toledo). Diggs leads the ACC and ranks third nationally with 21.5 yards per catch.
Best coach: David Cutcliffe, Duke:
He kept his players believing, and the program turned the corner in his fifth season. It is only the third Duke start of 5-1 or better in the past 30 years (5-1 in 2012; 6-0 in 1994; 5-1 in 1988). With home wins against FIU, N.C. Central, Memphis and Virginia this season, the Blue Devils also have opened the year with four consecutive home wins for the first time since 1994.
October, 15, 2012
10/15/12
9:00
AM ET
Last week was all out of whack. Virginia Tech restored some normalcy to the league with its win over Duke, and North Carolina did its part by humbling Miami in Sun Life Stadium. That's not to say this pecking order isn't still in flux. The Coastal Division race is wide open, and there are plenty of teams still jockeying for position in the division standings. Here's a look at how the league shakes out at the midway point of the season:
1. Florida State (6-1, 3-1 ACC; LW: No. 1) --
The Seminoles bounced back from their deflating loss to NC State with a convincing 51-7 drubbing of Boston College. They'll get more of a fight this week when they face rival Miami on the road, but on paper, this is another game the Noles should win.
2. Clemson (5-1, 2-1; LW: No. 2) --
The Tigers had a bye week, and they're going to be catching Virginia Tech right when the Hokies might have turned the corner with an historic comeback win against Duke. Clemson owned the Hokies in two wins last year, including the ACC title game.
3. NC State (4-2, 1-1; LW: No. 5) --
The Wolfpack had a bye week to digest their upset of then-No. 3-ranked Florida State and turn their focus to Saturday's trip to Maryland. Quarterback
Mike Glennon
made three fourth-down completions in the fourth quarter last week and will be looking for another important Atlantic Division win.
4. North Carolina (5-2, 2-1; LW: No. 6) --
The Tar Heels got their first road win of the season against Miami, but UNC committed 15 penalties for 140 yards in the 18-14 win over the Canes. It didn't matter in the end because Miami had no answer for running back
Giovani Bernard
, who ran for 177 yards and two touchdowns.
5. Virginia Tech (4-3, 2-1; LW: No. 8) --
The Hokies scored 41 unanswered points in the final three quarters to beat Duke 41-20 on Saturday in the biggest comeback the program has seen under coach Frank Beamer. Virginia Tech avoided a second Coastal Division loss and has some momentum heading into Death Valley.
6. Maryland (4-2, 2-0; LW: No. 7) --
The Terps are the only ACC team still undefeated in league play, and they are leading the Atlantic Division standings. They'll face much stiffer competition when NC State visits on Saturday, but Maryland's defense has kept it in every game this season and is one of the best in the ACC.
7. Miami (4-3, 3-1; LW: No. 4) --
The Hurricanes' rushing defense has been one of its weakest links this season, as Miami is allowing 253.71 rushing yards per game. UNC ran for 272 yards against the Canes, and Florida State has the capability to do the same this weekend.
8. Duke (5-2, 2-1; LW: No. 3) --
The Blue Devils probably wouldn't have dropped so far in the rankings so fast had they played a more respectable final three quarters, but squandering a 20-point lead brought Duke crashing back to reality. The team had a chance at a marquee win for the program, but four turnovers put the bowl bid on hold for now.
9. Wake Forest (3-3, 1-3; LW: No. 10) --
The Deacs had a bye week, and they needed it after losing back-to-back conference games and suspending eight players in the past two weeks. Wake Forest travels to UVa this weekend in a game that will be critical to the Deacs' bowl hopes.
10. Georgia Tech (2-4, 1-3; LW: No. 9) --
It's been a tumultuous season for the Jackets, who fired former defensive coordinator Al Groh last week. Interim Charles Kelly at least had the bye week to make the transition in preparation of Saturday's game against Boston College. The main game plan, coach Paul Johnson said last week, is to simplify things for the defense.
11. Virginia (2-5, 0-3; LW: No. 11) --
Not much has gone right for the Hoos, who have lost five straight games heading into Saturday's matchup against Wake Forest. Virginia is No. 99 in the country in scoring defense, allowing 33 points per game, but has also struggled offensively with quarterbacks
Michael Rocco
and
Phillip Sims
.
12. Boston College (1-5, 0-3; LW: No. 12) --
The Eagles are still looking for their first conference win of the season, and have lost four straight as they head into their third straight road game. The Eagles haven't been able to run the ball or stop the run this season, but the passing game has shown improvement under coordinator Doug Martin.
October, 15, 2012
10/15/12
9:00
AM ET
One week after a dismal loss, Florida State responded with a dominant victory over Boston College stuffed with enough big performances that sorting out the top of the power rankings is a nearly impossible task. Here's how things stand after seven weeks, with last week's rankings in parentheses.
1. Chris Thompson, RB (1)
It wasn't a spectacular game for Thompson, who finished with 68 yards rushing on 10 carries, but his cumulative work for the season keeps him atop the power rankings. He has now tallied 640 rushing yards for the year, surpassing Devonta Freeman's team-leading tally from all of last season in just seven games. Thompson needs to average just 60 yards per game the rest of the way to become FSU's first 1,000-yard back since 1996.
To continue reading this article you must be an Insider
October, 15, 2012
10/15/12
7:00
AM ET
Florida State's commitments are having big campaigns as the high school season is nearly halfway complete. Here are some prospects who had exceptional weekends.
Tyrell Lyons
(Jacksonville, Fla./First Coast): The four-star outside linebacker commitment racked up seven tackles in his game this week against Yulee and future Alabama RB commit Derrick Henry, showing a willingness to get to the ball and make a play. First Coast's defense has some playmakers on it, so tackles, by default, are not easy to come by. Both
Daniel McMillian
and
Sherrod Pittman
, other starting linebackers, get their fair share as well.
E.J. Levenberry (Woodbridge, Va/Hylton):
The nation's No. 12 inside linebacker prospect turned in another solid performance on Friday. Levenberry racked up nine tackles, showing his toughness against the run and also recorded an interception. The 6-foot-3, 230-pound linebacker is an ESPN 300 prospect.
To continue reading this article you must be an Insider
October, 15, 2012
10/15/12
12:48
AM ET
David Dawson (Detroit/Cass Tech), the No. 1 offensive guard prospect in the nation, is no longer committed to Michigan.
For quite some time Dawson had been flirting with the idea of entertaining other programs despite his commitment to the Wolverines. Brady Hoke and his staff have stood firm on their policy of no longer recruiting prospects who commit to them and then decided to take more visits.
"I wasn't 100 percent sure, and I didn't want to go any longer hurting myself or the University of Michigan," he said. "I talked to my mom and coaches and they gave me the OK to do what I felt was best. I thank Coach [Brady] Hoke for giving me the opportunity, but it was something I had to do."
To continue reading this article you must be an Insider
October, 14, 2012
10/14/12
10:11
PM ET
It's been quite a weekend for Florida State basketball.
Just 24 hours after receiving the commitment of the No. 24 prospect in the country,
Xavier Rathan-Mayes
, the Seminoles doubled their total with four-star forward
Jarquez Smith
(Haddock, Ga./Jones County).
"It was the great atmosphere, the coaches and I think they have a really good plan for me," Smith said.
Smith chose Florida State over offers from Alabama, Auburn, Georgia, Georgia Tech and South Carolina. He and Rathan-Mayes are the only commitments for the Class of 2013.
October, 14, 2012
10/14/12
7:23
PM ET
Tim Williams
lives just down the road from Tiger Stadium. Yet he still is learning about -- and enjoying -- LSU.
"It's typical bayou," the defensive end from Baton Rouge (La.) University Laboratory said. "I've been to a few LSU games like that. I live right across campus. It was a good game."
Williams was in attendance during LSU's 23-21 win over South Carolina. While the Tigers are nearby, Williams isn't weighing proximity as a factor in his recruitment.
To continue reading this article you must be an Insider