December, 23, 2014
Dec 23
4:18
PM ET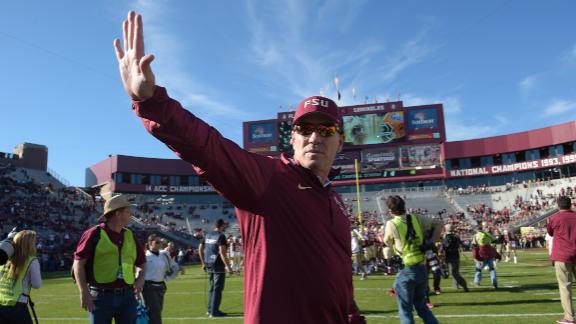 Florida State's Jimbo Fisher agreed Tuesday to a new eight-year contract through the 2022 season, a deal the school says will make him one of the highest-paid coaches in the country.
Salary terms were not disclosed because contract details are still being worked out, but a source told ESPN.com's Chris Low that the deal is worth an average of $5.5 million a year.
"I am pleased that we have been able to secure Coach Fisher as our head coach for the long term," athletic director Stan Wilcox said in a statement. "The commitment we are making to him is a reflection of the outstanding job he has done in leading our program to its current level of excellence. While we are delighted with the undefeated season this year and our upcoming appearance in the inaugural College Football Playoff, we began working on this new contract before the success of this past season was in full view. It is a great day for Florida State."
Fisher, who is 58-10 in five seasons at Florida State, earned a new contract last season after taking Florida State to the national championship, one that increased his salary into the $4 million pay range.
"I am honored to be the head coach at Florida State University, which I've said many times before," Fisher said in a statement. "I appreciate that FSU believes in what we are doing and supports our goal of maintaining one of the best programs in the country. It is a privilege to coach the young men in our program. It is truly a family.
"Florida State is a very special place. I appreciate the support of the administration in accomplishing some great things. We have improved in a number of areas over the years, and the commitment to providing the very best in academics, facilities and maturation and growth opportunities for our young men has been key to our success. I look forward to continuing to build on what we are establishing."
December, 23, 2014
Dec 23
12:35
PM ET
Associated Press
The only thing left for Marcus Mariota to win at Oregon is the national championship.
The Ducks' star quarterback is The Associated Press college football player of the year, adding yet another honor to his spectacular season.
Mariota won the AP vote in the same landslide fashion he won the Heisman Trophy. He received 49 of the 54 votes submitted by the AP Top 25 media panel. Alabama receiver Amari Cooper drew three votes. Wisconsin running back Melvin Gordon and Florida State quarterback Jameis Winston had one vote each.
Mariota is the first Oregon player to win AP player of the year, which was first awarded in 1998, and the eighth quarterback to win it in the last nine years.
The junior has also won the Maxwell Award and Walter Camp player of the year, and the Davey O'Brien and Johnny Unitas Golden Arm Award, which go to the top quarterbacks in the country.
Oregon will face Florida State and last year's Heisman winner and AP player of the year, Winston, in the College Football Playoff semifinals on Jan. 1 at the Rose Bowl. The winner will face Alabama or Ohio State in the national championship game Jan. 12 at AT&T Stadium in North Texas.
With his combination of speed and a strong arm, Mariota is a play of the day waiting to happen.
He set a Pac-12 record by accounting for 53 touchdowns, including 38 TD passes. He is the highest rated passer in the country (186.33) and has thrown for 3,783 yards and just two interceptions.
"He's an absolute competitor, an incredible perfectionist," Oregon coach Mark Helfrich said.
December, 23, 2014
Dec 23
12:00
PM ET
TALLAHASSEE, Fla. -- Coming into the season, the defensive line was highlighted as one position group Florida State couldn't stand to suffer any injuries. Of course, three defensive linemen went down in Week 2, and starter
Nile Lawrence-Stample
was ruled out for the season two weeks later.
Beset with injuries, the No. 3 Seminoles were forced to develop their depth. Three months later, while Florida State still isn't nearly as strong on the defensive line as it has been in years, the unit is in the best shape it has been all season.
Against Oregon's high-powered and uptempo offense, Florida State will need every able body ready to contribute.
"It's really important," defensive tackle
Derrick Mitchell
Jr. said of Florida State's depth along the line. "We're going to need a lot of guys to sub in when Oregon gives us the opportunity."
Derrick Nnadi
is a reserve defensive tackle the coaching staff was high on throughout preseason camp. Seminoles coach Jimbo Fisher praised the blue-chip recruit's performance all August, and Nnadi's teammates echoed those sentiments.
The 6-foot-2, 303-pound freshman rose to the occasion in Week 2 after three tackles went down in the first half against The Citadel, but Nnadi's playing time has been sporadic since then. He played in only seven of the Seminoles' 12 regular-season games, and Fisher said, like most freshmen, Nnadi had his good days and his bad days and had to work through mental and physical hurdles.
But, once again, Nnadi was called upon during desperate times. Starter
Eddie Goldman
, a potential first-round pick, was sidelined early against Georgia Tech in the ACC championship game, and Nnadi was tasked with helping slow down one of the country's best rushing offenses.
"He dominated in spurts," Mitchell said of Nnadi. "When you got a guy like Nnadi, who's mentally focused all week and does his job all week, it's easy once you get in."
The emergence of Nnadi was a necessity against Georgia Tech, but there won't be as much pressure on the first-year player in the Rose Bowl. Lawrence-Stample, who was initially ruled out for the remainder of the season after tearing a pectoral muscle in September, is practicing and expected to play against the Ducks.
"Nile's a heckuva player," Fisher said. "He was fixing to have a great year."
Adding Lawrence-Stample back into the fold gives the Seminoles many more options with their defensive line alignment, too. Star defensive end
Mario Edwards Jr
. often shifts to tackle because his 300-pound frame can handle playing on the interior. However, two of Edwards' greatest assets are his athleticism and quickness, and it's against spread offenses like Oregon that allows Florida State to best utilize Edwards' talent.
To get a sense of just how disruptive Edwards can be against uptempo and spread offenses, one only has to flip on the tape from last season's national title game. Edwards harassed speedster
Nick Marshall
much of the night and chased down the Auburn quarterback on a couple of occasions.
"Mario's going to play a big role," linebacker
Terrance Smith
said. "They're a very big spread team and like to get you out on the open and Mario is a very good open field player. For him to be able to make plays in space is going to big time."
December, 23, 2014
Dec 23
9:00
AM ET
TALLAHASSEE, Fla. -- A new era of wide receivers has been ushered in over the past two decades. They are bigger, faster and stronger than ever before, and they are manhandling undersized defensive backs who could provide little resistance.
The receivers -- Keyshawn, Ochocinco, T.O., et al -- could talk. Oh, could they talk, and it didn't matter if secondaries, fans or the cameras wanted to hear it.
Almost 20 years after "Just Give Me the Damn Ball!" and 10 years since "Who Covered 85 in '05," maybe an unintended byproduct has fully crystallized. Those brash receivers taught future defensive reinforcements that would eventually be tasked with quieting them that one of their best tools is a voice of their own. Defensive backs --
Richard Sherman
,
Patrick Peterson
,
Earl Thomas
-- are now equals to their offensive counterparts in size, strength, talent and trash-talking.
[+] Enlarge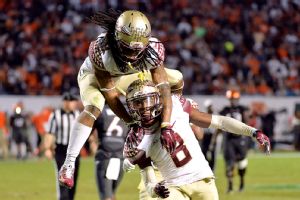 Steve Mitchell/USA TODAY SportsJalen Ramsey (bottom) isn't afraid to give receivers a piece of his mind.
Florida State's
Jalen Ramsey
fits the 21st century cornerbacks mold. He's 6-foot-1 and tips the scales at 204 pounds, and he is gratuitous with the verbal blows.
"Most wide receivers are soft, honestly, so once you get in their mind, it plays into my hands," Ramsey said. "When you get in some people minds, they won't think how they normally would."
It's not as if the former freshman All-American needs any additional help from receivers. Ramsey, a sophomore, has started every game of his FSU career and was the first true freshman to start at cornerback since Deion Sanders. Ramsey is among the best defensive backs in the country, and this season he has settled into the Seminoles' "star" role, which is essentially the nickelback in their scheme.
Few players nationally impact a game like Ramsey. He is fourth on Florida State in tackles (75), second in tackles for loss (9.5) and sacks (three), and first in interceptions (two) and passes broken up (11).
Ramsey said he's recently noticed offenses scheming for him differently, and he feels Georgia Tech purposefully avoided him in the ACC championship game. Oregon quarterback
Marcus Mariota
, who represents the other half of a much-anticipated Jan. 1 chess match against Ramsey, raved about Ramsey's game-breaking ability.
"If you just watch him on film, he's a guy that will singlehandedly turn a drive and just stop it," Mariota said. "He's a great player. He's going to make his plays."
Ramsey showed no interest in exchanging pleasantries with Mariota leading up to the game, though. In a time when players are often coached to recycle football cliches or speak in ambiguities, Ramsey didn't mince words when asked about playing against the most recent Heisman Trophy winner. Ramsey didn't dismiss or disrespect Mariota's wildly successful season, but he wasn't about to place an opponent on a pedestal above his own teammate, one who also happens to own a Heisman.
"That doesn't really matter to me," Ramsey said about playing against the 2014 Heisman winner. "Jameis [Winston] is the best player in America. I go up against him every day in practice. So it doesn't matter."
Those closest to Ramsey say his comments are part of a competitive drive few players across any sport can match.
"It reminds me of
Kobe Bryant
," his brother, Jamal Ramsey, said.
"He doesn't feel like he takes a back seat to anybody," Lamont Ramsey, Jalen's father, said.
That drive in Ramsey was developed at a young age. Jamal, who is three years older than Jalen, would allow his younger brother to play pickup football and basketball with him. If there were a game going on in the neighborhood, Jalen was the youngest one playing and getting "bullied around," Lamont joked. Jalen held his own, though, because if he weren't able to keep pace, Jamal said his brother would have been sent back home.
Ramsey wasn't as physically impressive then as he is now. He entered high school standing just 5-foot-3 and weighing 135 pounds but trained with his father, who has tutored some of college football's top players -- Navy's
Keenan Reynolds
and Tennessee's
Derek Barnett
among them. Jamal was also a quarterback at Middle Tennessee State (where Lamont also played receiver) and would pit his younger brother against MTSU's receivers. Ramsey was once again playing up a level, which might be putting it generously considering a 5-foot-3 cornerback was responsible for guarding grown men.
"He would win some, and he would lose some, but as he got older, he got stronger and won some more," Jamal said. "He's always competed and didn't want people having bragging rights over him."
He especially didn't want Jamal to have the upper hand. The two usually played on the same team, whether in basketball or football, so the brotherly banter was forced to come in other areas. Jamal liked the
Florida Gators
growing up, and Jalen cheered for Miami. Jamal likes the NBA's Knicks, so naturally Jalen is a Heat fan.
It wasn't until Jamal made the switch to receiver in college that the two began going head-to-head. By then, Jalen had grown; he shot up six inches as a high school sophomore. During preparations for a high school all-star game after his senior season, Jalen and Jamal took to the field.
"They were working on releases, and it was the first time [Jalen] jacked his brother up," Lamont said. "His brother didn't like it, and it got heated. Jalen said 'I'm not that little dude anymore.'"
Now, as the most experienced player on Florida State's defense, Ramsey is also not a young dude anymore. He wasn't nearly as vocal as a freshman on a 2013 defense that now has five players logging regular minutes in the NFL. But Ramsey is one of the unit's leaders on a new-look 2014 defense.
"It came with my role and my age. I'm more comfortable this year," he said.
He's more comfortable complementing his play with his talk too.
Said Jamal: "Because he's always backed it up."
December, 22, 2014
Dec 22
3:46
PM ET
December, 22, 2014
Dec 22
3:31
PM ET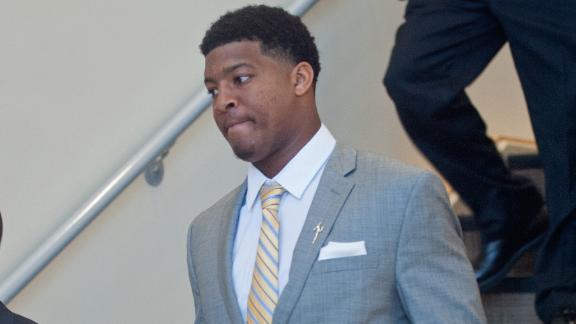 According to a transcript obtained Monday by ESPN, Jameis Winston did answer questions from the retired judge overseeing the Florida State quarterback's student code of conduct hearing for an alleged sexual assault in 2012.
After initially declining to answer questions from retired Florida State Supreme Court chief justice Major Harding and his accuser, Winston gave brief answers to one question and two follow-up queries from Harding, according to a transcript of the two-day hearing.
Winston said he thought his accuser gave consent both "verbally and physically" during the encounter at his off-campus apartment on Dec. 7, 2012. Winston was charged with four violations of FSU's student conduct code, two related to sexual misconduct and two related to endangerment.
Under FSU's student conduct rules, Winston wasn't required to answer any or all questions during the Dec. 2-3 hearing. Instead, Winston read from a prepared five-page statement as his opening statement, and then referred to it again when questioned by Harding on the second day. Winston then cited the rule that permitted him not to answer questions: "From the Rule 6C2R-3.004(6)(d) of the Florida State Student Code of Conduct I'm not going to answer."
Harding then asked him: "And so you're not going to answer any additional questions?"
"Yes, Your Honor," Winston responded.
Harding then asked the woman if she wished to ask Winston any questions.
"Yes, we do," the woman said.
After Winston's attorney, David Cornwell, reminded Harding that the woman wasn't allowed to directly ask Winston questions during the hearing, the judge asked the woman if she wanted to submit written questions for him to ask. Her attorney, Baine Kerr, asked Winston if he intended to answer the questions before they took the time to email the questions to the judge.
"He has already answered by invoking the Rule," Cornwell said. "He does not."
Winston also said he was not going to answer.
Following a break that lasted more than one hour, the accuser's attorney entered emailed questions into the record. Harding then asked Winston one question of his own, even though Winston previously indicated he wouldn't answer.
"All right," Harding said. "I think it would be helpful, and I understand you have exercised your right, and you may continue to do so; but, from the purpose of helping the decision maker to understand, the Complainant has indicated that she continually resisted by saying no to your sexual overtures, and you have indicated that she gave consent. And I would like to know in what manner, verbally or physically, that she gave consent. And I ask that with the understanding that you have previously given."
After Winston initially hesitated to answer the question, Cornwell advised him that it was OK to answer, according to people who were in the room.
"Both, Your Honor, verbally and physically," Winston said.
"And what did she say and what did she do?" Harding asked.
"Moaning is mostly physically," Winston said. "Well, moaning is physically. And verbally at that time, Your Honor."
"Well, that was during the sexual encounter?" Harding asked.
"Yes, Your Honor," Winston said.
At that point, witness testimony ended, according to the transcript.
December, 22, 2014
Dec 22
3:10
PM ET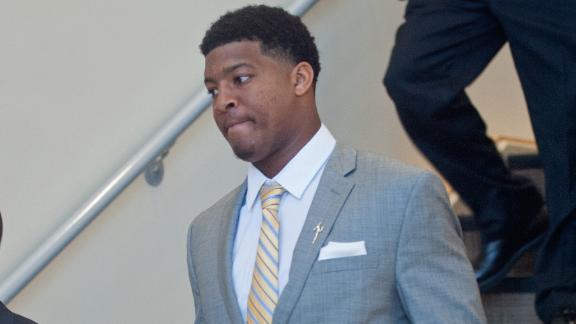 When Florida State practice wrapped up Monday afternoon, coach Jimbo Fisher faced the inevitable questions about his star quarterback and the code of conduct hearing that is
now in the past
.
Fisher did not offer much insight into what
Jameis Winston
is thinking now that he has been cleared, other than, "It is a relief. ...He's focused on the team like he always is. ...There was a lot of scrutiny on it. But I'm glad it's over with and move on."
Even when Fisher delivered one little nugget, he quickly added a clarifier. Fisher was asked how Winston looked Monday during practice -- the last one the Seminoles will hold until Saturday in California, when they begin final preparations for the College Football Playoff semifinal against Oregon.
"He was really good today," Fisher said. "He had a bounce in his step."
Extra bounce because Winston got the resolution he wanted from the hearing?
Here comes the qualifier.
"But I think they're excited about going home for Christmas," Fisher added. "But he had a really good one today."
Fisher typically saves his most effusive commentary about his players and about his team when he is standing behind a podium, not in a brief post-practice interview. His answers were to be expected. Relief would be the best noun to use to describe Winston's situation.
So without a larger window into their reaction Sunday night, one can draw a few conclusions based on the answers Fisher gave.
The relief Winston is feeling could very well mean a newly focused, newly motivated quarterback once the Rose Bowl rolls around. Former Florida Supreme Court Justice Major Harding, who cleared Winston of any student conduct code of violations, ruled the evidence was "insufficient to satisfy the burden of proof."
There may still be ramifications down the road, if the accuser chooses to appeal the ruling or file a civil lawsuit. But for now, there are no game ramifications. Winston does not have to worry about whether he will get to play Oregon on Jan. 1, or in the national championship game should the Seminoles win.
Fisher said Winston was focused on the team "like he always is" but one is left to wonder how much of that focus was on his legal matters during the course of a season in which he looked un-Winston-like in many moments.
All we can do is take what Fisher says, then wait to see whether an unburdened Jameis Winston takes the field in Pasadena.
December, 22, 2014
Dec 22
1:25
PM ET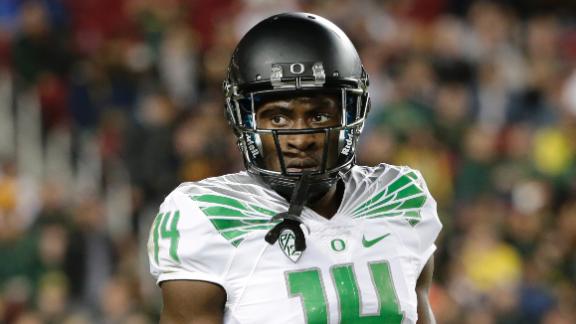 Name the Florida State quarterback who beat Clemson in overtime to keep the Seminoles undefeated and alive in the College Football Playoff.
Oh no.
You didn't forget Sean Maguire ... did you?
With Jameis Winston suspended, Maguire did the only thing Florida State needed him to do against the toughest opponent in the ACC -- he won. The inaugural College Football Playoff was shaped by more than Heisman Trophy winners Winston and Marcus Mariota, the Oregon quarterback. While the household names delivered the consistency that helped determine the selection committee's final ranking, the top contenders also had an X factor, like Maguire, who helped along the way.
Here's a look at the stars, ranked in order of impact, whose roles defined the playoff, their sidekicks, and whether or not they can do it one more time this season:
1. Ohio State
The name you know: J.T. Barrett. Once the second-string quarterback, Barrett finished fifth in the Heisman Trophy voting. Those three picks in the loss to Virginia Tech? Yeah, the selection committee doesn't remember those either. Barrett opened the door to the playoff for Ohio State, but his replacement knocked it down.
The X factor: Cardale Jones. It was his first career start. And Jones, the Buckeyes' third-string QB, was the MVP of the Big Ten championship game after throwing for 257 yards and three touchdowns. That win over Wisconsin put Ohio State in the playoff. Jones had one audition for the selection committee, and he nailed it.
December, 21, 2014
Dec 21
10:41
PM ET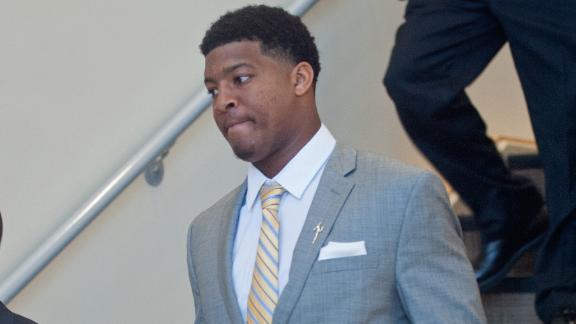 Former Florida State coach Bobby Bowden, late in his storied career, would publicly long for the days when a phone conversation with the chief of police would clean up any mess his players might have made. If a semblance of those old-school ways remains alive in Tallahassee, we see the price that the university and its most famous athlete are paying for it.
The sexual assault accusation against Florida State quarterback Jameis Winston is not going to become a narrative with a beginning, a middle and an end. It's not the next "Serial" podcast. It will not stay within the parameters of a television script, with the corners neatly tied together by the end of the last commercial.
It is real life, and it is messy, and it is not going away.
In his ruling in the FSU disciplinary hearing, Justice Major Harding said: "In light of all of the circumstances, I do not find the credibility of one story substantially stronger than that of the other."
He said/she said stories aren't swept aside easily, not as long as the party that feels wronged has another forum in which to be heard.
That's why the reluctance of police to investigate the case did Florida State and Winston no favors. Other than Seminoles fans, Winston is seen as a young man whose status as a star quarterback kept him from being prosecuted. The perception of shoddy police work has left Winston having to defend himself against the belief that he remains untouched because of who he is, not because of what actually happened.
December, 21, 2014
Dec 21
9:12
PM ET
By
ESPN.com staff
| ESPN.com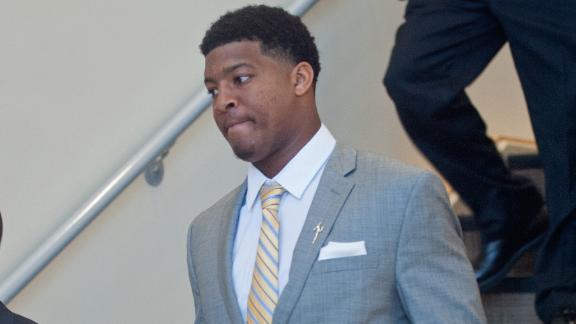 TALLAHASSEE, Fla. -- Florida State quarterback
Jameis Winston
was cleared Sunday of the accusations he faced at a student code of conduct hearing involving an alleged sexual assault two years ago.
Former Florida Supreme Court Justice Major Harding wrote in a letter to Winston that the evidence was "insufficient to satisfy the burden of proof." Prosecutor Willie Meggs made a similar decision a year ago when he decided not to criminally charge Winston, citing a lack of evidence.
Read
more from this story
.
December, 21, 2014
Dec 21
5:10
PM ET
ESPN.com news services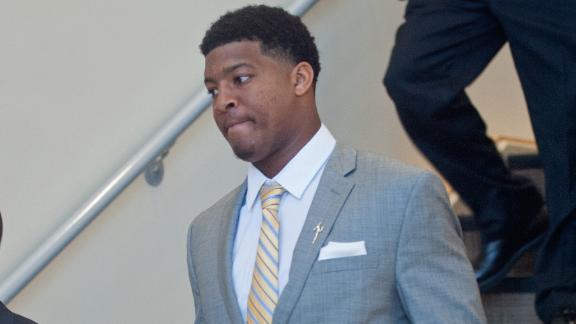 TALLAHASSEE, Fla. -- Florida State quarterback Jameis Winston was cleared Sunday of the accusations he faced at a student code of conduct hearing involving an alleged sexual assault two years ago.
Former Florida Supreme Court Justice Major Harding wrote in a letter to Winston that the evidence was "insufficient to satisfy the burden of proof." Prosecutor Willie Meggs made a similar decision a year ago when he decided not to criminally charge Winston, citing a lack of evidence.
This month, a two-day hearing was held to determine whether Winston violated four sections of the code of conduct -- two for sexual misconduct and two for endangerment.
The ramifications for Winston ranged from a reprimand to expulsion from school.
The woman can request an appeal within five days.
"We will consider an appeal, but right now we feel a little duped," Baine Kerr, one of the woman's lawyers, said in an emailed statement. "At some point we have to recognize that Florida State is never going to hold [Jameis] Winston responsible."
AP is not identifying the woman because it does not identify people who say they are victims of sexual abuse.
"Somehow Jameis Winston still wins," Kerr said. "The order doesn't even follow the Student Conduct Code, and it ignores the bulk of the evidence."
Kerr said that between his client, Winston, and two teammates who were at the off-campus apartment -- Chris Casher and Ronald Darby -- only the woman would answer questions about what happened.
Winston did submit a lengthy statement
December, 20, 2014
Dec 20
11:00
AM ET
ESPN.com news services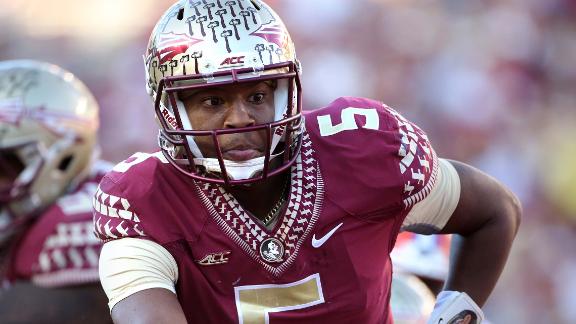 Once considered one of the NFL's biggest stars, New York Jets quarterback Michael Vick says he thinks Florida State quarterback Jameis Winston could be the league's next big one.
"I think he's the future of the NFL," Vick said of last year's Heisman Trophy winner, according to NJ.com.
"I've been around so long, I appreciate guys coming out of college. I look forward to watching him. I have high expectations for him."
Vick, 34, broke into the league as an athletic wonder with the Atlanta Falcons before being sent to federal prison for his involvement in a dog-fighting ring that cost him nearly two years of his life and three seasons in the NFL.
With that history, Vick can somewhat relate to the off-field concerns surrounding Winston.
"I think he, over time, has made some poor decisions," Vick said of Winston. "Have I been there to know exactly what happened? No.
"But I do know one thing: He may make some poor decisions, but he gets on that football field and he plays his ass off. Yeah, he can mature. He'll mature. I see him maturing as time goes on. Like, this year hasn't been as bad of a year as the first year was for Jameis. I think the kid will continue to improve."
December, 20, 2014
Dec 20
10:00
AM ET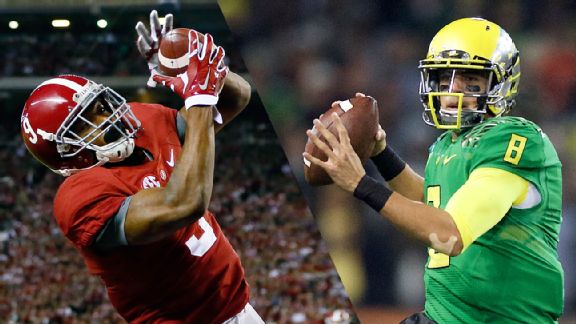 Getty Images, AP PhotoRoughly two-thirds of the coaches in the country believe Amari Cooper and Alabama will meet Marcus Mariota and Oregon in the championship game.
No. 1 Alabama was the overwhelming favorite to win the College Football Playoff in ESPN's weekly poll of the FBS head coaches, #1QFor128.
Also, nearly one-third of the coaches who voted believed the selection committee did not pick the best four teams for the inaugural playoff.
Of the 128 FBS head coaches, 107 participated in the poll, conducted by ESPN's Brett McMurphy.
Alabama was picked by 60 percent of the coaches to win the playoff, followed by No. 2 Oregon (28 percent). No. 3 Florida State and No. 4 Ohio State each received 6 percent of the votes to win the national title.
In the semifinal matchups, Alabama was chosen over Ohio State by a 90-10 percent margin in the Sugar Bowl, while Oregon was selected over Florida State by 73-27 percent margin.
Of the possible title matchups in Arlington, Texas, on Jan. 12, Alabama-Oregon was picked by 67 percent of the coaches, followed by Alabama-Florida State (24 percent), Oregon-Ohio State (5 percent) and Florida State-Ohio State (4 percent).
The coaches who voted believed the selection committee correctly picked the best four teams (69 percent yes, 31 percent no).
The voting among the coaches from the Power 5 and Group of 5 conferences were fairly similar for the most part.
Despite Big 12 co-champion TCU falling from No. 3 to No. 6 in the final ranking, a higher percentage of Power 5 coaches believed the selection committee picked the correct four teams (72 percent yes, 28 percent no) compared to the Group of 5 coaches (67 percent yes, 33 percent no).
The biggest discrepancy was picking the Oregon-Florida State semifinal winner. Only 67 percent of the coaches from the Power 5 conferences (ACC, Big 12, Big Ten, SEC and Pac-12) who voted chose Oregon to beat FSU, compared to 77 percent of the coaches from the Group of 5 conferences (American, Conference USA, Mid-American, Mountain West, Sun Belt).
Another significant difference between the Power 5 and Group of 5 coaches was picking the national champion. Alabama was picked to win by more of the Group of 5 coaches (62 percent) than the Power 5 coaches (58 percent). Oregon had a higher percentage of Power 5 coaches (32 percent) picking the Ducks than the Group of 5 coaches (24 percent).
Also among the Group of 5 coaches, No. 4 Ohio State (8 percent) actually received more votes to win the title than No. 3 Florida State (6 percent). Of the Power 5 coaches, 7 percent picked Ohio State to win the title and 3 percent Florida State.
Vote breakdown
Did the selection committee pick the best four teams?
Yes: 69 percent
No: 31 percent
How the Power 5 coaches voted:
Yes: 72 percent
No: 28 percent
How the Group of 5 coaches voted:
Yes: 67 percent
No: 33 percent
Who will win the College Football Playoff?
Alabama: 60 percent
Oregon: 28 percent
Florida State: 6 percent
Ohio State: 6 percent
How the Power 5 coaches voted:
Alabama: 58 percent
Oregon: 32 percent
Florida State: 7 percent
Ohio State: 3 percent
How the Group of 5 coaches voted:
Alabama: 62 percent
Oregon: 24 percent
Ohio State: 8 percent
Florida State: 6 percent
Who will win the Rose Bowl semifinal?
Oregon: 73 percent
Florida State: 27 percent
How the Power 5 coaches voted:
Oregon: 67 percent
Florida State: 33 percent
How the Group of 5 coaches voted:
Oregon: 77 percent
Florida State: 23 percent
Who will win the Sugar Bowl semifinal?
Alabama: 90 percent
Ohio State: 10 percent
How the Power 5 coaches voted:
Alabama: 91 percent
Ohio State: 9 percent
How the Group of 5 coaches voted:
Alabama: 89 percent
Ohio State: 11 percent
Who will meet in the College Football Playoff final?
Alabama-Oregon: 67 percent
Alabama-Florida State: 24 percent
Oregon-Ohio State: 5 percent
Ohio State-Florida State: 4 percent
New Contract For Jimbo
ACC SCOREBOARD
Saturday, 12/20
Monday, 12/22
Tuesday, 12/23
Wednesday, 12/24
Friday, 12/26
Saturday, 12/27
Monday, 12/29
Tuesday, 12/30
Wednesday, 12/31
Thursday, 1/1
Friday, 1/2
Saturday, 1/3
Sunday, 1/4
Monday, 1/12