October, 21, 2014
Oct 21
8:00
AM ET
It appears as if Virginia Tech will lose its second defensive starter to a medical redshirt this season.
Starting defensive tackle
Luther Maddy
said Monday night on Twitter that he needs a second surgery on his knee and will sit out the rest of the season.
Need another surgery so I'll redshirt this season and play another year at tech. You won't find anybody more focused! #HokieNation #Blessed

— Luther Maddy (@BigLu_561) October 20, 2014
Maddy initially tore the meniscus in his right knee against East Carolina in Week 3, but played 48 snaps with the injury against Georgia Tech. He underwent surgery last month, and the timetable for his return was listed as two-to-four weeks. Though he was listed as probable to play against Pitt, Maddy did not and was not scheduled to play against Miami on Thursday night.
His loss is a big one for the Hokies, who have had to make do without him for the last three games.
Nigel Williams
replaced him in the lineup, but it's tough to make up for Maddy's experience and skill-set. The four-year starter was a preseason All-ACC team selection after he had 6.5 sacks and 16 quarterback hurries a season ago. In four games this season, Maddy had seven hurries.
Virginia Tech also plans on redshirting
Brandon Facyson
, who started the season at cornerback opposite
Kendall Fuller
. Facyson has been slow to heal from a stress fracture to his shin and has not played since Week 3.
In one other Virginia Tech injury note, running back
Marshawn Williams
is expected to play against the Hurricanes after missing last week with a sprained ankle.
Over at Georgia Tech, the Jackets got some tough injury news of their own when coach Paul Johnson said that starting B-back
Zach Laskey
probably
won't play
at Pitt on Saturday. Laskey hurt his shoulder late against North Carolina last week and was in a sling Monday. Laskey has been terrific this season, with a team-high 120 carries for 595 yards and five touchdowns.
He gained 70 or more yards in each game this season.
Now let's see what else is making headlines in the ACC:
October, 20, 2014
Oct 20
10:22
PM ET
ESPN.com news services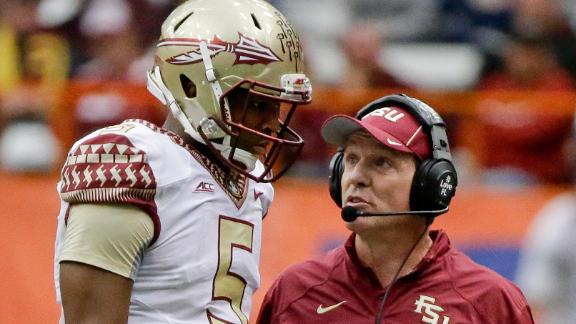 Florida State coach Jimbo Fisher cut short a media interview Monday after he was asked whether his reputation was taking a hit because of star quarterback Jameis Winston's off-field issues.
Fisher has faced heavy criticism for both standing up for Winston throughout the university's handling of the investigation about whether the quarterback sexually assaulted an FSU student in December 2012, and not coming out with a stronger suspension of Winston for a recent profane and sexually charged outburst.
Fisher was asked in an interview with AL.com and several other media outlets whether he thought his reputation as a no-nonsense coach had received any damaging blows in light of Winston's several off-field incidents and subsequent questionable behavior.
"Why is my reputation taking a hit? For backing a kid who has done nothing wrong?" Fisher said. "I don't want to get into this. The questions weren't supposed to be asked today. I'm done. I'm done."
The interview abruptly ended.
Later Monday, AL.com said Fisher contacted the website and agreed to answer several questions about his Heisman Trophy-winning quarterback he had earlier declined to answer.
The questions included whether any date had been set for an upcoming student judiciary hearing in which Winston might have violated the university's student conduct code for his behavior during the alleged 2012 sexual assault.
"They'll have to set the date for that and it'll be through our administration and their lawyers," Fisher said.
He also conceded he'd be open to disciplining Winston "if the facts change."
October, 20, 2014
Oct 20
2:00
PM ET
Digging into some numbers from Week 8 in the ACC ...
Winston is the comeback kid
Amid all the off-field chaos, it's easy to forget how good
Jameis Winston
is on the field, and he's been particularly impressive when his team needs him most. Winston is awfully good at rallying his team. In the second-half comeback against
Notre Dame on Saturday
, Winston was a sterling 15-of-16 for 181 yards, leading two touchdown drives.
This is nothing new. While Winston hasn't been tested often, his numbers when playing from behind are off the charts. Since the start of last season, Winston has completed 81-of-109 passes (74 percent) for 1,104 yards (13.6 yards-per-attempt) with 12 touchdowns and one interception when FSU is trailing. That's absurd.
Winston also excelled against the blitz Saturday. In 2013, he completed 69 percent of his throws, averaged 11.8 yards-per-attempt and tossed 21 TDs to just three picks vs. the blitz, but to start this season, his YPA dropped to 8.1 and he had just three TDs on 54 attempts. Against the Irish, however, Winston was 9-of-11 for 113 yards with two TDs and no picks when facing the blitz.
Noles' ground game struggling
On Saturday, FSU mustered just 50 yards on 26 rushing attempts -- a dismal 1.92 YPC. Last season, FSU averaged 5.6 yards per rush, but it has yet to hit that mark in any game against an FBS foe this season.
It's not all on the tailbacks, however. The biggest difference appears to be the O-line.
.
FSU's runners are averaging roughly the exact same number of yards after first contact as they did in the previous two seasons, but they're getting more than two yards-per-carry less before contact than they did in 2012.
Boyd and nothing else
Pitt
toppled Virginia Tech
on Thursday despite QB
Chad Voytik
completing just 10 passes (on 17 attempts). What's perhaps even more noteworthy about Pitt's passing game, however, is that the only wide receiver to catch a pass was
Tyler Boyd
, who had six receptions on nine targets.
That's hardly a surprise. For the season, Boyd has 34 catches against FBS teams. The rest of Pitt's receiving corps has 22.
Overall, Boyd has accounted for 41.4 percent of Pitt's targets and 49.7 percent of its receiving yards vs. FBS foes -- both the highest rates in the nation.
Clemson stuffs the run
Remember in the opener when
Todd Gurley
ran all over Clemson's defense? Georgia racked up 328 rushing yards and five TDs on 41 carries. It was ugly.
Since then, however, the Tigers have surrendered just 395 more yards in six games. Clemson is allowing just 2.0 yards-per-carry since the opener, the best rate in the nation. Against
Boston College on Saturday
, it held the Eagles to nearly 200 yards below their season rushing average, and the Tigers racked up 14 tackles for loss. It was the fourth time in the last six games Clemson has had double-digit TFLs, and since that opening game against UGA, no defense in the country has created a higher percentage of negative rushing plays than Clemson's (36.5 percent).
Marquise the magician
For the second straight week, North Carolina QB
Marquise Williams
was terrific. Williams enjoyed his third 300-yard game of the season (Winston is the only other ACC QB with as many), chucking four TD passes and adding a fifth score -- along with 70 rushing yards -- on the ground in a
win against Georgia Tech
.
It's the second straight game Williams had 300 passing yards, 70 rushing yards and at least three total touchdowns. In the past decade, the only other Power 5 conference QB to do that in back-to-back games was Heisman winner Robert Griffin III.
Heels, Jackets struggle on D
Entering Saturday's game, the only Power 5 conference team allowing more yards-per-play than Georgia Tech (6.3) and North Carolina (6.2) was South Carolina (6.35), so it was no surprise that the two defenses coughed up 1,190 yards and 91 points when they faced off.
For Georgia Tech, it's the continuation of a downward trend. In Ted Roof's first eight games against FBS teams as Tech's defensive coordinator, the Yellow Jackets allowed 5.5 yards-per-play and held five opponents below 101 yards rushing. In his last nine, opponents have rushed for an average of 173 yards per game and are averaging 6.5 yards-per-play overall, good for 115th in the nation in that span.
But things are even worse for the Tar Heels. In the last decade, just five Power 5 conference teams have allowed more yards in their first seven games than UNC (3,659) and only four have allowed more touchdowns (40).
Quick hitters
Entering the game, Virginia QBs were completing 63 percent of their throws to wide receivers this season, but against Duke, the Hoos completed just 45 percent. Matt Johns targeted wideouts on 70.2 percent of his throws in the game — the second-highest percentage of throws to WRs for Virginia quarterbacks this season. Cavaliers wideouts haven't caught a touchdown pass in their past three games after hauling in six in the first four.
Johns did hit running back Khalek Shepherd for a passing touchdown. It was just the third one Duke has allowed this season. Only San Jose State and Ole Miss have allowed a lower rate of touchdown throws in the nation.
Ryan Switzer in 13 games last season: 32 catches, 341 yards, three TDs. Switzer in seven games this season: 34 catches, 429 yards, three TDs.
The two highest completion percentages for Power 5 wideouts (min. 30 targets) reside in the ACC, and both are true freshmen: Clemson's Artavis Scott (38 catches on 46 targets) and NC State's Bo Hines (28 catches on 35 targets).
UNC's defense has struggled, but it has also been opportunistic. The Heels have 80 points off turnovers this year, the third-best total in the country. On the flip side, the Heels have allowed 77 points off turnovers, the second-worst total in the country.
October, 20, 2014
Oct 20
12:15
PM ET
TALLAHASSEE, Fla. -- Red Lightning is beloved at Florida State. No opponent dare lay a hand on a Seminoles player on the sideline lest they wish a shove and a confrontation with Florida State's red-bearded ball boy.
But as he ran onto the field and waded through the ongoing Florida State party at the 10-yard line, he was a little overzealous trying to get the football. Offensive lineman
Cam Erving
had a vise grip locked around it and just gave a Red Lightning a glare. Erving wasn't handing it over.
Asked what he planned with the ball, an emotionally spent Erving pointed to the tape around his right wrist: RT, it read. This ball was for offensive line coach Rick Trickett, who was watching the game on a hospital monitor as he lay in bed.
[+] Enlarge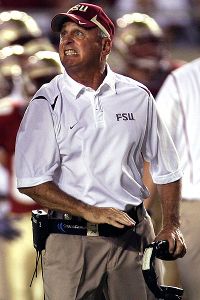 AP Photo/Phil CoaleFlorida State gave the game ball for Saturday's win against Notre Dame to offensive line coach Rick Trickett, who was in the hospital but has since been released.
"I've never been around a guy who takes more pride in his work, works any harder, is a better line coach than he is," Jimbo Fisher said after the game. "When I talked to him [Saturday] on the phone, he broke down. He cried, [and] that guy don't cry over nothing. He felt he was letting me down and letting his team down and those kids down. ... We gave him the game ball. That game was for him."
Less than 24 hours before kickoff Saturday night, Trickett suffered what the athletic department called a personal health issue and would not coach.
In his postgame team address after No. 2 Florida State's 31-27 win against Notre Dame, Fisher announced the ball would go to Trickett, who came with Fisher to FSU in 2007. One of Trickett's sons, Chance, works in the Seminoles' recruiting department and was handed the ball to deliver to his father, who was released from hospital Sunday afternoon and is expected to rejoin the team by Wednesday.
Considering the circumstances, Saturday had to be a proud day for Trickett. The second half of the day began with his son Clint, a quarterback at West Virginia, playing one of the best games of his career, throwing three touchdowns in a 41-27 upset of then-No. 4 Baylor. And in the nightcap, the former Marine and Vietnam War veteran is known for coaching his players hard, but in a show of solidarity, the offensive line all wrote RT on their right wrists. The Seminoles won even though their backs were against the wall much of the game.
Chance Trickett told ESPN.com on Sunday that his father is "doing well" and in "high spirits." He said he learned of his father's issue just hours before the game and that quarterback
Jameis Winston
sought him out before kickoff to offer his support.
"Jameis Winston came up to [me] before the game and said this one's for him," Chance Trickett said.
Then Winston spoke to his line, which he still considers the country's best.
"I kept reminding them that you got to do this for your coach. We're a family, and one of our 'dads' was down. Our daddy was down. I was like, 'You all got to protect your daddy's house,'" Winston said.
Before the game, injured center
Austin Barron
spoke to Trickett and relayed a message to the starting linemen. However, the offensive line struggled in the first half without its patriarch. When the line wasn't being confused by exotic blitzes that allowed free rushers, it was getting beat at the line of scrimmage.
David Spurlock, a graduate assistant who played under Trickett, and tight ends coach Tim Brewster were left making the offensive line calls, and Fisher and quarterbacks coach Randy Sanders helped with adjustments. Trickett even spent parts of the game on the phone trying to relay messages and fixes to his players.
The second half was different. The group that has been criticized much of the season stepped up. It still whiffed on some blitzes, but it was not playing with an edge. In the third quarter, the offensive line pushed
Karlos Williams
into the end zone after he was initially stopped at the 2-yard line, and it was a fourth-quarter Williams touchdown that was the winner.
"We just had to learn to fight through adversity," guard
Josue Matias
said. "That's Coach Trickett's attitude."
October, 20, 2014
Oct 20
11:00
AM ET
There is a simple bit of clarity confronting the ACC and Florida State eight weeks into the season: Perfection seems the only way to get the Seminoles into the College Football Playoff.
No other Power 5 program will be held to such a standard. But no other Power 5 conference has its reputation in a sinkhole the way the ACC does. That is why it was so important for Florida State to beat Notre Dame on Saturday. As long as the Noles keep winning, they are assured of a spot in the top four. But lose? Florida State may as well be playing in Conference USA. That is how little respect the ACC has nationally right now.
[+] Enlarge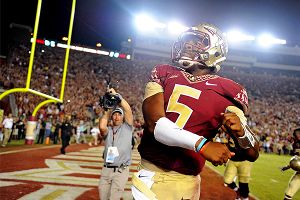 Melina Vastola/USA TODAY SportsJameis Winston was fired up after Saturday's victory over Notre Dame, but the Noles will have to keep winning if they hope to make the playoff.
Just look at the most recent
AP and coaches Top 25 polls
. While the College Football Playoff selection committee will put together its own rankings next week, it is instructive to look at how the media and coaches perceive the ACC -- outside Florida State.
Because the league as a whole is what will drag Florida State down if the Noles lose a game.
Besides Florida State, the ACC has only one ranked team. In the AP poll, Clemson (5-2) is No. 21 behind two other two-loss teams: Oklahoma and USC. Reigning Coastal champion Duke (6-1) cannot even crack the Top 25 after back-to-back victories over ACC teams with winning records. East Carolina (5-1), with wins over Virginia Tech and North Carolina, is ranked No. 18.
Duke and Minnesota are the only 6-1 teams from Power 5 conferences that are unranked. That fact not only speaks to their status as "non-football powers," but to the idea that their respective leagues are weak. The Big Ten has been panned for its mediocrity this season. But the ACC ranks lower than the Big Ten in the ESPN.com conference power rankings, sitting last among the Power 5 conferences.
Everything we heard during media days about the ACC being stronger? Everything we heard about the ACC gaining more respect since it boasted the national champion? False propaganda. As it turns out, an ACC world with the reigning national champion does not look much different.
Florida State is still alone holding the flag, while Clemson is a distant second. It is hard for a program to fight off the weak-conference stigma when it does not beat its most difficult opponents (Clemson) or play anybody tough out of conference (Duke).
Clemson lost to two Top 10 teams this season -- to Georgia and Florida State. Both teams were ranked higher than the Tigers at the time they played. Yet Oklahoma lost to two teams ranked lower (TCU and Kansas State) and is still four spots higher than Clemson in the AP poll.
These are the ingrained notions that follow programs around, no matter what they do. Clemson "chokes" and the ACC is constantly disrespected. Put them both together and you get critics completely dismissing Florida State's win over the Tigers earlier this season.
Falling flat nationally hurts, too. While ACC teams like Virginia Tech, Boston College and Florida State have big wins over then-Top 10 opponents, the league also has some head-scratching losses to Colorado State, Akron and ULM. Plus, there were blown opportunities against UCLA, Nebraska, Iowa and Maryland.
So essentially, Florida State gets no lifelines from its conference foes. Even a beefed-up nonconference schedule has not engendered much goodwill from the rest of the country.
Funny to think that before the season started, many believed a one-loss Florida State team would survive and make it into the College Football Playoff based on a strength of schedule that looked much better than it did last season.
As it stands today, Florida State is on pace to play fewer ranked teams than it played in 2013. Right now, the Noles have two ranked teams behind them and none remaining. Last season, they played four Top 25 teams at the time of the matchup (two of them ended the season unranked).
Four of Florida State's remaining five games are against teams with winning records. But nobody wants to hear that going to Louisville and Miami won't be easy; that Virginia is vastly improved; that Boston College gave the Noles fits last season. Florida State will be expected to win them all.
That's really the only way the Noles can guarantee themselves a spot in the playoff.
Once again, Florida State is on its own.
October, 20, 2014
Oct 20
8:00
AM ET
The last thing Clemson needed was more bad news on offense, but that's exactly what was in store Sunday.
The Tigers' leading rusher, freshman
Adam Choice
, is
done for the season
with a knee injury, as the Charleston Post & Courier writes.
Choice suffered a torn ACL in
Saturday's 17-13 win
against Boston College, adding more grim news to a running game that has struggled to find any footing this season. Through seven games, Choice was Clemson's leading rusher with 218 yards and also averaged a team-best 4.4 yards per carry.
Choice actually would have redshirted this season, but he was thrust into the tailback mix when
Zac Brooks
went down with a season-ending injury in fall camp. Choice's injury leaves the trio of
Wayne Gallman
,
C.J. Davidson
and
D.J. Howard
to pick up the slack in the Tigers' backfield.
In fairness, the bulk of Choice's production this year came against South Carolina State. Against FBS foes, he's carried 38 times for 144 yards -- an average of 3.8 per carry -- good for 38th among ACC tailbacks.
Still, his replacements don't offer much alternative. Howard, Davidson and Gallman have averaged a woeful 3.6 yards-per-carry against FBS foes and just seven of their 113 rushes (6 percent) went for 10 yards or more. Add the fact the Tigers will be without dual-threat QB
Deshaun Watson
for at least another few weeks, and the offensive struggles of the past two games don't seem like they'll diminish any time soon.
A few more links:
Jameis Winston is
a near lock to enter the NFL draft
, according to CBS Sports. Well, yeah. Of course. The whole "will he or won't he" discussion has been silly for a while, and when I spoke with Winston's father, Antonor, in August, he said the talk about returning was entirely dependent on Jameis' draft status. And that was before all the new off-field chaos.
Matthew Thomas, who had been suspended for the first half of the season,
added some much-needed athleticism
to Florida State's defense, writes the Orlando Sentinel.
Georgia Tech's defense was
a complete disaster
against North Carolina, writes the Atlanta Journal-Constitution.
Virginia Tech is
shaking up its offensive line
after another ugly offensive performance against Pitt, writes the Roanoke Times.
More from the Roanoke Times: Matt Johns
should've run more often
against Duke, according to Virginia coach Mike London.
Marquise Williams
has been tremendous
over the past two games, including leading a comeback win for North Carolina on Saturday, writes the Charlotte Observer.
After A.J. Long led Syracuse to a much-needed win over Wake Forest, is Terrel Hunt still the starting QB when he's healthy?
It's an interesting question
, writes Syracuse.com.
Duke Johnson has been
a crucial mentor
in the development of fellow Miami tailback Joseph Yearby, writes the Sun-Sentinel.
October, 19, 2014
Oct 19
11:00
PM ET
The Big 12 was turned upside down by West Virginia and Kansas State, and both are being led by former juco recruits. Plus, it was no surprise that many of the nation's best recruits walked away impressed with Florida State following Saturday's victory over Notre Dame.


October, 19, 2014
Oct 19
8:49
PM ET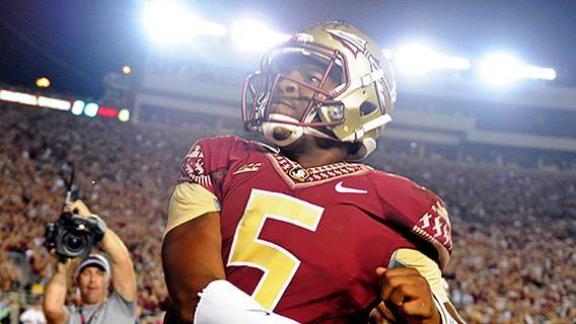 PREGAME SPEECH
Let's play the What-If Game. (Florida State followers can play, too, but first they have to take off their "The World Is Against Us" T-shirts and quit being so sensitive about everything.)
There's only one rule: You have to be brutally honest.
If Florida State played Mississippi State on a neutral field, who would you take?
If FSU played Ole Miss, who would you take?
If the Seminoles played Notre Dame again, or Georgia, or Alabama, who would you take?
Would you like their chances if they faced Auburn, Kansas State, Baylor or TCU?
How about Arizona, Oregon or Michigan State?
I can already hear some of FSU's most paranoid fans: "Is this a trick question?"... "I'd like to use a lifeline." ... "Lose to Kansas State? Hell, we could beat the Kansas City Chiefs."
Those people can't play this game. But the FSU realists, even the most ardent FSU optimists, have to admit that the 2014 version of the Seminoles isn't anywhere near as good as the 2013 national championship version.
Resiliency? They buy it in bulk. Combative? Like a junkyard dog. Fearless? The Noles would swim across a river stocked with piranha -- and wear sirloin steak floaties doing it.
But that gets you only so far. It gets you to a moment like this: Notre Dame has fourth-and-goal on your 3-yard line with 17 seconds remaining, runs a pick play (similar to an earlier Irish TD pass route) and scores to take the lead with 13 seconds left.
Your 22-game winning streak is finished. Your chances of reaching the College Football Playoff are instantly reduced. Your aura of football invincibility is compromised.
But wait -- a penalty flag!
October, 19, 2014
Oct 19
8:00
PM ET
The win over Notre Dame certainly wasn't the final piece to Florida State's playoff puzzle, but it was clearly the biggest hurdle the Seminoles had remaining on the schedule. That has secured FSU's spot in our postseason projections, but for now, we're still predicting the Irish will get a bowl game shot at another ACC power.

College Football Playoff:
Florida State
Capital One Orange Bowl:
Clemson versus Notre Dame*
Russell Athletic Bowl:
Duke
Franklin American Mortgage Music City Bowl:
Louisville
Belk Bowl:
Virginia
Hyundai Sun Bowl:
Miami
New Era Pinstripe Bowl:
Boston College
Military Bowl presented By Northrop Grumman:
Georgia Tech
Duck Commander Independence Bowl:
Virginia Tech
Quick Lane Bowl:
Pittsburgh
BITCOIN St. Petersburg Bowl:
NC State
* Note: If Notre Dame is not invited to the College Football Playoff or a New Year's Six bowl game, it will assume one of the ACC's bowl spots.
October, 19, 2014
Oct 19
7:38
PM ET
Florida State offensive line coach Rick Trickett was released from the hospital Sunday after a weekend stay for a health issue that caused him to miss the No. 2 Seminoles' win Saturday.
Florida State spokesman Kerwin Lonzo said Trickett would return to the team Tuesday or Wednesday.
Hours before Saturday's game against then-No. 5 Notre Dame, the athletic department announced Trickett would not coach in the game because of a personal health issue. Trickett, in his eighth season as the Seminoles' offensive line coach, was replaced by graduate assistant David Spurlock, who played under Trickett at Florida State.
Trickett's son Chance, who works in the recruiting department at Florida State, told ESPN.com in a message on Sunday that his father is in "high spirits" and was able to watch Saturday's win. The Seminoles gave Chance the game ball from the 31-27 win so he could deliver it to Trickett.
Earlier Saturday, Trickett's son Clint threw three touchdown passes to lead unranked West Virginia to a 41-27 upset of No. 4 Baylor. The Pittsburgh Tribune-Review reported Clint was not told about his father's condition until after the game.
Trickett's son Travis is an assistant coach at Samford.
October, 19, 2014
Oct 19
4:05
PM ET
Ticket Prices Through The Roof
ACC SCOREBOARD
Thursday, 10/23
Saturday, 10/25