December, 8, 2013
Dec 8
10:00
AM ET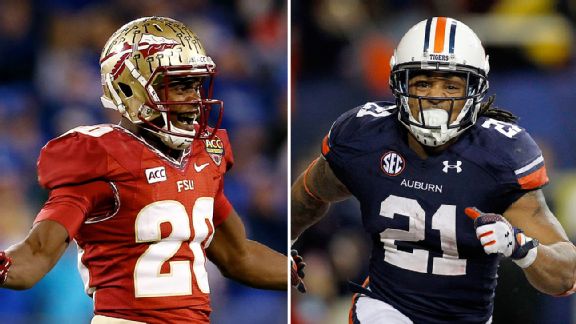 Getty ImagesAre Lamarcus Joyner and FSU's defense capable of shutting down Tre Mason and Auburn's offense?
The best team all season will meet the hottest team in the BCS National Championship.
It feels right, doesn't it? There will again be a dearth of controversy, as there often is when all the BCS dust settles. There might be heartache and heartburn along the way, but the right teams usually wind up playing.
The championship weekend Takeaways begin there, with a look at what to expect and who should be favored when Auburn and FSU play in January in Pasadena. (No, the matchup isn't official yet, but you can count on it.) Other Takeaway thoughts include taking a moment to appreciate the BCS era, a look at the team that could be Auburn or Mizzou next season, mulling the week ahead for Texas and more.
1. Auburn-FSU is the 'total' package
You have seen FSU's offensive dominance all season, including Saturday night's ACC championship game, in which Duke "pushed" the Seminoles in a 45-7 loss. Auburn just scored a combined 93 points and gained 841 rushing yards against then-No. 1 Alabama in the Iron Bowl last weekend and then-No. 5 Missouri in Saturday's SEC title game, teams with two of the better defenses in the conference all season.
Most Vegas books will have the line somewhere in the neighborhood of a touchdown in favor of Florida State. That makes sense to coax some action on the Tigers and because FSU has won its games by an average of 40 points.
The total, though, is what will intrigue me most because it indicates what sort of game is expected. Early word I received is that it will be somewhere between 60 and 65 points.
To continue reading this article you must be an Insider
December, 8, 2013
Dec 8
10:00
AM ET
Here's a look at three things we learned from the ACC championship game in no particular order:
[+] Enlarge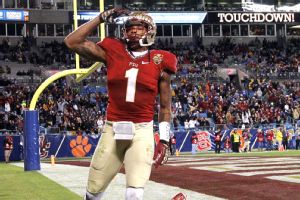 AP Photo/Bob LeveroneKelvin Benjamin's jersey number explains FSU's status before and after a rout in the ACC title game.
1. The No. 1 team in the country didn't slip, trip or even stumble:
The Noles can't control the computers or what happens in the rest of the country, but Florida State did its job and beat Duke 45-7 for the program's 14th ACC title. The ACC wasn't its own worst enemy, there wasn't any epic upset, and the magic ended for Duke, which means it hasn't quite ended yet for Florida State. For weeks, FSU has been projected to play in the BCS national championship game, and the Seminoles haven't done anything to derail their hopes. The final BCS standings and bowl pairings will be announced at 9 p.m. ET on Sunday, but Florida State hasn't given any reason to doubt it belongs in Pasadena.
2. Reality set in for Duke:
Duke knew it was the underdog going into this game, and it embraced that role, the whole time truly believing it could accomplish the unthinkable. Duke went to Charlotte not just happy to be there, but legitimately trying to win. The Blue Devils, though, were completely overmatched by the abundance of elite talent on Florida State's roster -- just as they were a year ago. Duke had no answer for Florida State's defense, which was all over quarterback
Anthony Boone
and pressured him into two interceptions and no touchdowns. Duke struggled on third downs (7-of-20), and couldn't capitalize on Florida State's three turnovers. The best team in the Coastal Division was once again no match for the ACC's top-ranked team.
3. Jameis Winston has put the off-field allegations behind him and still has Heisman hopes in front of him:
With last week's news that no charges would be filed against Winston for allegations of rape, Saturday's title game was the first time since mid-November that he played free of any off-field legal distractions. It was also the first time in four games that Heisman voters, whose ballots are due on Monday, had a chance to see Winston play knowing he would not be charged. While it wasn't a flawless performance (two interceptions), Winston still had remarkable numbers, throwing for 330 yards and three touchdowns, and running for another 59 yards and a touchdown. It was enough to earn game MVP honors. With a poor performance by NIU quarterback
Jordan Lynch
in a 47-27 loss to Bowling Green in the MAC championship, the Heisman race further narrowed. The only question remaining is how many Heisman voters will continue to question Winston's character. Saturday's performance against Duke, though, wasn't any reason to question his resume.
December, 8, 2013
Dec 8
10:00
AM ET
For the second straight season, Florida State is the ACC champion, but unlike 2012, there are still bigger goals on the horizon. After a 45-7 win over Duke, the Seminoles are poised for a trip to Pasadena for the final BCS championship game. Here's what we learned along the way:

Winston won't be rattled:
The VIZIO BCS National Championship will be in Pasadena on Jan. 6, Jameis Winston's 20th birthday. On the field this season, he's looked far more mature than his redshirt freshman status would suggest. Winston certainly wasn't sharp early against Duke, completing just one of his first six passes, and he struggled with a few bad throws throughout, notably the two interceptions. But if that was Winston struggling, Auburn could be in trouble. In spite of all the off-field distractions, Winston turned in yet another stellar performance, throwing for 330 yards and accounting for four TDs. He set the FBS freshman record for both passing yards and touchdown throws in the process, and in six days, he's likely to win the Heisman Trophy.
FSU leaves no room to run:
Auburn certainly figures to be the biggest challenge Florida State's defense will face this season, but when the two teams square off in Pasadena, it will be strength against strength. Florida State's run defense, which struggled early this year, is clicking on all cylinders now. In its past six games, FSU is surrendering just 2.8 yards per carry on the ground and just 20 more yards (565) total than Auburn ran for in the SEC title game (545). FSU's first-team defense hasn't allowed a rushing touchdown all season. Auburn had seven on Saturday and has 46 for the season, tops in the nation.
BCS test would be a first:
The knock -- if you can call it that -- on Florida State over the next month will be simple: The team hasn't been tested. It's tough to argue. The Seminoles have won every game by at least 14 points, and Winston and the starters have played every snap on just three occasions this season. So, how will Florida State respond if Auburn keeps it close on Jan. 6? It's certainly possible it's a question that won't need to be answered, but it's worth noting that Florida State was pushed physically (and on the scoreboard) in the first halves of each of the past two games and never appeared rattled. On Saturday, the Seminoles wrapped up the first quarter without scoring for the first time this season. The end result was yet another 40-plus point game.
December, 8, 2013
Dec 8
9:00
AM ET
Florida State won its second straight ACC championship game, and it did so in resounding fashion, thumping Duke 45-7 on Saturday to secure a bid to the Vizio BCS National Championship Game.

Florida State QB Jameis Winston:
It's a credit to how good Winston has been this season that Saturday was perhaps one of his worst performances, and yet he still took home the game's MVP honors. Winston completed 19-of-32 passes for 330 yards and three touchdowns, adding another 59 yards and a touchdown on the ground. In the process, he set the FBS record for touchdown passes and passing yards for a freshman. His two interceptions were uncharacteristic, but Duke was unable to translate either into points. It was the seventh 300-yard game of the season for the Heisman Trophy favorite.
Florida State LB Telvin Smith:
There was plenty of credit to go around on the defense, but Smith was one of the night's biggest star. He finished with eight tackles, including two for a loss, one sack and an interception. FSU's defense held Duke scoreless until the final drive with the backups on the field. Aside from a 15-play, 67-yard drive that ended with a missed field goal in the first quarter, Duke's other 12 drives against Smith and the first-team D ended with nine punts and three turnovers.
Duke CB Breon Borders:
It may not have been a particularly close game, but it was as physical a matchup as Florida State has played all season, and while Winston still earned an MVP, Duke's secondary didn't make it easy. Borders was the star, picking off two of Winston's passes, while racking up four tackles. The two interceptions were an ACC championship game record, and Borders set the Duke freshman record with four INTs on the year.
December, 8, 2013
Dec 8
3:00
AM ET
Red Smith, the poet laureate of sweat, once wrote that 90 feet between bases is the nearest to perfection that man has yet achieved. The basepath has nothing on the length of college football's regular season, which, with the patience of a kindergarten teacher and the tenacity of Scotland Yard, once again identified Florida State and Auburn as the two best teams to play for the BCS Championship.
Tenacity is the lifeblood of a sport that demands physical and mental exertion for 60 minutes. Patience, not so much. Patience in college football is attributed to tailbacks who wait for a hole to appear. But in a sport in which a quarterback may have three seconds to complete a pass without getting his slobber knocked, patience often goes untapped.
Yet patience has never been more important than it has been in 2013, and not just because it was nearly midnight on the final Saturday of the regular season before Michigan State proved that Ohio State didn't have the credentials to play for the crystal football. In a season made predictable only by its unpredictability, patience became the coin of the realm.
Patience rewarded no fans more than at Auburn. It didn't take any patience to appreciate the rapid rise of the Tigers from 3-9 in 2012 to 12-1 this year. But the way that the Tigers waited until the very end to upend Georgia on a Hail Mary tipped pass, and defeat arch-rival No. 1 Alabama, on a 109-yard field-goal return for a touchdown, focused upon the power of faith no matter reality promised.
December, 8, 2013
Dec 8
2:39
AM ET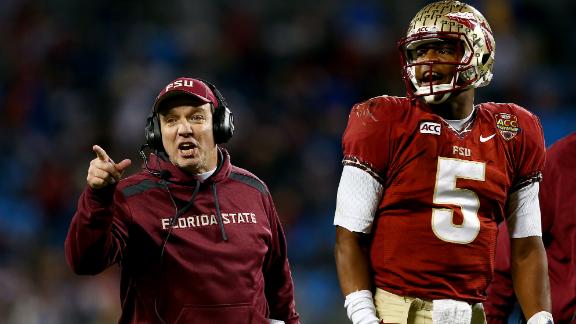 CHARLOTTE, N.C. -- They talked about Pasadena, spoke about the final destination within the confines of their team meeting rooms and practice fields.
Now that the moment had arrived, what unfolded seemed surreal. Florida State players dangled roses and put on championship hats and T-shirts after a
45-7 rout
of No. 20 Duke in the ACC title game Saturday assured them a spot in the BCS national championship game.
But senior receiver
Kenny Shaw
admitted afterward what he and his teammates had accomplished was still hitting him. He flashed back to his freshman season, arriving on campus as part of Jimbo Fisher's first recruiting class.
The first week brought the first surprise: a conditioning test. Nobody passed. Not even close. "We died," he recalled. The first thought: Florida State was going to be miserable place to be for the long haul. But he knew, and the players in his class knew, Florida State ultimately would win championships again. The misery would have a payoff, somehow, some way.
[+] Enlarge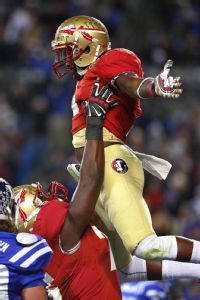 Bob Donnan/USA TODAY SportsKarlos Williams and Florida State finally can celebrate the program's return to college football's peak.
Shaw and his senior class kept working, and each successive class kept working, too, until Fisher had assembled the most talented team in America headed into 2013. Fisher knew it, and so did the players.
"We did envision this after last season, because we felt like we left a lot on the table," linebacker
Telvin Smith
said. "We felt like there was so much that we were supposed to accomplish that we came back and we had a little -- not a vendetta ... it was just a reckoning. We tried to put ourselves back to where we were supposed to be."
Anybody with any doubts about the schedule Florida State plays should check out Florida State itself, brimming with one NFL prospect after another, a year after losing 11 players to the draft.
Though Florida State did not play its best game against Duke, leading just 17-0 at halftime, you got the feeling the onslaught would be a formality given the sheer talent advantage on the side of the Seminoles. Indeed, Florida State scored 21 third-quarter points to effectively put the game out of reach, extending its domination over a Duke program that has never won a game in the series.
It seems only appropriate, then, that Florida State will get to face off against the SEC and Auburn in the BCS national title game. The conference that has lorded over not only college football but the ACC in particular has boasted for seven consecutive years that it has the most talent in America and the best teams in America.
Florida State, finally, seems ready to answer that argument. Nobody had more players drafted into the NFL last year. Not Alabama. Not LSU. When asked about the prospect of taking down the SEC, Seminoles players were not quite ready to start trash-talking a league that has come to dominate the ACC during regular-season matchups. Just last weekend, the ACC went 1-3 against the SEC, with Florida State posting the only victory, over Florida.
"I feel like the ACC is one of the best conferences in the nation," Florida State receiver
Kelvin Benjamin
said. "We've got a lot of great players."
So from a players' vantage point, is it irksome that the SEC is declared the best in America without much question or debate?
"Not even, not at all," Benjamin said. "The national championship is not here yet. We'll show them who the best is."
Fisher has molded his program into an SEC program, learning under Nick Saban and coaching at SEC schools. He served as quarterbacks coach at Auburn from 1993-98. He is intricately familiar with how the conference works, and how many of the programs in the conference work. It is no coincidence he has gotten to this level, then, following a similar framework.
The ACC has not had a team play for a national championship since Florida State faced Oklahoma following the 2000 season. It has watched every other conference get a swing at the SEC in the BCS national championship game and miss.
Now it finally gets its turn, with the undisputed No. 1 team in America, loaded with prospects and the Heisman Trophy front-runner in
Jameis Winston
. The ACC has waited on this moment, to finally stand on the top of the college football world.
Stepping on the SEC and ending its championship hold would make the victory all the more rewarding.
To Pasadena, then.
December, 8, 2013
Dec 8
2:16
AM ET
CHARLOTTE, N.C. --
Jameis Winston
stood on a stage wearing a white T-shirt and black baseball cap proclaiming his team ACC champion, dancing and laughing and smiling as he waited to accept his MVP award.
This was not a man burdened, or a personality dimmed, by controversy. He had abruptly ended a postgame TV interview when he grew tired of the questions about the sexual-assault investigation that came to an end this week without charges being filed, but when he grabbed the microphone on that stage just a few moments later, he preached with the same gregarious enthusiasm that has endeared him to Florida State fans all season.
Winston struggled in the early going of Saturday's
45-7 win
over Duke that assured his team a spot in the BCS National Championship, but he was quick to denounce any insinuations that he'd been distracted by three weeks of innuendo and speculation and, in the end, relief.
If there was any mark of the scandal that dogged Winston's final push toward a national championship, it came entirely from the veiled questions from reporters and never from the man himself.
[+] Enlarge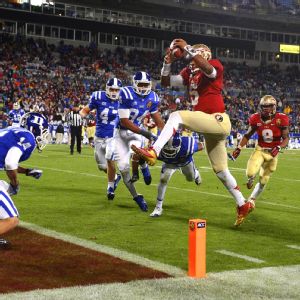 Bob Donnan/USA TODAY SportsIt took Jameis Winston and Florida State a while to get rolling, but then they rolled to the ACC title.
"I don't feel it was a burden," Winston said. "When everything came up, we took the initiative as a team, like hey, let's focus, let's get this done, let's make it happen. We had one goal in mind, and we haven't reached that goal yet, but we're headed there."
Florida State appears set to play Auburn in the BCS championship game in Pasadena, Calif., on Jan. 6, and Winston's meteoric rise from hyped freshman to Heisman favorite has been the catalyst.
Against Duke, he wasn't at his best, but he still was exceptional. Winston completed 19 of 32 passes for 330 yards and three touchdowns and two interceptions, added another 59 yards and a score on the ground, and Florida State rolled past Duke to yet another easy win. It was Winston's sixth game accounting for at least four touchdowns, his seventh throwing for at least 300 yards. He set a new FBS record for touchdowns and passing yards by a freshman in the process.
After the game, confetti rained down on Winston and coach Jimbo Fisher, and Florida State players romped around the field at Bank of America Stadium with roses jutting from their mouths. Florida State is 13-0, having won every game by at least two touchdowns, having dominated the four ranked opponents it faced by a combined score of 200-35. It was, linebacker
Telvin Smith
said, "a reckoning."
But Saturday's win was also a turning point, when the conversations finally could shift from the off-field drama to the on-field celebration.
"I think my teammates were more relieved than I was," Winston said. "It was a process, and we've got to keep moving forward."
That's what the process has been for Winston. The external distractions never filtered into the locker room, and the football field was a sanctuary from the chaos that surrounded him. That chaos came to an end Thursday, and Winston's march toward a berth in the BCS title game followed two days later.
"To already have so much pressure and stress on him, and then to add on to the negativity," cornerback
Lamarcus Joyner
said. "He embraced it and kept fighting for us. He could've easily went into a tank. To keep all the weight on his shoulders because of his [teammates], he's a special young man, and he deserves everything he gets."
Winston has asked for little attention or praise. He won game MVP honors Saturday, and he is expected to be awarded the Heisman Trophy next weekend, but as he has all season, he shifted the attention to his teammates.
And throughout the past month, as Winston's name was linked to ugly accusations and each of his public appearances became sideshows with hordes of reporters hoping he'd address the one topic Florida State staff assured wouldn't be discussed, it was his teammates who insulated Winston from the distractions.
On Saturday, they celebrated together, Winston again in the spotlight, looking as comfortable to be there as he has been all year. A national championship game awaits, and Winston isn't spending time worrying about what's already behind him.
"We done made it to where we are," Winston said, "and we're not done yet."
December, 8, 2013
Dec 8
12:43
AM ET
The BCS bowl matchups won't be announced until Sunday night, but we can give our best projection now of what those matchups will be.
Here is how we think things will shake out for each of the five BCS games, including a look at what variables are still in play for each.
VIZIO BCS National Championship
Projected matchup: Florida State Seminoles versus Auburn Tigers
To continue reading this article you must be an Insider
The Point After: Week 15