January, 29, 2015
Jan 29
12:00
PM ET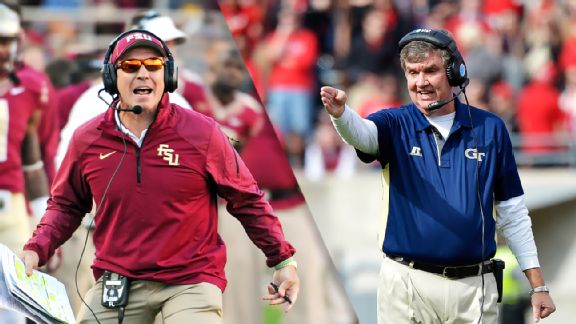 USA TODAY Sports, Getty ImagesJimbo Fisher, left, and Paul Johnson are expected to have their teams in ACC title contention in 2015.
Those tired of Clemson and Florida State deciding the ACC Atlantic Division -- and a potential College Football Playoff berth in this new era -- in September and October, received a welcome surprise Thursday morning.
The Tigers and Seminoles will play Nov. 7, and the winner very well could have the inside track to represent the ACC in the playoffs.
That is, of course, if either team can get through an October date with Georgia Tech. The Yellow Jackets, who dismantled Mississippi State in the Orange Bowl, might just be the ACC's best team in 2015 and favorite to make the playoff. Georgia Tech travels to Clemson on Oct. 10, then hosts Florida State on Oct. 24.
If Clemson, Florida State, and Georgia Tech all live up to preseason billings, the ACC has positioned itself to be in the national conversation from September to November, which ends with feature games against SEC teams. By mid-October last season, Florida State was the only ACC school in contention. By comparison, the SEC West had three of the top four teams in the playoff and dominated playoff talk for several weeks.
For a conference that has regularly been called the worst among the Power 5, it's important for the ACC to have showcase games throughout the season, and especially in the later months. Florida State at Clemson will do that on Nov. 7, completing the Clemson-FSU-Georgia Tech round robin that should decide the conference if preseason predictions hold up. They are marquee games that will capture the attention of the selection committee, and the winners will likely be adding late-season quality wins to boost their résumés.
Of course, those games will mean little if those teams cannot make it through the rest of the league schedule relatively unscathed. Louisville is regarded as the fourth-best team in the league heading into 2015, but as an Atlantic team it will have its opportunity to emerge as a playoff contender. The Cardinals travel to Florida State a month after hosting Clemson on Sept. 17, and then the schedule sets up nice for a 6-0 finish. If the Cardinals can go 2-1 in the games against Auburn (Sept. 5 in Atlanta), Clemson, and Florida State, they will be in position to make a playoff run. That's a big if, as the Cardinals must still settle on a quarterback and overhaul the defense. They might have been better off with those games being played late in the season, although Auburn and Florida State will be breaking in new quarterbacks, too.
Louisville hosts Clemson on Thursday, Sept. 17, and that midweek prime-time showdown could be a jumping off point for a Louisville playoff run.
A day after that midweek showcase game, Florida State has to survive a Friday road trip to Boston College, which narrowly missed an upset of the Seminoles in 2014 (although, who didn't almost beat FSU in 2014?) and bludgeoned a top-10 USC team.
Then on the following day, Sept. 19, Georgia Tech travels to Notre Dame, which could be poised to make another playoff run with a number of players returning.
When it was announced Notre Dame would be kinda-sorta-half joining the ACC, one of the worries was whether the Fighting Irish would eliminate the league members in the playoff picture. It almost happened last season when the Irish were an offensive pass interference call away from knocking off undefeated Florida State. Well, it could happen this season as the Irish play host to Georgia Tech, then head south to play Clemson two weeks later.
Of course, if Georgia Tech and/or Clemson beat Notre Dame and the Irish go on to have a successful season navigating a decently tough schedule, it will check off another box with the committee for the Yellow Jackets and Tigers.
In this new era, ultimately, that is what it's all about: getting to the playoffs. This ACC schedule should keep that conversation alive deep into the season.
ESPN 300 Recruits on Negative Recruiting
ACC SCOREBOARD
Thursday, 9/3
Saturday, 9/5
Monday, 9/7