October, 22, 2014
Oct 22
3:00
PM ET
We're down to two playoff contenders left in the ACC, and as top teams around the country continue to tumble, the urgency of each upcoming matchup is magnified more than ever. Here's how things stack up for the ACC after eight weeks.
Where the ACC stands:
From now until the end of the season, it's not about profile or reputation for the ACC. It's simply about wins and, more specifically, wins for Florida State. The league continues to have just two ranked teams and now has just two officially alive for the playoff. That would be FSU, which beat Notre Dame in controversial fashion, and Duke, the defending Coastal champs that continue to chug along.
[+] Enlarge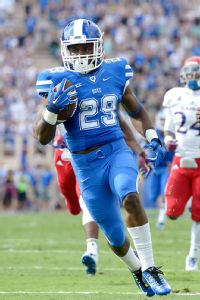 Grant Halverson/Getty ImagesShaun Wilson and Duke have quietly put together a 6-1 record and are still a College Football Playoff contender.
Top playoff contenders:
Florida State (No. 2 AP, No. 7 FPI), Duke (NR AP, No. 38 FPI)
Nonconference record:
36-14 (1-0 last week), 22-14 vs. FBS, 5-7 vs. Power 5 and Notre Dame
Week 8 recap:
Let's start with Duke, perhaps the most overlooked playoff contender in America. There are 23 teams yet to be plucked from the ranks of playoff possibilities
according to our Eliminator
, and only two -- Duke and Minnesota -- remain unranked in the AP poll.
But if any team is used to being overlooked, it's Duke. The Blue Devils don't seem to care. They just keep winning. One week after ending Georgia Tech's time atop the division, they pulled the same trick with Virginia, and suddenly the chances of Duke finishing out the regular season at 11-1 seem somewhat realistic.
If that happens, it will almost certainly be Florida State that awaits the Blue Devils in Charlotte. More and more, the narrative around the Seminoles is that they're a flawed team teetering on the brink of a loss.
FSU reinforced that storyline against Notre Dame, struggling throughout the first half and requiring a controversial penalty that overturned what would've been a game-winning TD for the Fighting Irish with just seconds to play.
If irrelevance is Duke's burden, lofty standards are Florida State's. When Auburn pulled off one miracle after another last year, it was hailed as a team of destiny and marched into the BCS title game at 12-1 riding two of the more unlikely wins of all time against Georgia and Alabama. Florida State has fought back to win games against Clemson, NC State and Notre Dame, but the storyline seems to be much different. The Seminoles are no team of destiny. They're a team that keeps narrowly scraping by. Chalk it up to the high standard set by last year's national championship crew. It might not be fair, but it's reality.
What's that mean for FSU? Well, just look
at the FPI rankings
. Despite beating a top-5 team, FSU tumbled from No. 4 to No. 7 -- now trailing five SEC teams and an Ohio State squad that lost at home to Virginia Tech in Week 2. Again, FSU belongs in the playoff, but it still can't afford a loss in spite of clearing its biggest obstacle of the season.
Paradoxically, Notre Dame's loss appears to have only burnished its playoff pedigree, which might also be a good thing for the ACC. Given that the league plays four games against the Irish this year, and that they'll likely be the highest-ranked team FSU plays all season, respect for Notre Dame is respect for the ACC.
That loss, however, did knock another team from the ranks of the undefeated, as did Baylor's stumble against West Virginia. Florida State is now one of just four teams in the nation without a loss.
Also of note, Georgia Tech fell to North Carolina in the final minute Saturday, thus officially eliminating the Yellow Jackets from playoff contention.
Week 9 preview:
The slate in the ACC is ugly, with both of the remaining playoff contenders enjoying a bye. FSU has a particularly daunting task against Louisville the following week, and Duke has a showdown with Pittsburgh that could decide the leader of the Coastal Division. For Week 9, however, it'll be a little bit of scoreboard watching for the league's contenders.
Oregon, Alabama, Mississippi State and Ole Miss -- all ranked in the top 10 -- go on the road for conference games this week, which could set up for some more chaos in what's already been a chaotic season. While the first three teams are favored by at least two touchdowns, Ole Miss heads to LSU for a night game in Baton Rouge -- always a tough place to win. At this point, chaos is good for Florida State, assuming the Seminoles can avoid the absurdity. The more top contenders that have a loss on their resume, the better Florida State's winning streak looks -- even if those wins came in close calls.
Drawing Conclusions: Week 8
ACC SCOREBOARD
Thursday, 10/23
Saturday, 10/25