January, 8, 2014
Jan 8
4:09
PM ET
Associated Press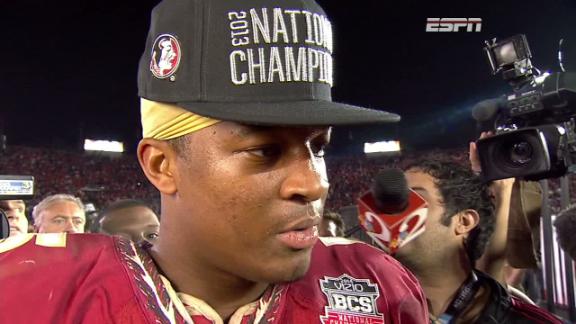 NEW ORLEANS -- Florida State quarterback Jameis Winston has one more award to add to his collection.
Winston was announced Wednesday as the winner of the Manning Award, given annually to the nation's top quarterback. The award comes two days after Winston led Florida State to a 34-31 victory over Auburn in the BCS championship game.
"It means a lot just to have Manning next to my name, to have my name next to Manning, with the accolades that Peyton, Eli and Mr. (Archie) Manning have had in college and professional football," Winston said. "That makes me so happy. It really makes my day for me to be able to get announced as the winner of this award."
The Manning Award is the only annual quarterback award that takes a player's bowl performance into consideration. That distinguishes it from the Davey O'Brien Award, another honor given annually to the nation's top college quarterback. Winston, the Heisman Trophy winner, also was named the recipient of the Davey O'Brien Award last month.
At a teleconference announcing Winston as the winner, College Football Hall of Famer Archie Manning called Winston "the total package."
"He's got great command out there," Manning said. "He kind of scans the field. He's certainly capable of tucking it and running, but he doesn't do it too quick. He goes through his options. I just thought he showed so much in really his first year in big-time football there. This game, especially the quarterback position, it's about repetition and experience. And he led the team like he did in his first year as a starting quarterback, and rallied them (to) winning all their games and a national championship just speaks highly for him."
January, 8, 2014
Jan 8
4:00
PM ET
Florida State put an exclamation point on the 2013 season with its thrilling win over Auburn in the final BCS national championship game. Now, it is time to look ahead, all the way down the road to 2014 with three burning topics:
1. Can Florida State repeat?

This is one of the
biggest story lines to watch
in 2014, along with the first College Football Playoff. Colleague Ted Miller takes a deeper dive into the Noles, whom we can finally declare as "back" on the college football landscape:
The Seminoles suffered through an uncomfortable separation from (Bobby) Bowden, who built the program from the ground up, and there were some fits and starts in Jimbo Fisher's first three seasons, but this team seems well-equipped for another long run of national contention, starting with outstanding recruiting in Florida, a hotbed of prep talent.

In short, the Seminoles probably won't wait 14 years to win another title. And it was great to see Bowden serving as the Seminoles' honorary captain Monday night. Winning heals wounds.
2. Who will be the stars of the college football season?
[+] Enlarge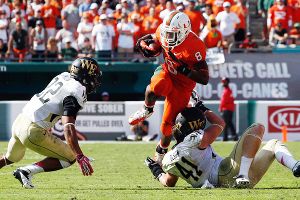 Robert Mayer/USA TODAY SportsThink Miami is anxious to get Duke Johnson back? The Canes went 2-4 without their star running back.
No surprise the choices from ACC country in our national overview include Florida State quarterback
Jameis Winston
and Miami running back
Duke Johnson
. How will Winston top a season in which he won the Heisman and a national championship? Will he become the first two-time Heisman winner since Archie Griffin in 1974-75? (More on that in a bit). As for Johnson, there is no doubt the Hurricanes will welcome him back to the fold with open arms after they imploded down the stretch without him. It is no coincidence Miami lost four of its final six games with Johnson on the sideline. His role will be even more important in 2014 with a first-year starter at quarterback.
The ACC has a few sleepers on this list, too: Virginia Tech cornerback
Kendall Fuller
and North Carolina returner
Ryan Switzer
.
3.
Time for 10 bold predictions.
Colleague Mark Schlabach takes a crack at being Nostradamus, and predicts Winston will win another Heisman:
Winston was so good this past season, completing 66.9 percent of his passes for more than 4,000 yards with 40 touchdowns and 10 interceptions, that it's easy to forget it was his first season as a starter. He'll be even better as a sophomore, even if juniors like Kelvin Benjamin and Nick O'Leary enter the NFL draft.
He also gives a nod to the ongoing war of words between Steve Spurrier and Dabo Swinney. Could their annual game be moved to a parking lot? Intrigue!
January, 8, 2014
Jan 8
2:00
PM ET
Jimbo Fisher was still on the podium, gazing into the crystal trophy that comes with winning a national championship, when it was suggested that once the team returned to Tallahassee, it was back to work preparing for 2014.
First on the docket for FSU will be identifying which star players will be returning for next season. Running back
James Wilder Jr.
is
entering the draft, according to a source
, and more decisions will trickle in before the Jan. 15 deadline. Here are our best guesses at what's to come — and who might step in for departing underclassmen.
Likely going
[+] Enlarge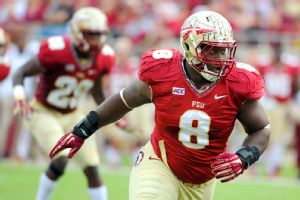 Melina Vastola/USA TODAY SportsFSU nose tackle Timmy Jernigan is a force inside, and how well the Tigers do against him could determine how well they run the ball.
DT Timmy Jernigan (junior)
Why he'd leave:
Entering the season, Jernigan was Florida State's top-rated underclassman by most draft experts, and that standing never changed. Jernigan was dominant all season, and his impact was never more noticeable than in the national title game. When he was on the field, Auburn found no running room between the tackles. When he was out of the game, the Tigers moved the ball with ease on the ground.
Next up:
Nile Lawrence-Stample
took a big step forward this season, gaining valuable playing time in the defensive line rotation. He started six games and finished with 15 tackles. Florida State has five current defensive tackle commitments, so it's certainly possible one of the incoming freshmen could make a big impact early — as Jernigan did in 2011 — but Lawrence-Stample is the safest bet to step in full time.
WR Kelvin Benjamin (redshirt sophomore)
Why he'd leave:
Benjamin was projected as a star from the moment he arrived on campus, but it took him a while to get acclimated. He enjoyed a breakthrough 2013 season, finishing with 1,011 yards and 15 touchdowns, including the game-winner in the VIZIO BCS National Championship. Some of his game could still use some refinement — as evidenced by two big drops vs. Auburn — but his physical skills already peg him as a likely first-rounder.
Next up:
Kermit Whitfield certainly projects as Florida State's next big-play receiver after an electric season as a freshman, but he fits more in the slot. Replacing Benjamin's size and physicality isn't an easy task, but 6-4 freshman
Isaiah Jones
figures to have the best chance. He saw limited playing time this year, catching two balls for 31 yards.
Possibly going
RB Devonta Freeman (junior)
[+] Enlarge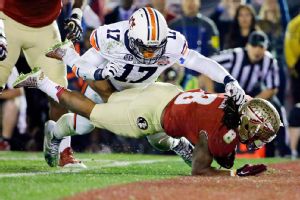 AP Photo/David J. PhillipDevonta Freeman became the first Seminoles tailback to gain 1,000 yards in a season since Warrick Dunn in 1996.
Why he'd leave:
Freeman has been the steadying force for FSU's running game for three years, and on Monday, he became the first Seminoles tailback to top 1,000 yards in 17 years. Wilder's role was smaller this year as injuries hampered his production, but that could also have served as a reminder why it's better to take the big hits with an NFL paycheck. Neither has a ton of early draft buzz which could convince them to return, but both could show out at the combine and work their way into the top three rounds.
Next up:
Karlos Williams
showed plenty of promise this season after moving from safety in Week 2, finishing with 748 rushing yards in reserve duty. He's largely a straight-ahead runner, but his combination of size and speed makes him a weapon. FSU will still need to develop depth, likely with
Mario Pender
or
Ryan Green
, but could get a boost from four-star commit Dalvin Cook.
LT Cameron Erving (redshirt junior)
Why he'd leave:
Erving has hovered near the top of the offensive tackle draft boards since the end of 2012, and in his second season since moving from the defensive line, he showed significant progress. Still, it's a deep draft at the position, and there were moments — including against Auburn's impressive defensive front Monday — when he showed some flaws.
Next up:
Florida State brought in two potentially strong replacements last year in
Ira Denson
and
Wilson Bell
. Injuries hampered the progress for both during the season, however, which makes Erving's decision potentially crucial for the stability of the line going into 2014.
Likely staying
G Tre Jackson and G Josue Matias (juniors)
Why they'd leave:
Matias and Jackson might be among the top underclassmen at the position, but both could benefit from another year working with line coach Rick Trickett.
Next up:
Florida State has struggled to recruit on the line the past few years, which makes depth — particularly on the interior — a significant concern. The Seminoles have a solid class coming in for 2014, but the loss of more than one of their underclassmen on the line would be a serious concern.
TE Nick O'Leary (junior)
Why he'd leave:
O'Leary made huge strides this season, developing into one of Jameis Winston's favorite targets and a legitimate red-zone threat. He's an adept route-runner, a sure-handed receiver and his blocking game has developed nicely. But with Florida State's receiving corps in transition, O'Leary could be in a position to post huge numbers in 2014 if he sticks around.
Next up:
Kevin Haplea
returns from a knee injury next year, but he's more of a blocking tight end than a true replacement.
WR Rashad Greene (Jr./WR)
Why he'd leave:
What more can Greene accomplish at Florida State? He's been the team's most reliable receiver for three consecutive seasons. He became the Seminoles' first 1,000-yard receiver since Anquan Boldin this year. He's quick, a great route-runner, and he has good hands. He does everything well, and his quarterbacks have taken notice. The problem for Greene is that he lacks the obvious physical skills that make scouts drool, so his draft value might not reflect his on-field contributions.
Next up:
It would be a surprise if Greene left, but it would also be a huge blow to Florida State's offense. Winston was a star this season in part because of an exceptional group of receivers, but the group will get a major makeover in 2014. The Seminoles need Greene to help ease the transition.
January, 8, 2014
Jan 8
12:00
PM ET
January, 8, 2014
Jan 8
11:00
AM ET
The deadline to declare for the NFL draft is one week from today. Let us take a quick look at who has already announced their intentions, and who is still mulling over their decision.
Turning pro
Also, a source told ESPN's Joe Schad that Florida State running back
James Wilder Jr
.
will enter for the draft
. Of these players who have already declared, only Watkins and Ebron are listed on the latest
Mel Kiper Big Board
. Watkins and Ebron are near locks to go early in the draft. But the prospects are less certain for the others who have already declared.
Still waiting on
Jernigan, Benjamin and Beasley are all listed on the Kiper Big Board. Florida State coach Jimbo Fisher said Tuesday at his post-championship news conference he expects only a few players to leave early for the draft.
Also of note, Virginia Tech safety
Kyshoen Jarrett
announced on Twitter that he will return to school for his senior season.
January, 8, 2014
Jan 8
9:30
AM ET
With less than a month until signing day, ACC schools are focused on closing out their 2014 classes before moving onto 2015. Here is the top signing day target for each ACC program.

Boston College
DE Harold Landry (Fayetteville, N.C./Pine Forest)
6-foot-3, 230 pounds
To continue reading this article you must be an Insider
January, 8, 2014
Jan 8
5:30
AM ET
The Early Offer is RecruitingNation's regular feature, giving you a daily dose of recruiting in the mornings. Wednesday's offerings: Florida State should be able to further strengthen its top-five recruiting class after winning the national championship; we know when No. 2 ranked 2015 prospect
George Campbell
will make a decision; and losing defensive back coach Terry Joseph to Texas A&M will hurt the Nebraska's recruiting efforts.

Victory should give Seminoles momentum
How will Florida State's national title help on the recruiting trail? After the smoke cleared from Monday night's game, I asked one of the FSU assistants for his thoughts on the topic. His response wasn't surprising. "We had heard from a few kids this year that FSU was always over ranked and never won anything," said the assistant, who asked not to be named. "But you can take that off the board now. It's gone. We've already started to get calls from a lot of our top remaining targets and almost all of our commits. They are fired up about the national title. We can't wait to get back on the road after the dead period and talk to them face to face about how it's just a first step in what will be a big run for Florida State." Florida State sits at No. 4 in the
ESPN Class Rankings
but with a few key recruits still looking hard at the Noles they could easily climb even higher.
To continue reading this article you must be an Insider
January, 8, 2014
Jan 8
5:00
AM ET
1. One of the many political minefields that the College Football Playoff must find its way through is all the national championship trophies. The Football Writers Association, Associated Press, American Football Coaches Association and National Football Foundation all "name" a champion and present their trophy on the morning after. It's a nod to tradition, and as one who loves tradition more than most, it's time to stop. Those trophies are about the people who present them, not the school that wins them.
2. Florida State head coach Jimbo Fisher warned about how the College Football Playoff will lengthen the season to 15 games. "These guys don't get to go play in an NFL season," Fisher said. "They don't get to go rehab all day. They got school. They got study halls. They got things to do. Those bodies at that age aren't developed like a man is. And they say, 'Well, the lower divisions do it.' Well, I'm going to tell you something. Just like the NFL is a much more physical game than Division I football, Division I football is significantly different than I-AA, Division II and Division III."
3. The video of Fisher "sprinting" down the sideline yelling "Go! Go! Go!" as
Kermit Whitfield
returned a kickoff 100 yards for a fourth-quarter touchdown should be included in any Florida State highlight reel of its victory Monday night in the VIZIO BCS National Championship. Fisher said he came out of that fine but pulled a hamstring when Auburn defensive back
Ryan White
horse-collared
Rashad Greene
at the Auburn 23-yard-line on the final scoring drive. "It wasn't called, badly, and I was running down yelling at the referee," Fisher said. "I did pull a hamstring. I was hopping on that one. I was running on the other one."
FSU Recruiting Builds On BCS Title Win
ACC SCOREBOARD
Thursday, 8/28
Friday, 8/29
Saturday, 8/30
Monday, 9/1