September, 16, 2014
Sep 16
10:00
AM ET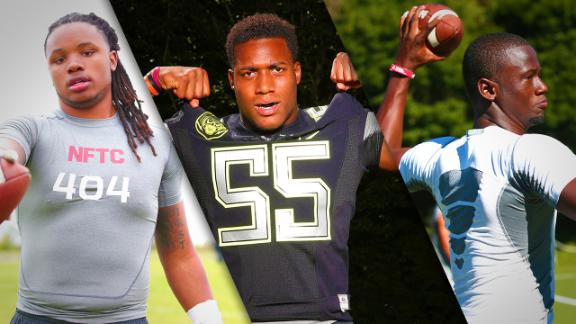 Though next weekend begins the bulk of the key recruiting weekends in ACC play featuring some of the nation's top prospects on campuses within the conference, this past weekend featured a key commitment for Virginia Tech, and one of the Miami Hurricanes' top commitments making an unofficial visit to an SEC power.
September, 15, 2014
Sep 15
9:20
PM ET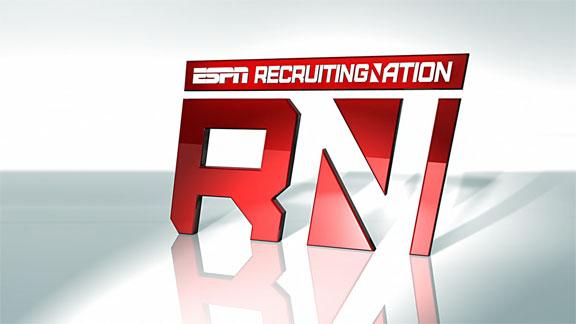 ESPN 300 offensive lineman
Matt Burrell Jr.
has already taken an official visit to
Ohio State
, and that trip has resonated with the No. 61 ranked prospect. He still has four more official visits to take, but Burrell says he has his list in order as it stands.
To continue reading this article you must be an Insider
September, 15, 2014
Sep 15
4:00
PM ET
TALLAHASSEE, Fla. -- We leave you alone for one weekend, ACC, and this is what you do. That has to be what
Clemson
and
Florida State
were thinking as they checked box scores Sunday morning after their bye week.
Virginia Tech
loses all team and conference momentum with a home loss to
East Carolina
.
Georgia Southern
was once again 90 seconds from upsetting an ACC team.
Louisville
, who many felt was now Florida State's biggest threat to an undefeated season, loses at
Virginia
. And, off all teams, it was reeling
Boston College
left to extinguish the flames, and the Eagles salvaged the Saturday with the biggest upset of the season, according to the Football Power Index, with a bulldozing of No. 9
USC
, shocking even the staunchest ACC supporters.
So here we are, at the outset of Week 4 and exactly where we thought we would be before the season kicked off: the ACC seemingly comes down to Clemson and Florida State for the third consecutive season. The two will play in prime time Saturday, and the winner controls its destiny in the Atlantic Division and, with the lack of clarity in the Coastal, conference.
It is what we have grown accustom in the ACC as of late as both programs have been on a similar linear ascent to the top of the conference. Only the Tigers and Seminoles have represented the Atlantic in the ACC championship game since 2009, but the Coastal was superior then. Now, the two have won the past three conference titles and that looks to be the case once again in 2014, too.
Except this year, winning the conference has an entirely new significance. A College Football Playoff invitation is on the line now. Technically, the ACC has seven undefeated teams, but Clemson and Florida State are the conference's prized horses capable of carrying the league to the inaugural final four. The other five would likely need an undefeated run, and that's a wager I'm not sure anyone outside of Atlanta, Pittsburgh, central New York or the Triangle is willing to make right now.
"There's no doubt" the Tigers are a rival, Seminoles coach Jimbo Fisher said. "...It's a game in which you like to be at Florida State to play in because of the ramifications and the national attention it brings."
Despite No. 22 Clemson entering the game with a loss, the national implications will be near the level it was last season because of the dawn of the playoff era. There's the sense conference titles won't mean what they used to for the elite programs, and Fisher has said as much multiple times, pondering whether fans will deem any playoff-less season as a failure. And for two teams that have each won conference titles and played in multiple BCS games the past few seasons, there is the argument that a conference title might not be enough, especially for Florida State.
If Clemson loses big, it almost certainly ends the Tigers' playoff hopes. A Florida State loss and now the nation's top-ranked program and the conference's best chance at a playoff bid needs to not only play close to perfect football against a tough remaining slate but solicit help from the supernatural to even play in the conference championship.
It might only be September but the ACC's playoff chances potentially hinge on this game between conference heavyweights.
September, 15, 2014
Sep 15
9:00
AM ET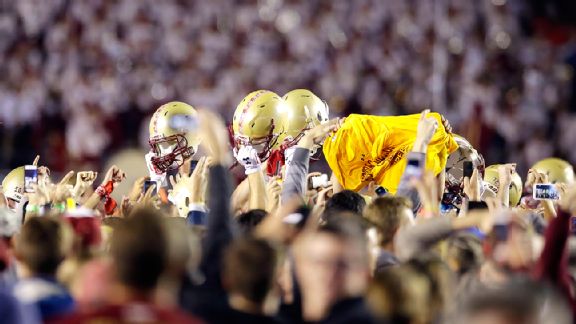 AP Photo/Stephan SavoiaBC's upset over USC shows that ACC teams are capable of winning big nonconference games.
The yin and yang that is the ACC was on full display this past weekend.
Boston College pulled an upset for the ages over No. 9 USC on Saturday night, giving the ACC five wins against top 10 nonconference opponents in a two-year span for the first time in league history!
Oh, but both No. 17 Virginia Tech and No. 21 Louisville lost to unranked teams.
But hey, the ACC is 27-5 against nonconference teams! And for the second time in league history, two unranked ACC teams upset top 10 opponents this year (BC, plus the Hokies over Ohio State in Week 2).
Oh, but look at those rankings. Only two teams remain in the AP poll this week.
But hey, maybe the bottom of the league is starting to rise up if cellar dweller UVa can shock a team like the Cards! Virginia had six wins over the last two seasons while Louisville had 23!
Oh, but look closer at the AP rankings. Only one ACC team sits in the top 15, compared to seven from the SEC.
But hey, at least the ACC is not the Big Ten!
Back and forth we go in our yearly game entitled: What will you turn out to be, ACC?
If only the ACC could get all its pieces to fit nicely into one pretty looking College Football Playoff picture.
Instead, we are left with the all too familiar, a disjointed puzzle that remains hard to comprehend and even harder to predict. Virginia Tech had its offense and defense in sync at Ohio State in Week 2; the Hokies were totally out of sync Saturday at home against East Carolina, a team everybody knew would have a shot at the upset. Boston College allowed 300-plus yards rushing in a loss to Pitt in Week 2. Against USC? The Eagles gave up 20 yards on the ground. Total.
Then there is Louisville, a team that had two turnovers in its first two games. The Cards doubled that total against Virginia and lost.
The season is obviously still young and we only have a few games to go on, but the ACC already is falling into its usual habits despite some of those jazzy stats mentioned above. Big wins end up being fluky wins; four ranked teams dwindle to two; and lo and behold, Florida State and Clemson are left to carry the league.
You know, the way the two are doing this week. "College GameDay" will be in Tallahassee, Florida, for the showdown between the only remaining ranked ACC teams, a game that has determined the Atlantic champion three straight years.
While Florida State has looked shaky and Clemson is playing one of the most daunting schedules in the country to open the season, there is no dispute everybody else inside the ACC is still chasing these two. A host of teams still have a chance to get into the Top 25 rankings this season -- Duke, Pitt and North Carolina are on deck while Virginia Tech and Louisville will have every opportunity to get back in, too. If Miami gets past Nebraska this weekend, who knows what happens.
But what was reinforced this weekend is the importance of following through. One big win is great. But that big win needs to beget another big win and another, until the ACC has got a solid group of teams that become more predictable week in and week out. Watering down the schedule like the folks over in SEC land is not the answer. The ACC needs to continue to be at the forefront of playing big nonconference games.
The league is clearly capable of winning them. It is the consistency that remains elusive.
September, 14, 2014
Sep 14
8:00
PM ET
The ACC makes no sense right now. Virginia Tech thumps Ohio State on the road, then loses to East Carolina at home. Boston College coughs up 214 rushing yards to James Conner one week, then holds USC to 20 yards on the ground the next. Georgia Tech is 3-0, but has hardly looked impressive yet. Oh, and there's that little matter of the conference's top two teams facing off this coming Saturday.

For now, we're doing the best we can with a fluid situation, so fair warning that these projections are a moving target at this point in the season.
College Football Playoff:
Florida State
Orange Bowl:
Clemson vs. Notre Dame*
Russell Athletic Bowl:
Virginia Tech
Franklin American Mortgage Music City Bowl:
Pittsburgh
Belk Bowl:
Duke
Hyundai Sun Bowl:
Miami
New Era Pinstripe Bowl:
Louisville
Military Bowl presented By Northrop Grumman:
Virginia
Duck Commander Independence Bowl:
North Carolina
Quick Lane Bowl:
Boston College
BITCOIN St. Petersburg Bowl:
Georgia Tech
*Note: Notre Dame is eligible for a bid to any ACC tie-in game unless it is selected for a New Year's Six game, which can include playing an ACC team in the Orange Bowl.
September, 14, 2014
Sep 14
5:00
PM ET
Each week throughout the season, the Playoff Forecast will use ESPN's Football Power Index and human logic (i.e., the eye test) to determine which teams are best positioned in the chase for the inaugural College Football Playoff. These rankings take into account perceived team strength (including injuries) and remaining schedule difficulty (including prospective conference championship games).
The Playoff Forecast is not intended to be a prediction of the selection committee's weekly Top 25, which will be released every Tuesday starting Oct. 28. It is a projection of which teams have the best chance to be in the top four come December.
---
FPI's chance of winning out: 15.4 percent
FPI's chance of winning the conference: 61.3 percent
Through two games, the Noles haven't looked nearly as good as they did last year, but they have still looked good enough to handle the teams on their schedule. Without playing a game last weekend, FSU saw its odds of going unbeaten increase, thanks to future opponents Louisville, Notre Dame and Florida all looking weaker on Saturday. It's possible that the Seminoles' toughest remaining test could be at home against Clemson in a few days. That game may tell us whether this FSU team is capable of dominating the way the 2013 version did.
To continue reading this article you must be an Insider
September, 14, 2014
Sep 14
2:11
PM ET
Associated Press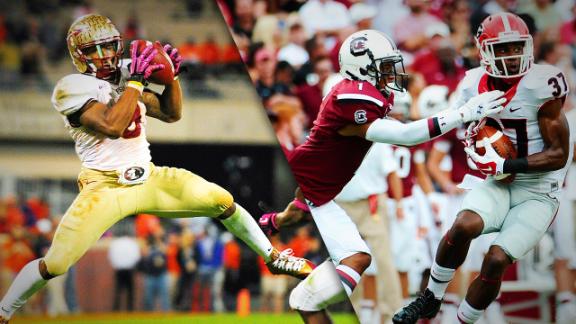 South Carolina's win over Georgia vaulted the Gamecocks 10 spots to No. 14 in The Associated Press college football poll, giving the Southeastern Conference an unprecedented seven teams in the top 15.
The SEC had eight teams ranked in the poll for the third straight week and five teams in the top 10 for two weeks running. Alabama was third behind No. 1 Florida State and No. 2 Oregon, followed by No. 5 Auburn, No. 6 Texas A&M, No. 8 LSU and No. 10 Ole Miss.
Georgia fell to No. 13 after losing to the Gamecocks 38-35, and Missouri was No. 18.
Florida State, which was off, had 37 first-place votes, losing one to the Ducks, who had 17.
September, 14, 2014
Sep 14
2:00
PM ET
September, 14, 2014
Sep 14
1:03
AM ET
Here's what we learned in the ACC following the Week 3 slate of games. One thing we already knew -- and which the ACC proved again Saturday -- is that this can often be a befuddling league.
[+] Enlarge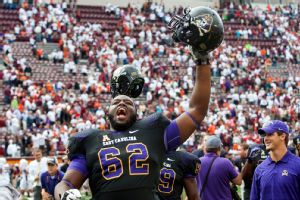 Jeremy Brevard/USA TODAY SportsEast Carolina's stunning upset of Virginia Tech knocked the Hokies out as a College Football Playoff contender.
1. Two more ACC schools are knocked from the College Football Playoff discussion.
And that could change again by the end of next week, as No. 23 Clemson travels to No. 1 Florida State on Sept. 20. With Saturday's results, the ACC turns its eyes to you, Clemson, Duke, Florida State and Pittsburgh. And to be honest, most aren't considering Duke or Pitt legitimate contenders just yet, considering each school's nonconference schedule. Virginia Tech offered hope that a Coastal team might be able to crack the playoff four, but the Hokies laid an egg in the first quarter against East Carolina and were knocked off. Considering it came a week after their big road win at Ohio State, it leaves a sour taste in ACC mouths. Louisville was loading up the hype train after a nice win against Miami in a prime-time setting, but the Cardinals' offense was suffocated by upset-minded Virginia. Pittsburgh has a manageable schedule and would almost certainly get in if undefeated, but the Panthers don't have the look of a team destined for a spotless record just yet. So once more, the ACC is looking to you, Clemson and FSU.
2. The ACC Coastal: 'Bring your brooms, because it's a mess.'
Marty Huggins from "The Campaign" said it best, and there's really no need to compound on what he said as far as the ACC Coastal goes. Following last week, it seemed Virginia Tech was the team to beat in the division. It certainly could still be that team as the East Carolina loss was out of conference, but there isn't nearly as much confidence in the Hokies any longer. Pittsburgh was the flavor of the hour last week after a dominating win on a Friday night, but the Panthers struggled against a terrible Florida International team. Georgia Tech is 3-0 but has been less than impressive in all three wins. North Carolina hasn't looked great, either. Right now, it is only Duke quietly taking care of business, which is what it did last season, too.
3a. Boston College was a bunch of Dudes on Saturday. So was the Virginia defense.
That is Steve Addazio's motto for his team, and that is an apt way to describe what we saw from the Eagles against No. 9 USC. Many felt the Eagles had a chance to keep it close, but few felt they would be able to upset a USC team coming off a win at Stanford. Boston College followed the lead of its quarterback,
Tyler Murphy
, beating up the Trojans on the ground to the tune of 452 rushing yards. After a lopsided loss to Pittsburgh last week, it seemed Boston College was destined for a down year, but now the Eagles have the look of a bowl team. They're not going to win the Atlantic, but that defense is nasty, and with Murphy running the option, the offense is efficient enough that this might not be the last upset the Eagles pull off in 2014.
In the aftermath of the BC win, we almost forgot the effort from Virginia, especially on the defensive side of the ball. Virginia deserves the recognition, and while it doesn't use the same "Be A Dude" motto, you can certainly apply it to that Cavaliers defense after its performance against Bobby Petrino's Louisville offense. All afternoon, quarterback
Will Gardner
was harassed and made uncomfortable. He was hit, chased and had passes batted back into his face. Eventually, Petrino turned to his backup quarterback. And just like Boston College, the Virginia offense never gave Louisville the ball back in the final minutes after forcing a Cardinals punt. If the Cavs can get any help from their offense, this is a bowl-worthy team. Good for Mike London and his team, which went winless in the ACC last season.
3b. The ACC owns prime time.
Virginia Tech last week. Boston College this week. Just let us have this one.
4. Speaking of Pitt and Georgia Tech, what do we make of their scares?
That one depends on the team. First, there is something to be said to still being undefeated at this point even if the competition is not very good. Now that that is out of the way, I'd be much less concerned with Pitt's first-half struggles in its
42-25
win than Georgia Tech's second-half nightmare against Georgia Southern. The Panthers were playing in a noon game against a dreadful FIU team. They came out flat. It happens in college football, and it happens a lot. Ideally, a coach never has those performances, but they're hard to avoid. Expect a much more focused Pitt team against Iowa. As for the Yellow Jackets, this is becoming a trend. They did not look great against FCS teams Wofford or Tulane, and Saturday they blew a 25-point second-half lead to Georgia Southern. Georgia Tech needed an 11-play, 72-yard drive to score the game-winning touchdown with 23 seconds remaining and earn a
42-38
victory.
5. Miami quarterback Brad Kaaya can sling it.
The Hurricanes opened up the playbook a little more for Kaaya, and he responded with 342 passing yards, a school record for a true freshman. The Miami offense was balanced on first down, which allowed Kaaya to throw in situations in which defenses weren't always expecting it. What really stood out to coach Al Golden in the Hurricanes'
41-20
win over Arkansas State was how Kaaya audibled into a new play at the line of scrimmage several times, including on two touchdowns. "Brad hits the quick out that
Phillip [Dorsett
] ends up taking. That's all him. The other check that we ended up scoring on, the run, [it was] the same thing there. That was all him on the line of scrimmage," Golden said. And the first touchdown was a deep throw, which Kaaya struggled with in the first two games. On throws of at least 10 yards in the first two weeks, he was 7-of-17 for 188 yards with one touchdown and four interceptions.
September, 12, 2014
Sep 12
4:00
PM ET
Time to open up the mailbag. And don't forget to follow me on
Twitter
!
Ernest Brooks in New York writes:
You are giving Louisville's defense the Rodney Dangerfield treatment ... no respect. Miami only scored 13 points on our defense (three points are a turnover on the 5-yard line). ...
No way Virginia scores 17 points
. All you writers at ESPN will realize soon enough that Louisville is for real. My thoughts have not changed ... we will win the division. Go Cards!
Andrea Adelson writes:
Well, we do have the Cards No. 3 in the power rankings, so I don't think anyone here believes they are pretenders. As for the score, Virginia has done a terrific job creating turnovers. I got to 17 penciling in a defensive score.
---
Kirk Bare in Arlington, Virginia, writes:
Ms. Adelson, respectfully, Maryland
was not the second-most important rivalry
for UVa. Yes, most Wahoos consider it a big game, but they do not look at the schedule and figure out a way to get to the game like we do for Tar Heels and Hokies games. It was always a much bigger game for the Maryland fans than UVa fans. ... They had no other game to be considered a rivalry. North Carolina vs. Virginia is a much bigger rivalry in football than the UVa-Maryland ever was. Many"'old timer" wahoos still believe it is a bigger rivalry than with VPI (the old-school way of referring to the college in Blacksburg). UVa-UNC, I believe, is the fourth-oldest rivalry in college football and the oldest in the South. ... I do agree with you 100 percent that in order for Louisville to become a rivalry with UVa, some pretty big games need to occur. I can only hope that the Wahoos become more competitive in football and make that a possibility. It is interesting to note that overall, the two athletic programs are some of the most well-funded and competitive in nonrevenue sports in the country. There will be rivalries in other sports definitely. The ACC is very lucky to have Louisville as a member school.
Adelson:
Thanks for sharing, Kirk! Great perspective.
---

Kevin in Fort Lauderdale, Florida, writes:
Does a double standard exist for the ACC and other conferences? Florida State plays three big-time nonconference programs, but somehow they have an easy schedule, according to the media. I can't think of any other Power 5 conference team that plays three big-time nonconference programs though. Virginia Tech just beat Ohio State, but somehow they are still ranked behind Ohio State in the coaches poll? People scream strength of schedule as the ACC started the season with only three ranked teams, but teams climb in and out of the rankings as the season goes on, so how does anyone in the media know how strong a schedule truly is before a single game gets played? ... USC had a nice win against Stanford, but how do we know Stanford is a great team? UCLA has struggled, but they retain a high ranking. What do we really know about Arizona State after the two wins they had, considering the opponents they played? Oregon proved themselves against Michigan State, but their other two nonconference opponents are a complete joke. ... Virginia Tech and Louisville are very underrated teams. After the season Duke had, I thought they might get some more respect this season. I do think the SEC is the best conference, but after that, I really think it's a tie for second place between the Big 12, ACC and Pac-12. I don't see anything tangible that makes the Pac-12 the second-best conference. It just appears that some conferences get a pass while other conferences have it earn it more to get the same recognition.
Adelson:
Certain conferences that have had teams in the national championship conversation on a yearly basis are perceived to be better. And, well, there is an annual love fest with Oregon, and I think that has influenced how much people gush about the Pac-12. I looked at the Ducks' schedule, and they have two ranked teams remaining, as of right now. Florida State has three. Having said that, there is absolutely no explanation for Ohio State being voted ahead of Virginia Tech in the coaches' poll. That is an embarrassment. Thankfully, that poll is irrelevant now. Having said all this, I think rankings should start mid-October. Preseason polls make no sense for a host of reasons. Mostly, we have no idea which teams will actually be good until the season begins. I also believe those perceptions are formed in the preseason and then carried through, hurting conferences and programs.
---
Ethan in New York writes:
Hi Andrea! As a Hokies fan, I am elated at Virginia Tech's win in the'Shoe Saturday night, especially seeing it wasn't just a win, it was domination. I have been very impressed with our new quarterback,
Michael Brewer
, and the defense stood tall as usual. Does this win put Virginia Tech as the front-runners in the Coastal race, even though it wasn't a conference win? And what do you put their chances at running the table in the regular season at?
Adelson:
I changed my mind about the Hokies before the season started and pegged them as the Coastal favorites. The win at Ohio State reinforced my opinion. The defense was great, as usual, but it was Brewer that carried this team through. He is a difference-maker. So couple an effective offense with a stellar defense and you have the recipe Virginia Tech has used to win Coastal titles in the past. As for running the table ... I think the biggest test ahead is at Pitt on Oct. 16. The Hokies should be undefeated headed into that game. Based on just two games, I am going to say 50 percent chance right now at running the table. Not enough of a sample size to go higher than that right now.
---
Daniel in York, South Carolina, writes:
I know I am coming from the side of the glasses that make everything seem orange, but I have to address your
Week 2 power rankings
for the ACC. First, here is my slow clap for Virginia Tech beating an Ohio State team, judging on the first two games, that shouldn't be in the top 20, much less top eight. Do you, Andrea Adelson, see a top-10 team in Ohio State the first two games? I don't. OK, on to the standings. After Week 1, you had Louisville and Clemson tied at second. Then, after Week 2, not only do you have Virginia Tech skyrocketing to second place, but you have Louisville jumping Clemson while falling to third and Clemson at fourth. OK, I need your help to understand the love for Virginia Tech jumping to second and Clemson being jumped by Louisville all the way to fourth. I do not understand your mathematical equation you used to come up with the placement of each team, seeing how they were tied the week before and that both teams played outmatched opponents, basically making the results null.
Adelson:
The four ACC reporters -- myself, David Hale, Matt Fortuna and Jared Shanker -- rank the teams 1-14 and assign point values. First-place gets 14 points, all the way down to one point for No. 14. The reason there was a tie last week was because Clemson and Louisville received the same number of points. The reason there was no tie this week is because three of us had Louisville No. 3. I can only speak for my own rankings. After Week 1, I had Louisville No. 2 and Clemson No. 3. The Cards beat Miami pretty handily; Clemson lost to Georgia. After Week 2, I moved Virginia Tech to No. 2 because I deemed that a better win, on the road against a Top 10 nonconference opponent. Clemson still has only one victory, against an FCS team. So, essentially, I do my power rankings based on the win quality and the way the team played, and they are adjusted every week. Maybe Ohio State was over-ranked, but I still count winning in Columbus as a solid victory. If Ohio State ends up being mediocre, I will take that into account in my ranking. If Clemson beats Florida State, then I absolutely will consider the Tigers for the No. 1 spot based on strength of victory. That's why we do these every week!
September, 12, 2014
Sep 12
9:00
AM ET
Let's call this week around the ACC the calm before the storm. A number of visits feature top prospects within the region are making official visits to schools outside the conference, and they are certainly impactful leading up to next weekend's slew of big-time recruiting visits.

D.J. Jones
Commitment
: Florida State
While the ESPN JC50 will not be released until later in the season, the name D.J. Jones is sure to be high on the list. The highly-coveted defensive tackle out of East Mississippi Community College remains a soft commitment to the Seminoles, but his recruitment gets a lot more interesting with this weekend's official visit to South Carolina. The former star at Wren High in Piedmont, South Carolina will not only visit the Gamecocks from within his home state, but a trip to Clemson is also a possibility. With Jones having already made his official visit to Tallahassee in July and scheduled to graduate from EMCC in December, this trip is the potential game-changer in his recruitment. The fact that he is friends with Gamecocks junior-college commitments
Davon Durant
and
Marquavius Lewis
out of Greenwood High only bolsters the Gamecocks chances.
To continue reading this article you must be an Insider
September, 12, 2014
Sep 12
8:00
AM ET
Let's get the morning started with a few quick news items:
Miami receiver
Stacy Coley
is
out against Arkansas State
on Saturday with a shoulder injury. The announcement is not a huge shock, considering Coley was in a non-contact jersey during practice this week after getting hurt against Florida A&M. Still, Coley has not gotten off to the start the Hurricanes anticipated after a breakout freshman season.
He only has three catches for 9 yards, all in the opener against Louisville, as the Miami offense has struggled to find consistency and production in the passing game. Coley was a major deep threat for Miami a year ago, averaging 17.9 yards per catch. But with freshman quarterback
Brad Kaaya
, Miami has not been able to get its downfield passing game going the way it did with
Stephen Morris
, who excelled at the deep ball.
The season is early, and Coley is not seriously injured. Perhaps he will be back next week when the Hurricanes travel to Nebraska. But there's no doubt Miami is going to need a Kaaya-to-Coley connection to develop for the passing game to be seen as a serious threat. Miami does have depth at the position with
Phillip Dorsett
,
Malcolm Lewis
, freshman
Braxton Berrios
, and
Herb Waters
. But Coley is the most dynamic player in that group.
Meanwhile, Virginia Tech defensive tackle
Corey Marshall
is questionable for the East Carolina game with a sprained ankle. Marshall was hurt last week against Ohio State, and would be a pretty big loss for the group up front. As the Roanoke Times notes, Marshall has
six quarterback hurries
already this season and was the MVP of the spring for the Hokies. Facing a veteran quarterback in
Shane Carden
, the Hokies will want to keep the pressure on to disrupt his timing in the pass game.
If he can't play,
Woody Baron
would get the start. Tight end
Kalvin Cline
also is out for his third straight game.
Finally, North Carolina announced it had
concluded its investigation
into an alleged hazing incident between football players last month. But that is basically all the school said. No details were provided on what exactly happened; on the players involved; or whether what happened was, indeed, a hazing incident. The information gathered has been given to the student attorney general, who will decide whether any player will be charged through the honor court.
Strangely enough, the Raleigh News & Observer reported earlier this week that a police report on the alleged incident was
riddled with errors
. The truth, it seems, remains elusive.
Now here's a look at what else is happening in the ACC:
Saturday Showdown