May, 7, 2013
May 7
3:00
PM ET
JEFFERSON, Ga. -- A bystander watching
Preston Williams
(Lovejoy, Ga./Lovejoy) warm up at the Georgia state track and field championships simply said, "Who is
that
guy?" Williams stood on the edge of the long jump pit -- where he was challenging for a state title as only a sophomore -- and exploded with a flat-footed jump to the middle of the pit, reaching a height and distance that turned heads.
As did his outfit. Williams wore blindingly bright yellow shoes, mismatched socks (one was a multi-colored, neon leopard print, while the other was decorated with cupcakes), cut-off camouflage sweat pants over black leggings and a Lovejoy t-shirt. The ensemble was topped off with a gray scarf that would look great on a 78-year-old retiree from Boca Raton but seemed out of place wrapped around Williams' noggin as a headband.
"This is my look," Williams said. "My jumping look -- I am exotic."
While his fashion is eclectic, the true answer to who Williams is a lot more complicated.
To continue reading this article you must be an Insider
May, 7, 2013
May 7
12:00
PM ET
ESPN 150 athlete
Dravon Henry
(Aliquippa, Pa./Aliquippa) listed his top four schools about two months ago with the understanding it would slow down his recruitment.
With the mailbox now stuffed with 50 letters by the middle of the week, it's safe to say the four-star athlete understood incorrectly.
To continue reading this article you must be an Insider
May, 7, 2013
May 7
11:00
AM ET
When summer workouts began a year ago, players like Menelik Watson,
Demonte McAllister
and
Nick Waisome
were flying under the radar with little in the way of expectations. By season's end, however, they were among Florida State's most productive players.
It happens every year that a few relatively obscure names find their way into bigger roles, and as the Seminoles get set to start another summer NoleNation is counting down five under-the-radar players who could be in line for breakthrough seasons.
Next up: Kevin Haplea (Sr./TE)
Career arc:
Florida State ended up No. 2 among Haplea's college choices coming out of high school, and the 6-foot-4, 250-pound tight end landed instead at Penn State. After the NCAA sanctions that rocked the Penn State program, however, the doors were opened for players to transfer, and Haplea decided to give FSU another look.
Why he's overlooked:
Haplea arrived in Tallahassee just days before the start of fall camp last season, and what followed was a whirlwind. An injury to
Dan Hicks
opened the door for Haplea to get on the field routinely, but he was never an integral part of the offense. Haplea's blocking was solid, but he caught just three passes for 15 yards.
Why he'll produce:
For the past four years,
Lonnie Pryor
has been a fixture of FSU's offensive game plan at fullback, but his departure after the 2012 season likely opens the door to some different looks, and Jimbo Fisher said he's planning on employing more two tight end sets this season. That's good news for Haplea, who might already be FSU's best blocking tight end. But while the grunt work was always a solid niche for Haplea, he showed some athleticism during the spring, becoming a regular target in passing situations, too.
Projection:
After a full year in the program, Haplea has clearly made some major strides, and Fisher raved about his spring performance. While
Nick O'Leary
and
Christo Kourtzidis
battled injuries, Haplea kept producing. It's unlikely he'll ever be the offensive weapon that O'Leary could be, but Haplea's consistency at the little things should earn him a hefty slice of playing time in 2013.
May, 7, 2013
May 7
10:00
AM ET
FLORIDA STATE SEMINOLES
2012 record:
12-2
2012 conference record:
7-1
Returning starters:
Offense 6, Defense 5, Kicker/Punter 1

Top returners
WR
Rashad Greene
, LT
Cameron Erving
, C
Bryan Stork
, LB
Christian Jones
, LB
Telvin Smith
, DB
Lamarcus Joyner
, DT
Timmy Jernigan
Key losses
QB EJ Manuel, RT Menelik Watson, RB Chris Thompson, DE Bjoern Werner, DE Cornellius Carradine, CB Xavier Rhodes, K Dustin Hopkins
2012 statistical leaders (*returning)
Rushing:
Chris Thompson (687 yards)
Passing:
EJ Manuel (3,392 yards)
Receiving:
Rashad Greene* (741 yards)
Tackles:
Christian Jones* (95)
Sacks:
Bjoern Werner (13)
Interceptions:
Xavier Rhodes,
Tyler Hunter
* (3)
Spring answers:
1. Changes on D:
New coordinator Jeremy Pruitt brought a slew of new schemes with him from Alabama, meaning the FSU defense won't look all that much like the one that finished second in the nation in 2012. With the loss of five former starters from the defensive line, that's probably a good thing. Pruitt's scheme will be more aggressive and bring a lot more blitzes, allowing FSU to get pressure from other areas.
2. Beating Hart:
When right tackle Menelik Watson made the somewhat surprising decision to leave FSU after just a year to enter the NFL draft, all eyes turned to junior
Bobby Hart
, whose turbulent career with the Seminoles was already well documented. Hart started as a 17-year-old freshman in 2011, but problems with his work ethic derailed his sophomore season and he found himself on the bench. He appeared to work his way back into line coach Rick Trickett's good graces by the end of the spring, however, and he'll be crucial to maintaining the continuity of the line without Watson.
3. Famous Jameis:
Jimbo Fisher still isn't calling the contest over, but it certainly looks like redshirt freshman
Jameis Winston
is in the driver's seat to take over for Manuel as FSU's new starting quarterback. Winston shined throughout the spring and delivered a monster performance in the Seminoles' Garnet and Gold game, completing 13 of 15 passes for 205 yards and two touchdowns. A week later, junior QB Clint Trickett announced he was transferring.
Fall questions:
1. Winston, Part II:
Yes, the spring was impressive for Winston, but as Fisher was quick to point out, he'll need to pick up right where he left off in the fall if FSU is going to make a smooth transition at a position that's been remarkably stable for the past five years.
Jacob Coker
remains in competition -- and he should be fully healed after breaking a bone in his foot that limited this spring -- but the loss of Trickett puts a lot of pressure on Winston to step up, particularly with a daunting road contest at new ACC member Pittsburgh looming in the season opener.
2. New-look secondary:
Lamarcus Joyner appeared to make a relatively smooth transition from safety to corner, but FSU didn't get much of a look at what will constitute the secondary in 2013. Key players such as Tyler Hunter,
Nick Waisome
and
Ronald Darby
were all hurt, while promising freshman
Jalen Ramsey
had yet to arrive. The group will finally all work together during fall camp.
3. Just for kicks:
Redshirt freshman
Roberto Aguayo
showed off his powerful leg during FSU's spring game, connecting on three long field goals, including a 58-yarder to close out the game. Still, replacing the NCAA's all-time leading scorer among kickers won't be an easy task. Dustin Hopkins was as reliable as it gets for FSU, and Aguayo still needs to show he can handle the pressure of making a big kick with the game on the line.
May, 7, 2013
May 7
8:30
AM ET
TALLAHASSEE, Fla. -- Nothing was going to change. That was Jimbo Fisher's story to start the spring, regardless of the massive overhaul of his defensive coaching staff.
Sure, new coordinator Jeremy Pruitt would bring a few new wrinkles from his old stomping grounds at Alabama, but in the big picture, Fisher assured, Florida State's defense would still look much as it did for the past three seasons under Mark Stoops.
By the end of the spring, however, it was clear Fisher had downplayed the impact his new coaches would have. The Seminoles spent weeks watching tape of the Crimson Tide. Pruitt installed new verbiage, new calls, new schemes and a whole lot of new blitz packages. And when a rather vanilla spring game ended, even Fisher was ready to ratchet up the expectations.
[+] Enlarge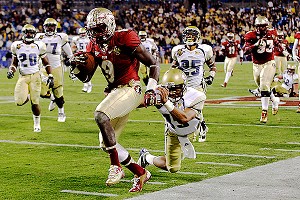 AP Photo/Chuck BurtonKarlos Williams made several big plays in pass defense last season, but could be used in more blitzes in 2013.
"You ain't seen blitzes yet," Fisher said.
If the quarterback battle was all the buzz among Florida State fans this spring, it's the defense that created the most excitement inside the locker room. Pruitt's approach completely restructured the simplified scheme Stoops had used with such success the past three seasons, and that meant new opportunities for the Seminoles' defenders and plenty of confusion for the offense.
The only problem was that FSU had just four weeks to master it before the long summer began.
"That's the hardest part, because at some point we were trying to relate last year's calls to this year's calls, and you really can't do that," safety
Terrence Brooks
said. "You've got to forget all that. It's learning a whole new defense."
The large-scale changes were bound to occur given the three new coaches on defense. But shaking things up also brings risk.
Stoops' unit was immensely successful, finishing second in total defense in 2012 and fourth in 2011. And the beauty of Stoops' approach was in its simplicity. He asked his defensive backs to cover, asked his linebackers to stop the run and asked his front four to generate pressure. Blitzes were the exception, not the rule.
"Stoops made it really, really simple," Brooks said. "I feel like he was a genius for that, getting the defense to be that good, but so simple."
Maintaining that simplicity might have been difficult regardless of the coaching changes, though. With the loss of five defensive linemen and one of the nation's top cornerbacks to the NFL, changes were inevitable. Ends Bjoern Werner and Cornellius Carradine had been immensely successful in generating pressure without blitzing, but that's a luxury Pruitt won't get a chance to enjoy.
Instead, Pruitt's scheme takes some of the responsibility away from the defensive front and opens up the game plan for the athletes off the line of scrimmage -- and that's an exciting proposition for players such as new starting safety
Karlos Williams
.
"I feel like we will be way more aggressive than we have been because we're just doing a lot more -- we're a lot more active," Williams said. "But you all can watch it and see what happens."
Blitzes come from all over the field, and Pruitt has created dozens of new looks. Linebackers creep up to the line of scrimmage, ends drop into coverage, defensive backs are blitzing routinely. It's chaos for the offense -- but it's not entirely simple for the defense, either.
"We all felt overwhelmed at some point, but all those little things and calls, it really helps a lot because it gives us a chance to make so many more plays," Brooks said. "It's amazing to see on film how Alabama did it. They had guys dropping into coverage, all the different calls they had, but they all made a lot of plays off those little calls."
But picking up all those new calls was crucial. As a new crop of freshmen arrive this summer and a handful of veterans return from injuries, it will be the responsibility of FSU's veteran defenders to pass along what they learned from this spring's four-week crash course.
Truth be told, linebacker
Christian Jones
said, they could've used a few more weeks to prepare. But all things considered, Jones is confident the summer will prove to be a productive time even without Pruitt's immediate oversight.
"This spring, we pretty much put in the whole playbook," Jones said. "The guys have done a pretty good job of picking it all up, but it's a lot of stuff. It's a lot of checks, change the fronts a lot."
The new defense presents some pressure, but Jones isn't complaining. It might take a while longer to get everyone on the same page, but when it all comes together, this new defense could be awfully fun to watch.
"It's spring, so they've got to throw all that stuff in so we can know it in the fall," Jones said. "Once we get to the fall and can game plan, I think we'll have a real scary defense."
May, 6, 2013
May 6
9:00
AM ET
When summer workouts began a year ago, players like Menelik Watson,
Demonte McAllister
and
Nick Waisome
were flying under the radar with little in the way of expectations. By season's end, however, they were among Florida State's most productive players.
It happens every year that a few relatively obscure names find their way into bigger roles, and as the Seminoles get set to start another summer NoleNation is counting down five under-the-radar players who could be in line for breakthrough seasons.
First up: Dan Hicks (Sr./DE)
Career arc:
A two-star recruit out of high school, Hicks saw limited action at defensive end in 2010 and 2011, registering 34 tackles and two sacks. After the 2011 season, he was shifted to tight end, but a knee injury during fall camp ended his season. He switched back to defense this spring.
Why he's overlooked:
Hicks' history doesn't exactly inspire much enthusiasm, and after a lost season in 2012 he was largely forgotten. While the move back to defensive end offered an opportunity for playing time at his original position, he's also competing against more prized prospects like
Mario Edwards Jr.
,
Giorgio Newberry
and
Chris Casher
.
Why he'll produce:
It might have been a full year since Hicks last competed at defensive end, but he looked the part of an experienced veteran during spring practice. Fisher raved after the spring game that no one on the defensive line had played so consistently well as Hicks, and where he once appeared to add depth at a position in transition, he's now a serious contender to win a starting job.
Projection:
Hicks' star might never eclipse that of Newberry or Casher, but Fisher and new defensive ends coach Sal Sunseri don't care much about pedigree. When it comes to production, Hicks has impressed, and whether he ends up the starter, he'll get regular reps and should provide valuable experience at a position without much of it elsewhere.
May, 6, 2013
May 6
7:00
AM ET
Whether he realized it before,
Bailey Granier
(Galliano, La./South Lafourche) can be certain now -- he's got an offer from Florida State.
Late last week, offensive line coach Rick Trickett dropped by the school to check on the 6-foot-6, 350-pound tackle to make sure he knew they were interested.
To continue reading this article you must be an Insider
May, 5, 2013
May 5
7:27
PM ET
When it comes to the Tampa area, wide receivers coach Lawrence Dawsey is usually the guy for Florida State.
But on Sunday, it was defensive coordinator Jeremy Pruitt that issued an offer to a prospective defensive back in
Tajee Fullwood
(Tampa, Fla./Tampa Bay Tech).
To continue reading this article you must be an Insider
May, 2, 2013
May 2
8:30
AM ET
TALLAHASSEE, Fla. -- The 2012 signing class brought 16 new faces to Florida State, but after a full year on campus, fans have seen only a glimpse of what the group, ranked as the No. 2 class in the nation, can do.
Nine members of the 2012 class saw action last season, and only defensive end Mario Edwards Jr. earned a start. But even Edwards' progress comes with an asterisk. He was slated to redshirt when the season began, and he only worked his way onto the field -- and later, into the starting lineup -- thanks to a series of injuries.
After a year largely spent on the sidelines, the Class of 2012 is poised to make an impact this season. Here's how we see things shaping up.
The wild card
Marvin Bracy, WR
Bracy skipped spring practice to focus on track, and now it seems entirely possible that decision could be permanent. Bracy has world-class speed, and if he chooses to go pro as a sprinter, he'd wave goodbye to his FSU football career. A decision could come any day.
Waiting their turn
Justin Shanks, DT
Despite FSU losing its two starting tackles, the position is still chock full of talent, which has managed to overshadow Shanks -- something that's awfully hard to do to a player pushing 320 pounds.
Colin Blake, CB
Blake battled injuries early in 2012 and ended up redshirting. He might have had a chance to earn a regular role this season, but
Lamarcus Joyner
's move to corner likely makes the field a bit too crowded. Blake will see work on special teams, but he'll need a few starters to go down with injuries before regular playing time is available in a crowded secondary.
Sean Maguire, QB
To Maguire's credit, he conceded nothing during FSU's quarterback competition this spring. Still, the writing was on the wall. Maguire has a good arm and solid long-term potential, but the job isn't likely to be his for at least a few more years.
To continue reading this article you must be an Insider
May, 1, 2013
May 1
9:14
PM ET
Offensive line, a position of need for Florida State during this recruiting cycle, got a boost Wednesday night.
Alec Eberle
(Mechanicsville, Va./Altee), a two-way lineman, committed to Florida State, calling Rick Trickett and Jimbo Fisher to give them the news.
"I really like it as a school," he said. "I talked to Coach Trickett a couple of times and I pretty much knew when I left that school that it was where I wanted to go. It seemed like the best opportunity to go and win games and championships. And to have them help me get to my next goal which is to play in the NFL.
"It was the best school for all that stuff."
That was music to the coaches' ears.
Fisher had expressed some concerns that Eberle wouldn't make the trip all the way down to Florida for school. But that's what Eberle intends to do.
"They were excited," he said. "Coach Trickett and Coach Fisher was extremely excited. Coach Trickett said that Coach Fisher was a little worried that I wouldn't come all the way -- I live 10 or 11 hours away, but I made the commitment and I am going to stick to my commitment and I can't wait to get down there and play."
At 6-foot-4 and 270 pounds, Eberle will be coming in to play on the interior.
"They told me I was coming in as a guard or a center," he said. "I'll probably play center."
Florida State didn't face too stiff of opposition for his commitment. But that didn't stop it from knowing what they wanted.
And Eberle could tell that just from the way the Seminoles came to recruit him.
"There wasn't a lot of schools in the picture yet, UConn, Maryland, Temple, ODU," he said. "When FSU offered me, a school that doesn't really recruit my state that much, that sends a message. They are going to use you and you are going to get playing time. It's a great opportunity."
May, 1, 2013
May 1
2:49
PM ET
Thomas Holley
's recruitment has been a lot like his most recent visit.
The ESPN 150 defensive tackle out of Brooklyn (N.Y.) Abraham Lincoln was at Penn State for the annual spring game, which was hampered by every weather condition imaginable.
"It did a little bit of everything -- rain, snow, everything -- it was crazy," Holley said.
The first few months of his recruitment have been the same. Holley, No. 93 in the ESPN 150, has seen it all in a short time. He went from basketball prospect to first-year football player to playing just a handful of games to landing his first offer. Now he is an Under Armour All-American with more than 20 offers.
To continue reading this article you must be an Insider
May, 1, 2013
May 1
7:00
AM ET
Just beyond the Florida-Georgia line from Tallahassee there resides one of the more famous South Georgia programs. And within that program is
Austin Bryant
(Thomasville, Ga./Thomas County Central), a 2015 linebacker who could be the next Yellow Jackets star.
To continue reading this article you must be an Insider
April, 30, 2013
Apr 30
2:00
PM ET
Florida State set a school record with 11 NFL draft picks over the weekend. That also happened to lead the entire nation, ranking ahead of national champion Alabama, LSU and yes, even Florida.
So what does this say about the Noles as a program? Are they finally back, or just a pack of underachievers? Andrea Adelson and Heather Dinich debate.
Andrea says: The proof is in the picks.
[+] Enlarge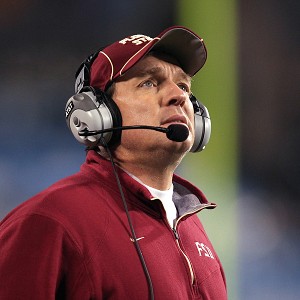 Streeter Lecka/Getty ImagesFlorida State's Jimbo Fisher had as much talent to work with as any coach in the country last season.
We all know the Seminoles have their detractors, who believe every season must be a perfect season or else it is a complete and utter disappointment. Raising the bar the way this program did in the late 1980s through the mid-2000s means living with the type of expectations reserved for only the most elite programs in the entire country.
Coach Jimbo Fisher lives with these expectations every day. But he also lives in reality. And reality says that Florida State stumbled badly in the final few years under coach Bobby Bowden, and it takes more than snapping your fingers, rolling a Florida State helmet onto a field and planting a spear to get a program back into national championship contention.
It takes time. And it takes talent. And, well, Florida State had a lack of talent. In Bowden's final four seasons, 2006-09, the Noles had 12 total draft picks -- including one in the 2009 draft. That's just one more than Florida State had this past weekend. So, Fisher has gotten the talent on par with what Florida State used to produce.
April, 30, 2013
Apr 30
8:30
AM ET
Call
Kain Daub
(Jacksonville, Fla./Sandalwood) the strong, silent type. He has never been shy about his lack of affinity for the recruiting process.
He's certainly not anti-social, but when it comes to his recruitment, the calls from coaches and reporters, the mail and all that comes with it, he keeps the answers short.
To continue reading this article you must be an Insider