October, 19, 2014
Oct 19
10:38
AM ET
By
Chris Morris
| ESPN.com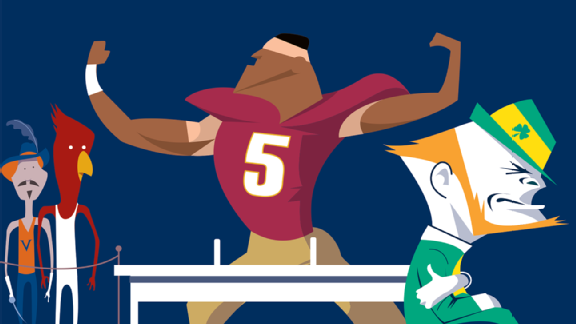 Chris Morris for ESPN
Each Sunday during the season, ESPN.com will highlight four storylines that had an impact on the College Football Playoff race.
The Seminoles strong-armed the Fighting Irish, wrestling back from a 17-10 halftime deficit to win their 23rd consecutive game and overcome perhaps their toughest remaining test. FSU has five unranked opponents left, beginning with a road trip to Louisville on Oct. 30, followed by Virginia.
---
Big 12 balance of power shifting
No. 4 Baylor's playoff hopes took a massive hit in a 41-27 loss to unranked West Virginia. No. 14 Kansas State is rising by virtue of a 31-30 win over No. 11 Oklahoma, which suffered its second loss. Meanwhile, No. 12 TCU rebounded strongly after a wrenching loss to Baylor by pummelling No. 15 Oklahoma State 42-9.
---
The Crimson Tide stomped the Aggies, notching their most lopsided SEC victory since beating Vanderbilt 66-3 in 1979 and blanking Texas A&M coach Kevin Sumlin for the first time in his 86 games as a head coach.
October, 19, 2014
Oct 19
9:00
AM ET
How about a few helmet stickers for a job well done:

Louisville RB Michael Dyer.
For the first time all season, Dyer was completely healthy -- and he showed what he is capable of in a
30-18 win over NC State
. Dyer had 173 yards and a touchdown -- his 46-yard score late in the fourth quarter sealed the win. It was Dyer's first 100-yard rushing game since Nov. 19, 2011, when he had 157 yards against Samford while still playing for Auburn.
Syracuse defensive front.
You cannot give
Robert Welsh
a helmet sticker without giving
Micah Robinson
a helmet sticker, as both scored touchdowns for Syracuse in a
30-7 win
over Wake Forest. So they both get one, along with their defensive teammates in an impressive performance. Welsh returned an interception 42 yards for one touchdown while Robinson returned a fumble 51 yards for another. Welsh also had two tackles for a loss and a pass breakup. In all, Syracuse had 10 tackles for loss, three sacks and held Wake Forest to 170 yards.
Pitt QB Chad Voytik.
Voytik took plenty of criticism during the Panthers' recent three-game losing streak. But in a
21-16 win over Virginia Tech
on Thursday night, Voytik was the biggest difference in the game -- running for 118 yards on 19 carries while going 10-of-17 for 92 yards with one touchdown and an interception. His 49-yard run set up the game-clinching touchdown. In fact, the designed runs kept the Virginia Tech defense off balance all night and should be something the Panthers do more as the season goes on.
North Carolina QB Marquise Williams.
For the second straight week, Williams was phenomenal -- but this time, the Tar Heels picked up a 48-43
come-from-behind win
over Georgia Tech. Williams threw for 390 yards, ran for 73 more, completed a school-record 38 passes and had five total touchdowns. On the game-winning drive, Williams completed six passes -- the biggest reason why the Tar Heels ended a four-game losing streak. In the past two games, Williams has 696 yards passing, 205 yards rushing and nine touchdowns. He played every snap in both games, too.
Florida State QB Jameis Winston.
There is no doubt Winston is the biggest reason the Seminoles came from behind
to beat No. 5 Notre Dame
31-27 to keep their College Football Playoff chances alive. After a subpar first half, in which he went 8-of-15 for 92 yards with a score and interception, Winston was nearly flawless. In the second half, Winston went 15-of-16 for 181 yards and a touchdown, flashing the form that allowed him to win the Heisman Trophy a year ago. Perhaps most impressive, he was so effective despite facing heavy blitzes from Notre Dame on virtually every play. Winston calmly delivered in the face of pressure.
October, 19, 2014
Oct 19
3:32
AM ET
TALLAHASSEE, Fla. --
Jameis Winston
was talking about the pressure from Notre Dame's incessant blitzes, which kept him under duress for the better part of four hours Saturday night. He was hurried and hit, and No. 5 Notre Dame rarely afforded Winston an opportunity to set his feet.
"I get hit a lot of times, but you know what I do: I get back up," Winston said. "I keep playing football, and we keep winning."
Then Winston flashed a smile. He knew his answer could be extended far beyond the Fighting Irish's exotic blitzes to the numerous off-the-field headlines that have threatened to force him from the field.
Saturday, the second-ranked Seminoles were celebrating a
31-27 victory
not just over Notre Dame, but, at least in their eyes, against an allied front of college football fans who'd like to see the sport's longest active winning streak end.
[+] Enlarge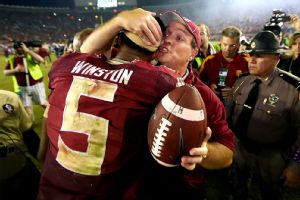 Streeter Lecka/Getty ImagesJimbo Fisher embraced quarterback Jameis Winston following their win over No. 5 Notre Dame.
"It was kind of like us against the world," defensive tackle
Derrick Mitchell
Jr. said.
With Winston, the Seminoles always have a puncher's chance, and the entire playoff-seeking country is lamenting Sunday morning that the three-knockdown rule in boxing doesn't apply to college football. For a third time this season, Florida State was staggered and bloodied, lying on the mat and struggling to find its center. College football looked to, of all schools, Notre Dame to play the unfamiliar role of David. The Irish were maybe the last chance to eliminate the reigning champions from the inaugural College Football Playoff after Oklahoma State and Clemson both had the Seminoles reeling before fourth-quarter blunders.
The Irish came close to victory, winning nearly every statistical category. And
Everett Golson
was knocking on the door in the final seconds, even throwing a touchdown with 13 seconds left before it was stricken from the scoreboard for offensive pass interference.
Winston was at his best, though, delivering multiple Heisman moments even if the prospects of a second bronze statue have diminished greatly since the season began. They could possibly be described as nonexistent after the continued Title IX inquiry and an internal compliance investigation into whether he accepted money for autographs.
In the second half, Winston completed 15 of 16 passes. Nearly all of them came with an Irish lineman or linebacker barreling toward him at full speed. On the touchdown drive that gave Florida State its first lead and proved to be the deciding score, Winston completed three straight passes under pressure.
On the drive's final play,
Karlos Williams
scored, and Winston did a pirouette and pumped his fist. He silenced his critics, at least for a week, maybe less.
In the aftermath that ensued once Winston took a knee, the team rushed toward him. Linebacker
Terrance Smith
said it wasn't planned or even on purpose that they surrounded Winston, but it fit the script.
Then, as Tom Rinaldi was set to interview Jimbo Fisher, who emotionally defended Winston earlier in the week, Winston ran over and hugged his coach. Fisher yelled in his ear -- the metal bleachers were still reverberating from a raucous 82,431 Seminoles fans -- about the love he has for Winston.
"It's my job to help mentor and help him. And he's a fun guy to coach and be around," Fisher said. "I've always cared for him, like I care for all my players. That's my job."
Winston's teammates said there wasn't much talk in the locker room this week about the looming school conduct code hearing or the authenticator that has labeled more than 2,000 Winston signatures as credible. They understand he has flaws, but each player went to bat for their quarterback when asked about their feelings on Winston.
"Jameis is not a dumb kid, he just makes poor decisions at times just like everybody his age does," said
Mario Edwards Jr
., who was part of the same recruiting class as Winston. "Things get blown up a lot bigger because he's Jameis Winston and he won the Heisman, and it's not fair to him and it's not fair to us. But that's Jameis. Jameis is a goofy kid and he loves to have fun and he's going to play good football."
As a team, Florida State will continue to play meaningful football. A loss to Notre Dame could have knocked the reigning champions out of the four-team playoff.
Though his team has looked nothing like the 2013 Seminoles -- it has trailed in fourth quarters twice -- it has still found a way to win.
"That's extremely satisfying. It's what you play for. That's what you strive to get your program to all the time, to be able to persevere and play in games like this and win those games," Fisher said. "That's what I love about our team. They have a lot of pride and know how to win."
October, 19, 2014
Oct 19
1:00
AM ET
Week 8, including the biggest game of the season for an ACC team, is in the books. Here's what we learned:
Florida State is still unbeaten:
For the third time this season, Florida State trailed at the half, but the Seminoles once again staged a dramatic comeback followed by a nail-biting defensive stand on their opponent's final drive to remain unbeaten and keep their playoff hopes alive.
Jameis Winston
was the star, as he completed 15-of-16 passes for 181 yards in the second half and lead the
31-27 comeback win
, while
Rashad Greene
and
Travis Rudolph
both caught TD passes. It's clear Florida State isn't the same team it was a year ago, but the Seminoles' ability to continually fight back and find ways to win might be even more impressive.
[+] Enlarge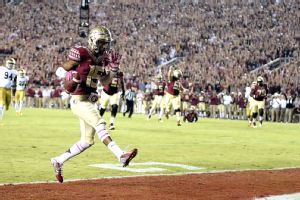 John David Mercer/USA TODAY SportsTravis Rudolph and the Seminoles proved their ability to come back from a deficit once again.
The Coastal still goes through Duke:
Last week, Georgia Tech looked like the favorite to win the Coastal, and then Duke beat them. Then it was Virginia's turn atop the conference, and once again, the Blue Devils took down the favorite. Duke averaged more than 5 yards per carry against Virginia's stout defensive front, and it didn't turn the ball over in a big
20-13 win
in Durham. The end result? The defending Coastal champs are once again the team to beat in the division. The Blue Devils have head-to-head victories over two of the other one-loss teams, and they'll get their chance to take down Pitt, too, after a Week 9 bye.
A healthy Louisville is pretty good:
We knew Louisville's defense was good. The offense, on the other hand, was a problem. But Saturday's
30-18 win
over NC State was the Cardinals' first game with a full lineup of healthy stars on offense, including QB
Will Gardner
, running back
Michael Dyer
and receiver
DeVante Parker
. The trio injected some life into the proceedings, as Louisville scored 30 points for the first time in a month, and Dyer and Parker combined for 305 yards. Dyer racked up his first 100-yard rushing performance since 2011. It was a nice addition for Louisville but also a reminder of what might've been for the Cardinals, had the offense been this healthy from the start of the season.
Clemson can win ugly:
The Tigers' offense has mustered just two touchdowns and averaged just 4 yards per play without star QB
Deshaun Watson
the past two weeks, but they've still managed to win both games. Chalk it up to a spectacular defense that once again stuffed an opponent's ground game. Boston College entered as the No. 5 rushing offense in the nation, but Clemson racked up 14 tackles for loss and surrendered just 120 yards on the ground in its
17-13 victory
and held BC nearly 200 yards below its season average.
Cole Stoudt
won't be confused for Watson any time soon, but if he can continue to make a handful of plays a game, this defense should be enough to carry Clemson a long way.
Marquise Williams is UNC's QB:
It's hard to believe there was a QB debate in Chapel Hill earlier this year. Williams has been unstoppable in his past two games -- which, coincidentally, were the first two games in which
Mitch Trubisky
wasn't given regular playing time. Williams set a North Carolina record with 38 completions, threw for four TDs and rushed for one more while leading a dramatic
48-43 come-from-behind win
over Georgia Tech late in the fourth quarter. In his past two games, Williams has compiled 696 passing yards, 205 rush yards and nine touchdowns.
Pitt's not dead yet:
Thursday's
21-16 win
over Virginia Tech proved to be a resurrection for Pitt. The Panthers had dropped three in a row as their QB struggled and defenses ganged up to stop star tailback
James Conner
. Against Virginia Tech, however, Pitt looked much improved.
Chad Voytik
didn't have to do much with his arm (92 yards), but he racked up 118 yards on the ground, and the win further stifled Tech's hopes for a division title and rekindled Pitt's.
October, 19, 2014
Oct 19
12:39
AM ET
By
ESPN Stats & Information
| ESPN.com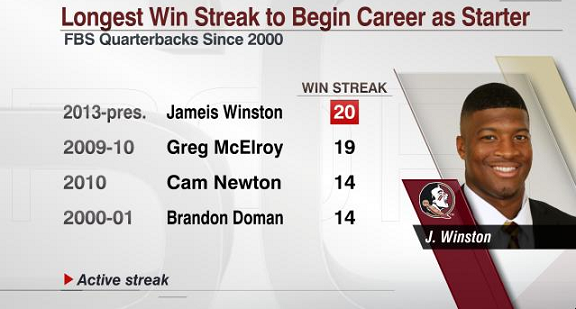 Jameis Winston remains unbeaten and has top billing on this list.
The
Notre Dame
–
Florida State
matchup was billed as one of the best games this season.
It lived up to its billing in a big way, and once again, Florida State prevailed.
The teams were never separated by more than one score, and Florida State got the last and decisive score to win 31-27.
The history
Florida State won its school-record 23rd straight game and its sixth in eight meetings with Notre Dame.
Florida State has won three straight games versus AP top-five teams for the first time since 1999-2000.
This was the first time Notre Dame lost a game it entered unbeaten and was playing in the regular season against the defending national champ (4-1-2 in those games all time).
The loss snapped an eight-game Notre Dame winning streak in games decided by six points or fewer.
The Fighting Irish fell to 2-6 all time against Florida State, their worst record against any team they've played at least five times.
Winston does it again
After a rather unimpressive first half, Jameis Winston was fantastic in the second half, completing 15 of his 16 pass attempts for 181 yards and a touchdown.
Winston was 2-of-6 on throws of 10 or more yards downfield in the first half, 9-of-9 on those passes in the second half.
Winston improved to 20-0 as a starting quarterback with the win.
That's the longest win streak to start a career for any FBS quarterback in the past 15 seasons, one better than Alabama's Greg McElroy.
Lose the yardage battle, win the game
Notre Dame outgained Florida State by 147 yards, the worst yardage margin for Florida State in any game under Jimbo Fisher (since the start of the 2010 season). Losing the yardage game is generally not a recipe for success in college football, but the Seminoles are 3-2 under Fisher when getting outgained by at least 100 yards.
One of the reasons Notre Dame outgained Florida State by so much was the play of quarterback Everett Golson.
Golson had his third game this season with at least 300 passing yards (he'd had only one prior to this season). He threw two touchdowns to
Corey Robinson
, who'd never had a multi-touchdown game before Saturday.
The Irish offense was slowed in the second half, scoring only three points in the final 22 minutes. Notre Dame had the potential game-winning touchdown wiped out by a penalty in the final seconds.
Golson fell to 16-2 as a starting quarterback. This was the first regular-season loss of Golson's career.
October, 19, 2014
Oct 19
12:30
AM ET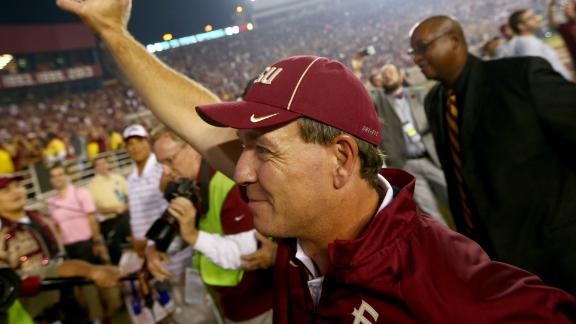 If the 1993 matchup between Florida State and Notre Dame was the game of the century, Saturday night's contest certainly proved to be a worthy successor. The Seminoles held off a final drive from the Irish and stopped one last fourth-down heave from
Everett Golson
to preserve a
31-27
win, extend their win streak to 23 and keep their playoff hopes alive.
How the game was won:
Florida State erased a 17-10 halftime deficit on the arm of
Jameis Winston
, who was nearly flawless in the second half, but it was a final defensive stand that was the difference. Notre Dame converted a fourth-and-18 with less than two minutes remaining, but Golson couldn't get the job done again on the game's final play. The Irish had four drives of more than 10 plays, but the 12th play of the final drive was a long throw from Golson that was picked off by
Jacob Pugh
in the back of the end zone, which gave Florida State the win.
Game ball goes to:
Winston, of course. The FSU quarterback spent the week dealing with more off-the-field chaos, and he struggled in the early going against Notre Dame, including a foolish throw that resulted in an interception. But in the second half, Winston was electric. He completed 15 of 16 throws for 181 yards and a touchdown. Credit, too, to Winston's receiving corps.
Rashad Greene
was spectacular once again and caught eight passes for 108 yards, while freshman
Travis Rudolph
(six catches for 80 yards and a score) took a huge step forward in his career.
What it means:
For Florida State, it means the win streak is extended and the playoff hopes remain. For Notre Dame, it's a blow to the postseason dreams. But it was also a showcase for just how good this team is, led by Golson, who battled cramps to turn in a tremendous performance. Notre Dame will certainly slide a bit in the polls, but with some big games remaining on the slate, the Irish still have a chance at the playoff.
Playoff implications:
Florida State's ticket certainly isn't punched, given tough games against Louisville, Virginia and Miami on deck, but this felt like the biggest hurdle the Seminoles will face in defending their title. The question now is whether a close win over the No. 5 team in the nation can push FSU past Mississippi State for the top spot in the polls. The Irish proved a lot of critics wrong, but a loss is still a loss, and it'll be a bit more of an uphill climb for them to reach the playoff.
Best play:
There were plenty of them on both sides, but the two most memorable will probably be the two fourth-and-18 throws on the last drive. The first one was a minor miracle, as Golson completed a 20-yard pass to
Corey Robinson
with a man in his face to extend the drive. But the final throw from Golson was picked off in the back of the end zone to secure the win. Of course, for sheer drama, the play that preceded that last heave -- a touchdown toss to a wide open Robinson -- will be the one Notre Dame fans will talk about for years. A penalty negated the score and the win.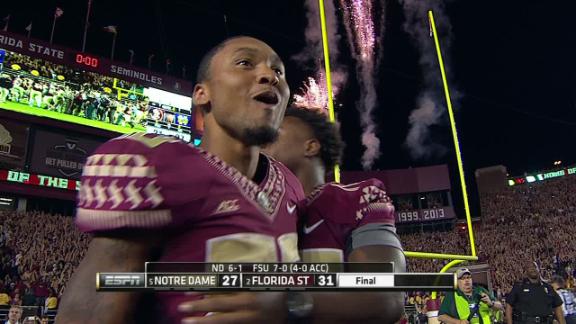 What's next:
Both teams get a much-needed week off after Saturday's heavyweight battle. Notre Dame returns against Navy on Nov. 1 but still has tough matchups against Arizona State, Northwestern, Louisville and USC to close out the year. FSU has a Thursday date at Louisville on Oct. 30 that could be a potential trap on the Seminoles' way to the playoff.
October, 19, 2014
Oct 19
12:14
AM ET
Associated Press
TALLAHASSEE, Fla. -- Jameis Winston prevailed after another week of controversy and threw for 273 yards and two touchdowns to lead No. 2 Florida State to 31-27 win over No. 5 Notre Dame on Saturday.
The Seminoles (7-0, 5-0 ACC) used a second-half comeback with the season on the line to topple the Fighting Irish. Notre Dame (6-1) is the last ranked team FSU's schedule and the win may be its last chance to make a decisive impression on the College Football Playoff selection committee.
Notre Dame quarterback Everett Golson threw for 313 yards and three touchdowns, but Winston won the duel in the second half as he completed his first 13 passes against a defense that had Florida State flustered for the first 30 minutes.
The Irish moved to the 2-yard line on the final drive, but an offensive pass interference call killed the drive.
Florida State said this week it was investigating whether Winston received benefits for autographs being sold online.
Drawing Conclusions: Week 8
ACC SCOREBOARD
Thursday, 10/23
Saturday, 10/25