February, 16, 2015
Feb 16
4:00
PM ET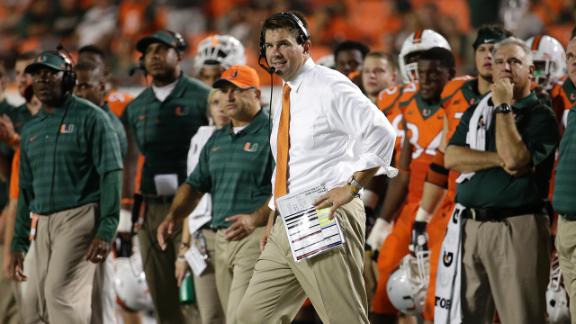 COCOA BEACH, Fla. -- When the top prospects get together at an even such as the Pylon 7-on-7, there are always a number of interesting topics on the recruiting front to be discussed. In particular, last weekend's 7-on-7 featured many of the top skill prospects in Broward, Dade and Palm Beach counties and that meant the Miami Hurricanes were a topic of discussion.
When talking about Miami in it's current state, the main question is when or if The U will be back among the nation's elite.
After a 9-4 season in 2013, the Hurricanes took a step back in 2014, finishing 6-7, albeit with a talented freshman quarterback in Brad Kaaya who certainly provides Miami fans hope for 2015 and beyond. That means the 2015 season is a make-or-break one for Al Golden and staff with the rival
Florida State Seminoles
winning and recruiting at a very high level and the
Florida Gators
sure to get the recruiting bounce in 2016 after a coaching change and the ability to sell a vision for the future to top prospects in the Sunshine State.
February, 16, 2015
Feb 16
10:00
AM ET
The
Ultimate ESPN 300
is RecruitingNation's ranking of the best prospects since we began evaluating high school athletes in 2006. That means there are many names on the list known to college football and recruiting fans since coming out of high school. The list can also provide glimpses of which states have been top producers since 2006 and which teams have done the best and worst jobs of evaluating prospects and producing players.
Here are 15 things to know about the Ultimate ESPN 300:
15.
Some classes turn out better than others, and that is true of the 2009 class. There are 45 players from the class in the Ultimate ESPN 300, the most of any class, including 15 that became first-round NFL draft selections. That includes four who signed with Alabama:
Trent Richardson
,
Dre Kirkpatrick
,
D.J. Fluker
and
Chance Warmack
.
14.
Bob Stoops recruited and coached 13 players on the list. Of the 13, four were first-round NFL draft selections led by Pro Bowl defensive tackle
Gerald McCoy
and 2008 Heisman Trophy winner
Sam Bradford
. Nine of the 13 were also members of the Sooners team that lost to Florida for the 2009 BCS National Championship.
13.
The teams that played for the 2012 BCS National Championship, Alabama and LSU, were supremely talented. There are 22 players from those rosters in the Ultimate ESPN 300, including 14 for the Crimson Tide.
12.
Quite possibly the most important part of the recruiting process for coaches is keeping the best at home. Well, only 137 of the Ultimate ESPN 300 stayed in state to play college football. One important aspect of this stat is that not every player on the list had the option to stay in state.
11.
The teams from the 2014 BCS title game are well represented on the list. Twenty-three players from Florida State and Auburn make the list, with the Seminoles accounting for 18.
10.
NCAA FBS single-game-rushing record holder
Samaje Perine
enters the list after a freshman season of 1,713 yards and 21 touchdowns for the
Oklahoma Sooners
. His 427 yards against Kansas in 2014 broke the record a week after
Melvin Gordon
had set a new mark.
9.
The 2011 class is special. That class has 41 players in the Ultimate ESPN 300, including 12 first-round NFL draft picks with more possible, including
Marcus Mariota
,
La'El Collins
and
Shane Ray
. The Sunshine State led the way in the 2011 class with first-round picks:
Sammy Watkins
,
Teddy Bridgewater
,
Ryan Shazier
,
Ha Ha Clinton-Dix
and
Kelvin Benjamin
with more possible to be added to the list.
8.
As expected, the state of Florida leads the way with 52 players on the list. Texas is second with 35, and California third with 28. Georgia follows with 18. Only 23 of the 52 from the Sunshine State stayed in state for college, but 19 of those players left college with national championship rings.
7.
There are 15 players who signed with USC on the list, including
Jarvis Jones
, who would later transfer to Georgia. That's the most from a school on the list that hasn't won a national championship since 2006. Notre Dame is second on that list with 12.
6.
There are six quarterbacks from the state of Texas in the Ultimate ESPN 300, and only one was recruited heavily and offered early by the University of Texas:
Matthew Stafford
. The five who weren't offered or recruited as quarterbacks by the Longhorns:
Andrew Luck
,
Robert Griffin III
,
Johnny Manziel
,
Ryan Mallett
and
J.T. Barrett
.
5.
There are 17 players on the list recruited by Urban Meyer. The impressive list includes Tim Tebow and
Percy Harvin
, along with
Joey Bosa
,
Ezekiel Elliott
and
J.T. Barrett
from 2015 national champion Ohio State.
4.
St. Thomas Aquinas in Fort Lauderdale, Florida, is the high school with the most players on the list with six. That includes NFL running backs
Gionvani Bernard
and
James White
, who were members of the same backfield.
3.
Nick Saban has recruited 25 players to Alabama on the prestigious list. Of those 25, 11 have been first-round NFL draft selections, with that number to hit 13 in a couple of months with
Amari Cooper
and
Landon Collins
projected to be 2015 first-rounders.
2.
South Florida's Dade and Broward counties are the two most talented counties in the country that neighbor each other. To illustrate that fact, 22 members of the Ultimate ESPN 300 are from the otherworldly talented counties, including five NFL first-round draft picks, with that number expected to jump to seven or eight in April. Add in Palm Beach County, which neighbors Broward, and that number jumps to 29 of the 300, including seven first-round picks, with that number sure to hit double digits in two months. If one is a Miami (Fla.) fan, time to turn away, as only four of the 22 from Dade and Broward counties played for the Hurricanes.
1.
How do you win three national championships in six years? Jimmys and Joes are where it must begin, and Alabama has the most of any school on the list with 27. More than half of the 27 have been or will be first-round draft selections after this year's draft. Both Florida and Florida State have 18 apiece on the list.
February, 15, 2015
Feb 15
11:45
AM ET
COCOA BEACH, Fla. -- The 2015 Pylon 7-on-7 tournament at Cocoa Beach High drew many of the top prospects in Florida in the 2016 class Saturday. More than 15 skill players in the
ESPN Junior 300
competed throughout the day, including nationally recruited juniors such as
Trayvon Mullen
,
Darnell Salomon
and quarterback
Ervin "Woody" Barrett
.
Here are notes on some of the top players in attendance:
To continue reading this article you must be an Insider
February, 14, 2015
Feb 14
9:30
PM ET
COCOA BEACH, Fla. -- The Pylon 7-on-7 2015 tournament at Cocoa Beach High drew many of the top prospects in Florida and beyond in the 2016, 2017 and even 2018 classes Saturday. More than 15 skill players in the ESPN Junior 300 competed throughout the day, including nationally-recruited juniors such as
Trayvon Mullen
,
Dredrick Snelson
and quarterback
Ervin "Woody" Barrett
.
Here is the latest on several Sunshine State prospects.
Eli Stove, WR
ESPN Junior 300 ranking:
No. 80
To continue reading this article you must be an Insider
February, 13, 2015
Feb 13
10:52
AM ET
In each of the past six years, during the offseason, I have come up with a projected top 10 of the preseason AP poll on my website. I do this by taking several different factors into account:
• Most AP voters usually look at a couple of criteria when they evaluate a team for the upcoming season. First, they look at the number of returning starters the team has coming back, particularly at the offensive skill positions. A team that returns its starting quarterback and a combination of its running backs and wide receivers, for example, is often more highly regarded than a team that loses its starting quarterback but returns its entire offensive line. Similarly, a team that returns most of its starters on offense but loses a lot of its defensive playmakers is usually more highly regarded than a team that returns a majority of its defensive starters but loses its skill-position players on offense.
• Another factor weighed heavily is the performance of the team in its bowl game, which is undoubtedly the lasting image voters carry with them during the offseason. A team coming off a huge bowl win is usually more highly regarded than a team that is coming off a bowl loss, regardless of what its schedule looks like for the upcoming season.
• Also weighed heavily is where the teams finished the previous year. Naturally, teams that finished somewhere in the rankings (top 25) have a much better chance of being preseason top 10 than a team that finished unranked last year.
Using these factors -- and a few others, such as strength of schedule -- I project the preseason AP top 10 every year at the start of February, which in most cases is six months in advance of the poll's release. Now, as you all know, a lot can happen between February and August, including injuries, suspensions and transfers. But over the past six years, I have been very successful using this method, correctly projecting 56 of 60 teams (93.3 percent), including a perfect 10-for-10 again in 2014.
Before I go into the rankings, it is important to make the point that this is NOT my preseason top 10 for next season, but rather what I am projecting the AP top 10 will look like to start the season. If you're familiar with my college football preview magazine, you will know that every year I tend to go out on a limb for a couple of teams in my top 10, and this year will be no different.
Now, let's take a look at this year¹s projected preseason AP top 10 teams.

1. Ohio State Buckeyes

To continue reading this article you must be an Insider
February, 13, 2015
Feb 13
9:00
AM ET
Because most teams won't start spring practice for a few more weeks, we're in the season of list-making, and Bleacher Report has an interesting rundown of its
top weapons in college football
.
The list includes 25 players, with just three coming from the ACC: Clemson QB
Deshaun Watson
, Georgia Tech QB
Justin Thomas
and Florida State RB
Dalvin Cook
.
It's tough to argue with those selections. If we're making a list of ACC player of the year candidates, those would certainly be among the favorites. Having said that, there are plenty of other big-time playmakers around the league.
Obviously Pittsburgh's
James Conner
and
Tyler Boyd
warrant mentioning, while Miami's
Brad Kaaya
, UNC's
Ryan Switzer
and Clemson's
Artavis Scott
and
Mike Williams
all are emerging stars.
But looking a bit deeper, here are a few more names who figure to be legitimate weapons around the ACC in 2015…
QB:
North Carolina's
Marquise Williams
was terrific last season, and he's poised to be even better this year with a more established O-line and some talented receivers to work with. After
Mitch Trubisky
was shuffled to the bench full-time starting in October, Williams racked up 25 touchdowns. Only five Power 5 QBs had more, and four of them finished in the top 10 in Heisman balloting.
RB:
NC State's
Matt Dayes
didn't get a full workload last season, and that might not change dramatically in 2015, but when it comes to all-around weapons, he's one of the ACC's best. Dayes was the only player in college football last season to tally at least 300 yards rushing, receiving, and on returns while scoring at least 10 touchdowns. In the last decade, just 14 others have done that, and the list includes some big names such as
Reggie Bush
,
DeMarco Murray
, C.J. Spiller,
Randall Cobb
,
Tavon Austin
, Maurice Jones-Drew and
Jeremy Maclin
.
WR:
Florida State's
Travis Rudolph
averaged 15 yards per catch last season, the sixth-best total among returning ACC receivers, as a true freshman. He improved dramatically as the year went along, catching 11 passes for 136 yards in the ACC Championship Game and Rose Bowl.
TE:
Virginia Tech's
Bucky Hodges
is as big a mismatch on offense as any team will have this season. The Hokies used him as a traditional tight end, split him out wide and lined him up in the Wildcat routinely last year. He was among the ACC's top red-zone targets, and only Wake's
Cam Serigne
had more catches among returning Power 5 tight ends.
And while Bleacher Report's list included just one full-time defensive player, FSU's
Jalen Ramsey
, Duke's
Jeremy Cash
, Clemson's
Mackensie Alexander
, Virginia's
Quin Blanding
, Virginia Tech's
Kendall Fuller
and Louisville's
Sheldon Rankins
all warrant discussion, too.
A few more links:
February, 11, 2015
Feb 11
3:00
PM ET
This week, we looked at the second-half performances
for the ACC's quarterbacks
. Now, we'll dig into a few of the other top performances from returning players around the league.
Running backs
James Conner, Pittsburgh:
No surprise that the ACC's player of the year was really good down the stretch, but it's worth noting that by Game 6, Conner's performance was starting to lag because of the a heavy early workload. But after a bye, he came back strong, averaging 6.3 yards per rush (up from 5.6 in the first half) and scoring 17 times on the ground.
Dalvin Cook, Florida State:
It was in FSU's sixth game of the year against Syracuse that Cook finally got a long look, getting 23 carries and rushing for 122 yards, and though he still shared time with
Karlos Williams
after that, he quickly emerged as one of the nation's best young runners. In the second half of the season, Cook averaged 6.2 yards per rush and had 27 carries of 10 yards or more (seventh among Power 5 backs), totaling 925 yards from scrimmage -- just 16 shy of Conner's tally.
Wayne Gallman, Clemson:
The Tigers' ground game was abysmal in first half of the season. Set aside the big day against FCS South Carolina State, and Clemson ranked 102nd nationally in rushing per game (116) and 115th in yards per carry (2.8). But things improved down the stretch, even without star quarterback
Deshaun Watson
, thanks largely to Gallman. His 610 rushing yards in the second half of the season ranked fifth in the ACC, and his 18.3 rushes per game ranked third behind only Conner and
Duke Johnson
. On 128 second-half carries, Gallman didn't fumble once.
Of note:
Just 5.4 percent of
Shaquille Powell
's rushes in the second half went for a loss or no gain, the second-lowest rate in the league. Virginia Tech's
J.C. Coleman
ended the season with four straight games of 95 yards rushing or better. North Carolina's
T.J. Logan
carried 86 times in the second half, and 44.2 percent went for at least 5 yards. Only Pitt's Conner and
Chris James
had a better rate among ACC running backs.
Receivers and tight ends
Tyler Boyd, Pittsburgh:
His 833 receiving yards in the latter half of the season ranked eighth nationally, and his 48 catches ranked 12th. As Pitt quarterback
Chad Voytik
got more seasoning, Boyd was the benefactor, hauling in 112 yards or more in five of his last six games. He was one of just seven receivers to rack up five 100-yard games in the season's second half. More impressive is that Boyd did it without a legitimate No. 2 option. He accounted for a whopping 48 percent of Pitt's receptions and 58 percent of its receiving yards in the second half, both easily the highest rates in the country.
Artavis Scott, Clemson:
Would you believe a true freshman playing with a struggling quarterback had as many receptions in the second half of the season as Boyd? That's true of Scott, who caught 48 balls from Game 7 on, trailing only
Rashad Greene
and
Jamison Crowder
in the ACC, and his five receiving touchdowns trailed only Miami's
Phillip Dorsett
. The biggest reason for Scott's success? He had 642 yards after the catch, according to ESPN Stats & Info, which nearly doubled any other ACC receiver.
Bucky Hodges, Virginia Tech:
No ACC player was targeted more often in the red zone from Week 8 on than Hodges (10), and his five catches and three touchdowns both ranked second in the conference during that span. He caught 28 balls from Week 8 through the end of the season, the second-most by any Power 5 tight end, trailing only Mackey semifinalist
Jimmay Mundine
.
Of note:
Clemson's
Mike Williams
hauled in 29 first downs in the second half of the season, trailing only Boyd among ACC receivers, and 16 of his 17 catches on third or fourth down went for conversions. Wake Forest tight end
Cam Serigne
had six catches and four touchdowns in the red zone, both tops in the ACC. Virginia's
Canaan Severin
had nine catches of 20 yards or more, more than any other ACC receiver aside from Boyd.
Defenders
Sheldon Rankins, Louisville:
The Cardinals dodged a bullet when Rankins announced he would return for his senior season in 2015. In the second half of last season, he racked up six sacks -- tops in the ACC and 12th among all Power 5 defenders. He also forced a fumble and picked off a pass.
Josh Jones, NC State:
The redshirt freshman started the final five games of the season at strong safety, and not coincidentally, the Wolfpack's defense improved dramatically, cutting its opponents' completion percentage from 60 to 49, YPA from 7.0 to 5.9 and creating nine takeaways in five games after racking up just 11 in its first eight. Jones was at the forefront, picking off three passes in those last five games -- the third-most in the nation.
DeVon Edwards, Duke:
After a boom-or-bust freshman campaign in 2013, Edwards was productive from the outset in 2014, but his second half was particularly impressive. He racked up an ACC-best 81 tackles during the second half of the season, including double-digit totals in six of Duke's last seven games, and though his interception total dipped, he did chip in with five tackles for loss down the stretch.
Of note:
Virginia Tech's
Dadi Nicolas
and
Ken Ekanem
combined for 18 TFL and 9.5 sacks during the final six games. Wake Forest linebacker
Marquel Lee
racked up 51 tackles, including 6.5 for a loss and three sacks, during Wake's final six games. Georgia Tech's
D.J. White
had six pass breakups and three interceptions in the latter half of the season, the most total passes defended among ACC defensive backs.
February, 11, 2015
Feb 11
9:00
AM ET
It is never too early for predictions. I mean, we all love having egg on our faces by season's end!
Colleague Mark Schlabach presented his revamped
Way-Too-Early Top 25
for 2015 earlier this week. Now, Brad Edwards gets his turn. Edwards decided to take a crack at predicting all the teams that would make the
New Year's Six bowl games
, with quite a few surprises.
Michigan makes the Rose Bowl. Tennessee makes the Sugar Bowl.
Egads!
But wait, there's more.
Florida State, which has made the Orange Bowl, BCS national championship game and College Football Playoff in the last three years did not make the cut.
Neither did Clemson, expected to be the highest-ranked ACC team when the preseason polls come out in August.
Only one ACC school made Edwards' list: Georgia Tech, in a Peach Bowl matchup against the team everybody loves to hate, Boise State.
Now, seeing the Jackets included is not nearly as big a surprise as Michigan or Tennessee. Georgia Tech had a terrific season in 2014, returns
Justin Thomas
and will be ranked in the Top 25. This team should be the favorite to get back to the ACC championship game in 2015. Edwards' explanation makes complete sense:
Yes, I have only one ACC representative, and it's not Florida State or Clemson. Those teams both lost half of their starters from last season, and both are inexperienced on the offensive line. They've recruited well enough to prove me wrong, but I'm going with Georgia Tech to win the league. I like the experience on defense, and the returning talent on offense is where it needs to be for a team like this -- at QB and on the O-line.
Of the three, Georgia Tech returns the most starters. The Jackets have 13 back, while Florida State and Clemson each have 11. All three teams will have their opportunity to win the ACC as they all play each other during the regular season. Given the way Georgia Tech played this past season, it would not be a surprise to see the Jackets as the last team standing in the ACC.
But getting only one team into the New Year's Six bowls, while also missing a spot in the College Football Playoff, would not exactly be considered progress for the league.
Elsewhere around the ACC:
February, 10, 2015
Feb 10
11:00
PM ET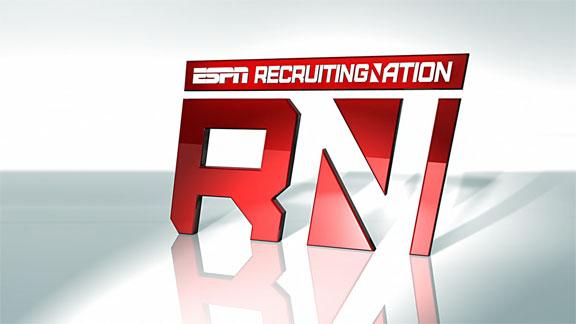 Quarterback
Kyler Murray
grabbed all of the headlines at Allen (Texas) High School over the past few seasons, but it's actually junior offensive tackle
Greg Little
who is a higher-ranked prospect.
To continue reading this article you must be an Insider
February, 10, 2015
Feb 10
3:00
PM ET
The problem with using aggregate stats to evaluate performance is that they don't take into account growth or regression over the course of the season. With that in mind, we wanted to evaluate the ACC's quarterbacks based solely on the second half of 2014 to see which ones performed best, which ones made the biggest improvements, and which teams likely have their work cut out for them in spring practice. Only teams with returning quarterbacks were included.
Top performances
Justin Thomas, Georgia Tech:
No quarterback in the league posted a better second-half Adjusted QBR than Thomas' 83.8, which ranked seventh nationally from Game 7 through year's end. Thomas tossed 11 touchdowns compared with just three interceptions, averaged a league-best 9.95 yards per attempt, and added another 497 yards and five touchdowns on the ground.
Marquise Williams, North Carolina:
Williams spent the first month of the season sharing reps with
Mitch Trubisky
, but once he secured the job full-time, few quarterbacks in the country were better. From Game 7 on, only five Power 5 quarterbacks accounted for more total touchdowns (20), and three of them earned Heisman votes. Williams' 299 yards of total offense per game over that stretch outpaced even
Jameis Winston
in the ACC.
Chad Voytik, Pittsburgh:
Perhaps the most under-the-radar improvement of the second half last season was Voytik. Of all ACC quarterbacks with at least 75 second-half attempts, Voytik ranked second in passer efficiency (154.3), third in completion percentage (63.9), yards-per-attempt (14.0), completions of 10 yards or more (56.5 percent), and Adjusted QBR (79.6). He also added another 372 yards on non-sack rushes.
Work to do
Brad Kaaya, Miami:
The only ACC quarterback to toss more touchdowns in the second half of the season than Kaaya (13) was Winston, but the Miami freshman also threw 10 fewer interceptions than the defending Heisman Trophy winner. Kaaya's 8.3 yards per attempt ranked third among ACC quarterbacks, and his 4.3-to-1 TD:INT ratio was tops in the league and sixth among all Power 5 quarterbacks nationally. The problem for Kaaya, however, was he completed just 55.4 percent of his throws, which ranked 47th among Power 5 quarterbacks with at least 75 second-half attempts.
Jacoby Brissett, NC State:
The first half of the season included some impressive numbers for Brissett, who accounted for 14 touchdowns and just five turnovers in the first six games. In the second half, that production dipped to 12 TDs and seven turnovers over the final seven games, which led to his per-game offensive output dropping from 261 yards to 224. But that also coincided with a tougher schedule and a more balanced attack from the Wolfpack's ground game, and Brissett's Adjusted QBR only fell slightly.
Mixed bags
Michael Brewer, Virginia Tech:
The early part of Brewer's season was marred by turnovers, and he cut down on those dramatically in the second half. In his first six games, he had 10 touchdowns and 11 interceptions. In the second half, he threw nine TDs with just four interceptions. The flip side, however, was that Brewer's production dipped, too. His completion percentage dropped from 62 to 57, his yards-per-attempt dipped from 6.4 to 5.8, and his passing yards per game fell from 235 to 183. The biggest reason? His sack rate more than doubled from 4.3 percent to 9.1.
John Wolford, Wake Forest:
When you're throwing a true freshman into a starting role with a historically bad offensive line and ground game to support him, you're probably just hoping he doesn't get killed. But not only did Wolford manage to start every game for Wake Forest last season, he actually made some dramatic improvements in the second half. In spite of a more difficult second-half slate, he tossed the same number of touchdowns (6), dramatically cut his turnovers from 13 to four, and more than doubled his Adjusted QBR from 22.4 to 46.4. That's incredibly encouraging for 2015.
Signs of trouble

Greyson Lambert, Virginia:
Banged up and splitting time in the first half of the season, Lambert was largely ineffective. He did manage to start five of Virginia's final six games, and though that helped distance him from
Matt Johns
on the depth chart and nearly doubled his passing attempts, he also saw his Adjusted QBR dip, his completion percentage fall by nearly 10 percentage points, and Johns still posted better deep-ball numbers across the board.
Syracuse:
The Orange had no consistency at quarterback all season, with three different players getting a start, and though that means there will be more experience on the roster in 2015, it's not necessarily encouraging.
A.J. Long
,
Austin Wilson
, and
Mitch Kimble
combined to average just 4.92 yards per attempt in the second half of the season, the fourth-worst rate in the nation, while tossing just two touchdowns compared with 10 interceptions.
Terrel Hunt
wasn't much better when he was healthy, but there was little reason to think he shouldn't still be Syracuse's best option when spring practice opens.
Incomplete grades
Deshaun Watson, Clemson:
It's hard to say what Watson might have been if he'd been healthy in the second half of the season, but instead the freshman attempted just 25 passes. It's worth noting though that on those 25 attempts, he tossed two touchdowns, posted an Adjusted QBR of 94.0, and averaged 11.6 yards per attempt -- numbers that stood in stark contrast to the limited production of his replacement,
Cole Stoudt
. Obviously, the key for 2015 for Watson is simply staying healthy.
Louisville:
Like Syracuse, Louisville cycled through three different starting quarterbacks last season, with
Will Gardner
,
Reggie Bonnafon
and
Kyle Bolin
all seeing action in the second half of the season. Each had highlights and each made mistakes, but the aggregate performance was actually pretty good. Despite the inconsistency at the position and the third most sacks in the conference during the latter half of the year, the Cardinals were at or better than the league average across the board, and they combined to toss 36 completions of 20 yards or more -- tops among all ACC teams. Gardner and Bolin each posted Adjusted QBRs of 72 and combined for eight touchdowns and just four picks. Bonnafon was more of a work-in-progress, with a dreadful sack rate of 22 percent -- by far the worst in the country during that span. And all three quarterbacks will have to go to battle in 2015 without receiver
DeVante Parker
, who was probably the biggest reason for the second-half success in 2014.
February, 10, 2015
Feb 10
9:00
AM ET
Miami has now lost two assistants to the NFL since signing day: Defensive line coach Jethro Franklin went to the Raiders last week, and receivers coach Brennan Carroll took a job with his dad in Seattle on Monday.
Neither move is necessarily a bad thing.
The Hurricanes already announced a new receivers coach,
promoting Kevin Beard
from assistant director of football operations. Beard, who was on the 2001 Miami national championship team, grew up in South Florida and has deep recruiting ties in the area. His promotion was widely applauded. One recruit, ESPN Junior 300 receiver
Sam Bruce
, played for Beard when he was an assistant at Fort Lauderdale University School.
Bruce told the Sun-Sentinel: "I'm excited, not just for him, but also for me to know I'm going to be coached by him again. He's not just a coach, he's more than a coach. He's a mentor and I can go to him with any of my problems. He'll give me his advice and talk to me about the things he's been through. He's an all-around great guy."
The move comes on the heels of a report in The Miami Herald that quoted several high school coaches in South Florida
discussing a disconnect
between Miami and the fertile recruiting ground in the area. Last week, the Canes only signed two of the 16 Miami-Dade and Broward County players on the ESPN 300. Al Golden dismissed that, saying the Canes targeted offensive linemen in the 2015 class and had to look outside South Florida for the best linemen available.
Still, high school coaches in the area have been voicing their displeasure more frequently. That includes former Miami player Mike Rumph, who played with Beard. Rumph told a local radio station last week the Canes did not have enough of a presence at his school. Two of his players ended up at Florida State and Ohio State.
While nobody has been announced to replace Franklin yet, there is no doubt the Canes could use some fresh blood to coach up this unit. The Miami defensive line has been lacking physicality, aggressiveness and a dominating presence for quite some time. It has been years since Miami overpowered anybody on the line of scrimmage, and Miami has had one defensive lineman drafted in the last four years.
Furthermore, it did not exactly reflect well on the Hurricanes when
Anthony Chickillo
drew high praise for his performance at the East-West Shrine game last month and then
ripped the coaching
he received afterward. He took aim at the entire defensive scheme. Maybe that is the larger, overriding issue. But it is hard to overlook the way the line as a whole has played in recent years.
Now here's a look around the rest of the ACC:
February, 9, 2015
Feb 9
11:00
AM ET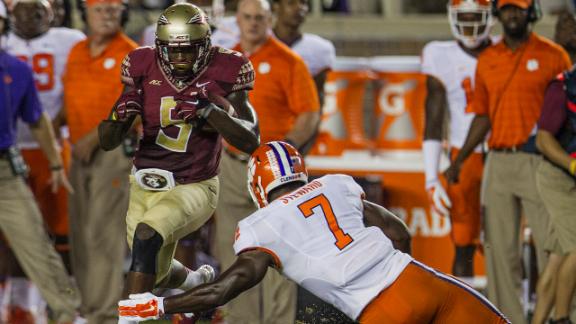 It's been seven years since a team other than Florida State or Clemson won the ACC's Atlantic Division, and after the Seminoles and Tigers each signed a top-five recruiting class this year, the balance of power doesn't appear poised to shift any time soon.
That might be a problem for the ACC overall. With FSU and Clemson jockeying for command of a conference that has struggled to keep up appearances compared with the neighboring SEC, consolidating power at the top while the rest of the league picks up the scraps might not be the best way to convince the public -- or future playoff committees -- that there is more to the ACC than its top two teams.
But what if a great rivalry at the top also means a boon for the teams farther down the ladder? Consider it trickle-down economics for the college football set.
[+] Enlarge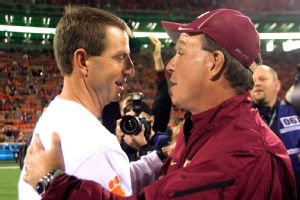 Joshua S. Kelly/USA TODAY SportsClemson coach Dabo Swinney, left, and Florida State's Jimbo Fisher lead elite programs that are forcing the rest of the ACC to keep pace.
The last time the ACC signed two top-five classes
was in 2008
, back when the playoff was a pipe dream, conference realignment was but a whisper, and
Deshaun Watson
was in the seventh grade. Miami and Clemson put together the nation's two best signing classes, but neither program saw immediate dividends. An NCAA investigation unmoored any hope the Hurricanes could return to national prominence, and Clemson parted ways with its head coach just eight months after he signed the country's No. 2 class.
At the same time, the balance of power was shifting in the SEC. Alabama had hired Nick Saban the year before, and by the end of 2008, the Crimson Tide were back in the national spotlight. Auburn, meanwhile, finished 5-7, and the gauntlet was thrown.
Over the next few years, the longtime rivals traded blows -- on the recruiting trail, on the fund-raising circuit, and on the field. The SEC was already the nation's preeminent conference, but investment in maintaining that success grew exponentially. Alabama and Auburn paced the growth, but if Georgia and Tennessee and LSU and Florida wanted to keep pace, they had to go all-in, too. Cut-throat coaching changes, major renovations in facilities, bloody recruiting battles, huge pay raises for assistant coaches -- these became the norm. It was an arms race, and the two teams at the top set the pace.
The same groundwork isn't there for the ACC just yet, but what Florida State and Clemson are doing could set a similar precedent. Just look at what's happened in the past few months.
NC State had
its best signing day
in years.
Virginia Tech signed a solid class
in spite of hot-seat rumors
for head coach Frank Beamer. That group joins an already outstanding group of rising freshmen in Blacksburg.
Duke signed its best class under David Cutcliffe, too, while
renovations to the stadium
are ongoing.
North Carolina is still fending off its own NCAA black cloud, but to fix its disastrous defense, it brought in the same
coach who engineered Auburn's national title
in 2010.
Overall last week, the ACC had six teams finish in the top 30 in ESPN's recruiting rankings (the most by any conference other than the SEC), had 12 in the top 50, and saw Louisville, Georgia Tech and Wake Forest all jump at least 13 spots from the previous year's rankings.
Meanwhile, FSU and Clemson keep chugging along,
raising the bar again and again
. The Seminoles will send more players to the NFL combine this year than any other program in the nation. Clemson just announced a $75 million investment in upgrading its athletics facilities. These two programs push the goal line a little further down the field, and everyone else is forced to keep pace.
That is not to suggest the ACC is poised to change perceptions on the national level just yet. The league signed 47 members of the ESPN 300 this year, which would sound pretty nice if the SEC hadn't nabbed 116. Those six ACC programs that finished among the top 30 signing classes still represent just half of the SEC's tally. North Carolina and Miami still must escape NCAA purgatory and build consistent winners, Virginia Tech must capitalize on its young talent to salvage Beamer's job, and the young coaches at NC State and Wake Forest need to prove they can develop the talent they're bringing in.
But there is a standard being set at the top, with Florida State and Clemson upping the ante in recruiting, player development and financial investment in their programs, and that's good for everyone. It's not Auburn-Alabama yet, and it probably never will be, but it's a spotlight on a conference that has long coveted a bigger stage, and it's a pace-setter for the second tier of the league that now needs to run a bit faster just to keep up.
February, 9, 2015
Feb 9
9:00
AM ET
That schools are spending more and more on recruiting is no surprise, but The Post and Courier digs into what it's meant at Clemson, where the Tigers reeled in a top-five class, but also
spent some serious cash
to get it done. But as Dabo Swinney said, it's still not enough.
"We're very fortunate to have the resources, but we're still not where we need to be comparatively to some of our competitors," Swinney told The Post and Courier. "But I know Clemson's getting a good bang for its buck."
The story calls it "an arms race," which is certainly an apt comparison. While USA Today
compiled some basic numbers
on what public schools are spending on recruiting last week, that's really just the tip of the iceberg.
After all, what exactly do those recruiting budgets entail? It's mostly just the travel and expenses directly associated with landing a recruit, but there's so much more when it comes to indirect costs.
As The Post and Courier notes, adding staff is one major area in which the big money schools can distance themselves on the recruiting trail. For places like Alabama, Florida State, USC and others, it's not simply about landing a recruit. It's the long, tedious task of identifying the players that they need to sell the most. That takes man hours, and the big-budget programs can afford to hire the people to study it. While on-field staff is limited by the NCAA, the support staffs at schools can vary widely, and numerous coaches I've spoken to point to that as one of the biggest disparities in the sport.
Of course, there's also the issue of facilities, and Clemson just agreed to
spend some big dollars on upgrading theirs
.
This is nothing new either. Florida State finally got its indoor practice facility built before winning a national title in 2013, but that nice addition is more necessity than perk in this day and age. As we wrote at the time, even big spenders are
feeling the push to spend more and more
.
As arms races go, this isn't one that's likely to settle out too soon, and for programs like Clemson, it's hard to say what the appropriate dollar value is to get from 10 wins a year to a national title.
A few more links:
February, 6, 2015
Feb 6
1:23
PM ET
National signing day came and went, unless you're one of those highly regarded recruits who can't seem to make up your mind.
College football's rich continued to get richer, as three of the four teams that played in the inaugural College Football Playoff landed top-10 recruiting classes. Alabama signed the No. 1 class in the country, while Florida State's was No. 2 and Ohio State's was No. 6. Oregon had the No. 15 recruiting class.
With national signing day behind us, and most of the coaching moves complete, it's the perfect time for the second edition of the 2015 Way-Too-Early Preseason Top 25.
Ohio State is the new No. 1 (we heard you loud and clear, Buckeyes fans), and Alabama now joins OSU, TCU and USC in the top four.
Say goodbye to Utah, Oklahoma State and Minnesota. Say hello to Texas, Missouri and Louisville.
Here's the rest of the 2015 Way-Too-Early Top 25:
2014 record: 14-1, 8-0 Big Ten
Returning starters: 7 offense, 7 defense, 2 special teams
Key personnel losses: WR Devin Smith, DT Michael Bennett, DE Steve Miller, MLB Curtis Grant, CB Doran Grant
These 2016 QBs Can Start From Day One
ACC SCOREBOARD
Thursday, 9/3
Saturday, 9/5
Monday, 9/7