November, 24, 2014
Nov 24
2:00
PM ET
A tour of some intriguing statistical performances from Week 13 in the ACC.
FSU's hangover effect
Florida State fans have been quick to point to the number of well-rested teams getting their shot at the Seminoles this season as an explanation for some of FSU's struggles. Indeed, four opponents faced FSU the week after byes and another had an FCS foe the week before (and that doesn't include the season opener or this week's game against Florida). In other words, seven of FSU's 12 opponents would have had an extra week to focus on getting ready for the Seminoles.
But in addition to what came before the FSU game, what came after is interesting, too. Here's a rundown of how FSU's opponents fared the week after playing the Seminoles.
Oklahoma State:
FCS opponent
Clemson:
Beat North Carolina 50-35
NC State:
Lost to Clemson 41-0
Wake Forest:
Bye week
Syracuse:
Fell behind Wake 7-0 but rebounded for 30-7 win
Notre Dame:
Trailed Navy 31-28 entering fourth quarter before winning 49-39
Louisville:
Trailed Boston College 13-3 before winning 38-19
Virginia:
Bye week
Miami:
Lost to Virginia 30-13
So of Florida State's six opponents to play an FBS team the following week, all but Clemson started sluggish, and two lost outright. Is that the hangover effect of teams giving FSU their best shot and coming up empty? It's certainly not proof, but it's worth consideration.
Marquise the magician
[+] Enlarge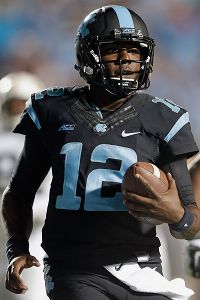 Gerry Broome/Associated PressNorth Carolina's Marquise Williams is one of two quarterbacks in the country with at least 2,500 passing yards, 700 rushing yards, 20 passing touchdowns and 10 rushing touchdowns.
It's largely flown beneath the radar because North Carolina's defense faltered so badly in the early going, but Tar Heels QB
Marquise Williams
has emerged as one of the top players in the conference, if not the country.
Williams' 33 touchdowns this season are the seventh-most by any player in the country, trailing only Oregon's
Marcus Mariota
, Ohio State's
J.T. Barrett
, Notre Dame's
Everett Golson
and Mississippi State's
Dak Prescott
among Power 5 QBs.
Williams and Prescott are the only quarterbacks in the nation with at least 2,500 passing yards, 700 rushing yards, 20 passing TDs and 10 rushing TDs. In fact, in the last decade, only seven other Power 5 quarterbacks have done that: Vince Young, Tim Tebow, Cam Newton, James Franklin, Taylor Martinez,
Brett Hundley
and Johnny Manziel.
And since Williams stopped splitting reps with
Mitch Trubisky
at the end of September, he's thrown 12 touchdowns, four interceptions, completed 63 percent of his throws and rushed for 10 more scores. His adjusted QBR of 78.9 is 10th-best among Power 5 quarterbacks during that span.
Ramsey's all-purpose D
Florida State defensive back
Jalen Ramsey
had another exceptional game against Boston College, racking up eight tackles, 1.5 for a loss and a sack. Ramsey now has 68 tackles, 9.5 for a loss and 11 passes defended this year.
The 9.5 tackles for loss are tied for the third-most by a defensive back in the nation, and only USC's
Su'a Cravens
also has at least 10 passes defended to go with the TFLs.
Hat tip to the kids
Four true freshmen started in the penultimate week of the regular season, and
Reggie Bonnafon
and
John Wolford
both came away with wins. But the youth movement has been rampant in the league all year.
Here's a strange coincidence: Senior QBs have thrown 1,018 passes in the ACC this year. True freshman QBs have thrown 1,017. So, since they've thrown virtually the exact same amount of passes, who's doing better?
No question the edge goes to the kids, which should certainly bode well for the future of offenses in the conference.
Changes coming in Blacksburg?
After a disastrous, 6-3 loss to Wake Forest, Virginia Tech coach Frank Beamer admitted the QB position would be evaluated moving forward. Here's why:
Michael Brewer
completed just 15 of 28 passes for 126 yards and an interception in the loss to Wake Forest. His QBR for the game was just 6.0 — the fourth-lowest by a starting QB in the ACC this season.
Since beating North Carolina on Oct. 4, Brewer's Adjusted QBR is 29.8, the lowest of any ACC quarterback with at least 50 pass attempts.
Of course, if changes are in store, Beamer's position could be under review, too. The Hokies are just 17-17 against FBS teams since the start of 2012, and six of those games required overtime. In regulation, Virginia Tech is just 13-15-2, and it has just four wins by two touchdowns or more against Power 5 foes.
Extra points
Pitt's Tyler Boyd accounted for 126 of the Panthers' 189 receiving yards Saturday, but that's no surprise. For the season, Boyd is responsible for 52.3 percent of Pitt's receiving yards — by far the highest percentage for any player in the country. Next up is Alabama's Amari Cooper, who has 43.8 percent of the Tide's receiving yards.

Virginia's Quin Blanding had seven tackles and an interception in the victory over Miami, and he is second behind Duke's David Helton in tackles in the ACC. More impressive, though: Of the top 100 tacklers in the nation this year, Blanding is the only freshman.

Louisville's Brandon Radcliff has had four games with more than 95 rushing yards this season, and four games with less than 10. He gained 136 yards on 17 carries Saturday.

Duke Johnson could have set Miami's all-time rushing record with 122 yards on the ground Saturday. Instead, he finished with just 88 — snapping a streak of 12 consecutive games with at least 90 rushing yards. He did have an additional 44 receiving yards, giving him 132 total scrimmage yards — his ninth straight game topping the century mark.

Wake Forest was the first team since 2012 to win a game when scoring six points or fewer (BYU beat Utah State 6-3) and the Deacons are just the fifth Power 5 team in the last decade to win a game with just six points scored. UTSA is the only other team this season to win a game in which it didn't score a touchdown.

There were 13 field goals missed by ACC kickers in Week 13, and one more missed in an ACC game. That last one was by Notre Dame's Kyle Brindza against Louisville, which cost the Irish the game. For the season, ACC kickers were connecting at a 78.2-percent clip. In Week 13, they made just 51.9 percent of their field-goal tries.

Defensive lineman Ron Thompson scored a rushing TD for Syracuse on Saturday — just the 11th rushing score of the year for the Orange, which rank 106th nationally in that category. But no running back has scored on the ground for Syracuse against an FBS team since Jerome Smith in last year's bowl game.

Clemson's Tyshon Dye missed all of last season and the first seven games of this year with injuries. Entering Saturday, he had just five career carries. Against Georgia State, however, he ran 20 times for 124 yards and two touchdowns.
November, 24, 2014
Nov 24
8:00
AM ET
There's not much time for Virginia Tech
to reflect on its 6-3 double overtime loss
to Wake Forest, writes the Richmond Times-Dispatch, and that's probably a good thing.
The Hokies probably have no interest in reliving the gory details, of course. And there are much bigger questions ahead.
[+] Enlarge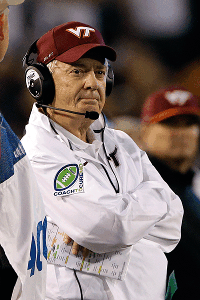 AP Photo/John BazemoreFrank Beamer has a short week and plenty of issues after the Hokies' loss to Wake Forest.
First among them is getting prepared for Virginia. The Hoos'
defense was stellar
against Miami on Saturday, and Mike London's future in Charlottesville
might depend
on UVA ending its 10-game losing streak to its rival.
The future of many coaches on Virginia Tech's staff could ride on Friday's outcome, too.
As The Roanoke Times writes,
plenty of questions are swirling
around the program, chiefly surrounding offensive coordinator Scott Loeffler.
Our Travis Haney suggests
changes on the Hokies' offensive staff
seem likely — meaning Frank Beamer would be on his third offensive coordinator in four years.
But the more immediate change could come at quarterback, where
Michael Brewer
has struggled to ignite the offense.
For the season, Brewer has
the second lowest Total QBR
in the ACC (ahead of only Wake Forest freshman
John Wolford
, who bested Brewer on Saturday), and
Brenden Motley
certainly seemed to
provide the only minor spark
for the Hokies against the Deacons.
It's
a situation to monitor
, and the decision on how Tech handles its QBs could have huge ripple effects for both the Hokies and UVA.
A few more links:
November, 23, 2014
Nov 23
10:32
PM ET
November, 23, 2014
Nov 23
10:17
PM ET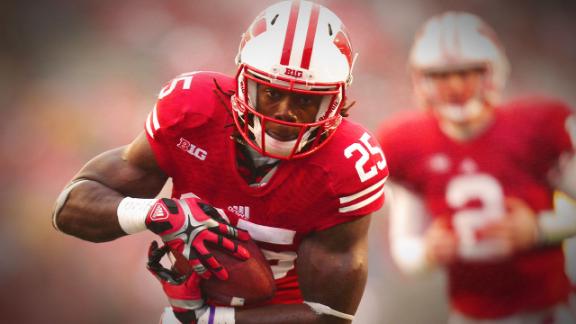 PREGAME SPEECH
There's a reason why the coaches of the College Football Playoff contenders are wound tighter than a fire hose these days.
Florida State coach Jimbo Fisher would rather grow arm-hair curtains than face Florida and Georgia Tech in back-to-back weeks.
Alabama's Nick Saban gets Auburn in the Iron Bowl this week and, if the Tide win, gets Missouri or Georgia in the SEC championship game. Fun.
Baylor's Art Briles has to make the short trip to Arlington for a matchup against Texas Tech, and then play Kansas State in the regular-season finale.
TCU's Gary Patterson has to travel to Austin to play the suddenly dangerous Texas Longhorns, followed by a home game against not-so-dangerous Iowa State.
Ohio State's Urban Meyer meets desperate Michigan at the Horseshoe, and then plays either Wisconsin or Minnesota in the Big Ten championship game.
Oregon's Mark Helfrich takes his team to Corvallis for the Civil War (Arizona State can tell Helfrich all about the Beavers), and then faces UCLA, Arizona or ASU in the Pac-12 championship game.
Mississippi State's Dan Mullen has to survive the Egg Bowl in Oxford, and then hope for the best (an Alabama loss to Auburn, which would mean the Bulldogs would face either Mizzou or UGA in the SEC championship game).
And UCLA's Jim Mora, who runs Saban-Meyer-Fisher intense, has to beat Stanford at Pasadena, and then Oregon to have any chance at reaching the four-team playoff.
This is when roster depth matters. When avoiding injuries matters. When talent, coaching and luck matter.
November, 23, 2014
Nov 23
5:22
PM ET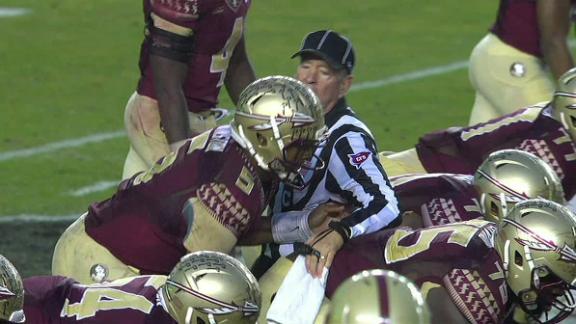 The contact between Florida State quarterback Jameis Winston and an official in Saturday's Boston College game was "incidental and insignificant" and did not warrant an unsportsmanlike penalty, the ACC's coordinator of officials said.
With the score tied at 17 and 5:20 left in the third quarter, an official stood between Winston and center Cam Erving to prevent the Seminoles (No. 3 CFP, No. 1 AP) from running their next play. An official is instructed to stand over the ball to prevent the offense from snapping it until the defense has sufficient time to match the offense's substitutions. The center judge was not standing over the football, however, and Erving was already set with his hand on the ball.
Winston tried moving the official with his hand and arm before the center judge retreated to his normal position on the field.
Doug Rhoads, the ACC's coordinator of officials, said in a statement Sunday: "The center judge's positioning, which was due to the experimental year of having an eighth official, combined with the late substitution and by rule the need to allow the defense to matchup, led to contact between himself and the player. The official believed the contact was incidental and insignificant and did not rise to the level of unsportsmanlike conduct and automatic disqualification."
FSU coach Jimbo Fisher and Winston said there was nothing malicious about the contact between the reigning Heisman Trophy winner and an official in the third quarter of the Seminoles' 20-17 win over Boston College on Saturday.
November, 23, 2014
Nov 23
4:24
PM ET
November, 23, 2014
Nov 23
2:13
PM ET
Associated Press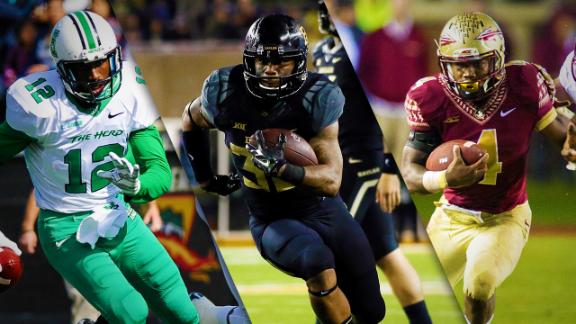 Florida State is No. 1 in The Associated Press college football poll, followed by Alabama, Oregon and Mississippi State. The top four teams were unchanged for the first time since late September.
The gap between the Seminoles and the Crimson Tide narrowed after another close call by Florida State, which beat Boston College 20-17 on a field goal in the waning seconds.
Florida State received 37 first-place votes and 1,458 points, down six first-place votes and 18 points from last week. Alabama has 21 first-place votes 1,445 points. No. 3 Oregon received two first-place votes, one more than last week.
Mississippi State is fourth, followed by Baylor and TCU. Baylor and TCU swapped places. Ohio State remained No. 7.
November, 23, 2014
Nov 23
2:00
PM ET
November, 23, 2014
Nov 23
9:34
AM ET
By
Chris Morris
| ESPN.com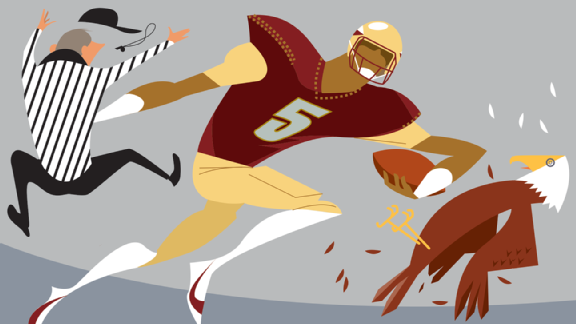 Chris Morris for ESPN
Each Sunday during the season, ESPN.com will highlight four storylines that had an impact on the College Football Playoff race.
Jameis Winston moved an official and, eventually, the Eagles out of the way, driving the Seminoles 66 yards to put Roberto Aguayo in position for a 26-yard game-winning field goal with three seconds remaining.
---
Baylor, Ohio State, UCLA look to impress
Three teams sitting just outside the top four vamped for the selection committee: No. 7 Baylor eased past Oklahoma State 49-28, No. 6 Ohio State clinched the Big Ten's East Division title with a 42-27 win over Indiana and No. 9 UCLA defeated No. 19 USC 38-20.
---
Three of top four cruise
November, 23, 2014
Nov 23
9:00
AM ET
Here are the men whose play stood out above all others during another wild weekend in the ACC:

North Carolina quarterback Marquise Williams:
Williams turned in another outstanding game, keying a
45-20
rout of favored rival Duke on Thursday. He completed 18 of 27 passes for 276 yards and two touchdowns, adding 98 rushing yards and two more scores on 21 carries. His 374 total yards gave Williams 3,499 total yards on the season, breaking Bryn Renner's single-season UNC record (3,394). Williams also has 32 touchdowns he has been responsible for this season, which also breaks Renner's single-season record (29 in 2012).
Florida State wide receiver Rashad Greene:
Greene hauled in eight passes for 106 yards, and FSU needed every single one of them to extend its winning streak to 27 games and keep its repeat national title hopes alive. The Seminoles beat Boston College,
20-17
, and Greene etched his name into the school record books Saturday, as his final catch helped him break Ron Sellers' FSU record for career receiving yards. Greene now has 3,613 career receiving yards, and the senior now has a personal-best 75 catches on the season. He still has at least three games left in his Noles career, too.
Wake Forest linebacker Marquel Lee:
When you engineer a defensive effort that holds a team scoreless in regulation -- one that ends with your first league win of the season, no less -- you get recognition here. Lee, a sophomore, had a game-high 12 total tackles, including three for loss (2.5 sacks) and one forced fumble. The Demon Deacons shocked Virginia Tech in double overtime, winning
6-3
.
Louisville running back Brandon Radcliff:
Radcliff ran wild in the second half, carrying the ball 15 times for 129 yards and a touchdown in Louisville's
31-28
win over Notre Dame. He finished the day with 17 carries for 136 yards and a touchdown, the leader of a Cardinals rushing attack that set the tone for the day, finishing with 229 yards on the ground.
Clemson defense:
There are too many people to name here, so the Tigers' defense will have to share this award. Yes, it was against Georgia State, but Clemson had nine different players record a tackle for loss, and three different players record an interception in the
28-0
win. The Tigers held Georgia State to 155 total yards of offense, the fifth different opponent they have held under 200 yards this season. This was also Clemson's second shutout of the season, marking its first multi-shutout season since 1998.
Week 14 Picks: Florida-Florida State
ACC SCOREBOARD
Friday, 11/28
Saturday, 11/29