July, 22, 2014
Jul 22
10:43
AM ET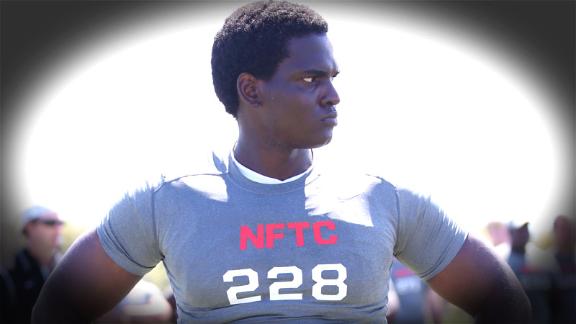 ESPN 300 offensive tackle
Abdul Bello
has committed to Florida State. Here's how the Seminoles plan to work him into the mix:
July, 22, 2014
Jul 22
9:00
AM ET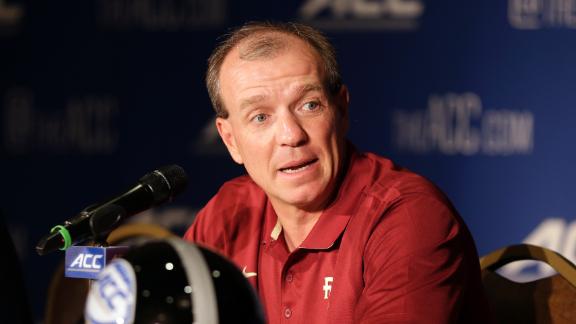 GREENSBORO, N.C. -- The 2014 ACC Kickoff is in the books, and while the preseason hype rarely translates well to the games on the field, there were still a few notable take-aways from the festivities at the Grandover Resort. Here are five things we learned from this year's media days.
1. The College Football Playoff is on everyone's mind.
Florida State Seminoles
coach Jimbo Fisher led the charge for the ACC in Greensboro, touting the accomplishments of the conference last year, including the Heisman winner, a national title and an Orange Bowl winner, a slew of NFL draft picks and 11 bowl invitations. Fisher and others continued to refer to the ACC as "the No. 1 football conference" in the country.
That, of course, may not sit so well with the SEC, but it was actually a Big 12 coach that landed the first blows after Fisher referred to the conference's lack of a championship game as "ridiculous."
Baylor's Art Briles fired back, saying "Jimbo Fisher needs to worry about the ACC" rather than tell the Big 12 how to conduct business.
Of course, it was clear that the ACC was exactly what Fisher and others were worried about as the politicking to ensure the conference has at least one representative in the first College Football Playoff is already underway. There are five power conferences and just four playoff spots, so someone's going to be left out, and Fisher has no interest in watching the games from home.
2. Jameis Winston isn't shying from the spotlight.
Jameis Winston was the star of the ACC Kickoff, arriving to a horde of media members eagerly awaiting something controversial. Instead, Winston (mostly) said all the right things, talking up his team and the league, offering jokes when possible and, most notably, admitting he had plenty of maturing to do in light of the off-field incidents that have dogged his career thus far.
Winston said he understood the spotlight he would be living in this year, adding that he had to "live up to the hype," and if he didn't, "it would be chaos."
Of course, Winston has made a habit out of sounding good -- and confident -- in front of the cameras, but the spotlight will stick with him well beyond his time in Greensboro.
Oh, and speaking of Winston's future: He notably declined to comment on his father's promises that the Heisman winner would be playing two more seasons at FSU. Instead, Winston said he "couldn't predict the future." In other words, don't cross him off your 2015 mock drafts just yet.
3. No one knows what will happen in the Coastal Division.
It's not that the media has a particularly successful track record of picking winners at ACC Kickoff, but this year's preseason poll was particularly telling about the depth of quality -- or, perhaps, litany of weaknesses -- in the Coastal Division.
The Miami Hurricanes came away as the overall favorite among the voting media, but the team finished with the third-most first-place votes in the division. Duke, last year's winner, had the most first-place votes and was second overall. North Carolina ranked fourth, but had the second-most first-place votes. In all, six of the seven teams in the conference had at least one first-place vote. Only Virginia missed out, which given the utter ridiculousness of it all, probably means the Hoos will be playing the Atlantic winner in Charlotte this December.
4. Miami has quarterback concerns.
There's still optimism
Ryan Williams
will be back at some point, but there's no certainties on when that might happen -- if it happens at all. That leaves the Hurricanes with a vacancy at the most important position on the field, and it also likely means a void in leadership, too.
"Ryan Williams is still the leader," tailback
Duke Johnson
said, "
Kevin Olsen
is just a quarterback."
Coach Al Golden mirrored those comments, saying Olsen -- the freshman -- still had to mature as a player and earn the respect of his teammates. Transfer
Jake Heaps
is now in the mix, too, but he's going to be learning on the fly.
In the end, the quarterback concerns weren't enough to keep the media from tabbing Miami as the Coastal favorite, and Johnson can at least agree with that.
"They might not have the strongest arm or be the fastest or the most accurate," Johnson said, "but when you have the receivers we do and the offensive line we do, it becomes pretty simple."
5. No one's handing the Atlantic to FSU.
Syracuse Orange
coach Scott Shafer said he first understood how good Florida State was during pregame warm-ups last year. He pointed out a few players who were far bigger than anyone on his team, only to learn the FSU behemoths were redshirting.
But even with the knowledge that his Orange are facing an uphill battle, Shafer wasn't admitting defeat before the games are played in 2014.
"The great thing about football is that the ball is oblong and does funny things and on any given Saturday you have an opportunity to steal a game," Shafer said.
Syracuse would need a big upset, but Clemson and Louisville think they've got good chances to win the Atlantic. Tigers defensive end
Vic Beasley
was particularly vocal about this year's matchup against the Seminoles with Clemson's formidable defensive front leading the way. Dabo Swinney has never backed off his comments that his team wasn't far behind FSU last year, and he's encouraged that a new-look offense, led by quarterback Cole Stoudt, can upset the Seminoles in 2014.
Of course, we're still a long way from that finish line, so for now, it's all just talk.
July, 21, 2014
Jul 21
10:00
PM ET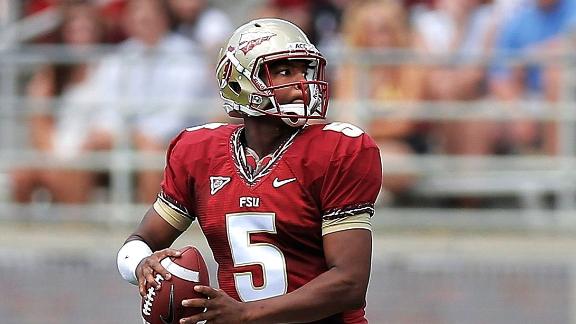 GREESNBORO, N.C. -- Florida State coach Jimbo's Fisher patience was tested at the onset of the ACC Kickoff on Monday. It wasn't a question about
Jameis Winston
or crab legs. It was a question that amounted to peanuts.
Literally.
"How about that -- people didn't know about putting peanuts in a Coke," Fisher ranted. "You believe that? This generation now. Golly."
He couldn't believe a reporter from the North (hint: me) never put salted peanuts in a bottle -- has to be glass -- of Coke, and had never even heard of it. But when your program is on the cusp of a college football dynasty, especially after an ugly slide from dominance, you can have the look of a coach without any worries, and he said as much Monday. Throughout his nearly 90-minute media session, Fisher was charismatic and engaging, usually the hallmark of Florida State's quarterback, which is a testament to how he views not only his 2014 team but the state of his program.
Fisher was most impassioned when talking about the latest renovation at Florida State, which has been the most cosmetic of his Seminoles tenure. He spent the first four years internally tearing down and rebuilding a program that sat at the pinnacle of college football for two decades. When preseason camp opens in two weeks, it will do so with a complete makeover of the football facilities, allowing Fisher to surpass rival SEC schools in the ongoing arms races.
[+] Enlarge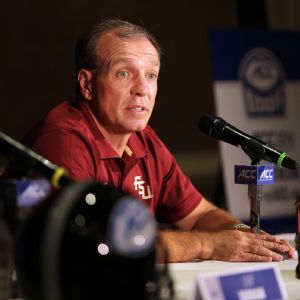 AP Photo/Chuck BurtonJimbo Fisher has the complete makeover of the football facilities that he has desired.
"I always ask folks, when you walk into an organization, you go into a business, the minute you walk in you make a first impression: Is this place committed to excellence, is it a championship organization?" Fisher said, hands bouncing off the table.
It was a pointed message, particularly aimed 550 miles away at Tallahassee. Fisher thanked the university administration and athletic department for the new toys, but he alluded to some early resistance, normal for a demanding coach and budget-mindful athletic department. They were changes he wanted earlier that a national championship finally afforded him. It's not limited to just superficial alterations like new locker rooms and statues with light-up jerseys, but changes that are hard to initially quantify that the old staff didn't endorse.
It was a change in culture, a trending phrase in football-crazed outposts throughout the country. Throughout the world really. Fisher spoke glowingly of the German national soccer team, which won the World Cup a little more than a week ago. The governing soccer body in Germany felt Brazil's facilities were insufficient and adverse to creating a winning environment, so the German soccer association built its own hotel and training grounds in Brazil, thousands of miles from its base in Europe.
It's doubtful Florida State football settlements will pop up in Miami and Chapel Hill and Blacksburg, but Fisher expects the Tallahassee colony to at least rival the ones in Tuscaloosa and Baton Rouge and Austin.
"Our players weren't growing in those first three years, our university was, and our culture -- from administration and all the things we had to do around those kids, academic support, player development, mental conditioning -- that's the culture that had to change for us to be a champion," Fisher elaborated. "When you demand so much from that kid and you don't put that into your own organization, how do you expect that kid to be a championship if you're not?
"... I'm not a spoiled kid. If I want it, it's because it's going to make our organization better. Every decision we make is about winning and developing our players. ... Our school and administration are doing a great job, and I'll continually push. I still got a bucket list."
There was a list of priorities from Fisher when he took the head coaching job in 2010, and maybe what speaks loudest about the state of Florida State football is that the surface-level changes are among the last to come. The behind-the-scenes work has been going on the past four seasons, and it culminated in a national title.
Midway through his media session, Fisher was asked whether Florida State is poised for a run similar to the one predecessor Bobby Bowden orchestrated from 1987 to 2000, when the Seminoles finished in the top five every season. It might be an unrealistic goal in this era -- Fisher doesn't rule out the jump to the NFL, either -- but Florida State is in the best position to unseat Alabama and Fisher mentor Nick Saban. Monday, the Seminoles were picked to win the ACC and Winston was named the preseason Player of the Year. Florida State is the odds-on favorite to win the College Football Playoff. Only Alabama is recruiting better.
"Why can't you? I don't know if it's feasible," Fisher said regarding a run similar to Bowden's. "Let's go play ball and find out."
July, 21, 2014
Jul 21
9:15
PM ET
By
ESPN.com staff
| ESPN.com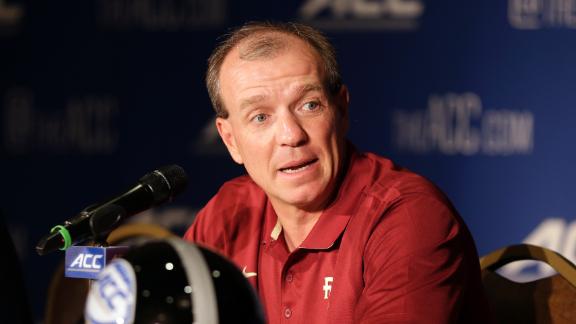 Andrea Adelson and Jared Shanker wrap up ACC media days, discussing
Florida State Seminoles
coach Jimbo Fisher's comments on the Big 12, Bobby Petrino and the Miami Hurricanes as preseason Coastal favorites.
July, 21, 2014
Jul 21
6:02
PM ET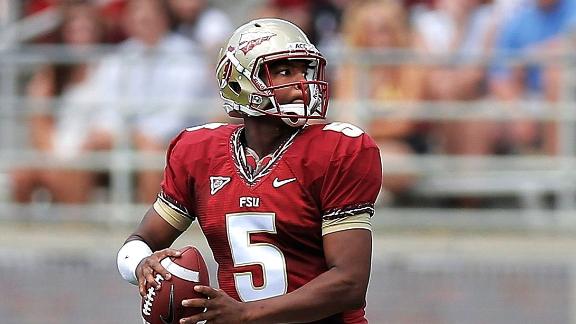 GREENSBORO, N.C. -- Florida State coach Jimbo Fisher prefers to keep players' punishments out of the public domain. In the case of Heisman Trophy-winning quarterback Jameis Winston's supermarket citation in April, however, Fisher said there weren't any consequences to speak of.
When Winston was caught shoplifting seafood at a store in Tallahassee, Florida, he was ordered to reimburse the store and perform community service. He also was suspended from the baseball team, and at the time, Fisher said he stood by baseball coach Mike Martin's decision. Speaking to reporters Monday at the annual ACC Kickoff, Fisher explained why he declined to pile on the punishment.
"Not after we found out the story and what had happened and [what Winston did] was not a malicious thing," he said. "It was not done with intent."
At the time of the incident, the Leon County Sheriff's Office said it would not speculate on whether Winston took the items -- $32 worth of crab legs and crawfish -- intentionally.
"People need to realize, when you suspend him in baseball, you understand how important baseball is to him? That cut his heart out," Fisher said Monday. "If it was done maliciously, we may have done other things. It was a silly mistake and not done with any malicious doing, and you don't punish a guy twice for the same crime."
July, 21, 2014
Jul 21
5:38
PM ET
Florida State coach Jimbo Fisher said Monday at ACC media days that it's "ridiculous" the Big 12 doesn't play a conference championship game.
When informed of the comment, Baylor coach Art Briles lobbed a retort later in the day.
"Don't come down here to Texas and try to tell me how to do mine," Briles said from Big 12 media days in Dallas. "Jimbo Fisher needs to worry about the ACC. That's what he needs to worry about.
"I'm not telling him how to do their business."
As college football journeys into a four-team playoff era, conferences have been lobbying to strengthen their position. The Big 12 has been touting the fact that it will play nine conference games, while the SEC and ACC will only play eight.
But the Big 12 is the only major conference without a championship game.
Fisher called the conference championship game essentially an extra playoff game that the Big 12 doesn't have to play.
"And by the way I think every conference should have to have one," Fisher said. "We got a [national] champion and not everyone plays the same number of games and does the same thing."
Florida State and Baylor figure to be two teams jockeying for spots in the inaugural playoff. The Seminoles are the defending national champs. Baylor won the Big 12 last season.
Quarterback Clint Trickett, who used to play for Florida State before transferring to West Virginia in the Big 12, reacted on Twitter to the comments of his former coach:
July, 21, 2014
Jul 21
3:00
PM ET
Florida State was the
overwhelming preseason favorite
to win the ACC championship, selected in voting among media members at ACC media days in Greensboro, North Carolina.
Here is a look at the voting totals, with first-place votes in parentheses:
Atlantic
1. Florida State (109) -- 780
2. Clemson (3) -- 660
3. Louisville -- 564
4. Syracuse -- 368
5. NC State -- 326
6. Boston College -- 301
7. Wake Forest -- 136
Coastal
1. Miami (26) -- 614
2. Duke (33) -- 597
3. Virginia Tech (23) -- 571
4. North Carolina (27) -- 570
5. Georgia Tech (1) -- 322
6. Pitt (2) -- 319
7. Virginia -- 142
July, 21, 2014
Jul 21
1:36
PM ET
GREENSBORO, N.C. -- Defending national champion Florida State and reigning Heisman Trophy winner Jameis Winston will have targets on their backs in 2014, as the Seminoles are the overwhelming preseason favorite to win the ACC championship and their quarterback is the conference's runaway preseason player of the year.
Miami is the preseason pick to win the Coastal Division crown, something the storied program has yet to do in its first 11 years as a member of the ACC.
Florida State garnered 104 of 108 votes from media members at the Grandover Resort and Conference Center for ACC media days, as the Seminoles enter the campaign aiming for a third consecutive conference title. Winston received 99 of 108 votes as the league's preseason player of the year.
Clemson (two votes) and Virginia Tech (two) were the only other schools picked by voters to win the ACC.
Clemson defensive end Vic Beasley (six), Miami running back Duke Johnson (one), Duke wide receiver Jamison Crowder (one) and Virginia Tech quarterback Brenden Motley (one) were the only other players voters chose as the ACC player of the year.
Six of the Coastal's seven teams received at least one first-place vote to win the division crown, speaking to the parity of that side of the conference.
July, 21, 2014
Jul 21
12:00
PM ET
July, 21, 2014
Jul 21
10:52
AM ET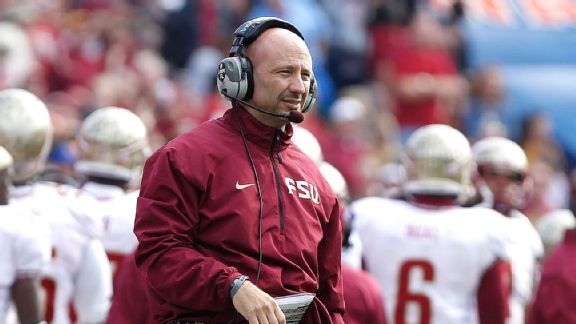 Kim Klement/USA TODAY SportsFlorida State's new defensive coordinator Charles Kelly is fit for the job.
As we count down 50 days until the start of the 2014 college football season, ESPN Insider Travis Haney is answering at least one big question per day until the kickoff of South Carolina-Texas A&M on Aug. 28.

Heisman contenders, breakout freshmen, conference winners -- it will all be covered as part of Insider's Ultimate Season Preview.
Today's question: Can Florida State's defense thrive again despite a third defensive coordinator change in as many seasons?
Conventional wisdom suggests that, even if a defense is using the same system, there will be some shift in consistency if the coordinator changes in three consecutive seasons.
I would be very, very surprised, however, if FSU suffered a slip as a result of seeing Mark Stoops go to Kentucky and Jeremy Pruitt leave for Georgia the very next year.
The reasons are twofold: The talent is just that good, yet again. And the new DC, Charles Kelly, is an impressive guy.
In fact, at one point, I was told Kelly's name could come up for the Georgia DC opening.
To continue reading this article you must be an Insider
July, 21, 2014
Jul 21
10:05
AM ET
By
ESPN.com staff
| ESPN.com
The Jameis Winston circus came to Greensboro, North Carolina, on Sunday, but Monday is the coaches' turn to take the hot seat. Keep it here for the best from all 14 ACC head coaches.
July, 20, 2014
Jul 20
9:07
PM ET
GREENSBORO, N.C. --
Jameis Winston
says Florida State loves playing the underdog. But when a large faction of fans and media expect the Seminoles to win the inaugural College Football Playoff, the popular us-against-the-world mentality is a tough sell. Even other players attending the first day of the ACC Kickoff were tired of hearing about the conference's power scale tipping heavily in the direction of Tallahassee.
Perceptions have fluctuated wildly with Florida State over the last year. The school, coaching staff and its star player have been praised and vilified. So while the underdog card expired in early January, there is no shortage of motivation, Florida State says.
"We know the whys of why we play. We go out there every Saturday or Thursday for a man [Seminoles coach Jimbo Fisher] that's facing something devastating in his life every single day with his son," Winston said, referring to Ethan Fisher's battle with Fanconi anemia. "We know where we come from. We know the whys and why we fight every day, why we have our brothers who support us. We know why we do this. Complacency, being comfortable, it's not right."
The ACC target was on the Seminoles' back in 2013 following an ACC title the year prior. In 2014, those targeting Florida State hail from all ends of the country. The rest of college football is trying to catch the Seminoles, who many feel will finish the regular season undefeated and might not be tested until the playoffs.
Winston and cornerback
P.J. Williams
agreed that Florida State embraces the moments and games where the spotlight shines brightest and their opponent has made it a season goal to knock Florida State from its perch. And not every player at the ACC Kickoff was shy about sharing that sentiment.
"Of course. They're the No. 1 team in the nation," Duke offensive lineman
Laken Tomlinson
. "That's every football players' dream: to go against the best and beat the best. I'm selfish. I want to play them [in the ACC championship] again."
Williams isn't denying that the Seminoles are aware of the massive preseason hype and likely No. 1 ranking when the polls are released. He said, however, it's a non-issue for a team with questions regarding the loss of leadership throughout the ranks.
"I hear about the preseason polls. They say we'll be No. 1 but it doesn't affect us at all," Williams said. "We're going to go to the weight room and work just as hard and not think about that.
"We got a winning mentality, and losing is not what we think about."
Is Josh Sweat The Next Jadeveon Clowney?
ACC SCOREBOARD
Thursday, 8/28
Friday, 8/29
Saturday, 8/30
Monday, 9/1