April, 12, 2014
Apr 12
5:57
PM ET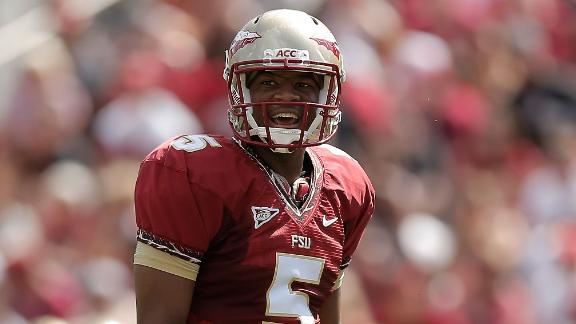 TALLAHASSEE, Fla. -- Florida State coach Jimbo Fisher occasionally sees it in his quarterback's eyes. From time to time he catches the reigning Heisman Trophy winner ambling through practice. Sometimes his throws suffer from the strain of multi-sport two-a-days.
This is what redshirt sophomore Jameis Winston signed up for -- begged for, really -- when he enrolled at Florida State. He was promised the opportunity to pursue football and baseball, and he was equally excited for the second year of juggling both as he was as a freshman last spring during a heated quarterback competition.
Which is why Winston is working in a baseball series around the annual spring football game once again. But unlike last year, when Florida State's baseball team hosted Duke, Winston sandwiched in the Garnet and Gold game between a series against Georgia Tech in Atlanta. Hours after the spring game ended, he was on a plane to join the baseball team.
"I wish I could of played in [Saturday's baseball] game, I wish we had a night game so I could rush and skip all [the interviews] and play," Winston said.
Early in the spring game, Winston had the look of a player whose week consisted of a baseball doubleheader (Sunday), football scrimmage (Monday), football practice (Wednesday), two midweek baseball games (Tuesday and Friday) and much of the last 48 hours on the road. The No. 1 offense's first four drives ended with a three-and-out and three turnovers -- one an interception into triple coverage.
Scene and Heard: Top 10 Predictions
ACC SCOREBOARD
Thursday, 8/28
Friday, 8/29
Saturday, 8/30
Monday, 9/1