December, 12, 2014
Dec 12
9:00
AM ET
Presenting the 2014 ESPN.com All-ACC team:

Offense
WR Rashad Greene, Florida State:
Whenever FSU was in trouble, Greene was there to save the day. He made big catch after big catch, took big hit after big hit, and ended the season with 93 catches for 1,306 yards, helping him break both FSU's records for receptions and receiving yards.
WR DeVante Parker, Louisville:
The senior caught 35 passes for 735 yards and five touchdowns, the latter two numbers among the top 10 in the ACC. Oh, did we mention he missed the first seven games?
TE Clive Walford, Miami:
Was there a more complete tight end in the country? The numbers say there might not be: 44 catches (third nationally), 676 yards (third), 7 TDs (third nationally). Walford did this all with a true freshman QB, too.
OT Cameron Erving, Florida State:
Erving repeated as the ACC's blocking trophy winner, moving from left tackle to center in Game No. 10 this season and staying there, further showing his value to a unit that had dealt with interior injuries but came on strong late to help running back
Dalvin Cook
bloom into one of the country's finest freshmen.
OT T.J. Clemmings, Pittsburgh:
Clemmings ought to get at least a piece of James Conner's player of the year trophy. The converted defensive end was among the nation's most improved players, starting every game for the second season in a row while using his athleticism to ace a position switch he had resisted earlier in his career.
C Andy Gallik, Boston College:
BC lost a Heisman finalist at running back and actually improved its rushing totals this season. A dual-threat QB explains part of that, but so, too, does a powerful offensive line, led by Gallik in the middle, who helped pave the way for the league's No. 2 rushing attack.
OG Shaquille Mason, Georgia Tech:
The only ACC team that rushed for more than BC? The only one that kept its QB unscathed more than Duke? The Yellow Jackets are the answer to both, with Mason captaining an oft-overlooked unit that was absolutely integral to the program's resurgence this season while running its famed triple-option attack.
OG Laken Tomlinson, Duke:
The future pro turned in his best season yet, helping a Blue Devils offensive line that anchored a balanced offensive attack and kept QB
Anthony Boone
upright all season long, as Duke surrendered just 13 sacks, tied for 11th-best nationally.
QB Jameis Winston, Florida State:
The reigning Heisman winner was not as sharp as last season, but he once again put up big numbers (3,559 yards, 24 TDs) while leading FSU to another perfect mark. Winston is 26-0 for his career as a starter. You simply cannot beat that.
RB James Conner, Pitt:
The ACC player of the year rewrote the Pitt record books -- no easy feat for a place that boasts names like Tony Dorsett, Curtis Martin and
LeSean McCoy
. Conner rushed for 1,675 yards and 24 TDs, responding to each defense's best shot game after game.
RB Duke Johnson, Miami:
Like Conner, Johnson set himself above his peers at a program that has produced plenty of great running backs. Coming off an injury-shortened 2013 season, the junior ran for 1,520 yards and 13 TDs, becoming Miami's all-time leading rusher and its career leader in all-purpose yards.
Defense
DE Vic Beasley, Clemson:
The ACC's defensive player of the year has seen his decision to return for his senior season pay off, as Beasley led the ACC in sacks (11) and tackles for loss (18.5) while making Clemson's defense the top-ranked unit nationally.
DT Eddie Goldman, Florida State:
Who can forget Goldman forcing a Clemson fumble late to keep FSU's perfect season alive? The junior was in the right place at the right time often, a versatile threat who moved back inside this season after playing end. He dominated the line of scrimmage, and one just needs to look at how FSU fared without Goldman -- giving up 331 rushing yards to Georgia Tech as he went down early -- to see his value.
DT Grady Jarrett, Clemson:
Ends might get all the stats and glory, but Jarrett's impact on offenses might have been as big as Beasley's, as he helped form arguably the top defensive line in the country. Jarrett had 6.5 TFLs and 11 QB hurries, freeing up those around him and making running the ball next to impossible down the stretch for opponents.
LB David Helton, Duke:
The senior led the ACC in tackles (125) and ranked 11th nationally. Helton helped Duke overcome the preseason loss of linebacker
Kelby Brown
and led a unit that continued its ascension under coordinator Jim Knowles, finishing fifth in the ACC in scoring average (20.6 ppg), and 20th nationally.
LB Lorenzo Mauldin, Louisville:
A step-up in competition for Mauldin and the Cardinals meant even better results, as the hybrid notched a career-best 45 tackles and led the team in tackles for loss (13), while notching 6.5 sacks. Louisville's defense was one of the most surprising units in the country this season in its first year under coordinator Todd Grantham, ranking No. 6 nationally.
LB Stephone Anthony, Clemson:
The leading tackler (73) on the nation's top defense, Anthony impacted games in a number of ways for the Tigers, making 9.5 stops behind the line of scrimmage while forcing two fumbles and picking off one pass.
LB Denzel Perryman, Miami:
The senior led the Hurricanes in virtually ever major category: Tackles (102), TFLs (8.5) and forced fumbles (3) among them. He validated his decision to return after last season, recording yet another 100-tackle season and making his case as perhaps the top linebacker in the ACC.
S Gerod Holliman, Louisville:
Fourteen interceptions. Fourteen! What more needs to be said? Holliman broke the ACC record and tied the NCAA mark. He had four multi-pick games, including a three-pick performance at BC. And he did this all after transitioning from corner to safety under Grantham's tutelage.
S Jalen Ramsey, Florida State:
The sophomore made big play after big play, giving FSU's D an edge at the star position. He clinched the Miami game with a late pick and had two on the season to go with two forced fumbles, 11 break-ups, 13 passes defended and 9.5 TFLs. He blocked a kick, too.
CB Kendall Fuller, Virginia Tech:
The last in line of the storied Fuller family to come through Blacksburg, the sophomore showed plenty of the same NFL promise that has guided his older brothers. One of only a handful of Hokies to start every game, Fuller finished second in the ACC in passes defended (15), recorded 4.5 TFLs and recovered one fumble.
CB Garry Peters, Clemson:
As overlooked as one can be on a defense loaded with stars, Peters quietly executed his job to a T, picking off one pass, breaking up 11 and defending 12. He forced a fumble and managed eight TFLs as well on a pass defense that ranked No. 3 nationally.
Special teams
K Roberto Aguayo, Florida State:
Just another year at the office for Aguayo: 25-of-27 on field-goal attempts, perfect on extra points and a number of crucial kicks, which wasn't always required last year when he first stepped into the national spotlight. Aguayo is a whopping 46-of-49 for his career on field-goal attempts.
P Will Monday, Duke:
Monday averaged 43.4 yards per punt, with 12 of his boots going for 50 or more yards. Eight of his punts were touchbacks, 19 were fair caught and 17 were inside the 20-yard line.
KR DeVon Edwards, Duke:
Edwards averaged 25.4 yards per kick return, including a 99-yard touchdown in a high-scoring affair at Pitt, which the Blue Devils ended up winning in OT.
AP Tyler Boyd, Pitt:
Boyd was a jack-of-all trades for Pitt, catching 69 passes for 1,149 yards and eight touchdowns. He was also the ACC's top punt returner, averaging 10.8 yards per return, which ranked 15th nationally.
December, 12, 2014
Dec 12
8:00
AM ET
Thursday brought news on two ACC quarterbacks, as former Miami signal-caller Kevin Olsen
announced that he has found a new home
while Syracuse's Mitch Kimble said that he is seeking a transfer.
Olsen, who posted the news on Instagram, will be hoping for a fresh start at Towson after a brief Hurricanes tenure that went about as poorly it possibly could have. The former four-star recruit and brother of ex-Miami star TE Greg Olsen had several run-ins with the law and eventually left school this past September. He would be eligible to play for the FCS Tigers in 2015. Here's hoping he is able to turn things around off the field and resurrect his promising career.
Kimble, meanwhile, will likely be taking the FCS route as well. The redshirt freshman
told Syracuse.com's Nate Mink
that Illinois State, Eastern Illinois and Western Illinois are among the schools he is considering. Kimble had entered the season as the Orange's No. 4 signal-caller and saw limited time with the rest of the reserves after Terrel Hunt went down for the season in October.
Kimble is a Jerseyville, Illinois, native, which would help explain some of the programs he is looking at.
Here are the rest of your ACC links:
December, 11, 2014
Dec 11
10:30
AM ET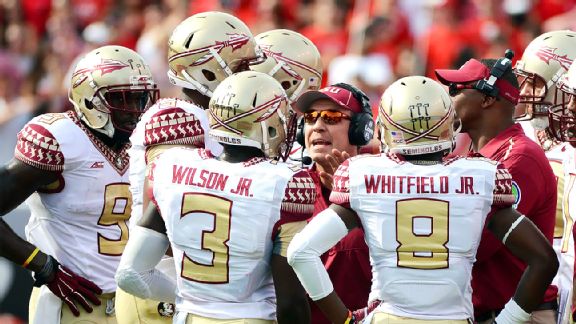 Rob Kinnan/USA Today SportsUnder the old BCS system, 13-0 Florida State would likely have been No. 1 heading to the postseason.
Win after win this season, Jimbo Fisher was defiant, grounding his defense of his program's résumé in facts -- not, as he'd often analogize, in figure skating.
The decision on Florida State's playoff berth was made Saturday, Fisher declared upon winning another ACC title. This was no beauty contest, there were no style points. The Seminoles were 13-0, the lone unbeaten team. They were the defending national champs, and their slide from the top of the rankings would grind to a halt, at least according to their coach.
Then came Sunday, and the Noles were ranked third, and their repeat run was extended (at least) a few more weeks by the selection committee, and none of the other chatter surrounding their legitimacy seemed to matter.
"I don't get into all that," Fisher said when asked if FSU should be No. 1. "Whether you're in and whether you're 1 or 3 or 4 or 2, whatever it may be, you're going to play a great team."
Fisher can breathe easy and say that now in the era of the College Football Playoff. That his team will travel 2,000-plus miles to the Rose Bowl for its first playoff game does not matter to him so much as the fact that his team, at the end of the day, is in the tournament.
Still, there was all that late-season politicking. From an undefeated coach from a Power-5 conference. The only undefeated coach.
And his team only checked in at No. 3.
If it takes all that for a brand-name program riding a 29-game winning streak to crack the field, how does the future bode for other perfect teams in this system? Moreover, is FSU lucky that its supposed underwhelming 13-0 mark -- as underwhelming as a 13-0 mark that featured 12 Power-5 opponents can be -- came in the first year in which four teams are playing for the title instead of two? The latter is unlikely. By most measures, FSU
would have probably been No. 1 this year had the BCS formula been in play
.
Should that come as a sigh of relief for other programs that have been in the Noles' shoes before? Or should those programs look at what happened this season and thank the football gods that their perfect seasons came during the time period that they did?
At the heart of the matter is the simple question of whether winning games is no longer enough to control one's championship destiny.
"Winning's too hard in college football not to be evaluated on a full body of work," Notre Dame coach Brian Kelly said, adding, "When you win 12 games and you go undefeated, no matter how you do it, you cannot overlook that kind of work. So I would be hopeful in saying this because I can't speak for others, but I know how I feel. It's too hard to win in college football, and to leave somebody out that's undefeated would go against the reason why we compete for only 12 or 13 weeks a year."
Kelly speaks from the experience of coaching a 12-0 team two years ago. As the lone unbeaten team, the Irish were a given as the regular season's No. 1, regardless of the fact they entered the national title game as double-digit underdogs, a forecast that proved prescient when No. 2 Alabama routed them. Kelly's last team at his previous stop, Cincinnati, also ran the regular-season table, ranking third behind two fellow unbeatens.
Knowing what it takes to win every week -- and perhaps helping his own team, which lost in Tallahassee this season -- Kelly
voted FSU No. 1 in his final coaches poll ballot
. He had company: Cincinnati's Tommy Tuberville, UConn's Bob Diaco and Memphis' Justin Fuente had the Noles atop their ballots as well. All three coaches have been part of perfect campaigns before — Tuberville at Auburn, and Diaco and Fuente as assistants at Notre Dame and TCU, respectively.
That was not exactly the norm, though. LSU's Les Miles and Alabama's Nick Saban both had FSU third. Joining them were two coaches who know what it's like to be on the outside looking in despite undefeated seasons: TCU's Gary Patterson ranked FSU fourth, and Washington's Chris Petersen, formerly of Boise State, ranked the Noles third.
Looking out for your conference brethren is one thing -- though Patterson didn't even do that, voting his team third behind Alabama and Oregon -- but what explains the gap between between No. 1 and FSU? Has the new way of thinking already permeated the voters?
"In the old system, we know we needed to be undefeated," said Boise State head coach Bryan Harsin, who was an assistant on two undefeated Broncos teams that did not play for the title. "The way it is now, that's not the case and here we are."
Harsin is referring to Boise State's spot in the VIZIO Fiesta Bowl despite two losses. But his reasoning may help explain the current way of doing business at the top of college football.
"I think as far as we're concerned, the years of winning and what we've done in the past does help us in the position we're in now," he said. "We can use an Alabama as an example. One-loss Alabama over undefeated Florida State. Florida State's undefeated but Alabama's ranked ahead. Why? Because it's Alabama."
On Sunday, with his postseason fate settled, Fisher sounded at ease. He talked about everyone learning the new process at once. He reasoned that criteria would become clearer and more consistent with time.
What had to seem like a charade these last seven weeks proved strenuous. The ensuing defense routine was fatiguing. FSU was on to play Oregon, and maybe play beyond that, and that was all that seemed relevant moving forward.
"I just think winning is so hard and when you repeat things, people are going to prepare for you differently," he said. "They're going to prepare for you in the offseason, and to overcome so much adversity and the things we've overcome defending our championship and still being able to go undefeated, I think is a tremendous feat."
So, too, does the committee. At least in this case.
December, 10, 2014
Dec 10
11:00
PM ET
For the longest time it looked like Alabama was going to run away with the title for the top-ranked class, but here comes Florida State. Plus, why the hype around
Josh Sweat
?
December, 10, 2014
Dec 10
4:00
PM ET
There are some legitimate concerns with evaluating a conference based on its bowl performance — uneven matchups, the long wait between games, etc. — but the reality is that a league's performance in those high-profile events tends to dictate perception. For the ACC, that's been a problem through the years.
In the last decade, the pecking order in bowl performance has pretty clearly mirrored national perception:
SEC:
55-31 (.640)
Pac-12:
34-28 (.548)
Big 12:
41-36 (.532)
ACC:
36-45 (.444)
Big Ten:
27-47 (.365)
In other words, the SEC is great, the Pac 12 and Big 12 are solid, and the ACC and (especially) the Big Ten are bad. It's that simple, right?
[+] Enlarge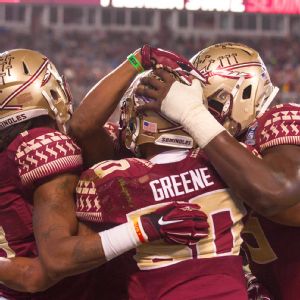 Jeremy Brevard/USA TODAY SportsFlorida State's success has done a lot to change the perception of the ACC nationally, and the Seminoles' matchup against Oregon can do a lot more.
Well, there is some truth to the logic. At the very least, the ACC and Big Ten haven't done much to change perceptions. And even this year, when the ACC sends 11 teams (plus Notre Dame) to bowl games, less than half the league's representatives will be favored to win.
But there is a bit more to those numbers than meets the eye.
For one, things are changing for the better. Nine of the ACC's 36 wins in the past decade came in the last two years, and after going 1-8 against the SEC from 2004 through 2008, the ACC is a far more respectable 6-5 against the big, bad SEC since then.
Secondly, the league has made some shrewd moves in changing the bowl tie-ins, giving the ACC some better postseason matchups. Even with a rather lackluster overall record in the last decade, the ACC only had two ranked teams lose to unranked foes in bowl games, but often the matchups didn't do the conference any favors.
Again, that's beginning to change. From 2004 through 2011, the ACC was just 3-13 in matchups of ranked vs. ranked teams, but in the past two seasons, the conference has a more impressive 4-1 record in those games, with the only loss the shootout between Duke and Texas A&M last season.
And if we look at aggregate performance, close losses were clearly the norm. In the last decade's worth of bowl games, the ACC has been outscored by just 75 points — or roughly a touchdown per season. In five of those 10 seasons, the ACC actually scored more points than its opposition in total, but the league has a winning record in bowl games just twice (2005 and 2012).
Plus, there are some notable outliers in performance. In 2007, 2008 and 2011, the league was woeful, sporting a combined record of 3-14 against Power 5 conference foes in the bowl games. But in the other seven seasons, the ACC actually is 13-14 against the other Power 5 conferences — not great, but certainly not particularly underwhelming.
But, of course, perception remains, so the question is, what does the ACC need to do to begin changing that perception this season?
Start with Florida State. There is no more high-profile game than the Seminoles' Rose Bowl matchup against Oregon. FSU was dinged all year for playing close games against the ACC — something that wouldn't have been as big an issue in the SEC or Pac-12. It was a direct indictment of the ACC's prowess, so a solid victory for the Seminoles over a Pac-12 power would, in turn, give some credence to the notion that the conference is a lot deeper than critics assumed.
Secondly, with 11 representatives playing in bowl games, a winning record is a must. During the past decade, the ACC hasn't won more than five bowl games in a single year, while the SEC has had six or more seven times. So even a 6-5 record for the ACC this season would be real progress.
Third, the league needs to avoid embarrassment. That means no 70-33 scores like Clemson's Orange Bowl loss to West Virginia in 2011, a game that still stands (unfairly) as a tribute to ACC ineptitude. But the league also has a rather unimpressive 20-17 mark against non-Power 5 foes in the last decade. That's partially skewed by matchups against teams such as Louisville, West Virginia and Utah — current Power 5 squads — previously playing in leagues that wouldn't count in that metric, but it also includes Marshall thumping Maryland last year, Cincinnati beating Duke the previous year and Air Force knocking off Georgia Tech in 2010. The ACC has three bowl games this year against non-Power 5 foes, and it really needs to win them all.
And lastly, there's the SEC. The regular season ended on a particularly upbeat note on that front as the ACC went 4-0 in rivalry games against the SEC, and now it has three more chances to earn victories — though none will come easily. Georgia Tech is an underdog against Mississippi State. Miami has looked lackluster lately, but needs to knock off South Carolina. And Louisville — the league's newest member — gets a crack at Georgia. Winning at least two of those games — particularly the Orange Bowl against an SEC West foe — would be huge.
So, can the ACC do all of that? And even if it does, will it really matter?
Perceptions don't change overnight, but every little bit helps, and the ACC has been taking some small steps. A bigger leap this season certainly seems possible.
December, 10, 2014
Dec 10
3:20
PM ET
ESPN.com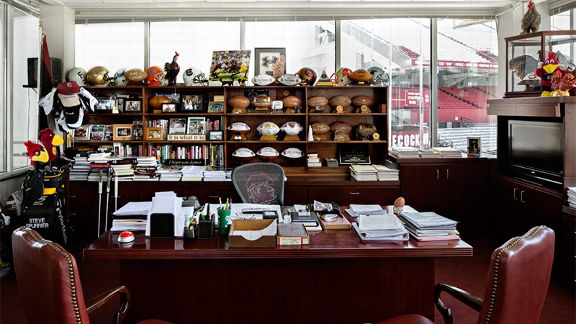 Floto + Warner
Each week during the regular season, we gave you a guided tour inside the office of a different FBS head coach. The offices spanned from the modest to the majestic, but all of them held their own unique trophies, tributes, mementos and memorabilia.
Here's another look at all 15 in the order they were originally published.
Not every head coach has his own Heisman Trophy stashed away, but the first thing that catches the eye in Spurrier's office is his brood of ornamental gamecocks. The Head Ball Coach isn't shy about giving out an ornithology lesson, either.
---
Up in East Lansing, Dantonio unsurprisingly displays several items that serve as a nod to the warrior mentality and the Spartan spirit. Keep your eyes out for the one blue thing in his office.
---
The Bruins' head coach reminds recruits of his experience coaching at the professional level, and Yoda also makes a prominent cameo as Mora's spiritual mentor, in a way.
December, 10, 2014
Dec 10
12:00
PM ET
Without question, the ACC upgraded its bowl lineup. There are way better matchups across the board; way better conference opponents across the board; way more reason for excitement across the board.
The opportunity is there for this league to make a collective statement.

Now is not the time to blow it. Especially after a blockbuster final weekend in which the league went 4-0 against the SEC. Ultimately, the way the ACC performs during bowl season will determine how people perceive the ACC headed into 2015.
That is why this postseason in particular is so critical. Because we already saw how a shaky national reputation impacted Florida State in 2014. The ACC cannot afford to keep slipping in the court of public perception, not when that perception clearly matters when it comes time to selecting four teams to make the playoff.
Fair or not, it is more important for the ACC to finish with a winning bowl record than any other Power-5 conference, starting with Florida State in the Rose Bowl and the three games against the SEC. While many have dismissed the wins over the SEC on rivalry weekend because they all came from the East, Georgia Tech has a big opportunity to quiet some of those critics with a win over Mississippi State in the Capital One Orange Bowl.
The Jackets are a seven-point underdog but that does not matter much. They were a 13-point underdog against Georgia and won that game to end the season.
Speaking of Georgia, the Bulldogs are favored over Louisville in the Belk Bowl, one of the best matchups in the postseason. The Cards and their No. 6-ranked defense are not exactly going to allow themselves to get pushed around in this one. Louisville will have every opportunity to win and finish with 10 wins (again).
Then there is Miami-South Carolina in the "shrug your shoulders" err … Duck Commander Independence Bowl. All I have to say is this: The ACC NEEDS you to show up, Miami. For once, just show up.
In all, the ACC will play eight opponents from Power-5 conferences, one more than a season ago. The ACC upgraded the Belk Bowl and Russell Athletic Bowls, and upgraded with a spot in the New Era Pinstripe Bowl, too.
The ACC tweaked the bowl tie-ins this past year as a way to upgrade its standing. The selection process also worked slightly differently this year, because teams were no longer slotted into spots based on record. Plus, Notre Dame entered the mix, creating a little extra drama.
The ACC assigned teams into two tier categories based on record. With Florida State in the playoff and Georgia Tech taking the automatic spot into the Orange Bowl, it left Clemson (9-3), Louisville (9-3), Duke (9-3), Notre Dame (7-5), Boston College (7-5) and NC State (7-5) in the Tier I category.
The Russell Athletic Bowl has priority over the four Tier I games (Belk, Sun, Pinstripe, Music City/Gator). Once the Russell Athletic Bowl selected Clemson, five teams remained in the pool to be selected into a Tier I game. ACC officials and bowl reps decided Louisville and Duke had to be placed into Tier I games based on their record. Notre Dame was a lock to go into a Tier I game based on its brand and ability to draw fans to games. So Boston College or NC State would be bumped down into a Tier II game.
Unlike the Big Ten and SEC, the ACC does not assign teams to bowl games based on potential matchup. The ACC still allows its bowl partners to make their own selections. The four Tier I games submitted their top five choices in rank order. Two bowls ended up with their No. 1 choice. Two bowls ended up with their No. 2 choice.
That clearly means there were ties that had to be broken. Their fairest way to do that? A blind drawing out of a hat. NC State ended up being the team that went unselected out of that pool, and ended up in the Bitcoin St. Petersburg Bowl against UCF.
What complicated matters slightly was Mississippi State making the Orange Bowl, taking away an ACC spot in the Buffalo Wild Wings Citrus Bowl. The ACC had contingency plans in the event this happened, doing legwork weeks in advance to find a bowl that would have an open spot.
Within an hour of the announcement, the ACC knew that it would be able to place a team into the Armed Forces Bowl. After Tier I bowls made their selections, the ACC held a conference call with Tier II bowls. They did the same, ranking the remaining teams in preferred order.
Once NC State was chosen, Pitt was the odd team out. That is how the Panthers ended up against Houston in the Armed Forces Bowl.
The process worked more smoothly than anticipated. What helped was having three Tier I bowl reps in a hotel conference room in Charlotte with ACC officials. Going over scenarios and doing homework well in advance also helped. So did a less rigid system that allowed bowls to have flexibility to choose their preferred teams.
As one ACC official said, it ended with a "home run across the board."
Now it is up to the teams to avoid striking out.
December, 10, 2014
Dec 10
11:57
AM ET

Mariota
We'll have to wait until Jan. 12 to find out which team will the inaugural College Football Playoff.
On Saturday night, we'll learn if Oregon's Marcus Mariota will become the latest quarterback to win the Heisman Trophy, college football's most revered individual award.
On Thursday night, we'll find out the winners of college football's other top individual honors at the Home Depot College Football Awards (7 p.m. ET on ESPN) at the Walt Disney World Resort in Lake Buena Vista, Florida.
Here's a look at the hardware that's up for grabs, the finalists for each and who should win:
Chuck Bednarik Award (defensive player of the year)
Finalists: Vic Beasley, Clemson; Joey Bosa, Ohio State; Scooby Wright III, Arizona
Who should win: Wright

Who will win: Wright
Talk about Scooby snacks. Wright, who has already won the Bronko Nagurski Award as the country's top defensive player, ranks in the top five among FBS players with 153 total tackles, 27 tackles for loss, 14 sacks and six forced fumbles. He's trying to become the first FBS player since 1999 to finish in the top five in tackles, tackles for loss and sacks.
Biletnikoff Award (outstanding receiver)
December, 10, 2014
Dec 10
11:50
AM ET
Florida State senior
Nick O'Leary
might force his grandfather to move a couple of trophies on the family mantel to make room for his latest honor.
O'Leary
On Wednesday, O'Leary was named the 2014 recipient of the
John Mackey
Award, presented annually to the collegiate tight end who best exemplifies the play, sportsmanship, academics and community values of Pro Football Hall of Fame tight end John Mackey. O'Leary will receive the award on Thursday. He was a semifinalist in 2013 but soon will have another trophy to maybe put next to one of his grandfather's. O'Leary is the grandson of Jack Nicklaus, who won a record 18 golf majors and is third with 73 PGA Tour wins.
"I'm honored to be chosen as the winner of the 2014 Mackey Award," O'Leary told Seminoles.com. "The Mackey Award is something that all tight ends dream of winning, and I'd like to thank the committee and all the voters for selecting me. My coaches, teammates and family have given me great support, and I want to thank them, too. My goal has been to be one of the best there is out there. A lot of great players have won this award, and I want to be able to carry on the tradition that comes with being a Mackey Award winner."
As a senior, O'Leary caught 47 passes for 614 yards and six touchdowns, which ranks second on the Seminoles this season. He also is the school's career leader among tight ends in receptions (113), receiving yards (1,587) and touchdowns (17). His 17 career scores ranks second in ACC history among tight ends.
He was also named first team on the coaches' All-ACC team Wednesday.
Miami's
Clive Walford
and Minnesota's
Maxx Williams
were the other semifinalists for the Mackey Award.
December, 10, 2014
Dec 10
11:15
AM ET
The ACC coaches' awards and all-conference teams looked a lot like the media's version from last week, as Pitt running back
James Conner
led the way by winning offensive and overall player of the year honors.
Likewise, Clemson defensive end
Vic Beasley
one again took home defensive player of the year honors, while Miami quarterback
Brad Kaaya
was named both overall and offensive rookie of the year. Virginia safety
Quin Blanding
was again named defensive rookie of the year.
Coach of the year? That would be Georgia Tech's Paul Johnson, who received 10 of the 14 votes from his peers.
Defending national champion Florida State led the way in all-league teams, tallying 18 players across the three teams.
The team with the second-most? Virginia, surprisingly enough, as the Cavaliers landed nine players on the all-league teams despite finishing with a 5-7 record.
First-team
WR:
Rashad Greene
(FSU)
WR:
Jamison Crowder
(Duke)
WR:
Tyler Boyd
(Pitt)
TE:
Nick O'Leary
(FSU)
T:
Cameron Erving
(FSU)
T:
T.J. Clemmings
(Pitt)
G:
Laken Tomlinson
(Duke)
G:
Tre' Jackson
(FSU)
C:
Shane McDermott
(Miami)
QB:
Jameis Winston
(FSU)
RB:
James Conner (Pitt)
RB:
Duke Johnson
(Miami)
K:
Roberto Aguayo
(FSU)
SP:
Jamison Crowder (Duke)
DE: Vic Beasley (Clemson)
DE: Mario Edwards Jr. (FSU)
DT: Grady Jarrett (Clemson)
DT: Eddie Goldman (FSU)
LB: Denzel Perryman (Miami)
LB: Stephone Anthony (Clemson)
LB: Lorenzo Mauldin (Louisville)
CB: Kendall Fuller (Virginia Tech)
CB: Garry Peters (Clemson)
S: Gerod Holliman (Louisville)
S: Jalen Ramsey (FSU)
P: Wil Baumann (NC State)
To see the full roster, click
here
.
Among the biggest differences between the coaches' and media's voting: Boston College center
Andy Gallik
was relegated to the second team this time around, with Miami's Shane McDermott taking the top spot on the coaches' team. McDermott received only honorable mention status from the media last week. Louisville linebacker Lorenzo Mauldin was also a first-team newcomer, replacing Duke's
David Helton
, who made the media's first-team and who took home some pretty impressive hardware of his own Tuesday night in New York. Clemson cornerback Garry Peters was also a first-team addition, leaping the media's selection of FSU's
P.J. Williams
.
Louisville receiver
DeVante Parker
made the coaches' second-team after playing in just five games. Parker had made the media's third-team. The coaches flipped the media's second- and third-team quarterbacks, putting Georgia Tech's
Justin Thomas
on the second-team and North Carolina's
Marquise Williams
on the third-team.
The coaches' third-team ended up containing five linebackers, as four tied in the voting, as well as two cornerbacks and two punters.
To see the media's All-ACC picks from last week, click
here
.
December, 10, 2014
Dec 10
11:10
AM ET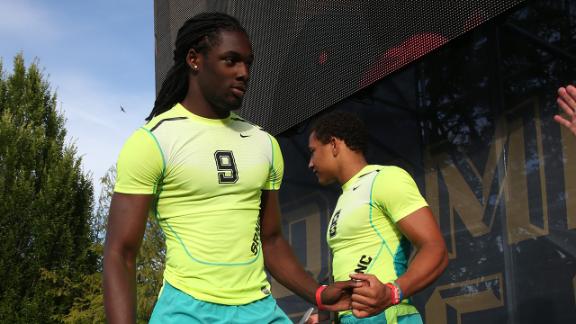 Under Armour All-American defensive end
Josh Sweat
committed to
Florida State on Wednesday morning
, becoming the Seminoles'
second five-star pledge
. Here's what the No. 5 overall prospect in the 2015 ESPN 300 brings to Jimbo Fisher's loaded roster:
To continue reading this article you must be an Insider
December, 10, 2014
Dec 10
9:00
AM ET
We finally have our bowl matchups set, but unfortunately we have to wait another few weeks before we get to watch more football. So to fill that void, we're ranking the bowl games from the most exciting to the least.
1. Rose Bowl Game presented by Northwestern Mutual: Florida State vs. Oregon

The Seminoles could win a lot of respect for the ACC with a win over Oregon here, but what should make this game fun is the showdown between last year's Heisman winner and the odds-on favorite for this year's award. It's only happened three previous times that two Heisman winners faced off.
2. Belk Bowl: Louisville vs. Georgia
What's not to like about this ACC-SEC showdown? Georgia's powerful ground game vs. Louisville's stout defense.
Gerod Holliman
trying to set the NCAA interceptions record in
Hutson Mason
's last game. And, of course, Todd Grantham vs. his old team.
3. Capital One Orange Bowl: Georgia Tech vs. Mississippi State
All year, ACC fans had to hear about the big, bad SEC West. Now Georgia Tech gets a chance to prove that all that hype was just bluster by knocking off the upstart Bulldogs. If FSU can land the biggest blow for the ACC this postseason, the Yellow Jackets are a close second on that list.
4. Franklin American Mortgage Music City Bowl: Notre Dame vs. LSU
We're including the Fighting Irish on this list since they grabbed one of the ACC's slots and have a chance to do some damage to the SEC West. But don't worry, if they lose, we can pretend they never had anything to do with the ACC in the first place.
5. Hyundai Sun Bowl: Duke vs. Arizona State
Duke has gained plenty of respect during the past three seasons, but a weak nonconference slate has meant there are still some doubters. David Cutcliffe's crew can do a lot to erase those doubts with a win here. And after the Blue Devils pushed Johnny Manziel to the limit in last year's bowl game, we're hoping for a few fireworks this year, too.
6. Russell Athletic Bowl: Clemson vs. Oklahoma
This might be No. 2 on our list if it weren't for all the injuries.
Deshaun Watson
may undergo knee surgery.
Samaje Perine
sprained his ankle in Oklahoma's regular-season finale.
Trevor Knight
missed the last three games of the season, too. But on the upside, it'll give us one last look at that terrific Clemson defense, led by departing seniors
Grady Jarrett
,
Vic Beasley
and
Stephone Anthony
.
7. Duck Commander Independence Bowl: Miami vs. South Carolina
OK, so two 6-6 teams don't exactly equal a great matchup, and there's a real question about how motivated Miami is after the Canes dropped their last three. But this is chance to hear from Steve Spurrier and watch
Duke Johnson
, so it can't be that bad, right?
8. Military Bowl presented by Northrop Grumman: Virginia Tech vs. Cincinnati
This isn't a matchup with much cache, but it's a chance to see one of the best young QBs in the country in
Gunner Kiel
go against one of the best defenses in the country, including Hokies' superb sophomore corner
Kendall Fuller
. Add in a couple accomplished coaches in Frank Beamer and Tommy Tuberville and there's plenty to like about this game.
9. New Era Pinstripe Bowl: Boston College vs. Penn State
We like the matchup, but there are two big problems here. First, it's two teams from the Northeast, which isn't going to spark much national love. More importantly, we don't expect much offense as Penn State ranked second nationally in total defense and BC ranked 12th.
10. Quick Lane Bowl: North Carolina vs. Rutgers
It's a bowl game in Detroit in late December, so there's only so much excitement to go around, but we like watching
Marquise Williams
and
Ryan Switzer
, and given that UNC and Rutgers ranked 113th and 115th in yards-per-play allowed this season, there should be ample scoring to keep your attention.
11. Bitcoin St. Petersbug Bowl: NC State vs. UCF
We still don't completely understand how bitcoin works, but we like the idea of
Jacoby Brissett
returning to his home state to take on the nation's No. 3 defense.
12. Lockheed Martin Armed Forces Bowl: Pitt vs. Houston
It's the team none of the ACC bowls wanted vs. a team that fired its head coach, so that's not an easy sell. But any game with
James Conner
and
Tyler Boyd
is one worth watching, so we'll still be tuning in for this one.
December, 10, 2014
Dec 10
8:00
AM ET
Caaarrlll!
I hope that's how Georgia Tech coach Paul Johnson first addressed high school student Chandler Riggs, who doubles as Carl on "The Walking Dead." Johnson, while out recruiting in the Yellow Jackets' home state, came across Riggs, who is in his fifth season acting on the popular AMC show about
vampires
zombies. (It's always one or the other now.)
Will this photo swing recruiting in the Peach State to the Jackets' favor?
Out here on the recruiting trail trying to find stone cold killers!! #TheWalkingDead #TWD @ChandlerRiggs pic.twitter.com/HYVZ6lfxod

— Paul Johnson (@GTPaulJohnson) December 9, 2014
It's pretty hip of Johnson to tweet a photo of himself with Carl, who has a dubious history on the television show. Recruiting is all about connecting with teenagers, although posing with Riggs isn't going to light up social media for a college program the way Kentucky
basketball players taking notes with Drake
or esteemed rapper Bun B
shouting out your quarterback
would. But hey, it's better than A-Rod
being on your sideline
.
As Ken Sugiura of the Atlanta Journal-Constitution points out, the oft-surly Johnson
does show another side
on his Twitter account. One of his pictures includes Miss America. Just make it a selfie next time, CPJ.
Florida State Preparing For Rose Bowl
ACC SCOREBOARD
Saturday, 12/20
Monday, 12/22
Tuesday, 12/23
Wednesday, 12/24
Friday, 12/26
Saturday, 12/27
Monday, 12/29
Tuesday, 12/30
Wednesday, 12/31
Thursday, 1/1
Friday, 1/2
Saturday, 1/3
Sunday, 1/4
Monday, 1/12