September, 27, 2014
Sep 27
11:34
PM ET
By
Chris Morris
| ESPN.com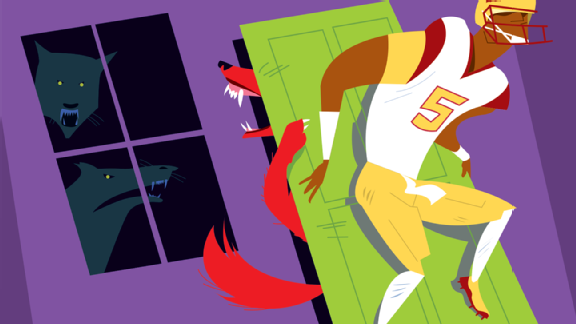 Chris Morris for ESPN
Each Sunday during the season, ESPN.com will highlight four storylines that had an impact on the College Football Playoff race.
Florida State survived a furious upset bid by NC State, as Jameis Winston threw for 365 yards and four touchdowns to help FSU rally from 17 points down.
---
Kenny Hill rallied Texas A&M past the surging Razorbacks, throwing three touchdown passes during the fourth quarter and overtime before the Aggies made a game-ending defensive stop.
---
Brett Hundley threw for 355 yards on Thursday night as UCLA had 582 yards of total offense and scored the most points in the 55-year history of Sun Devil Stadium.
---
Top-five teams watching, waiting
September, 27, 2014
Sep 27
10:35
PM ET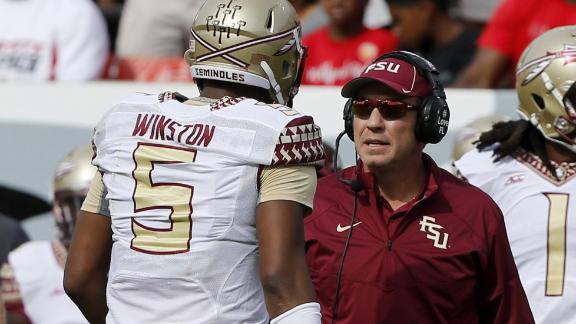 The day began with
Jameis Winston
strutting onto the field at Carter-Finley Stadium and announcing his return from a one-game suspension with a jubilant shout of "I'm back" to no one in particular.
Winston followed the announcement with a dynamic performance. He threw for 365 yards and four touchdowns and added a 20-yard run to convert a crucial third down to ice the game. But when the
56-41 Florida State victory
was finally in the books, the question remained: Are the Seminoles back?
A team that dominated nearly every opponent it faced a year ago trailed at the half for the second straight week. That hadn't happened since 2011.
An NC State team that was thoroughly manhandled by Florida State's defense a year ago posted 24 first-quarter points and etched its name into a dark column of the Seminoles' record books.
[+] Enlarge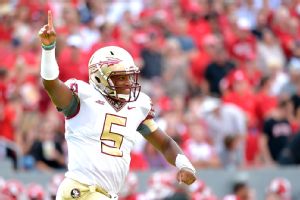 Grant Halverson/Getty ImagesJameis Winston finished with 365 passing yards and four touchdowns in his return to the lineup.
Winston's Heisman campaign the past season was built upon a highlight reel of dizzying escape acts and circus throws, but on Saturday, it was his counterpart who earned the oohs and aahs.
Jacoby Brissett
dodged one tackle after another and added runs of 19 and 36 yards to his 359 yards passing and three touchdowns.
It was a win for Florida State, and that was good, but even the Seminoles admit this isn't how the country's top-ranked team is supposed to look.
"It was very fun, but that's not Florida State football," tailback
Karlos Williams
said. "We're not used to that. That's not the way we play football here. We've got to start fast [and] finish faster."
This wasn't Florida State's style, at least not compared to the juggernaut that pummeled all comers the past season.
Winston's final numbers were impressive, but he turned the ball over three times.
Rashad Greene
had another stellar outing as the team's go-to receiver, but he flubbed a punt return that led to an NC State score.
The defense made some crucial stops late in the game, including a forced fumble by
Jalen Ramsey
, as NC State drove toward the red zone with a chance to pull within four midway through the fourth quarter. But the unit that was so dominant the past season allowed a whopping 520 yards to the Wolfpack -- the most an FSU defense had surrendered since 2009.
"It all starts with we've all got to want it," linebacker
Reggie Northrup
said. "I don't feel like we're that far, but we've got a ways [to go]. Ability-wise, we're there. But it's your will, paying attention to detail, making sure we execute better."
It was a sentiment echoed by Jimbo Fisher, too. He's got talented athletes all over the field right now, he said. But he's looking for talented football players, and this group remains very much a work in progress.
There was, of course, ample silver lining. Freshmen defensive linemen
Lorenzo Featherston
and
Jacob Pugh
had strong performances and offered some hope the Seminoles' woes on the defensive line can be addressed. The stable of young receivers finally provided an adequate complement to Greene on the outside. The running game, led by Williams and
Dalvin Cook
, had its most impressive performance of the year.
Oh, but this wasn't a team that was supposed to need silver linings. This was a team that was supposed to set the cruise control and head directly to the College Football Playoff. Instead, Saturday's chaos in Raleigh was actually the easiest win -- by final margin, anyway -- that FSU has had against an FBS opponent so far this season.
This clearly isn't last year's Florida State.
"This year, we have to create our own identity,"
Eddie Goldman
said. "We're not trying to live off last year's team. We have to do our own thing."
Perhaps that's how Winston can be encouraged after a game such as this. Compared to the past year's team, it was ugly. But compared to a loss -- something that had happened in this house of horrors for Florida State five times in its past eight trips to Carter-Finley -- it was a thing of beauty.
"That was a beautiful game, man," he said. "We overcame a lot. It's fun when you see that. It's heartbreaking to the other team when they think they've got us on the ropes, and we come back and fight. But that's the true meaning of being a warrior and doing whatever it takes to win football games."
September, 27, 2014
Sep 27
8:07
PM ET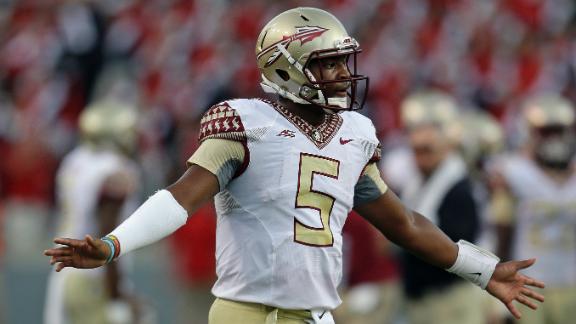 Trailing by 10 midway through the third quarter, Florida State rallied for a
56-41 win
at NC State.
How the game was won:
For Florida State, the game was brutal at times, but Seminoles' fans can walk away feeling OK because at times both the offense
and
defense played exceptionally -- for the first time all season. The Seminoles were able to win because, despite allowing a school-record 24 first-quarter points, the defense was tough the rest of the game, with breaks only after turnovers. When the offense didn't turn it over, it was scoring touchdowns behind an energized
Jameis Winston
and improved rushing attack.
Game ball goes to:
The freshmen of FSU's No. 3-ranked 2014 class deserve this one because they made critical plays throughout the third quarter. Defensive end
Lorenzo Featherston
is credited with causing the fumble that helped the Seminoles to their first lead. Fellow freshmen
Jacob Pugh
was next to Featherston as they pressured
Jacoby Brissett
on that fumble. Receiver
Travis Rudolph
had a big catch, and
Dalvin Cook
had a 19-yard touchdown. It all came in the latter part of the third quarter, when FSU began taking control.
What it means:
There is no such thing as an ugly win when every loss has the potential to cripple a season. It was a close win, but coach Jimbo Fisher can leave Raleigh, North Carolina, feeling pretty good about how his offense played. Winston was sharp,
Karlos Williams
played his best game at running back, and the offensive line provided lanes to rush the football.
Playoff implication:
As the No. 1 team in the country and the defending champions, all Florida State needs to do is win. An undefeated FSU is not going to be left out of the College Football Playoff, so every win -- despite margin of victory -- is critical for Florida State. Fisher doesn't need to worry about style points.
What's next:
The Seminoles get a bit of a reprieve as unranked Wake Forest travels to Doak Campbell Stadium next weekend before a road date at Syracuse. Those two weeks should provide an opportunity for FSU to build on this performance before undefeated Notre Dame comes to Tallahassee.
September, 27, 2014
Sep 27
7:46
PM ET
Associated Press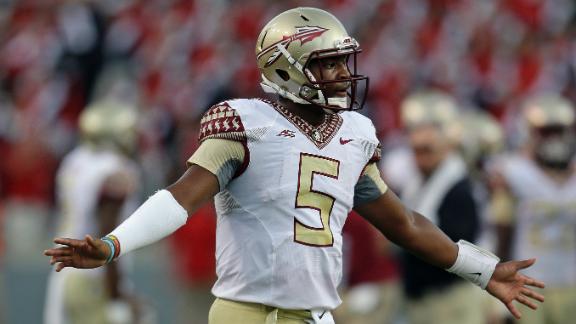 RALEIGH, N.C. -- Jameis Winston threw for 365 yards and four touchdowns in his return from a suspension, helping No. 1 Florida State rally from 17 down to beat North Carolina State 56-41 on Saturday night.
The Heisman Trophy winner directed four straight second-half touchdown drives to help the reigning national champions fight through and extend the nation's longest active winning streak to a program-record 20 games.
Rashad Greene hauled in 11 passes for 125 yards and the go-ahead score for the Seminoles (4-0, 2-0 Atlantic Coast Conference), while Karlos Williams ran for three scores -- the last with 2:07 left to seal it.
Winston was suspended for making an obscene public comment on campus last week, then watched backup Sean Maguire lead FSU to an overtime home win against Clemson.
He shook off a third-quarter interception to keep the Seminoles pushing forward against the Wolfpack (4-1, 0-1) and quarterback Jacoby Brissett.
September, 27, 2014
Sep 27
7:07
PM ET
Playoff Top Four: Week 6
ACC SCOREBOARD
Friday, 10/3
Saturday, 10/4