July, 20, 2014
Jul 20
9:30
AM ET
By
ESPN.com staff
| ESPN.com
The ACC media days kick off Sunday in Greensboro, North Carolina, as the conference goes into the season boasting a defending national champion for the first time since 2000. Keep this page open throughout the day's proceedings as we bring you all the latest from our array of reporters, who will cover all 14 teams at the event.
July, 20, 2014
Jul 20
9:00
AM ET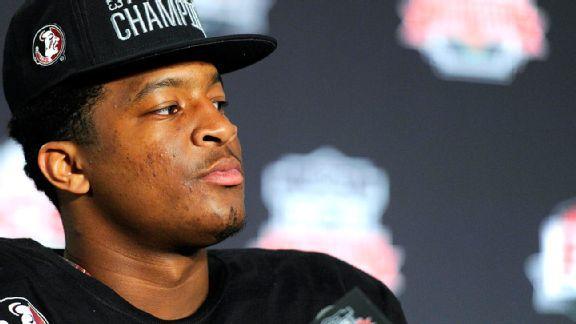 Jameis Winston
stole the show at
Florida State
's media day a year ago as the charismatic freshman quarterback and instant media darling. He
is
the show Sunday in Greensboro, North Carolina, where the ACC media days begin with Winston talking to reporters first.
It will be the first time Winston will meet with the media since the end of spring practice April 12, but there's been no shortage of headlines featuring Winston's name, as he was cited for shoplifting seafood and did not testify at the school disciplinary hearings for teammates
Chris Casher
and
Ronald Darby
.
It surprised some to see Florida State was bringing Winston to media days considering the intense scrutiny he's faced over the last nine months. There won't be the same ability for Florida State to control the questions thrown Winston's way at media days in front of a national group of reporters, many of whom have written columns in the last year criticizing Winston and Florida State's handling of his off-field incidents.
[+] Enlarge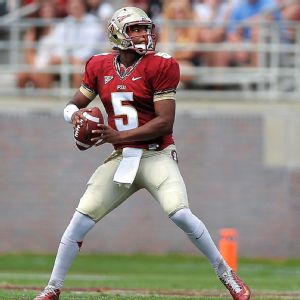 Stacy Revere/Getty ImagesAll eyes will be on Jameis Winston as ACC media days kick off on Sunday.
How will Winston respond when peppered with questions about crab legs or his rumored no-show at the hearings for Casher and Darby? (Winston's lawyer, Tim Jansen, told ESPN.com in May that Winston was not required to attend.) Auburn came under fire last week for leaving quarterback
Nick Marshall
at home following a marijuana citation, electing to allow Marshall to avoid the prodding questions from SEC media. Critics wanted to see maturity out of Marshall in front of reporters, and they will be looking for the same from Winston.
Every sentence and every gesture Winston makes will be analyzed Sunday. And unlike this time last year, Winston has earned the spotlight with his dazzling play on the field and puzzling decisions off it.
While Winston is the story of media days this week, here a few other players certain to draw significant attention:
RB Duke Johnson, Miami:
The Hurricanes' workhorse last season suffered a season-ending ankle injury against Florida State. With a questionable quarterback situation, Miami's offense might only go as far as Johnson takes it.
WR Tyler Boyd, Pittsburgh:
If not for Winston, Boyd might have been the ACC's top rookie in 2013. An explosive playmaker, Boyd will be relied upon heavily this season with
Devin Street
off to the NFL. Boyd is one of the better quotes, too.
DE Vic Beasley, Clemson:
The Tigers are looking to dethrone the Seminoles in the Atlantic Division, and their chances might rest on the Clemson defense, which could be among the nation's best.
WR DeVante Parker, Louisville:
Parker is poised for huge numbers in Bobby Petrino's offense. If Petrino can upset the balance of power in the ACC at all this season, Parker will be a major reason.
July, 18, 2014
Jul 18
3:00
PM ET
Headed to Greensboro for media day. Make sure you follow the ACC blog team on Twitter: Andrea will be tweeting from @
ESPN_ACC
, in addition to @
DavidHaleESPN
, @
Matt_Fortuna
and @
JShankerESPN
.
James in North Carolina writes:
Do you think there is another division in college football as wide open as the Coastal? I think Duke, VT, Miami, and North Carolina are all very close talent wise, and any of them could beat each other on any given day. I don't feel that Pitt is on the same level, but with the other teams dishing out losses to each other, they could be right there in the mix. The same could be said for Georgia Tech. In my opinion, the only team that I don't think will compete is UVA, but strange things tend to happen in the ACC.
Andrea Adelson writes:
The Coastal is without a doubt the most wide open division in college football. I have seen Duke, Virginia Tech and North Carolina all listed as preseason favorites; Miami won nine games last season; I expect Pitt to be much better; Georgia Tech has a long history of success in the Coastal and cannot be counted out; and Virginia will be much better and much more competitive. I would not be surprised if the entire division ended up with bowl eligibility this season, even the Hoos. I still think Duke and North Carolina are the front-runners, followed closely by Virginia Tech, Pitt, Georgia Tech and Miami. The Hokies have a favorable schedule (BC and Wake from the Atlantic) and I am going to go ahead and guarantee they will be better on offense. Virginia Tech and Pitt might be slightly ahead of Georgia Tech and Miami. The Jackets have a lot of question marks on defense, and so does Miami (along with uncertainty at quarterback). Check back next week to see how we each voted in the ACC preseason poll. I wouldn't be surprised if we all pick a different Coastal champ.
---
Jon in Atlanta writes:
Hey AA, I've been looking at a few projections about the ACC Coastal. I think it's pretty safe to say, that no one is a stand out winner. Some have UNC, some VT and some Duke. I would love for my Jackets to sneak in and win it. However, with a new QB and a few questions on the "D" side, I think that will be a tough stretch. I'm thinking it's going to be another 7 win season for us, what's your thoughts? Can we win more?
Adelson writes:
I have not been overly optimistic about Georgia Tech this season. Then I read some interesting notes about the Jackets in the Phil Steele college football preview magazine. Did you know the Jackets have a .500 record or better in ACC play for 19 straight seasons -- the longest streak in the country? That stat alone makes it hard to completely discount Georgia Tech. I think
Justin Thomas
will be an upgrade over Vad Lee, and the offense will be fine. My biggest concern is the defense, particularly up front. Having said that, the nonconference schedule is easier than it has been over the past two seasons, Miami, Clemson and Duke all play in Atlanta and there are no midweek games on the schedule. This team has the potential to win more than seven games.
---
UM student in SF, Calif., writes:
The past month Miami has been tearing it up on the recruiting trail. I mean the 2016 class is already shaping up to be special. I was wondering how much the fact that the NCAA cloud has passed played into this, and how long you think Golden has to step up and win some real games now. Do you think he gets like a clean slate or something?
Adelson writes:
NCAA closure has been absolutely huge for Miami. Players who shied away from the Canes, even in-state, are now really giving Miami a close look. I wrote a little bit about the
impact in the Tampa area
. Golden is not on the hot seat by any stretch. Everybody in the administration knows what he was saddled with over the past three seasons, especially since he took the job and had no idea there would be a major NCAA investigation that would essentially take up every single season he has had to date. As for winning some real games, let's not forget about last season. Yes, it ended in disappointment, but Miami won nine and also beat Florida. The Gators ended up having a disastrous season, but at the time they played, Florida was viewed as the better team. I thought that was a big win for Golden and the program. Now, I know what you are getting at -- getting back to beating Florida State and playing for an ACC championship. Miami has assembled some talent over the past several years, but I still think the Canes are a few years away from consistent 10-12 win seasons. Having said that, I do think Golden deserves some patience. I know expectations are always sky-high at Miami. He wouldn't want it any other way. But at the same time, he has had more on his hands than any other coach in the league.
---
Wayne in Tallahassee, Fla., writes:
Can my Noles learn to
stay out of trouble
? I know you have to wait for the all facts, but kick (
Jesus Wilson
) off the team and set an example. I'm tired of seeing this!
Adelson writes:
I understand your frustration. Certainly, you are not the first college football fan tired of seeing athletes getting into trouble. Will kicking him off the team set an example? This year, Jimbo Fisher kicked Ira Denson
off the team
after he was charged with petty theft and the illegal use of a credit card. Wilson still got into trouble. Now, I realize the cases are different and it is sometimes hard to compare each offense. Denson allegedly perpetrated a crime against a teammate; Wilson allegedly stole a scooter. Should a coach kick every player off the team who is arrested and charged with a crime? How does a coach prevent athletes from getting arrested? These are all difficult questions each coach must face.
Eds note:
Earlier this week, I profiled Clemson offensive lineman
Kalon Davis
and his
study abroad trip
to Kyoto, Japan. Tragically, professor E. Leslie Williams -- who led the trip --
died suddenly
last week. Thoughts and prayers are with Davis, Williams and the Clemson family.
July, 18, 2014
Jul 18
12:00
PM ET
Big names among the assistant ranks tend not to stay assistants for too long, but Clemson's Chad Morris says he's
right where he wants to be
and isn't looking for a head-coaching gig long-term, writes the Augusta Chronicle.
Of course, if a certain job in College Station, Texas, were to open up -- as our Travis Haney
wrote about this week
-- it certainly would seem like a good fit for Morris, who is a Texas A&M graduate. But Morris also
earned $1.3 million last season
, which makes it a bit easier to stay comfortable in a coordinator role, and though he is smart enough to know when the right situation comes around, I think he is also sincere when he says he is not looking to leave.
And Morris isn't the only ACC assistant would could be a hot commodity at some point in the next couple years. A few other names to watch for bigger jobs:
Bud Foster, Virginia Tech:
The offense has been down over the past few years for the Hokies, but Foster's defense has been as good as ever. Foster has turned down lucrative offers elsewhere in the past, so he is clearly not looking to leave, but he will nevertheless remain on the radar for a lot of other programs looking to bring in a proven commodity.
Jay Graham, Florida State:
He is young, has NFL experience and SEC ties, and he is a recruiting whiz. He also presided over the first 1,000-yard back at Florida State in 16 years last season. Graham is going to be a hot name very soon.
Chip West, Virginia:
How does a team that finishes 2-10 and has a head coach constantly mired in hot-seat rumors still land a solid recruiting class, including five ESPN300 members? Chalk it up to West, one of the best recruiters in the nation.
Scottie Montgomery, Duke:
He will get his first crack at a coordinator job this year as he takes over for Kurt Roper, who left for Florida. Montgomery has NFL experience as a wideouts coach with the Pittsburgh Steelers, and he is a terrific recruiter. If Duke's offense continues to shine, he is going to get a lot of credit -- and a lot of long looks from other programs.
Brent Venables, Clemson:
Morris gets all the buzz because offense is fun and the Tigers' defense has played second fiddle for years. But look, everyone remembers that Orange Bowl loss to West Virginia to conclude the 2011 season, and what Venables has done for the Tigers' defense since then -- 29.3 ppg in 2011, 24.8 in 2012, 22.2 in 2013 -- has been impressive, and this year's unit could be his best yet. More importantly, the Clemson defense is finally climbing out of the shadow of its prolific offense.
More links:
Athlon has a look at recruiting in the Tidewater, Virginia area, and how the region has become
a key battleground
for programs like Florida State and Virginia.
The Pittsburgh Post-Gazette has a piece on how colleges are
bringing in outside help to sell tickets
.
The Daily Progress is looking at Virginia's opponents and wonders if this is
the golden age of Duke football
.
A new play-calling system
should help Terrel Hunt run Syracuse's up-tempo offense, according to Syracuse.com. We wrote plenty
about up-tempo offenses
yesterday, if you missed it.
Georgia Tech's special teams
should be a strength
, writes the Atlanta Journal-Constitution.
The Courier-Journal wonders why Bobby Petrino isn't having
more success on the recruiting trail
at Louisville.
July, 18, 2014
Jul 18
10:30
AM ET
During Florida State's national championship-winning season, its leader in takeaways (
Nate Andrews
), yards per carry (
Karlos Williams
) and yards per touch (Kermit Whitfield) combined to start just one game. In the current landscape of college football, talent at the top is crucial but depth is often what separates the best teams. With that in mind, we counted down
the ACC's best backups
-- players who weren't starters last season and aren't currently penciled in atop the depth chart, but who could make a major impact in 2014. While we ranked our top five, there are plenty of other contenders. This is a quick look at those who just missed the cut.
[+] Enlarge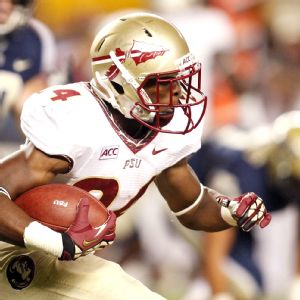 Charles LeClaire/USA TODAY SportsRyan Green's experience should give him a leg up in the battle to be Karlos Williams' backup.
Ryan Green (RB, Florida State):
Really, any of Florida State's backup running backs could be here. Green has terrific speed and is the lone runner down the depth chart with game experience, but Dalvin Cook and
Mario Pender
figure to see plenty of action this season and could also produce big numbers the way this year's starter, Karlos Williams, did as the No. 3 tailback in 2013.
Wayne Gallman (RB, Clemson):
Like FSU, Clemson boasts a deep backfield that could feature significant contributions from a number of runners. Still, it's Gallman, the redshirt freshman, who seems to get the biggest raves from coaches. He could certainly find himself in a starting role before too long.
Tyriq McCord (DE, Miami):
Primarily working on third downs last season, McCord showed plenty of promise, racking up four sacks, three forced fumbles and two INTs, despite not starting a game. One of those forced fumbles came against Florida, perhaps Miami's biggest win last season.
Thomas Sirk (QB, Duke):
The backup quarterback at Duke was a vital position last year when
Brandon Connette
finished third in the ACC in rushing touchdowns. The equally athletic Sirk seems equipped to handle that role in 2014.
Shaquille Powell (RB, Duke):
Josh Snead
returns as the team's leading rusher, but in an offense with plenty of explosive talent, Powell, who averaged 5.5 yards per rush as the No. 3 back last season, figures to carve out a niche and has really impressed teammates this offseason.
Ron Thompson (DE, Syracuse):
The converted tight end has the potential to be a beast on the defensive line, he just doesn't quite have a full-time job yet at Syracuse. In limited action last season, however, he had two sacks and 20 tackles, including 4.5 for a loss.
Quarterbacks:
There aren't many teams that have completely settled quarterback situations, which means that odds are, one or more of the current backups will end up making a big difference down the road in 2014.
Mitch Trubisky
at UNC,
Kevin Sousa
at Wake Forest,
Tim Byerly
at Georgia Tech and, of course, Deshaun Watson at Clemson all have potential to be impact players before the year is out.
No doubt there will be plenty of other back-ups to emerge as significant playmakers this year. So, who else should we have considered? Who might take a big step forward in 2014?
July, 17, 2014
Jul 17
2:38
PM ET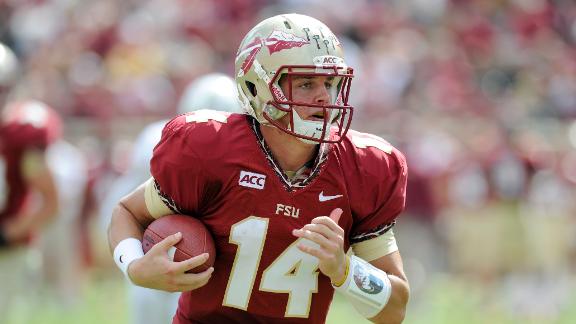 HOOVER, Ala. -- Most everyone has made up their minds that Jacob Coker will indeed be Alabama's next starting quarterback.
But the one person whose opinion matters -- coach Nick Saban -- hasn't decided on anything quite yet.
"That's really not internally the perception by me, our staff or our players," Saban said Thursday. "Jake Coker has the opportunity to come in and compete for the position.
"Blake Sims has been competing for the position. He really did a pretty good job in the spring. He didn't play great in the spring game, but we really didn't do the things that he's capable of doing."
Coker transferred to Alabama this spring after graduating from Florida State, where he backed up Heisman Trophy-winning quarterback Jameis Winston last season. In his career, Coker has completed only 21 passes for 275 yards, one touchdown and one interception.
But considering Alabama's incumbent quarterbacks' failures in the spring game -- Sims, in particular, threw two interceptions -- the court of public opinion has clearly dubbed Coker the next big thing. At 6-foot-5 and 230 pounds, he looks the part. And considering all the positive things his former coaches have said about his talent, it's no wonder the hype has been overwhelming.
"He's probably the best I've seen in 25 years at throwing it," Florida State quarterback coach Randy Sanders said earlier this year.
Saban, however, insists that there is no clear front-runner to replace former Alabama great AJ McCarron -- not yet.
July, 17, 2014
Jul 17
2:00
PM ET
Earlier on Thursday, we looked at
the success and drawbacks of Clemson's up-tempo offense
, which got us to thinking about the league's tempo as a whole.
Chad Morris came to Clemson, bringing the up-tempo style with him, in 2011. Since that time, the Tigers have averaged a 22-percent increase in plays per game and a 42-percent increase in scoring. Not surprisingly, both of those numbers are the best among ACC teams.
But it's not just Clemson that's moving faster on offense. In the three years since Morris' arrival in Death Valley (beginning in 2011), the ACC as a whole has seen a 7-percent increase in offensive plays per game (and, accordingly, a 7-percent decrease in the time of possession per play) compared with the immediately preceding three-year stretch. In fact, all 14 teams that played in the ACC in 2013 have seen at least a marginal improvement in offensive tempo during the last three seasons.
Here are the teams with the biggest jumps in tempo, measured by time of possession per play:
1. Clemson (up 20.1 percent)
2. North Carolina (up 14.4 percent)
3. Syracuse (up 14.4 percent)
4. Pittsburgh (up 10 percent)
It may not come as much of a surprise then that the teams to see the biggest leaps in scoring from the 2008-10 time span vs. 2011-13 look pretty familiar.
1. Clemson (up 43 percent)
2. North Carolina (up 32 percent)
3. Florida State (up 28 percent)
4. Syracuse (up 25 percent)
It's common sense, really: more plays translates pretty directly to more scoring chances, and more scoring chances translates to more points. Add better talent to that mix (as has certainly been the case at both Clemson and Syracuse) and the results get even better.
Of course, as we noted in the earlier post on Clemson, there's a tradeoff on the defensive side when the offense is moving so quickly. Here are the teams that have seen the biggest increases in points surrendered during those same time frames.
1. Boston College (42.3 percent)
2. Clemson (35 percent)
3. North Carolina (22 percent)
4. Pittsburgh (17.9 percent)
Obviously there are other factors at play here beyond just tempo, but there clearly is some correlation between how fast an offense moves and how much pressure that then puts on a defense. For the most part, teams like Clemson are happy to make that tradeoff because the offensive exploits more than outweigh the potential drawbacks defensively. The result has been a 32-8 record in three years with Morris guiding the offense for the Tigers. Similarly, Syracuse has improved dramatically and is hoping to run even faster on offense this year, while North Carolina and Pitt have each garnered some buzz as potential Coastal Division favorites.
The elephant in the room when it comes to discussing tempo in the ACC, however, remains Florida State. After all, no team has been more dominant than the Seminoles, who've seen offensive productivity skyrocket in the last three years, while it's tempo has remained virtually unchanged. And that's really a good reminder that tempo can help, but there's more than one way to put up points.
Lastly, here's a quick look at the fastest- and slowest-paced teams in the ACC from 2011-2013, based on time of possession per play. (Note: League average during that span was one play every 25.4 seconds)
Fastest pace
1. Clemson (21.4 seconds)
2. North Carolina (24.0 seconds)
3. Syracuse (24.1 seconds)
4. NC State (24.4 seconds)
5. Duke (24.8 seconds)
Slowest pace
1. Georgia Tech (28.0 seconds)
2. Virginia Tech (27.2 seconds)
3. Boston College (27.1 seconds)
4. Florida State (27.0 seconds)
5. Pittsburgh (26.3 seconds)
July, 17, 2014
Jul 17
12:00
PM ET
Tajh Boyd
is gone.
Sammy Watkins
is gone.
Martavis Bryant
is gone. But if you think that means Clemson's up-tempo offense will also disappear,
you'd be wrong
, says Dabo Swinney.
From The State:
Watkins left school a season early and was picked No. 4 by the Buffalo Bills while Boyd was taken in the sixth round by the New York Jets this past May -- opening up two high-profile spots on last year's eighth-ranked Tigers.

For those returning, the message is clear, says offensive coordinator Chad Morris: "To prove that we weren't a two-man show."
Tempo is a buzzword around college football, of course, and few places have done it better than Clemson.
Morris, Boyd and Watkins all came aboard in 2011. In the three years previous, Clemson averaged 65 plays per game and one play every 26.7 seconds of possession time. In the three years Morris, Boyd and Watkins were together, the Tigers averaged 79 plays per game (a 22 percent increase) and one play every 21.4 seconds of possession time (a 20 percent improvement).
But just how much of an impact has the up-tempo offense had for the Tigers?
On the offensive side, that 20 percent increase in plays has translated to a 42 percent increase in points per game. Obviously some of that is attributable to better talent -- Boyd and Watkins were historically good players at Clemson -- but a lot has to do with simply having more chances to score, too.
The flip side of that, however, is on defense. Again, talent plays a role here, but in the three years before Morris, Boyd and Watkins arrived, Clemson allowed an average of 19 points per game. In the three years since, the Tigers have coughed up 26 points per game -- a 35 percent increase that, obviously, offsets a big chunk of the offensive improvement. That up-tempo offense has meant that Clemson, despite losing just eight of its 40 games in the past three years, has spent roughly four more minutes of action on defense than on offense per game during that stretch.
All of this brings us to 2014, when the offense is in transition without its superstars, and the defense is expected to be the backbone of the team. If that's to be the case, is keeping that same offensive tempo really the best way to go?
At the end of the day, Morris is going to coach the way he always has, and Cole Stoudt is a veteran who knows the system well enough to execute the offense with some precision. But Clemson's strengths will be the D-line and a deep corps of runners, and it's probably fair to wonder if Morris just may tweak things a little more than he's letting on.
More links:
Morris says freshman QB
Deshaun Watson
will see the field
in Clemson's opener against Georgia, according to TigerNet.com.
Just because Marquise Williams is headed to ACC media days
doesn't mean he's UNC's starting QB
, writes the Charlotte Observer.
FSU legend Derrick Brooks was
back on campus
this week while his son attended Jimbo Fisher's football camp, writes the Tallahassee Democrat.
There's been
plenty of preseason love
for defenders at Virginia Tech and Virginia, writes The Roanoke Times.
The Macon Telegraph
previews Miami's 2014 season
with CaneSports.com's Gary Ferman (Warning: audio, not print).
BC Interruption runs the numbers to see which teams have done the best job of
meeting media expectations
in recent years — though I think it's more a critique of the media's predictions.
Non-ACC link of the day: AL.com has a profile of
the most inquisitive reporter
at SEC media days.
Non-sports link of the day: Philly knows
how to make great art
.
July, 17, 2014
Jul 17
9:00
AM ET
It's no secret that the strength of Clemson's team this season figures to be its defensive line. And, of course, there are plenty of numbers to underscore the Tigers' ferociousness up front.
The ACC returns 13 players who had at least 10 tackles for loss last season. Five of them play for Clemson.
Vic Beasley had 23 TFLs vs. teams from BCS-AQ conferences last season. No other returning ACC player had more than 12.
Clemson's defense recorded a tackle in the backfield once every 7.8 plays last season against AQ teams.
The Tigers didn't rely on the blitz either. When rushing four or fewer, Clemson recorded a sack every 11.1 passing attempts last season, the second-lowest rate in the league.
In other words, the Tigers are pretty good up front. But digging into those numbers also uncovered a few other interesting tidbits about ACC defensive fronts. Normally we like to compose a nice narrative around one or two key stats, but for the purposes of this post, we're going a little more free-flowing. Here's a bit of what we found:
• Yes, Clemson was exceptional when it came to defensive fronts in 2013, but so was the rest of the ACC. (Or, perhaps, if you're a pessimist, the O lines around the league were particularly bad.)
Of all teams to play at least eight games vs. AQ conference schools, Clemson had the best rate of TFLs, recording one every 7.8 plays. But, of the top 18 teams in plays-per-TFL last year, seven now play in the ACC. Here's the list:
1. Clemson (7.8)
3. Louisville (8.5)
4. Virginia Tech (8.7)
10. Virginia (9.5)
15. Syracuse (9.8)
17. Florida State (10.1)
18. NC State (10.4)
• Looking at that list, it's worth noting Louisville, Syracuse and Florida State all lost key players from last season's defensive lines to the NFL.
• Speaking of key defensive linemen moving on to the NFL, few teams figure to suffer quite as much from the loss of a key starter this season than Pitt.
How big was Aaron Donald's contribution to the Panthers' defense? He had 21 TFLs against AQ conference teams, which accounted for a whopping 43 percent of the team's total.
Moreover, Pitt relied more on its four-man rush, led by Donald, than any other team in the ACC. A whopping 92 percent of Pitt's sacks in 2013 came with just a four-man rush, according to ESPN Stats & Information.
• The flip side of that coin is Virginia, where the D-line figures to get plenty of credit (and should be even deeper this year), but it was the blitz that really carried the Hoos. Nearly half of all of dropbacks by Virginia's opponents last season were countered with a blitz, according to ESPN Stats & Info, and 71 percent of the Cavaliers' sacks came when rushing five or more defenders.
• Defensive coordinators often talk about how the secondary can't flourish without a strong defensive front and vice versa, making it something of a chicken-or-egg discussion, but it's notable that of the top ACC defensive fronts (based on plays/TFL) in AQ-conference games, only Virginia Tech had a highly rated secondary. The Hokies ranked No. 2 in the ACC and No. 17 nationally in yards-per-attempt vs. AQ teams last year. The rest of the top 5 ACC lines were far worse: Clemson (38th nationally in YPA), Virginia (86th), Maryland (47th) and Syracuse (63rd).
• Don't go thinking the high amount of blitzes hurt Virginia's pass defense though. The Hoos allowed 1.6 fewer yards per attempt when blitzing than when sending four or fewer pass-rushers last season. In fact, only Virginia and Syracuse (1.4 fewer yards/attempt) were better when rushing more than four defenders last season.
• The flip side of that coin? Not surprisingly, it's Clemson, which allowed 3.2 more yards-per-attempt when blitzing last season than it did when rushing four or fewer defenders. Other big splits in that direction: Duke (2.4), Miami (1.1), UNC (1.1) and NC State (1.0).
• Pitt has the lowest percentage of its TFLs come against AQ opponents (57 percent). Syracuse had the highest (85 percent).
• Florida State's returning TFL leaders for 2014 is not surprisingly
Mario Edwards Jr.
, with 9.5. Care to guess who's No. 2? We'll give you a minute.
Still thinking?
Give up?
That'd be
Chris Casher
, who had 5. Casher didn't start a game last season, and he's not exactly guaranteed a starting spot this year. Florida State's sack leader in 2013 was cornerback Lamarcus Joyner, who finished with 5.5. The last time the Seminoles' leader in sacks had so few for a season was 2006 (Buster Davis had 5).
• The only team that recorded a TFL less often (on a per-play basis) against AQ-conference teams last season than Miami was Texas A&M. The Hurricanes' leader in TFLs,
Shayon Green
, won't be back for 2014.
• And, of course, getting back to Clemson for a moment, there was one other stat the folks on Twitter were more than happy to mention when I talked up Beasley's season.
@DavidHaleESPN How many vs. FSU?

— Hunter (@HunterFSU06) July 14, 2014
Um, yeah. The answer to that one would be zero, which should make for a pretty good stat to build a narrative around when Clemson and FSU face off again in September.
July, 16, 2014
Jul 16
12:00
PM ET
It's Day 3 of media days for the SEC, and while we've yet to get any juicy ACC bashing
like we did last year
, first-year Vanderbilt coach Derek Mason did say something on Monday that warranted a little more discussion.
Mason's comments,
courtesy of Team Speed Kills
:
"We don't believe in redshirting at Vanderbilt. What we'll do is we'll take out of that class of 22, we'll probably have 17 guys that will step on the field and play at some point in time this year."
Mason's estimates certainly seem a bit generous, given that playing 77 percent of your true freshmen is virtually unheard of around college football. But it's also possible the Vandy coach is at the forefront of a new way of doing things. Tennessee coach Butch Jones added to the discussion Tuesday, promising
at least 10 true freshmen would play significant roles
for the Vols this season.
More and more, particularly among the most competitive schools on the recruiting trail, immediate playing time for freshmen is an essential sales pitch. And for top recruits who seem likely to bolt for the NFL with eligibility remaining anyway, the redshirt year only takes away from time spent on the field. At the very least, regular work on special teams for true freshmen gets them game experience and prevents key contributors from being exposed to injury, so why not go that route?
It's a philosophy I've discussed with FSU's Jimbo Fisher a few times, and while he certainly hasn't gone to quite the level Mason has suggested, the Seminoles -- who have inked a
top-10 recruiting class
each year of Fisher's tenure -- have made a habit out of playing true freshmen. Just last year, Nate Andrews, Jalen Ramsey and Kermit Whitfield all played critical roles in the team's BCS title, while 13 of 16 non-QB skill players in the class saw some action.
That got us to thinking how the rest of the ACC stacks up when it comes to redshirting freshmen. Here's how the numbers from the Class of 2013 played out:
Of note, we didn't include any signees who never arrived on campus, and we didn't include juco players or transfers.
Overall, 107 of the ACC's 258 true freshmen signed in 2013 saw playing time last year -- or 42 percent. That number was a bit higher for ESPN 300 players, of which 23 of 41 (56 percent) saw action. Pitt played the most true freshmen (12), and Miami played the highest percentage of its signing class (67 percent), while Louisville (3 of 16) and Georgia Tech (2 of 13) played the fewest.
That latter category is interesting because Paul Johnson's recruiting has been criticized regularly at Georgia Tech, and the 2013 class has already had more transfers (three) than players to see the field (two). And, of course, one of those two who saw action was kicker Harrison Butker. Moreover, Charlie Strong may find redshirting is a far tougher sell at Texas than it was at Louisville.
That FSU, Miami, Clemson and UNC inked the most ESPN 300 players and were among the most likely to play true freshmen shouldn't come as a surprise. Part of the formula is getting freshmen who are ready to play, and obviously the more talented the player, the more likely he is to see the field. (It's noteworthy, though, that just two of Clemson's nine ESPN 300 signees avoided a redshirt -- wide receiver Mike Williams started three games and linebacker Ben Boulware was largely used on special teams). But the other part of the argument is that giving true freshmen a chance to play is crucial to landing the best recruits. And in the case of Whitfield and Andrews, both were three-star recruits. So, too, were impact freshmen like Breon Borders, Brisly Estime and James Conner.
There will always be strong candidates for redshirts -- quarterbacks and offensive linemen, in particular -- and for some recruits, the opportunity to watch and learn and develop physically for a year remains a blessing. But there's also a good chance Mason is on to something, and while it's doubtful that 75 percent of true freshmen will see the field at most schools, there's ample motivation for coaches to at least move in that direction.
More links:
July, 15, 2014
Jul 15
2:00
PM ET
Last season, Florida State won a national championship, while its leader in takeaways (
Nate Andrews
), yards per carry (
Karlos Williams
) and yards per touch (Kermit Whitfield) combined to start just one game. In the current landscape of college football, talent at the top is crucial, but depth is often what separates the best teams. With that in mind, we're counting down the ACC's best backups -- players who weren't starters last year and aren't currently penciled in atop the depth chart, but who could make a major impact in 2014.
No. 4: Matthew Thomas (LB, Florida State)
[+] Enlarge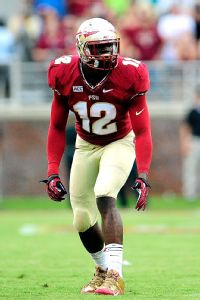 Stacy Revere/Getty ImagesThe Seminoles could tab Matthew Thomas to help replace Christian Jones.
Career numbers:
Four tackles, including two for loss and one sack, in four games.
Projected 2014 role:
Terrance Smith
is the leader of Florida State's linebacking corps and the only real proven commodity, but Thomas figures to see the field a lot in what will be his redshirt freshman year. Thomas could play the hybrid role and see himself up at defensive end at times, which is what
Christian Jones
did well last season. After showing plenty of potential in limited action last season before undergoing season-ending shoulder surgery (which could become a long-term blessing in disguise, given the medical redshirt), Thomas is a dynamic and versatile piece of a defense tasked with filling some big shoes across the front seven.
Why he matters:
Thomas was ESPN's No. 6 overall player in the Class of 2013, and the No. 1 outside linebacker in the nation. The five-star prospect from Miami's Booker T. Washington was also the No. 4 player in the state of Florida. He was clocked at 4.59 in the 40-yard-dash as a prepster. He was the top player of FSU's 2013 haul, which was ranked ninth nationally. It is difficult to imagine Thomas not seeing significant action and making a big impact this fall, which should be the first of many productive campaigns for him in Tallahassee. He is up to 224 pounds, which is 14 pounds heavier from last season. It is no secret why, during the second half of spring practice this past April, coach Jimbo Fisher made mention of Thomas nearly every day.
July, 15, 2014
Jul 15
12:00
PM ET
NFL.com has made its predictions for
the ACC's leaders in the major statistical categories
, and it didn't exactly go out on a limb with any selections. In fact, I'd say NFL.com's picks are probably the same as mine.
But let's play devil's advocate for a bit today and dig a little deeper into the ACC's talent pool to find some other contenders. So, here are my not-so-obvious choices:
Passing yards
NFL.com choice:
Jameis Winston
(Florida State)
Not-so-obvious choice:
Will Gardner
(Louisville)
OK, there's really only one contender for this, and it's Winston. But if we've got to find an alternative, we'll go with Bobby Petrino's new QB. In nine years as a college head coach, Petrino's QBs have topped 3,000 yards five times (and that includes four different quarterbacks). Louisville also has a strong group of receivers and a veteran line in front of Gardner, so the passing game should be solid. And who knows? Perhaps FSU blows out so many of its opponents again that Winston's numbers suffer as a result of too many second halves spent on the bench.
Rushing yards
NFL.com choice:
Duke Johnson
(Miami)
Not-so-obvious choice:
Zach Laskey
(Georgia Tech)
What separates Johnson beyond talent is that he figures to be a bell cow in the backfield, and that's something that just doesn't exist much anymore. Florida State, Syracuse, Clemson, UNC, Pitt — they're all going to have more of a committee approach that will likely prevent any one back from piling up too many yards. That's true at Georgia Tech, too, but because the Yellow Jackets run the ball more than anyone else (78 percent of its plays last year), we'll assume Laskey will get his shot at a title anyway. Of course, despite all those carries, Tech tailbacks have led the ACC in rushing just twice under Paul Johnson (2008 and 2010).
Receiving yards
NFL.com choice:
DeVante Parker
(Louisville)
Not-so-obvious choice:
Rashad Greene
(Florida State)
OK, so Parker might actually be the not-so-obvious choice here, as Greene,
Tyler Boyd
and
Jamison Crowder
all return fresh off 1,000-yard seasons. We'd bet all four top 1,000 again this year, but the edge will go to Greene, who has the best QB throwing to him, but won't have to compete with Kelvin Benjamin and Kenny Shaw for targets this year.
Tackles
NFL.com choice:
Steven Daniels
(Boston College)
Not-so-obvious choice:
Kelby Brown
(Duke)
A lot gets made of BC's run of great tacklers. Every year, the Eagles produce another 100-tackle defender. But do you know which team had the top three tacklers in the ACC last season? That'd be Duke (
David Helton
,
Jeremy Cash
and Brown), and all three are back this year. In fact, in the last six seasons, Duke has produced eight players with 100-tackle seasons.
Sacks
NFL.com choice:
Vic Beasley
(Clemson)
Not-so-obvious choice:
Corey Crawford
(Clemson)
Beasley has already received so much attention, it would be a mild surprise if he led the league in sacks again just because opposing linemen will make him a focal point all season. In fact, the last time the same player led the ACC in sacks in consecutive years was Florida State's Peter Boulware in 1995 and 1996. So here's betting that one of Beasley's teammates reaps the rewards of all the attention he figures to get in 2014.
Interceptions
NFL.com choice:
Kendall Fuller
(Virginia Tech)
Not-so-obvious choice:
P.J. Williams
(Florida State)
This one is sort of a crapshoot, but Florida State figures to be up big in many games, forcing the opposition to throw, and with a balanced and deep corps of defensive backs, it will be hard for teams to avoid throwing to any one side of the field. So that means Williams should get a few chances, and he's as talented as any corner in the country, so we're betting he makes the most of a few of those opportunities.
More links:
FSU Coach Explains Why Winston Went Unpunished
ACC SCOREBOARD
Thursday, 8/28
Friday, 8/29
Saturday, 8/30
Monday, 9/1