August, 16, 2014
Aug 16
1:49
PM ET
Associated Press
[+] Enlarge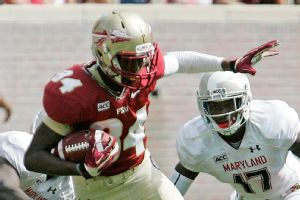 AP Photo/Steve CannonIsaiah Jones led the Gold squad with five receptions for 81 yards in Florida State's spring game.
TALLAHASSEE, Fla. -- Florida State wide receiver Isaiah Jones has been declared academically ineligible.
Coach Jimbo Fisher said Saturday that Jones still will attend FSU and practice with the Seminoles.
The 6-foot-4 sophomore caught two passes for 31 yards in five games in 2013, but he had five receptions for 81 yards to lead the Gold squad in the Seminoles' spring game in April.
He was part of a large group of receivers competing for starting jobs after FSU lost senior Kenny Shaw and Kelvin Benjamin entered the NFL draft early. Jones is the tallest receiver on the roster, and he was expected to help cushion the loss of the 6-5 Benjamin.
August, 15, 2014
Aug 15
12:30
PM ET
By
ESPN.com staff
| ESPN.com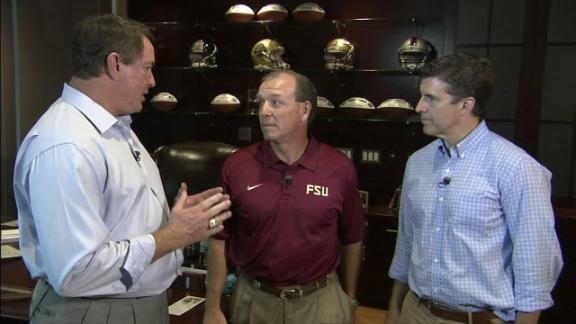 Florida State coach Jimbo Fisher discusses how he is advising Jameis Winston to deal with all the scrutiny he faces and battling complacency after winning a national championship.
August, 15, 2014
Aug 15
8:00
AM ET
Because the world needs one more preseason All-America team, and because there has to be a reason to talk about this one differently than the last, USA Today has its out, and
the most noteworthy item
is the guy atop its quarterback depth chart.
That would be the
Oregon Ducks
quarterback
Marcus Mariota
and not the reigning Heisman winner,
Florida State Seminoles
quarterback
Jameis Winston
.

It's not that picking Mariota is such a silly idea. He's exceptional, and he's a candidate to unseat Winston as the Heisman winner.
But lots of folks seem to be a good bit higher on Mariota now than Winston, and it's tough to follow that logic beyond the fact that Winston's off-field troubles make people want to look elsewhere. (Though, Chantel Jennings and Jared Shanker did their part to
debate the battle rationally
.)
Yes, Mariota was exceptional to start last season before sliding a bit in November due to an injury that severely limited his mobility. But how much did that really matter?
Pre-injury, here's how their numbers stacked up.
Mariota: 64 completion percentage, 10.1 yards per attempt, 2,562 total yards, 29 touchdowns, 0 interceptions
Winston: 70 completion percentage, 11.8 yards per attempt, 2,608 total yards, 27 touchdowns, 6 interceptions
The big mark in Mariota's corner is the zero in the interceptions department, but he had fumbled four times (two were lost). Mariota also played in a more stat-friendly offense (that averaged seven more plays per game) and had yet to play his most difficult opposition of the season. Winston had already dominated two top-10 opponents in Clemson and Miami.
There's a case for Mariota, certainly, but it's not as if he was head and shoulders better even before the injury. And, the funny thing is, he wasn't that much worse even afterward.
Post-injury numbers for both QBs:
Mariota: 63 completion percentage, 8.6 yards per attempt, 1,466 total yards, 11 touchdowns, 4 interceptions
Winston: 63 completion percentage, 9.0 yards per attempt, 1,621 total yards, 17 touchdowns, 4 interceptions
Winston's totals came with one extra game, too, so aside from the picks, they were pretty close. The only difference is, Mariota was hurt, Winston had off-field troubles, and Florida State won a national title while Oregon lost twice.
So what will change in that equation this season?
Maybe Mariota stays healthy and Oregon runs the table. That seems less likely though, given the tougher slate the Ducks face in the Pac-12 and the more hits Mariota figures to take compared with Winston. And Winston, at least for the time being, has a healthy left tackle.
Either way though, it should be a fun battle to watch. They're both in prime position for a Heisman, for a run to the College Football Playoff and, perhaps, for a shot to be the first player taken in the 2015 NFL draft.
Oh, and on that subject, I wrote a bit about
Winston's approach to 2014
earlier in the week, and that story involved a lot of interviews with friends and family. One thing his father, Antonor, made clear: The talk about staying for two more seasons at FSU was hardly a guarantee.
"What I said was, that was our original plan was to get his degree," Antonor Winston said. "That was our original plan. I didn't know when they offered a scholarship, he's guaranteed to go to the NFL. If they'd told me that, I'd have said he's going to the NFL.
"I will never look at it in that way because whatever the situation is at the end of the season, that's the situation we're going to take. You really don't know what path you're going to be taken. But we know we want that degree no matter what."
In other words, if Winston is in line to go in the first five to 10 picks of the draft, the decision will be easy.
One other Winston tidbit: Yes, he's lost
Kelvin Benjamin
and
Kenny Shaw
, but his high school coach, Matt Stephens, said he fully expects Winston to adapt by checking down to underneath receivers, using his speed in the slot and his running backs out of the backfield far more often. He also said that Winston wanted to prove he was a legitimate pocket passer last season, but not to be surprised if he runs a lot more often this season.
That may actually help Winston's numbers a bit. That decline in completion percentage down the stretch was, in part, a result of looking deep a bit too often.
OK, a few more links before getting ready for the weekend:
Enjoy the weekend, folks. After this one, just one Saturday left without college football.
August, 14, 2014
Aug 14
2:00
PM ET
TALLAHASSEE, Fla. -- Odell Haggins has been Florida State's defensive tackles coach since 1996, a total of 19 consecutive seasons. As far as stability goes on the defensive staff, it begins with Haggins. It ends there, too, as the remaining three assistants have been on staff a combined five seasons.
Charles Kelly is in his second year on staff but shifts from linebackers coach to the secondary while also adding the title of defensive coordinator, a position he's never held for an entire season at the FBS level. In his stead coaching the linebackers is Bill Miller, who was hired away from Minnesota.
Early returns indicate Kelly, who
received rave reviews when he was hired
, has hit the ground running as the new leader of a defense that finished No. 1 in points per game during their 2013 championship run.
"He stays positive. He gets on you when you mess up but he explains it when you do," cornerback
Ronald Darby
said. "If I'm going to do something, he asks why you did it, and if I explain why, he's more understanding as a coach instead of 'Shut up I don't want to hear that!' He's a great coach."
Despite switching defensive coordinators, Seminoles coach Jimbo Fisher said not much has changed schematically. Kelly worked under 2013 coordinator Jeremy Pruitt, and the players have said the changes have been minimal. The terminology and the scheme remain largely intact, which could foster an easier transition this season for a defense replacing its best player at every level of the unit.
Kelly said there will be small differences, though, simply because he and Pruitt are not clones of each other. Kelly said he will have his own identity, which is really just a mosaic of the knowledge he's gained in his 23 seasons of coaching.
Over those 23 seasons, Kelly has coached nearly every position group, and that is not limited to just the defense. There are challenging aspects to that, but Kelly said a good coach is able to adapt to any position and it's prepared him to coordinate the entire defense.
"I grew up wanting to be a coach, so if you can coach and communicate and teach, you should be able to coach any position," Kelly said. "Coaching different positions, sometimes the personalities at positions are different, so it teaches you how to handle people differently."
Kelly acknowledges the potential issues of adding a new coach in the mix, but he welcomes the addition of Miller, who began coaching in 1978 and has coached six first-round draft picks, including Ray Lewis.
"Change is good sometimes because it's new blood, new ideas. It's a different way of looking at things," Kelly said. "When you're the only one doing it, you get tunnel vision. When you trust people you work with, then you trust what they say."
Helping facilitate a smooth transition for Miller is his familiarity with Fisher's coaching philosophies. Fisher is a protégé of Nick Saban, and Miller was on Saban's staff at Michigan State.
"There's kind of an unwritten club of guys that worked for Nick Saban," Miller said. "What helps me a lot is I've been in this defensive system before. Sal [Sunseri] and I were together at Michigan State, and having that kind of background and knowing what this system is all about has been a great aid to me."
Fisher said
E.J. Levenberry
is working with the first team at linebacker, and the sophomore said during fall camp that Miller has helped him with his fundamentals.
Florida State held its first scrimmage this week, and throughout the defense the fundamentals were not lacking. Fisher was upbeat following the scrimmage, and defensive lineman
Mario Edwards
said the players are comfortable in the system. Any mistakes were attributed to tired legs, Edwards said.
"We know the defense," Edwards said, "and we know where to be."
August, 14, 2014
Aug 14
12:00
PM ET
The 2014 college football season starts in 14 days. We're getting you ready by counting down the ACC's 10 biggest battles of the fall. Today, we're looking at numbers 7 and 8.
No. 8
The matchup:
Florida State vs. Oklahoma State
Date/Location:
Aug. 30, AT&T Stadium, Arlington, Texas (8 p.m., ABC)
Last meeting:
Florida State defeated 19th-ranked Oklahoma State, 34-23, in the 1985 Gator Bowl when freshman QB Chip Ferguson threw for 338 yards and two TDs.
Why it matters:
All eyes (including "College GameDay") will be on this season-opening matchup in Texas, one of the marquee non-conference showdowns of the season. FSU's defense will be in transition after losing several key seniors from last season's squad, and Oklahoma State can certainly put up points. A win for the Cowboys would be huge in setting up the Big 12 for a spot in the College Football Playoff -- particularly given the league's lack of an end-of-season conference title game to boost its credibility -- while an FSU victory could set the stage for another march toward a national title. Last season's run for FSU included plenty of criticism that the Seminoles hadn't played a worthy schedule. The date with Oklahoma State to open 2014 ensures there won't be similar commentary this time around.
No. 7
The matchup:
Florida State vs. Miami
Date/Location:
Nov. 15, Sun Life Stadium, Miami Gardens, Fla.
Last meeting:
Florida State toppled No. 7 Miami for the fourth straight time,
41-14
, last November, while the Hurricanes lost leading rusher Duke Johnson to a season-ending ankle injury in the process. It was Miami's first loss of the season.
Why it matters:
Last year's showdown in Tallahassee, Florida, marked the first time since 2004 that FSU and Miami faced off as top-10 teams, and while the season deteriorated quickly for the Hurricanes, it certainly felt like the rivalry had regained some of the momentum it had lost over the years. There were scuffles on the field and strong words afterward, and, of course, the Seminoles' dominant win was held as proof they were ready to compete for a national title. This year, ESPN's Football Power Index suggests Miami has a better shot than anyone to knock off Florida State (though, in fairness, the odds still aren't high), and the late-season showdown means the Canes will have had time to find their QB. Since Miami joined the league, the ACC has been hoping this game would be a national event, and perhaps this year it will be. The Hurricanes could either add one more marquee win on the Seminoles' run to another championship or Al Golden's crew could finally vault back into the national spotlight with its biggest win in years.
August, 14, 2014
Aug 14
10:00
AM ET
Our earliest indicators of Heisman Trophy voting say that it might come down to Oregon quarterback
Marcus Mariota
and Florida State quarterback
Jameis Winston
.
Winston is the reigning Heisman winner and if he were to win it again, the Florida State quarterback would join Ohio State's Archie Griffin as the only two-time winner. In 2013, he threw for 4,057 yards and completed 66.9 percent of his passes. He had 40 touchdowns and 10 interceptions.
Mariota -- who was slowed by a knee injury during the Pac-12 season -- finished the 2013 season with 3,665 passing yards, 31 touchdowns and four interceptions. He completed 63.5 percent of his passes en route to picking up his second consecutive All-Pac-12 honor.
[+] Enlarge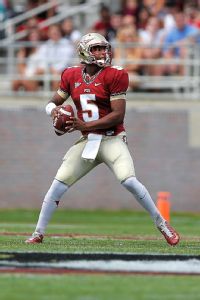 Stacy Revere/Getty ImagesJameis Winston had a storybook redshirt freshman season on the field, winning the Heisman Trophy and the national championship.
But they've grown and matured. Their teams are a bit different than they were last season and the biggest question at this point is: Which player is the early favorite to win the Heisman in the inaugural year of the College Football Playoff?
Jared Shanker and Chantel Jennings discussed a few key points to see where different advantages fall in regard to this debate.
Offensive line: Florida State
Shanker:
Among the positions we're looking at, the gap may be widest at offensive line. Florida State's offensive line consists of five seniors, all with starting experience. Combined, they have more than 100 career starts.
Cameron Erving
is one of the best left tackles in the country, and right guard
Tre' Jackson
could be the first guard taken in the NFL draft next spring. The Ducks might have center
Hroniss Grasu
, but overall, the Oregon offensive line can't compete with the Seminoles' O-line. Right, Chantel?
Jennings:
A week ago, I might have fought you a little harder on this, but now that
Tyler Johnstone
is out for the season with an ACL injury, I'd say you're completely right.
Andre Yruretagoyena
will replace the 26-game starter Johnstone … but Yruretagoyena has never started a game at Oregon. Grasu is the headliner of the bunch, but outside of his conference-leading 40 starts, the other three combine for just 41 total. Advantage definitely goes to Winston's offensive front.
Running backs: Oregon
Jennings:
Mariota returns his top two running threats from 2013 and, from everything Oregon coach Mark Helfrich is saying, these two are even better than numbers last year. Both
Byron Marshall
and Tyner averaged 6.2 yards per carry, and Marshall led the team overall with 1,038 rushing yards and 14 rushing touchdowns. Tyner rushed for 711 yards and nine touchdowns. Take those two and add Mariota -- who accounted for 715 yards and nine rushing touchdowns -- and you have a three-headed monster that might be the best backfield in college football.
Shanker:
Agree that the edge has to go to Oregon here. The Florida State coaching staff is high on senior running back
Karlos Williams
, but he was a safety entering the 2013 season and has taken very few carries during the meaningful portions of games. He was a five-star recruit coming out of high school and had very strong numbers last season as the No. 3 running back, but we'll see how he fares this season as "The Guy." This could be a much closer debate by the end of the season depending on the progress of Williams and his backups
Dalvin Cook
and
Mario Pender
.
Wide receivers: Florida State, but it's close
Shanker:
This is a tough one as both quarterbacks have some question marks on the outside.
Rashad Greene
is a potential All-American, but who is going to replace
Kelvin Benjamin
and
Kenny Shaw
's production -- nearly 2,000 receiving yards combined. There is certainly talent at receiver, especially in the freshman class.
Ermon Lane
and
Travis Rudolph
were top-10 receivers nationally coming out of high school, but Rudolph's foot has been slow to heal from offseason surgery.
Jesus "Bobo" Wilson
is indefinitely suspended, and
Isaiah Jones
could be an academic casualty. The positive here is that the attention Greene and tight end
Nick O'Leary
will draw should facilitate the emergence of a legitimate No. 2 receiver.
Jennings:
If the coaches at Oregon are to be believed in what they're saying at this point in fall camp, then this is one of the deepest groups of wide receivers in recent memory. Now, it's untested talent, so it's still just potential. But the fact that wide receivers coach Matt Lubick thinks -- that if the Ducks played today -- that they could go with eight different receivers, that's pretty impressive. Even if half of those guys pan out, it's still pretty good. But in this case one proven guy is greater than eight unproven guys -- though veteran
Keanon Lowe
returns -- he was fifth on the team last year with 18 receptions.
Schedule: Florida State, and it's not close
Shanker:
Certainly the schedule is tougher, and 2014 won't be a cakewalk, but the Seminoles do not have three teams in the top 11 of the USA Today Coaches Poll on their schedule. Oregon does. And two of those teams, Michigan State and Stanford, are among the best teams defensively. Florida State does have to face Clemson, which could be vastly improved on defense, but the Seminoles hung 50 on the Tigers on the road in 2013. Oklahoma State is rebuilding, and Notre Dame has potential with
Everett Golson
back, but it would not be a shock if both teams finish the season unranked. The Florida defense should be very good again this season, but it might not matter if their offense cannot alleviate any of the pressure. That's exactly what happened when Florida and Florida State played last season.
Jennings:
The Ducks take off in Week 2 against Michigan State and don't slow from there. In Week 4 they'll travel to Pullman, Wash. to take on Mike Leach's Air Raid offense, which is always a headache for defensive coordinators. They have Arizona, Stanford and Washington at home. They have UCLA and Oregon State on the road. I'd like to see FSU play half of that schedule and see what their record is. If a player's team needs to be perfect -- or nearly perfect -- then Winston has a much, much better shot at that with Florida State's schedule.
[+] Enlarge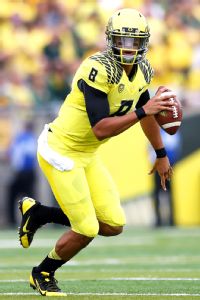 Jonathan Ferrey/Getty ImagesMarcus Mariota's reputation is practically unblemished nationally.
National perception: Mariota
Jennings:
People know Mariota because he's a darn good player. In his career for the Ducks, he has never made a misstep. The only people who don't like Mariota are the fans of the teams that play against him. And even then, I would bet if he showed up at a dinner party or wanted to date someone's daughter, he'd be welcomed in no problem. He has already graduated. His teammates love him. His coaches talk about him as if he's their golden child. Even other quarterbacks in the conference like him.
Shanker:
It's no secret Winston is not well-liked outside of Tallahassee for the most part, as
David Hale pointed out earlier this week
. Considered affable in September, Winston was considered arrogant and above the law two months later. The sexual assault investigation, coupled with the seafood heist, has brought a lot of notoriety to Winston. On the field, the expectations will be higher for Winston this season. As the returning Heisman winner, Winston is going to be held to a higher standard. It's unlikely he repeats his 4,000-yard, 40-touchdown season in 2014, and if Winston gives voters any reason to not vote for him, there will be more than a few who won't.
August, 13, 2014
Aug 13
9:00
AM ET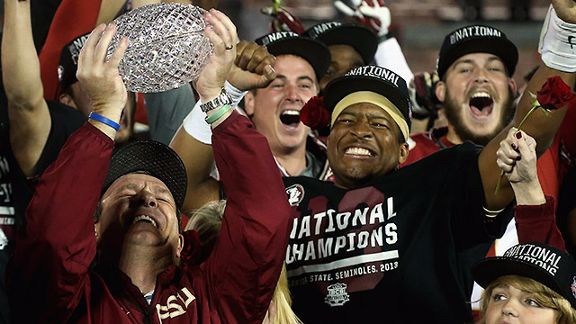 Stephen Dunn/Getty ImagesJimbo Fisher, Jameis Winston and Florida State gave the entire ACC something to celebrate.
Imagine the scene in the Rose Bowl suite, where ACC commissioner John Swofford watched Florida State win the national championship seven months ago.
Did he jump up and scream: Yessss! Finally! It's about time!
He had reason to let out a shout. No other commissioner needed that victory more than Swofford and his beleaguered league, one that was kicked around like a worn-out hacky sack during the BCS era.
For all the derision the ACC has endured, it felt almost like a "take that" moment to all its critics. The league now stood taller than the rest, having taken down the very conference that has been the source of nearly all its agony, the SEC.

The timing was impeccable. As the college football world enters the College Football Playoff era, the ACC finds itself with an opportunity to begin a new era, too. Florida State is coming off a championship and Clemson won the Orange Bowl. For the first time since 1997, the ACC had two teams finish in the top 8 of the final AP poll. Eleven 2014 ACC teams made bowl games.
But that is only a start. Folks can agree Florida State is the best team in the country, and that Clemson is now an annual Top 25 program. Beyond that, there are serious questions about the 12 other teams in the ACC.
Essentially, the mission to change that perception is twofold: The ACC must show it can compete for national championships every year, but it also must develop a much stronger group beyond the top two.
"I don't think there's any question the perception of our league is different now than it was a year ago," Swofford said recently. "How you build on that is also going to be important because perceptions are long-term kinds of things. We need consistency there."
Start with scheduling. In the playoff era, the strength of each team's schedule will be scrutinized more than ever. That should not be an issue in the ACC, which has made it a habit to play in elite nonconference games. That is a mandate Swofford has insisted on for years.
That philosophy has led to some powerful matchups. The 11 ACC members that have been in the league since 2009 have faced Power Five opponents in regular-season nonconference games 73 times. Of those matchups, 39 have featured ranked opponents.
[+] Enlarge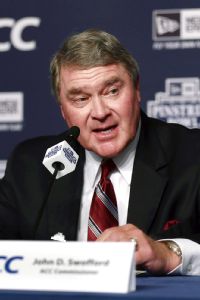 Jason Szenes/Getty Images"I don't think there's any question the perception of our league is different now than it was a year ago," ACC commissioner John Swofford said.
Now take a look at the Big Ten and SEC, the other two Power Five leagues that also play an eight-game conference schedule. Using the same criteria, the SEC has played 57 Power Five nonconference opponents. Of those, 28 were ranked. The Big Ten has played in 60 of those matchups and just 17 have come against ranked teams (seven against Notre Dame alone).
This season is no different. Thirteen games are on the docket for ACC teams against Power Five opponents, along with four other games featuring Notre Dame as part of a new scheduling agreement. Six of those opponents are ranked.
"If you look at ACC strength of schedule across the board, it's pretty strong. It's stronger than some other people that are viewed so highly," Duke coach David Cutcliffe said. "And now you're throwing into the rotation Notre Dame? C'mon now. I don't think anybody's running and hiding in the ACC. That's a good thing."
The problem has been the ACC's dismal performance in those national matchups. In the 39 regular-season nonconference games against ranked Power Five teams, the ACC is 8-31. That includes two losing streaks ACC teams have against their SEC rivals: Clemson has lost five straight to South Carolina, while Georgia Tech has lost 12 of its past 13 to Georgia.
Beating the SEC, its closest rival geographically, on the field and along the recruiting trail, has been particularly difficult. The last time the ACC had a winning record in games against SEC opponents was 2003. Since 1996, the ACC has posted a winning record in head-to-head SEC matchups in three seasons.
Last year, the SEC finished with six ranked teams in the AP poll. The ACC had three. The last time the ACC had five teams ranked was 2005, when Virginia Tech, Miami, Boston College, Clemson and Florida State were all in the Top 25.
Even then, critics focused on the ACC not being a factor in the national championship race.
"It helps to have multiple teams in the championship picture," Swofford said. "I think that's where the SEC has perceptually been helped, is the multiple teams in the national championship picture."
What also helps is having programs such as Virginia Tech and Miami get back to double-digit win seasons. Perception tends to dip when the programs anchoring conferences also dip. Miami joined the ACC as a perennial national championship contender. It has not been one in a decade. Virginia Tech got guffaws when it could not win its BCS games. Those 10-win seasons look golden in retrospect.
Florida State, down for years, finally reclaimed its former glory, giving the ACC extra credit and new life. Winning a national championship and the Orange Bowl -- plus sending 11 teams to bowl games last season -- should not be overlooked. Nor should it be dismissed based on the past.
[+] Enlarge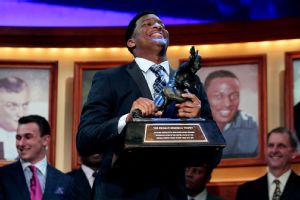 Kelly Kline/Getty Images for the Heisman TrustForty-two ACC players were selected in the 2014 NFL draft, and that class did not include Heisman Trophy winner Jameis Winston, who returns to Florida State.
Don't forget the ACC also has the reigning Heisman Trophy winner in
Jameis Winston
. It had the best defensive player in the country in
Aaron Donald
, who was among 42 players drafted last season. Plus, Cutcliffe was named national coach of the year.
Oh, by the way, the collective football performance trumped its more highly-regarded and respected basketball brethren.
Is it any wonder Cutcliffe shouted "Go Noles!" at ACC Kickoff last month when asked how the national championship changed the game for the ACC?
"All this stuff that seems like marketing isn't marketing," Cutcliffe said. "There's a difference between facts and marketing. Right now, the ACC can throw out the facts. We used to market. There's a big difference."
There also is a big difference between having a few good teams and a plethora of them. Florida State coach Jimbo Fisher used part of a famous Ralph Waldo Emerson quote to illustrate his point:
"'Your actions speak so loud I can't hear what you're saying,'" Fisher said. "If you want respect, go get respect. Go play the teams, go beat the teams, go get in those contests and do it. That's what we've done."
Now the rest of the league needs to follow along.
August, 12, 2014
Aug 12
11:00
PM ET
1. Much has been written about the defensive talent Florida State has been able to attract to Tallahassee under Jimbo Fisher, but what truly impresses rival coaches is the stockpile of offensive talent.
"We try to tell the recruits that they're loaded everywhere -- quarterback, running back and receiver -- but they just keep picking FSU," an ACC recruiting coordinator said.
Opposing coaches point to Fisher's background as a quarterback coach and offensive coordinator as a big reason why FSU's had success recruiting on the offensive side. And boy have they had success. The 2014 class featured the No. 2 receiver, No. 3 running back, No. 6 receiver, No. 7 tight end and No. 11 quarterback. It's much the same in 2015. On Monday, FSU added No. 7 running back
Johnny Frasier
. He joins a class that has the No. 4 quarterback, No. 9 quarterback, No. 11 quarterback, No. 7 offensive tackle and No. 9 tight end.
August, 12, 2014
Aug 12
9:00
PM ET
TALLAHASSEE, Fla. -- When Florida State coach Jimbo Fisher was asked who stood out to him during the team's first preseason scrimmage, he listed nearly one-fifth of his roster, 15 names and an entire position group total.
It's quite the stark contrast from how Fisher felt at the end of March following the first scrimmage of the spring, when the fifth-year coach, sounding like a let-down parent, expressed no anger but disappointment in the Seminoles' effort.
"Our kids know how to work. We know how to do things and what's expected," Fisher said Tuesday. "They know what's tolerated and not tolerated, and we're doing a very good job of staying above that line."
Fisher said Florida State, ranked No. 1 in the USA Today Coaches Poll, covered "everything from A to Z" in practice -- which was the longest of camp thus far -- mixing in full drives with the first-team offense playing against the first-team defense and working on situation football -- third downs, red zone and short-yardage to name a few examples.
The practice's physicality, a topic covered at length the last few days in the wake of
Jalen Ramsey
's dismissal from practice Sunday, was where Fisher wanted it to be. While a few healthy players wore the blue non-contact jersey, the rest of the team was in pads and hitting full speed.
"There were some good licks," said Fisher, who added Ramsey had one of his best practices for a second straight day.
A handful of projected starters did not participate --
Ukeme Eligwe
,
Ronald Darby
and
P.J. Williams
to name a few -- the coaching staff learned enough about the Seminoles on Tuesday to see evidence that the 2014 team's identity is forming. Florida State has a starting lineup that could be the best in the country, but the team's depth was on display through much of the scrimmage. The freshmen have received rave review throughout camp, and Fisher once again was pleased with how his young players performed.
"You can visualize who can begin to help you, and the next three or four days will be interesting to see how they recover and how they play after this scrimmage," Fisher said.
The defense is in the midst of replacing its leader at every level of the unit, and there were some mental miscues during the scrimmage. However, junior defensive lineman
Mario Edwards Jr.
said those were largely because the starting defense was not used to a high-intensity, 12-play drive. Through much of the everyday practices, Edwards said the defense usually is on the field for only a few snaps before rotating with the second team.
The positive for the defense is the veterans are jelling with the inexperienced underclassmen.
"I would say the chemistry of the defense," was the biggest difference between the first spring and summer scrimmage, Edwards said. "We know where to be. We still had mental busts and brain farts, but for the most part we know where to be."
Florida State has its first day off Wednesday, and Fisher can rest comfortably knowing the Seminoles have earned one.
"I'm pretty pleased where we're at," Fisher said. "We got a lot of work to do but I'm not disappointed at all. We know where we're going."
August, 12, 2014
Aug 12
2:30
PM ET
Beginning Aug. 3, we're counting down the days until the college football season starts with a look at the 25 most interesting people in the sport.
It was an unseasonably cool July Fourth weekend in Hueytown, Alabama, and the town that hated Jameis Winston long before it was fashionable to do so had decided to throw him a party.
Jameis Winston Day festivities had been announced on Hueytown's Facebook pages and elicited nearly 200 comments ranging from overt racism to impassioned defenses, bitter name-calling and conspiratorial rebuttals that, hey, if Winston had just gone to Alabama or Auburn, he wouldn't be so reviled in his hometown. And, of course, there were jokes about crab legs.
But when Mayor Delor Baumann took the stage at midfield of Hueytown High's decrepit former stadium, the tone was far different. Everyone wanted to be Winston's friend.
The mayor offered a rambling story about buying pizzas for Winston's old high school team and mispronounced Winston's father's name. That gave way to a string of local politicians offering proclamations of Winston's greatness that sounded more like small-town stump speeches. One city councilman, a cousin of Winston's mother, talked about how his son bragged in school that he was related to the Heisman winner. He asked Winston to give his boy a shoutout, and the quarterback happily agreed, then whispered under his breath that he didn't know the kid's name.
After all the gushing concluded, Winston took the microphone and addressed a crowd of a few hundred people -- friends, relatives, neighbors and a handful of Florida State fans. He had a speech he wanted to give about confidence, work ethic and determination in the face of criticism, but he opened by acknowledging the obvious.
"Y'all probably think you know me," Winston said. "But you don't."
To continue reading David Hale's story,
click here
.
August, 12, 2014
Aug 12
1:00
PM ET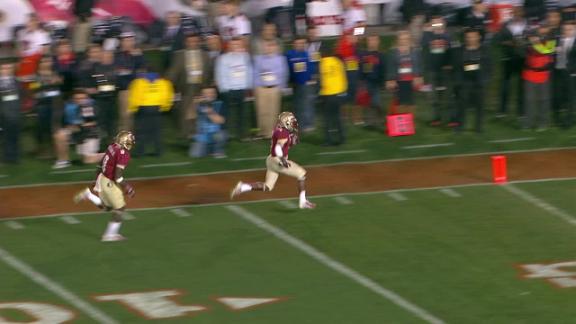 TALLAHASSEE, Fla. -- Florida State is not deviating from company line that the Seminoles have moved on from 2013, but forgive FSU fans if they're still reveling in the past.
Levonte Whitfield
gave Florida State its first lead of the national championship game with a 100-yard kickoff return in the fourth quarter, and, seven months later, it's still a talking point for Seminoles fans when interacting with the player affectionately known as Kermit.
"It's like every day, I get a lot of [Twitter] mentions about it," Whitfield said. "I try not to think about it. They can't take it away from me but I try not to think about it. It's time to move on."
Whitfield still has the play burned in his memory, though. With the Seminoles trailing 24-20 with 4:42 left in the game, the then-true freshman fielded the kickoff from about two yards deep in the end zone. Eleven seconds later, he was in the end zone.
"As soon as I got the ball I see
Chad Abram
kicked out, got his block and Karlos [Williams] made a cut and I see a big hole and I see nothing but daylight," Whitfield said.
With his sophomore season on the horizon, though, Whitfield wants to be remembered as more than just the kick returner from the national championship. The 5-foot-7, 183-pound receiver said he is working with the first-team offense in practice, and he could be relied upon in the passing game more often this season as a slot receiver, especially with fellow diminutive receiver
Jesus Wilson
(5-9, 177) indefinitely suspended.
Whitfield is one of the fastest players in the country, but Seminoles coach Jimbo Fisher said Whitfield needs to display that speed even when the ball is not in his hands. Whitfield said he is working on his route running, too.
"I want to be an All-American," Whitfield said, "and do what I need to do to help the team win."
Overvalued And Undervalued
ACC SCOREBOARD
Thursday, 8/28
Friday, 8/29
Saturday, 8/30
Monday, 9/1