December, 5, 2013
Dec 5
12:18
PM ET
ESPN.com news services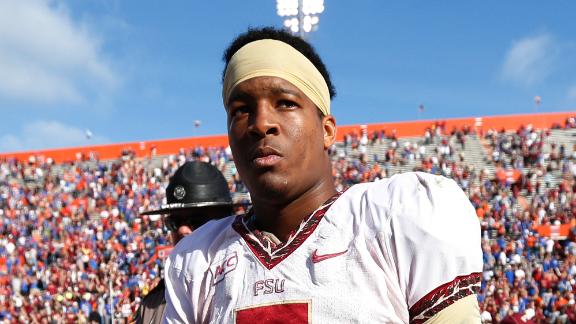 TALLAHASSEE, Fla. -- Search warrants in the sexual assault investigation of Florida State quarterback Jameis Winston indicate the woman told police she was raped at an apartment after a night of drinking at a bar.
The search warrants were released Thursday, hours before a prosecutor was to announce whether the Heisman Trophy contender will be charged with a crime.
In the warrant, the accuser says she and friends had shots at Potbellys and her "memory is very broken from that point forward."
Sources tell ESPN's Shelley Smith, however, that toxicology reports show the accuser had minuscule amounts of alcohol in her system and that there was no evidence of so-called date rape drugs.
According to the warrants, the accuser says she remembers being in a cab with a man and going into an apartment before she was raped.
After that, she remembers the suspect dressing her, putting her on a scooter and dropping her off at an intersection, but she had no idea where the alleged rape occurred.
Information from The Associated Press was used in this report.
December, 5, 2013
Dec 5
12:00
PM ET
Weaver D's in Athens, Ga. lives on
, as it should. Automatic for the people.
Jameis Winston's ability to
overcome negative plays
has made a huge impact on Florida State's offense, writes Tomahawk Nation.
Winston offered some
insight into the frenetic pace
of Jimbo Fisher's QB meetings, writes the Orlando Sentinel.
Safety Jeremy Cash has been
the enforcer on Duke's defense
this season, writes the Charlotte Observer.
Athlon digs up a
handful of intriguing stats
on Saturday's ACC championship game.
Backing the Pack takes a look what Tom O'Brien's
final recruiting class has done
after two years.
The Post and Courier
sits down with Clemson AD Dan Radakovich
to discuss a few key issues, including Dabo Swinney's future.
Syracuse athletics director Daryl Gross says the school is
still in the mix for six different bowl games
, writes The Post-Standard.
Maryland
isn't expecting any advance notice
on its bowl destination, writes the Baltimore Sun.
Former Boston College great
Matt Ryan is getting behind
Andre Williams' Heisman campaign, writes NFL.com.
Aaron Donald took home
ACC defensive player of the year honors
, writes the Tribune-Review.
Football.com writes that Duke's David Cutcliffe
deserves to win coach of the year honors
.
Miami's Al Golden has been
hard at work reeling in recruits
, writes the Sun-Sentinel.
December, 5, 2013
Dec 5
11:00
AM ET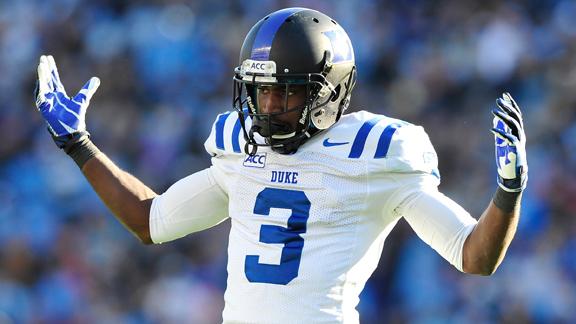 When Duke went on the road in late October and shocked then- No. 14 Virginia Tech, the Blue Devils did so without converting a single third down. Quarterback
Anthony Boone
threw zero touchdown passes -- and four interceptions. And yet Duke rolled out of Blacksburg having snapped a 42-year losing streak against ranked teams on the road.
The difference? Duke was finally able to win a game with defense and special teams.
[+] Enlarge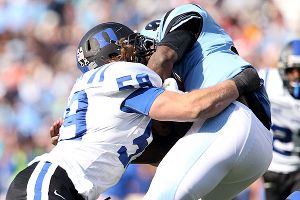 Andy Mead/YCJ/Icon SMIKelby Brown and Duke's defense will face their biggest challenge on Saturday against Florida State.
"To win a defensive game 13-10 is just such a boost of confidence on defense," said linebacker
Kelby Brown
. "It was really encouraging. That's when we showed people this defense is for real. This team is for real."
If Duke is going to have a shot at upending No. 1 Florida State on Saturday in the ACC championship game in Charlotte, it will need to be sharp in every phase of the game. It will have to rely most heavily upon what has become an opportunistic defense, and a special teams unit that has the ability to score and create good field position.
Duke has scored four times on kick returns (two punt return touchdowns and two kickoff return touchdowns), and freshman safety
DeVon Edwards
leads the nation in kickoff return average (32.7).The defense has caused turnovers in 11 of 12 games (including three in the red zone), and enters the ACC title game with 16 interceptions, nine forced fumbles and seven fumble recoveries. Duke is tied for fifth in the ACC with 21 takeaways and the 16 interceptions are the most in the David Cutcliffe era.
"A lot of guys have stepped up into new roles, and our D-line is really experienced now," Brown said. "They're doing a great job up front of allowing the linebackers to fly around and make tackles. That's something, just old-school, 4-3 style defense, the way Boston College has always run it, a great D-line that holds up the line and that's been huge for us. And I think we're the most athletic we've ever been in the secondary. Even though we have some young guys back there, they have speed and they can tackle. It's all kind of clicked from the front line all the way to the back."
Duke, a heavy underdog, knows it has no margin for error. The Blue Devils have never beaten Florida State in 18 tries, and the Noles have won every game this season by at least 14 points. In 2012, Duke's defense was steamrolled by FSU in a 48-7 loss, and many are predicting a similar result. Of all the times these two programs have faced each other, though, only one other time has Duke been ranked -- in 1994, when it was No. 16.
The numbers prove, though, that Duke's defense is the best it's been in over a decade.
Duke is allowing just 23.0 points per game, which would rank as the program's best mark since the 1994 season (22.45 points per game). Duke has 22 sacks this season, and linebackers
David Helton
and Kelby Brown and safety
Jeremy Cash
are the top three tacklers in the ACC.
"





We have a very good offense who can put up points on anybody. We've just got to make sure that we limit people, and the best way to limit people is by making them drive the length of the field on you and not giving up the 50 and 60 yard passes.


"


-- Ross Cockrell, on how Duke's defense can find success against Florida State
Duke's fourth-quarter defense has also been outstanding. It's allowing an average of just 9.1 points in the second half compared to 13.9 in the first half. Duke has surrendered only 3.1 points and outscored opponents 113-37 in the fourth quarter.
"Well, we run better on defense," Cutcliffe said. "First thing you've got to be able to do is get to them to get them on the ground. You can't get them on the ground if you can't run. We run better. We'd better run better in this one because these guys have I think more weapons than anybody in the country."
Starting with Florida State wide receiver
Kelvin Benjamin
.
"We don't have anybody that can line up and match up physically with Benjamin," Cutcliffe said. "He's just a monster and with great skills."
Against Florida's stingy defense last week, Benjamin single-handedly outgained the Gators' offensive output (212 yards to 193). He scored three touchdowns, and had nine receptions. Last season against Duke, Benjamin had three catches for 77 yards.
"Yeah, we've done a great job, I think, defensively," said
Ross Cockrell
, one of the top defenders in the ACC. "But one of the things that we took away from last year was that you can't give up a lot of big plays, especially in the passing game, the deep passes that we gave up. We can't give up those kinds of plays and expect to win ballgames. We know we have a very good team. We have a very good offense who can put up points on anybody. We've just got to make sure that we limit people, and the best way to limit people is by making them drive the length of the field on you and not giving up the 50 and 60 yard passes."
Duke's defense and special teams have been good enough to win the Coastal Division, but they will have to be great to win it all on Saturday.
December, 5, 2013
Dec 5
10:57
AM ET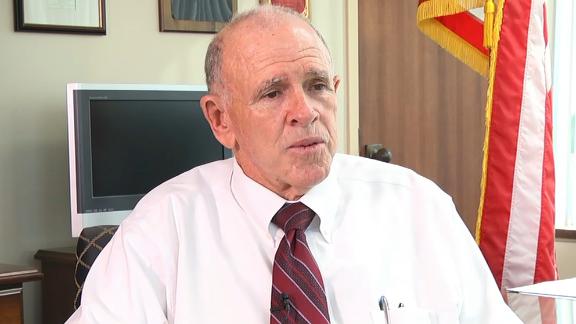 TALLAHASSEE, Fla. -- Nearly a year after Florida State quarterback Jameis Winston was accused of rape by a female FSU student, the state attorney has decided not to charge the Heisman Trophy favorite.
Thursday's decision clears the way for Winston to finish the season with the No. 1 Seminoles.
Willie Meggs, the state attorney for the Second Judicial Circuit, announced the move during a news conference at the Leon County Courthouse. Winston had faced felony charges after being accused of sexually assaulting the woman at an off-campus apartment on Dec. 7, 2012.
"We've carefully examined all the evidence in this case and have concluded that no charges will be filed against anyone in this case," Meggs said.
Meggs and his office had been investigating the case for the past three weeks, and they interviewed the accuser about two weeks ago. Last month, ESPN.com reported that DNA found in the woman's underwear matched Winston's. His attorney, Tim Jansen of Tallahassee, said Winston had consensual sex with the woman. But the woman's attorney, Patricia Carroll of Tampa, Fla., said Winston raped her 19-year-old client, who withdrew from classes after the allegations resurfaced in media reports last month.
"We have a duty as prosecutors to determine if each case has a reasonable likelihood of conviction," Meggs said. "After reviewing the facts in this case, we do not feel that we can reach those burdens."
While the case could be reopened if new evidence is found, Meggs indicated that he "had no earthly idea what that would be."
Carroll released a statement shortly after Meggs spoke.
December, 5, 2013
Dec 5
10:20
AM ET
December, 5, 2013
Dec 5
10:15
AM ET
So it comes down to this. No. 1 Florida State and No. 20 Duke square off in Charlotte, N.C., with the ACC title on the line, and with much more at stake for the Seminoles, who are a win away from a berth in the national title game. Here are a few things to keep an eye on Saturday night (8 ET, ABC) when both teams take the field:
[+] Enlarge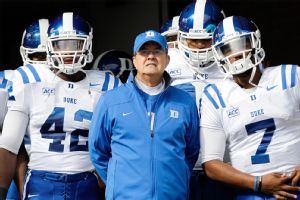 Ellen Ozier/USA TODAY SportsDavid Cutcliffe and Duke are out to shock the college football world and upset No. 1 Florida State.
1. The noise factor.
No, we're not talking about the volume of the crowd here. We're talking about the external factors going into this game for both teams. Duke has been written off as a four-touchdown underdog, has been criticized for its allegedly easy path to the Coastal Division title and has been told over and over again that it has no business being in this game. Florida State, meanwhile, will know the outcome of the
Jameis Winston
saga by kickoff. How each responds emotionally once the game is underway is worth watching.
2. Red zone efficiency.
Florida State ranks at or near the top of the ACC in most statistical categories, including red zone efficiency (No. 1 in offense, No. 2 in defense). Duke, on the other hand, is ranked near the middle of the pack in most categories, but the Blue Devils are No. 4 in red zone defense, which does not exactly underscore just how good they have been in recent weeks when pressed inside their own 20 (six touchdowns allowed in their last five games, after surrendering 15 in their first seven). If the Blue Devils can hold the Seminoles to some field goals on what are likely to be several trips into their territory, or even force a turnover or two, they will give themselves a chance to pull off a monumental upset.
3. Special teams.
What will help Duke even more? Big special-teams plays. And the Blue Devils have excelled in that department. They are No. 2 in the ACC in punt return average (13.6), yards and touchdowns (two), and they lead the conference in kickoff return average (26.2) and touchdowns (two). Can
DeVon Edwards
and/or
Jamison Crowder
come through again for Duke? It certainly would not hurt to steal a few points in the third phase of the game if the Blue Devils want to crash the BCS and help re-shape the national title picture.
December, 5, 2013
Dec 5
9:00
AM ET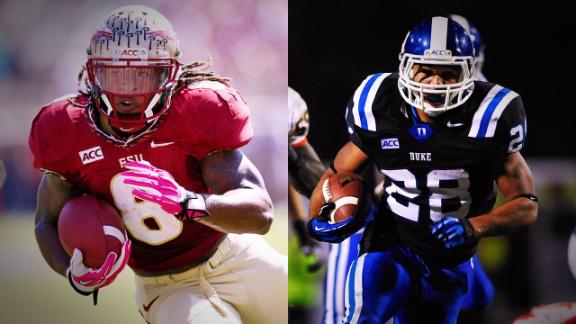 AA put some distance between herself and HD with the picks last week. HD admits she choked with the vaunted predictions trophy on the line, going 4-5 in Week 14. AA kept chugging, going 7-2 to open up a four-game lead on HD in the overall standings. AA stands at 85-23 as we head into the postseason. Seems like a pretty insurmountable lead at this point.
No headway to be made this week, either -- not when the easy choice to win the ACC championship game is Florida State. Here is how we both see the game playing out.


AA picks:
Exactly zero media prognosticators had Florida State playing Duke in the ACC championship game when the season began. Of the 120 ballots tabulated, only 15 declared the Seminoles their preseason choice to win the ACC. That handful of voters will turn out to be right after Saturday comes to a close. Florida State is too talented and too deep to have much of a problem with the Blue Devils. Duke has been such a terrific story to watch unfold throughout the course of the season, and the Blue Devils do have some rising stars in
Jamison Crowder
,
Kelby Brown
,
DeVon Edwards
and
Jeremy Cash
. They deserve an inordinate amount of credit for turning around a moribund program. But they still have a ways to go to match the upper echelon not just in the ACC, but in the nation. Florida State lost 11 NFL draft picks off last season's team; Duke has had eight players drafted in the last 20 years. So you see the talent disparity. Duke has never beaten Florida State and has lost by an average margin of 34.5 points per game. The Blue Devils are a much better team than they were the last time these teams played last season. But the problem for Duke? Florida State is a much better team, too.
Florida State 48, Duke 10.
HD picks:
The magic ends here, where good meets great. Duke will play better than many expect, as it has an opportunistic defense and the ACC's coach of the year, but it won't be enough to overcome the matchup problems the Noles' elite talent will create. This won't be as ugly as it was last year during the regular season, but it won't be pretty, either. Duke has recruited talent and speed, but not enough to match the likes of wide receiver
Kelvin Benjamin
or quarterback
Jameis Winston
. Florida State will win the turnover battle, and Duke's defense will give up too may big plays and struggle to get FSU off the field on third down. FSU has given up more than 17 points just once this season (to Boston College). Duke's preparation, discipline and determination will get it to 20, but it will only be good enough for a moral victory.
Florida State 45, Duke 20.
December, 5, 2013
Dec 5
8:00
AM ET
TALLAHASSEE, Fla. --
Lamarcus Joyner
's career is full of accomplishments, but the thing he's really worked for, the one thing he wants above all else, is finally, tantalizingly, within reach.
After Saturday's ACC championship game, Joyner's Florida State team will either be preparing to win a national championship or looking for explanations about how they let it all slip away in one of the biggest upsets in recent memory.
That, Joyner said, is a frightening proposition.
"Very scary, very intimidating," Joyner said. "That's so much pressure. And you have a Duke team that the whole country might be overlooking. But we can't do that."
[+] Enlarge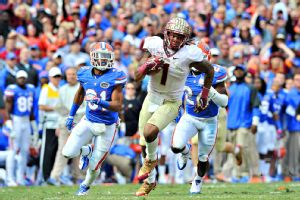 Steve Mitchell/USA TODAY SportsKelvin Benjamin and Florida State look to run past one more heavy underdog to clinch a spot in the BCS championship game.
But if the challenge for Florida State on Saturday is simply staying focused on the task at hand, this season has been remarkably good preparation.
For the seventh straight week, Florida State will take the field Saturday favored by at least three touchdowns. In each of the previous six, the Seminoles covered that spread with room to spare.
Few games have been close, and that's now the knock from critics eager to find fault in Florida State's easy schedule. But if the Seminoles learned anything in the past few seasons, it's that those easy games are often the biggest traps, and this season has been a case study in how to avoid those distractions.
"This is what we've prepared for," linebacker
Telvin Smith
said. "This is where we knew we'd be."
Of course, there are ample distractions, the latest of which is the new No. 1 ranking beside Florida State's name. It's the first time the Seminoles have held the top spot in the BCS standings since 1999.
That means something, Joyner said. It just doesn't mean they've arrived.
"It's a great feeling to get what we earned, and I feel like we earned that," Joyner said. "It feels good, but it's not something you keep taking a glimpse at. You hear about it, you smile, and you keep going about your business."
Business has been good for Florida State all season. Twelve games, 12 wins, all by at least 14 points -- the Seminoles have dominated each team they've encountered.
So what if those teams were overmatched from the outset, quarterback
Jameis Winston
said. All season, Florida State has preached that its biggest opponent is itself. The other team has no face, and the scope of the challenge is determined solely within Florida State's locker room.
"When your team has the same goal in your mind, you become hungry for it," Winston said. "You don't become lackadaisical, like, oh, we're almost there. It's easier because we're hungry. We're like 'Man, let's get it.' It's a two-game season now. We've got to eat. We've got to work every day."
For Winston, it's about finishing a job he's just begun. For Joyner and Smith, it's the culmination of four years of tough lessons.
They've learned the hard way what underdogs can do, and they're not interested in giving Duke a window to pull the upset.
"I know there's a lot of people around the country with their fingers crossed waiting for us to fall," Joyner said. "A lot of people can be riding on cloud nine and be overlooking these guys, but we've got to stay focused."
Focus could've waned at any moment this season. There were plenty of opportunities. But through 12 games, Florida State has approached its business with a singular goal.
In the last 60 minutes before a potential berth in the BCS title game, that mindset hasn't changed a bit.
"I'm not worried about what we're ranked and what we're doing. That'll all take care of itself," Jimbo Fisher said. "What we need to focus on is preparing for a great game this week and playing a great game against Duke."
December, 5, 2013
Dec 5
5:30
AM ET
1. Here's what we know about
Jameis Winston
: he's a very talented athlete with a gift for leadership. That's all we know. He is young and likely to be on the national athletic stage for many, many years. If, as expected, he is not charged with a crime Thursday, it is likely this incident will become a footnote to what looks like a remarkable career. But that's up to Winston. He has been exposed to the scrutiny that he will undergo with any misstep. Here's hoping he decides that missteps carry a price too high to pay.
2. The Big Ten Championship Game is a classic matchup of strength against strength, Michigan State's old-school defense and Ohio State's explosive offense (when the Spartans have the ball, make a fridge run). The Buckeyes rank in the top 10 in seven offensive categories. Michigan State ranks first or second in five defensive categories. Ohio State has played only one top-30 defense: Wisconsin. But the Buckeyes played well against the Badgers, scoring 31 points with a balanced attack. I don't think Ohio State needs to score 31 to win Saturday night.
3. Marques Tuiasosopo is a 34-year-old assistant coach with a pedigree as a Huskies hero. He led Washington to a Rose Bowl victory in the 2000 season. He has done good work with current quarterback
Keith Price
. Under different circumstances, it's conceivable that Tuiasosopo, whom Washington named as interim coach, could be seen as a genuine candidate to replace Steve Sarkisian. But the Huskies have closed a huge gap in the Pac-12 North. It seems as if athletic director Steve Woodward would want a veteran to help Washington catch Stanford and Oregon.
December, 4, 2013
Dec 4
4:50
PM ET
ESPN.com news services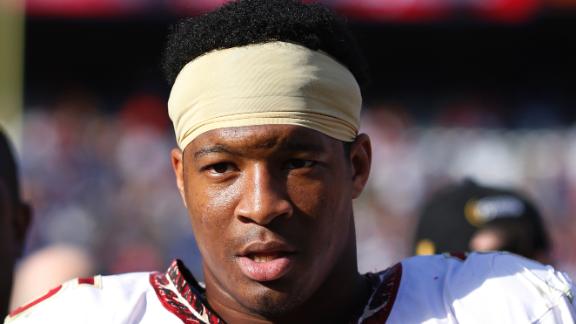 TALLAHASSEE, Fla. -- The prosecutor overseeing the investigation of sexual assault allegations against Florida State quarterback Jameis Winston said Wednesday his office is ready to deliver its findings.
State Attorney Willie Meggs has scheduled a news conference at 2 p.m. ET on Thursday in his office to make the announcement. Meggs said investigators have learned as much as they can about the December 2012 incident.
"We think we have exhausted all investigative tools," he said.
Winston, who was named the ACC Player of the Year on Wednesday, has led the Seminoles to the No. 1 ranking, and they will play for a conference title Saturday, with a shot at the national crown.
The quarterback also is the leading candidate for the Heisman Trophy, and many voters are waiting to see whether Winston will be charged with a crime before casting their ballots. The deadline for Heisman ballots to be turned in is Monday.
ESPN has previously reported that DNA belonging to Winston was found in the underwear of the accuser. A lawyer for Winston has suggested that the star quarterback and the accuser had consensual sex. But the family of the victim has accused the 19-year-old of rape.
Meggs has said he wanted to make sure prosecutors completed a thorough investigation before making a final decision. He has also said several times that it's up to prosecutors to determine whether there is a "reasonable" chance of conviction.
The fact that Meggs has scheduled a news conference -- as opposed to getting a warrant for Winston's arrest -- could be seen as a sign that he will not file charges.
FSU Students React To Winston Decision