December, 19, 2014
Dec 19
4:00
PM ET
Only a few more days until the bowls begin!
Eric from Atlanta writes:
Jimbo Fisher made a huge mistake in not snagging Will Muschamp as defensive coordinator, not only by failing to upgrade Florida State's defense but by letting him go 200 miles up the road to Auburn to pair up with Gus Malzahn's offense. This will haunt FSU in both recruiting and performance. Agree/disagree?
Jared Shanker writes:
I would disagree. There are few defensive coordinators out there better than Muschamp, but Charles Kelly has not even finished his first season as the Seminoles' defensive coordinator. Did I miss something or is Florida State not 30th in scoring and 52nd in total defense? Obviously, the defensive numbers aren't as good as recent seasons, but there also isn't the same amount of talent and depth as recent years. Kelly's defenses have struggled at times, especially in early games, but they have answered the bell in crucial moments.
Kelly has earned praise from previous coaches he has worked under for his recruiting ability, too. It's not as if the Seminoles are struggling on the recruiting trail either.
Also, the Seminoles are in the middle of a playoff race. It's probably not the best idea to start making or planning personnel changes with the Rose Bowl Game Presented By Northwestern Mutual a few weeks away.
Last, all of this is contingent on Muschamp even wanting to come to Tallahassee over the number of SEC schools that courted him.
Chris from Atlanta writes:
I think it is kind of funny how everyone is making a big deal about the controversy this year. Let's go ahead and imagine what would have happened this year if we still had the BCS system. You have a one-loss SEC team who you have to assume would make it in. Then you have a one-loss Oregon team and an undefeated Florida State team. There IS NOT a correct choice. If they pick Florida State the country erupts in one giant roar about how a team that barely beat Boston College and Florida was in the championship game. If they pick Oregon (I don't think it would happen) then you're leaving out an undefeated team over two 1-loss teams. That would cause even more chaos. I think fans should be grateful that we got to see the four best teams in football all make the playoffs.
Shanker:
If this was the BCS system, Florida State would likely be No. 1. I understand the projected BCS rankings have the Seminoles second, but I think the College Football Playoff has influenced the pollsters and the Seminoles aren't earning as many first-place votes as they would have under the old polling system. There would be a little controversy, in my opinion, about who would go between Alabama and Oregon, but I'd believe Alabama would get the nod and there wouldn't be a huge uproar about it since the Ducks lost at home. I agree with your overall statement that this system -- at least the part where four teams play it out on the field -- is better than the old and we're set up for a wild ride beginning on New Year's Day.
Eric from Fort Lauderdale, Florida, writes:
I'm just wondering what makes Oregon so great? All I hear from the media to fans to Vegas is that Oregon is going to dominate FSU. The general consensus is that FSU is the team that all the other teams wanted to play as that would be the easiest game. FSU is faster and outweighs the toughest defense that Oregon has played all season. That weight and speed disparity never gets mentioned. FSU has played many defenses similar to Oregon's and beat far tougher. People talk about the schedule that Oregon played, but I don't see it. FSU has overcome far greater injuries that cost Oregon in the loss column. If FSU had lost a game because of those injuries they would not be afforded excuses that Oregon gets. Tell me what makes Oregon better than FSU?
Shanker:
I don't expect Oregon to dominate Florida State, and if I was a betting man taking Florida State and the nine points would look pretty good. I did pick Oregon to win the game but think it will be very close. Stanford has one of the country's best defenses and, although the Cardinal struggled this season, they are a better defense than Florida State's. I also think Florida State's schedule is much better than some people give it credit for. Florida, Notre Dame and Oklahoma State were not as strong as they normally are, but the Seminoles still had three Power 5 teams on their nonconference schedule and those teams are capable of combining for 30 wins in any given season. I don't know if Florida State has overcome more significant injuries than the Ducks have, but the Noles would not get the luxury of a pass if they lost partially because of an injury. Ultimately, I think Oregon wins because the Ducks will have success running the football and it will continue into the second half. I think Florida State's slow starts will finally catch up to them. But I make that pick knowing full well there's a really good chance the Seminoles will make me look foolish.
December, 19, 2014
Dec 19
1:00
PM ET
Rose Bowl Game Presented By Northwestern Mutual:
No. 3 Florida State (13-0) vs. No. 2 Oregon (12-1)
Jan. 1, 5 p.m. ET, Rose Bowl, Pasadena, California (ESPN)
Key matchup:
Oregon RB
Royce Freeman
vs. Florida State RB
Dalvin Cook
Why it matters:
The battle between the two most recent Heisman Trophy winners will generate the most headlines, but one of the defining factors of this game will be which freshman running back has a better afternoon. Both first-year players are hitting their stride at the perfect time; it's imperative for teams to run the football well late in the season. Freeman has toppled the 100-yard mark in six of his last eight games, and he ran for 98 and 99 in those other two performances. Cook has ran for 321 yards over his last two games and was named the MVP of the ACC championship game for his 31-carry, 177-yard effort. Adding to the intrigue of this matchup is the difference in running styles. Freeman tips the scales at 229 pounds and sends would-be tacklers tumbling backward. Cook runs through tackles, too, but he also embarrasses defenders with his nifty footwork.
Who wins:
The winner of this matchup could determine the winner of the game. It would not be a shock to see both teams light up the scoreboard in the first half, but eventually the running games will need to take control for Oregon or Florida State to win. Florida State (60th nationally) and Oregon (50th) are essentially equally average against the run, so it's not as if one running back will have a significantly easier afternoon against a porous defense. What could help Freeman is the running threat of
Marcus Mariota
on option plays. The Ducks will look to put pressure on the Seminoles' defensive line with the read option, forcing it to make a decision to take away either Marcus Mariota or Freeman. IF the unit makes the wrong decision it could lead to big gains for the Ducks. Freeman will have a productive day and cross the 100-yard threshold in a 35-34 Oregon win.
December, 19, 2014
Dec 19
10:49
AM ET
ESPN.com news services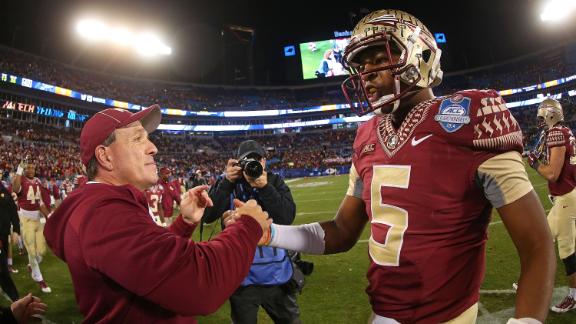 Florida State coach Jimbo Fisher said Friday that whatever decision star quarterback Jameis Winston makes -- turn pro or remain with the program for a third season -- would not surprise him.
"Jameis loves college football, but I think he's going to be one of the top two players drafted," Fisher said in an interview on "Mike and Mike." "He's got to make a choice. He's got to see what he wants to do. But it would not shock me either way."
Fisher said, at this time, that he doesn't know what Winston will choose to do.
"I understand if he wants to go, when a guy's that high and you're doing what you do," the coach said. "But remember, he's a very, very good student. He's very smart. He loves baseball. He loves his time in college. He loves all the interaction of this, believe it or not. So it would not shock me either way.
"We'll have the discussion here pretty soon."
In the interim, Winston is preparing for the Seminoles' College Football Playoff semifinal on New Year's Day against Oregon. While he does that, he is waiting for a judge to issue his decision in Winston's university code of conduct hearing, which took place over two days in early December. A woman has accused him of sexually assaulting her in December 2012. Winston's punishment could range from nothing to expulsion. The judge's decision is expected before the end of the year.
December, 19, 2014
Dec 19
9:00
AM ET
Quick Lane Bowl
Hale:
Who knows what to make of the Jekyll-and-Hyde Tar Heels? Their defense isn't good, but neither is Rutgers'. The offense looked stagnant in its last outing, but Larry Fedora will have had a month of prep time to fix any flaws. UNC at least beat some quality opponents (Georgia Tech, Duke), while Rutgers was 2-5 against teams that finished .500 or better, allowing 457 yards and 36 points per game.
North Carolina 38, Rutgers 28.
Fortuna:
Fans of defense will have to close their eyes and look away in horror. Though
Marquise Williams
has been phenomenal for much of the season, the Rutgers' offense is riding high off its comeback win at Maryland. With the chance at an eight-win season in its inaugural Big Ten campaign.
Leonte Carroo
will be a handful for a UNC defense that has already seen its coordinator get fired.
Rutgers 38, UNC 31
Bitcoin St. Petersburg Bowl
Adelson:
The Wolfpack ended the season on a high note after a total domination of in-state rival North Carolina. The defense has started to gain momentum and play a little more aggressively, while the run game has started to find some footing, too.
Jacoby Brissett
and
Shadrach Thornton
each had 100 yards rushing against the Tar Heels. Look for that combination to be the difference.
NC State 28, UCF 27.
Shanker:
UCF has their own Jacoby to combat NC State's Brissett. The Knights'
Jacoby Glenn
was the AAC's defensive player of the year. UCF will keep NC State offense in check and score just enough points.
UCF 24, NC State 17
Military Bowl presented By Northrop Grumman
Adelson:
The Hokies have not been consistently reliable this season, but they did show signs of life offensively last time out against Virginia.
J.C. Coleman
ran hard -- and that run game will be a big key against a Cincinnati run D that ranks No. 80 in the nation. Here is betting Virginia Tech will get its run game going to make the difference.
Virginia Tech 24, Cincinnati 21.
Shanker:
This should be an interesting battle of strength vs. strength and weakness vs. weakness. Cincinnati's offense and Virginia Tech's defense are among the country's best. Each team's other unit is among the worst. The Bearcats will have more motivation in this game, though.
Cincinnati 20, Virginia Tech 17
Duck Commander Independence Bowl
Shanker:
It was an ugly finish for Miami, but South Carolina couldn't beat a Clemson team that had a one-legged
Deshaun Watson
at quarterback.
Miami 23, South Carolina 14
Adelson:
In a game that presents such even matchups, this one might come down to coaching. That is where South Carolina has the edge. Miami has lost four straight bowl games; South Carolina has won three straight. The Hurricanes have shown no motivation to play; Spurrier will find one for the Gamecocks.
South Carolina 27, Miami 24.
New Era Pinstripe Bowl
Fortuna:
Points will be hard to come by at Yankee Stadium. Penn State might have the nation's No. 1 rushing defense, but it struggled the one time it faced a mobile quarterback in
J.T. Barrett
, as Ohio State rushed for 219 yards.
Tyler Murphy
is an even bigger threat with his legs, and he'll be able to make a few big plays that will ultimately prove to be the difference for an Eagles team that just keeps getting better.
BC 17, Penn State 13
Hale:
OK, Penn State's offense isn't much to rave about, but what has been lost in the Nittany Lions' season is that the defense has been exceptional. Penn State allowed just 85 yards per game on the ground -- tops in the country -- which could negate BC's top offensive threats. Expect a low-scoring game, with the Lions having a slight edge.
Penn State 17, BC 14
Russell Athletic Bowl
Adelson:
It is hard to forget how different Clemson looks offensively with
Cole Stoudt
behind center, so all the attention in this one will be squarely focused on the Tigers' No. 1-ranked defense. Oklahoma expects
Samaje Perine
to play, but he will not have much running room against
Vic Beasley
& Co.
Clemson 20, Oklahoma 17
Hale:
Since their respective regular-season finales, Oklahoma has gotten healthier and Clemson has learned it will be without star QB Deshaun Watson. The Tigers' D is terrific, and perhaps that will be enough to secure a win, but odds are the offense is going to have to muster at least a few sustained drives, and Cole Stoudt is averaging just 5.6 yards-per-attempt since Oct. 1 with four TDs and eight interceptions.
Oklahoma 17, Clemson 13
Hyundai Sun Bowl
Adelson:
Duke has improved defensively this season, but the Blue Devils have not faced many teams as explosive as Arizona State. Plus, they beat only one team with a winning record. Both teams struggled down the stretch, but Arizona State has a better body of work and offense, so expect a Sun Devils victory.
Arizona State 35, Duke 28.
Fortuna:
These types of games usually come down to who has more to play for, and in this case it is certainly Duke. The Blue Devils are aiming for their second straight 10-win season and for their first bowl win in 53 years after falling just short against Johnny Football last year. Expect a clean offensive performance and just enough stops on defense to escape victorious.
Duke 34, ASU 27
Franklin American Mortgage Music City Bowl
Hale:
The Fighting Irish have lost five of six and didn't beat a team with better than a 7-5 record this season. LSU's offense might not be stellar, but the Tigers took Alabama to overtime, fell five points shy of beating Mississippi State and have wins over Wisconsin and Ole Miss. We'll take the LSU defense, with just enough help from
Leonard Fournette
, to get the job done.
LSU 24, Notre Dame 20.
Belk Bowl
Fortuna:
Cardinals defensive coordinator Todd Grantham will have his work cut out for him in trying to stop a Bulldogs offense that's No. 8 nationally in scoring (41.7 ppg), but his defensive unit has been among the nation's best as well. If quarterback
Reggie Bonnafon
is at full health, he and the Louisville run game should be able to open things up for
DeVante Parker
and the passing attack.
Louisville 31, Georgia 24
Shanker:
Louisville's sixth-ranked defense is allowing 364 yards per game against teams with winning records. Behind
Nick Chubb
, Georgia will be able to score.
Georgia 30, Louisville 24
Capital One Orange Bowl
Hale:
The bottom line for the Yellow Jackets is that the D has to do a much better job against
Dak Prescott
than it did against
Jameis Winston
in the ACC Championship Game. If Prescott gets time to move in the pocket and make throws downfield, it will be hard to corral Mississippi State. If Tech's D can limit his big plays and force a couple turnovers, the offense will do more than enough to get the win. We're betting on the latter.
Georgia Tech 41, Mississippi State 38
Fortuna:
The Bulldogs' rush defense has been solid (No. 31 nationally), which should improve with nearly a month to prepare for Georgia Tech's triple-option attack. MSU also has a really good quarterback in Dak Prescott, who was near the top of the Heisman discussion before losing at Alabama. The Yellow Jackets need to force several Prescott turnovers to give their offense a chance to have its desired effect, and that might be a tall order.
Mississippi State 35, Georgia Tech 30
Rose Bowl Game Presented By Northwestern Mutual
Adelson:
The Seminoles are in a different position -- playing as the underdog. There is little doubt that will serve as motivation. But beyond the intangibles, Florida State will find a way to win behind Jameis Winston and
Dalvin Cook
, who has emerged to make the Seminoles more balanced and effective.
Florida State 35, Oregon 31
Shanker:
It was tough to pull the trigger on Oregon after going with Florida State all season. The rash of injuries are continuing for Oregon, but I think they will be able to run the ball effectively against the Seminoles. The Ducks will blow an early lead but put together a game-winning drive in the fourth quarter.
Oregon 35, Florida State 34
Lockheed Martin Armed Forces Bowl
Shanker:
Both teams lost their coach, so it will be interesting to see how each team responds. The talent is clearly in the Panthers' favor as they have
James Conner
and
Tyler Boyd
on offense.
Pitt 31, Houston 13
December, 19, 2014
Dec 19
8:00
AM ET
Boston College took the proper steps to wrapping up Steve Addazio on Thursday,
signing the second-year coach to an extension through the 2020 season
. The deal should, at the very least, provide some security for a program that has done nothing but overachieve in Addazio's first two years on the job, making consecutive bowl games despite massive personnel losses.
Addazio's name has been floated around plenty during silly season, but Eagles fans can at least rest a little bit easier knowing that his rebuilding plan is still on schedule. But clarity throughout ACC regimes remains difficult to find after Wednesday.
Pittsburgh still needs a new athletic director, in addition to a new head coach, and it is unclear which will come first, or the effect one will have on the other.
As colleague Andrea Adelson wrote this week
, you cannot blame the Panthers for third-year coach Paul Chryst leaving for his dream job, as he went home to Wisconsin. But it is clear now more than ever that the program needs some stability, something Chryst was able to bring to the program after so much turnover.
The Panthers have plenty of young weapons on offense and are in a much better position now than they were when Chryst took over, but the cumulative effect of a fourth coaching search -- and an AD search -- since 2010 cannot be overstated.
Here are the rest of your ACC links:
December, 18, 2014
Dec 18
12:10
PM ET
TALLAHASSEE, Fla. -- The Florida State offensive line wasn't scaring defensive coordinators through the first month of the season. A unit hailed as the country's best during the preseason had struggled clearing space for a rushing attack that ranked 103rd at the end of September.
Four games ago, Seminoles coach Jimbo Fisher made a bold switch along the offensive line in the midst of an undefeated season. Before the Nov. 15 game against Miami, just as starting center
Austin Barron
was cleared to play after fracturing his forearm back in early October, Fisher moved all-conference performer Cam Erving from left tackle to center. That meant true freshman
Roderick Johnson
was being inserted at left tackle, the position responsible for Jameis Winston's blind side.
Fisher's roll of the dice worked. The Seminoles are averaging 146 yards rushing over their past four games -- not a sizable difference -- but they are averaging 4.8 yards per carry. They averaged less than four yards per rush in September. And in the ACC title game, FSU averaged 5.42 yards per rush, a stat that helped carry them to the No. 3 playoff seed and a date against No. 2 Oregon in the Rose Bowl.
[+] Enlarge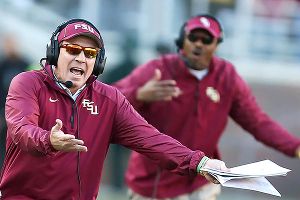 Orlando Sentinel via Getty ImagesFlorida State's offensive line has improved since a bold late-season move by coach Jimbo Fisher.
With this new starting five, Florida State might as well be Wisconsin South. Both Florida State and Wisconsin, whose offensive line's girth is annually celebrated, have a starting five that averages 6-foot-5 along the line. The Seminoles' combined weight across the group is actually greater than Wisconsin's, and Florida State still has athleticism along the unit, too.
"We got great size," said
Josue Matias
, who is the link between Johnson and Erving at left guard. "We got intimidation off the bus. It just has a different attitude."
As early as this spring, Erving was being groomed as a potential center. Fisher originally said it was strictly for emergencies that Erving would play center, but as the 6-foot-7, 330-pound Johnson continued to hold his own in fall practice against a talented FSU defensive line, Fisher felt at some point during the season he would be able to move Erving to center.
At 308 pounds, Erving is the smallest player on the line, but he's also maybe the most athletic. As the offensive line anchor, Erving has been effective firing off as a run blocker, but also when he's pulling.
"Athletically you can see our difference, and in height and weight and you don't really drop off with Rod at left tackle," right tackle
Bobby Hart
said.
Erving, one of the team leaders, praised the effort of Barron and fellow center
Ryan Hoefeld
, but he said the chemistry of this starting five just seems to be better.
"It's all about chemistry on the offensive line," Erving said. "You got to know what each other is thinking and how you're going to do each block. The chemistry is coming together better."
Through the first nine games, despite Florida State winning them all, there were legitimate questions as to whether the Seminoles could win a second straight national title without an effective running game. And the offensive line had struggled to protect Winston at times. The new structure of the offensive line potentially returns Florida State to its perch among football's most talented groups as it hits its stride.
The lack of an effective run game and inconsistent offensive line play put the offense, and specifically Winston, in a weekly bind. Winston was forced to shoulder too much of the offense. Winston averaged 38.5 passing attempts per game in October. That number has dropped to 32 over the past four games.
"We've taken on a new identity," Erving said.
With the playoffs only two weeks away, the shift has come at the perfect time.
December, 18, 2014
Dec 18
8:00
AM ET
Pitt must try and replace Paul Chryst
without an athletic director
.
Maybe that is not such a bad idea.
While it is true outgoing AD Steve Pederson helped usher Pitt into the ACC, it also is true he had an uneven track record when it came to hiring football coaches. Though Chryst's
departure for Wisconsin
after three years on the job cannot be placed on Pederson's shoulders, the next hire Pitt makes will be absolutely crucial for the program. Pitt cannot swing and miss on this hire the way Pederson did with Todd Graham and Mike Haywood, the two men brought in after he fired Dave Wannstedt.
Bill Fralic, a Pitt All-American lineman, told the Pittsburgh Tribune-Review of Pederson:
"He could not hire a good football coach. And he fired a loyal Pitt guy who averaged nine wins his last three years, and they haven't come close to that since. He meddled with everything. He was a control freak. Hopefully, we can recover from what he's done there."
Pitt is ready to win right now. It must hire a coach who can take what Chryst did and run with it. Make no mistake -- Pitt must hire a coach who will continue on with the blue-collar tradition Pitt fans have come to expect. All the high-octane mumbo jumbo Graham sold in the one year he was in Pittsburgh is just not going to fly. An offense predicated on a strong run game must remain a priority.
Many have already laid out their lists of potential candidates. Greg Schiano and Pat Narduzzi are among the
two most intriguing names
. They both have recruiting ties to the area, and both would presumably emphasize a power-run game. Double plus right there. Returning running back James Conner has the potential to be a 2,000-yard rusher with the right coach calling the plays.
Having been burned so many times in the recent past, Pitt would obviously be looking for a coach to put down roots in Pittsburgh for the long-term. Whether Pitt is that type of job may be in the eye of the beholder. In any case, Pitt should not concern itself with that idea right now.
It should hire the best available coach, plain and simple. Several outlets reported that Pederson had made contact with Schiano before being removed as AD. Though Pederson is gone, Schiano should remain on the list. At least he has proven he can win on the collegiate level, though he did fail to deliver in the clutch several times at Rutgers.
It is safe to say Pitt is brimming with potential. That is why this hire has to be the right hire. Pitt cannot afford to take any more steps backward.
Here are a few more links to start your morning:
A week later, I still have a hard time understanding how Roberto Aguayo did not win the Lou Groza Award. Now, more puzzlement: the
FWAA All-America team
does not have Aguayo on it, either. None of this is meant to take away from the year Brad Craddock had at Maryland. He was terrific, too. But there is no real doubt Aguyao is the hands down best kicker in the country, is there?
December, 17, 2014
Dec 17
5:44
PM ET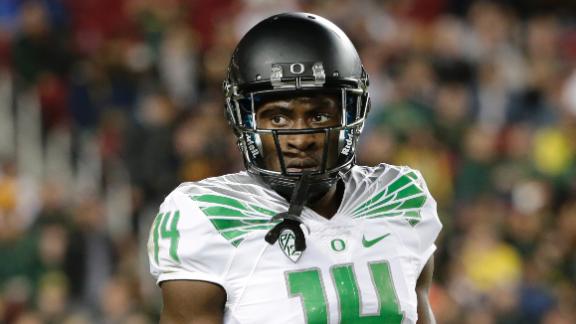 Oregon star cornerback Ifo Ekpre-Olomu suffered a severe knee injury during the Ducks' practice Tuesday and will miss the rest of the season, coach Mark Helfrich confirmed Thursday.
The senior is the cornerstone of Oregon's secondary and has already received numerous All-American team spots as well as being a finalist for the Jim Thorpe Award, given to the country's top defensive back. He had 63 tackles, two interceptions and six pass breakups this season.
Senior defensive back Dior Mathis, who spent the spring and fall battling with Troy Hill for the corner spot opposite Ekpre-Olomu, will likely move into Ekpre-Olomu's spot for the second-ranked Ducks' College Football Playoff matchup with No. 3 Florida State in the Rose Bowl.
Ekpre-Olomu has a $3 million loss of value insurance policy, which has been paid for by the University of Oregon, a source with knowledge of the arrangement told ESPN.
If he slips in the NFL draft because of this injury, he will begin collecting money at the beginning of the second round. If he slips past the beginning of the third round, he would receive all $3 million.
Ekpre-Olomu's injiury was earlier reported by Yahoo! Sports.
December, 17, 2014
Dec 17
4:00
PM ET
The most aggressive offense in the ACC in 2014 was Clemson, which might not have been a surprise in 2012 or 2013, but in a year in which there were so many personnel issues for the Tigers' offense, it's a bit shocking.
Clemson threw deep (20-plus yards) on 7.46 percent of its total plays, well above the league average of 5.93 percent, according to ESPN Stats & Info. And that was probably not the best idea either, because while Clemson went deep more often than anyone else, the Tigers also averaged the second-fewest yards-per-attempt on those throws (trailing only Syracuse) and nearly 10 yards per attempt less than what
Tajh Boyd
mustered last year for Clemson. That's not exactly a recipe for offensive success.
[+] Enlarge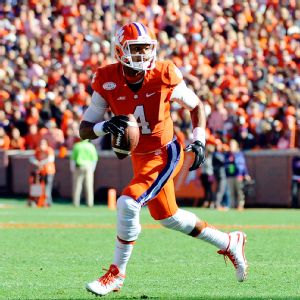 AP Photo/Rainier EhrhardtDeshaun Watson completed nearly 50 percent of his deep balls in 2014 with seven touchdowns and just one interception.
But, of course, personnel had a lot to do with that, and it only goes to show how much a healthy
Deshaun Watson
affects Clemson's overall offensive success, because those aggregate numbers hardly tell the whole story.
Watson completed nearly 50 percent of his deep balls in 2014 with seven touchdowns and just one interception. He averaged 15.9 yards per attempt, which would've been tops in the ACC if he'd been the only quarterback throwing for the Tigers in 2014. But he wasn't.
Cole Stoudt
and
Nick Schuessler
completed just 15 percent of their deep balls this season with one TD, two interceptions and a woeful 5.2 yards-per-attempt average. To put that in perspective, if they'd been the only quarterbacks throwing for Clemson this year, the Tigers would've been dead last in the league in YPA by nearly four full yards.
That's just one of the interesting facts we find when we dig into the ACC's deep-ball numbers for 2014.
A few more, with deep-ball stats courtesy ESPN Stats & Info:
No team was worse on the deep ball in the ACC than Syracuse. This is no surprise. The Orange completed just 27.8 percent of its deep balls (worst in the ACC), averaged 9.2 yards per attempt (again, worst), had just two touchdowns (13th) and five interceptions (t-12th). That's down a bit from last year, but the Orange have struggled on those throws ever since Ryan Nassib left.

Perhaps the most improved team on the deep ball this year was Virginia. Last season, the Hoos were just 7-of-50 on throws of 20 yards or more. This year, they more than doubled their deep-ball yards, completion percentage and TD throws.

North Carolina had one of the ACC's most potent offenses, but it wasn't because of the deep ball. This is one of the reasons Larry Fedora was so high on Mitch Trubisky, but the numbers didn't back up that confidence. Overall, UNC's completion percentage of 28 percent on deep balls was third-worst in the league and its 9.93 YPA was fourth worst, but Marquise Williams was far better than his counterpart. Williams wasn't great (28 percent completions, 12.2 YPA) but Trubisky really struggled (3-of-15 for 100 yards with a pick).

Only Wake Forest went deep less often than Pittsburgh (4.28 percent of total plays), which seems a bit odd considering that the Panthers could've used play-action well (given the strong running game) and they actually had the highest completion percentage of any ACC team on throws of 20-plus yards (44.4 percent).

Florida State was far less successful on the deep ball this year than last, with its completion percentage down (48.8 in 2013 to 35.7 in 2014) and TDs way off (16 last year, nine this). But FSU also threw five fewer interceptions on deep throws this year, and when it did get a completion, it's YPC was actually improved (40 YPA this year, 32 YPA last year).

No team was better on the deep ball than Miami in 2014. Brad Kaaya proved to be an excellent downfield thrower, matched with a good running game and speed at receiver. For the year, Miami completed 41.3 percent of its deep balls (second in ACC), averaged 14.6 yards per attempt (first) and had nine touchdowns on those throws (tied for first). It's worth noting though that just 12 percent of Miami's passes in 2014 were 20 yards or more, the third fewest in the league.

No team gained a higher percentage of its total offense in 2014 via the deep ball than Louisville (15.9 percent), which is interesting given that DeVante Parker missed seven games and Bobby Petrino cycled through three different quarterbacks. Overall, Louisville's deep-ball numbers were virtually the same as 2013, in spite of losing its star receiver for more than half the year and a first-round draft pick at quarterback. That's a real credit to the work Petrino did this season.

Not surprisingly, Georgia Tech and Boston College had the highest percentage of their pass attempts be deep balls. Next up though? NC State (17 percent).

Virginia Tech wasn't great on the deep ball (10.5 YPA, four TDs, four INTs), but it was a necessary part of the Hokies' offense. For the year, 74.1 percent of Tech's plays of 20-plus yards came on throws of 20-plus yards -- meaning if the Hokies didn't look deep, they rarely had a shot at a big play. The league average on that stat was 45.6 percent, meaning the rest of the ACC got more than half of its big plays from plays that weren't deep balls. Virtually all of Virginia Tech's big-play threat relied on the arm of Michael Brewer. That speaks volumes about the Hokies' season.
December, 17, 2014
Dec 17
2:00
PM ET
In the 100 days leading up to signing day 2015, RecruitingNation will be looking back at our ESPN recruiting rankings from 2006 to the present and count down the best player of the past 10 years at each ranking position, No. 100 to No. 1.
EJ Manuel, No. 51 in 2008 class
Manuel was a highly coveted quarterback coming out of Bayside high in Virginia Beach, Virginia. In what wasn't a close recruitment, Manuel chose Florida State over LSU and others in June 2007 due in large part to his relationship with Jimbo Fisher, and the positive vibe he got around Florida State players and commitments. Manuel was part of a 2008 class that included
Nigel Bradham
and Nigel Carr, among many others.
After redshirting in 2008, Manuel served as the backup in 2009 to future NFL first-round selection
Christian Ponder
before an injury to Ponder forced Manuel into the starting lineup. Manuel responded going 3-1 to end the season and keeping Bobby Bowden from leaving his final season in Tallahassee with a losing record. Manuel earned Gator Bowl MVP honors after leading the Seminoles to a win against West Virginia.
Manuel was again the backup in 2010 for the most part, making two starts against Clemson and Virginia Tech after an injury to Ponder. He came in for the injured Ponder in the second quarter of the Chick-fil-A Bowl and led the Noles to a
26-17 win
against South Carolina. He threw for 861 yards and four touchdowns in 2010.
Manuel became a full-time starter in 2011, passing for 2,666 yards and 18 touchdowns, which included a third straight bowl win, this time
a victory over Notre Dame
in the Champs Sports Bowl in which Manuel threw for 249 yards and two scores.
As a fifth-year senior, Manuel led Florida State to a 12-2 record and
a BCS Orange Bowl win against Northern Illinois
, the Seminoles' first BCS Bowl win since 2000. On the season, the 6-foot-5, 240-pound Manuel passed for 3,392 yards and 23 touchdowns earning All-ACC honors.
Manuel was the 16th overall selection in the 2013 NFL draft by the
Buffalo Bills
.
Honorable mention:
Damore'ea Stringfellow, No. 51 in 2013 class. Stringfellow chose Washington over USC and others. After a 20-reception, 259 yards freshman season at Washington, Stringfellow was dismissed from the program. Now at Ole Miss, the former Under Armour All-America Game selection will be eligible in 2015 and is expected to become a starter with high-ceiling potential.
December, 17, 2014
Dec 17
2:00
PM ET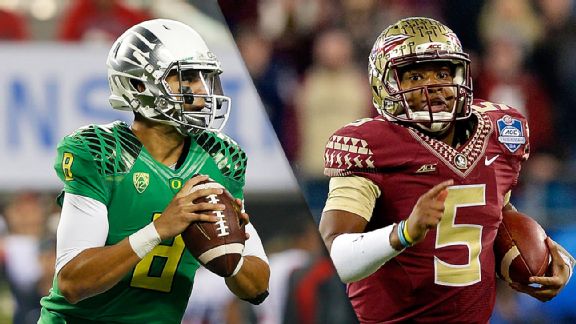 Getty ImagesMarcus Mariota will try to use his accuracy to hand Jameis Winston his first career defeat.
The College Football Playoff already has epic storylines leading into its inaugural season.
Headlining the No. 2 Oregon-No. 3 Florida State matchup in the Rose Bowl Game Presented By Northwestern Mutual
is the quarterback pairing of
Marcus Mariota
and
Jameis Winston
, creating what has the potential to be one of the best showings of quarterbacks that college football has seen in recent memory.
The strengths of these two quarterbacks are evident in the statistics (which we'll get to in a bit), but the main thread that runs through both is that they know how to win. Criticize Florida State's play (specifically in the first half) all you want, but one thing is for sure -- late in a game Winston has been a QB worth having and he has proven that time and time again.
The same can be said for Mariota. Though the Ducks haven't had as many tight games as the Seminoles -- and they do have a loss, which FSU doesn't -- Mariota has shown the guts needed in crucial situations to make something out of nothing.
And the numbers back that up. Of active FBS quarterbacks (with at least 15 starts under their belts), Mariota and Winston have the highest career winning percentages -- Winston is 26-0; Mariota is 35-4.
But what is it about these two guys that makes them such winners?
We analyze …
MARIOTA'S STRENGTH: He's clean.
Mariota's biggest strength is his accuracy. He has attempted 372 passes this season and only two of those have ended up in the hands of opponents. His 0.5 percent interception rate is the lowest among qualified FBS quarterbacks and his TD-interception ratio of 19-1 is more than double that of the nation's second best (
Cody Kessler
, 9-1) and 13 times better than Winston (1.41-1).
Mariota is highly accurate when opponents send four or fewer pass-rushers. He has gone more than 300 pass attempts against this kind of pressure without throwing a pick, and guess what … Florida State sends four or fewer pass-rushers on 67 percent of its opponents' dropbacks.
Additionally, 27 of Mariota's 38 passing touchdowns this season have come when opponents send four or fewer pass-rushers.
WINSTON'S STRENGTH: He's clutch.
Yes, his statistics aren't as impressive as they were last year. But, as Oregon coach Mark Helfrich pointed out on Tuesday, that can't always be a very accurate portrayal of how effective any given quarterback is during a game.
"We don't have the luxury of knowing, 'OK, Clemson played them this way last year and this way the year before and now it's that much different or leading up to that game how they defended people,'" Helfrich said of Winston.
Winston's total QBR has dropped from 89.4 last season to 67.1 this season and his touchdown-to-interception total has plummeted (40-10 in 2013, 24-17 so far in 2014), but he is clutch. And not just in late-game scenarios.
Of all quarterbacks who have started at least one year, Winston leads the nation in third-down QBR (91.6) and has converted 51 percent of his third-down pass plays, which is 15 percent higher than the national average.
In a strange way, considering these two teams have never faced off, this sort of feels like a rivalry game in the fact that tendencies and statistics will probably be thrown out the window as we see some really incredible football unfold.
But would anything less be expected when a field plays host to two Heisman winners? After all, this has only happened three times before. And all three times proved to be very exciting games.
Most recently, it was Tim Tebow's No. 2 Florida Gators facing off against Sam Bradford's top-ranked Oklahoma Sooners in January 2009. Tebow had won the Heisman the year before, but the Gators took this game 24-14 and went on to win the national title.
Four seasons earlier, it was 2004 Heisman trophy winner Matt Leinart and his top-ranked USC Trojans who took down the 2003 winner -- Oklahoma quarterback Jason White -- in the Orange Bowl with the national title on the line. Leinart led the Trojans with five touchdown passes as they cruised to a season-high 55 points.
And the only other time it happened was during the 1949 championship season when 1949 Heisman winner Leon Hart and Notre Dame took on Doak Walker and SMU (though to be fair, Walker didn't play that game as he was sidelined due to an injury).
In each of these instances, whichever quarterback won the Heisman versus Heisman matchup also went on to win the national title. That could certainly be the case when Florida State and Oregon face off on Jan. 1.
If past be present, both of these quarterbacks are going to bring their best play and the qualities that won each of them the Heisman are going to be on full display. For everyone watching in Pasadena, California, or at home, that means this is going to be a really, really fun matchup. Not only between Florida State and Oregon, but also between Winston and Mariota.
New Contract For Jimbo
ACC SCOREBOARD
Saturday, 12/20
Monday, 12/22
Tuesday, 12/23
Wednesday, 12/24
Friday, 12/26
Saturday, 12/27
Monday, 12/29
Tuesday, 12/30
Wednesday, 12/31
Thursday, 1/1
Friday, 1/2
Saturday, 1/3
Sunday, 1/4
Monday, 1/12