March, 6, 2014
Mar 6
10:39
AM ET
March, 6, 2014
Mar 6
10:00
AM ET
Setting up spring in the ACC Atlantic.
Boston College
Spring start:
March 12
Spring game:
April 12

What to watch:
Big shoes to fill: Steve Addazio helped BC make huge strides in 2013, but the task of keeping the momentum going gets much harder without star running back and Heisman finalist Andre Williams, who rushed for an NCAA-best 2,177 yards and 18 touchdowns. Tyler Rouse and Myles Willis will attempt to fill the vacancy this spring, and both have potential. Willis averaged nearly 6 yards per carry as Williams' primary backup last year. The real intrigue might wait until fall, however, when four freshmen running backs arrive on campus.
Murphy makes the move: It's an open competition at quarterback after Chase Rettig's departure, but there's no question the most intriguing player in the race is Florida transfer Tyler Murphy. The fifth-year senior worked with Addazio at Florida, and he'll open the spring competing with redshirt freshman James Walsh and early enrollee Darius Wade. That's a deep enough bench that BC didn't worry about moving Josh Bordner, last year's backup, to tight end. With both of last year's starting tackles gone, too, Murphy's experience could be even more important in determining the outcome of the QB battle.
Restocking the LBs: Even at its low points in recent years, Boston College managed to churn out plenty of talented linebackers, but the position gets a massive overhaul this year. First-team All-ACC star Kevin Pierre-Louis (108 tackles in 2013) is gone, as is Steele Divitto (112 tackles). That leaves junior Steven Daniels (88 tackles, 5 sacks) as the lone returning starter. Josh Keyes adds some experience, but it'll be a group in transition this spring.
Clemson
Spring start:
March 5
Spring game:
April 12

What to watch:
Replacing Boyd: The talk of Clemson's spring camp will no doubt surround the quarterbacks, as senior Cole Stoudt, sophomore Chad Kelly and early enrollee Deshaun Watson vie for the job. Stoudt's experience makes him the early favorite, but it's Watson, a dual-threat QB with immense talent, who could steal the show. Coach Dabo Swinney has already lauded Watson as perhaps the most talented quarterback Clemson has signed, so all eyes will be on the freshman to see if he can back up all that hype with a strong spring.
Skill-position shuffling: If the QB battle is the headliner, there are plenty of significant sideshows on offense this spring. Clemson waved goodbye to receivers Sammy Watkins (1,464 yards, 12 TDs) and Martavis Bryant (828 yards, 7 TDs) and tailback Roderick McDowell (1,025 yards, 5 TDs). That means a massive overhaul on offense, where there's no clear-cut bell cow at running back (Zac Brooks and D.J. Howard return as potential options) and the receiving corps will be looking for some new top targets.
Dominance up front: On offense for Clemson, there's plenty of concern for what the Tigers lost. On defense, however, the excitement is all about what they're bringing back. Clemson's defensive line, in particular, could be one of the nation's best. When All-American Vic Beasley announced his return for his senior season, the Tigers knew they could have something special. Add sophomore lineman Shaq Lawson and senior Stephone Anthony at linebacker and Clemson has all the makings of a dominant pass rush.
Florida State
Spring start:
March 19
Spring game:
April 12

What to watch:
The running backs: After leading FSU in rushing three straight years, Devonta Freeman is gone. So, too, is James Wilder Jr. But the Seminoles enter spring with a quartet of intriguing options to replace their departed stars, led by Karlos Williams (730 yards, 11 TDs in 2013) and Dalvin Cook (No. 21 on the 2013 ESPN300). Mario Pender, who missed last year with academic issues, also figures to be in the mix.
The defensive front: There are a wealth of question marks here, both in terms of personnel and scheme. With Timmy Jernigan, Telvin Smith and Christian Jones gone, there are plenty of jobs up for grabs. The development of Mario Edwards Jr., Eddie Goldman and Terrance Smith will be key, but with Charles Kelly taking over the defense, it's also still a bit unclear how much the scheme will deviate from what Jeremy Pruitt ran with so much success in 2013.
Jameis Winston's swing: A year ago, the big question was who would win the QB battle. Now, Winston's got a Heisman Trophy and will be a favorite to win it again in 2014. So the intrigue surrounding the FSU star QB is more on the baseball field, where once again, he'll be splitting time this spring. Perhaps the bigger question is how the rest of the QB depth chart shakes out, with Sean Maguire the elder statesman and John Franklin III looking to make his move.
Louisville
Spring start:
March 18
Spring game:
April 11

What to watch:
Bobby's back: After a seven-year hiatus that included an abrupt departure from the Atlanta Falcons and a damaging scandal at Arkansas, Bobby Petrino is back in charge at Louisville insisting he's a changed man. Fans will be watching closely to see if he has changed his stripes away from the field, but also whether he can rekindle the same offensive fireworks he delivered in his first stint with the Cardinals.
Replacing Bridgewater: It's an open QB battle, and for Petrino, it's among the first chances he'll have to see the players vying to replace departed star Teddy Bridgewater in action. Sophomore Will Gardner is perhaps the favorite, but he has just 12 career pass attempts. Redshirt freshman Kyle Bolin is close behind, while Reggie Bonnafon is set to arrive in the fall.
New look on D: Louisville finished the 2013 season ranked second nationally in scoring defense, trailing only national champion Florida State. But this spring, things will look a bit different for the Cardinals, as Todd Grantham takes over as the new defensive coordinator after being lured from Georgia. Grantham figures to bring a 3-4 scheme to Louisville, which will certainly shake things up a bit. Defensive end Lorenzo Mauldin missing the spring with a shoulder injury only clouds the situation further.
NC State
Spring start:
March 4
Spring game:
April 12

What to watch:
Brissett takes the reins: The sting of last year's winless ACC season was barely in the rearview mirror before coach Dave Doeren named Florida transfer Jacoby Brissett his new starting quarterback. Brissett spent last year on the sideline, but apparently Doeren saw enough during practice to comfortably wave goodbye to Pete Thomas, who announced his transfer. There will be ample spotlight on Brissett this spring as he tries to revive the underperforming NC State passing game.
The new faces: If 2013 was about cleaning house, this spring begins the far more difficult project of rebuilding. For NC State, that means plenty of new faces, including a whopping seven early enrollees headlined by safety Germain Pratt. While there are ample holes for Doeren to fill in Year 2, these incoming freshmen could certainly push for starting jobs and bring an influx of depth that the Wolfpack sorely missed last year.
Shoring up the lines: NC State's 2014 signing class included 11 offensive and defensive linemen, and that's just the start of the overhaul at the line of scrimmage. Last season, the Wolfpack allowed the second most sacks in the ACC (35) on offense while its defensive front recorded the fewest sacks in the conference (20). That's a formula for disaster, and Doeren understands NC State must get much better in the trenches. Brissett's arrival at QB could help, but the bottom line is NC State needs to see improvement on both sides of the line, and it needs to start this spring.
Syracuse
Spring start:
March 18
Spring game:
April 19

What to watch:
Hunt's next step: 2013 was a roller coaster season for Terrel Hunt. He lost the QB battle in fall camp, stepped in as starter after two weeks and was dominant, struggled badly through the midsection of the season, then closed strong with back-to-back come-from-behind wins. Now that he has experience, it will be interesting this spring to see how much he's progressed. The talent is there, and spring practice should give Hunt a chance to refine it a bit more.
The defensive front: Syracuse finished its first ACC season ranked fourth in rushing defense and third in sacks despite myriad personnel issues entering the year, but more questions remain as the Orange look toward 2014. With star lineman Jay Bromley and veteran linebacker Marquis Spruill gone, the Orange are looking to fill sizable holes. Robert Welsh figures to be the anchor of the Syracuse pass rush, and the Orange could benefit from the return of Donnie Simmons, who missed 2013 with a knee injury.
Secondary concerns: Syracuse got a chance to learn what life was like without top cover corner Keon Lyn after the senior fractured his kneecap late last year, but while Brandon Reddish did an admirable job as his replacement, a whole new set of questions crops up in the secondary this spring. Syracuse figures to have openings at both corner and safety, and while Julian Whigham, Darius Kelly and Ritchy Desir offer options, there's a lot to be decided on the practice field this spring.
Wake Forest
Spring start:
March 25
Spring game:
April 26

What to watch:
Clawson's early impact: It's been 14 years since Wake Forest opened a spring camp with someone other than Jim Grobe calling the shots, so there's no question this will be an intriguing few weeks in Winston-Salem. Dave Clawson takes over after leading Bowling Green to a MAC championship, and he inherits a major rebuilding job. First up for the coach will likely be creating an offensive identity -- something Grobe couldn't do in 2013.
Identifying some offense: If 2013 was an offensive slog for Wake Forest, 2014 threatens to be much, much worse. As bad as things got at times last year, the Deacons at least had veterans to rely on. This season, Wake's leading passer (Tanner Price), rusher (Josh Harris), receiver (Michael Campanaro) and top tight end (Spencer Bishop) are all gone. On the plus side, plenty of younger players saw action in 2013. The job this spring is to figure out who can take a big step forward entering the 2014 campaign.
The defensive scheme: Wake appears to be moving away from the 3-4 that was a hallmark of recent seasons, as new coordinator Mike Elko tries to maximize the talent remaining on the roster. Without veteran lineman Nikita Whitlock, Wake's defensive front will have a far different look in 2014, and this spring will largely be about Elko identifying playmakers and tweaking his system to fit their skill sets.
March, 6, 2014
Mar 6
9:30
AM ET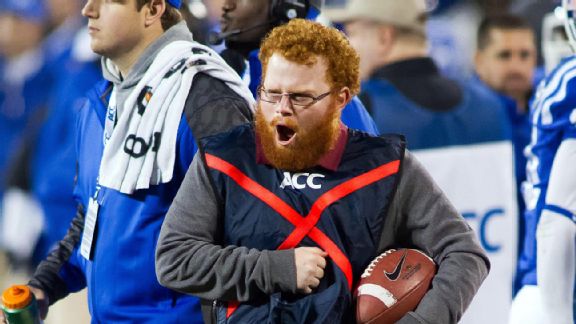 Jeremy Brevard/USA TODAY SportsFSU equipment manager Frankie Grizzle-Malgrat, aka Red Lightning, became known for his enthusiasm and sprints down the field as much as for his red hair and beard.
TALLAHASSEE, Fla. -- They entered in packs, tentatively exploring the upscale bar just a block from Doak Campbell Stadium in search of a Florida State legend.
There were parents with their children, rowdy fraternity brothers with beers in hand, and bubbly coeds laughing amongst themselves, all trying not to seem too eager. Slowly, they'd shuffle over, camera phones or Florida State souvenirs in hand, and make their request.
A father asked the legend to take a picture with his young daughter, then dropped any pretense of dignity and requested another photo of his own. An attractive waitress begged for a follow on Twitter.
Two women snapped pictures and then asked the legend to autograph their T-shirts, which were already emblazoned with his likeness. As he'd done countless times in the past few months, he graciously agreed, scribbling the words "Red Lightning" across the cotton with practiced ease.
"They all come in and say, 'Hey, it's Red Lightning,'" Frankie Grizzle-Malgrat said. "They don't know my real name."
This was a charity event for coach Jimbo Fisher's foundation less than a month after Florida State won the 2013 BCS National Championship and Grizzle-Malgrat, the Seminoles' equipment manager, became a superstar. He offered to donate any proceeds gleaned from his overnight success to the cause, and on this night he was guest bartending while organizers auctioned off Red Lightning prizes, including a chance to challenge him to a footrace.
Grizzle-Malgrat is 21, just six months into his tenure at Florida State after transferring from Tallahassee Community College, and his overnight fame courtesy of a YouTube video has afforded him a unique brand of celebrity. He's part Internet meme, part sports icon, part social construct -- an average guy living every football fan's dream. But mostly, Grizzle-Malgrat is a blue-collar student doing his best to navigate celebrity life with the same earnest enthusiasm that earned him that fame in the first place.
[+] Enlarge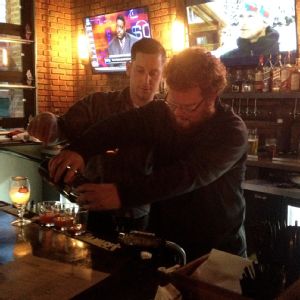 David Hale/ESPNParents, children, frat boys and co-eds all wanted to see Red Lightning when he was a guest bartender at FSU coach Jimbo Fisher's charity event.
When an event organizer informs Grizzle-Malgrat that Candi Fisher, Jimbo's wife, will be arriving soon and that her usual drink order is a Madras, he's instantly flummoxed.
"A mattress?" he inquires. "Like what you lay on?"
Still, bartenders are eager to relay their knowledge as he mixes up concoctions for the growing crowd, including a special "Red Lightning" shot. The original mixture was a bit tame, and by night's end, Grizzle-Malgrat refined the recipe to one more appealing to his fans.
He takes photos with FSU basketball coach Leonard Hamilton, who was eager for an introduction. He's cornered by a trio of men wanting to buy him a drink in exchange for advice on life. After he's pulled away, the men agree: "It's like we're following Jesus."
"Everybody is his friend," Candi Fisher said. "He's just got so much personality."
But Grizzle-Malgrat understands how preposterous the situation is.
In August, he'd reached out to Florida State equipment operations manager Darin Kerns, hoping for a quiet job behind the scenes with his favorite college football team. He drove 650 miles from his hometown of Key West, Fla., on the first day of fall camp, then spent the rest of the next six hours trudging across the practice fields, collecting helmets and laundering uniforms. It was a dream job.
"This is all I ever wanted to do, and it so happened to be Florida State, my favorite football team," Grizzle-Malgrat said. "I couldn't ask for it to be any better."
His enthusiasm was obvious from the outset. Within a month, Grizzle-Malgrat's work ethic earned him a scholarship. He'd stop by the locker room as early as 6 a.m. to lend a hand, even on off days. Some nights, he'd remain at work past midnight. At practice, he began working with the quarterbacks, clicking with eventual Heisman winner
Jameis Winston
. On game days, Grizzle-Malgrat was a whirlwind of energy, sprinting down the sidelines following a big run, celebrating with players after a score, even jawing with the opposition when tempers flared.
It wasn't just the equipment staff that appreciated Grizzle-Malgrat's passion, however. With his shaggy red beard and bright, curly hair, he's easy enough to spot from the stands, which is how photographer and FSU fan Jake Brashears first took notice. Brashears dug up TV clips of Seminoles highlights that featured Red Lightning in the background, assembled the video and posted it to YouTube after FSU's win over Florida. It became an instant phenomenon.
By the time Florida State arrived in Charlotte for the ACC championship game a week later, Red Lightning was a household name.
For Grizzle-Malgrat, the next few weeks were a blur. In Charlotte, he met longtime broadcaster Brent Musburger, and the two struck up a friendship. At clubs, eager women swarmed him, posing for photos with their arms wrapped around him. When stopped at traffic lights, drivers honked and yelled his name. His fellow equipment managers basked in the shared spotlight, and suddenly players were joking that Red Lightning had become the most famous member of the Seminoles entourage.
"They love him," Kerns said. "Jameis came back from the Heisman and was like, 'They were asking about you, Red Lightning.'"
Back home in Key West, Grizzle-Malgrat's sudden fame wasn't quite as much of a surprise. He's always been an avid sports fan, and he's always been passionate about his work. The YouTube video simply captured what his hometown had seen for years.
"It's him," his mother, Kim, said. "He was full on. He got most school spirit. He's constantly full throttle."
Still, his family is amused by the celebrity in their midst. At church during a trip home for the holidays, Grizzle-Malgrat was mobbed with photo requests. Kim keeps a picture from the Internet of Winston and her son captioned, "One of these men is a living legend. The other is Jameis Winston."
At Kim's Kuban, a sandwich shop she owns, a Pepsi distributor provided a banner for the national championship game that read: "Home of Red Lightning."
The video still gets clicks and numerous spinoffs have followed. At the bar, women still shout for Red Lightning, and he still poses for numerous pictures. But Grizzle-Malgrat knew from the outset that fame was fleeting, so he's embraced its inevitable end point.
Before he leaves for spring break -- a trip back home to Key West -- Grizzle-Malgrat plans to shave the scraggly beard he's been growing since August and tame the frazzled curls that became his trademark. After that, he expects, the Red Lightning phenomenon will likely fade into Internet obscurity.
"It's kind of a good thing," he said. "I'll stay out of the spotlight then."
But even after the beard disappears, the legend of Red Lightning will remain embedded into the story of Florida State's national championship run.
And when the 2014 season kicks off this fall, Grizzle-Malgrat will be back, too, sprinting down the sideline, a ball tucked under his arm, doing what comes naturally.
"I never thought just me doing my job would be something out of the ordinary for other people," he said. "Now over a million people have seen me hustle, seen the passion I have toward everything, especially sports. I guess that's what made it big."
March, 6, 2014
Mar 6
9:00
AM ET
Virginia Tech quarterback
Mark Leal
looked around his position meeting room this winter and realized just how empty it was. True freshman
Andrew Ford
, who enrolled early, and redshirt freshman
Brenden Motley
were his only company.
None of them has ever started a game.
"This is probably the most slim it's been since I've been here," said Leal, a fifth-year senior. "We've always had at least five or six guys, but right now it's only three."
[+] Enlarge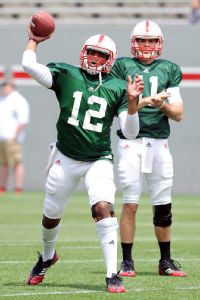 Lance King/Getty ImagesJacoby Brissett (12) is one of several transfers who could move into starting roles in the ACC in 2014.
Sounds like the entire ACC, where six schools have absolutely zero quarterbacks returning with any starting experience, and four schools brought in transfers to help.
As spring practices begin throughout the conference, the ACC kicks off its 2014 season with a complete overhaul at the quarterback position. It was only a year ago that Florida State's
Jameis Winston
was an unproven rookie who had yet to start a game. Now, the 20-year-old reigning Heisman Trophy winner is the veteran of the league, as nine of the 14 schools will have a first-year starting quarterback, and the competition is open at 11 programs. Florida State, Duke and NC State are the only programs that have definitively named starters, and even NC State doesn't know what to expect out of first-year starter and Florida transfer
Jacoby Brissett
.
Brissett, though, knows what's expected.
"Go make sure it was earned," he said, "not given."
Count on that to be a trend in the conference this spring.
Clemson, Georgia Tech, Louisville, Pittsburgh, Virginia Tech and Wake Forest are all starting from scratch, without any starting experience at the quarterback position. Some of the league's most recognizable names have to be replaced, including
Tajh Boyd
,
Logan Thomas
and
Teddy Bridgewater
. Coaches at North Carolina, Syracuse and Virginia have deemed their competitions open, in spite of experienced starters returning.
"I looked at that and was kind of surprised," said Georgia Tech quarterback
Justin Thomas
, the frontrunner to take over the job after
Vad Lee
's decision to transfer. "It should even the playing field out a little bit, but at the same time, we all have to go through our parts."
Not to mention spring and summer auditions.
Clemson coach Dabo Swinney said it's likely the competition between
Chad Kelly
,
Cole Stoudt
and
Deshaun Watson
will extend beyond this spring -- and possibly into the season.
"Going in, Cole starts out as No. 1 simply because of where we finished the season -- basically by default, if you will," Swinney said. "He's the senior. It's basically his to lose going in, but it's incredibly close. You're talking about -- in my opinion -- three guys who are going to play in the NFL. I believe with all my heart that Cole Stoudt is going to play in the NFL. And the same thing with Chad Kelly, and the same thing with Deshaun Watson, if they stay healthy. So you've got three NFL players competing to be the guy, and there's nothing wrong with that. Some people say, well, if you don't have one quarterback then you have none. But that's not the case here."
It could be the case elsewhere, though.
Virginia Tech (Michael Brewer), Boston College (
Tyler Murphy
), Miami (
Ryan Williams
) and NC State (Brissett) are all hoping that transfers can give the position an immediate boost, but former Texas Tech quarterback Brewer won't join the Hokies until this summer. While none of them has started a game at their current schools, all but Brewer have started at least three games at their previous programs.
Williams started 10 games while he was at Memphis, and he's the leading candidate to replace
Stephen Morris
, but "it is wide open," according to offensive coordinator James Coley. And Williams knows it.
"You have to earn it, you have to earn everything," Williams told the South Florida Sun-Sentinel. "I don't want anything given to me. If it's given to me, I didn't work hard enough."
Brissett started three games at Florida, and Murphy started six games for the Gators after starter
Jeff Driskel
was lost for the season. Murphy went 2-4 with 1,216 yards, six touchdowns and five interceptions before missing the final three games of the season with a shoulder injury.
Nothing is guaranteed in Chestnut Hill this spring, either, as the Eagles also have
Darius Wade
, a true freshman who enrolled early, and
James Walsh
, who will be a redshirt freshman.
[+] Enlarge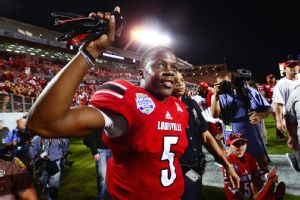 David Manning/USA TODAY SportsThe Cardinals are about to embark on life without Teddy Bridgewater.
"They're all real green," offensive coordinator Ryan Day said of the Eagles' quarterbacks. "It's obviously an open competition. I'm looking forward to getting out there and seeing them throw and run the offense. We'll see. All three of these guys are mobile, they can run. They're dual threats. We're going to use that as a weapon for us. We're not going to totally change what we do, but we'll add that component to it."
All eyes will be on Louisville's quarterback competition, as the Cardinals enter their first season in the ACC without Bridgewater, who left early to enter the NFL draft.
Will Gardner
and
Kyle Bolin
will be the top two candidates this spring, and they'll be joined by incoming freshman
Reggie Bonnafon
this summer.
"It's wide open," first-year coach Bobby Petrino said. "We'll go through spring and see who comes out 1-2-3 and then obviously we'll give Reggie an opportunity in the fall to compete with those guys."
With the addition of Louisville, the ACC enters this season perceived by many to be the strongest it has ever been.
Now it just needs to find a few quarterbacks to help prove it.
March, 6, 2014
Mar 6
9:00
AM ET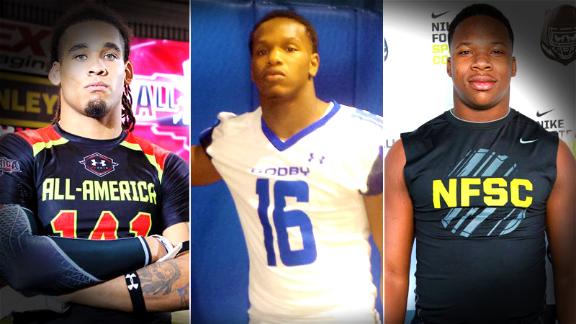 With national signing day in the books, RecruitingNation is looking at the top position classes in each conference. For the full series,
click here
.
Quarterback

Syracuse is going to an open, up-tempo offense next season, and, on national signing day, the Orange signed a pair of quarterbacks who could be near-perfect fits. Four-star recruits
Alin Edouard
(Hialeah, Fla./Hialeah) and
A.J. Long
(Lebanon, Tenn./Friendship Christian) fit the bill as athletically skilled, dual-threat prospects who can play fast and spin the ball.
To continue reading this article you must be an Insider
March, 5, 2014
Mar 5
12:30
PM ET
It was only a few months ago
Emanuel McGirt
's sister, Camille, introduced McGirt to Myron Rolle's story. McGirt, a talented lineman with seven BCS offers, dreams of playing in the NFL, but Camille sat McGirt down and talked of the need for a backup plan.
She had one in 2010, when an ACL tear ended her basketball career at Hampton but didn't derail her from interning at the White House or founding her own company. However, Rolle, a former No. 1 high school recruit and All-American, had a much more public Plan B.
[+] Enlarge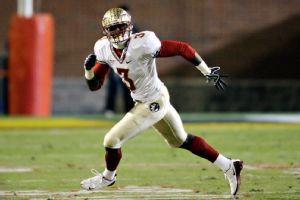 AP Photo/Rob CarrMyron Rolle's experiences in the classroom, as well as on the field, as made him an inspiration to recruits.
"She told me about Myron Rolle a couple months ago," said McGirt, who attends Durham (N.C.) Hillside, "but I didn't pay attention."
That lesson registered Saturday, as McGirt's eyes were fixated on Florida State's junior day guest speaker. They were fixated on Rolle.
"He said don't let football define you," said McGirt, who has a 3.92 high school GPA. "You always hear it from someone who never played football, so it's good to hear from someone who made it. He makes you feel comfortable to be smart and play football."
Football has never defined Rolle, who attended a Rhodes Scholar interview and played safety for the Seminoles on the same night. So when Rolle enrolled at Florida State following a short NFL career to concentrate on neurosurgery, Jimbo Fisher approached him about speaking to prospects during recruiting weekends. Rolle "unequivocally" accepted.
"I truly support the program and ideology Coach Fisher has for the team," Rolle said. "So anyway I can help augment the process by [FSU] being a program that not only puts players in the NFL but puts degrees in players' hands, I'm all on board."
Rolle was the first No. 1 high school recruit for ESPN, which began ranking prospects in 2006. A Bahamian emigrant, he landed in New Jersey and attended a prestigious prep school just three miles from Princeton University. High school classmates, many Ivy League bound, pushed Rolle to go to Stanford or Notre Dame, even nearby Princeton. Attending football factory Florida State would be selling himself short, some told him.
"They were trying to put me in a box, and I told recruits don't let anyone take the pen and write their narrative," Rolle said. "... [The recruits] were very perceptive, locked in and engaged, and asked great questions. [Football] is going to end for everybody ... [and] we're all going to have to exit stage left. I had to leave the game after being No. 1 in the country, I'm an example, and it resonated."
Derwin James Jr.
was in Tallahassee on Saturday and sat in on Rolle's 30-minute speech to recruits. The two spoke one-on-one afterward, and Rolle's first questions were about James' GPA and leadership qualities. Rolle was not interested in discussing the fact that James is also the country's No. 1 safety and planning to enroll at Florida State next year.
"He's my new role model," James, who owns a 3.4 GPA, said. "That's a person I see myself wanting to be like."
March, 5, 2014
Mar 5
12:00
PM ET
ACC hoops has gotten all kinds of silly down the stretch here.
March, 5, 2014
Mar 5
11:00
AM ET
It is officially time for Florida State to put its 2013 championship season behind it and begin pursuit of a second consecutive national title as spring practice is just two weeks away.
While many of the Seminoles' top players will return to Doak Campbell Stadium this fall, graduation, early departures and transfers have left coach Jimbo Fisher searching for answers at a handful of positions. There is talent and depth across the board, but the FSU staff is hoping key replacements emerge this spring before being thrust into pivotal roles in the fall.
[+] Enlarge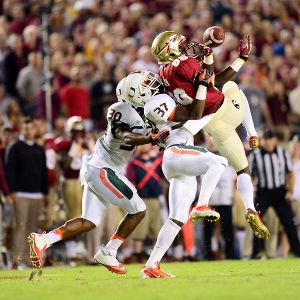 Phil Ellsworth/ESPN ImagesSeminoles wideout Christian Green caught 13 passes for 157 yards in 2013.
This week we look at five key position battles for the Seminoles this spring, and Wednesday we break down the competition to replace
Kelvin Benjamin
at receiver. The
backup quarterback battle
was dissected Monday, and Tuesday we examined the
depth chart at running back
.
Position:
Receiver (Z)
Replacing:
Kelvin Benjamin
Candidates:
Jesus Wilson
,
Christian Green
,
Jarred Haggins
and
Isaiah Jones
A potential first-round pick, it will be tough for Florida State to replace the size and speed combination of Benjamin. While the Noles have a few playmakers at receiver, they lack another option with similar physical tools (6-foot-5, 234 pounds) coupled with the consistent production (54 receptions, 1,011 yards and 15 touchdowns) of Benjamin. When Florida State needed a play late in the VIZIO BCS National Championship, it looked to Benjamin to outmuscle and outjump the Auburn defense in the red zone.
Green, at 6-2, and 200 pounds, has a physical presence about him, but the senior took a step back in 2013. If there is a player on the roster this spring who could be the next Benjamin, it could be the sophomore Jones. The 6-4, 200-pound receiver played sparingly as a freshman but was a top-20 receiver nationally coming out of high school. Like Benjamin, Jones is not a burner but is a "big guy who has a noticeable second gear," his RecruitingNation scouting report states.
The "Z" receiver in the offense is usually not a player with the type of physical gifts Benjamin possesses, however, which could make it somewhat easier to replace him. The Z receiver, or flanker, is generally lined up off the line of scrimmage, which makes for an easier release off the line of scrimmage by avoiding a jam from the cornerback. Benjamin's backup in 2013 was Wilson, a 5-9, 177-pound freshman. Haggins is 6-0 and 193 pounds, and he is coming off a knee injury that cost him all of 2013.
In all likelihood, Fisher will have a player at the top of the depth chart by the end of the spring, but the receiver position opposite
Rashad Greene
will not be settled until August. No program might have signed a better receiver class this past February than Florida State, which landed three ESPN 300 prospects at the position.
Among them is
Ermon Lane
, the No. 2 receiver in the country. When the 6-2, 196-pound Lane enrolls this summer, he will immediately become one of the names to watch in preseason camp. Fellow ESPN 300 receivers
Travis Rudolph
(6-1, 188) and
Ja'Von Harrison
(6-1, 190) have similar builds and high school credentials.
March, 4, 2014
Mar 4
12:00
PM ET
March, 4, 2014
Mar 4
11:00
AM ET
It is officially time for
Florida State
to put its 2013 championship season behind and begin pursuit of another as spring practice is just two weeks away.
While many of the Seminoles' top players will return to Doak Campbell Stadium this fall, graduation, early departures and transfers have left Jimbo Fisher searching for answers at a handful of positions. There is talent and depth across the board at nearly every position, but the FSU staff is hoping key replacements emerge this spring before being thrust into pivotal role this fall.
[+] Enlarge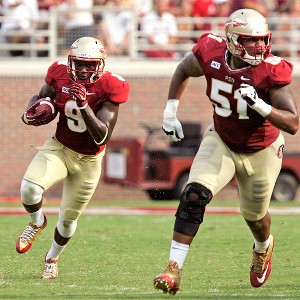 AP Photo/Steve CannonThe big and speedy Karlos Williams (left) will have some help in the Seminoles backfield this season.
This week we look at five key position battles this spring, and Tuesday's focus is the competition at running back. The battle for the
backup quarterback job
was broken down Monday.
Position:
Running back
Replacing:
Devonta Freeman
and
James Wilder Jr
.
Candidates:
Karlos Williams
,
Mario Pender
,
Ryan Green
and
Dalvin Cook
Freeman finally broke the streak of 16 consecutive seasons without a 1,000-yard rusher at Florida State, rushing for 1,016 yards, becoming the first Florida State running back since Warrick Dunn in 1996 to eclipse the 1,000-yard mark. Freeman promptly bolted early for the NFL just days later.
In another mild surprise, Wilder also declared for the NFL draft following his junior season. While Freeman received the bulk of the carries, Wilder was usually the one to give Freeman a chance to catch his breath on the sidelines before Williams would come in for mop-up duty in the second half. Combined, Freeman and Wilder tallied 1,579 yards and 22 touchdowns on 254 rushes.
With those two off to the NFL, along with receivers
Kelvin Benjamin
and
Kenny Shaw
,
Jameis Winston
could use a sound running game to alleviate the increased pressure he will certainly see from defenses. In 2013, Wilder averaged seven yards per carry and Freeman's average was just shy of six yards. Without that solid run support, it could mean Winston and Florida State will see more second- and third-and-long situations.
Before the 2013 season, Williams was moved to running back from safety, and he now looks poised to be the starting tailback for the Noles going forward. But few offensive staffs rely on just a single running back, and Fisher has never given his top running back more than 28 percent of the team's total carries in any of his first four seasons.
Athletically, the 6-foot-1, 223-pound Williams looks capable of handling the lion's share of the carries, but Fisher will likely rely on a committee that could rotate as many as four players at the position. Redshirt sophomore Pender is back with the team after academics and injuries cost him his first two seasons. His RecruitingNation scouting report speaks glowingly of Pender, stating the 5-foot-10, 192-pound back can develop into an every-down player that can "run with patience or stick it downhill" as well as "turn the corner and take it the distance." Few prospects boast the kind of speed Pender owns. He ran 10.61 in the 100-meter dash in high school. The eighth-ranked running back in the 2012 class, Pender is the only running back among the top 10 at the position from that cycle yet to take a snap.
The Noles have speed to burn at running back with Pender, sophomore Green and early enrollee Cook. Green was the No. 3-ranked athlete coming out of high school and was electronically timed at 4.45 in the 40-yard dash. As a freshman, Green saw action in 12 games and averaged 4.9 yards per carry on his 33 attempts. He figures to see an increased role in 2014 and could backup Williams, especially if Pender fails to see the field again.
Cook, who was timed at 4.46, was No. 3 at his position in the 2014 cycle and enrolled in January following a flip from Florida. He is already on campus and can participate in spring drills. It would not be a surprise to see Cook have a significant role this coming season.
March, 3, 2014
Mar 3
12:00
PM ET
March, 3, 2014
Mar 3
11:00
AM ET
It is officially time for Florida State to put its 2013 championship season behind it and begin pursuit of a second consecutive national title as spring practice is just two weeks away.
While many of the Seminoles' top players will return to Doak Campbell Stadium this fall, graduation, early departures and transfers have left coach Jimbo Fisher searching for answers at a handful of positions. There is talent and depth across the board, but the FSU staff is hoping key replacements emerge this spring before being thrust into pivotal roles in the fall.
This week we will look at five key position battles for the Seminoles this spring, beginning with the No. 2 quarterback.
[+] Enlarge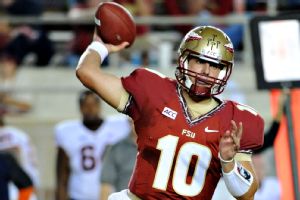 Melina Vastola/USA TODAY SportsAfter seeing limited action in 2013, Sean Maguire will be in the mix to be the No. 2 quarterback behind Jameis Winston in 2014.
Position:
Backup quarterback
Replacing:
Jacob Coker
(transferred to Alabama)
Candidates:
Sean Maguire
and
John Franklin III
The old joke is that the backup quarterback is always the most popular player on the team, but nobody will be laughing in Tallahassee if
Jameis Winston
cedes to the second-string quarterback if the game is not well in hand. FSU was lucky last season that Winston avoided any significant injury, but the Noles need to be prepared if he misses time in 2014.
Maguire, a 6-foot-3, 215-pound redshirt sophomore, saw action in eight games last season but was never on the field for a meaningful snap. He has the high school credentials -- he was the
No. 13-ranked quarterback in the 2012 class
-- but has only 21 career passing attempts in the garnet and gold. Still, few people coach quarterbacks better than Fisher, so Maguire certainly could become a viable backup with increased snaps this spring. He has completed 13 of those 21 throws with two touchdowns and two interceptions in his college career.
Franklin is a redshirt freshman who was a three-star dual-threat quarterback in the
2013 class
. It would be somewhat of a surprise to see the 6-foot, 171-pound Franklin take over the reins as the backup quarterback given Fisher's penchant for the traditional pocket passer. There were a lot of positive reviews of Franklin out of Florida State's practices in December as he played the role of shifty Auburn quarterback
Nick Marshall
in championship game preparations. But 2013 was a redshirt season for Franklin, who spent most of his first semester focusing on the classroom and weight room while serving on the scout team.
The Noles also have a host of walk-on quarterbacks, but the hope is that either Maguire or Franklin can solidify the position behind Winston. If not, incoming freshman
J.J. Cosentino
will be on campus in time for fall practice. Cosentino hails from Pittsburgh Central Catholic, which has produced several big-time college quarterbacks over the last few decades -- Hall of Famer
Dan Marino
and Pro Bowler
Marc Bulger
among them.
Certainly Fisher's hope is once again to keep his No. 2 quarterback off the field outside of lopsided victories, which could give him an opportunity to have a five-way competition for the starting spot in 2015 should Winston declare for the NFL draft following this season. Maguire, Franklin and Cosentino should still be on scholarship then and would be joined by 2015 ESPN Junior 300 quarterback commit
De'Andre Johnson
out of Jacksonvile (Fla.) First Coast and potentially one more 2015 signee.
February, 28, 2014
Feb 28
12:00
PM ET
February, 28, 2014
Feb 28
11:00
AM ET
Spring practice is just a few weeks away for Florida State, and while the defending national champs return plenty of talent to make another run at a title, there are still some big question marks looming as the Seminoles begin work on the 2014 season. With that in mind, we're looking at the five most intriguing players to watch this spring and projecting how they might fit into Jimbo Fisher's plans in the fall.
[+] Enlarge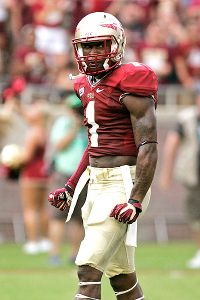 AP Photo/Steve CannonReturning from a season-ending neck injury has Tyler Hunter primed to return to his leadership role in FSU's secondary.
We've already discussed
Nile Lawrence-Stample
,
Mario Pender
,
Christian Green
and
Reggie Northrup
.
Last up:
S
Tyler Hunter
Credentials:
In 2012, Hunter won the job as Florida State's top nickel back, and he delivered solid results for a secondary that finished the year ranked as the country's top pass defense. He was poised for even bigger things in 2013, winning the starting safety job in fall camp and getting off to a strong start on the field. In Week 3, however, Hunter suffered a potentially career-threatening neck injury making a tackle and he didn't play again the rest of the season. Surgery repaired the damage, however, and Hunter insists he's ready to get back on the field in 2014.
How he fits:
Florida State lost perhaps its best defender in
Lamarcus Joyner
, but Hunter provides a perfect candidate to replace the All-American. Joyner moved from safety to corner in 2013, excelling in coverage at nickel and as a pass rusher, where he led Florida State with 5.5 sacks. Hunter lacks the top-end speed that Joyner had, but he's still fast and would be comfortable at safety, corner or nickel (not to mention punt returner). Whether he fills a role similar to Joyner's remains to be seen, but his combination of skills and experience gives FSU plenty of options.
Competition:
Florida State's secondary is jam-packed with talent, from young studs like
Jalen Ramsey
and
Nate Andrews
to established stars like
Ronald Darby
and
P.J. Williams
. What it's potentially lacking -- and what the defense as a whole is missing without Joyner,
Telvin Smith
and
Timmy Jernigan
-- is an established veteran leader. Hunter set that tone last spring as the unquestioned leader of the defense, spending countless hours studying film of Jeremy Pruitt's new scheme, then organizing seven-on-seven drills throughout the summer to ensure his teammates had the system down pat.
Outlook:
For the past five years, Florida State's defense has had the luxury of on-field leadership, courtesy of Lowndes County High. First it was Greg Reid. Then it was Telvin Smith. In 2014, Hunter is the heir apparent. He was integral in transitioning the Seminoles into Pruitt's new defensive scheme last year, and he'll play a similar key role as Charles Kelly takes over this spring. But more than just leadership, Hunter needs to provide impact on the field. With his neck injury behind him, he could easily slip into a hybrid role filled so nicely by Joyner last year, and he could establish himself as one of the ACC's biggest impact players in what promises to be an exceptional secondary.
Five Programs Expecting 2014 Boost
ACC SCOREBOARD
Saturday, 12/21
Monday, 12/23
Tuesday, 12/24
Thursday, 12/26
Friday, 12/27
Saturday, 12/28
Monday, 12/30
Tuesday, 12/31
Wednesday, 1/1
Thursday, 1/2
Friday, 1/3
Saturday, 1/4
Sunday, 1/5
Monday, 1/6