December, 11, 2013
Dec 11
3:34
PM ET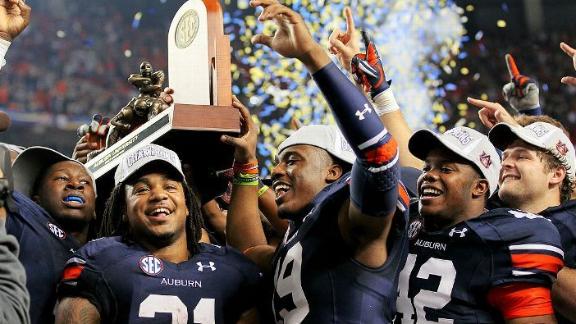 Mark Skiba's father was on vacation in Las Vegas last January when he looked at the future odds for Auburn to win the national championship: 500 to 1.
So he called he son, a Tigers fan who graduated from the school in 1998.
"I told my dad to put $100 on it," Skiba said. "And he said, 'You're crazy.'"
Thanks to an improbable 12-1 season, which included spectacular finishes against Georgia and in the Iron Bowl against Alabama, Skiba and a handful of others have a chance to make a lot of money on the Vizio BCS Championship Game.
Skiba, whose bet was placed at the Paris Hotel & Casino on the Vegas Strip, didn't even get the best odds.
The Las Vegas Hotel says it had 14 bettors who placed a bet on Auburn to win it all at 1,000-1 odds. A spokesman for Sportsbook.com said it had two bettors who threw down $100 at 1,000-1 odds.
By comparison, Florida State opened the season with 40-1 odds to win the national title. The top-ranked Seminoles (13-0) will face Auburn on Jan. 6 in Pasadena, Calif.
For most of the season, Mark Skiba's betting slip lived in a drawer in his Alabama home, but it almost found its way to the bottom of a trash can after the team lost to LSU in September.
"They lost by 14 and it could have been worse," Skiba said. "So I almost threw it out. As it turns out, I now have it in a safety deposit box."
December, 11, 2013
Dec 11
3:20
PM ET
Florida State quarterback
Jameis Winston
was voted the ACC Player of the Year, Offensive Player of the Year, Rookie of the Year and Offensive Rookie of the Year by the
ACC's head coaches
.

Coaches were not allowed to vote for their own players, and ballots were worth three points for each first-team, two points for second-team and one point for third-team selections.
Winston was one of three unanimous first-team selections to the All-ACC team (named on all 13 possible ballots). He was joined by national rushing leader and fellow Heisman finalist
Andre Williams
of Boston College and Clemson wide receiver
Sammy Watkins
, a finalist for the Biletnikoff Award.
Bronko Nagurski Trophy winner
Aaron Donald
of Pitt was voted the ACC Defensive Player of the Year. Duke's David Cutcliffe was voted the ACC Coach of the Year by his peers for the second straight season, and Virginia Tech cornerback
Kendall Fuller
picked up ACC Defensive Rookie of the Year honors.
2013 ACC Coaches All-ACC Football Team
(Voting points in Parentheses)
First Team
Offense
QB—Jameis Winston, Fr.-R, Florida State (39)
RB—Andre Williams, Sr., Boston College (39)
RB—Devonta Freeman, Jr., Florida State (28)
WR—Sammy Watkins, Jr., Clemson (39)
WR—Rashad Greene, Jr., Florida State (31)
WR—Jamison Crowder, Jr., Duke (31)
TE—Eric Ebron, Jr., North Carolina (38)
T—Cameron Erving, Jr.-R, Florida State (31)
T—Brandon Thomas, Sr.-R, Clemson (23)
G—Laken Tomlinson, Jr.-R, Duke (26)
G—Tre' Jackson, Jr., Florida State (23)
C—Bryan Stork, Sr.-R, Florida State (38)
Defense
DE—Vic Beasley, Jr., Clemson (35)
DE—Jeremiah Attaochu, Sr., Georgia Tech (29)
DT—Aaron Donald, Sr., Pitt (35)
DT—Timmy Jernigan, Jr., Florida State (33)
LB—Telvin Smith, Sr., Florida State (37)
LB—Denzel Perryman, Jr., Miami (30)
LB—Kevin Pierre-Louis, Sr., Boston College (28)
CB—Lamarcus Joyner, Sr., Florida State (38)
CB—Kyle Fuller, Sr., Virginia Tech (32)
S—Terrence Brooks, Sr., Florida State (33)
S—Anthony Harris, Jr., Virginia (22)
Special Teams
PK—Roberto Aguayo, Fr.-R, Florida State (28)
P—Pat O'Donnell, Sr.-R, Miami (31)
SP—Jamison Crowder, Jr., Duke (27)
December, 11, 2013
Dec 11
2:30
PM ET
Nick Saban's name is sure to come up in every high-profile coaching job that opens until he decides to retire.
That's just the nature of the business when you've had the kind of success Saban has had with four national championships in the last 11 years.
[+] Enlarge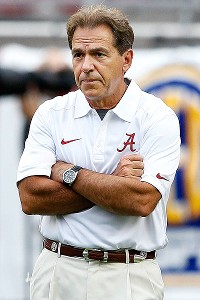 Kevin C. Cox/Getty ImagesAlabama coach Nick Saban has several protégés who are now head coaches, including Florida State's Jimbo Fisher, Florida's Will Muschamp and Michigan State's Mark Dantonio.
He won't be playing for a national title this season, but one of his protégés will -- Florida State's Jimbo Fisher.
In fact, it's been an eventful season all the way around for the Saban coaching tree.
Since we're all into power rankings this time of year, let's roll out the power rankings for the Saban coaching tree coming out of this season. In other words, those guys who have coached under Saban at some point in the college ranks and have gone on to be head coaches either in major college football or the NFL.
1. Jimbo Fisher, Florida State head coach:
We'll go with Fisher at No. 1 on this list since he has the No. 1 Seminoles unbeaten and headed to the VIZIO BCS National Championship game to face Auburn. It's their first trip to the national title game since the 2000 season. Fisher is a finalist for the Eddie Robinson Coach of the Year Award. His Seminoles have been dominant this season. They've won all 13 of their games by 14 or more points and 12 of their 13 games by 27 or more points. Fisher was Saban's offensive coordinator at LSU from 2000-04.
2. Mark Dantonio, Michigan State head coach:
Another finalist for the Eddie Robinson Coach of the Year Award, Dantonio has Michigan State in the Rose Bowl for the first time since the 1988 season and led the Spartans to a school-record 12 wins this season. This will be their seventh straight bowl appearance. Dantonio was Saban's secondary coach at Michigan State from 1995-99.
3. Jim McElwain, Colorado State head coach:
In his second season at Colorado State, McElwain has the Rams in a bowl game for the first time since the 2008 season. They will face Washington State in the New Mexico Bowl. McElwain was a part of two national championship teams at Alabama under Saban as the Crimson Tide's offensive coordinator from 2008-11.
4. Pat Shurmur, Philadelphia Eagles offensive coordinator:
Now in his first season with the Eagles, Shurmur was the Cleveland Browns head coach from 2011-12. He coached under Saban at Michigan State from 1995-97 as the Spartans' tight ends coach.
5. Josh McDaniels, New England Patriots offensive coordinator:
This is McDaniels' second season as the Patriots' offensive coordinator. He was the Denver Broncos' head coach from 2009-10 and was a graduate assistant under Saban at Michigan State in 1999.
6. Will Muschamp, Florida head coach:
After a breakthrough second season at Florida and a trip to the Sugar Bowl, Muschamp's Gators suffered through a dismal 4-8 season this year that was marred by a litany of injuries. It was Florida's first losing season since 1979. The Gators lost their last seven games, including a home loss to Georgia Southern. It goes without saying that Year No. 4 will be a critical one for Muschamp, whose Gators have struggled on offense. Muschamp coached under Saban at LSU as the linebackers coach in 2001 and defensive coordinator from 2002-04. He was also Saban's assistant head coach with the Miami Dolphins in 2005.
7. Derek Dooley, Dallas Cowboys receivers coach:
Now in his first season with the Cowboys, Dooley was the head coach at Tennessee from 2010-12. The Vols suffered through losing seasons all three years and managed just five SEC wins, leading to Dooley's firing. Dooley was the head coach at Louisiana Tech for three years prior to his stint at Tennessee. He coached under Saban at LSU from 2000-04 as tight ends coach and then running backs coach. From there, he went with Saban to the Miami Dolphins and coached tight ends before getting the Louisiana Tech head job in 2007.
December, 11, 2013
Dec 11
12:57
PM ET
By
Alok Pattani
| ESPN.com
Getty ImagesWhat teams would join Florida State and Auburn if there were a playoff this year?
If there were a four-team playoff this year, the current version of the
Championship Drive Ratings
would suggest that the four most deserving teams on résumé alone are
Stanford
,
Florida State
,
Auburn
and
Michigan State
.
Stanford is the highest-rated team in the current version of the Championship Drive Ratings on account of putting together a great performance against a top-five schedule. In the 10 years for which we have play-by-play data, no team with a schedule rated in the top five has done as well -- taking into account wins and average win probability -- as Stanford this year. An average FBS team would have won less than four games against Stanford's schedule and would have had an average in-game win probability well below the Cardinal's 72 percent.
If we are specifically interested in rating top teams' résumés (and we generally are), one potential modification to this method would be to look at things from a top-team perspective rather than an average-team viewpoint. So instead of looking at how an average team would do against these teams' schedules, how would a team at the 90th percentile -- such as
Clemson
this season -- do? The below chart helps answer this question.
The expectations rise against each of these team's schedules, obviously, but now Auburn's and Florida State's results look more impressive relative to schedule than Stanford's résumé. At the same time, going 11-2 against Stanford's schedule would have been harder even for a top team than going 12-1 against
Michigan State's
schedule or 11-1 against
Alabama's
slate.
If you want to go beyond pure résumé and look at how strong the teams actually are, take a look at the
Football Power Index
top five: Florida State,
Oregon
, Alabama, Stanford and
Baylor
. Auburn is eighth, and Michigan State is quite a bit lower.
There is no exact answer here, but if you combine the numbers above with the stated goals of the College Football Playoff committee to value strength of schedule and conference champions, it's pretty clear that Florida State, Auburn and Stanford -- yes, even with two losses -- should each earn a spot in the playoff. Each of those teams has a very solid résumé from either a top team or an average team perspective, and all three are rated strongly by FPI.
The fourth spot gets a bit trickier. From either the average team or top team perspective, Michigan State's résumé of wins and losses alone is about as impressive as Alabama's, and the Spartans have a conference championship that the Tide don't. On the other hand, FPI shows that Alabama is quite clearly the stronger team, so if you put the résumé criteria aside at that point and just pick the better team, Alabama would be the choice.
December, 11, 2013
Dec 11
12:00
PM ET
December, 11, 2013
Dec 11
10:30
AM ET
TALLAHASSEE, Fla. -- It's not just Auburn standing in the way of a national championship for Florida State. It's history.
For seven straight seasons, the BCS title game has been dominated by the SEC, so when this year's matchup was set, the question for the Seminoles wasn't simply whether they could match up with the Tigers, but whether they possessed the magic formula to finally snap that league's stranglehold on the trophy so many SEC fans now view as a birthright.
[+] Enlarge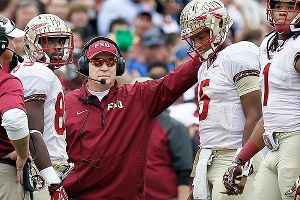 Don Juan Moore/Getty ImagesJimbo Fisher has stockpiled FSU with talent and won several recruiting battles against SEC heavyweights.
But just because the dominance of the mighty SEC provides an easy narrative for this year's championship game, Florida State isn't buying in to the hype.
"It's not the ACC vs. the SEC," cornerback
Lamarcus Joyner
said. "It's Florida State vs. Auburn. It's a bunch of great, talented kids over here vs. great talented kids."
In the wake of Florida State's win over Duke, wrapping up a second straight ACC title and securing the Seminoles' spot in the VIZIO BCS Championship Game, coach Jimbo Fisher was quizzed on how he assembled his such a talented group of players. A longtime assistant at Auburn and LSU and a protege of Alabama's Nick Saban, Fisher never hid his appreciation for how the top SEC programs were built.
When six assistant coaches departed following the 2012 season, Fisher looked to the SEC for replacements. He hired Randy Sanders from Tennessee and stole Jeremy Pruitt away from Saban. Sal Sunseri had spent years coaching in the SEC, too. When Pruitt came aboard and installed a new defense, he sold players on the system by showing them film of Alabama.
Even beyond X's and O's, however, Fisher has worked to instill an SEC culture at Florida State. In February, he told a Minnesota radio station that building his program in Alabama's image was the path to success.
"I went against [Saban] every day in practice for five years," said Fisher, who was Saban's offensive coordinator for five years. "He's done a great job of organizing. He's got the structure. People don't realize he's got the infrastructure really set up.
"That's why we've been able to make our jump at Florida State. We've got our infrastructure set up where we can keep replacing guys, and I think we'll be in that national title hunt every year, just like they are."
Fisher's words proved prescient. After the Seminoles had 11 players from last year's team selected in the NFL draft -- more than any other school -- Fisher simply plugged in talented replacements, and Florida State never faltered.
But now that his prediction has come true, Fisher isn't so eager to tip his cap to the conference that has won the last seven national titles.
"I built our program like I thought we needed to build it to win a national championship," Fisher said. "We don't model ourselves after nobody. We're Florida State, and we do things the way we do them, the way I think you have to play to win a championship. That's the way we tried to build this team."
Fisher can bristle at the comparisons, but it's hardly a slight. And while the culture he's created at Florida State looks awfully similar to what Saban installed at Alabama, the key for the Seminoles on Jan. 6 will be the players Fisher has recruited.
"

Its not the ACC vs. the SEC. Its Florida State vs. Auburn. Its a bunch of great, talented kids over here vs. great talented kids.

"

-- FSU cornerback Lamarcus Joyner
In his four years on the job, Fisher has won his share of recruiting battles going head to head with Auburn, Alabama and Florida. Since 2010, only two programs have finished with top-10 classes every year, according to ESPN's rankings: Alabama and Florida State. And when FSU takes the field against Auburn in Pasadena, all but two members of its starting lineup will be players who spurned SEC offers to play for the Seminoles.
In other words, it's not about how good the SEC players are in the other locker room. Florida State has plenty of talent of its own.
"We always say the opponent has no face," linebacker
Telvin Smith
said. "We're not looking at them and saying, 'Oh, they're Auburn' or 'They come from the SEC.' We're going out there to compete against ourselves."
After seven years of SEC dominance, the challenge Florida State poses this year might finally be enough to end the streak.
Of the last six non-SEC teams to play for a national title (two SEC teams faced off in 2011), Florida State has the most yards per play (7.8), scored the most points per game (53), held opponents to the fewest points (10.7 per game), and compiled the second-best turnover margin (+17). The difference between the Seminoles' yards-per-play and points scored compared with what their defense has allowed this season is nearly double the average of the last six teams to challenge the SEC for a national title.
In other words, Florida State is good, even if it doesn't come from the world's most distinguished conference.
"We're not going to get involved in all this SEC-ACC stuff because we done made it to where we are, and we're not done yet," quarterback
Jameis Winston
said. "We fear no one."
December, 11, 2013
Dec 11
9:00
AM ET
For the first time all season, the power rankings remained unchanged. That's because the only game last week was the ACC championship game, which went as many had expected it would. Not only is FSU still the No. 1 team in the ACC, it's still tops in the BCS standings. Here's how the ACC's pecking order looks heading into bowl season:
1. Florida State (13-0, 8-0 ACC; LW: No. 1):
The Seminoles started slow in the first quarter, but eventually cruised to a 45-7 win over Coastal Division champ Duke. Quarterback
Jameis Winston
won the game's MVP award and was named a finalist for the Heisman Trophy. The next challenge for FSU will be stopping Auburn's run game in the Vizio BCS National Championship.

2. Clemson (10-2, 7-1; LW: No. 2):
The Tigers will play Ohio State in the Discover Orange Bowl, not a bad consolation prize for the No. 2 team in the ACC this year. Clemson could use a win to help its fans forget its last appearance in the Orange Bowl as well as a dreadful performance in a fifth straight loss to SEC rival South Carolina.
3. Duke (10-3, 6-2; LW: No. 3):
The Blue Devils have nothing to be ashamed of after the loss to Florida State, as they held the Noles scoreless for a quarter and were simply overmatched like every other team on FSU's schedule. Duke still earned a spot in the prestigious Chick-fil-A Bowl and will have a chance at another marquee win in a matchup against Texas A&M.
4. Virginia Tech (8-4, 5-3; LW: No. 4):
The Hokies had a respectable season, but it was still far below their expectations and those of their fans. With losses to Boston College, Duke and Maryland, Virginia Tech's hopes of returning to the ACC title game were out of its control. The program will get another shot to finish the season on an impressive note, as it will face a tough UCLA team in the Sun Bowl.
5. Miami (9-3, 5-3; LW: No. 5):
The Hurricanes were a tough team to judge this year, but they remain a work in progress and drew one of the league's most interesting bowl matchups, facing Louisville in the Russell Athletic Bowl. Quarterbacks
Stephen Morris
and
Teddy Bridgewater
will be the main storyline as the Canes aim for a 10-win season.
6. Georgia Tech (7-5, 5-3; LW: No. 6):
The Yellow Jackets squandered a 20-point lead in a loss to rival Georgia, but will get another chance at the SEC when they face Ole Miss in the Music City Bowl. The Rebels' offense has struggled in the past two games, while Georgia Tech is looking to build on its bowl success after last year's win over USC snapped a seven-game bowl losing streak.
7. North Carolina (6-6, 4-4; LW: No. 7):
The Tar Heels are thrilled at their opportunity to return to a bowl game after serving a one-year postseason ban last year because of NCAA sanctions. They'll face Cincinnati in the Belk Bowl, a great chance for coach Larry Fedora to showcase the program to in-state recruits. This will be UNC's fourth appearance in the Belk Bowl, but the program is looking for its first win there.
8. Syracuse (6-6, 4-4; LW: No. 8):
The Orange beat Boston College 34-31 in the regular-season finale to become bowl eligible in the first year under coach Scott Shafer, but Syracuse has already struck out twice against the Big Ten and Minnesota is playing well. Generating offense isn't going to get any easier against the Golden Gophers' stingy defense.
9. Boston College (7-5, 4-4; LW: No. 9):
Despite his injury in the Syracuse game, running back
Andre Williams
was named a finalist for the prestigious Heisman Trophy. Williams is the second player in school history to travel to New York for the Heisman Trophy announcement, joining former Eagles quarterback Doug Flutie. Williams and the Eagles will get an interesting matchup against Arizona in the AdvoCare V100 Bowl.
10. Maryland (7-5, 3-5; LW: No. 10):
The Terps get a virtual home game against Marshall, as they will travel to nearby Annapolis for the Military Bowl -- their final game as members of the ACC before moving to the Big Ten. It's going to be a good test for Maryland, as Marshall won the C-USA East title and seven of its last eight regular-season games.
11. Pitt (6-6, 3-5; LW: No. 11):
Pitt lost four of its final six games and barely snuck past Syracuse to become bowl eligible with just one game remaining. The Panthers will face a successful 10-win Bowling Green team that just won its first MAC championship in 21 years and has the nation's No. 5 scoring defense at 14.8 points per game. Bowling Green is in transition, however, as coach Dave Clawson is leaving to take the Wake Forest job. Speaking of the Deacs …
12. Wake Forest (4-8, 2-6; LW: No. 12):
After five straight losing seasons, coach Jim Grobe has resigned. The Deacs ended the season with five straight losses, and ahead of only NC State in the Atlantic Division standings. On Monday afternoon, the university officially announced Clawson as its next head coach.
13. NC State (3-9, 0-8; LW: No. 13):
First-year coach Dave Doeren knew it would be a bumpy ride, but not even he could foresee the amount of injuries to key players that would contribute to a winless record in the ACC. Doeren said there are plenty of positives to look forward to, and the team is ready to move forward with transfer
Jacoby Brissett
as its new starting quarterback.
14. Virginia (2-10, 0-8; LW: No. 14):
Coach Mike London is hitting the recruiting trail hard, as he should after a winless season in ACC play. The quarterback position continues to be an issue, and the staff overhaul that was made last offseason didn't translate in the win column.
December, 11, 2013
Dec 11
4:15
AM ET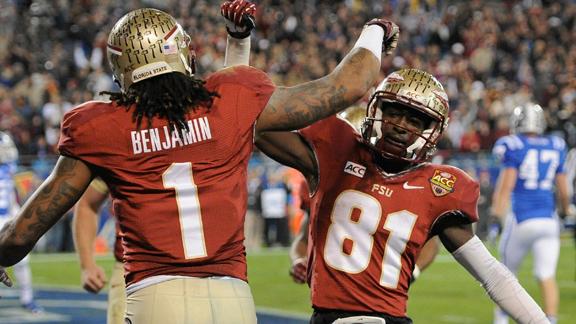 Florida State says it received more than 34,000 ticket requests from boosters for the Vizio BCS National Championship.
No. 1 Florida State will face No. 2 Auburn for the national title Jan. 6 in Pasadena, Calif. The Seminoles' ticket office said the 34,000 requests were nearly double the school's allotment.
FSU boosters needed to have their requests in by 5 p.m. ET Tuesday. The school is determining how many tickets each person will receive based on booster levels. Boosters can buy tickets at the face value of $325 or $385.
Florida State, the nation's only undefeated team, will face 12-1 Auburn, champion of the SEC, which has won the past seven national championships.
Florida State will play for the national title for the first time since the 2000 season, and quarterback Jameis Winston might have to stop in New York to pick up the Heisman Trophy before heading to Southern California. The Seminoles will be looking for their first BCS title since 1999.
Auburn has gone from worst in the SEC to first and is a victory away from its second national title in four seasons.
Information from The Associated Press was used in this report.
December, 10, 2013
Dec 10
6:45
PM ET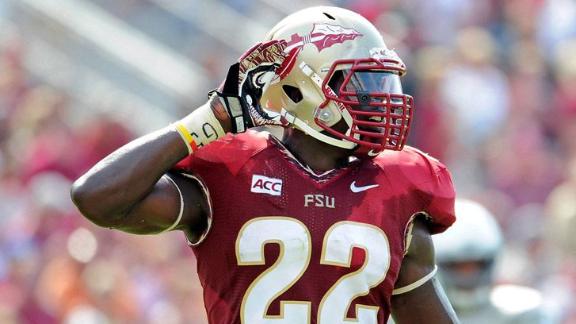 On paper, it looks as easy as 1, 2, 3 … 4.
Florida State. Auburn. Alabama. Michigan State.
Were the College Football Playoff selection committee actually deliberating this season, though, it's hard to imagine the top four teams would align as easily as they did in this year's final BCS standings. There was no drama, no controversy, no undefeated team locked out of the sport's biggest game. As Auburn wrapped up its SEC title and Florida State finished the season as the only undefeated team remaining in the BCS, college football had its answer for a national championship game before it was officially revealed.
Expect a little more debate next year.
The computers have their formulas. The 13 committee members have their opinions. With subjectivity added to the equation, trying to pinpoint the top four teams in the country would have added far more intrigue to this year's selection process. Fans stuck in the mindset of the current system -- one filled with objective weightings and data -- are going to be disappointed, because that's not the committee's approach. Whether or not Auburn is better than Alabama will come down to a vote. While the No. 1 team in the country might not have been a question this year, there are now three more spots to argue about.
It was only a week ago that nobody could agree on No. 2.
If you think Auburn's improbable run to the national title was more luck than it was leverage against lesser opponents -- a deflected Hail Mary pass to beat Georgia and a 109-yard field goal return to beat Alabama -- odds are at least one person on the committee might think so, too. Don't think a two-loss Stanford team has an argument over a one-loss Big Ten champ? Think again. Go ahead and throw Baylor and Ohio State into the mix, too.
December, 10, 2013
Dec 10
4:00
PM ET
The ACC has a record 11 teams in bowl games. Some matchups are more attractive than others. So how do they all stack up against each other? What is the most intriguing game to watch? The least? Heather and I are here to help. Here is our attempt to rank the 11 ACC bowl games from best matchup to worst.
1. VIZIO BCS National championship: No. 1 Florida State vs. No. 2 Auburn (8:30 p.m., Jan. 6, ESPN).
This game is at the top of the list for obvious reasons. The ACC finally has a team back in the national championship game, and the opponent is from the SEC. Completely fitting, considering the ACC is measured up against the SEC on a yearly basis. Two big keys to watch -- will
Jameis Winston
carve up a so-so Auburn defense? And how will the Noles handle the Tigers' ground attack?
[+] Enlarge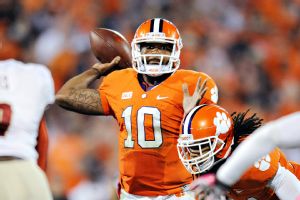 AP Photo/Richard ShiroTajh Boyd and Clemson would like to erase some bad memories of their last trip to the Orange Bowl.
2. Discover Orange Bowl, No. 12 Clemson vs. No. 7 Ohio State (8:30 p.m., Jan. 3, ESPN).
We love the quarterback matchup in this game between
Tajh Boyd
and
Braxton Miller
. Boyd actually chose the Tigers over the Buckeyes, so that adds another layer. The Ohio State defense has faltered down the stretch, so this could be an opportunity for Boyd and
Sammy Watkins
to come up big on a big stage and erase memories of the last time they played in Miami.
3. Russell Athletic Bowl, Miami vs. No. 18 Louisville (6:45 p.m., Dec. 28, ESPN).
This ranks as one of the top matchups among all non-BCS games. Louisville quarterback
Teddy Bridgewater
was nearly a Hurricane, but decommitted from the program after Randy Shannon was fired following the 2009 season. Bridgewater has since become one of the top quarterbacks in the nation and could be playing his last game for the Cardinals. Chances are he will have opportunities to make big plays on a mediocre Miami defense.
4. Hyundai Sun Bowl, Virginia Tech vs. No. 17 UCLA (2 p.m., Dec. 31, CBS).
This is a huge opportunity for Virginia Tech to shut down one of the top dual-threat quarterbacks in the country in
Brett Hundley
. This also is a big opportunity for Virginia Tech quarterback
Logan Thomas
to end his career on a high note and perhaps get NFL scouts to take notice. But the Hokies are going to have to contend with UCLA linebacker
Anthony Barr
, who has 20 tackles for loss, 10 sacks and five forced fumbles this season.
5. Advocare V100, Arizona vs. Boston College (12:30 p.m., Dec. 31, ESPN).
What's not to love about the matchup between Doak Walker finalists
Ka'Deem Carey
and
Andre Williams
? Williams, a Heisman finalist, leads the nation with 2,102 yards this season; Carey has 1,716 yards -- and at least 100 yards in every single game he has played in this year.
6. Chick-fil-A Bowl: No. 24 Duke vs. No. 21 Texas A&M (8 p.m., Dec. 31, ESPN).
We thought about moving this game a tad higher, but we kept it here because we believe Texas A&M is going to win by double-digits. That's not to take anything away from the way Duke has played this season. It's more a commentary on how good
Johnny Manziel
and
Mike Evans
are for the Aggies' offense. Texas A&M does not have a great defense so Duke has to capitalize on each opportunity it gets to put points on the board.
7. Franklin American Mortgage Music City Bowl: Ole Miss vs. Georgia Tech (3:15 p.m. Dec. 30, ESPN)
. This is a chance for the Jackets to try and redeem themselves after losing the regular-season finale to SEC rival Georgia. Ole Miss lost its last two games of the season and couldn't muster more than 10 points in each game. Georgia Tech doesn't exactly have a hard time scoring, but it has only won one bowl game in the past eight. Expect the Rebels' defense to be prepared.
8. Belk Bowl: North Carolina vs. Cincinnati (3:20 p.m. Dec. 28, ESPN).
The Tar Heels have lost three straight Belk Bowl games to (former) Big East members Boston College, West Virginia and Pitt. Cincinnati has a strong defense, and won last year's Belk Bowl against Duke, but the Tar Heels are excited to be playing in Charlotte and back in a bowl after serving a one-year postseason ban.
9. Texas Bowl: Syracuse vs. Minnesota (6 p.m. Dec. 27, ESPN).
The Orange haven't had much luck against the Big Ten this year, starting out 0-2 with losses to Penn State and Northwestern. The bigger problem for Cuse will be Minnesota's defense, which is No. 27 in the country and holding opponents to 22.3 points per game. Syracuse is barely averaging that (22.8) on its own.
10. Military Bowl Presented by Northrop Grumman: Maryland vs. Marshall (2:30 p.m. Dec. 27, ESPN).
The Terps get a home game in nearby Annapolis, but they'll face a Marshall team that lost to Virginia Tech in three overtimes. Offensively, Marshall is averaging a Conference USA-best 43.0 points per game, the seventh-highest total nationally, and is averaging a league-high 502.3 yards per game of total offense.
11. Little Caesars Bowl: Pitt vs. Bowling Green (6 p.m. Dec. 26, ESPN).
Bowling Green coach Dave Clawson is on his way to Wake Forest after leading the program to its first MAC championship in 21 years. The Panthers, who have struggled to protect quarterback
Tom Savage
all season, will face a defense that ranks No. 5 in the nation at 14.8 points per game. Pitt will counter with the ACC's Defensive Player of the Year,
Aaron Donald
.
December, 10, 2013
Dec 10
12:00
PM ET
Two ACC Heisman finalists. How about that?
December, 10, 2013
Dec 10
9:01
AM ET
The ESPN recruiter power rankings examine which assistant coaches are doing the best on the recruiting trail in the 2014 class. Beyond looking at how many four- or five-star recruits a coach lands, the rankings take into account the needs those recruits will fill at the next level.
These rankings will be updated regularly as national signing day approaches. They are also a measure of where we believe the recruiters are now, not where they will be on signing day. Many coaches and schools have yet to make a recruiting run and could quickly climb the list as more progress is made.
Previous rankings: October 2013
1. Billy Napier
School: Alabama
ESPN 300 recruits: 7
Top recruit: ESPN 300 No. 3 Cameron Robinson
Previous ranking: 4
Napier, Alabama's receivers coach, established himself as one of the better recruiters in the ACC while at Clemson, but recruiting for the Crimson Tide has allowed him to climb to the top of the national charts. Recruiting in Louisiana and parts of Texas, and also spot-recruiting other key national targets, Napier boasts commitments from five ESPN 300 prospects who are in the top 10 at their positions, including No. 1 OT Robinson (West Monroe, La./West Monroe), No. 2 pocket passer David Cornwell (Norman, Okla./Norman North) and No. 2 safety Laurence Jones (Monroe, La./Neville). Napier's efforts have also helped the Tide climb to No. 1 in the RecruitingNation class rankings and reload at positions of need like offensive tackle, quarterback and especially receiver.
To continue reading this article you must be an Insider
Independent Investigation Highly Unlikely