August, 18, 2014
Aug 18
4:27
PM ET
Got your four teams picked for the inaugural College Football Playoff?
Beware before you turn in your final list, because teams always come out of nowhere. For instance, Auburn, Michigan State and Missouri all finished in the top five of the final polls last season -- and weren't even ranked to start the season.
Conversely, the team starting the season ranked No. 1 in The Associated Press preseason poll hasn't finished higher than No. 7 the past four years.
None of us has a crystal ball, but we do have a road map of sorts -- the games that will shape who gets in and who gets left out this season when the selection committee unveils the first football version of the Final Four.
Here are 10 games to mark on your calendar:
LSU vs. Wisconsin, in Houston, Aug. 30

Right out of the gate, we get a game between two teams just outside the top 10 in the preseason polls who are talented enough to state their case come selection time for the College Football Playoff. And check out Wisconsin's schedule. If Melvin Gordon and the Badgers can get past the Tigers in the opener, the only other nationally ranked team (in the preseason) they face is Nebraska at home on Nov. 15. They avoid both Ohio State and Michigan State in the regular season.
Michigan State at Oregon, Sept. 6
August, 18, 2014
Aug 18
12:00
PM ET
The 2014 college football season starts in 10 days. We're getting you ready by counting down the ACC's 10 biggest battles with playoff implications. Nos. 3 and 4 are up today.
No. 4
The matchup:
No. 9 South Carolina at No. 16 Clemson
Date/location:
Nov. 29 at Memorial Stadium, TBA
Why it matters:
The Gamecocks have owned the Tigers in recent years, but Clemson has still been able to play in two BCS bowl games. If Clemson is going to make the College Football Playoff, the Tigers will likely have to defeat their in-state rival. Those two could be playing for a bid in the playoff the final weekend in November. The game could have implications for Florida State, too. If the Seminoles lose a game -- whether to Clemson or another team --they might need all the strength of schedule help they can get. The Gamecocks are a preseason top-10 team, and a Clemson win over South Carolina would benefit Florida State's case.
No. 3
The matchup:
No. 17 Notre Dame at No. 1 Florida State
Date/location:
Oct. 18, Doak Campbell Stadium, TBA
Why it matters:
The fact of the matter is every game on the Seminoles' schedule is big for the ACC. They are the conference's best shot at the playoff and a national championship. Notre Dame could be down their top defensive back and receiver, but the Fighting Irish do return quarterback
Everett Golson
. The reviews on Golson out of the Irish's camp have been promising, and he was recently named the starter after missing the 2013 season. It'll be interesting to see how the rest of the backfield develops, especially with running back
Greg Bryant
. He was a highly regarded prospect in the 2013 class but failed to make a mark as a freshman. A strong running game, one of the best ways to counteract a
Jameis Winston
-led offense, could be the beginning of a recipe to upset Florida State. The defense, which carried Notre Dame to the 2012 title game, will not be nearly as strong, though.
August, 18, 2014
Aug 18
8:00
AM ET
Florida State coach Jimbo Fisher says he's checking homework.
"We have notepads and pencils and you're required to take notes," Fisher said last week. "We'll check them periodically."
The fifth-year Seminoles coach was referring to his mandate that his players keep their eyes forward and jot down diligent outlines during positional meetings. I asked Fisher's policy on taking notes after the Wall Street Journal
published an article on the philosophy
of the Cleveland Browns' Mike Pettine, a first-time head coach.
A former high school coach, Pettine found out from other teachers how actually putting pen to paper improves the odds a student will retain the information and retrieve the lesson when it's test time. Kevin Clark, the WSJ writer, spoke with a UCLA professor who co-authored a paper on how writing instead of typing is often more useful, this at a time when there might be more laptops than notepads in college classrooms throughout the country.
It's an interesting concept as it relates to football, which is catching up to the rest of the country in its fascination with technology. Several professional and college teams are using GPS tracking during practice. A handful, Florida State included, have armed players with tablets, and the Seminoles have a tablet in each player's locker. Advanced metrics, usually reserved for baseball stat heads, are creeping their way onto football coaches' desks. Drones are even being used to add yet another camera angle of practices.
But, even during football's technological revolution, it goes to show that sometimes simpler is better -- at least when it comes to filing away that the fullback is always option No. 1 on
Spider 2 Y Banana
.
"They're taking a test every week, except they have to do it in front of 83,000 instead of a classroom," Fisher said.
Here are a few more links to check out:
August, 17, 2014
Aug 17
9:45
PM ET
August, 17, 2014
Aug 17
6:35
PM ET
[+] Enlarge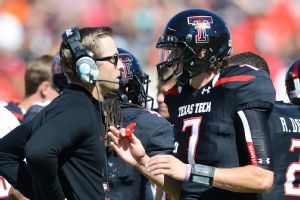 John Weast/Getty ImagesThree Texas Tech quarterbacks transferred after this season once it was clear Kliff Kingsbury favored Davis Webb as his starter.
During Florida State's 14-year streak of top-five finishes (1987-2000), the Seminoles developed an assembly line of quarterbacks. They signed, they learned, they waited, and after two or three seasons, they started.
Now that Florida State has returned to the top of the sport, let's check in on the assembly line behind Heisman Trophy winner Jameis Winston. Clint Trickett is starting at West Virginia. Jacob Coker is expected to start at Alabama. And Seminoles head coach Jimbo Fisher gave his blessing to both of them.
Whether it's out of self-regard or wanderlust, quarterbacks no longer are content to wait their turn. Coker went to Tuscaloosa to fill a void left in part by the three Crimson Tide quarterbacks who have transferred out in the past two years. And that's not even the record.
Three quarterbacks have left Texas Tech since the end of the past season. With sophomore Davis Webb entrenched as the starter, third-year sophomore Michael Brewer departed for Virginia Tech, sophomore Baker Mayfield went to Oklahoma and third-year sophomore Clayton Nicholas transferred to Bowling Green.
August, 17, 2014
Aug 17
3:54
PM ET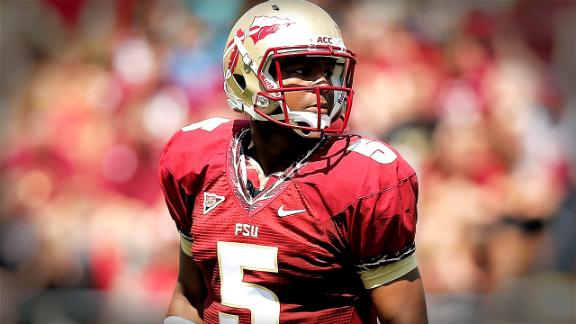 This one's for you, Auburn fan who thinks the national runner-up should be higher than sixth in the
Associated Press preseason poll
, released Sunday afternoon. And it's for you, Ohio State fan, to defend the chronically criticized Big Ten, the only Power Five league without a team in the top four of either the AP or
USA Today coaches'
preseason poll.
Don't worry, Baylor fan, we didn't forget you. If you want to climb to the top of beautiful new McLane Stadium and scream about why your Bears should be higher than No. 10 in both polls, go right ahead. Maybe you can hear the same outcries from fans of No. 19 Arizona State, No. 20 Kansas State or No. 24 Missouri, the defending SEC East champ excluded from the coaches' poll while barely squeaking into the AP.
Speaking of the SEC, no other conference had more teams (eight) in the preseason AP poll. So what's the complaint? There could have been more. Meanwhile, the league that ended the SEC's run of national titles, the ACC, placed just three teams -- No. 1 Florida State, No. 16 Clemson and No. 23 North Carolina -- in the AP rankings. Duke fans, grumble away.
Preseason polls serve a therapeutic purpose. They allow us to vent, to argue, to compare, to exclaim, to protest and, most important, to fill time before the games begin later this month. They are part of the American sports fan experience, and you should enjoy them.
Yet for the first time, the polls will have little to no bearing on shaping college football's national championship race. And that's a great thing too.
If Tom Osborne, Condoleezza Rice and Jeff Long were relentlessly refreshing Twitter at 2 p.m. ET Sunday, the time the AP poll was released, we have a problem. If Oliver Luck, Tyrone Willingham and Archie Manning furiously began calculating the Top 25 breakdown by conference, this might not work out. If Mike Tranghese, Barry Alvarez and Pat Haden immediately noticed how similar the AP and coaches' preseason polls are -- teams ranked 7 to 17 are identical, and only two teams, Missouri and Texas, made just one of the polls -- the playoff selection process could go very wrong.
The 13 members of the College Football Playoff selection committee shouldn't care about these rankings. They shouldn't spend one nanosecond analyzing them. They shouldn't read this or any other media report about what the polls suggest about this team or that conference. Here's hoping they spent Sunday fishing, golfing or anything other than poll watching.
This is about you, not them. So go ahead and wonder if a Wisconsin team with a largely revamped roster is rated way too high -- No. 14 in both polls -- and why Iowa, which loses far less than the Badgers off a vastly improved team, failed to make either preseason poll. Ask which set of voters correctly has the order of "O" teams -- Oregon, Oklahoma and Ohio State. Argue whether teams with new quarterbacks (Alabama, Georgia, LSU, Clemson, Texas A&M) are too high or too low.
Notre Dame's inclusion at No. 17 will set off fireworks, but remember the AP votes took place before Friday's announcement that four starters, including star cornerback
KeiVarae Russell
, have been held out pending an academic investigation into potential misconduct.
There's little debate at the top, as defending champion Florida State, led by reigning Heisman Trophy winner
Jameis Winston
, received 57 of the 60 first-place votes in the AP poll. Alabama, which will have a new quarterback but returns arguably the nation's most talented roster, is solidly in second position. It's very close for No. 3 between Oregon, which could have the nation's best player (
Marcus Mariota
), and Oklahoma, which stunned Alabama in the 2014 Sugar Bowl and eyes the next step.
Although the SEC has three teams among the top nine and five in the top 13, the Pac-12 enters the season projected as the nation's No. 2 conference. The quarterback-stacked league has three teams in the top 11 and five in the top 19.
Few would be shocked if the inaugural playoff reveals a field similar to the top of the preseason rankings. We could see four teams from four conferences, as both polls show, or multiple teams from a league like the SEC or Pac-12. Perhaps a team outside the preseason top 10 rises up, like Georgia, Arizona State or Nebraska. While zero teams from Group of Five conferences appear in the AP poll, don't write off UCF, the reigning Fiesta Bowl champion.
Talking season might be over, but debate season is in full swing, at least until the real season begins. So tell the world what you think of the polls. Just don't expect the committee members to listen.
August, 17, 2014
Aug 17
3:45
PM ET
By
Chris Fallica & Brad Edwards
| ESPN.com
There were no surprises near the top of the AP preseason college football poll. It's the same group of teams we've been discussing on the Internet and the airwaves for at least the last six months.
So now is a good time for a history lesson.
As much as we may have convinced ourselves that the top teams in this poll will probably still be there at the end of the season, recent years tell us otherwise. If you look at the AP's top four teams to end the regular season – because those would theoretically have been the picks of a selection committee – more of them since 2007 came from outside the preseason top 10 than from within it.
In fact, there has been only one year in the last seven (2011) in which more than two of the preseason top-10 teams finished the regular season ranked in the top four.
Taking it a step further, over the last two seasons, three of the eight teams to finish the regular season in the AP top four were unranked in the preseason poll; only two of the eight were ranked in the preseason top 10 (Alabama in 2012 and 2013).
So take another look at the current preseason top 10 and try to imagine only one of those teams reaching the inaugural College Football Playoff.
Recent history is telling us that's more likely than three of them making it.
This bodes well for among others, No. 18 Michigan, which we've noted in
this piece
, could get off to a hot start this season.
And if you believe in unlucky numbers, here's a trend to give any Oregon fan nightmares. In the 16-year BCS era, the preseason No. 3 team in the AP poll never finished the regular season ranked in the top four. But Florida State fans shouldn't rest easily either. Only once in the last seven years has the AP preseason No. 1 team been in the top four to finish the regular season (Alabama in 2013).
August, 17, 2014
Aug 17
2:12
PM ET
Associated Press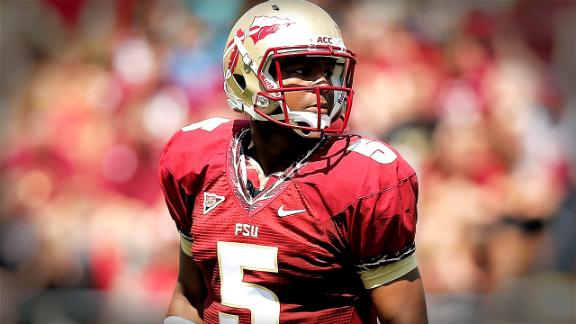 Jameis Winston and defending national champion Florida State are No. 1 in The Associated Press preseason college football poll.
The Seminoles will start the season No. 1 for the sixth time -- the first since 1999 when they became the first team to hold the top spot for the entire season.
Florida State received 57 of 60 first-place votes Sunday from the media panel. No. 2 Alabama, No. 3 Oregon and No. 4 Oklahoma each received one first-place vote. Ohio State is No. 5 and Auburn is No. 6.
Winston, the Heisman Trophy winner last season as a redshirt freshman, led Florida State to a 34-31 victory against Auburn in the last BCS national championship game.
This season the Bowl Championship Series is being replaced by the College Football Playoff. A selection committee will pick the top four teams in the country for two national semifinals.
The rest of the top 10 is UCLA
August, 16, 2014
Aug 16
1:50
PM ET
Associated Press
[+] Enlarge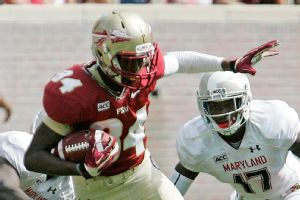 AP Photo/Steve CannonIsaiah Jones led the Gold squad with five receptions for 81 yards in Florida State's spring game.
TALLAHASSEE, Fla. -- Florida State wide receiver Isaiah Jones has been declared academically ineligible.
Coach Jimbo Fisher said Saturday that Jones still will attend FSU and practice with the Seminoles.
The 6-foot-4 sophomore caught two passes for 31 yards in five games in 2013, but he had five receptions for 81 yards to lead the Gold squad in the Seminoles' spring game in April.
He was part of a large group of receivers competing for starting jobs after FSU lost senior Kenny Shaw and Kelvin Benjamin entered the NFL draft early. Jones is the tallest receiver on the roster, and he was expected to help cushion the loss of the 6-5 Benjamin.
August, 15, 2014
Aug 15
12:30
PM ET
By
ESPN.com staff
| ESPN.com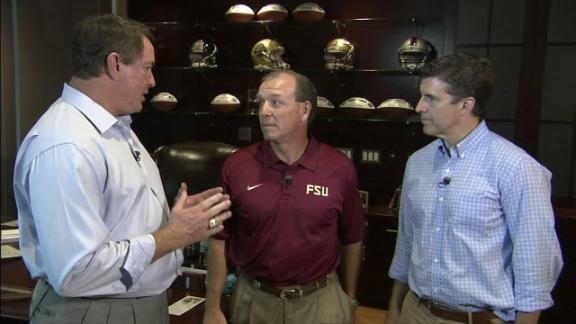 Florida State coach Jimbo Fisher discusses how he is advising Jameis Winston to deal with all the scrutiny he faces and battling complacency after winning a national championship.
Drive Through: Mariota Over Winston?
ACC SCOREBOARD
Thursday, 8/28
Friday, 8/29
Saturday, 8/30
Monday, 9/1