July, 21, 2014
Jul 21
6:02
PM ET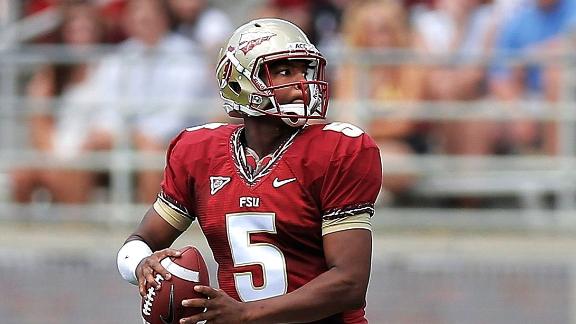 GREENSBORO, N.C. -- Florida State coach Jimbo Fisher prefers to keep players' punishments out of the public domain. In the case of Heisman Trophy-winning quarterback Jameis Winston's supermarket citation in April, however, Fisher said there weren't any consequences to speak of.
When Winston was caught shoplifting seafood at a store in Tallahassee, Florida, he was ordered to reimburse the store and perform community service. He also was suspended from the baseball team, and at the time, Fisher said he stood by baseball coach Mike Martin's decision. Speaking to reporters Monday at the annual ACC Kickoff, Fisher explained why he declined to pile on the punishment.
"Not after we found out the story and what had happened and [what Winston did] was not a malicious thing," he said. "It was not done with intent."
At the time of the incident, the Leon County Sheriff's Office said it would not speculate on whether Winston took the items -- $32 worth of crab legs and crawfish -- intentionally.
"People need to realize, when you suspend him in baseball, you understand how important baseball is to him? That cut his heart out," Fisher said Monday. "If it was done maliciously, we may have done other things. It was a silly mistake and not done with any malicious doing, and you don't punish a guy twice for the same crime."
FSU Coach Explains Why Winston Went Unpunished
ACC SCOREBOARD
Thursday, 8/28
Friday, 8/29
Saturday, 8/30
Monday, 9/1