August, 25, 2014
Aug 25
11:00
PM ET
The Early Offer is RecruitingNation's regular feature, giving you a daily dose of recruiting news across the country. Today's offerings: Five-star defensive end
Byron Cowart
is closing ranks and instead of focusing on the more than 50 schools that have offered him scholarships, he's zeroing in on four schools leading up to his late September decision. Plus, Oregon fans can rest a little easier knowing the Ducks' star running back recruit didn't suffer major damage in his first game of the season, and we continue our tour of the top recruiting happenings on social media.
August, 25, 2014
Aug 25
12:26
PM ET
By
Dean Oliver
| ESPN.com
Reigning BCS champion Florida State returns seven offensive starters from a top-five offense, six defensive starters from a top -five defense, the Heisman Trophy-winning starting quarterback and its head coach, and the Seminoles have had top-10 recruiting classes over the last four years. With all of that going for the Seminoles, how could they be anything but the No. 1 team in a system that uses all of that information?
That system is the
College Football Power Index (FPI)
. Introduced last year, the method has been improved to account for all of the above information because, well, those things matter. You as a fan know it, and the numbers support it.
[+] Enlarge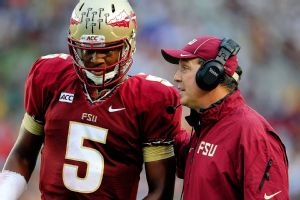 Stacy Revere/Getty ImagesFPI has the Seminoles at No. 1, but it also maintains some major skepticism about a repeat.
FPI not only says the obvious -- such as Florida State being No. 1 -- but it also gives nuance, such as the Seminoles having just a 39-percent chance of going undefeated through the ACC championship game, despite how good they are.
It also says the surprising -- such as Marshall having the second-best chance of going undefeated this year, thanks to the easiest schedule in college football. If Marshall climbs the polls this year, remember that pretty much any average team would have a similar chance to go undefeated against the Thundering Herd's slate. FPI ranks them 54th, roughly average across FBS teams, but this means that an average team would have a pretty good chance to go undefeated
against that schedule
. Only a road game against Old Dominion does the Thundering Herd have less than a 60 percent chance of winning. If they go undefeated, the College Football Playoff selection committee shouldn't look at them seriously if it values a team's strength of schedule.
FPI captures a lot but might not capture everything. Last year, Michigan State fans hated FPI because it never saw the Spartans as a top-five or even a top-10 team. The reason was an offense that got into the end zone a total of three times against weak teams Purdue, Western Michigan and South Florida. FPI kept predicting Michigan State to lose or to at least not cover the spread. And FPI kept being wrong.
But we improved FPI this year, and it now predicts games at about 75 percent over 10 years (and does better with last year's Michigan State team). Because it predicts games well, it can simulate every game for every FBS team for the entire season and produce these kinds of prognostications for 2014.
Oregon has the third-best chance of going undefeated at 6 percent. That's not very likely, so don't get mad at FPI if it doesn't happen.

Realistically, there will be only one undefeated team through this season's conference championships.

Auburn has a better FPI rank than South Carolina, but South Carolina's chances to win the SEC are higher than Auburn's. This is because Auburn's schedule is quite a bit harder, playing seven teams in the FPI top 25 (four on the road) compared with South Carolina's five (two on the road).

The four most difficult schedules in the country are in the Pac-12. Every Pac-12 team has a schedule rated in the top 40. Five Pac-12 teams play only one team with an FPI under zero, where an FPI of zero represents a team that is exactly average. No other team in any other conference plays fewer than two games like this. Pac-12 teams don't schedule easy games.

UCLA has the most difficult schedule and, as a result, projects to lose three games despite being the fourth-best team in FPI. They're projected to be so high in FPI because they return 17 starters from what was a very good team last year.

The loss of Ohio State quarterback Braxton Miller lowered the Buckeyes' FPI rank from sixth to 12th. It likely adds a projected loss to their record and lowers their chances to win the Big Ten from about 40 percent to about 30 percent. That 30 percent chance, though, still leaves them as the favorite in FPI's eyes.
That brings us back to Michigan State. Michigan State's projected record is only about 8-4, and the Spartans have just an 11-percent chance to win the Big Ten. There are a couple of reasons FPI doesn't like Michigan State as much as (seemingly) everyone else. It returns only five to its vaunted defense. Its offense hasn't been particularly good over the last few years. And people forget that they were a very mediocre 7-6 team in 2012 in a weak conference.
FPI doesn't account for any specific strength that the Spartans coaching staff has for rebuilding the defense, so it could be wrong. FPI doesn't account for
Connor Cook
being some analysts' favorite dark horse quarterback, so it could be wrong. But FPI has seen a lot of seasons, a lot of coaching staffs, a lot of quarterbacks, and it's learned to ignore the hype. So, yes, FPI hedges its bets and says the Spartans have about a 1 in 9 chance to win the Big Ten.
It's not ruling it out. And it might change its mind if the Spartans start the season destroying teams. Just like on-air analysts, FPI is allowed to incorporate new information.
One thing FPI won't be particularly good at, though, is identifying which teams should be in the Playoff. This is because we, the fans, and the College Football Playoff selection committee don't know what we want in the Playoff. The polls and the committee will reflect something different than who will win the next game. Polls often reflect a season résumé, including accomplishments such as a conference championship, a win-loss record in combination with a strength of schedule (something we put into a metric called "Strength of Record"), as well as in-game dominance.
FPI is about looking forward. As a result, it's perfect for this time of year.
August, 25, 2014
Aug 25
10:55
AM ET
August, 25, 2014
Aug 25
9:00
AM ET
Evaluated simply for its achievement and without any historical context, it could be considered the greatest goal-line stand in college football history. Twelve plays inside the 9-yard line, half coming from inside the 1, and each time
Florida State
denying upset-minded Kansas.
Factor in national implications -- it was a season opener in August against and part of a 42-0 rolling of the unranked Jayhawks -- and it pales in comparison to the 1979 Sugar Bowl.
[+] Enlarge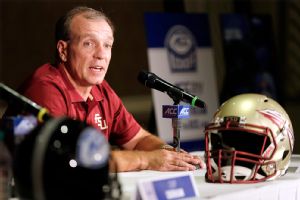 AP Photo/Chuck BurtonJimbo Fisher and the Seminoles aren't afraid to open the 2014 season against Oklahoma State in Dallas.
But for Mickey Andrews, that goal-line denial sits in the pantheon of Florida State football. After six straight seasons of falling just short of a national title, the former Florida State defensive coordinator credits that sequence, which took nearly eight minutes in nearly 120-degree conditions, for shaping the Seminoles' first national championship team.
"We had to meet them about three-fourths of the way and drag them off the field," Andrews said. Ken Alexander, Derrick Brooks and Corey Sawyer, who combined for the final fourth-down stop, laid on the blistering AstroTurf unable to get up as the referee signaled in Florida State's direction. "They didn't have anything left."
That was the season opener of the 1993 season, Florida State playing Kansas, which finished the prior season ranked in the top 25, at the Meadowlands, a national venue. The drive eclipsed 20 total plays, and Florida State committed four penalties inside the 10. While the Seminoles would win by six touchdowns, it was that particular drive that came at the end of the half when the Jayhawks were within two scores. Florida State held a dozen times in the shadow of its own goal post, then marched down the field with a 99-yard touchdown drive to put the game out of reach.
"That made our football team right there," Andrews said.
A season-opening game against a major-conference opponent on a national stage has the potential to alter the trajectory of a season, Andrews said. On Saturday, No. 1 Florida State travels to the state of Texas for the Cowboys Classic against Oklahoma State in AT&T Stadium. It's a prime-time game, and one "College GameDay" will be at.
Much like Kansas, Oklahoma State finished the previous season ranked, although pollsters are not quite as high on the Cowboys in 2014 as they overhaul their starting lineup. Regardless of the strength of the opposition, a nationally relevant opponent on the road or at a neutral site to begin the season can effect the next four months. Florida State, which is using the hashtag #DallasToDallas to define its title defense aspirations, hopes the Aug. 30 game will do just that this fall.
"The better it is for us to play on those kinds of stages," Fisher said.
Andrews served as Bobby Bowden's defensive coordinator for 27 seasons, and the two were never shy to play a national championship-caliber opponent to begin the season. From 1988-98, Florida State opened its season with a ranked opponent away from the confines of Doak Campbell Stadium on four occasions. Eleven times from 1988-03 the Seminoles began the season with a road or neutral-site opponent.
Bowden said the prospects of an opener with national implications sets the tone for offseason workouts and preseason camp. There is an added motivation for players and coaches alike when the opponent isn't an FCS cupcake.
"The thing about opening against a good team is it makes your boys get ready faster," Bowden said. "If you play a smaller division or someone you're favored by 25 points against, you're careful you won't have a letdown. But when you play a big one, they're usually ready to play."
Andre Wadsworth was a senior defensive lineman for Florida State in 1997 when the Seminoles opened at USC in The Coliseum. Wadsworth said the team began the season with an added focus on executing its offense and defense as it knew any self-inflicted wounds against a team the caliber of Southern Cal could derail a potential national championship season before it truly began. Florida State defeated USC, and the Seminoles would win their next 10 games before a three-point loss to Florida in the finale that ended a perfect season and hopes of a national title.
"The thing is to define yourself as early as possible as a team," Wadsworth said.
Fisher, in his fifth season at Florida State after replacing Bowden, said entering camp that the game against an Oklahoma State program that has averaged 10 wins since 2010 had the Seminoles focused and practicing at peak performance throughout preseason two-a-days. Fisher said he embraces the challenge, and the rest of team is itching to arrive at "Jerry World" and play on the biggest of big screens -- one that stretches 60 yards.
"That game is going to be electric," quarterback
Jameis Winston
said. "Florida State, we love to be in big games with millions of people watching us. That's what's fun, that's what football is for.
August, 25, 2014
Aug 25
8:30
AM ET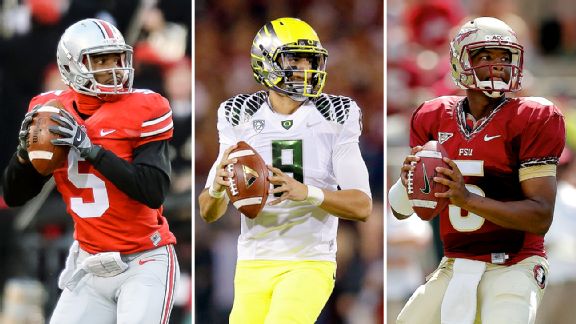 Getty ImagesSchools sell multiple jerseys with the numbers of Braxton Miller, Marcus Mariota and Jameis Winston.
Ohio State quarterback Braxton Miller missing the season could hit the school, retailers and Nike in the wallet.
Only four players in all of college football are more merchandised than Miller, according to jersey options matched to the most marketable players that are being sold on official school website stores.
Oregon is selling 25 different jerseys, counting colors and sizes, of No. 8, quarterback Marcus Mariota.
Michigan offers 17 different versions, in blue and white, in infant, youth, toddler, women's and men's cut, of No. 98, worn by its quarterback Devin Gardner.
Notre Dame has 15 different jerseys of its quarterback Everett Golson, who wears No. 5.
The University of Alabama website features 10 different jersey choices of No. 4, the same number worn by its star running back T.J. Yeldon.
Ohio State's official store is selling seven versions of Miller's No. 5.
That's even more jersey options (six) than Florida State fans have of No. 5 to choose from, the number worn by Heisman Trophy winner Jameis Winston.
The NCAA and its schools have long contended that numbers don't necessarily correspond to current players, but common sense, as proven by all the cases above, suggests otherwise.
While players one day might be able to realize a percentage of the business from their jersey sales, the recent O'Bannon ruling did not include commentary on this area.
It's not known how many No. 5 Ohio State jerseys have been produced for this season, but Miller's absence will be the biggest hit to the college jersey marketplace in two years. In August 2012, LSU safety Tyrann Mathieu was dismissed from the team weeks before Baton Rouge retailers got their shipment of No. 7 jerseys. The number is finally fashionable again thanks to it being given to Leonard Fournette, the nation's top running back recruit.
August, 25, 2014
Aug 25
8:00
AM ET
Here's how crazy the ACC Coastal Division is: Virginia Tech and Miami have as good a chance as anyone to win the division, and both teams will open the season with starting quarterbacks who weren't on campus during spring practice.
Virginia Tech announced Saturday that Michael Brewer, a transfer from Texas Tech,
would get the starting nod
.
On Sunday, Miami followed up with the news that true freshman
Brad Kaaya
will
be its starter
when it opens the season against Louisville.
There are only five QBs in the ACC who threw more than 100 passes in the league in 2013 returning for this season, and three of them are in the Coastal. But two of those three --
David Watford
at UVA and
Marquise Williams
at UNC -- aren't guaranteed a starting job when the season opens. In fact, Watford is out as Virginia's starter with
Greyson Lambert
penciled in atop the depth chart, and Tar Heels' coach Larry Fedora said he won't announce a decision between Williams and
Mitch Trubisky
until North Carolina kicks off its opener.
That could mean as many as six of the ACC's 14 opening day starting QBs would never have taken a snap with their respective teams before, and Clemson's
Deshaun Watson
, who will play but not start, adds more to that mix.
Of course, all these situations are different, and Kaaya certainly has the advantage of talent surrounding him at Miami. Perhaps no school in the conference has a better RB-WR combo than the Hurricanes
Stacy Coley
and
Duke Johnson
.
At Virginia Tech, on the other hand, Brewer will open the season
with little experience around him
. As The Roanoke Times notes, leading rusher
Trey Edmunds
is currently fourth on the depth chart at tailback (partially due to injury) and the Hokies' top two receivers,
Demitri Knowles
and
Willie Byrn
, aren't in the starting lineup either.
In fact, here's a quick look at Virginia Tech's skill position starters on offense:
QB:
Brewer: Transfer, no previous ACC experience
RBs:
Junior
J.C. Coleman
and freshman
Marshawn Williams
were responsible for a total of 84 carries for 284 yards last season (17 percent of the Hokies' total rushing attempts). Another freshman,
Shai McKenzie
is behind them.
WRs:
Sophomore
Joshua Stanford
and freshman
Isaiah Ford
grab the starting nods here, again accounting for just a fraction of last year's passing game (16 percent of total receptions).
TE:
Junior
Ryan Malleck
missed all of last season and has 17 career receptions.
I talked with Frank Beamer last week, and he was
wildly enthusiastic about the future
, raving about the
opportunities at tight end
, his freshmen receivers and Williams at tailback.
It's a risk, certainly, to start so much youth on a team coming off two down years, but Beamer clearly has decided that winning 10 games with mediocre talent isn't any better than winning eight games with developing talent. And the truth is, with Virginia Tech's schedule, there will be plenty of opportunity for the young pups to gain experience without necessarily costing the Hokies any games anyway.
It's a shrewd decision on Beamer's part, and one worthy of praise. Many coaches in his situation would go worry about the present first and foremost, but he's clearly concerned about Virginia Tech's future. That's a strong sentiment as the 2014 campaign gets set to kick off in a wide open Coastal Division.
A few more links for your morning reading:
August, 24, 2014
Aug 24
9:26
PM ET
By
ESPN.com staff
| ESPN.com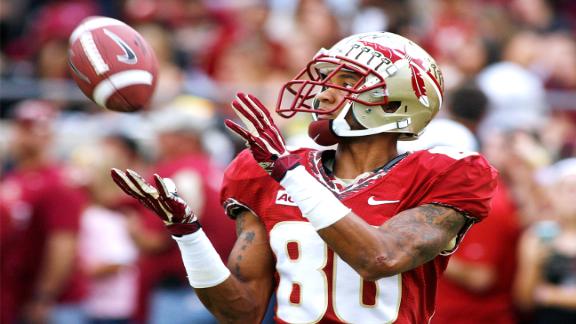 ESPN ACC reporter Andrea Adelson joins Zubin Mehenti to discuss question marks for defending national champion Florida State and the quarterback race at Clemson.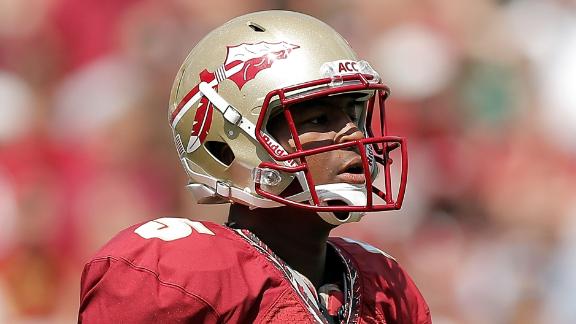 August, 22, 2014
Aug 22
3:00
PM ET
Just one Saturday left without football?! My oh my! Let's get to some mail.
Don writes:
Your ESPN.com Preseason ACC team has lost all credibility
when it failed
to feature
Tyler Boyd
who was arguably the best receiver in the ACC last season as a freshman. While I agree Florida State has the best team on paper in the nation they do not have the top player in every position in the ACC.
Andrea Adelson:
No, but they do have the best receiver in
Rashad Greene
. Boyd had a phenomenal freshman season, don't get me wrong. We all think he is fantastic. But the ACC is completely stacked at receiver headed into the season, and two worthy players were left off -- Boyd and
DeVante Parker
at Louisville. In the end, we decided on Crowder for a few reasons. His past performance cannot be ignored. Nor can the fact that he continues to be the focal point of the Duke offense. As David Hale points out, Crowder
was targeted 174 times
last season, and he delivered in every possible way. He is the most indispensable player on that team.
---
Stephen in Baku, Azerbaijan writes:
Yes, there are ACC fans in Azerbaijan. My comment/question is about solving the mystery of the Clustal (cluster/Coastal). As opposed to looking at how they will do against each other, it is better to focus solely on who their two Atlantic foes are as they will likely beat each other up in divisional games. I'll rank the two cross division games per team by easiest to hardest. Duke: (Wake/Syracuse); VT: (BC/Wake); Pitt: (Syracuse/BC); GT: (Clemson/NCSU); UNC: (NCSU/Clemson); Miami: (FSU/Louisville); UVa: (Louisville/FSU) *poor UVa. So I would say a toss-up between Duke and VT for the Coastal in 2014. With recent losses of key personal for Duke, I'll crown VT as the champ and the ACC gets a sold out ACC championship game. What do you think of this logic?
Adelson:
Salam, dostum! Your bit of logic is a huge reason why I had Duke as the Coastal champ. Those crossover schedules cannot be ignored. Now, I have been rethinking my choice after the recent Blue Devils injury news and now believe Virginia Tech has the best chance to win the division. Watch out for the Hokies!
---
Michael Lambert writes:
Your piece on Bobby Petrino
left out one very important item that helps put Tom Jurich's gamble on the job hopping Petrino in perspective. There is a buyout clause of $10 million dollars he must pay the school if he takes another coaching position within 4 years. The amount gradually lowers beyond that point, but he is paid well and it would make very little sense for him to pay a financial penalty to leave for many years to come. Your article and the associated comments make this relationship out to be one of blind faith and trust. Petrino is pretty much locked in here, but that was what he accepted to get his job back.
Adelson writes:
You are absolutely right, Michael. It was an oversight to not include that information. I agree the $10 million is a huge incentive to stay, but there are others who don't ...
---
Matthew Caldwell in Endicott writes:
Andrea, I believe Petrino will build up Louisville again and then bolt again when one of the big boys wants to take a chance on him. He won't turn down a big offer. I'm not buying his transformation.
Ray Marple in Springfield, Mo., writes:
So much fluff for a horrible person. Second chance deserved or not -- Lord knows I've needed several -- one must truly go through difficulties in order to 'become a better person.' Living in college football purgatory for two years and 'almost losing his wife and family' aren't enough to arise and get a multi-million dollar job again. The position he put the U of A in and left them, as well as Jessica Dorrell -- NOT MENTIONED IN THE ARTICLE -- will take a lot more than two years to overcome. Perhaps his philanthropic Foundation can help everyone concerned. I hope you took a shower after submitting this article.
Adelson writes:
Matthew and Ray are just two of many, many skeptics out there. We will only know in time whether Petrino truly has changed.
---
James Griffith in Moneta, Virginia, writes:
Hi Andrea, Which FCS team is going to win this year against an ACC team? It happens every year. I think the
Richmond Spiders
will pull the upset of UVa. They almost beat NC State last year except for the last minute field goal. What about Gardner-Webb beating Wake Forest? It is time for the ACC to stop playing FCS teams. They have nothing to win by beating these teams and everything to lose. It does not look good for the entire conference when one team gets beat by a FCS team. I do not think anyone wants to buy tickets to a major beat down of a FCS team. They would be better off playing another conference game or at least someone in the same division. What do you think? Part II: Don't you feel that big schools have nothing to gain and everything to lose by playing FCS teams. Ask Michigan fans about Appalachian State or Virginia Tech about James Madison.
Adelson writes:
Actually, the ACC won all its games against FCS competition last season. I am going to predict no FCS upsets again this season. Virginia will be better this season and take care of Richmond. Wake Forest is going to have its share of struggles, but Gardner-Webb is an average FCS team. I still think the Deacs win that one. As for the larger point in general, obviously it makes the conference look bad if one of its teams loses to an opponent from a lower division. Makes the program look bad, too, especially an elite one like Virginia Tech and Michigan (and Florida for that matter!). But the ACC
coaches are pretty adamant
that they want to continue scheduling these games because they believe they are good for health of college football in general. Most FCS programs are dependent on paydays from FBS schools, so it is supposed to benefit both parties. One school gets the "easy" win the other gets money that allows the program to remain viable. Sometimes it doesn't work out, but those upsets are not a comon occurrence.
August, 22, 2014
Aug 22
10:00
AM ET
GREENSBORO, N.C. — Bye-bye, Clint and Jacob. Hello, Jacoby, Jake, Michael and Tyler?
You're forgiven if this entire exercise seems foreign. But at least 10 of the ACC's 14 teams will start new faces under center when games kick off next week. And there is a good chance that four of those 10 will have quarterbacks who began their college careers elsewhere.
[+] Enlarge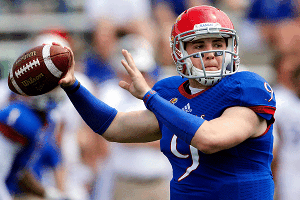 AP Photo/Orlin WagnerNot long after playing in Kansas' spring game in April, Jake Heaps transferred to Miami.
Two former Florida State quarterbacks could square off in Week 1 in Atlanta during an SEC-Big 12 matchup. Two former Florida quarterbacks are set to start in the ACC's Atlantic Division. Then there are a pair of downtrodden Coastal powers, both of which may be starting quarterbacks who did not even arrive on campus until this summer.
"I really don't know," Miami coach Al Golden said of the surplus of ACC quarterback transfers. "We liked where we were in the spring, and clearly
Ryan [Williams
] went down the week before the spring game. It's really not a function of not being confident in the guys that are on campus. It's more a function of just wanting to get a guy that has been in the game and has the experience."
Golden acknowledged the quarterback market has been busier than usual, particularly in his league. He brought in former BYU and Kansas quarterback
Jake Heaps
this summer after Williams, the Hurricanes' No. 1 quarterback, suffered a right ACL injury that will keep him out for an indefinite period of time. (Williams, naturally, began his career elsewhere, at Memphis.)
Heaps, eligible immediately as a graduate transfer, is battling true freshman
Brad Kaaya
to start Miami's opener.
"I think the quarterback position has grown in terms of talent over the last few years," said Heaps, who set several freshman records at BYU in 2010 before losing his job both with the Cougars and later at Kansas. "There's a lot of great, quality quarterbacks in college football right now and they all want a chance to play. That's where you're seeing a lot of these guys transfer. They're in their situation but they know they can play somewhere else so they make those moves and try and find the best situation for them and in some cases it works out, in others it doesn't. Just knowing they have that opportunity is first and foremost.
"Sometimes things just don't work out. Recruiting is the way it is and sometimes a situation isn't what you think it will be when you get there. It's been a unique trend in the last little bit, but I think if a guy has an opportunity to go play, he should go explore that."
Likewise, fellow Coastal member Virginia Tech turned to the free-agent route following an underwhelming spring from its three quarterbacks, welcoming Texas Tech transfer
Michael Brewer
(and two true freshmen) to the race to replace Logan Thomas and kick-start an offense in need of a jolt after just 15 wins in the past two seasons. In an odd twist, Brewer, who has two seasons left to play after graduating from Texas Tech, was recommended to the Hokies' staff by Clemson offensive coordinator Chad Morris, who coached Brewer back at Lake Travis (Texas) High.
Brewer brings with him a nearly 71 percent completion percentage from his limited action with the Red Raiders, including 440 passing yards, five touchdowns and no interceptions.
[+] Enlarge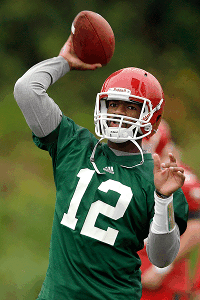 AP Photo/Gerry BroomeEx-Florida quarterback Jacoby Brissett enters this season as NC State's starter.
"Everyone needs success in their life, and if you're in a place where you're behind somebody or whatever you're not going to have it," Virginia Tech coach Frank Beamer said. "To me, my whole thing is everyone needs success, and wherever you can do that, some of the guys that come through there, go somewhere where you can have success."
On the other side, in the more daunting Atlantic, a pair of second-year coaches are turning to former Gators quarterbacks to command their offenses.
Boston College coach Steve Addazio goes back with
Tyler Murphy
, a fellow Connecticut native whom Addazio had initially recruited to Gainesville, Florida, during his time as an assistant there.
Jacoby Brissett
transferred to NC State shortly after coach Dave Doeren was hired there, sitting out last season and taking enough initiative behind the scenes to earn the starting nod before spring ball this year.
"Last year we brought in
Brandon Mitchell
[from Arkansas] through the one-year loophole, and then at the end of the year,
Pete Thomas
and Manny Stocker left to go to [Louisiana-Monroe and UT-Martin]," Doeren said. "While that was going on, Jacoby transferred here from Florida. So I've seen about all of it that can go around. It's just part of what recruiting is now. Guys want to play and people don't want to wait their turn much anymore."
Murphy, who transferred in January, has one year to add some pizzazz to an Eagles' offense looking to spread the field more after last season's run-heavy approach. He spoke often with Brissett (who has two years left at NC State) back when both were still weighing their options when departing Florida.
The familiarity was more than enough to reunite Murphy with Addazio, who said a guy like Murphy probably should have gone to BC in the first place.
"Being a New England guy and growing up around BC, I watched a lot of BC and Matt Ryan in the early 2000s," Murphy said. "So it feels good to be a part of this institution, this program and I'm looking forward to the season."
Florida State could see a pair of its former quarterbacks start against each other next week, as
Jake Coker
transferred to Alabama one year after
Clint Trickett
transferred to West Virginia.
Seminoles coach Jimbo Fisher was supportive of both, with Trickett being familiar with WVU (his dad used to coach there before moving to FSU) and Coker heading to his home-state program after backing up Heisman Trophy winner
Jameis Winston
. Fisher likened the rash of quarterback departures to that of college basketball transfers, because both are possession-dominated athletes.
The graduate-transfer rule, popularized by Russell Wilson three years ago, has only added to that. And, in many ways, it has been a boon for both sides.
"[It] gives some opportunities for guys that are worried about situations like Tyler's," Addazio said, referring to Murphy's injury-shortened 2013. "He's like, 'I've got one shot at this thing. I want to go where I feel like I've got the best opportunity to be the starter.' So you're seeing a lot of this right now. I like this opportunity."
Mel Kiper's Big Board
ACC SCOREBOARD
Thursday, 8/28
Friday, 8/29
Saturday, 8/30
Monday, 9/1