July, 23, 2012
7/23/12
6:35
PM ET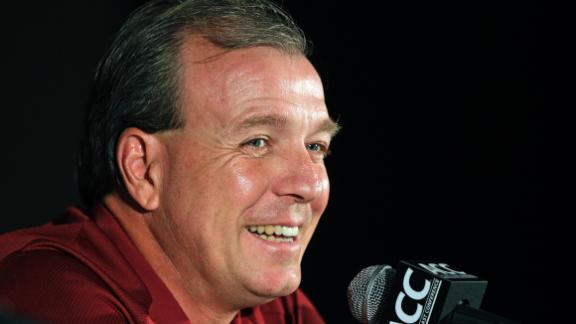 Heather Dinich talks to Florida State coach Jimbo Fisher about preseason expectations after his team was picked to win the ACC.
July, 23, 2012
7/23/12
2:16
PM ET
With the sanctions levied against Penn State's football program Monday, former Florida State coach Bobby Bowden now owns the record for most wins in FBS history.

It's an honor his son, former Clemson coach Tommy Bowden, said will be forever overshadowed by the circumstances in which Bobby Bowden overtook Joe Paterno in the record books.

"His record speaks for itself, and it's my father so you'd like to be happy for him," Tommy Bowden said. "But under the circumstances, it pales in comparison to how significant those problems are and the lives that have been affected."

Paterno, the longtime Penn State head coach, had 111 wins dating back to 1998 vacated from his record as part of the NCAA's sanctions announced Monday, which also included $60 million in fines, a four-year bowl ban and a loss of scholarships in light of the Jerry Sandusky sexual assault case.

That leaves Paterno with an official win tally of 298, well behind Bobby Bowden's official career tally of 377.

Of course, Bowden's actual record on the field included 12 additional wins that were also vacated due to an academic fraud investigation surrounding several FSU players in 2009.

"Even though he did not know about his (infractions), he was the head coach and, as the head coach, you're held responsible," Tommy Bowden said of his father's vacated wins. "The NCAA merited a just discipline for that infraction, and with Penn State they did the same thing."

Bowden said he believed the NCAA's sanctions against Penn State were fair, but he said it was important not to view the wins record as a victory for his father.

"It's such an insignificant thing," Bowden said. "You have to put it in context."
July, 23, 2012
7/23/12
2:16
PM ET
STATE COLLEGE, Pa. -- Joe Paterno is no longer major college football's winningest coach.

As part of the punishment delivered to Penn State on Monday for its inaction in the Jerry Sandusky sexual abuse scandal, the NCAA ordered the Nittany Lions to vacate their victories from the 1998 to 2011 seasons.

Paterno, who died of lung cancer in January, had a career record of 409-136-3 in 46 seasons at Penn State when he was fired on Nov. 9. Under the NCAA's decision, the Nittany Lions will have to vacate 111 victories, leaving Paterno with a career record of 298-136-3.

Former Florida State coach Bobby Bowden, who went toe-to-toe with Paterno for the NCAA coaching record at the end of their careers, becomes major college football's winningest coach with a career record of 377-129-4. Bowden was forced to vacate 12 victories from the 2006 and 2007 seasons, after the NCAA ruled the Seminoles used academically ineligible players during those seasons.

Former Grambling coach Eddie Robinson is NCAA Division I's all-time winningest coach with a 408-165-15 record in 55 seasons from 1941 to 1997. John Gagliardi, who is still coaching at Division III St. John's University in Collegeville, Minn., has a 484-133-11 record after 63 seasons.

Bowden and Paterno were close friends until Paterno's death.

Bowden, who was forced to retire as FSU's coach after the 2009 season, was playing golf with a former assistant coach on Monday morning, when the NCAA ruled Penn State would have to vacate the victories.

"He's not happy about what happened to Penn State and he's not happy that Joe's wins are being taken away," Bowden's wife, Ann, said. "Joe was very sympathetic when the NCAA took away wins from Bobby."
July, 23, 2012
7/23/12
1:24
PM ET
For the second straight season, Florida State was named the overwhelming choice as the preseason favorite to win the ACC.
The Seminoles received 60 votes in a poll of media members assembled in Greensboro, N.C., making them the odds-on pick for their first conference title since 2005. Virginia Tech earned 18 votes, while Clemson finished with 13.
FSU's status as preseason favorites comes as no surprise, as the hype surrounding this year's team has been simmering for months, but last year's four-loss campaign serves as a strong reminder that a lot can change over the course of the season.
To continue reading this article you must be an Insider
July, 23, 2012
7/23/12
12:36
PM ET
NC State quarterback
Mike Glennon
roomed with
EJ Manuel
at last week's Elite 11 camp, where both served as counselors.
The two quarterbacks actually met at Elite 11 four years earlier when both were juniors in high school, and they've stayed in close touch ever since.
"We've talked throughout our whole college careers because we were in similar situations," Glennon said.
To continue reading this article you must be an Insider
July, 23, 2012
7/23/12
9:00
AM ET
EJ Manuel
probably answered the question a hundred times Sunday, but nothing about his response was rehearsed.
He knew what was coming, of course. The hype surrounding Florida State has been building for months, and even Manuel addressed this season's expectations in terms of national championships rather than conference titles.
But those are lofty heights, and so the amassed media Sunday at ACC Football Kickoff wanted to know: Why is this the season Florida State finally puts it all together?
"It has to be the year," Manuel said. "It's my last year."
There are more reasons to believe, of course, and Manuel heard them all Sunday.
His defense is dominant, his receivers are impressive, his leadership ties everything together. Manuel believes these things, too, so there was no point in downplaying the hype.
'Up to us to play'
Meanwhile, Clemson defensive end
Malliciah Goodman
simply shook his head.
The Tigers, after all, are the reigning champs, and they've got some pretty impressive talent returning for 2012, too. The ignominy earned in a 70-33 throttling by West Virginia in last season's Orange Bowl diminished much of that luster, however, and so Clemson gets to fly under the radar this summer.
"My opinion: I don't care who they pick," Goodman said. "It's up to us to play the game. Opinions don't make an impact on us."
Wake Forest barely warrants a mention in the conference title talk this time of year, but nose guard
Nikita Whitlock
remembers fondly how the Demon Deacons forced five turnovers in a win over the Seminoles just last season.
That ought to count for something, he said, but it's tough to overlook the talent on FSU's roster.
"If I was a betting man," Whitlock said, "I'd pick Florida State, too."
N.C. State quarterback
Mike Glennon
lauded the Seminoles' ferocious defense. Virginia Tech quarterback
Logan Thomas
praised Manuel's leadership.
They all helped feed the monster, but Manuel knows what all the hype really means.
'Want to leave a legacy'
"When you sign a letter of intent to FSU, that's what you should expect," he said. "Playing for Florida State, people are always going to have their arrows pointed at your chest. They want to beat you."
So there's no sense in ignoring it. Instead, Manuel is embracing the role, and he's happy to answer the questions.
Is this the year for Florida State?
There's really only one answer Manuel can give, and he's not interested in tempering those expectations. After all, he expects to meet them.
"As seniors, we want to leave a legacy at Florida State," Manuel said. "We can say we helped bring back a national championship. We helped put Florida State back where it used to be. We have to make it that year."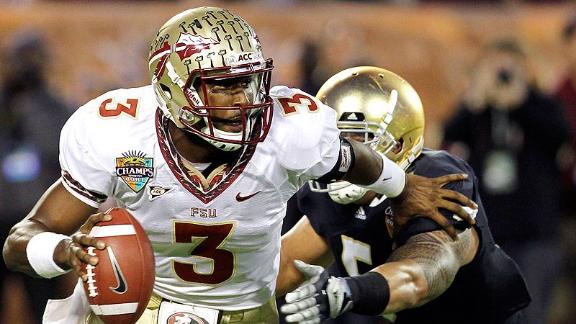 July, 23, 2012
7/23/12
8:06
AM ET
During the final 10 weeks before the season kicks off, NoleNation will march through the depth chart to analyze Florida State's top 50 contributors for the 2012 season. From Austin Barron to Vince Williams, we'll review each player's career, evaluate his role in 2012 and project what might be in store down the road.
Dustin Hopkins
Kicker, Senior, 6-foot-2, 190 pounds
To continue reading this article you must be an Insider
July, 23, 2012
7/23/12
7:34
AM ET
Christian Morgan
(Plano, Texas/Prestonwood Christian Academy) had been to Florida State before.
His trip to Tallahassee for the second edition of the Jimbo Fisher Camp was familiar territory.
A month ago, Morgan came to the Seminoles' campus with an offer in hand. Less than two weeks later, the 6-foot-4, 250-pound tight end gave Florida State his commitment.
To continue reading this article you must be an Insider
July, 22, 2012
7/22/12
7:59
PM ET
During his address to open the ACC Kickoff event Sunday, commissioner John Swofford said there was strong support for a nine-game conference schedule beginning next season when Syracuse and Pittsburgh come on board.

"I think the (athletic directors) collectively voted for the good of the conference that teams see each other and play each other as much as they can in both football and basketball," Swofford said. "That's why we went to a nine-game league schedule."

That might be a problem, Swofford said, for teams like Florida State who play an annual non-conference rivalry game.

While FSU has routinely scheduled high-profile non-conference games in addition to their annual showdown with Florida, that might get tougher when the non-conference slate shrinks to just three games.


July, 22, 2012
7/22/12
4:29
PM ET
After camping last week in Tallahassee,
Nigel Patten
(Miami, Fla./Booker T. Washington) came away with a Florida State offer. The Seminoles are hoping to make a lasting impact by being the first team to pull the trigger with the 2014 prospect. And, as it turns out, Patten already has a good understanding of Mark Stoops' defensive personnel.
"Florida State is a great team, they seem like they are always one of the top teams," said the 5-foot-9, 159-pound defensive back. "They are one of my favorite schools. I like the guys like Lamarcus Joyner and Greg Reid on the defensive side of the ball."
Patten isn't the only prospect Florida State is after at Booker T. Washington. Top 2013 prospects, including
Matthew Thomas
and
Denver Kirkland
, already are being heavily recruited.
To continue reading this article you must be an Insider
July, 22, 2012
7/22/12
3:31
PM ET
COLLEGE STATION, Texas – The way Christian Hutzler (Plano, Texas/Plano) played in the finals of Saturday's Texas State 7-on-7 Championships, it was easy to forget that he just finished up his freshman season weeks ago.
Hutzler caught two touchdown passes and an extra-point attempt as Plano defeated Manvel (Texas) 45-28 in the Division I championship game. The 2015 athlete, who was a backup quarterback to Connecticut commit
Richard Lagow
, lined up at receiver and frustrated Manvel defenders with crisp route-running and nice catches.
"I hope this gets me noticed a lot," Hutzler said. "I was able to make some plays in the championship game. I hope a couple recruiters will see that, and I hope I get some more looks."
To continue reading this article you must be an Insider
July, 22, 2012
7/22/12
9:21
AM ET
Every Sunday, NoleNation will take a look back at the week that was around Florida State, recapping the top stories and shedding a little light on a few that might have fallen between the cracks.
1. Jimbo Fisher Camp signees
Florida State coach Jimbo Fisher relies heavily on his summer camps to evaluate recruits -- and his staff spent much of Wednesday through Friday working closely with dozens of top prospects. Offers and commitments might have seemed sparse as a result. But the Seminoles gained two commits for future classes: 2014 WR
Jake McCrary
(Miami/Coral Reef) and 2015 QB DeAndre Johnson (Jacksonville, Fla./First Coast).
McCrary
becomes the fourth commitment
in the Seminoles 2014 signing class. He chose FSU over offers from Clemson, Florida, Kansas State, Marshall and USF.
Johnson said he
chose Florida State
because he expects playing time to be available at QB when he arrives in 2015. Johnson led First Coast to the 7A state championship game, passing for 2,912 yards and 32 touchdowns and running for 212 yards with four touchdowns.
2. Noles' 2013 class slips to No. 8
When the latest
RecruitingNation rankings
came out Wednesday, they reflected the decommitment of DL
Maquedius Bain
(Fort Lauderdale, Fla./University School of Nova Southeast) from Florida State, which slipped two spots to No. 8.
Bain's status had been in question before his decision Wednesday: He had maintained a list of top schools other than FSU since his commitment in November.
The top-10 class, however, holds 17 commitments led by RB
Ryan Green
(St. Petersburg, Fla./Saint Petersburg Catholic), No. 34 overall and No. 4 at his position. Green is one of four ESPN 150 players and 10 ESPN 300 players.
3. OL Richy Klepal commits
A day earlier, FSU had picked up a commitment from ESPN 300 OL
Richy Klepal
(Tampa, Fla./Plant).
Ranked No. 218 overall and No. 15 at tackle, Klepal chose Florida State over offers that included Georgia, Miami and North Carolina. In his evaluation, ESPN's Craig Haubert said of Klepal:
"The four-star is a prospect who displays good flexibility, agility and balance and runs well and can be an effective blocker in space. He will need further physical development as he can benefit from more good mass and improved strength, but he is a big man with good athletic ability."
4. Bowden proves prescient
Sunday, Penn State said it would
remove the statue
of the winningest coach in NCAA Division I college football, Joe Paterno,
Former Florida State coach Bobby Bowden, the sport's second-winningest coach, had said earlier that the statue
ought to come down
.
Ultimately, Penn State's president, Rod Erickson, said the statue would be placed in storage: "I believe that, were it to remain, the statue will be a recurring wound to the multitude of individuals across the nation and beyond who have been the victims of child abuse," he said in a Sunday morning statement.
5. EJ Manuel visits Elite 11
On a day when the future of dual-threat quarterbacks was in focus, FSU passer
EJ Manuel
was among the college-football players who shared insight with recruits at the Elite 11 finals in Redondo Beach, Calif.
Said Manuel to ESPN.com's Mitch Sherman:
"You can't be upset that you're fast," said Florida State QB EJ Manuel, a former dual-threat prospect and counselor this week to the high school quarterbacks in Redondo Beach. "You're a defense's worst nightmare if you're somebody who can take off and run."
Manuel went on to say that the talent level among quarterbacks at a camp such as Elite 11 demands that each be a good passer, whether or not each can also run well with the ball: "What I think, is if you win games, you're a good quarterback."
July, 21, 2012
7/21/12
7:17
PM ET
ESPN 150 athlete
Alvin Bailey
(Seffner, Fla./Armwood) says he's down to eight programs, four coming from the SEC.
"Right now my top eight is South Carolina, UCF, Notre Dame, Florida State, Georgia, Texas A&M, Michigan and Auburn," Bailey said. "There's an order but that's only for me to know right now."
Bailey said he's planning on taking a trip to Georgia next week and although he didn't make the trip to Florida State with
Jordan Sherit
he's hoping to go to Tallahassee before August or on an unofficial during the season. He has taken visits UCF, Michigan, Notre Dame and Clemson.
To continue reading this article you must be an Insider
July, 21, 2012
7/21/12
3:20
PM ET
The hype has been building for months, but on Sunday, the circus officially begins.
The ACC is holding its annual football kickoff event in Greensboro, N.C., and while it marks the start of a new season, it should feel awfully familiar for Florida State.
[+] Enlarge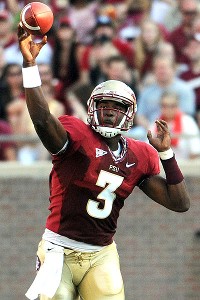 Melina Vastola/US PresswireFlorida State's EJ Manuel threw for 2,666 yards and 18 touchdowns last season.
Jimbo Fisher has been here before, answering the questions about his team's preseason standing as a contender for a national title. He knows the drill, burnishing the hope of a fan base while tempering expectations just long enough to remind those same fans that it's been a long time since FSU won a conference title, let alone a national championship.
The two players Fisher brings with him will know the territory, too.
Brandon Jenkins
and
EJ Manuel
were the Seminoles' player representatives last year as well.
Jenkins was fresh off an outstanding sophomore campaign, and he provided the template for a defense that would dominate. Manuel was taking over the reigns for NFL first-round pick Christian Ponder, but his leadership skills were already firmly established.
The fact that both are back this year is something of a reminder -- both that last year's hype far exceeded the reality of the season, and that this year represents a second chance.
July, 21, 2012
7/21/12
8:08
AM ET
Looking forward to real, live football, NoleNation takes a run through Florida State's 2012 schedule, going game-by-game to find the best storylines and matchups of the upcoming season.
Miami Hurricanes
Saturday, Oct. 20:
Sun Life Stadium, Davie, Fla.
2011 record:
6-6 (3-5 ACC). Miami had trouble building any momentum during coach Al Golden's first season. They won consecutive games just once -- topping North Carolina and Georgia Tech in mid-October -- but finished the year at .500 overall. All six of the Hurricanes' losses, however, were by eight points or fewer.
Coach:
Al Golden (6-6, second season)
Series record:
57th meeting, Miami leads 31-25.
Players to watch:
Stephen Morris
(QB, Jr.) will take over the starting job from Jacory Harris;
Mike James
(RB, Jr.) had eight total touchdowns last season;
Denzel Perryman
(LB, So.) had 69 tackles, 6.5 for a loss and forced two fumbles in 2011;
Vaughn Telemaque
(S, Sr.) had 59 tackles and an interception last season.
Potential storylines:
Can FSU make it three in a row? Jimbo Fisher has yet to return Florida State to the lofty heights it reached in the 1980s and 90s, but if the first step in rebuilding the tradition is reclaiming the throne from the Seminoles' chief rivals, Fisher has been a rousing success. FSU has now toppled in-state rivals Florida and Miami in each of the past two seasons, and the Seminoles are likely to be heavily favored against the Hurricanes once again in 2012. Florida State hasn't beaten Miami three straight times since it took five in a row from 1995 through 1999.
Will FSU still be undefeated? Eight weeks into the season, it will be interesting to see how Florida State is handling the pressure if it is still undefeated heading into the Miami game. Certainly the Hurricanes have fallen from the lofty heights of their heyday, but given all the history of this rivalry, a matchup that features an undefeated FSU with national-title aspirations on the line against upstart Miami would certainly generate plenty of buzz.
Who will be left for Miami? This is the biggest question that will loom over the Hurricanes' entire season. NCAA sanctions are coming, and Miami has been proactive in trying to address the issues, including a self-imposed bowl ban last season. But odds are, that won't be enough, and for a team already in rebuilding mode, there's a decent chance a handful of veterans may also be off limits at some point during this season. Safety Ray-Ray Armstrong, for one, was dismissed from the team July 18 amid the controversy.
Fun fact:
Action stars Dwayne "The Rock" Johnson and Sylvester Stallone attended school at Miami, though Stallone did not graduate.
Key matchup:
Miami defensive line vs. FSU running game. The Seminoles mustered just 63 rushing yards in last year's win over Miami, a problem that was especially noticeable when it came time to run out the clock in the fourth quarter. The Hurricanes scored twice in the final six-and-a-half minutes to nearly complete the comeback, and FSU had no answers. And it wasn't as if the Hurricanes were a stout defense against the run. They finished eighth in the conference, allowing an average of more than 160 yards per game on the ground. This year's front should be at least marginally improved with the return of injured defensive tackle
Curtis Porter
and a trio of hefty freshmen added to the mix.
Miami will win if:
The kids grow up fast. Miami will enter this season having lost its starting quarterback, leading rusher and top two receivers on offense, and will be expecting big contributions from freshmen like
Tyriq McCord
and
Tracy Howard
, among others, to step into big roles immediately on defense. On one hand, the turnover is a blessing as Golden works to revamp the culture at Miami. On the other hand, he'll be asking a lot of a talented but inexperienced group that will need to mature quite a bit during the first eight weeks of the season if it hopes to topple its in-state rival for the first time since 2009.
Noles will win if:
They play a more complete football game. Last year's win was keyed by three early turnovers forced by the defense and an 83-yard punt return for a touchdown by
Greg Reid
. Fisher would love a repeat performance, but not without some contributions from the offense. Miami actually outgained FSU by 124 yards last season, and the Seminoles offense turned in one of its ugliest performances of the season. Fisher's group averaged just 2.2 yards per carry on the ground and EJ Manuel was sacked three times. The offensive line will need to step up to secure a more well-rounded performance this time around.
To continue reading this article you must be an Insider