March, 19, 2015
Mar 19
11:00
AM ET
TALLAHASSEE, Fla. -- Florida State coach Jimbo Fisher walked into his opening news conference with far fewer microphones and notepads staring back. That's because of the number of new faces glaring back at the sixth-year coach in his own football meetings.
At this meeting with reporters -- almost exclusively of the local variety -- on the first day of spring camp, there was no talk of complacency or repeats or dynasties. There were hardly any questions about that former polarizing quarterback (of course there would be some). Instead, the afternoon session's buzzwords were rooted in education: coach, patience, teach.
There is an obvious contrast in the Florida panhandle this spring. The Seminoles will have lost more than 30 players to the NFL draft over the past three years -- chief among them Jameis Winston. The Seminoles had a 29-game winning streak -- chief reason for it being Winston -- snapped in last season's finale.
[+] Enlarge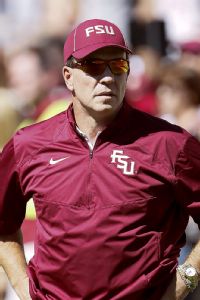 Don Juan Moore/Getty ImagesWith high-profile departures and a young roster, expectations for Jimbo Fisher's Seminoles are more modest this year than last.
So, Florida State, we'll take that black hat from you while you exit stage left into relative (and welcomed) obscurity for the time being. The 2015 college football spring prospectus is focused on Alabama, TCU and USC. The only quarterback we're interested in right now is the one in Columbus, Ohio -- whichever one the Buckeyes choose (or maybe don't choose).
"I guess I've been in [coaching] long enough to have been on both ends of it," Fisher said of the preseason hype, which besieged FSU last spring. "They're relatively similar from a coaching standpoint in that you've still got to go develop your team. I know y'all don't look at it that way, but we do.
"… But it does feel different."
The Seminoles have been freed of the "media hoopla," as Fisher referred to it, that embroiled the 2014 season. Though there is the lingering question of whether they can withstand the constant cycling and remain at college football's summit, most of the outside pressures have been lifted as the early belief is the 2015 Seminoles will step back. (Colleague Mark Schlabach has them No. 15 in his Way-Too-Early Top 25.) The offense is being overhauled and is auditioning for a quarterback. The defense is rallying from the loss of two former five-star linemen and its starting corners. The core of the 2014 team and a dozen of its members are all off to certain NFL futures.
Roberto Aguayo, one of the few draft-eligible players that elected to remain in school, said it feels like a new era has been ushered in around campus.
"We're forced to have that chip on our shoulder. We had it last year but now it's more realistic," he said. "Obviously we don't have a starting quarterback right now. … Jameis is a one-of-a-kind quarterback and now we don't have him."
Florida State is embracing the challenge, which all elite programs go through every few seasons. The better the recruiting, the quicker the roster churns over and the higher the demand placed on young players to make earlier impacts. Although Florida State has recruited better than any program outside of Tuscaloosa, Alabama, that talent is still undergoing the required maturation. Dalvin Cook and Jalen Ramsey present the freshmen exception rather than the rule as most first-year players serve as understudies. With a young roster, Florida State's staff is tasked with molding it so the newer Seminoles are ready to contribute come September.
"To me, that's why it's exciting to watch these new pups develop into football players," Fisher said. "Sometimes it can be a frustrating thing, but at the same time it's very fun. You have to remember to keep your patience because you see the talent. … I think we have to continue to make sure we're dotting I's and crossing T's and making sure they know exactly what we want. Because if we do that, I think we have a chance to be another very, very good football team."
It's too early to size up the picture of the 2015 season after a single brush, but Fisher was chipper following the Seminoles' first spring practice. Redshirt junior Sean Maguire started the quarterback competition with a leg up based on his experience, but he took control of his first practice with his voice as much as his arm, said Fisher, notorious for coaching his quarterbacks hard.
"It looked like he wanted that job and was in control of things," Fisher said. "… I was very pleased with his demeanor and execution and decision-making."
"… Again, it's day one."
In more than one way.
Goodell Has Sit-Down With Jameis Winston
ACC SCOREBOARD
Thursday, 9/3
Saturday, 9/5
Monday, 9/7