July, 31, 2014
Jul 31
2:39
PM ET
While Florida State has Heisman Trophy winner Jameis Winston for at least one more season, the future of the quarterback position is up for grabs.
The Seminoles added another player to the race with the commitment of ESPN 300 No. 55 Deondre Francois, who announced his decision Thursday at his high school.
The 6-foot-2, 188-pound Elite 11 participant and No. 4 dual-threat prospect in the 2015 class selected the defending national champions over Auburn.
The Seminoles were considered the favorite for the majority of the recruitment, but Oregon, Ohio State, Notre Dame and Tennessee all made runs at the Under Armour All-America selection at various times since the end of the 2013 season.
Francois played his junior season at Olympia High in Orlando, but transferred in the spring to IMG Academy in Bradenton, where he now plays for former Florida State quarterback and 2000 Heisman Trophy winner Chris Weinke.
Francois joins fellow ESPN 300 signal-caller De'Andre Johnson in the Seminoles' 2015 class, and just minutes before Francois' announcement, quarterback Kai Locksley, son of Maryland assistant Mike Locksley, also committed to the Noles.
Once on campus, Francois and Johnson will compete with current Florida State backup quarterbacks Sean Maguire
July, 31, 2014
Jul 31
2:02
PM ET
ESPN.com news services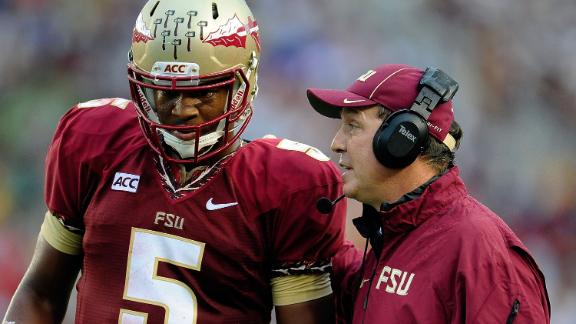 The Florida State Seminoles aren't going anywhere, as the defending national champions are the No. 1 team in the preseason Amway Coaches Poll, which was released Thursday.
FSU, led by Heisman Trophy-winning quarterback Jameis Winston, got 56 of the 62 first-place votes.
"We're very excited about being No. 1 and happy to be No. 1, but we understand that we have to play like No. 1 and play great football," FSU coach Jimbo Fisher told USA Today. "That's going to be our objective. We're proud to start there and now we just have to go play great football."
Alabama, Oklahoma, Oregon and Auburn, which lost to FSU in the final BCS title game last season, round out the top five. Ohio State starts at No. 6, and is followed by UCLA, Michigan State, South Carolina and Baylor.
Overall, the SEC leads the way with seven teams in the poll. The Pac-12 is represented by six teams, and the Big 12 and Big Ten each have four teams in the poll.
July, 31, 2014
Jul 31
12:50
PM ET
Surprise, surprise --
Florida State
is the preseason No. 1 team in the Amway Coaches Poll.
The Seminoles
received 56 of the 62 first-place votes
as they enter 2014 looking to repeat as national champions.
Clemson
and
North Carolina
were the only other ACC teams to be ranked, coming in at Nos. 16 and 23, respectively. For those keeping track, that means UNC is the only team from the Coastal Division to be ranked in the poll. This comes after Miami was chosen by the media in Greensboro, North Carolina, last week as the preseason Coastal favorite, in the same poll that saw
Duke
receive the most first-place Coastal votes. It is worth repeating again: This division race is wide open.
Notre Dame
, which begins its football affiliation with the ACC this fall, checks in at No. 17 in the coaches' poll.
Miami leads the ACC contingent in the "others receiving votes" category of the coaches' poll, coming in at No. 34 overall. Right behind the Hurricanes? Duke and
Louisville
, at Nos. 35 and 36, respectively.
Virginia Tech
comes in at No. 40 while
Georgia Tech
is No. 48.
Half of the ACC's coaches vote in the poll: Frank Beamer, David Cutcliffe, Larry Fedora, Jimbo Fisher, Al Golden, Paul Johnson and Dabo Swinney. Notre Dame's Brian Kelly votes as well. Shockingly, all eight of those coaches saw their teams receive votes.
July, 31, 2014
Jul 31
12:00
PM ET
The season really cannot get here soon enough, can it?
Until then, no news is good news, and North Carolina is the latest to find that out, with
multiple reports saying that three scholarship Tar Heels are no longer on the team
.
A school spokesman confirmed the departures to ESPN.com.
Defensive tackles Shawn Underwood and Greg Webb and linebacker Clint Heaven will not be with the Heels when fall camp kicks off Friday. Offensive guard J.J. Patterson is not a part of the 105-man roster, the spokesman said.
Underwood and Webb are no longer a part of the program due to personal reasons, the spokesman said, while Heaven has transferred to Northern Iowa.
Underwood is the most decorated of the four, having been on the two-deep up front and coming off a 10-tackle junior season.
As Insider Carolina's Greg Barnes
notes
, 15 UNC scholarship players with eligibility remaining will not return for the 2014 campaign, a number that would be staggering if it wasn't so familiar in the conference already. As Andrea Adelson
noted last week
, fellow Coastal division foe Georgia Tech has lost 13 non-seniors since last season ended.
Here's to relatively quiet camps this next month.
Elsewhere across the ACC:
July, 31, 2014
Jul 31
10:59
AM ET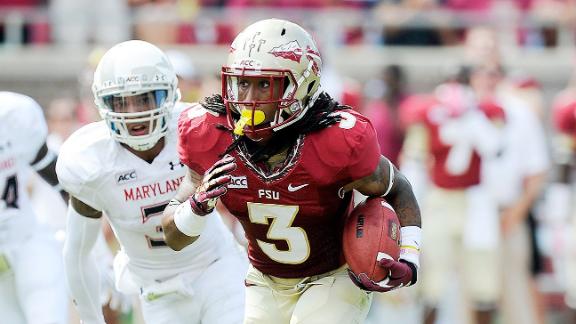 Florida State receiver Jesus "Bobo" Wilson has pleaded no contest to two misdemeanors for his role in a scooter theft on campus, his attorney confirmed Thursday.
Tim Jansen said Wilson had the initial felony charge reduced to misdemeanor petty theft and misdemeanor criminal mischief. Wilson already has paid $1,074 in restitution to the scooter owner, and was sentenced to spend 30 days on a jail work camp and two years' probation. The probation can be reduced to one year if he completes the work camp.
Wilson was automatically suspended from the football team after he was charged with a felony last month in connection with a stolen scooter. After initially telling police a friend let him borrow the scooter, he later admitted to investigators that he stole the scooter in June but did not plan on keeping it as long as he did.
The reduced charges pave the way for Wilson to be reinstated to the football team. There was no official word from Florida State about whether Wilson's status has changed.
Players report for fall practice Sunday. Wilson is expected to be a key contributor to the receiving group this fall after a standout spring.
"He feels great that this is over with. It's resolved. The restitution is paid," Jansen said. "It was a stupid mistake and he's moving on."
July, 31, 2014
Jul 31
10:00
AM ET
The time of year we've all been waiting for has finally arrived.
That's right, we're talkin' about practice.
Georgia Tech
takes the field Thursday to kick off practice across the league. Here is a quick look at opening practice dates around the ACC:
Friday
Saturday
Monday, Aug. 4
Tuesday, Aug. 5
July, 31, 2014
Jul 31
9:00
AM ET
As we get set to open fall camps around the ACC, we're counting down the
conference's Top 25 players
-- five per day all this week.
10. Tre' Jackson, Florida State Seminoles
Position:
Offensive guard
Year:
Senior
The interior linemen for Florida State have never gotten quite as much credit as the guys on the edge, but both Jackson and fellow guard
Josue Matias
have developed into top NFL prospects and elite blockers. At 6-foot-4, 330 pounds, Jackson is the biggest member of a senior-laden line for FSU, and in his two years as a starter, the Seminoles have rushed for an average of 5.6 yards per carry.
9. DeVante Parker, Louisville Cardinals
Position:
Wide receiver
Year:
Senior
Only five receivers in the nation recorded double-digit touchdown totals in both 2012 and 2013. Of that group, just one will be back for 2014, and that's Parker. Louisville is the newest addition to the ACC, but the conference's cornerbacks better get to know Parker quickly. For his career, Parker has racked up 113 catches and nearly 2,000 yards, but with offensive guru Bobby Petrino taking over as head coach this year, Parker is poised for his biggest season yet.
8. P.J. Williams, Florida State
Position:
Cornerback
Year:
Junior
A preseason first-team All-ACC selection, Williams is finally starting to get the credit he so richly deserved for handling so much of the dirty work on Florida State's dominant secondary in 2013. Williams was often tasked with shadowing the opponent's top receiver, and he was targeted more than any other defensive back on the Seminoles' roster, but he held his own and clearly made strides as the season progressed. The result was 35 tackles, three interceptions and defensive MVP honors in the BCS national championship game.
7. Cameron Erving, Florida State
Position:
Offensive tackle
Year:
RS Senior
When Erving first made the switch from a back-up defensive tackle to the starting left tackle in the spring of 2012, coaches immediately gushed about his natural ability on the offensive side of the ball. And it was true, he was a quick fit on a developing line that made huge strides in his first year. But now Erving has refined those natural skills and, as coach Jimbo Fisher raved, he's a far more nuanced lineman and leader, and he'll be the cornerstone of a senior-laden line in 2014 that promises to be among the best in the nation.
6. Denzel Perryman, Miami Hurricanes
Position:
Linebacker
Year:
Senior
A first-team All-ACC selection, Perryman is the heart and soul of Miami's defense. Perryman racked up 108 tackles last season, including double-digit tackles in six different games, highlighted by a 13-tackle performance in an upset win over Florida. Perryman's speed and athleticism in the middle should make him one of the ACC's most feared defenders again in 2014 and opens options for the Hurricanes to break in some young talent around him.
July, 31, 2014
Jul 31
8:00
AM ET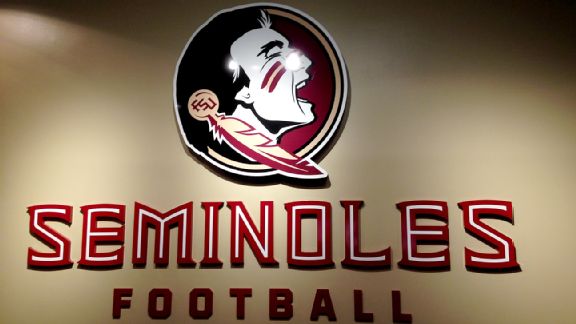 Jared Shanker/ESPN
TALLAHASSEE, Fla. -- Jimbo Fisher's voice heightened and fists pounded the table at the ACC Kickoff last week when discussing the significance of the
Florida State Seminoles
' facility upgrades.
Those upgrades are expected to be completed this weekend, and the athletic department showcased the renovations Wednesday following a joint announcement by university and Seminole Boosters, Inc., that Florida State is in the midst of an eight-year, $250 million fundraising campaign.
"We're demanding so much today of our athletes ... that there has to a commitment on the Florida State side. The culture has changed," Fisher said Wednesday.
Athletic departments across the country annually are upgrading facilities with help from school donors, and Florida State is just the latest in the ongoing arms race across college football. Mark Robinson, Seminoles director of football operations, said few programs can match what Florida State is doing, and he said he has not seen any other program build a locker room that can mirror the Seminoles'.
"We can't be complacent," Fisher said. "We have to be ahead of everybody, let people follow us.
"... We plan on being on top for a while."

Jared Shanker/ESPN
Here's a panorama view of the locker room. The lockers themselves have iPads that the staff can personalize for each player with messages, game film, etc.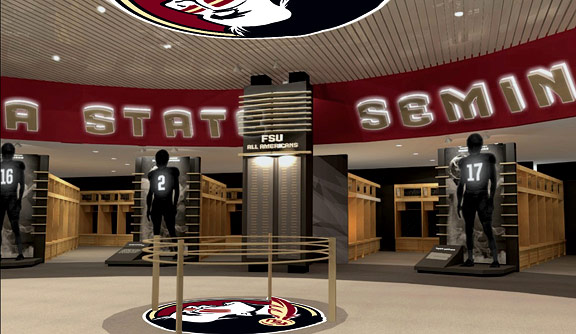 Courtesy of FSU Athletics
The players whose numbers are retired at Florida State will have permanent statues in the locker room, and their numbers will always remain lit.

Jared Shanker/ESPN
This is the panoramic view of Doak Campbell Stadium from Fisher's office.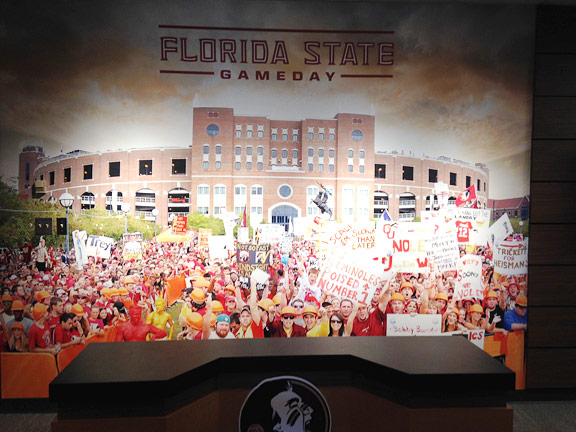 Jared Shanker/ESPN
One of the aspects of the upgrades is a "College GameDay" set in the offices, and each week Florida State's and the opposing team's helmet will sit on the set.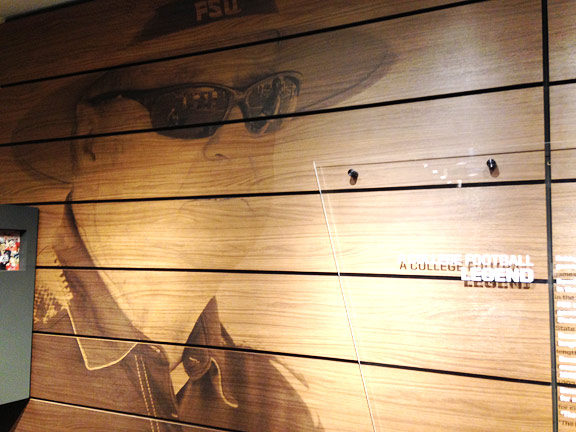 Jared Shanker/ESPN
Bobby Bowden, who won two national titles at Florida State, has his own wall.

Jared Shanker/ESPN
In the football suite is a picture of
Kelvin Benjamin
's catch to win Florida State's recent national championship and a wall saluting
Jameis Winston
and the three Heisman trophies Florida State owns.
Now, which team will be the first to try and top this in 2015?
July, 30, 2014
Jul 30
4:29
PM ET
ESPN.com news services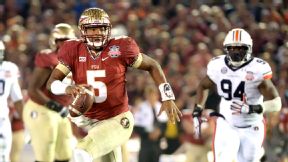 Kirby Lee/USA TODAY SportsAn officer confiscated a pellet gun possessed by Jameis Winston, left, and Chris Casher after the players complied with him during a 2012 off-campus stop.
TALLAHASSEE, Fla. -- Police say Heisman Trophy winner Jameis Winston and Florida State teammate Chris Casher were held at gunpoint by campus police nearly two years ago while hunting squirrels with a pellet gun.
Officer Anthony Gioannetti responded to a call and found the pair on a campus bike path with a long-barreled pistol. He drew his gun, pointed it at the players and shouted several times for them to get on the ground.
One of the players dropped the gun and Gioannetti kept his weapon draw until another officer handcuffed the players across the street from campus. The officers then determined the pistol was a pellet gun.
"They said they were shooting at squirrels along the bike trail," Gioannetti wrote in his report.
The gun was confiscated and the players were released with no charges.
The story was first reported Wednesday by USA Today.
Contacted after the report, Winston said, "Sorry sir, I'm not talking about that."
July, 30, 2014
Jul 30
2:40
PM ET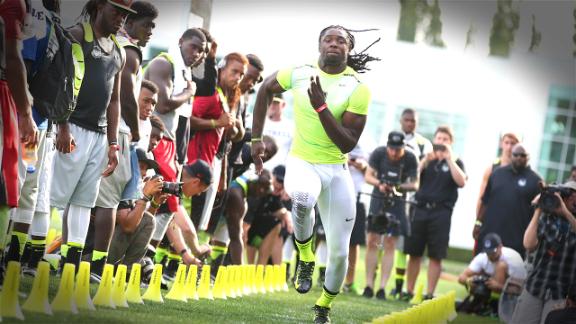 Josh Sweat
, the nation's No. 1 prospect, has lined up all five of his official visits. Sweat said he turned down more than 50 scholarship offers to focus on Florida State, Georgia, Ohio State, Oregon and Virginia Tech. He also said Texas A&M and Auburn are also still under consideration.
July, 30, 2014
Jul 30
12:00
PM ET
In the spring, Syracuse coach Scott Shafer said he was looking forward to seeing a new and improved Wayne Williams ready to tackle fall practice.
I'd say these
photos are proof
of that.
.
The picture on the left was taken in January, when Williams enrolled at Syracuse and weighed close to 350 pounds. The picture on the right is what he looks like now. Though Williams did not say how much weight he has dropped, it appears to be a significant amount.
A new and improved Williams indeed.
Why is this important? Williams' development
is a huge key
for a Syracuse defensive line that has to address major depth issues when practice begins Saturday. Syracuse has to replace tackle Jay Bromley, who led the team with 10 sacks and 14.5 tackles for loss last season. Williams was so out of shape in the spring, he could not really contribute in a meaningful way, and the Orange ended up cross-training ends to play inside to help make up for depth concerns.
An in-shape Williams changes the picture dramatically. Syracuse has been waiting on him for years now, a talented prospect who has been frustratingly out of reach. But now that it appears Williams has taken the necessary steps to get himself into playing shape, the Orange defensive front could end up surprising some people.
Now, here is a look at more headlines across the ACC:
July, 30, 2014
Jul 30
9:30
AM ET
In every class there are must-get recruits for schools. They can be a top uncommitted prospect or even a pledge who is essential to keep in the fold.
Here are the picks for the teams in the ACC, with the prospect's overall ranking.
To continue reading this article you must be an Insider
July, 30, 2014
Jul 30
9:00
AM ET
As we get set to open fall camps around the ACC, we're counting down the
conference's Top 25 players
-- five per day all this week.
15. Anthony Harris, Virginia Cavaliers
Safety, senior
His junior stats speak for themselves, leading the nation with eight interceptions. Even more impressive is he picked off an opposing quarterback in five straight games, an even tougher feat considering Virginia spent much of last season on the wrong end of a blowout. The unquestioned leader of the Cavaliers defense, Harris will have to repeat his performance from last season as well as raise his teammates' level of play if Virginia is going to return to bowl eligibility. Harris also will be saddled with grooming
Quin Blanding
, a five-star freshman.
14. Tyler Boyd, Pittsburgh Panthers
Wide receiver, sophomore
With
Aaron Donald
,
Tom Savage
and
Devin Street
all moved on, Boyd is the face of the program. The second-year player is the lone Panthers representative on the team's media guide. He totaled nearly 1,200 receiving yards last season, but don't be surprised if those numbers increase. He is the only proven receiving target, and first-year starter
Chad Voytik
will need a security blanket. Boyd is one of the most explosive players in the conference, and he could easily lead the ACC in catches and yards this season.
13. Ryan Switzer, North Carolina Tar Heels
Wide receiver/punt returner, sophomore
It speaks volumes about a player's game-breaking ability when he ranks No. 13 on the list following a season with just 32 catches and 341 yards receiving. But Switzer earns the accolades considering how dynamic he is on special teams. He returned 25 punts last season and he took five back for touchdowns, tying an NCAA record. Scoring on 20 percent of your punt returns is an unheard of number.
Chad Owens
, who shares the record with Switzer, needed 36 returns.
Devin Hester
scored on less than 10 percent of his returns when he broke the NFL record with four punt return scores in 2007.
12. Mario Edwards Jr., Florida State Seminoles
Defensive lineman, junior
The best indicator on Edwards' junior season will be analyzing the statistics of those around the former No. 1 recruit nationally. The Seminoles' scheme won't consistently put Edwards in a position to rack up sacks or tackles for loss, but he will be the focal point of a defensive line filled with blue-chip prospects. Edwards will be asked to take on double-teams to open up room for his fellow linemen and to allow Florida State's athletic linebackers to run freely toward the football. On the occasions Edwards doesn't command a double-team, it could be a repeat of the national championship game when Edwards, listed at 294 pounds, was running down Auburn's
Nick Marshall
.
11. Kendall Fuller, Virginia Tech Hokies
Cornerback, sophomore
A preseason All-ACC selection, Fuller is poised to not just follow in brother Kyle's footsteps but to surpass him. The 2013 ACC Defensive Rookie of the Year, Fuller has the tools to be the next elite defensive back to come through Blacksburg. He played in every game last season and picked off six passes. Fuller is also a factor in defending the run, totaling 58 tackles. At nearly 200 pounds, Fuller is rarely going to get bullied by opposing receivers.
Fisher's Son's Sweatshirt Caught Nike's Eye
ACC SCOREBOARD
Thursday, 8/28
Friday, 8/29
Saturday, 8/30
Monday, 9/1