December, 16, 2014
Dec 16
12:51
PM ET
ESPN.com news services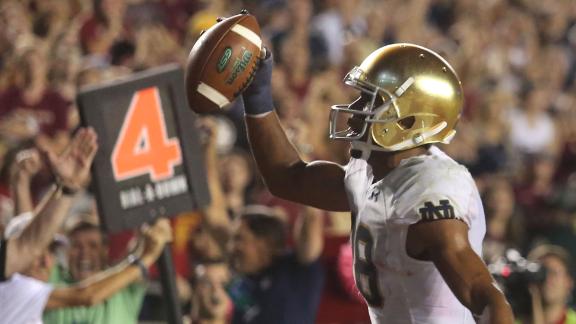 The Florida State Seminoles led the way among the College Football Playoff participants with three first-team selections on the 89th AP All-America team.
The defending champion Seminoles were represented by tight end Nick O'Leary, guard Tre' Jackson and kicker Roberto Aguayo, who is an AP All-American for the second straight season.
Aguayo is the first kicker to be a two-time All-American since Ohio State's Mike Nugent, though Nugent did not make the first team in consecutive seasons like the Seminoles' star.
The Oregon Ducks and Alabama Crimson Tide each had two selections, including a couple of Heisman Trophy finalists.
Heisman winner Marcus Mariota is the first Ducks quarterback to be an All-American. He is joined by Ducks cornerback Ifo Ekpre-Olomu.
The second-seeded Ducks will play third-seeded Florida State on Jan. 1 at the Rose Bowl Game Presented by Northwestern Mutual.
December, 16, 2014
Dec 16
12:00
PM ET
TALLAHASSEE, Fla. -- About five hours after Florida State won the final championship of the BCS era, hot off the presses from the Associated Press was a game recap that already called for the Seminoles to compete for the first championship of the playoff era that officially dawned Jan. 7.
The AP was a little late.
Las Vegas already labeled the Seminoles as favorites (11/2 odds) to win consecutive titles and ESPN.com had Florida State perched atop the Way-Too-Early Top 25 before the team retreated to the locker room to celebrate.
[+] Enlarge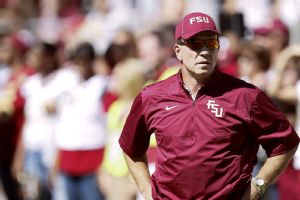 Don Juan Moore/Getty Images"It was good to give the guys a week off mentally and physically and they needed it after a long season," Jimbo Fisher said of his Seminoles.
Just weeks from the College Football Playoff semifinals on New Year's Day, the Seminoles are where most people expected when 2014 predictions began emanating from Southern California shortly after 9 p.m. local time on Jan. 6. Florida State will play Oregon on the same Rose Bowl field with a bid to the national title game on the line.
But the Seminoles are traveling to the West Coast ranked third. And Vegas believes Florida State needs to be spotted a touchdown just to make the game interesting. In fact, some folks out in the desert suggest Florida State would be an underdog to more than a half-dozen teams on a neutral field.
"Probably so," Florida State linebacker
Reggie Northrup
said when asked if he felt the Seminoles are viewed as the weakest link among the other playoff teams Alabama, Oregon and Ohio State.
The story of the preseason darling falling out of favor is not penned exclusively for the 2014 Seminoles. A preseason No. 1 hasn't played for a national title since Ohio State in 2006.
It's not often college football minds fall out of love with a preseason No. 1 that is undefeated, though. The 13-0 Seminoles haven't lost a game but were never ranked No. 1 in the College Football Playoff Committee Rankings and fell to fourth in the penultimate release.
Expectations for this team over the course of the last four months have changed drastically, from the preferred championship pick to maybe a peripheral contender.
With Alabama sitting in its reserved No. 1 seat and No. 2 Oregon's quarterback in the award circuit's spotlight, Florida State is enjoying its first few moments to catch its breath off camera.
"I knew it'd be hard but I didn't know it'd be this hard," sophomore
Nate Andrews
said of the pressure to repeat. "Every week we had to play our hearts out."
Northrup, who leads the team in tackles, said the pressure is off the Seminoles now that the regular season is over and they're not looked at as the playoff favorites.
"With No. 1, you have that pressure and you're a target," he said. "I feel like there's no pressure on us. We can just focus and prepare for this game."
Florida State coach Jimbo Fisher was happy with the focus his team showed Sunday in its first bowl practice. Following the ACC championship, Fisher and his assistants scattered across the country to recruit, and players spent last week focusing on finals. Some players went back home. Fisher asked his team to take a break from football after a season that both physically and emotionally taxed Florida State.
"The pressures of winning and being a champion and doing all those things. I mean, sometimes you just got to get away from it," he said. "You got to walk away, mentally. You got to clear your mind and get a fresh mind.
"... It was good to give the guys a week off mentally and physically and they needed it after a long season."
New expectations are the season won't last much longer.
December, 16, 2014
Dec 16
11:00
AM ET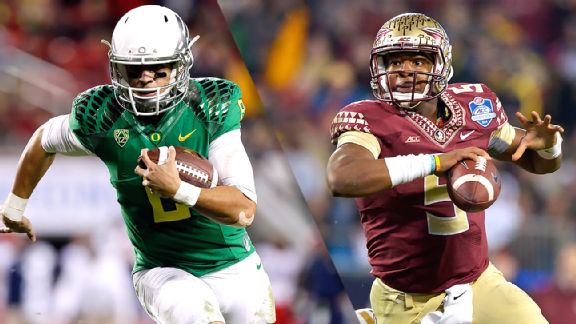 Getty ImagesMarcus Mariota and the Ducks led the Pac-12 in turnover margin while Jameis Winston and Florida State had a penchant for turnovers.
The
Marcus Mariota
vs.
Jameis Winston
storyline is a delicious headline/ratings grabber, isn't it? A couple of Heisman winners -- both quarterbacks -- meeting in the Granddaddy, which also happens to be the first-ever national semifinal.
Without question, the 2013 Heisman Trophy winner from Florida State and the 2014 Heisman Trophy winner from Oregon will take center stage on New Year's Day in the Rose Bowl Game Presented by Northwestern Mutual. The winner advances to the national championship game to face the winner of Alabama-Ohio State.
And who can't wait for those plays when Mariota will come bursting off the edge on a backside blitz, looking to bury his facemask into Winston's jersey? Or seeing Winston roaming at safety, waiting to pluck a wayward Mariota pass out of the air. Spoiler alert: These things won't happen.
The QB vs. QB storyline, as fun as it is to entertain, simply doesn't play out on the field. Unless, however, you're talking about one quarterback capitalizing off of the other's mistakes.
Then
, we've got a story.
Turns out that when it comes to making teams pay for their mistakes, Oregon is pretty darn efficient. The Ducks led the Pac-12 in turnover margin, grabbing 14 fumbles and 11 interceptions. Having turned the ball over just eight times (six fumbles, two interceptions) they have a robust plus-17 margin. That's third best in the country behind only Michigan State (plus-20) and TCU (plus-18).
And what do they do with those turnovers? The answer is 120 points. Nearly 20 percent of Oregon's 602 points this season have come after a turnover. When teams turned it over against the Ducks, Oregon taxed them on the scoreboard 72 percent of the time (18 of 25).
This is noteworthy since Florida State has a penchant for turnovers. The Seminoles have given it up 27 times. Oregon, conversely, leads the country with just eight turnovers. Winston has thrown 17 interceptions. Mariota has tossed just two.
Oregon's 120 points off of turnovers ranks sixth nationally, and their points margin of 107 (120 points scored, 13 allowed after a turnover) is second best in the country behind TCU. Again, in this category, Florida State isn't so good. The Seminoles are actually in the negative in points margin at minus-10. They've scored 83 points off of turnovers, but allowed 93. That ranks in the bottom 20 of all Power 5 schools.
This is how we can make the Mariota vs. Winston storyline work. If Winston turns the ball over, there is a good chance Oregon is going to make him pay for that mistake. If Mariota turns the ball over, more than likely, the Oregon defense can course-correct.
Oregon has forced at least one turnover in 12 of 13 games this year (bonus points if you guessed Colorado was the one team that didn't turn the ball over against the Ducks). And in 10 of those 12 games, the Ducks have produced at least seven points off of turnovers. They have multiple scores after turnovers in seven games.
Not surprisingly, in the their lone loss of the season, the Ducks failed to score following a pair of Arizona turnovers back in October. In the rematch, they were 2-for-2 with 10 points off of turnovers. Michigan State, UCLA, Stanford etc. were all victims of Oregon's opportunistic defense and efficient offense.
Granted, Florida State still has the ultimate "scoreboard" argument. The Seminoles haven't lost a game since Gangnam Style was still a thing. They've flirted with defeat plenty of times, but each time they have endured.
No, we won't get to see Mariota and Winston line up on opposite sides of the ball. But how one plays on New Year's Day could dramatically impact what happens to the other. The turnover battle -- and what the other quarterback does with those turnovers -- could end up being the real Mariota vs. Winston storyline.
December, 16, 2014
Dec 16
10:30
AM ET
It was the scene every Florida State fan feared.
Sean Maguire
, still in the game in the fourth quarter because of a second suspension handed down to
Jameis Winston
less than a day before the game, was walking off the field having seemingly cost the Seminoles a chance at consecutive national titles.
With a little more than two minutes left in a tied game, Maguire threw an interception on the Seminoles' side of the field. Clemson began what it hoped would be the game's final drive at the FSU 26-yard line with 2:14 remaining. A win would give the Tigers a vise grip on the Atlantic Division title.
The Seminoles still had all three timeouts, though, and Clemson kicker
Ammon Lakip
missed field goals of 23 and 40 yards earlier in the game. The Tigers couldn't just sit on the ball and hand it off to Lakip for an easy go-ahead kick. So the Tigers ran quarterback
Deshaun Watson
on first down before handing the ball to
C.J. Davidson
on second-and-short.
The offensive line paved a nice hole for Davidson, who looked as if he might be able to take the ball the final 18 yards. However, Seminoles defensive tackle
Eddie Goldman
got his big left paw on Davidson and the football and ripped the ball loose as he took Davidson to the ground.
Nate Andrews
was there to dive on the ball and push the game to a fifth quarter.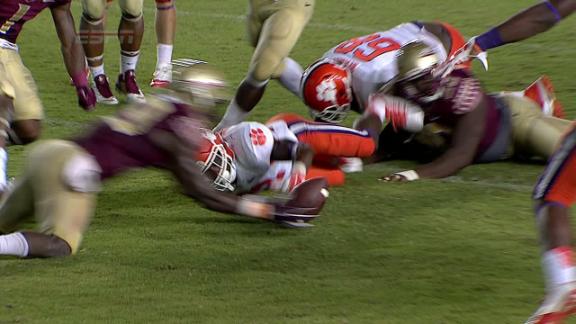 The play, pure and simple, is the epitome of "Clemsoning." In about a five-second span, that play sums up all that "Clemsoning" is and is potentially the defining "Clemsoning" moment considering it happened in a game with so many Tigers miscues that it generated
this headline
from The Washington Post.
Despite all the missed field goals and bad snaps, the Tigers were in the red zone with time winding down. Any score would have given Clemson the lead and forced the Seminoles to drive the field with Winston relegated to the sideline in jeans and a baseball cap. For Clemson fans, it might have been a satisfactory resolution for what happened in Death Valley in 2013.
If the remaining results of the 2014 ACC schedule held, the Seminoles would have been shut out of the conference championship game and the playoff. Clemson would possibly be playing in its third Orange Bowl in the last four seasons.
Instead, Florida State kept winning games in similar fashion and is on the cusp of having a 30-game winning streak.
December, 16, 2014
Dec 16
10:25
AM ET
December, 16, 2014
Dec 16
9:00
AM ET
The dead period is upon college football with last weekend the last chance to have in-person contact until January 5th. As expected, there were some key visits in the ACC, but a pair of decommitments and a huge commitment for Clemson took center stage.
December, 16, 2014
Dec 16
8:00
AM ET
If Georgia Tech is going to win the Orange Bowl, it's going to have to have a much better game up front on defense than it did in the ACC Championship.
The Dispatch takes a look at
the battles along the line of scrimmage
in the Orange Bowl and notes that
Dak Prescott
is more than capable of having a huge game if his offensive line handles Tech's D-line.
Tech got virtually no pass rush against Florida State in the ACC title game, and
Jameis Winston
used that cozy pocket to pick apart the Yellow Jackets' pass rush while tailback
Dalvin Cook
racked up one big run after another.
The lack of a serious pass rush was an ongoing problem for Georgia Tech -- despite
KeShun Freeman
's spot on
ESPN's Freshman All-America team
. Against Power 5 opponents, Tech had a sack rate of just 4.1 percent -- the eighth-worst of any Power 5 team. And those numbers made a big difference.
This season, Tech had six games in which it recorded at least two sacks. It was 6-0 in those games and opposing quarterbacks completed 58 percent of their throws with six touchdowns and 11 interceptions. The defense allowed an average of 18 points per game.
In the seven games in which Tech had zero or one sack, the Yellow Jackets were 4-3 and the opposing QBs completed 67 percent of their throws with 10 touchdowns and six interceptions. Tech's D surrendered an average of 31 points per game in those contests.
There could be some potentially good news on that front for Georgia Tech as the Atlanta Journal-Constitution says
Jabari Hunt-Days
could
potentially return
to action after sitting out the fall semester for academic reasons.
Regardless of Hunt-Days' status, however, Prescott figures to be a formidable foe and
Josh Robinson
adds some extra punch to the Mississippi State ground game. How well Tech can disrupt the Bulldogs' backfield may well tell the story of whether it takes home a win in Miami.
A few more links:
December, 15, 2014
Dec 15
11:00
PM ET
The addition of No. 1 2016 TE
Isaac Nauta
shows that the Florida State recruiting machine shows no signs of slowing down. Plus, Tennessee continues to impress with its 2015 defensive class.
To continue reading this article you must be an Insider
December, 15, 2014
Dec 15
5:00
PM ET
Jared Shanker and Chantel Jennings have spent their fair share of time around Tallahassee, Florida, and Eugene, Oregon, this season covering Florida State and Oregon. Leading up to the No. 2 vs. No. 3 matchup in the Rose Bowl presented by Northwestern Mutual, Shanker and Jennings will be analyzing pressing questions facing different matchups within the game. Any suggestions for questions? Tweet
@JShankerESPN
or
@ChantelJennings
with your suggestions.
We continue with the matchup between the Florida State offense and Oregon's defense.
1. Can Oregon be the first team to stop freshman running back Dalvin Cook?
[+] Enlarge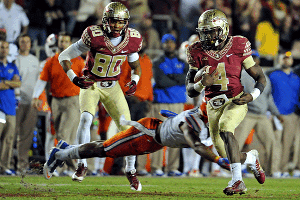 Melina Vastola/USA TODAY SportsFreshman Dalvin Cook rushed for 321 yards in Florida State's last two games.
Shanker:
The Ducks' coaching staff must wish they would have played Cook earlier in the season, when his snaps were being limited. Cook finished the season with 1,084 yards from scrimmage and more than half (592) have come since Nov. 15. The Oregon defense is better than people think, and the Seminoles' rushing attack has been inconsistent, so it wouldn't be a shock if the Ducks held Cook in check. To stop Cook, the Ducks cannot miss tackles. The true freshman Cook has a rare ability to make defenders completely whiff.
Jennings:
As long as the Oregon defense continues its upward trajectory, then yes. In the Pac-12 championship game, the Ducks held Arizona to 111 rushing yards, more than 75 yards fewer than the Wildcats' season average at that point. Arizona running back
Nick Wilson
, who had averaged 6.2 yards per rush coming in to that game, averaged 2 yards per rush against the Ducks. Now, the Oregon run defense hasn't been stout all season, but it has looked good lately. I think Don Pellum is going to be able to keep the Ducks going strong there.
2. Can Oregon's pass rush expose the Florida State offensive line?
Jennings:
This will be another interesting matchup because both Oregon's pass rush and Florida State's O-line have been spotty at times this season. However, in the last four games of the season, the Ducks held opposing quarterbacks to an average adjusted QBR of 34.9 and held quarterbacks to just a 35.3 percent completion rate on third-down passing attempts. Though the Ducks have only sacked opposing quarterbacks on 6.1 percent of passing plays (No. 61 nationally), they have allowed just 5.5 yards per pass attempt (17th nationally).
Shanker:
The Seminoles' offensive line was exposed often through the early portion of the season, but the unit jelled late in the season with the insertion of freshman
Roderick Johnson
at left tackle. Four of the five starters have posted season-high grades along the offensive line since Johnson took over for
Cam Erving
, who was moved to center. In August and September, the unit ranked 95th in sacks per game; in November it ranked 16th. However, Oregon could make
Jameis Winston
uncomfortable by coming off the edges. As good as Johnson has been, he is still a true freshman, and right tackle
Bobby Hart
has struggled at times. A couple of exotic blitzes off the edge could confuse the FSU offensive line and leave Winston vulnerable.
3. How will Jameis Winston fare if the Ducks take away wide receiver Rashad Greene?
Shanker:
It's no secret Winston has an affinity for throwing the ball to Greene, one of the country's best receivers. It's also no secret the rest of the young group of receivers has been largely inconsistent. The Ducks might let
Ifo Ekpre-Olomu
cover Greene one-on-one, which puts pressure on
Jesus Wilson
and
Travis Rudolph
. While both have played well at points, they've also disappeared at times. At times, opponents have been able to effectively take away tight end and Mackey Award winner
Nick O'Leary
, who was held without a catch in two games this season. What shouldn't be forgotten is teams have tried to take away Greene all season and the senior still finished seventh nationally in yards and eighth in receptions.
Jennings:
One of the areas in which the Oregon defense has been the most inconsistent is in giving up big plays, specifically big pass plays. Oregon has given up 56 plays of 20 or more yards, and 40 of those were pass plays. Chances are with how good the chemistry is between Winston and Greene, they'll be able to pull of one or two big plays, but the Seminoles will need to make sure they cash in on those. During the past month the Ducks have improved greatly there as well, only giving up nine pass plays of 20 or more yards.
December, 15, 2014
Dec 15
4:00
PM ET
Jared Shanker and Chantel Jennings have spent their fair share of time around Tallahassee, Florida and Eugene, Oregon this season covering Florida State and Oregon. Leading up to the No. 2-No. 3 match up in the Rose Bowl, Shanker and Jennings will be analyzing pressing questions facing different match ups within the game. Any suggestions for questions? Tweet
@JShankerESPN
or
@ChantelJennings
with your suggestions.
Today, we start with three questions on how the Oregon offense and Florida State defense match up.
[+] Enlarge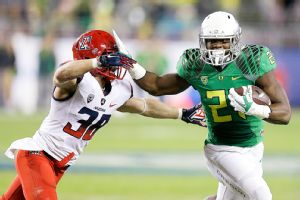 AP Photo/Ben MargotRoyce Freeman will look to pile up yards against a Florida State rush defense that's susceptible early in games.
1. Can the Seminoles contain Heisman winner Marcus Mariota?
Jennings:
Probably not. He's a freak and he's playing his best football right now. FSU isn't just going to start pass rushing like crazy. If they did, they probably wouldn't be able to do it consistently and Mariota is at his best in broken plays. How the Seminoles can best "get to" Mariota would be by making him do too much. If they can take away his weapons -- which, it's fair to say, no one really has this season -- then they can limit him a bit. If running back
Royce Freeman
can't rush the ball and it's all on Mariota, he might not be able to do as much. Or, if the secondary can take away his options down field, that obviously limits him as a playmaker. Again, these are all big "ifs" and "maybes" and I'd bet donuts to dollars that we're going to see the best version of Mariota we've seen so far this season when he hits the Rose Bowl on New Year's Day.
Shanker:
Over Mariota's three-year career as starter, few teams have successfully contained him, and it rarely happened in 2014 en route to winning the Heisman Trophy. He's as dynamic running as he is throwing, and he made a handful of NFL throws in the Pac-12 title game. That's the bind he puts every team in -- do you challenge him throwing or rushing? Mariota won't completely overwhelm Florida State's defense, though. Defensive backs
Ronald Darby
,
Jalen Ramsey
and
P.J. Williams
are all first-day NFL talents in the traditional sense, and up front Mario Edwards Jr. and
Eddie Goldman
are among the country's most athletic 300-pound linemen. The linebacking corps is suspect, but there are more than enough pieces to contain Mariota. That doesn't mean Florida State will, and smart money is on Mariota to make a fair number of plays.
2. Will the Freeman show continue?
Shanker:
Much like
Dalvin Cook
, Freeman is playing his best football, too, with three straight 100-yard games and an eight-game streak of at least 98 yards rushing. Considering how poor the FSU defense tends to play in the first half, Freeman could have 100 yards by halftime. The question will be whether the success continues in the second half. Seminoles defensive coordinator Charles Kelly has been terrific at making second-half adjustments. Freeman should run wild on Florida State early -- most teams do -- but without a strong second half it might not matter.
Jennings:
I'm with Jared here. FSU hasn't exactly put a full four quarters together defensively. But, a big part of the Freeman show isn't just Freeman. Opponents can take him away but then they still have to deal with sophomore
Thomas Tyner
and junior
Byron Marshall
who's much more of a dual threat WR-RB for the Ducks. Can FSU stop Freeman? Then Tyner? Then Marshall? (And remember, Mariota is averaging 51 rushing yards and one rushing touchdown per game.)
3. Is the Mario Edwards versus Jake Fisher one of the best matchups within the matchup to watch?
Jennings:
It'll be one of them. However, with how many injuries and shifts the offensive line has gone through it'll be a minor miracle if Fisher is actually still playing left tackle a month from now (only slightly joking). Edwards has registered three sacks and two quarterback hurries this season, but that doesn't fully explain how much of a force he has been on the O-line for the Seminoles. This matchup will be fun to watch and a huge test for both players.
Shanker:
All one has to do is put on the tape of last year's national championship to see the impact Edwards can make. He has battled inconsistency in his career, but the former No. 1 recruit is athletically gifted. He wreaked havoc in Auburn's backfield last January. Edwards will be tasked with more than just getting to the quarterback, too. With Oregon spreading the field, his role includes setting the edge, freeing up linebackers and making tackles in space when called upon. Fisher will have his hands full.
4. How much of an impact will FSU's all-everything Jalen Ramsey play in the game?
Shanker:
If Florida State wins, Ramsey will probably have a major impact. Ramsey was one of the best freshmen in 2013, but he moved to nickelback -- or the "star" position in FSU's scheme -- before 2014. It took Ramsey a few games to adjust, but the sophomore is filling up the stat sheet now. Mariota needs to account for and find Ramsey before every snap, because he impacts the game in so many ways. He has possibly emerged as FSU's best defensive player, but Mark Helfrich and Scott Frost are skilled offensive coaches. The playcalling could limit Ramsey's effect on the game, but the 6-foot-1, 204-pound sophomore's athleticism could still have him in the right spot at the right time anyway.
Jennings:
This might be a game in which he won't show up in the stats sheet as much but he'll still play a huge role based on whom he takes away as an option down field for Mariota. The Ducks have several wide receivers who've really made some major strides late in the season --
Darren Carrington
,
Charles Nelson
,
Dwayne Stanford
-- but if Ramsey takes
Devon Allen
or
Keanon Lowe
, then Mariota will be relying more on these younger players, which could be good or bad for the Ducks.
December, 15, 2014
Dec 15
3:35
PM ET
Florida State
appears on the way to another top-three recruiting class in 2015, and the
Class of 2016
continues to build steam as Jimbo Fisher and staff are carrying as much momentum on the trail as any program in the country. On Monday, the nation's No. 1 junior tight end
Isaac Nauta
added his name to the 2016 class that now has five ESPN Jr300 commitments, including No. 3 overall and No. 1 dual-threat quarterback
Malik Henry
:
To continue reading this article you must be an Insider
December, 15, 2014
Dec 15
1:47
PM ET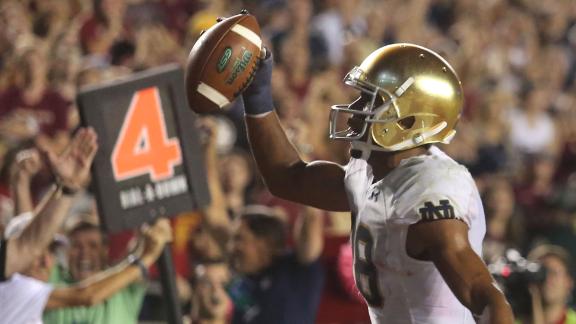 There are many moments that define a season, but this is the first year plays defined a playoff.
It wasn't just Baylor's nonconference schedule that doomed the Bears' playoff hopes; it was the loss at West Virginia that knocked them out of the top four. It wasn't only the performance by Ohio State third-string quarterback Cardale Jones in the Big Ten title game that punched the ticket for the Buckeyes; it was the win against Michigan State that put them in position to get there.
Here's a look at how the top four spots were won -- or lost -- in a historic season for the sport.
Alabama
The opponents: Arkansas and Mississippi State.
The moments: The first came in the fourth quarter at unranked Arkansas, when Landon Collins intercepted Brandon Allen on third-and-10 to seal the 14-13 win. The second moment wasn't a single play -- it was a 15-play drive in the fourth quarter against then-No. 1 Mississippi State. Alabama was clinging to a 19-13 lead when that 76-yard touchdown drive ate 6:07 off the clock and added a 25-13 cushion with T.J. Yeldon's 7-yard touchdown run. Blake Sims converted all three third downs himself (one pass, two rushes). It was Alabama's first win over a No. 1-ranked team in Bryant-Denny Stadium.
The outcome: The win at Arkansas was critical not only for the SEC West standings, but from an emotional standpoint, as well. The Tide had to rebound from the previous week's loss at Ole Miss. The upset of Mississippi State put Alabama in the selection committee's rankings for the first time -- a spot the Tide would never relinquish.
December, 15, 2014
Dec 15
10:00
AM ET
Marcus Mariota
won the Heisman Trophy on Saturday, and while the ACC had plenty of impressive performances in 2014,
Jameis Winston
was the lone representative from the conference to finish in the top 10 in voting.
That could certainly change in 2015, when the ACC has several emerging stars who could contend for the award. Here's a quick look at the league's top challengers for the 2015 Heisman Trophy.
(Note: We're assuming that Winston and Miami's
Duke Johnson
won't return for 2015, but if either does come back, he would immediately jump to the top of our rankings.)
1. Clemson QB Deshaun Watson
If he had stayed healthy all season, Watson might have been a contender for the award as a true freshman. Assuming he can stay on the field in 2015, he looks poised to be the biggest playmaker in the conference for an offense in which he will be surrounded by young talent.
2. Miami QB Brad Kaaya
Kaaya had his ups and downs as a true freshman in 2014, but he showed plenty of poise and was arguably the ACC's top deep-ball threat. Miami's offense has plenty of skill-position talent, but Kaaya will need the Hurricanes to finish better than 6-6 if he wants a crack at the Heisman.
3. Florida State RB Dalvin Cook
There will be plenty of enthusiasm surrounding Cook's sophomore campaign in 2015, and if Florida State makes another run at the playoff, he would likely be in the Heisman conversation. The problem for Cook is that he will likely be starring on an offense forced to replace its top receiver, top tight end, four starting linemen and Heisman-winning quarterback.
[+] Enlarge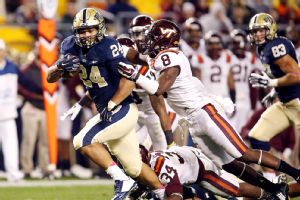 Charles LeClaire/USA TODAY SportsPitt running back James Conner rushed for a school-record 24 touchdowns in 2014.
4. Pittsburgh RB James Conner
Few players in the country carried a heavier share of their team's offensive load in 2014 than Conner did for Pitt. While he was a bit overshadowed by the Big Ten's top running backs, his 1,675 yards and 24 rushing TDs would have had him in the Heisman Trophy discussion most seasons. He could certainly match or exceed those numbers next year.
5. Georgia Tech QB Justin Thomas
In his first year running Paul Johnson's offense, Thomas was exceptional, but as the Georgia Tech coach was quick to point out, this could be just the tip of the iceberg. With a year of experience and wider latitude in directing the offense in 2015, Thomas could easily emerge as one of the country's most explosive offensive threats.
6. North Carolina QB Marquise Williams
Williams' numbers in 2014 were exceptional, but he was largely overshadowed by UNC's rocky season defensively. If the Tar Heels can finally emerge into a Coastal contender with Williams leading a high-powered offensive attack, he could emerge as one of the nation's biggest dual threats at quarterback. His numbers this year were already similar to
Dak Prescott
, so perhaps 2015 will be Williams' chance to spend the season getting the Heisman hype.
7. Pittsburgh WR Tyler Boyd
It's tough for wide receivers to push their way into the Heisman campaign, but Boyd's numbers in 2014 were exceptional. Whether he can turn in a 2015 season similar to what Alabama's
Amari Cooper
did this year depends greatly on whether there is a new coaching regime at Pitt and the progress of Panthers QB
Chad Voytik
. But Boyd's talent as a receiver and on special teams certainly will be worth monitoring.
8. Miami RB Joseph Yearby
He played second fiddle to Johnson this year, but it's easy to see why Miami fans are so excited about the future for Yearby. As a true freshman, he averaged 6.1 yards per carry and 600 yards of total offense. With a starter's share of the offense next season, Yearby could emerge into an all-purpose star for the Hurricanes.
[+] Enlarge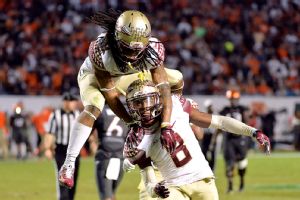 Steve Mitchell/USA TODAY SportsJalen Ramsey (8) will be a leader on a Florida State defense that might have a little more on its shoulders in 2015.
9. Florida State DB Jalen Ramsey
Defensive players aren't usually in the Heisman conversation, but with so much turnover expected on FSU's offense in 2015, it will be up to Ramsey and the defense to keep the Seminoles afloat. Ramsey is already one of the nation's top defensive backs, and in his third year as a starter, he could easily take the next step into the Heisman Trophy conversation with a few big plays at crucial times -- much as Notre Dame's Manti Te'o did in 2012.
10. Duke RB Shaun Wilson
Here's an under-the-radar player to watch as a potential Heisman hopeful in 2015. Wilson wasn't Duke's starter this season, but as a true freshman he still led the Blue Devils in rushing (590 yards) and was second in TDs (5) while finishing sixth in the nation in yards per rush (8.0). He could secure the starting job next year on an offense that could be more run-heavy, giving Wilson a chance to rack up huge numbers as one of the league's most explosive runners.
Others to watch:
Boston College RB
Jon Hilliman
, Louisville RB
Brandon Radcliff
, NC State QB
Jacoby Brissett
, Virginia RB
Taquan Mizzell
Florida State Preparing For Rose Bowl
ACC SCOREBOARD
Saturday, 12/20
Monday, 12/22
Tuesday, 12/23
Wednesday, 12/24
Friday, 12/26
Saturday, 12/27
Monday, 12/29
Tuesday, 12/30
Wednesday, 12/31
Thursday, 1/1
Friday, 1/2
Saturday, 1/3
Sunday, 1/4
Monday, 1/12