Florida State Seminoles:

storyoftheseason
January, 2, 2014
1/02/14
1:27
PM ET
By
ESPN.com staff
| ESPN.com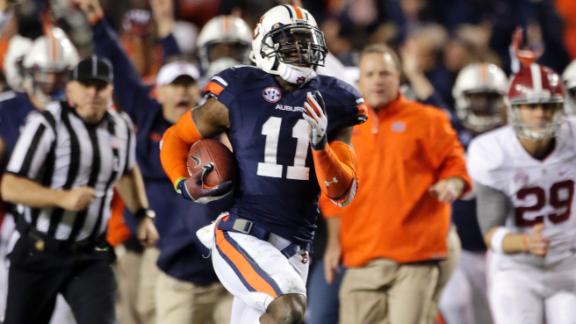 Honestly, you didn't have to be there. You could've been sitting on your couch with your head in your hands, or jumping up and nearly being clocked by a ceiling fan, or screaming at your smartphone for some big-ass lineman to suddenly find a burst of closing speed, or turning up your car radio in holiday traffic, begging the Chris Davis of your mind not to step out of bounds, or repeatedly hitting rewind on your DVR at 1 a.m. Wherever you were, you were there with those Auburn fans in the rush of an upset. No sport has more moments that turn momentous than college football. And whether it's an improbable 109-yard scamper in November or a muffed field goal in August, each instant moves the season forward, adding another twist to what will eventually wind up as the story of the season.
To continue reading,
click here
.
#Storyoftheseason Images of the year
Moments Over Matter gallery
October, 22, 2013
10/22/13
11:00
AM ET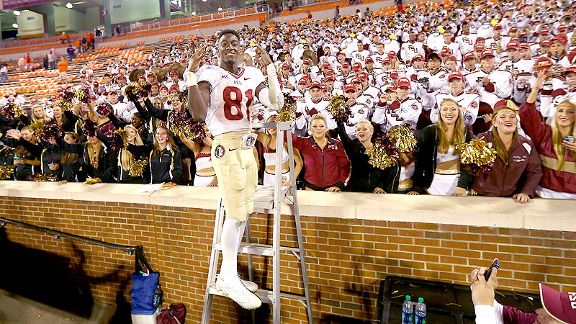 Streeter Lecka/Getty ImagesFlorida State's Kenny Shaw celebrates after defeating the Tigers 51-14.
For four months, ESPN The Magazine will follow the march to the Vizio BCS National Championship, moment by moment, culminating in our Story of the Season double issue Dec. 27. Every Tuesday, Mag senior writer Ryan McGee will pick the previous week's biggest moments and tell you why they'll have the most impact on potential BCS title matchups. If you disagree, send a tweet to @ESPNMag and tell us why your moment matters more, using the hashtag #StoryoftheSeason. Who knows? Your moment (and tweet) might just end up in our issue.
THERE IS NO
greater entrance -- perhaps moment -- in all of college football than when the Clemson Tigers emerge at the base of the big scoreboard in Memorial Stadium's open end zone. The team gathers around Howard's Rock, and the sound that gathers with it is unsurpassed, especially on a night like Saturday night, the gemstone matchup with Florida State, when greatness is anticipated.
It is equally awe-inspiring to watch someone silence Death Valley just as quickly as it has been riled up.
"Tonight was an amazing environment," FSU coach Jimbo Fisher said Saturday night, looking just as shocked as everyone else that his team had rolled over the Tigers to the tune of 51-44. "This is a tremendous place to play."
It truly is. And that begins in the east end zone. Some old-timers still refer to it as the Green Grass Section. The rest of the world calls it The Hill. A knoll covered in Clemson students, parted to form a narrow ribbon of turf upon which the Tigers run into Death Valley. To soak that up, one must get out of the press box and take their place among them. (Without a hillside ticket, don't even try from the gate. With a media credential, you can sneak your way from the bottom if you catch a South Carolina state trooper looking the other way.)
As the noise level grew, it was impossible not to think of these same two teams 25 years earlier. On Sept. 17, 1988, the No. 3 Tigers hosted the No. 10 Seminoles. What most remember about that day was Bobby Bowden's fabled Puntrooskie, a fake botched punt deep in the Noles' own territory that was gathered up by FSU's LeRoy Butler, who ran 78 yards to set up the game-winning score. The images of that play still make older Clemson loyalists shake their head in anger. They did the same on Saturday morning when ESPN's "College GameDay" ran a Puntrooskie feature that echoed off the buildings throughout campus.
"Damned disrespectful!" an orange-clad tailgater yelled toward the giant TV screens on Bowman Field in the center of campus.
But the Puntrooskie isn't the first image that pops into the heads of many who were there that day. That group includes me (I was a high school senior in nearby Travelers Rest, S.C.) and Clemson tailback Terry Allen, who went on to play 11 years in the NFL. "I remember coming down The Hill and the place was rocking and all the sudden it was like, Who is this fool down there standing at the bottom of The Hill telling us to bring it?"
It was FSU's Deion Sanders, hitting himself in the numbers and screaming at the Tigers as they ran into their own house. No doubt the gentleman from the quad was somewhere in the stadium that day shouting "Damned disrespectful!"
No opponent stood at the base of The Hill pounding on his chest plate Saturday night. But FSU quarterback Jameis Winston might as well have. Not even 90 seconds into the game, Winston flicked a 22-yard touchdown pass to Kelvin Benjamin, directly toward The Hill crowd, and it was 7-0 Florida State. Not even 10 minutes later, the Noles were laying siege to The Hill again as a field goal sailed toward them and through the uprights for a 10-0 FSU lead. The next score they saw was FSU defensive end Mario Edwards Jr. rumbling into their end zone after recovering QB Tajh Boyd's fumble and returning it 37 yards for a touchdown that made it 17-0 with 3 minutes, 7 seconds still to play in the first quarter. At game's end, FSU would have 565 yards of offense. Winston had 444 yards passing with three touchdowns, officially launching him into the Heisman Trophy hunt and catapulting Florida State to second in the initial BCS standings.
Clemson fell out of the realm of the unbeatens, down to ninth in the BCS, and Boyd likely lost his invitation to New York this December.
By the end of the first quarter, the feeling on The Hill was more like being in The Library. By the end of the third quarter, it looked as though that's where everyone who had started the game on The Hill had gone.
"My granddad and dad were here for the Puntrooskie game," one student explained (she asked that her name not be included because she was supposed to be on a church mission trip). "We have a rule in the house that we don't talk about it. I was always like, well, it couldn't have really been that bad. But now I feel for them. This sucks."
It could have been worse. The Tigers' locker room is located on the opposite end of the stadium, 100 yards from The Hill. As the clock hit zeroes and the home team slowly walked toward that refuge, they were serenaded by a swath of garnet-and-gold fans doing the FSU war chant, right by the field house entrance.
Over where the Clemson players had started their night, there was no one left to hear it.
"Yo Jimbo, I got this." #StoryOfTheSeason #FSUvsCLEM pic.twitter.com/b7rx1ungS8

— ESPN The Magazine (@ESPNMag) October 20, 2013
On Saturday night and again on Sunday afternoon, Clemson coach Dabo Swinney was understandably in damage-control mode. He reminded the room that his team has only one loss, is still ranked in the top 10, still has a chance to win an ACC championship, and at the very least will lock up a great bowl game.
A similar speech was being repeated on practice fields and in pressrooms throughout the country after a Week 8 full of bloodletting. It started Friday night when No. 8 Louisville fell to unranked UCF. It continued Saturday afternoon when No. 9 UCLA lost to No. 13 Stanford. Throw in a bushel of second SEC losses by Texas A&M (to Auburn), Georgia (to Vanderbilt), LSU (to Ole Miss), South Carolina (to Tennessee) and Florida (to Missouri).
Just two weeks ago, there were 14 undefeated teams across the BCS conferences. Now there are only eight. For some high-profile one-loss teams, such as Stanford, and yes, perhaps Clemson, the season might still come back to them. But as Swinney was quick to emphasize on Sunday, they are all walking on the thinnest sheets of ice ... in cleats.
"We're at that 'elimination game' phase of the season when it comes to championships," former Oregon coach-turned-ESPN analyst Mike Bellotti explained as he sifted through the wreckage of the weekend. "You don't want to lose any games. But from here on out, you really can't lose again. One loss and you're in trouble -- how much trouble depends on who you lost to and who you are still going to play. But two losses? You're done."
Indeed. I like my crow with butterbeans & corn. RT @ESPNMag: "That one was for you, @ESPNMcGee." - UCF faithful #StoryOfTheSeason #UCFvsLOU

— Ryan McGee (@ESPNMcGee) October 19, 2013
Goodell Has Sit-Down With Jameis Winston
ACC SCOREBOARD
Thursday, 9/3
Saturday, 9/5
Monday, 9/7