Florida State Seminoles:

NCF
November, 4, 2014
11/04/14
1:41
AM ET
By
Jungkyu Lee, ESPN Stats & Information
| ESPN.com
Andy Lyons/Getty ImagesJameis Winston displayed his come-from-behind ability in a victory at Louisville on Thursday.
Florida State
is not dominating teams as it did last season. The Seminoles are undefeated but have trailed at halftime in four of eight games, and their average win probability at halftime (58%) ranks 50th in FBS.
But the 2014 Seminoles don't have to compete with the 2013 Seminoles to make the first
College Football Playoff
. They only have to be judged one of the four best teams by the selection committee. And regardless of their diminished dominance compared with last season, they have something no other team has: the reigning Heisman Trophy winner.
Playing from behind
This season, the Seminoles have run almost twice as many plays while trailing (184) than they did all of last season (93). More than half of those plays (55) from last season were in the BCS Championship game against
Auburn
.
Florida State ranks 28th in
Game Control
, which accounts for average in-game win probability and adjusts for opponents faced.
Last season
, Florida State led the nation in Game Control, and since 2005, only one team entered bowls undefeated (Hawaii 2007) with a Game Control outside the top 20.
Here's where
Jameis Winston
comes in. He is 21-0 as a starter. His career Total QBR (86.8) is the fourth-best mark for a player with at least 10 starts in the QBR era (since 2004) behind Cam Newton,
Marcus Mariota
and Johnny Manziel.
Winston has played his best when his team has needed him the most. He has led four second-half comebacks in his career, including a game-winning drive in the BCS Championship game.
In the Seminoles'
42-31 win last week
at Louisville, Winston helped rally his team from a 17-point deficit with 11:22 left in the third quarter. From that point on, he completed 15-of-25 passes for 278 yards and three touchdowns. He did this against a team that entered the game allowing the lowest
Total QBR
in the nation and that had given up a total of three passing touchdowns in the previous six games.
In the postgame news conference, Winston said, "Being down is nothing when you've got heart and you persevere. Personally, we play better when we're down, honestly."
Numbers back him up
That appears to be true for Winston. He ranks among the top 10 in FBS in Total QBR (81.4), completion percentage (68.3%) and yards per attempt (9.7) when his team is trailing.
He has been better when trailing in the second half. In that situation, he leads the FBS in yards per attempt (10.5) and third-down conversion percentage (75%) and ranks fourth in Total QBR (90.3).
His best performance might have come
against Notre Dame
on Oct. 18. He completed 15-of-16 second-half passes (all when trailing), including all eight of his passes thrown 10 yards or longer.
Third-down efficiency has separated Winston from the pack. He has converted a first down on 54% of his third-down passing plays in his career, on pace to be the best for any FBS quarterback in the last 10 seasons (min. 10 games started).
There is a first half/second-half divide with his third downs, too. Look no further than last week against Louisville, when Winston completed 2-of-5 third-down passes in the first half for 19 yards and an interception. In the second half he was 5-of-6 for 169 yards and three touchdowns.>Not surprisingly, Winston leads the FBS in third-down Total QBR in the second half.
The Seminoles might not be winning every week by 40 points like last season, but they are 8-0. According to ESPN's Football Power Index, the Seminoles have a 34% chance of winning the rest of their games, including the ACC Championship game. An undefeated Power 5 team that is the reigning national champion and has a Heisman Trophy winner at quarterback sounds a lot like a playoff team.
December, 13, 2013
12/13/13
11:19
AM ET
By
Alok Pattani
| ESPN.com
Heading into Saturday's 2013 Heisman Trophy ceremony, it's seemingly a foregone conclusion that Florida State quarterback
Jameis Winston
will take home the award. The advanced metrics support Winston as a winner, and recent precedent based on these metrics shows it should be pretty lopsided.
College football Total QBR data goes back to 2004 (as far back as we have play-by-play data), and there have been seven Heisman-winning quarterbacks since that year. All of those ranked in the Top-8 in opponent-adjusted QBR prior to the Heisman ceremony (i.e. not including the bowl games), with each of the last five quarterbacks winners ranked in the Top 3.
But there's actually another QBR-related statistic that correlates more strongly with winning the Heisman in that span – points above average (QB PAA, or just PAA).
While QBR is designed to measure per-play efficiency, PAA – which is calculated from QBR – measures total production above an average quarterback (QBR of 50), taking into account both efficiency and overall usage.
The relationship between PAA and QBR is similar to that between yards and yards per attempt, where one is a cumulative total and the other is on a per-play basis.
To simplify, QBR measures how efficient a quarterback is, while PAA measures how productive a quarterback is relative to an average quarterback with the same amount of action. It makes sense that the more productive players, in terms of points added, should get preference for end-of-season awards based on the total value provided to the team over the course of the year.
A quarterback with a lower QBR than someone else but more action plays could have contributed more points above average than his counterpart because he was involved in more of the offense. For example,
Johnny Manziel
ranks sixth this year in opponent-adjusted QBR, but moves to third in opponent-adjusted PAA because he had many more action plays than three of the guys ranked above him in QBR.
Of those seven Heisman-winning quarterbacks since 2004, each ranked in the top seven in Opp Adj PAA entering the bowl season, with four of the last five winners being tops in that category.
The only exception was Robert Griffin III, who trailed Russell Wilson in PAA prior to the Heisman ceremony in 2011.
Winston ranks No. 1 in FBS with +102.9 Opp Adj PAA to go along with his top ranking in opponent-adjusted QBR.
The three previous quarterbacks to rate as both the "most efficient" and "most productive" quarterback going into the Heisman ceremony since 2004 all won the trophy by a fairly wide margin, so it's reasonable to think Winston will do the same.
October, 28, 2013
10/28/13
6:34
PM ET
By
Alok Pattani
| ESPN.com
Earlier today,
Florida State
head coach Jimbo Fisher discussed how voters should judge the Seminoles' blowout of North Carolina State last Saturday.
In the 49-17 win, Fisher sat his starters for nearly all of the second half after Florida State ran up a 42-0 halftime lead. Asked after the game if he'd missed a chance to earn some style points in the eyes of voters, Fisher said he refused to coach based on the polls.
"I'm not going to go out there and embarrass this game and the integrity of how you've got to play," Fisher said. "If that's the way they're going to do it, they need to reevaluate. If they can't tell we dominated that game early and put it away -- I just think that's bad for college football, in my opinion."
Fisher has a point. Florida State scored touchdowns on its first five possessions and was up 35-0 just 13 minutes into the game, never looking back on the way to an easy victory.
Though the Seminoles were technically outscored 17-7 in the second half, at no point was victory even remotely threatened. Would running up the score to earn "style points" and impress voters really have said anything more about Fisher's team than the dominating first half already did?
This is where using the final score to evaluate a team's performance can break down. As anyone can tell you from watching games, not all seven-point wins are created equally. In the case of Florida State against NC State, a 32-point blowout actually understates how dominant the Seminoles were in the game.
A better way to look a team's dominance or control over an opponent is to look at how their chances to win evolve throughout the game.
Based on play-by-play data from FBS games going back to 2004, ESPN Stats & Information has a win probability model that can do exactly that: take into account the situational factors (time, score, field position, down, distance, etc.) and determine the percentage chance each team has of winning the game at that point.
As the touchdowns piled up early on, Florida State's chance of winning quickly rose to 80 percent, then 90 percent, then 95 percent, and never really dropped from there. The graph of their average win probability on each play in the game shows just how quickly it got out of hand.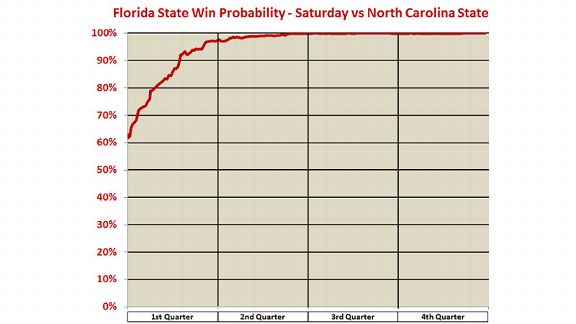 Florida State's average win probability for that game was 94.9 percent, meaning that on an average play in that game, the Seminoles had about a 95 percent chance of winning. That value is not only the highest average win probability by any team in any game this year, but the second-highest in the more than 7,500 FBS games play-by-play data exists for over the past 10 years.
While the final score wasn't indicative of one of the biggest blowouts of the year, watching the progression of the game in Tallahassee shows that Florida State "dominated that game early and put it away" about as much as any team has in any game.
In the near future, ESPN Stats & Information will be releasing a team rating system that goes beyond wins and losses to judge teams' résumés. But it does not explicitly incorporate the final score, instead using this measure of average in-game win probability as a more thorough way to judge how well a team performed on every play in every game.
With the emphasis on how a team approaches winning or losing on every single play, there's very little incentive to run up the score when the game is already in hand.
So Coach Fisher can rest easy knowing that he won't have to worry about extra style points to get his team its due for a truly dominant performance like last Saturday.
October, 24, 2013
10/24/13
10:55
AM ET
By
Katie Sharp
| ESPN.com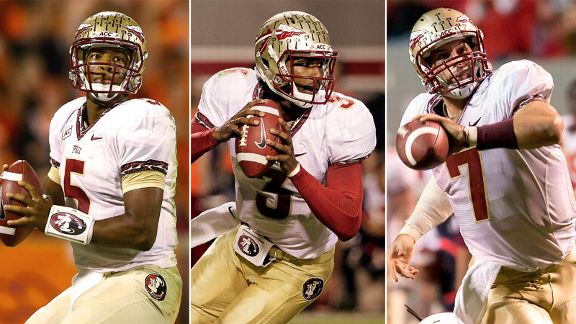 Getty Images, AP PhotosJameis Winston (left) will try to succeed where E.J. Manuel (middle) and Christian Ponder (right) failed.
On Saturday,
Florida State
had arguably the best win of any team this season, routing then-No. 3
Clemson
51-14. The Seminoles are 6-0 for the first time since 1999, when they went 12-0 and won the national championship.
Coming off its win over Clemson in Death Valley, Florida State returns home to face what appears to be an easy game against a
North Carolina State
team that is winless in ACC play. Not so fast...
The Wolfpack have given the Seminoles trouble in recent years. The last four times an AP-ranked Florida State team played an unranked NC State team, the Wolfpack have pulled off the upset.
2012: NC State def. 3 Florida State 17-16
Florida State was 5-0 entering the game in Raleigh last season. The Seminoles jumped out to a 16-0 halftime lead, but were shut out after halftime.
Mike Glennon
passed for 218 yards and two touchdowns in the second half.
EJ Manuel
finished with a 33.2 Total QBR, his lowest in any ACC start in his career.
2010: NC State def. 16 Florida State 28-24
Florida State entered the 2010 game 6-1, with its only loss coming at Oklahoma. The Seminoles led 21-7 at halftime, but were unable to contain
Russell Wilson
in the second half. Wilson had two of his career-high three rushing touchdowns after halftime.
Christian Ponder
, like Manuel last season, struggled in the second half, committing two turnovers and completing less than half of his passes.
2006: NC State def. 17 Florida State 24-20
Florida State had won three of its first four games when it traveled to Raleigh for a Thursday night game in 2006. Daniel Evans, making his second career start for the Wolfpack, threw three touchdowns and his Total QBR of 69.3 was his highest in any game. Drew Weatherford struggled in the fourth quarter for the Seminoles, completing 4 of 8 attempts for 32 yards with an interception on the final play.
2005: NC State def. 9 Florida State 20-15
Florida State was 7-1 when unranked NC State arrived in Tallahassee in 2005. NC State dominated this game on the ground, outrushing the Seminoles 196-43, including 179 rush yards by
Andre Brown
.
Weatherford had one of the worst games of his career, throwing three interceptions, two of which were on Florida State's final two drives. He finished with a 9.3 Total QBR.
The common theme for the Seminoles in those four losses was below-average quarterback play. Their combined Total QBR was 29.7 and they had the same number of interceptions (5) as touchdown passes (5).
Quarterback play should not be an issue for the Seminoles this time around with
Jameis Winston
under center.
Winston is third in the nation in opponent-adjusted QBR (92.5) and is one of three FBS players who have had a Total QBR of at least 75 in all of their games this season. NC State has allowed an opponent-adjusted total QBR of 64.3 this season, the second-worst among ACC teams.
In other words: the challenge may be greater for NC State this time around.
October, 15, 2013
10/15/13
9:53
AM ET
By
Sharon Katz & Tobin Petipas, ESPN Stats & Info
| ESPN.com
Getty Images, AP Photo
Jameis Winston (left) and Tajh Boyd (right) will go head-to-head this Saturday.
Clemson quarterback
Tajh Boyd
entered the season as one of the Heisman favorites after being named ACC player of the year last season. He broke his own school records in pass yards (3,896) and pass touchdowns (36) while leading the Tigers to their first 11-win season in more than three decades.

Boyd was responsible for 46 touchdowns last season, seven more than the previous ACC record. He finished with the fourth-highest opponent-adjusted Total QBR (81.8) in the FBS.
Boyd has picked up right where he left off last season. In six games, he is responsible for an ACC-high 20 touchdowns and has just two turnovers.
Florida State quarterback
Jameis Winston
was a bit of an unknown to start the season. He was the former No. 1 recruit in the ESPN 150, but the redshirt freshman had yet to take a snap on the FBS level. It did not take Winston long to adjust.
He started his career by completing 25-of-27 passes for 356 yards and four touchdowns in a nationally televised win against Pittsburgh and has not slowed down since.
Winston is the only quarterback in the FBS to rank among the top five in Total QBR (91.7 Total QBR), completion percentage (73.2), and passing yards per attempt (11.7). He has been responsible for 19 touchdowns, which is one more than Boyd had through five games this season.
Entering this top-5 matchup between Clemson and Florida State, which team has the edge at quarterback?
Downfield passing
Winston is completing 68.3 percent of his passes thrown 15 yards or longer, best among BCS AQ quarterbacks (min. 15 attempts).
Winston has at least six completions and has completed at least half of his passes of this distance against every FBS opponent that he has faced.
In comparison, Boyd is completing a lower percentage of his passes, but leads all AQ quarterbacks with 10 touchdowns on passes of this distance. He now has 27 touchdowns on passes thrown 15 yards or longer since the start of last season, four more than any other AQ player.
Handling pressure
Winston is completing 69.6 percent of his passes when opposing teams bring five-or-more pass rushers this season, the fifth-highest percentage among BCS AQ quarterbacks (min. 30 attempts).
Boyd has struggled against added pressure, completing 57 percent of passes against five-or-more rushers, which is five percentage points lower than last season and one point below the AQ average.
Both of his interceptions this season have come against the blitz.
Dual-Threat rushing
Boyd has rushed for 187 yards and five touchdowns this season after rushing for 514 yards and 10 touchdowns in 2012. Boyd has been hard to bring down. He has gained the fourth-most yards after contact (449) and has the second-most third down conversions (37) of any AQ quarterback since the start of last season.
Winston has gained 135 yards on the ground, but has only once gained more than 25 yards in a game. On third down, Winston has more taken four sacks and converted just two rush first downs. However, Winston has the advantage scrambling. He has 34 more scramble yards than Boyd despite attempting 10 fewer scrambles. Overall, Winston has scrambled for 128 yards and is averaging an ACC-high eight yards per scramble this season.
Third down
Winston has converted a first down on 67 percent of his pass attempts this season, tied with
Johnny Manziel
for the highest percentage in the FBS. Winston ranks third in both Total QBR (99.1) and yards per attempt (12.4) on third down this season.
Boyd has a 77.0 Total QBR on third down, and he is converting a first down on 38 percent of his pass attempts. He is responsible for an ACC-high five touchdowns on third down and has not turned the ball over in 68 third-down passing or rushing plays.
Conclusion
The numbers seem to favor Winston. He has the fourth-highest opponent adjusted QBR (91.3) in the FBS this season. That is 17.4 points higher than Boyd, who ranks 40th.
Yet, one thing that the numbers cannot account for is how Winston will react in the biggest game of his life thus far. Clemson will be the first team ranked in the top 20 that he has faced. Boyd had been here before, most recently in wins against Georgia in the season opener and against LSU in the Chick-fil-A Bowl.
Who do you think has the edge at quarterback? Vote in our poll and share your thoughts in the comments.
October, 5, 2013
10/05/13
10:39
PM ET
By
ESPN Stats & Information
| ESPN.com
Stacy Revere/Getty ImagesJameis Winston had five passing touchdowns against Maryland.
Jameis Winston
has Florida State on its way possibly to its best season of the 21st century.
The redshirt freshman has been quite impressive in his first five games as the Seminoles' starting quarterback.
Winston had five passing touchdowns against Maryland, the most by a Florida State quarterback since Christian Ponder had five in 2009 against Georgia Tech.
Winston now has 17 passing touchdowns, the most by anyone in a player's first five career games over the past 10 seasons.
Winston joins Boise State's Kellen Moore as the only FBS players over the past 10 seasons with a QBR of at least 75 in each of their first five career games.
In three ACC games, Winston has a 93.6 Total QBR, has completed 76 percent of his passes, and is averaging 360 passing yards per game with 13 passing touchdowns and one interception.
Heisman hopeful
How does Winston compare to past Heisman winners in their first five games of the season? He has more touchdowns responsible for (passing and rushing touchdowns) than
Johnny Manziel
(2012) and Cam Newton (2010). And he has fewer turnovers (two) than any of the past three Heisman winners –- Manziel, Robert Griffin III (2011) and Newton.
The rout was on
Winston's superb play led the Seminoles to a dominant victory over No. 25 Maryland 63-0.
Florida State's 63-0 win over Maryland is tied for the largest margin of victory over a ranked team since the AP Poll began in 1936. In 1997, UCLA beat No. 11 Texas, 66-3.
It's the largest margin of victory by any team in an ACC conference game.
It's also the largest shutout win ever by Florida State over a ranked team.
The 5-0 Seminoles are idle next week before clashing with undefeated No. 3 Clemson on Oct. 19 at Death Valley.
August, 16, 2013
8/16/13
1:45
PM ET
By
ESPN.com staff
| ESPN.com
The
All-American wealth
has spread across the land. The Pac-12 leads the conferences with seven, one more than the SEC. Dual-threat QB
Marcus Mariota
and RB
Lache Seastrunk
both originally signed with Oregon. Now that Seastrunk plays for Baylor, he and Mariota no longer have to share a backfield. Seastrunk and G
Cyril Richardson
make the Bears the only team with two on offense. Richardson is surely the first All-American named Cyril, but Lache is not the first body of water to make it. He joins 1939 Heisman winner Nile Kinnick.
Alabama has won three of the past four BCS titles with defense and placed LB
C.J. Mosley
and S
Ha Ha Clinton-Dix
on this team. Alabama and Oregon lead with three players apiece on the list. That's one more than the Big Ten and two more than the ACC and Conference USA. -- Ivan Maisel
View ESPN.com's 2013 Preseason All-America team here
.
August, 14, 2013
8/14/13
3:00
PM ET
By
ESPN.com staff
| ESPN.com
This is the last year of the BCS, and our writers look at its impact on college football:
From Ivan Maisel
: The BCS has moved NCAA football forward in a way no system before it could and given it a national stage, but along with exposure comes greater pressure and expectations, which in the end the series couldn't overcome.
From Mark Schlabach
: As we prepare for the final season of the BCS, let's take a look back at its highs and lows.
From Brian Bennett
: Five of the last seven national champions have had at least one loss, and with a playoff looming, going undefeated will be harder than ever.
Goodell Has Sit-Down With Jameis Winston
ACC SCOREBOARD
Thursday, 9/3
Saturday, 9/5
Monday, 9/7