Florida State Seminoles:

Connecticut Huskies
September, 11, 2013
9/11/13
3:00
PM ET
Here are a few quick notes off the ACC coaches call on Wednesday:
Maryland coach Randy Edsall makes his return to Connecticut on Saturday when the Terps visit his former team. Last season, Edsall had to answer questions about playing his old team when UConn traveled to College Park. The story lines continues this week because he will be returning to a place he called home for 12 years.
"I've got fond memories of Connecticut, fond memories of Rentschler Field and hopefully we come away with a victory," Edsall said. "Connecticut was very good to me and my family. Had a great experience there. What you've got to do is take everything and put it to the side and focus and concentrate on getting our team prepared. I know they're going to be fired up, I know it's a tough place to play having coached in that stadium so it's got to be something we have to be ready for."
UConn beat Maryland in 2012, but the Huskies come into this season's game off a loss to FCS Towson. Maryland, meanwhile, is off to a 2-0 start and appears to be in much better shape than UConn. The Huskies have not made a bowl game since Edsall took them to the Fiesta Bowl in the 2010 season. Wonder whether the homestanding fans will
cheer or boo
Edsall in his return.
Virginia Tech coach Frank Beamer had high praise for Alston Smith, who was moved from defensive tackle to offensive guard earlier this week. Smith, the son of Bruce Smith, was "exceptional" in his first day of practice with the offensive line. "He's athletic, he's got good feet, he's a natural guy in there and so I was really encouraged by watching that." Beamer also added that defensive tackle Corey Marshall had a great day of practice Tuesday, his first since returning to the team to deal with personal matters. "He helped our offense get better by being very aggressive as a defensive scout team member," Beamer said.
There is no question Boston College coach Steve Addazio is thrilled with the progress he is seen out of his team, off to a 2-0 start with a big game at USC looming on Saturday. But he also wants to keep the quick start in perspective. "I just think we're scrapping, we're playing physical, we're trying to be true to the core values we want within our program," Addazio said. "It's nice to get that start, but understand we're a work in progress."
Duke coach David Cutcliffe reiterated that he would like to get freshman quarterback Parker Boehme some playing time with starter Anthony Boone out indefinitely because of a broken collarbone. The initial plan going into the season was to try and redshirt Boehme but the injury has changed everything. Boehme will serve as the backup to Brandon Connette until Boone returns. "If something were to happen and Brandon's out for a few plays, I wouldn't be afraid to play Parker," Cutcliffe said. "I think he's played well."
Miami beat Florida thanks to a solid defensive performance, especially from a much more physical defensive front. Coach Al Golden said a big reason his team was so effective along the line was because of its rotation. Defensive end Anthony Chickillo played 71 snaps, but everybody else stayed in the 40s. "We refused to get worn down and we rotated," Golden said. "Hopefully that rotation will get stronger." Golden says the plan during the bye is to get more inexperienced players like Ufomba Kamalu and Jelani Hamilton ready for more playing time.
Speaking of Miami and Florida, Florida State coach Jimbo Fisher caught the end of the game last weekend after his team finished practiced. Asked for his impressions, Fisher said, "Heck of a football game, very competitive, a lot of great players on both sides. Two very good football teams," he said. "We'll have to get a lot better before we play them." The Noles play both teams in November.
Despite its struggles running the option in a loss to Boston College last week, Wake Forest coach Jim Grobe says he has no plans to scrap it from the offensive game plan. "Nobody played real well," Grobe said. "We didn't block well, didn't run well. It was not anything to do with the run game. The offense, in general, just did not play very well."
August, 1, 2013
8/01/13
3:11
PM ET
Football was a second option for
Christian Wilkins
. The ESPN Junior 300 defensive tackle out of Suffield (Conn.) Academy with offers from Florida State, Ohio State and Stanford would have preferred a nobler path protecting the streets.
"It's kind of funny, I wanted to be a Power Ranger," says Wilkins, who at 6-foot-4 and 295 pounds, would have had little problem restoring peace as possibly the Green Ranger.
Despite tipping the scales at nearly 300 pounds, Wilkins, ranked No. 107 nationally, has a résumé with several prerequisites for a superhero ninja.
February, 27, 2013
2/27/13
12:42
PM ET
Sometimes it takes a few years for high school prospects to be discovered by major college football programs, but for Brooklyn (N.Y.) Lincoln junior defensive tackle
Thomas Holley
, it took only eight games.
Holley began his high school career playing basketball at national powerhouse Christ the King in Middle Village, N.Y., but when he began to fill in to his 6-foot-4 frame, he realized his future might be in another sport.
To continue reading this article you must be an Insider
November, 12, 2012
11/12/12
4:55
PM ET
New York is a basketball city, but in the small borough of Staten Island, football is on the rise. In the 2013 class, that is due in large part to a handful of talented prospects, including dynamic receiver
Malique Belfort
(Staten Island, N.Y./Tottenville).
Through eight games, Belfort has 45 catches for 830 yards and nine touchdowns while rarely playing all four quarters. Major BCS programs have taken notice, and he holds offers from 14 schools with Arizona State, Michigan State and Penn State among them.
A handful of programs continue to show interest, including Florida State, which recently offered his teammate
Augustus Edwards
, a running back committed to Syracuse.
To continue reading this article you must be an Insider
September, 27, 2012
9/27/12
3:35
PM ET
Please excuse class of 2014 athlete
Rashawn Shaw
(Fort Pierce, Fla./Central) if he can't think much beyond his big game against Vero Beach (Fla.) on Thursday.
"So far the season is going real well and we'll be facing Vero Beach (on Thursday)," Shaw said. "The game is going to be streaming on the Internet I believe. It should be a fun game."
This year Shaw has been getting bigger -- he said Florida coaches measured him at 6-foot-2, 227 pounds -- and making several trips around the state.
To continue reading this article you must be an Insider
September, 21, 2012
9/21/12
4:05
PM ET
One of the best and arguably most complete shooting guards in the country, regardless of class, is
ESPN 100
SG
Xavier Rathan-Mayes
(Scarborough, Ontario/Huntington Prep), who is No. 23 overall in the rankings.
[+] Enlarge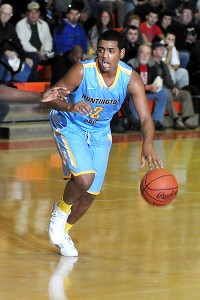 Kent Sanborn of Southern Ohio SportsFlorida State-bound guard Xavier Rathan-Mayes took over with Andrew Wiggins sidelined with the flu last Wednesday, tallying 21 points and nine dimes
The 6-foot-3, 180-pound Rathan-Mayes is a shooting guard in every sense of the word. In my opinion, he is a triple-threat scorer, which is the best kind of bucket-getter. He can score in transition by getting to the rim, where he finishes through contact. He can also stop and pop or spot up along the arc. In the half-court set, he can knock down 3-pointers by spacing on the side of dribble penetration and come off screens or from ball reversal.
Most importantly, his midrange game is smooth and efficient. Jumpers inside the arc off the catch or dribble going right or left are no problem for him. He also makes floaters with touch and body control.
To continue reading this article you must be an Insider
September, 13, 2012
9/13/12
3:30
AM ET
Florida State, just like any other team, is always on the lookout for out-and-out scorers.
Ahmed Hill
(Augusta, Ga./Aquinas) fits that mold exactly. And the 6-foot-5, 190-pound guard is feeling the love from the Seminoles.
"They are going to be one of my top schools for the future," said the four-star prospect.
To continue reading this article you must be an Insider
August, 11, 2012
8/11/12
7:16
PM ET
Oklahoma was never in a really good position to land 2013 point guard
Stevie Clark
. But with the news Saturday of
Clark transferring from Oklahoma City Douglass to Quest Prep Academy in Las Vegas
, that will close the door on the Sooners and Clark.
Things between the Clark family and the OU coaching staff were going well in the winter and into the spring. Stevie was offered by the Sooners in February and attended several of OU's final home games.
[+] Enlarge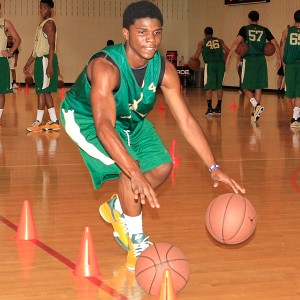 Courtesy of Robert CrawfordStevie Clark is ranked No. 63 overall in the 2013 class and No. 1 overall from Oklahoma.
But when the summer came around, OU and Clark slowly started to go their separate ways. Clark's mother, Dorshell, said there were other programs showing more interest and that the No. 1 factor in their decision is going to be the relationship with the coaching staff.
To continue reading this article you must be an Insider
June, 28, 2012
6/28/12
9:09
PM ET
Fort Lauderdale (Fla.) St. Thomas Aquinas offensive lineman
Kyle Schafenacker
was offered a scholarship by SMU in the spring and will take an unofficial visit to the Dallas school in the next few weeks.
The 6-foot-4, 285-pound junior has also camped at Miami and South Florida this month. He currently holds offers from South Carolina, Marshall, Florida Atlantic, Cincinnati and UConn.
"I really liked the Miami camp; they had nice facilities," Schafenacker said. "Coach [Art] Kehoe worked with me on the way I'm using my hands. He's a good coach, very enthusiastic."
To continue reading this article you must be an Insider
April, 13, 2012
4/13/12
3:34
PM ET
GAINESVILLE, Fla. -- Florida signed wing prospect
DeVon Walker
(Winter Haven, Fla./Winter Haven H.S.) on Friday, quickly filling the scholarship of
Bradley Beal
, who departs for the NBA.
"[Beal] had an amazing, amazing impact on the program and the team, so I wouldn't mind copying him," Walker said just after signing his letter of intent during a ceremony at his school.
As he assisted Beal in assessing his draft stock, UF coach Billy Donovan made a late push for Walker, a well-rounded swingman who averaged 23.8 points, 10.4 rebounds and 2.6 assists as a senior.
"He came a little bit harder towards the end when it got closer to signing," Walker said. "Coach Donovan said Brad was in the process of deciding to go to the league. But before Brad had even decided, [Donovan] had already told me I had a scholarship and everything was good. So I don't really think it came down to Brad leaving."
Walker, who has grown to 6-foot-6 1/2, 187 pounds and can play shooting guard and small forward, was at one point committed to Central Florida. He chose the Gators over Alabama, Florida State and Connecticut.
"It came down to Alabama and Florida, and I really loved both programs," Walker said. "Coach [Anthony] Grant at Alabama, he has something special going on. I feel that their program is one of the best programs in the country, and Florida is also.
"My decision came down to just being closer to home and being able to have my family come to a lot of games, being comfortable at UF's campus, because I've been up there the most times."
Haskins, McElwain Shine At IMG Regional
ACC SCOREBOARD
Thursday, 9/3
Saturday, 9/5
Monday, 9/7