Florida State Seminoles:

BCS
January, 7, 2014
1/07/14
1:00
AM ET
By
ESPN.com staff
| ESPN.com
The BCS went out with a bang. After one of the most dramatic fourth quarters in title-game history, Florida State beat Auburn 34-31 and ended the SEC's streak of seven straight national championships.
We were discussing it with you during all of the drama in yet another entertaining BCS game chat. Relive it all here, along with our postgame analysis and videos/pics from the field in Pasadena.
January, 6, 2014
1/06/14
5:00
AM ET
1. Tigers coach Gus Malzahn said Sunday that he expected a feeling-out period in the first quarter against Florida State, largely because of the 30-day layoff. Alabama scored touchdowns on its first two possessions a year ago, but those were the first first-quarter touchdowns in the BCS Championship Game in five years, since Beanie Wells of Ohio State broke for a 65-yard score against LSU.

2. Auburn has won with more than its share of improbabilities, but the fact that Florida State head coach Jimbo Fisher replaced six assistant coaches after the 2012 season and the team improved is, to say the least, unusual. "A lot of those guys I've known in the past," Fisher said. "There were a lot of guys who philosophically believe a lot of the same things I do. … We get along. There's a bunch of guys there that truly like each other and hang out together and it's been a tremendous group."

3. Mama called and Al Golden didn't answer. The Miami head coach released a statement Sunday that he will not be leaving for Penn State, his alma mater. To be fair, I don't know if Penn State wanted to hire Golden or not. But it should be pointed out that after three seasons of living in the shadow of an NCAA investigation, Golden may be excused for not returning to the Nittany Lions and their NCAA problems.

December, 8, 2013
12/08/13
9:06
PM ET
Red Smith, the poet laureate of sweat, once wrote that 90 feet between bases is the nearest to perfection that man has yet achieved. The basepath has nothing on the length of college football's regular season, which, with the patience of a kindergarten teacher and the tenacity of Scotland Yard, identified Florida State and Auburn as the two best teams to play for the BCS National Championship.
Tenacity is the lifeblood of a sport that demands physical and mental exertion for 60 minutes. Patience, not so much. Patience in college football is attributed to tailbacks who wait for a hole to appear. But in a sport in which a quarterback may have three seconds to complete a pass without getting his slobber knocked, patience often goes untapped.
Yet patience has never been more important than it has been in 2013, and not just because it was nearly midnight on the final Saturday of the regular season before Michigan State proved that Ohio State didn't have the credentials to play for the crystal football. In a season made predictable only by its unpredictability, patience became the coin of the realm.
Patience rewarded no fans more than at Auburn. It didn't take any patience to appreciate the rapid rise of the Tigers from 3-9 in 2012 to 12-1 this year. But the way that the Tigers waited until the very end to upend Georgia on a Hail Mary tipped pass and defeat archrival No. 1 Alabama on a 109-yard field goal return for a touchdown, focused upon the power of faith no matter what reality promised.
Patience proved critical at Florida State, not because head coach Jimbo Fisher decided to start a redshirt freshman at quarterback. Jameis Winston played with poise and the acumen of an upperclassman as the Seminoles cruised to a 13-0 record (12 wins by at least 27 points). But Florida State fans had to hold their collective garnet-and-gold breath for several weeks before local authorities decided not to charge Winston in a sexual assault case.
Patience paid off at Missouri, which had endured a 5-7, injury-filled debut in the SEC in 2012. Coach Gary Pinkel revamped his training and practice methods, and took advantage of the depth that resulted from playing so many players in 2012. The Tigers won the SEC East and finished 11-2 this season.
To continue reading,
click here
.
November, 17, 2013
11/17/13
9:15
PM ET
Off the field, it was a dizzying week of distractions for No. 2 Florida State, with quarterback
Jameis Winston
's potential role in an alleged sexual assault the topic of numerous news stories. On the field, however, Florida State's claims to a berth in the BCS Championship Game only got stronger.
The
Seminoles routed Syracuse 59-3
, their second straight win over a conference foe by that identical score. No team in the country has been so emphatically dominant on both sides of the ball (at least 59 points scored and no more than three allowed) in consecutive games since 1988, according to ESPN Stats & Info. The Seminoles rank in the top eight nationally in total offense, total defense, scoring offense and scoring defense, and FSU has an average margin of victory in its 10 games of 42 points. Each win has been by at least two touchdowns.
In other words, for all the criticism of Florida State's mediocre schedule, its performances have been nothing short of spectacular. Accordingly, FSU added two more first-place votes in the USA Today Coaches Poll and moved into a tie with Alabama atop the computer averages. Overall, Florida State closed the gap on No. 1 Alabama to a mere .0253 points.
While the Seminoles solidified their position near the
top of the BCS standings
, Duke crept into the bottom of the Coaches Poll with a
win over Miami
that has the Blue Devils poised to earn a berth in the ACC title game if they win out. Duke is now ranked for the first time since 1994, but it wasn't enough to crack the top 25 in the BCS standings. In reality, Duke would likely need a win over Florida State in the ACC championship game to have any shot at a BCS bowl, but the Blue Devils have already pulled off their share of surprises this season.
The ACC's best shot at a second BCS bid comes from No. 7 Clemson, which continues to chug along without a hint of national spotlight. The air came out of the Tigers' balloon with a midseason loss to FSU, but Clemson is 3-0 since that game (and 9-1 on the season), including last week's
55-31 win over Georgia Tech
. South Carolina looms in the regular-season finale, and a win at home against their in-state rivals would likely punch a ticket to a BCS game for the Tigers.
November, 1, 2013
11/01/13
9:30
AM ET
By
Michael Freer
| ESPN Stats & Info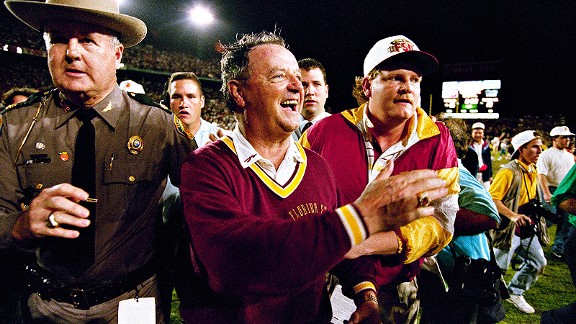 AP Photo/Doug MillsIt wasn't without controversy, but the 1993 season ended with Bobby Bowden and Florida State winning the national championship.
Twenty years ago, we had one of the wildest months in college football history. Over the span of four weeks, seven top-10 teams lost, including the No. 1 team twice. Florida State entered the month as No. 1, fell out of that spot and still ended the month atop the polls.
By the end of November, three teams would finish the regular season unbeaten (Nebraska, West Virginia and Auburn), but only two were eligible to play for the national title, and only one would wind up playing for it. The debate simmered for years.
Notre Dame fans were upset that Florida State was playing for the national title with one loss, since that one loss came against the Fighting Irish. West Virginia fans were also upset that FSU was playing for the national title with one loss, with the Mountaineers finishing the season undefeated.
[+] Enlarge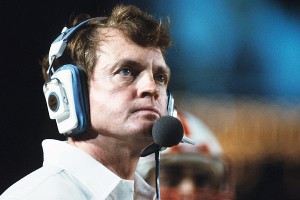 Ronald C. Modra/Sports Imagery/Getty ImagesTom Osborne was denied his first national title when the Cornhuskers lost to the Seminoles in the Orange Bowl.
In addition, WVU argued that it should be included in the national title game since it had a higher ranking in the coaches poll (No. 2) than Nebraska (No. 3). In the AP poll, Nebraska finished the regular season No. 2 and WVU No. 3. Meanwhile, Auburn fans claimed the Tigers were actually the best team in college football, finishing the season 11-0 and with a win over the eventual SEC champion Florida Gators. The Tigers, however, were on NCAA probation and ineligible for postseason play.
As we begin another month of potential unbeaten controversy in college football, here's a look at 20 things to remember from November 1993.
1. Florida State was the No. 1 team in the AP poll every week of the season prior to November. Entering the month, the Seminoles were 8-0 and had outscored their opponents by a combined total of 350-38.
2. Three of the teams that garnered a lot of attention in November were still not even ranked in the top 5 by the beginning of the month. Nebraska (8-0) was No. 6, Auburn (8-0) was No. 8 and West Virginia (7-0) was No. 11.
3. Ohio State also entered November 8-0, its best start since 1979. Two decades later, the Buckeyes enter November again undefeated.
4. The Miami-WVU game on Nov. 20, 1993, drew a crowd of 70,222 at Mountaineer Field (now called Milan Puskar Stadium). It's still the largest home crowd in the history of the stadium, which opened in 1980. Capacity for that stadium at that time was 63,000, meaning it was 7,000 over capacity for that game.
5. Notre Dame was ranked No. 7 in the preseason AP poll, the lowest preseason rank for the Irish since 1988, when they were ranked 13th and went on to win the national title.
6. No. 1 Florida State was a 6 1/2-point favorite for its Nov. 13 matchup at No. 2 Notre Dame on Nov. 13, 1993.
7. ESPN's College GameDay staged its first live remote show at the FSU-ND showdown in South Bend.
8. The "Game of the Century" matchup with Florida State was the ninth 1 versus 2 game in Notre Dame history, and the second for FSU. Overall, it was the 14th regular-season 1 versus 2 matchup in AP poll history.
9. The Irish beat the favored Seminoles 31-24 to improve to 10-0, the third time in the previous six seasons the Fighting Irish started a season 10-0 or better (1988, 1989).
10. In a wild month, the following Saturday (Nov. 20) was easily the biggest day. Consider what occurred:
No. 1 Notre Dame was upset at home by No. 17 Boston College, 41-39, on a last-second 41-yard field goal by David Gordon.
No. 9 West Virginia upset No. 4 Miami, 17-14, keeping WVU's undefeated season alive.
No. 5 Ohio State suffered its first loss of the season at the hands of its rival, Michigan, losing 28-0.
No. 6 Auburn won the Iron Bowl, beating No. 11 Alabama 22-14 and completing a perfect regular season.
11. That Boston College could come in and beat a No. 1 Notre Dame team was surprising enough -- especially considering the Irish had won that matchup by 47 the year before. But it was more of a shocker when you consider the Eagles started the 1993 season 0-2, including a loss at Northwestern, a team that finished just 2-9.
12. A lot was made about how West Virginia did not deserve to play for the national championship over Florida State or Nebraska, because the Mountaineers played a weaker schedule. Mountaineer fans did not want to hear it, but the numbers appear to back up that argument. FSU's opponents finished 81-61 (.570), Nebraska's 59-54-1 (.522) and WVU's 59-64-2 (.480).
13. West Virginia's argument about deserving a shot at the national championship was always the following: WVU beat the team (Boston College, in the regular-season finale) that beat the team (Notre Dame) that beat the team (Florida State).
14. To understand how wacky the month of November was, look at how the AP poll played out since the middle of October:
Oct. 18 poll: FSU received all 62 first-place votes
Oct. 25: FSU received all 62 first-place votes
Nov. 1: FSU received all 62 first-place votes
Nov. 8: FSU received all 62 first-place votes
Nov. 15: Notre Dame received all 62 first-place votes
Nov. 22: Five different teams received at least one first-place vote
Nov. 29: Three different teams received at least one first-place vote
Dec. 6: Five different teams received at least one first-place vote.
[+] Enlarge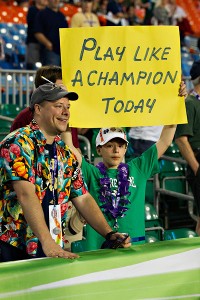 Cal Sport Media/AP ImagesNotre Dame fans are probably still upset about being kept out of the 1993 national championship game despite having beaten FSU.
15. Prior to the Bowl Championship Series, college football's championship game matchups were determined by an organization called the Bowl Coalition. It was made up of five conferences: Big East, ACC, SEC, Big 8 and Southwest -- and Notre Dame. The group had six bowl tie-ins: Orange, Fiesta, Cotton, Sugar, Gator and John Hancock (now Sun Bowl). But it did not include the Pac-10 and Big Ten, because those teams had the tie-in to the Rose Bowl. After the wackiness of November, the top five heading the bowls was:
1. Florida State
2. Nebraska
3. West Virginia
4. Auburn
5. Notre Dame
16. West Virginia was actually invited to play No. 7 Texas A&M in the Cotton Bowl, but instead decided to play in the more lucrative Sugar Bowl against No. 8 Florida. The Sugar Bowl was worth approximately $1.1 million more than the Cotton, which elected to invite Notre Dame instead (which beat the Aggies 24-21). The move obviously backfired on the Mountaineers, as they were soundly beaten by the Gators in the Sugar Bowl, 41-7.
17. After losing to Miami on missed field goals in the final seconds in 1991 and 1992, Florida State recruited the top high school kicking prospect, Scott Bentley. Bentley struggled early in his FSU career (seven missed extra-point attempts in the first five games), but eventually was a difference-maker in the Seminoles' run to the national title, kicking the game-winning field goal in a 18-16 Orange Bowl victory against No. 2 Nebraska and giving Bobby Bowden his first national title (and denying Tom Osborne his).
18. Florida State became the first preseason AP No. 1 team to go on to win the national title since Oklahoma in 1985.
19. Auburn's win streak, which began in 1993 as the lone unbeaten, would eventually reach 20 straight before a tie against Georgia on the next-to-last game of the 1994 season. The Tigers lost the following game to Alabama in the Iron Bowl.
20. The matchup that many Mountaineers fans wanted (WVU versus Nebraska) eventually took place … in 1994. The Cornhuskers slammed the Mountaineers in the 1994 Kickoff Classic in the Meadowlands, 31-0.
October, 29, 2013
10/29/13
5:00
AM ET
1. UCLA started eight true freshmen against Oregon, including three on the offensive line, and played 18 overall against the Ducks. If you are looking for a reason that Oregon scored three touchdowns in the fourth quarter, it might be physical (how long can 19-year-olds play guys two or three years older?) and it might be mental (close game, big stakes, who's been there before?). Either way, the Bruins will get a dividend on this investment in, oh, 2015.

2. If you congratulate No. 3 Florida State head coach Jimbo Fisher for voting his conscience on his USA Today ballot -- he sounded as if he voted Alabama No. 1 -- and if you applaud him for sitting his starters in the second half against North Carolina State after leading 42-0 at halftime, you may as well congratulate him for getting his team on the field for the opening kickoff. That's how a coach should act. As the saying goes, Fisher is acting as if he has been there before. Which he has, as an assistant under Nick Saban.

3. Kentucky is 1-6, 0-4 in the SEC, and Wildcats first-year head coach Mark Stoops is trying to remain patient. Only the 48-7 loss to No. 1 Alabama could be considered a blowout. "I think we all see us resembling a good football team from time to time," Stoops said at his press conference Monday, "but that's not going to cut it and win you a lot of games in the SEC. You've got to be good top to bottom, and you've got to be good in critical situations, and most importantly when you're under pressure situations, our habits, bad habits, come right to the surface."

Goodell Has Sit-Down With Jameis Winston
ACC SCOREBOARD
Thursday, 9/3
Saturday, 9/5
Monday, 9/7