FSU Seminoles:

Atlantic Division
November, 17, 2012
11/17/12
5:10
PM ET
COLLEGE PARK, Md. -- This game went as many probably expected. Here's a quick look back at FSU's final and
most important ACC win
of the season:


It was over when:
No. 10 Florida State walked into the stadium. In a matchup of the nation's No. 1 total defense against the nation's worst offense, the game played out on the field exactly as it looked on paper. FSU went 61 yards in 11 plays on the first drive of the game, which was capped by
Devonta Freeman
's 5-yard touchdown run. The Noles never looked back.
Game ball goes to:
Freeman. He ran for 148 yards and two touchdowns on 16 carries for 9.3 yards per carry. Since taking over for injured starter
Chris Thompson
, Freeman has kept the Noles' ground game going. He finished the first half with 77 rushing yards. It's the fourth time in the past five games Freeman has had at least 70 rushing yards in a game.
Stat of the game:
Florida State held Maryland to 27 yards (all through the air) in the first half, which was the fewest yards the defense has held an opposing offense to in the first half. Maryland did not gain a rushing yard on 12 carries in the first half, the second fewest in a half since FSU held Miami to minus-12 rushing yards in the second half earlier this season.
What it means:
Florida State clinches at least a share of the Atlantic Division title and will play in the ACC title game in Charlotte, N.C., on Dec. 1. It will be Florida State's second appearance in the title game under coach Jimbo Fisher, as the Noles won the Atlantic Division in 2010.
Unsung hero of the game:
Maryland linebacker
Kenny Tate
. He had three sacks for a total loss of 11 yards and finished with five tackles. He became the first Maryland player to have three sacks in a game since 2002, when Shawne Merriman did it against North Carolina. Merriman was at the game Saturday.
October, 18, 2012
10/18/12
10:15
AM ET
Here are the top storylines to watch in the ACC during Week 8.
1. What happens at quarterback for Miami?
Starter
Stephen Morris
has been
held out of full contact practice
all week because of a sprained ankle, and his status against Florida State seems pretty doubtful. Coach Al Golden has said Morris would be a game-time decision, but the Hurricanes are preparing for
Ryan Williams
to start. If that happens, Williams will be making his first Miami start against in-state rival Florida State and one of the best defenses in the nation.
[+] Enlarge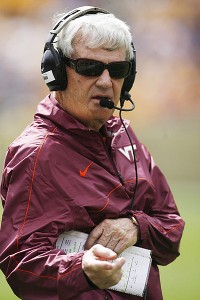 Charles LeClaire/US PresswireCoach Frank Beamer and Virginia Tech face Clemson in a game that could shape their season.
2. Can Virginia Tech keep its momentum?
Last week, most everybody had written off the Hokies. This week, everybody is wondering whether they can pull out the Coastal Division. Beating No. 19 Clemson would be a huge step in that direction. Clemson is not going to be an easy out by any stretch. The Tigers won both meetings with the Hokies last season -- the first time Virginia Tech had ever lost to the same team twice in one season. Factor in play at Death Valley as well. Clemson has won 13 of 15 ACC home games under coach Dabo Swinney.
3. How does NC State respond after a bye?
This is our first chance to see the Wolfpack since their 17-16 upset of then-No. 3 Florida State two weeks ago. So what can we expect? Their opponent, Maryland, is the only undefeated team in ACC play and has one of the best defenses in the nation. So there is no overstating how important this game is in the Atlantic race. NC State is 4-2 under Tom O'Brien after a bye. The results have been decided by an average of only nine points per game.
4. Speaking of byes ...
Clemson, Wake Forest and Georgia Tech were off last week as well, so we will see whether the time off works to their advantage. In the cases of Wake Forest and Georgia Tech, the time away seemed to come at a perfect time. The Deacs are reeling, having lost three of four, with off-the-field issues threatening to overshadow the season. The Yellow Jackets have been working hard to simplify their defensive scheme under interim coordinator Charles Kelly and coach Paul Johnson. The new theme on defense: less is more.
5. Run games to watch, Part I.
Can Duke stop
Giovani Bernard
? A week after giving up 183 yards to freshman
J.C. Coleman
, how do the Blue Devils go about slowing down Bernard? The North Carolina running back has been sensational the past two weeks, with 439 yards rushing and two touchdowns combined. Bernard would be leading the league in rushing if he had enough carries to qualify. Duke is hoping for a win against North Carolina for the first time since 2003, a victory that would make the Blue Devils bowl eligible.
6. Run games to watch, Part II.
Can the Hokies run on Clemson? As noted above, Virginia Tech got its ground game going last week, racking up a season-high 269 yards rushing. Coach Frank Beamer says he is not going to just stick with
J.C. Coleman
-- he will continue to rotate his backs against the Tigers. Clemson has had its share of struggles stopping the run, holding only Boston College under 100 yards on the ground this season.
7. Run games to watch, Part III.
Will Maryland be able to solve its rushing woes against NC State? The Terps are one of the worst teams in the nation when it comes to running the football, averaging 71.3 yards per game and a paltry 1.9 yards per carry. They are on pace to set program lows in the modern era for average rushing yards per game and average yards per carry. The current program-low is 81.3 rushing yards per game and 2.2 yards per carry, set in 1966. The last time Maryland failed to average more than 100 yards rushing per game was in 1997 (88.5 ypg). (Note: the Maryland stats record book goes back to 1947.)
8. Losing streaks, Part I: Virginia.
The Hoos have lost five straight, the longest losing streak in the ACC. It is their longest losing streak since dropping six straight to close the 2009 season. Virginia gets Wake Forest this week, another team that is on a bit of a losing skid as well. For Virginia to maintain any bowl hopes, it has to win this game. If not, the Hoos face the prospect of having to win out to become bowl eligible.
9. Losing streaks, Part II: Boston College and Georgia Tech.
These teams also have had their share of adversity to overcome. The Yellow Jackets have lost three straight; the Eagles four straight. The good news is somebody will end their losing streak. The bad news is somebody will have a lot more questions to answer about the direction of the program.
10. Record watch.
Here are some marks to keep an eye on this weekend. Georgia Tech quarterback
Tevin Washington
needs 51 rushing yards to join Joshua Nesbitt as the only players in school history with 2,500 passing yards and 2,000 rushing yards. ... Clemson quarterback
Tajh Boyd
has 5,905 yards passing and should pass Woodrow Dantzler (6,037) for second place against Virginia Tech. ... Duke receiver
Conner Vernon
is 111 yards away from the school career mark of 3,318 yards receiving, set by Clarkston Hine. Vernon is 217 yards short of the ACC career mark of 3,517 held by Florida State's Peter Warrick.
October, 17, 2012
10/17/12
11:00
AM ET
The first half of the season did not go perfectly. OK, that may be an understatement, but there is plenty to look forward to in the second half.
First and foremost is the real possibility that the ACC could land two teams in the BCS for a second straight year. National folks may lament the state of the ACC at this point, with only two ranked teams and a conference that is not as strong as the Big East in the latest set of power rankings.
But if Florida State and Clemson win out, the ACC will have the very real possibility of landing both in the marquee bowl spots: one as the conference champion and the other as an at-large selection. To get an at-large berth, a team must finish with at least nine wins and in the top 14 of the final BCS standings.
[+] Enlarge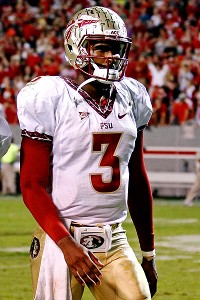 AP Photo/Gerry Broome)EJ Manuel and the Seminoles are in line to win the Atlantic Division, should they win out the second half of the season and NC State loses.
As it stands today, Florida State is ranked No. 14 and Clemson No. 19
in the BCS standings
. But a whole lot will change between now and December. Last year, Virginia Tech finished 11-2 and No. 11 in the final BCS standings. Clemson, the ACC champ, was No. 15 at 10-3. Also keep in mind, the SEC can get only two teams into the BCS, so that should open spots up for other conferences looking to get a second team in.
If the ACC can get two into the BCS, things would look a whole lot rosier for this league than they do today. (Winning those BCS games is another issue for another day.)
Secondly, there are very real races happening in both the Atlantic and Coastal Divisions. That should make for a topsy-turvy, unpredictable and fun end to the season. Right now, Maryland, Florida State, NC State and Clemson all have designs on playing in the ACC championship game out of the Atlantic.
To make things simple: Maryland needs to win out to get there; NC State needs to win out to get there; Florida State needs to win out and have NC State lose; Clemson needs to win out and have Florida State lose.
Over in the Coastal, Miami, Duke and Virginia Tech -- yes Virginia Tech! -- have a shot at representing their division in the title game. In the simplest scenario, Miami and Virginia Tech can win out to get there; Duke needs to win out and have Virginia Tech lose again.
Given what we've seen to start this year and in seasons past, one thing that we can definitely look forward to in the second half: more unpredictability.
Bold prediction
: Florida State will win out. The Seminoles have not won 11 games since 2000, but I think this is the year they can do it. Yes, I know what happened at NC State, but the Seminoles had a bad game. They are still the best team in the ACC and leave the state of Florida just twice in their final five games. Games at Miami and Virginia Tech will be tough, and so will the finale at home against Florida. But I still think this team is capable of running the table.
Looking forward to
: Will the Hokies be the comeback kings of the ACC? Things have not gone well for Virginia Tech this season. Nobody predicted a 4-3 record at this point with losses to Pitt and Cincinnati. But Virginia Tech is 2-1 in ACC play and very much in the hunt for the Coastal Division crown. Its only loss is to North Carolina, ineligible for the postseason. Hurdles remain, with consecutive games at Clemson, at Miami and versus Florida State. That is the toughest stretch of any team in the ACC. How Virginia Tech handles that three-game set will determine what type of season the Hokies will have.
Top five games:
Virginia Tech at Miami, Nov. 1.
This one should have an impact on the outcome of the Coastal Division. The road team is 1-4 in the past five meetings.
Florida State at Virginia Tech, Nov. 8.
Both are going to need to win this game to keep their division hopes alive in this huge Thursday night game in Blacksburg. This will be the second straight Thursday night game for the Hokies.
NC State at Clemson, Nov. 17.
This one could end up deciding the Atlantic Division. NC State needs to win out to play in the ACC title game. But the last time the Tigers lost two straight to NC State was 2002-2003.
Florida at Florida State, Nov. 24.
This could very well be a matchup of two top-10 teams when this game rolls around. Florida State has won two straight and held the Gators to a combined 14 points in those games.
South Carolina at Clemson, Nov. 24.
If the Tigers hold out hope of getting an at-large berth, beating the Gamecocks will be huge. South Carolina has won three straight in the series. Most looking forward to the barbs traded between Steve Spurrier and Dabo Swinney.
October, 15, 2012
10/15/12
1:00
PM ET
Let's take a sneak peek at the top three games in the ACC in Week 8, and the rest of the schedule.
Virginia Tech (4-3, 2-1) at No. 19 Clemson (5-1, 2-1).
These two teams got quite familiar with each other last year, when they played twice -- once during the regular season and once in the ACC Championship Game. Clemson won both -- the only time in Virginia Tech history it lost to the same team twice in one season. Are the Hokies truly back, or did they get the benefit of playing a Duke team last week that was not quite ready for prime time? They got an incredible performance from running back
J.C. Coleman
, who ran for 183 yards against the Blue Devils. He will be a key to watch, as Clemson has struggled once again to stop the run, ranking No. 99 in the nation. Clemson, meanwhile, goes into the game off a bye and brings its own outstanding running back to the table in
Andre Ellington
. Virginia Tech also has struggled to slow down the run, so Ellington could be in line for a big game.
NC State (4-2, 1-1) at Maryland (4-2, 2-0).
Your Atlantic Division leaders ladies and gentlemen -- Maryland! Bet you did not think this game would be critical in the race for the division crown back when the season started. But this is the ACC, so we always expect the unexpected. NC State has to win this game if it wants to keep pace in the race. The Wolfpack had a bye after their huge victory over then-No. 3 Florida State, so we will see if they can pick up where they left off and avoid any letdowns. They will face a huge test in slowing down
Stefon Diggs
, who had 239 all-purpose yards last week in a win over Virginia. Maryland, meanwhile, has to find a way to cut down on its turnovers to give itself a chance. The Terps rank No. 110 in the nation in turnover margin.
No. 14 Florida State (6-1, 3-1) at Miami (4-3, 3-1).
It has been years since this game had the national spotlight, but this remains an intense in-state rivalry. Florida State has won three of the last four in the series and can become bowl eligible with a victory. Miami, meanwhile, could be without starting quarterback
Stephen Morris
, whose availability is in question because of a sprained ankle. Florida State will no doubt try to attack Miami on the ground with
Chris Thompson
, who is having a resurgent season after a back injury forced him out in 2011. The Hurricanes are giving up an average of 253.7 yards rushing, and until they figure out how to stop the run, this is going to be an area that will be attacked for the remainder of the season.
The rest of the schedule
North Carolina (5-2, 2-1) at Duke (5-2, 2-1).
This will be the 99th meeting between the two programs. The Blue Devils are trying to win their first game over the rival Tar Heels since 2003, and their first in Durham since 1988. The question is whether Duke can rebound after blowing a 20-0 first-quarter lead on Virginia Tech. The player to watch will be North Carolina running back
Giovani Bernard
, who has 439 yards rushing in the last two weeks.
Wake Forest (3-3, 1-3) at Virginia (2-5, 0-3).
These teams are mired with struggles right now. Virginia has the longest losing streak in the ACC (five straight defeats); Wake Forest has lost three of its last four. The Deacs were off last week and hope to be healthier going into this game, but recent suspensions have just added to what has been a tough season.
Boston College (1-5, 0-3) at Georgia Tech (2-4, 1-3).
The Eagles are still looking for their first win over an FBS team after getting blown out at Tallahassee. Georgia Tech, meanwhile, comes into this game off a bye. We will get our first chance to see interim defensive coordinator Charles Kelly in his new role. How much improvement will we see out of the defense?
October, 15, 2012
10/15/12
9:00
AM ET
Last week was all out of whack. Virginia Tech restored some normalcy to the league with its win over Duke, and North Carolina did its part by humbling Miami in Sun Life Stadium. That's not to say this pecking order isn't still in flux. The Coastal Division race is wide open, and there are plenty of teams still jockeying for position in the division standings. Here's a look at how the league shakes out at the midway point of the season:
1. Florida State (6-1, 3-1 ACC; LW: No. 1) --
The Seminoles bounced back from their deflating loss to NC State with a convincing 51-7 drubbing of Boston College. They'll get more of a fight this week when they face rival Miami on the road, but on paper, this is another game the Noles should win.
2. Clemson (5-1, 2-1; LW: No. 2) --
The Tigers had a bye week, and they're going to be catching Virginia Tech right when the Hokies might have turned the corner with an historic comeback win against Duke. Clemson owned the Hokies in two wins last year, including the ACC title game.
3. NC State (4-2, 1-1; LW: No. 5) --
The Wolfpack had a bye week to digest their upset of then-No. 3-ranked Florida State and turn their focus to Saturday's trip to Maryland. Quarterback
Mike Glennon
made three fourth-down completions in the fourth quarter last week and will be looking for another important Atlantic Division win.
4. North Carolina (5-2, 2-1; LW: No. 6) --
The Tar Heels got their first road win of the season against Miami, but UNC committed 15 penalties for 140 yards in the 18-14 win over the Canes. It didn't matter in the end because Miami had no answer for running back
Giovani Bernard
, who ran for 177 yards and two touchdowns.
5. Virginia Tech (4-3, 2-1; LW: No. 8) --
The Hokies scored 41 unanswered points in the final three quarters to beat Duke 41-20 on Saturday in the biggest comeback the program has seen under coach Frank Beamer. Virginia Tech avoided a second Coastal Division loss and has some momentum heading into Death Valley.
6. Maryland (4-2, 2-0; LW: No. 7) --
The Terps are the only ACC team still undefeated in league play, and they are leading the Atlantic Division standings. They'll face much stiffer competition when NC State visits on Saturday, but Maryland's defense has kept it in every game this season and is one of the best in the ACC.
7. Miami (4-3, 3-1; LW: No. 4) --
The Hurricanes' rushing defense has been one of its weakest links this season, as Miami is allowing 253.71 rushing yards per game. UNC ran for 272 yards against the Canes, and Florida State has the capability to do the same this weekend.
8. Duke (5-2, 2-1; LW: No. 3) --
The Blue Devils probably wouldn't have dropped so far in the rankings so fast had they played a more respectable final three quarters, but squandering a 20-point lead brought Duke crashing back to reality. The team had a chance at a marquee win for the program, but four turnovers put the bowl bid on hold for now.
9. Wake Forest (3-3, 1-3; LW: No. 10) --
The Deacs had a bye week, and they needed it after losing back-to-back conference games and suspending eight players in the past two weeks. Wake Forest travels to UVa this weekend in a game that will be critical to the Deacs' bowl hopes.
10. Georgia Tech (2-4, 1-3; LW: No. 9) --
It's been a tumultuous season for the Jackets, who fired former defensive coordinator Al Groh last week. Interim Charles Kelly at least had the bye week to make the transition in preparation of Saturday's game against Boston College. The main game plan, coach Paul Johnson said last week, is to simplify things for the defense.
11. Virginia (2-5, 0-3; LW: No. 11) --
Not much has gone right for the Hoos, who have lost five straight games heading into Saturday's matchup against Wake Forest. Virginia is No. 99 in the country in scoring defense, allowing 33 points per game, but has also struggled offensively with quarterbacks
Michael Rocco
and
Phillip Sims
.
12. Boston College (1-5, 0-3; LW: No. 12) --
The Eagles are still looking for their first conference win of the season, and have lost four straight as they head into their third straight road game. The Eagles haven't been able to run the ball or stop the run this season, but the passing game has shown improvement under coordinator Doug Martin.
September, 24, 2012
9/24/12
4:45
PM ET
Sooo ... now what?
Florida State beat Clemson in what is likely to amount to the Atlantic Division championship game. Georgia Tech has all but played its way out of the Coastal Division race with two losses to division opponents.

Will the next nine Saturdays in the ACC really be as anticlimactic as they look right now?
Not in the ACC. Not possibly. Not in a league where a struggling, young Miami defense goes on the road and beats Georgia Tech. Not in a conference where a ranked Virginia Tech team loses to a pedestrian Pitt team. The ACC has developed a reputation for its unpredictability, and with a Coastal Division race that's slowly unfolding and three teams that have yet to start conference play, there are still plenty of reasons to tune in.
The No. 1 reason is that Florida State's season hasn't ended yet and NC State's is just beginning.
The Seminoles are hands-down the best team in the ACC this season. They're also one of the best teams in the country. It's a more mature, more focused group that is a legitimate national title contender with a Heisman-caliber quarterback in
EJ Manuel
. But FSU still travels to NC State, which is riding a three-game winning streak heading into its first conference game of the season. FSU still travels to rival Miami, which is 2-0 in conference play. And the Noles still travel to Blacksburg on a Thursday night. The rest of the Atlantic Division won't roll over for FSU. Expect the exact opposite: FSU will get everyone's best shot.
Three ACC teams -- NC State, Maryland and Duke -- have yet to play a conference game. Three teams -- Florida State, Miami and Virginia Tech -- have yet to lose a conference game. With only one league loss, Virginia is just as much in the mix as anyone else. And Duke is already halfway to a bowl game. (Yes, Duke.)
Another very real possibility at this point: the long-awaited matchup between Florida State and Miami in the ACC championship game.
Virginia Tech's Thursday night game at Miami on Nov. 1 could turn out to be a season-defining game in the Coastal Division race. And college football fans still want to keep an eye on Clemson. Although the Tigers lost control of their own destiny in the Atlantic Division race Saturday and need Florida State to lose to get back in the conversation, a one-loss season could add up to another at-large BCS bid for the ACC.
Or, knowing Clemson, the Tigers might lose at BC this weekend.
Saturday felt like November in the ACC, but there is still plenty to play for and even more to lose.
September, 19, 2012
9/19/12
2:00
PM ET
Heading into this season, the offensive lines at both Florida State and Clemson were two of the biggest question marks in the ACC. The Tigers had to replace three starters up front, and the Seminoles were coming off a Champs Sports Bowl win against Notre Dame in which four true freshmen were in the starting lineup.
You'd never know it by looking at the stats so far this season, as deceptive as some could be.
As No. 10 Clemson and No. 4 Florida State prepare to face each other in Tallahassee on Saturday, both offensive lines have shown significant improvement through the first three games of the season. Florida State is No. 2 in the country in scoring offense, racking up its stats against two FCS opponents and an overmatched Wake Forest team. Clemson is No. 23 in the country in scoring offense, with its most impressive win coming against Auburn. Both Clemson and Florida State are allowing fewer than two sacks per game.
[+] Enlarge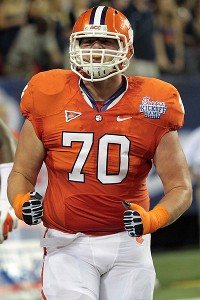 Cal Sport Media via AP ImagesGifford Timothy and Clemson's offensive line could hold the key to victory against Florida State.
Both groups, though, still have something to prove -- particularly at Clemson. The Tigers' offensive line will arguably get its biggest test of the season Saturday when it faces Florida State's defensive line. The Noles are tied for No. 10 in the country with 3.67 sacks per game. How Clemson fares up front could be the key to the entire game.
"It's going to be a tough challenge, no doubt about it," said Clemson coach Dabo Swinney. "But we're going to find out Saturday night one way or another."
Clemson's starting lineup against Auburn was
Dalton Freeman
,
David Beasley
,
Gifford Timothy
,
Brandon Thomas
and
Tyler Shatley
. Timothy was injured on the last offensive play of the game and missed the Ball State game. That opened the door for redshirt freshman
Shaq Anthony
to start and also play the first half against Furman.
Beasley was injured against Ball State, allowing
Kalon Davis
to play most of that game and all of the Furman game. Shatley was injured against Furman and missed the second half. Redshirt freshman
Ryan Norton
played the second half of that game.
Swinney said his offensive line was "pretty average" in last week's 41-7 win against Furman.
"Nothing great," he said, "just OK."
"They are a question mark; they're still a question mark," Swinney said. "I don't think that's changed. … We're a long ways away from being a great offensive line right now."
The good news for Clemson fans is that the starting lineup used against Auburn should be healthy and ready to play at Florida State. And the backups have now had some significant experience. Entering the FSU game, Clemson has eight different offensive linemen who have played at least 98 snaps.
Florida State's improved pass protection has been measurable. So far, the line has allowed three sacks in 194 snaps and 84 pass attempts. All three sacks, though, came against the best competition they've played -- a Wake Forest team that was missing one of its top defensive linemen in injured nose guard
Nikita Whitlock
.
It's still a foreshadowing of improvement since last season, when the Noles allowed 41 sacks in 820 offensive snaps, which amounts to one every 20 plays. Only eight teams in the nation yielded more sacks than FSU in 2011.
There's no question that FSU is also running the ball better. In 2011, the Seminoles produced just 112.2 rushing yards per game -- their lowest average since 2006 -- and managed 1,458 yards on the ground. Through three games the Noles are averaging 279 rushing yards.
The numbers are skewed because they've been racked up against unheralded FCS competition in Murray State and Savannah State, but FSU coach Jimbo Fisher said he likes what he has seen so far.
"I think they're very good players," Fisher said. "They're all very talented. It took a little bit of time to learn, and that's a position that's very hard to adapt to, and we loved them because of their size and athleticism. I think that's where you've got to control both lines of scrimmage -- that's where it's got to start.
"I've been very pleased with them, but I don't think we are close to where we can be," Fisher said. "I think each challenge is bigger and bigger each week."
This one, of course, might be the biggest of the season.
September, 16, 2012
9/16/12
10:54
AM ET
Get ready, ACC fans, "ESPN College GameDay, Built by The Home Depot" is heading to Tallahassee this week for Florida State's showdown with Clemson. I was at FSU last year for the Oklahoma game when the GameDay crew was there and it was one of the best game day atmospheres I've seen in the ACC in a long time. I'm expecting the same if not better this weekend.


Florida State and Clemson will face off at 8 p.m. (ET) Saturday. The game will be televised live on ABC.
"We're happy to have ESPN's College GameDay coming to Tallahassee," FSU coach Jimbo Fisher said in a prepared statement. "It's going to be a great game and great atmosphere next weekend and having GameDay here will add to that. Having that big game … it's one of the reasons our players come to Florida State and our fans show up. Creating that atmosphere is one of the best things about college football."
The crew will be live from Langford Green on the campus of Florida State beginning at 9 a.m. ET on ESPNU and from 10 a.m.-noon on ESPN.
Clemson and Florida State have easily looked like the best teams in the ACC this year. Next Saturday, we'll find out which one takes the lead in the Atlantic Division race.