Florida State Seminoles:

Alabama
December, 26, 2013
12/26/13
11:30
AM ET
TUSCALOOSA, Ala. -- Nick Saban will be in the awkward position of having to watch a football game rather than coach one on Jan. 6 in Pasadena, Calif. His
Alabama Crimson Tide
won't play for the VIZIO BCS National Championship, and instead will be forced to watch Florida State and Auburn do battle on center stage.
[+] Enlarge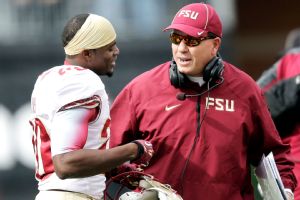 AP Photo/Nell RedmondFormer Nick Saban assistant Jimbo Fisher and former Saban recruit Jameis Winston are proof of the power of "The Process."
But don't weep for Saban and the Tide. Because whatever happens, Alabama benefits.
Should Auburn win, Saban can continue selling recruits on the SEC being the most dominant conference in college football. "Come play in the league with eight straight national titles," his pitch might go. "Come compete in a rivalry game with championship implications," he might say.
But if Florida State wins, Saban can sell something much simpler. "See Jimbo Fisher coaching out there? He was my offensive coordinator at LSU," he could say. "See Jeremy Pruitt leading the Noles defense? I took him from a high school assistant coach to an SEC defensive coordinator," he could flaunt. "Defensive ends coach Sal Sunseri? Offensive line coach Rick Trickett? Wide receivers coach Lawrence Dawsey? Yeah, those were all my guys at one point, too," he could add for good measure.
Saban's process of building and running a football program -- simply dubbed, "The Process" -- has caught hold at a number of programs around the country, but maybe none more so than at Florida State. The similarities between the two schools are staggering: both work out of a 3-4 base defense, both use mainly pro-style sets on offense, both have built through the trenches and both recruit like gangbusters. Even their focus and implementation of off-field physical and mental conditioning are similar as both have employed the services of
sports 'mindset' expert Trevor Moawad
and both try to
stay on the cutting edge
with programs like Catapult Sports.
"Jimbo has done a fantastic job," Saban said of his former assistant in late November. "I always thought Jimbo was one of the best coaches we've ever had to work with on any of our staffs. He did a fantastic job for us. I think he has done a fantastic job.
"If you look at the whole body of work and the way they beat people, they are arguably the best country right now. And they weren't when he went there. They made a significant improvement. He has done a very good job of recruiting and developing the players they do have in the program. They've played really, really well and improved each year he has been there."
Though the Noles may have the flashier quarterback and the higher profile today, Saban shouldn't let you -- or the nation's top recruits -- forget what got them there. Since Fisher took over, the two staffs and the two rosters have been heavily intertwined.
Jameis Winston
, who won the Heisman Trophy this year, signed with Florida State over Alabama in 2012.
Amari Cooper
, who was a Freshman All-American a season ago, signed with Alabama over Florida State in the same year. The list of prospects whose decisions have come down to the Tide and the Noles are too many to count.
It ultimately took three seasons of coaching, recruiting and staffing for Saban to reach his first championship game with Alabama. For Fisher, it took four seasons to get Florida State to the promised land.
Whichever team wins on Jan. 6, The Process, Saban and Alabama come out looking good.
November, 8, 2013
11/08/13
4:00
PM ET
So it seems I oversimplified the conference race post earlier this week. To the mailbag!
[+] Enlarge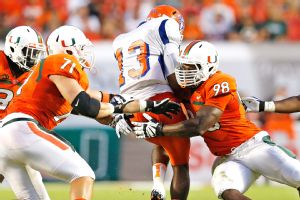 Joel Auerbach/Getty ImagesAl-Quadin Muhammad (98) and the Hurricanes control their own destiny to reach the ACC title game.
Donald in Christianburg, Va., writes:
Your information on the Atlantic and Coastal races is incorrect. Clemson can win the Atlantic with a loss to Georgia Tech should Syracuse win out and FSU drop its games against Wake Forest and Syracuse. Under this scenario, Clemson, Syracuse and FSU would end up in a three-way tie in the Atlantic, each 1-1 against the other two teams. The next tiebreaker is their divisional record. Syracuse and Clemson would be 5-1 in the division (Syracuse lost to Clemson, Clemson lost to FSU) while the Seminoles would be 4-2 (losses to Wake and Syracuse). This would then revert to the two-team procedure, where Clemson beat the Orange head-to-head. Further, a 6-2 Virginia Tech can still win the Coastal tied with Duke if there is a three-way tie with Georgia Tech. The teams would, like in the Atlantic, be 1-1 against each other and the tiebreaker would go to divisional records. The Hokies would be 5-1 in the Coastal (loss to Duke) while Georgia Tech and Duke would both be 4-2 (GT losses to VT and Miami, Duke losses to GT and Pittsburgh).
Andrea Adelson:
Thank you, Donald. Generally speaking, we provide the least convoluted scenarios for each division every single week based on information from the ACC office. These alternate scenarios are definitely worth posting.
---
Duke fan in Miami writes:
Hi. I am wondering about the current race in the Coastal division. If Duke wins out, Georgia Tech wins out, and Miami loses only to Duke, (which is all possible as far as I am aware) who wins the division? Each team would have two losses, and Duke would have the tiebreaker against Miami, Miami would have the tiebreaker against Georgia Tech, and Georgia Tech would have the tiebreaker against Duke. Being a rock-paper-scissors scenario, I am wondering what would be the next line of tiebreakers, and who would come out on top?
Adelson:
The next tiebreaker would be division record, and Miami would win that with a 5-1 mark. Duke and Georgia Tech would finish 4-2 in the Coastal. Here
is a list
on how the ACC breaks three-team (or more) ties to determine the Division rep for the ACC title game.
---
Mike in O'Fallon, Ill., writes:
Have you heard any punishment for Miami Hurricane DE
Anthony Chickillo
for his facemask/eye-gouging incident during the FSU-Miami game? Seems to me that with the obvious video evidence shown on national TV, there would be some sort of punishment handed down by at least Al Golden. I've heard nothing from Miami, but for FSU, Jimbo Fisher verbally admonishing both Winston and
Bobby Hart
for their participation.
Adelson:
Have not heard anything. Chickillo refused to answer a question about what happened postgame, too.
---
Robert in Dallas writes:
You wrote
: "A flawed polling system that gave Alabama and Oregon an edge before the games even kicked off is most to blame, as voters determined in the preseason that the Tide and Ducks -- not the Seminoles -- were among the best teams in the nation." However, it will be the computers that doom FSU, as their strength of schedule deflates, not the voters.
Adelson:
Not necessarily true, Robert. I checked in with our resident BCS expert Brad Edwards, who told me the only way for Florida State to make up ground on strength of schedule is to pull ahead in the human polls. "From the start, it's been pretty obvious to me that FSU will need to finish ahead of Oregon in the polls to have a chance of finishing ahead in the BCS," Edwards wrote in an e-mail. "That's why I've repeatedly stated that Oregon is in a stronger position than FSU, even when Florida State has been ranked No. 2 in the BCS. This past week, FSU finally gained some decent ground on Oregon in the polls but is still not all that close. ... It basically comes down to the ACC schedule not being as strong as the Pac-12 schedule, according to the BCS computers. At the moment, FSU's schedule is stronger, but I expect that to change as November plays out. As FSU loses ground in the computers, it can only make up for that by gaining in the polls."
---
Jeff in Toledo writes:
Do you know the game time for the Miami @ Pitt game Nov. 29th or know when it will be decided? I will be attending that game from out of town and need to book a hotel.
Adelson:
Game time will not be released until Nov. 18 at the earliest. It might be later than that if the network exercises its six-day window option.
---
[+] Enlarge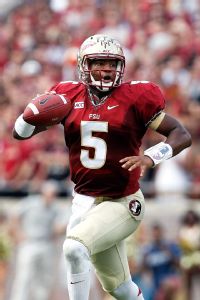 Don Juan Moore/Getty ImagesJameis Winston and the Seminoles are doing everything they can to climb the BCS standings.
BD Pisani in Palm City, Fla., writes:
Andrea, Nicely done on the
Hurricanes article
. You concisely and objectively crafted exactly where the Canes program stands today. Al "The Tie" Golden is a classy coach but he'll remember this game next year. Looking forward to more professional articles.
Adelson:
Thanks, BD!
Jeff in Tampa writes:
Hi, Andrea. I've been doing a lot of number crunching, and for the life of me, I cannot see how Oregon would have a better top-to-bottom strength of schedule when compared to FSU. (In truth, even Alabama's schedule doesn't quite measure up to FSU's, but that's another story for another day.) I have been calculating schedule strength in a number of ways, for years, and never has the disparity between two "top teams" been so glaring. FSU to date has the toughest resume of any undefeated team, ANY. My question is this: Why does the media think the ACC is a bad conference this year? The ACC might end up with more bowl teams eligible than any other conference. Assuming each of the top three wins out, FSU will be playing another inferior team in the Orange Bowl. Any chance the AP will declare FSU national champs if they are left out? If not, why don't we just do this like we used to in the Bowl Coalition days? Oregon can take the easier game against Ohio State, and play in the Rose. FSU can take Oregon's place in the BCS Championship game. If FSU and Oregon win, they can both claim championships, right? I can't think of a more fitting way to satisfy all four undefeateds. Can you?
Adelson:
Well, all the concerns about Oregon have been rendered moot after the Ducks lost to Stanford on Thursday night, though there remain more unbeaten teams than national championship spots. Even still, I never thought I would hear the day when somebody pined for the old Bowl Coalition days! It is worth discussing your first question re: ACC perception. Stereotypes die hard, and the ACC has had to deal with plenty of stereotyping in the last 10 years. The league has had no teams remotely close to a BCS championship game, and the conference has been weak top to bottom over the last several seasons. Virginia Tech's BCS record does not help matters. People think because Alabama and Oregon have been good recently, they automatically deserve more credit than Florida State. In my opinion, history should not factor into the decisions dealing with the 2013 season only. But yet on the Oregon-Stanford broadcast Thursday night, David Pollack said he thought the Cardinal win over the Ducks was more impressive than Florida State's win over Clemson. I completely disagree with his opinion, but his viewpoint just shows the ACC has a ways to go to begin changing perceptions with some media members.
October, 21, 2013
10/21/13
1:00
PM ET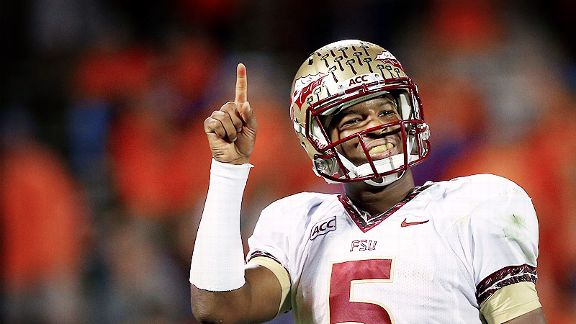 Streeter Lecka/Getty ImagesIt's not just bravado: Jameis Winston might have a valid point with this gesture.
When the first BCS standings were finally unveiled Sunday night, just about everybody sat stunned as Florida State debuted ahead of Oregon in the No. 2 spot.
Me? Not surprised.
Because Florida State should be ranked No. 1.
Indeed, when it came time to submit my weekly Top 25 power rankings for ESPN.com, I placed Florida State at the top, ahead of defending champ Alabama (No. 2) and ahead of the Ducks (No. 3).
There are several reasons why I went against the popular vote. First, let me explain my method. Sitting down and doing the power rankings is never an easy endeavor. There are scores to sift through, schedules to analyze, stats to consider and games to catch up on throughout the weekend. When I do the rankings, I heavily weigh performance to date and -- just as importantly schedule to date. I do not allow results from past seasons to factor into my rankings. I base everything solely on what we have seen in the current season.
This is a big reason why I believe preseason rankings should be abolished. They set up teams with unfair advantages based on the past.
So why Florida State at No. 1? There are a variety of reasons.
[+] Enlarge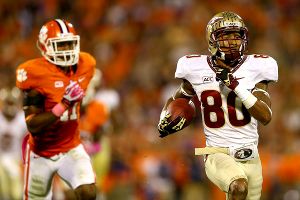 Streeter Lecka/Getty ImagesRashad Greene separated from Clemson's DBs; did FSU separate from the rest of the nation with its road blowout victory?
1. The Noles have the most impressive win to date, 51-14 at No. 3 Clemson. The Tigers are not a bad team. In fact, Clemson is still a top-10 team. These two facts alone should make everybody reconsider what they believe about Florida State. Did the Noles look sloppy at Boston College? At times, yes. But in their biggest game of the season, when people believed the spotlight would be too bright for
Jameis Winston
, they humiliated the preseason ACC favorite and made them look like an also-ran. On the road, in a place the Noles had not won since 2001. Florida State ended up scoring the most points in Death Valley. Ever.
Oregon has nothing that compares. Alabama? The Tide have two big wins over ranked opponents -- Virginia Tech and Texas A&M. But Alabama gave up 628 yards to A&M and had to come from behind to win. Virginia Tech was unranked when they played. In fact, questions started cropping up early in the season about Alabama because the Tide did not look like their usual selves vs. the Hokies or the Aggies, or even in a 31-6 win over Colorado State. Was a 52-0 win over Arkansas impressive this past weekend? Sure. But consider South Carolina also hung 52 on the Razorbacks and offensively challenged Florida put up 30 -- its second-highest scoring output this season.
2. The Noles have played the toughest schedule to date, a big reason why they rank No. 1 in the computer component in the BCS standings. Florida State and Alabama have played two ranked teams at the time of their respective matchups. The Noles beat No. 25 Maryland and No. 3 Clemson by a combined score of 114-14. The 63-0 win over Maryland tied the record for the largest margin of victory over an AP ranked opponent. The combined win-loss record of their five FBS opponents to date: 21-12. Florida State has played only one team with a losing record.
Let us take a look at Alabama. The combined win-loss record for the Tide's seven FBS opponents: 22-27. They have played four teams with losing records. Now Oregon. The combined win-loss record for its six FBS opponents: 18-24. The Ducks have played two opponents with losing records. Alabama and Oregon each have wins over teams with one total victory on the season. Florida State's worst opponent to date -- Nevada at 3-4.
3. Among the three teams, Florida State owns the best margin of victory. The Noles are beating their opponents by an average of 40.9 points per game. Oregon is beating its opponents by an average of 40.3 points per game; Alabama is beating teams by an average of 31 points per game. When you consider the strength of schedule to date, this stat makes Florida State look even more impressive.
4. Among the three teams, Florida State is the only one that ranks in the top six in the nation in total offense and total defense, and the only one among the three to rank in the top three in scoring offense and scoring defense.
I refuse to subscribe to the theory that Alabama deserves to be No. 1 because it is the defending champion. Last season and the season before have no bearing on performance in 2013. And let us not kid ourselves. Alabama lost games in 2011 (LSU) and 2012 (Texas A&M) in the regular season. I do not believe Alabama is a sure bet to beat Florida State, or Oregon for that matter. If the Noles continue to play as well as they did at Clemson they absolutely could win a national title. Nobody has been better with the stakes higher so far.
My rankings could look different as the season progresses. Oregon has an important game against No. 12 UCLA on Saturday and a later matchup against No. 6 Stanford. Alabama still has to play No. 13 LSU and No. 11 Auburn. Florida State has one more ranked team -- No. 7 Miami.
But for this week, Florida State deserves to be No. 1. Its body of work tells you exactly why.
June, 19, 2013
6/19/13
9:00
AM ET
GAINESVILLE, Fla. -- Defensive end
Trent Harris
(Winter Park, Fla./Winter Park), a new ESPN 300 member, has narrowed his list of schools to six.
The 6-foot-2, 227-pound athlete said Florida, Georgia, Ohio State, Alabama, Florida State and Vanderbilt are his final six schools.
June, 11, 2013
6/11/13
8:00
AM ET
MOBILE, Ala. -- Nearly in the middle of the Florida and Mississippi borders is Mobile, Ala., a port city whose founding can be traced back to French settlers in the early 1700s. Its roots, in other words, run deep. As does the richness of its soil, both in the figurative and literal sense. Football players are born here. Today, the seaside territory of South Alabama and its epicenter, Mobile, represent the key to the recruiting success of many of the top programs in the country.
The Crimson Tide wouldn't have won consecutive championships without holding sway over the region. Though the area lies well below sea level, South Alabama represents the territorial high ground for Nick Saban and the University of Alabama.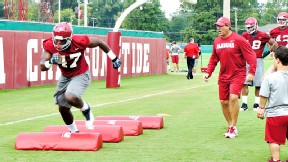 Alex Scarborough/ESPN.comAlabama coach Lance Thompson has long been a recruiting commodity in Mobile.
When Saban arrived at Alabama in 2006, he came in with a plan to first win back Mobile, then the state, and then the country. Looking up and down the roster he inherited from Mike Shula, Saban was struck by the lack of players from South Alabama.
In his first year at UA, Saban sent his best recruiter, assistant coach Lance Thompson, to the area. Thompson helped gain the commitments of three of the top prospects in the region: Foley High star wideout Julio Jones, St. Paul's stud safety Mark Barron and Vigor High super athlete B.J. Scott. Jones and Barron would become All-Americans at Alabama before being taken in first round of the NFL draft. Even Scott, who wound up transferring back home to the University of South Alabama, was signed by the Chicago Bears in late April.
Fast-forward to the present and all three of Alabama's most valuable players -- quarterback
AJ McCarron
, linebacker
C.J. Mosley
and running back
T.J. Yeldon
-- are all from within earshot of Mobile. Right tackle D.J. Fluker of Foley would have been a senior this season had he not entered the NFL draft in April.
"When we came to Alabama we only had one player, Wallace Gilberry, from this area on our team," Saban said at a speaking engagement in the area last week. "Now we have anywhere from 13-15 (players) pretty consistently. We've had, I think, three first-round draft picks from this area, and probably a couple more guys on the team who could be first-round draft picks in the future.
"There's great (high school) programs here and we certainly want to do a great job in our state in terms of recruiting and it just seems that historically there's been a lot of great players from this area. We certainly feel fortunate that we've been able to get some of those players to come to Alabama and it's made a huge difference in the success of our program."
After the top prospect from Mobile signed with Arkansas in 2006 and then Auburn in 2007, the tables turned. Alabama took over and signed the highest-rated recruit from the city all but one time from 2008-11.
But what's happened in the years since shows how other schools have taken notice.
Chris Casher
, the top prospect from the city in 2012, signed with Florida State. And
Jason Smith
, a four-star athlete from McGill-Toolen High, signed with Auburn this February.
Alabama's grip on South Alabama hasn't loosened, but the pull from programs like FSU, Auburn and others has grown stronger, thanks mainly to shifts in the recruiters charged with scouting the area in the past six months. Dameyune Craig, who made a name for himself as a recruiter on the FSU staff, was hired by Auburn's new head coach Gus Malzahn in January; Jeremy Pruitt, who made a name for himself as an assistant coach at Alabama, took the defensive coordinator job for the Seminoles in December; and Thompson, who returned to Alabama last year after a stint at Tennessee, shifted his territory back to where he started in Mobile. The trio is some of the best in the business, and they're all spending much of their time in the same area.
"They're all great guys," Vigor High coach Ashley Johnson said. "...They're great with the kids, interacting with them when they're able to interact with them. They really, really learn them. They don't forget a name, a face. They are really good at what they do."
ESPN 150 defensive end
Justin Thornton
stars at Vigor and has been recruited heavily by all three schools since before his junior season. The four-star prospect recently committed to Auburn, thanks in large part to the connection Craig was able to form.
"When Justin Thornton's mom just had a baby, Dameyune Craig's buzzing me. 'Tell Justin I'm excited,'" said Johnson, marveling at how quickly the coach acted on the news. "They are up and on the know. I don't know when they sleep."
March, 14, 2013
3/14/13
1:42
PM ET
ESPN Watch List selection
Rod Taylor
(Jackson, Miss./Callaway) is one of the most coveted interior linemen in the Southeast. The 6-foot-3, 305-pound mauler received his first scholarship offer very early in the process.
To continue reading this article you must be an Insider
March, 12, 2013
3/12/13
7:19
PM ET
With
John Fulton
and
Deion Belue
set to graduate after the 2013 season, the University of Alabama needs to bring in some cornerbacks in the 2014 recruiting cycle to maintain depth. In fact, the Crimson Tide only have three underclassmen cornerbacks already on campus. Good news came Tuesday evening as one of the more coveted prospects in the Southeast made the call to join the defending National Champions.
"I am really excited about being part of the Crimson Tide,"
Kalvaraz Bessent
said. "My head coach is leaving, spring practice is about to start. I like Alabama a lot, so I feel if I commit to them early, they will commit to me too. We can build a great relationship from there."
Bessent (Kingsland, Ga./Camden County) exploded onto the recruiting scene last August at the Corky Kell Classic inside the Georgia Dome. The 6-foot-1, 185-pound junior took an interception to the end zone in the second half and went on to accumulate 41 tackles, six interceptions, four passes broken up defensively along with 13 catches for 244 yards and four touchdowns and 481 yards rushing and four rushing touchdowns on offense.
Double-digit offers came in for Bessent, with programs such as Florida, Florida State, Georgia and Ohio State joining the Crimson Tide in targeting the big cornerback. Bessent took a visit to Alabama last month and feels he saw everything he wanted in a program during his trip.
"Alabama has the coaching staff, academics, weight room and history that I am looking for," Bessent said. "Pretty much all-around it is a great school."
The decision to choose Alabama was made last night during a conversation between Bessent and his father.
"That is when I realized Alabama was where I wanted to be," Bessent said. "I spoke to Coack (Kirby) Smart and Coach (Nick) Saban this morning and I told them how excited I was about Alabama and that I wanted to commit. They said they were excited about it and that I could be very successful in their program. They told me I am the top cornerback they are after and that I can do great things for them."
The addition of Bessent gives Alabama two commitments for the 2014 class, joining ESPN Watch List selection
Bo Scarbrough
(Tuscaloosa, Ala./Northridge) on this list.
Goodell Has Sit-Down With Jameis Winston
ACC SCOREBOARD
Thursday, 9/3
Saturday, 9/5
Monday, 9/7