Florida Gators:

Shane Matthews
September, 1, 2014
9/01/14
4:00
PM ET
GAINESVILLE, Fla. -- Steve Spurrier knew what he was doing when he nicknamed Ben Hill Griffin Stadium "The Swamp."
On Saturday night, Florida's season opener against Idaho was
delayed and ultimately suspended
by lightning, hours of heavy rain and unplayable field conditions.
It looked like this for much of the night:
Looking real swampy now...#Gators pic.twitter.com/dIrbGji0QW

— Scott Carter (@GatorZoneScott) August 31, 2014
Anyone who has spent a summer in Florida can testify to the amount of rain that typically falls, and the Gators are used to playing their share of bad weather games. Here are the top five rain-soaked contests in recent UF history.
1. At Tennessee, Sept. 19, 1992:
The first season after the SEC was split into two divisions saw Florida and Tennessee become annual foes and permanent rivals. A 45-minute monsoon struck Knoxville in the second half of a game that went from a 17-7 Volunteers' lead to a 31-7 rout. The downpour turned the artificial turf at Neyland Stadium into a giant slip n' slide, giving the Gators' pass-happy offense no chance at a comeback. Tennessee took full advantage of the conditions with a running game that featured James "Little Man" Stewart and Charlie Garner. On the other side of the ball, UF quarterback Shane Matthews was relentlessly pounded by Vols DE Todd Kelly and LB Ben Talley. Beating the No. 4 Gators, 31-14, was a huge upset for No. 14 UT, and it went a long way in helping interim coach Phil Fulmer get hired as Johnny Majors' replacement.
2. Georgia, Oct. 30, 1993:
The city of Jacksonville, Florida, was in contention for an NFL expansion franchise but didn't put its best foot forward when heavy rains left the area surrounding the downtown stadium under about a foot of standing water. The field was not in much better shape, as No. 10 Florida went back and forth with unranked Georgia. Unable to grip the ball in the unrelenting rain, Florida quarterback Danny Wuerffel was replaced by Terry Dean, who led the Gators to a 33-26 lead. In the final two minutes of the game, quarterback Eric Zeier marched Georgia down the field and threw what appeared to be the game-tying touchdown. But officials said UF cornerback Anthone Lott had called timeout and nullified the play. Florida withstood two more pass attempts by Zeier and hung on for the win.
3. Tennessee, Sept. 16, 1995:
By the mid-90s, the UF-UT rivalry had become an annual early season glamour game. This one was no exception, matching Wuerffel and the No. 4 Gators against
Peyton Manning
and his No. 8 Vols. Tennessee had two 16-point leads in the first half, thanks to Manning and receivers Marcus Nash and Joey Kent. The Gators swung momentum in their favor and took the lead in the second half. Then skies opened up, as most of the fourth quarter was played in a non-stop deluge. When it was over, Florida had scored 48 straight points in a 62-37 win, and Wuerffel had thrown an SEC-record six TD passes.
4. Western Kentucky, Sept. 1, 2007:
Before Saturday night, the last game in Florida football history that was rained out was the season opener after the Gators won the 2006 BCS national championship game. Taking over as UF's starting quarterback, Tim Tebow made a statement with 300 yards and three touchdowns passing and one rushing TD in Florida's easy 49-3 victory. The Gators' final play before lightning halted the game in the fourth quarter was a 4-yard touchdown run by a backup quarterback named
Cam Newton
with 8:23 remaining.
5. At Florida State, Nov. 29, 2008:
It had rained all day in Tallahassee, Florida, leaving the field a wet, slippery mess with pools of water in both end zones. The indelible image from this game was of Florida quarterback Tim Tebow covered in the Seminoles' garnet paint after diving into the end zone for a 4-yard touchdown run in the second quarter. When Tebow got up and celebrated, his white jersey and face were stained with what looked like blood. The No. 2 Gators won 45-15 on their way to a second national championship in three seasons.
May, 7, 2013
5/07/13
8:30
AM ET
GAINESVILLE, Fla. --
Jeff Driskel
is entering his second season as Florida's starting quarterback, and that comes with expectations.
[+] Enlarge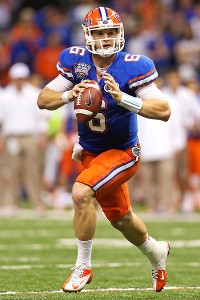 Matthew Stockman/Getty ImagesIt seems likely that Jeff Driskel will run more in Florida's new offense in 2014.
The bar was set somewhat low in 2012, because Driskel and Jacoby Brissett were sophomores who had seen minimal playing time in 2011 -- and neither was very good when they did get on the field. Driskel did have some very good moments in his first season as a starter, but he also had some terrible ones, too.
Now that he has a year in coordinator Brent Pease's system, the left side of the offensive line has been upgraded, and he has improved his ability to read coverages and change the pass protections when needed, Driskel should be better. That's what UF coach Will Muschamp is hoping, anyway.
If the past is an accurate indicator, then Driskel will be. Most of UF's recent quarterbacks were better in their second season as a starter than they were in their first season. Here's a look:
Shane Matthews
1990:
Completed 239 of 328 passes (60.6 percent) for 2,962 yards with 23 touchdowns and 12 interceptions. He was a consensus All-SEC first-team pick and was the league's player of the year after posting four of the top 10 single-game passing totals in SEC history.
1991:
Completed 218 of 361 passes (60.4 percent) for 3,130 yards with 28 touchdowns and 18 interceptions. He was a consensus All-SEC first-team pick and was the league's Player of the Year again -- becoming just the fifth player in SEC history to earn that honor twice. He set 14 school and five SEC records.
Matthews was certainly better in his second season, which was also coach Steve Spurrier's second season in Gainesville. Spurrier and Matthews shredded the SEC and established the Gators as a program that would annually compete for the national championship.
Danny Wuerffel
1993:
Completed 159 of 273 passes (58.2 percent) for 2,230 yards and 22 touchdowns with 10 interceptions. The 22 touchdowns were an NCAA freshman record. He threw for at least three touchdowns in four of his seven starts and set a school record by throwing for at least three touchdowns in four consecutive starts.
1994:
Completed 132 of 212 (62.3 percent) passes for 1,734 yards and 18 touchdowns with nine interceptions. He had a streak of 67 consecutive passes without an interception and led UF to the second of their four consecutive SEC titles. He set three Sugar Bowl records, tied another and set two UF bowl game records in the Gators' loss to FSU.
Wuerffel split time each season with Terry Dean but was the Gators' leading passer both years. The experience he gained turned out to be invaluable and set the state for his monster seasons in 1995 and 1996, which ended with him winning the Heisman Trophy and the Gators winning the school's first national championship.
Rex Grossman
2000:
Completed 131 of 212 passes (61.8 percent) for 1,866 yards and 21 touchdowns with seven interceptions. Grossman rotated with Jesse Palmer and Brock Berlin early in the season but eventually won the starting job and started eight games as a redshirt freshman, earning Freshman All-American honors. Grossman was the first freshman to win SEC Championship Game MVP honors.
2001:
Completed 259 of 395 passes (65.6 percent) for 3,896 yards and 34 touchdowns with 12 interceptions. The 3,896 yards is still a school single-season record and is second on the SEC's single-season list. Grossman finished second in the Heisman Trophy balloting and was a first-team All-American and The Associated Press' Offensive Player of the Year.
Grossman's second season as the starter was one of the best in SEC history. He should have won the Heisman Trophy in 2001 and certainly would have been the favorite to win it in 2002 had Spurrier not left for the NFL's Washington Redskins.
Chris Leak
2003:
Completed 190 of 320 passes (59.4 percent) for 2,435 yards and 16 touchdowns with 11 interceptions. After rotating with Gavin Dickey and Ingle Martin in the season's first four games, Leak was given the starting job and led the Gators to a 21-20 come-from-behind victory over Kentucky.
2004:
Completed 238 of 399 passes (59.4 percent) for 3,197 yards and 29 touchdowns with 12 interceptions. Leak averaged 277 yards per game in the last seven games of the season. He threw six touchdown passes against South Carolina, which tied Wuerffel's school record for most TD passes in an SEC game.
Leak had more success in his second season as a starter, which came in Larry Fedora's first and only season as the Gators' offensive coordinator. Ed Zaunbrecher was the coordinator in 2002-03. Leak and UF's offense struggled in 2005 in the transition to Urban Meyer's spread-option offense, but he led the Gators to the 2006 national title.
Tim Tebow
[+] Enlarge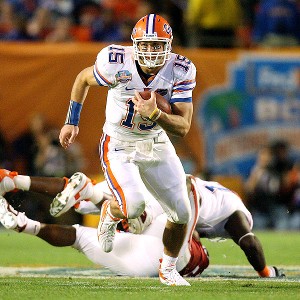 Doug Benc/Getty ImagesTim Tebow's second year as a starter at Florida resulted in a national championship for the Gators.
2007:
Completed 234 of 317 passes (68.5 percent) for 3,132 yards and 32 touchdowns with six interceptions and ran for 895 yards and 23 touchdowns. Tebow was the first sophomore to win the Heisman Trophy. He also claimed the Maxwell and Davey O'Brien awards, was The Associated Press' Offensive Player of the Year, and was a consensus first-team All-American. He became the first player in NCAA history to rush and pass for at least 20 touchdowns.
2008:
Completed 192 of 298 passes (64.4 percent) for 2,746 yards and 30 touchdowns with four interceptions and ran for 673 yards and 12 touchdowns. Tebow was a Heisman finalist and won the Maxwell and Manning awards. He also repeated as The Associated Press Offensive Player of the Year. He had a school-record streak of 230 consecutive passes without an interception.
Tebow's first year as a starter is hard to top, but he came pretty darn close in his second season to equaling what he did in 2007. More importantly, Tebow led the Gators to the program's third national title in 2008. Tebow will go down as one of the greatest players in college football history. When his career finished, he either tied or owned five NCAA, 13 SEC and 27 school records.
John Brantley
2010:
Completed 200 of 329 passes (60.8 percent) for 2,062 yards and nine touchdowns with 10 interceptions. Brantley started every game, but rotated at times with
Trey Burton
and Jordan Reed.
2011:
Completed 144 of 240 passes (60.0 percent) for 2,044 yards and 11 touchdowns with seven interceptions. Brantley suffered an ankle injury against Alabama and missed the next two games. He also left the FSU game with a concussion.
Brantley's numbers were roughly the same in 2011 as they were in 2010, but in fewer games. Brantley had different head coaches and offensive coordinators in successive seasons, plus he didn't have anything close to the same weapons around him that the previous quarterbacks did.
October, 22, 2012
10/22/12
8:00
AM ET
GAINESVILLE, Fla. -- It's Florida-Georgia week, which means it's time to take a look back at the annual series between the two Southeastern Conference rivals.

Each day this week, GatorNation will have a top five list that captures the colorful history of the series.

Today's list:

Top 5 Players in Florida-Georgia history

1. Georgia RB Herschel Walker: Walker rushed for 649 yards and six touchdowns from 1980-82. He had 53 touches in the 1981 game (47 rushes, four catches, two kick returns) and averaged 39 carries in his three games against the Gators.

2. Georgia RB/QB Charlie Trippi: Trippi rushed for 412 yards, threw for 198, and accounted for 10 touchdowns in three games against the Gators. He threw for two touchdowns (on only three pass attempts) and ran for two more in the 1942 game. He also ran for 239 yards in the 1945 game, which at the time was the SEC single-game record.

3. Florida QB Shane Matthews: Matthews threw for 948 yards and nine touchdowns in three games against the Bulldogs. He didn't throw an interception.

4. Florida QB Danny Wuerffel: Wuerffel threw for 730 yards and a series-record 11 touchdowns in four games (three starts) against Georgia. Wuerffel threw five of those TD passes in UF's 52-17 victory in 1995.

5. Georgia RB/DB Frank Sinkwich: Sinkwich ran for 142 yards and two touchdowns and kicked a 20-yard field goal in a 19-3 victory in 1941. Modest stats, right? Well, he'd played with a broken jaw.
June, 1, 2012
6/01/12
3:40
PM ET
ESPN's GatorNation brings you the 30 things you need to know about Florida's upcoming 2012 season. Over the next 30 weekdays, we'll preview games, talk about trends, spotlight players and positions, and give you pretty much everything you need to know to be ready for the season before the Sept. 1 opener against Bowling Green.
GAINESVILLE, Fla. -- Sophomores
Jeff Driskel
and
Jacoby Brissett
will continue their battle to be Florida's starting quarterback into August. The competition, UF coach Will Muschamp has said at various Gator club gatherings this spring, is too close to call.
Neither was particularly impressive last season when forced into action because of injuries to starter John Brantley. Brissett completed 46.2 percent of his passes for 206 yards and two touchdowns with four interceptions, while Driskel completed 47.1 percent of his passes for 148 yards with two interceptions.
Brissett started the LSU game and understandably struggled against a Tigers defense loaded with NFL talent. But he and Driskel each played a half against Auburn (Brissett started), and all they could manage was six points against a defense that gave up at least 34 points seven times last season.
They should be better this season. They're a year older, have SEC experience and are much more comfortable with offensive coordinator Brent Pease than Charlie Weis. There's historical evidence to suggest that the one who does win the job will have a solid season. Of the 10 first-year starters at quarterback at UF since 1980, seven threw more touchdowns than interceptions, and all but four threw for at least 2,000 yards.
Booger McFarland talks Florida football
SEC SCOREBOARD
Thursday, 9/3
Saturday, 9/5