Florida Gators:

Octavius Jackson
August, 16, 2013
Aug 16
9:30
AM ET
GAINESVILLE, Fla. -- Florida fans better get a good look at senior wide receiver
Solomon Patton
this season because guys like him are going to be hard to find around here from now on.
Small guys.
The 5-foot-9, 171-pound Patton doesn't really fit into coach Will Muschamp's philosophy that bigger is better. Not just on the line of scrimmage, either. Big receivers. Big defensive backs. Big linebackers.
[+] Enlarge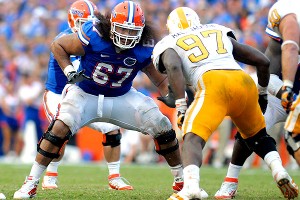 AP Photo/Phelan M. EbenhackGuard Jon Halapio, at 6 feet 3 and 321 pounds, meets Will Muschamp's size criteria to compete in the SEC.
Size does matter at Florida now. Muschamp believes it's the best way to have success in the Southeastern Conference.
"This is a big man's league," he said. "When you go pay to watch a boxing match, you don't go watch the featherweights fight. You go watch heavyweights fight. This is a heavyweight league.
"So we need have a big, physical team. You can still be really fast, but you better be big and physical if you want to win in this league right now."
Muschamp is in his third season and working on his fourth signing class, and he has certainly made the Gators a bigger, more physical team in that short period of time. To see the difference, look at UF's roster from 2009. The Gators had five starters or key contributors who were 5-9 or shorter: Jeff Demps, Chris Rainey, Ahmad Black, Markihe Anderson and Brandon James.
This year's team has only one starter that small: 5-9 safety
Cody Riggs
. Patton is a role player (he's the jet sweep guy) and the shortest player on scholarship is 5-7 freshman running back Adam Lane -- who weighs 222 pounds.
Muschamp's philosophy goes further than just the size of the players. He wants the bulk of his 85-man roster to be comprised of what he calls big-skill positions: offensive and defensive linemen, linebackers and tight ends. He wants 50. Right now he has 42 (see breakdown below).
Muschamp wants 15-17 offensive linemen, and the Gators are close to that number. They have five scholarship tight ends, too. The defensive line is where the problem is. The Gators are short on ends, especially speed rushers. There are eight scholarship defensive tackles, but only three have played in a game (
Dominique Easley
,
Leon Orr
and
Damien Jacobs
), and just two bucks (hybrid defensive end/linebacker).
It'll take at least a couple more signing classes for the Gators to be as stocked along the defensive line as Muschamp would like. Muschamp believes long-term success at Florida -- and therefore the SEC -- depends on beefing up those defensive numbers.
And not just to compete with Alabama and Nick Saban, either.
"When big guys run out of gas, they're done," Muschamp said. "We don't ever want our big guys up front to play more than six or eight snaps in a row and have the intensity you've got to play with to be successful in this league. So you can't ever have enough defensive linemen or pass rushers, especially the way the game's going.
"You look in our league at Missouri and Kentucky and Tennessee, a lot of schools are going to a little bit of a Big 12 model, like Texas A&M, where they're spreading the field, and you can't ever have enough guys that can play in space and rush the passer. The most exerting thing in football is rushing the passer. Those guys are battling against a 315-pound guy and trying to push the pocket, so you can't ever have enough of those guys."
Here's the breakdown of what Muschamp calls the big-skill players:
Offensive line
Ideal number:
15-17
Number on the roster:
14.
Tyler Moore
,
Quinteze Williams
, Rod Johnson, Octavius Jackson, Cameron Dillard,
Trip Thurman
,
Jon Halapio
,
D.J. Humphries
,
Jonotthan Harrison
,
Chaz Green
,
Max Garcia
,
Trenton Brown
,
Ian Silberman
,
Kyle Koehne
.
Comment:
The Gators will lose four players to graduation but have four offensive line commits for 2014, three of whom weigh more than 300 pounds. The line has gotten bigger, stronger and more physical since Muschamp called them soft at the end of his first season.
Defensive tackle
Ideal number:
8-10
Number on the roster:
8. Damien Jacobs,
Joey Ivie
, Leon Orr,
Darious Cummings
, Jay-nard Bostwick, Caleb Brantley, Antonio Riles, Dominique Easley.
Comment:
Not a lot of experience here, but the four freshmen (Ivie, Bostwick, Brantley and Riles) will gain valuable experience as part of the rotation this season.
Defensive ends
Ideal number:
6-8
Number on roster:
4.
Alex McCalister
,
Jonathan Bullard
, Jordan Sherit, Bryan Cox.
Comment:
Easley also can play end. This is perhaps the most flexible position, with several players having the ability to play inside on passing downs to get the best pass rushers on the field.
Bucks
Ideal number:
4-6
Number on roster:
2.
Dante Fowler
,
Ronald Powell
.
Comment:
This position also needs to be beefed up quickly, with Powell likely leaving after this year if he has a good season. Some flexibility here, too, because Cox and McCalister could spend time here.
Linebackers
Ideal number:
9-12
Number on roster:
9.
Michael Taylor
,
Matt Rolin
,
Jeremi Powell
, Jarrad Davis,
Neiron Ball
,
Darrin Kitchens
,
Daniel McMillian
,
Alex Anzalone
,
Antonio Morrison
.
Comment:
UF has one bona fide stud (Morrison) and a mix of veteran role players and freshmen. McMillian is a player to watch. He could become a starter by midseason. This is an important position group because it produces a lot of special teams players.
Tight ends
Ideal number:
3-5
Number on roster:
5.
Clay Burton
,
Tevin Westbrook
,
Kent Taylor
,
Colin Thompson
, Trevon Young.
Comment:
A lot of players, but little production so far. Burton, Westbrook and Thompson are mainly blockers, but there's optimism that Thompson can develop into someone who can work the middle of the field.
March, 14, 2013
Mar 14
8:00
AM ET
GAINESVILLE, Fla. -- Florida head coach Will Muschamp has said time and again that the SEC is a line-of-scrimmage league, and offensively it all starts between the tackles.
To beat teams such as Alabama, LSU and Georgia -- teams notorious for having strong and athletic defensive fronts -- the Gators have made a priority of getting bigger and more physical at the line of scrimmage. With talent and depth on the roster, it appears the Gators are beginning to go after talented, yet under-the-radar offensive line prospects.
To continue reading this article you must be an Insider
January, 10, 2013
Jan 10
8:00
AM ET
Editor's note: Every Tuesday and Thursday through Jan. 31, 2013, GatorNation will break down each position. We'll look at 2013, of course, but also try and give you a peek beyond next season, too. Today is guard/center. We will profile tight end on Jan. 15.
GUARD/CENTER
[+] Enlarge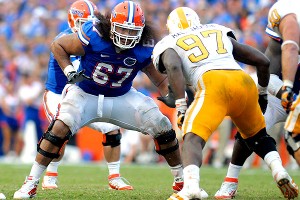 AP Photo/Phelan M. EbenhackGuard Jon Halapio has been UF's most consistent lineman for the last three seasons.
Two-deep:
With the graduation of sixth-year senior
James Wilson
, redshirt freshman
Jessamen Dunker
and redshirt junior
Max Garcia
will compete for the starting job at left guard.
Jonotthan Harrison
and
Jon Halapio
will return as starters at center and right guard, respectively. Both will be redshirt seniors. Redshirt senior
Kyle Koehne
and
Ian Silberman
, provided his shoulder injury is healed, are the reserves.
To continue reading this article you must be an Insider
December, 9, 2012
12/09/12
10:58
AM ET
GAINESVILLE, Fla. -- With the addition of
Trenton Brown
(Albany, Ga./Georgia Military College) the Gators have now helped add depth and size to an offensive line unit that was once thought to be a weakness coming into next season.
Add Brown to a unit that now includes Jon Halapio, D.J. Humphries, Jon Harrison, Chaz Green, Maryland transfer Max Garcia, former Nebraska transfer
Tyler Moore
and other commitments
Cam Dillard
(Canton, Mich./Canton) and
Octavius Jackson
(Moultrie, Ga./Colquitt Co.) and the Gators have what could potentially be one of the top offensive line units in the SEC next season.
At 6-foot-8, 340-pounds, Brown has unique size that is reminiscent of former Florida offensive tackle and current Pittsburgh Steeler Max Starks. Brown has the body type that Florida head coach Will Muschamp is looking for in his linemen.
To continue reading this article you must be an Insider
September, 20, 2012
9/20/12
8:42
AM ET
GAINESVILLE, Fla. -- It's time to dip in to the GatorNation recruiting mailbag and answer the questions you want to know. Because of the amount of questions we've received, we won't be able to get to all of them today, but we encourage you to ask your questions on our Insider fan forum, The Chompions Club.
impulse36:
Based on the first three games, is it likely that
Dominique Easley
,
Sharrif Floyd
or
Matt Elam
enters the NFL draft this April? Assuming they don't, does that affect the number we can recruit or the positions we recruit? Do we recruit the same number and just "encourage" more transfers?
A:
It's too early to say which of the three listed could potentially enter the NFL draft. At this point it shouldn't affect how many prospects UF can take in this class. Florida is looking to sign 23-24 players and Florida is likely planning to lose at least one of the three you mentioned. Situations like this have a way of working themselves out. Whether it's future transfers, injuries or other situations the public might not be aware of, the coaching staff already has a good idea of how many players it will be able to take in this class.
To continue reading this article you must be an Insider
August, 27, 2012
8/27/12
7:28
AM ET
GAINESVILLE, Fla. -- Finally, the high school football season is underway. With several Florida commits playing in preseason games or their teams' first game of the year, here is a closer look at how they fared this weekend.
WR Ahmad Fulwood (Jacksonville, Fla./Bishop Kenny)
-- In only one half of play, Fulwood accounted for two catches for 80 yards and a touchdown. Bishop Kenny lost to Orange Park 14-13 in a preseason game.
DE Jordan Sherit (Tampa, Fla./Hillsborough)
-- In one half of action, Sherit recorded four tackles for loss, including a safety and a sack. Hillsborough lost to Plant City 15-7 in a preseason matchup.
To continue reading this article you must be an Insider
August, 12, 2012
8/12/12
11:15
PM ET
GAINESVILLE, Fla. -- Florida lost two four-star commitments this weekend, as cornerback
Tre' Bell
(Jersey City, N.J./St. Peters Prep) and offensive lineman
Rod Johnson
(Delray Beach, Fla./American Heritage) decided to part ways with the Gators.
To continue reading this article you must be an Insider
August, 7, 2012
8/07/12
8:00
AM ET
GAINESVILLE, Fla. -- With the addition of three-star offensive lineman
Octavius Jackson
(Moultrie, Ga./Colquitt County) on Friday, the Gators now have four offensive line commits, three of which are ranked four-star prospects.
The Gators have limited scholarships remaining for the
2013 recruiting class
and they could be done recruiting the position -- but not likely.
To continue reading this article you must be an Insider
August, 3, 2012
8/03/12
12:03
PM ET
MOULTRIE, Ga. -- The Gators received their sixth commitment in eight days, as three-star Moultrie (Ga.) Colquitt County offensive lineman
Octavius Jackson
committed to the Gators on Friday. The 6-foot-4, 285-pound tackle prospect chose Florida over offers from USF, Vanderbilt, Kentucky, UCF and Marshall.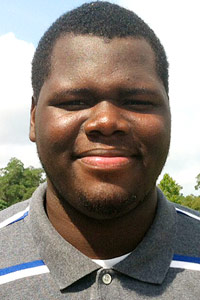 Derek Tyson/ESPN.comOctavius Jackson is a three-star offensive guard, rated No. 27 in the nation at his position.
"The deciding factor was my family. I would rather be close so my family can see me play, rather than far away where they won't get a chance to see me," Jackson said. "It's only two hours away, so my family can come see my games if they want to. It's only a two-hour drive. It's not like it's 10 hours. So I can come home for Thanksgiving and Christmas if I want to. And there's nothing like having your family to support you during your four years of college."
Jackson, a relative newcomer to Florida's recruiting board, says the Gators can expect a "hard-working, intelligent player that's not afraid to throw his body."
He also said the joy over his decision was shared by the Gator coaching staff.
"The coaches were excited," Jackson said. "They were really excited. I could tell in their voices how happy they were for me. Coach [Brian] White is a great man and a great coach. He definitely helped with my decision to go to Florida."
Colquitt County head coach Rush Probst said Jackson has a chance to be a special player on the next level, but what sets him apart is what Jackson is like off the field.
"As a person, I think he's outstanding," Probst said. "He lives with me about half the time. He's wonderful, he babysits my three young children. We trust him enough to do that, and he's responsible enough to do that. He's an outstanding kid. He's like a son to me.
To continue reading this article you must be an Insider
Final Verdict: Hired And Fired