Florida Gators:

NFL draft
May, 6, 2014
5/06/14
10:00
AM ET
GAINESVILLE, Fla. --
Jonotthan Harrison
can't remember exactly when it started, but at some point in high school he became an NFL draft junkie.
As a college football prospect at Groveland (Fla.) South Lake, he'd watch for hours with friends and think, "One day."
He arrived at the University of Florida as an interior offensive lineman in 2009 and kept watching every year, getting closer to making that dream a reality.
Once his career at UF ended, along with his streak of 39 consecutive starts -- all but two at center -- the NFL draft started to feel a whole lot closer.
[+] Enlarge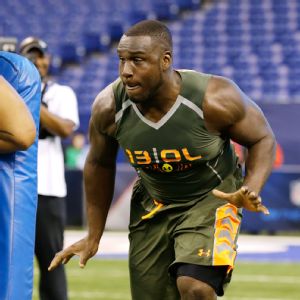 AP Photo/Michael ConroyJonotthan Harrison has always been tuned into the NFL draft. Now he's poised to have his name called this weekend.
That's when former Pro Bowl center LeCharles Bentley invited Harrison to train at his facility in Scottsdale, Ariz.
"He reached out to me at the end of the season and flew down to Gainesville," Harrison said. "We met for about two hours and we clicked right away as soon as he walked in the door. ... That's when I really realized this is getting real.
"He's actually been a great mentor to me, helped me find an agent. I honestly feel like I couldn't be in a better situation."
Beginning in December, Harrison trained for a month and a half. Not seeing his family during the holidays was a strong reminder that football was now a job. But the work with Bentley paid immediate dividends.
"When I went out to the NFLPA Bowl Game, I felt like an entirely different animal," he said. "I was a lot stronger, firing off the ball, a lot more sound and stable. I saw the fruits of my labor showing."
Harrison did well at the NFL scouting combine in late February, measuring 6-foot-3½ and 304 pounds. He has long arms, big hands and a good 40-yard dash time of 5.15 seconds.
He followed that up with a solid performance in a rainy-day workout in front of scouts and personnel officials from all 32 NFL teams at Florida's pro day in mid-March.
Being back on campus at UF brought his journey full circle and gave Harrison pause to reflect.
"Time has been flying by," he said. "There's just a lot of blood, sweat, tears, skin cells -- whatever you want to name, that's all over this field. There's some great memories."
As the draft approaches, Harrison has received a lot of advice from agent Blake Baratz about managing expectations.
"My agent is very confident in the fact that I'll get drafted somewhere," Harrison said. "But he's just saying if you keep your expectations low and very, very realistic -- because anything can happen in the draft -- then I won't be disappointed.
"He said, 'Trust me, this weekend for you is going to be a very exciting weekend.' If I go in the seventh round or I'm an undrafted free agent, whatever it is, it's not necessarily an insult to me. It's just how everything worked out in the draft."
Baratz said he has received a lot of positive feedback on Harrison.
"Based on all of the feedback that I've gotten from all the teams, the majority of the teams have him in those middle rounds -- fourth, fifth," he said. "But I've seen enough things with the draft not to promise or guarantee anyone anything."
Regardless of when he is picked or if he is picked, Harrison is ready to buckle up for an NFL draft ride unlike any he's watched before.
He'll be at home in Mascotte, Fla., with his parents and some close friends. He'll be glued to the TV. After all these years, he couldn't imagine it any other way.
"I'm definitely going to watch it," he said. "I'd be too anxious not to. Every text message I get, I'd be checking my phone, 'What's going on? What's going on?'
"Yeah, I'm going to watch Thursday, Friday and Saturday. I know I'm not going Thursday. It's unlikely I'm going Friday, but you never know what's going to happen. My day is most likely Saturday. But I will be watching all the days because I do have former teammates and people I'm training with that could possibly go Thursday or Friday."
Whatever happens, Harrison said he'll be grateful. He expects the three-day event to be entertaining.
"Anywhere in the draft is great," he said. "It's such a great accomplishment. Only a small percentage of college athletes make it to the professional level. ...
"It's interesting to see where everyone goes. There's a lot of shockers usually. I know a lot of people who expected to go first round that don't go first round. A lot of people who expected to go fourth, fifth that jump up to the second. So it's that crazy of a situation. That's why I don't want to get too strung up on it."
This draft will be different. It's his time.
April, 30, 2013
4/30/13
8:30
AM ET
GAINESVILLE, Fla. -- Reaching the NFL -- and potentially becoming a first-round draft pick -- is something that every recruit wants to achieve. It's a big part of their school decisions.
They might like two campuses, two programs, two stadiums, two weight rooms, two position coaches and two head coaches equally, but if they believe one situation offers a better chance to reach the NFL, it will be that school's hat they pull out from under a table on national signing day.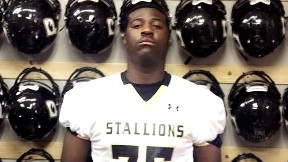 Courtesy of Providence SchoolOffensive tackle David Sharpe might soon hear about Florida's success at the NFL draft as part of the recruiting pitch.
Alabama has churned out 33 draft picks, including 14 in the first round, over the past five years. Nick Saban takes elite high school players and turns them into professional millionaires. That, in turn, has more elite players keep coming to Tuscaloosa. That's a big reason why Alabama has won three of the last four BCS national championships and is among the favorites to make it four our of five.
What happened last week in New York was a celebration of all those players' hard work. But it also is a huge recruiting tool, which is why Saban, LSU's Les Miles, and Florida's Will Muschamp were among the coaches in attendance.
"It always helps," Muschamp said. "You want to be able to show some results as far as recruits are concerned. They want to be able to see what kind of players you're putting out. They want to see you winning games and see you being able to have a positive environment for a student-athlete to come to the University of Florida. So there's no question it helps."
April, 29, 2013
4/29/13
9:02
AM ET
GAINESVILLE, Fla. -- The 2013 NFL draft was certainly a good one for the
Florida Gators
, especially after the poor showing in the prior year, in which only two Gators were drafted. This year, Florida had eight taken between Thursday and Saturday. That's one shy of the school record for most UF players drafted in the seven-round format.
The 2014 could be pretty similar. The Gators have 11 scholarship seniors graduating and could lose three underclassmen. Of those 14 players, eight project as draftable -- including two possible first-round selections.
[+] Enlarge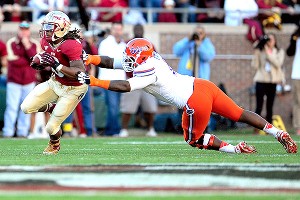 Stacy Revere/Getty ImagesDominique Easley, with his impressive first step, could become as noted in 2014 NFL draft discussions as 2013 first-round pick Sharrif Floyd.
Here's an early look at next year's draft class (* - denotes underclassman):
DE/LB Ronald Powell * (6-foot-4, 234 pounds)
Projected rounds: 1-3
February, 26, 2013
2/26/13
8:31
AM ET
GAINESVILLE, Fla. –
Sharrif Floyd
hasn't played a down of football since Florida's loss to Louisville in the Allstate Sugar Bowl, but his NFL draft stock is soaring.
The 6-foot-3, 297-pound defensive tackle has gone from being a possible first-round pick in the days after the Sugar Bowl to a near lock to be a top-10 pick -- and potentially going in the top three.
To continue reading this article you must be an Insider
February, 21, 2013
2/21/13
5:45
PM ET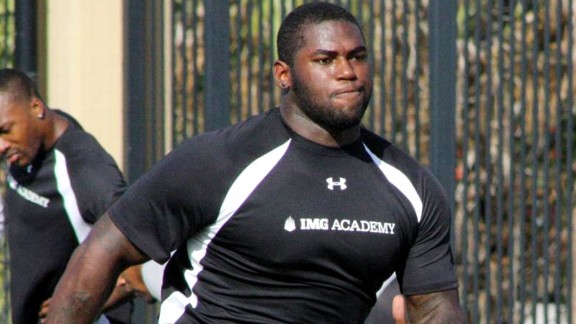 Courtesy of IMG AcademySharrif Floyd, who endured a tough childhood in Philadelphia, is likely to be a first-round pick in April.
BRADENTON, Fla. -- On a sun-splashed Florida afternoon,
Sharrif Floyd
sat and chatted about where he's been and where he's going. It's a remarkable story, one that should fill Floyd with a sense of accomplishment.
But that's not the case.
"Someone told me recently to look in the mirror and reflect on everything," Floyd said. "But I'm not ready yet. It's not time to reflect."
The time is coming, and Floyd knows it. The University of Florida defensive tackle is expected to be a first-round pick in April's NFL draft, and that means he'll get a contract worth millions of dollars. It's so close that Floyd can see it, but he doesn't want to jinx anything. He said he's treating this week's scouting combine as a way to seal his future.
If he does what he's supposed to do in Indianapolis over the coming days, he'll hear his name called in the first round in April. Only then will he pause to reflect.
April, 27, 2012
4/27/12
11:36
PM ET
GAINESVILLE, Fla. -- Today should have been the day Janoris Jenkins arrived in a new city and was introduced to the media there as a first-round draft pick.
Instead, the former Florida cornerback was sitting on a couch staring into a television camera as he waited to hear his name called.
It finally happened, as the St. Louis Rams selected Jenkins with the seventh pick in the second round, 39th overall. It probably came about 24 hours later than he should have been drafted, but Jenkins' baggage and character issues cost him a spot in the first round.
To continue reading this article you must be an Insider
McElwain discusses new Florida football
SEC SCOREBOARD
Thursday, 9/3
Saturday, 9/5