Florida Gators:

NCAA baseball
June, 5, 2012
6/05/12
11:22
PM ET
Florida catcher Mike Zunino was selected as one of three finalists for the Golden Spikes Award, given to the nation's top amateur player.
Read it here.
May, 29, 2012
5/29/12
1:07
PM ET
GAINESVILLE, Fla. -- Five Florida baseball players were named to the All-Southeastern Conference teams released Tuesday, including four who were named to the first team.

Outfielder Preston Tucker, catcher Mike Zunino, pitcher/DH Brian Johnson and reliever Steven Rodriguez made the first team in a vote by the league's 12 coaches. Shortstop Nolan Fontana was a second-team selection. It is the third time Tucker and Fontana have earned All-SEC honors. Only four others players in school history -- Josh Adams, Mike Stanley, Brad Wilkerson and Marc Valdes -- have accomplished that feat.

Zunino leads the Gators (42-18) with a .323 average, 27 doubles, 16 home runs, and 55 RBIs. Tucker (.312) is second with 14 home runs and 44 RBIs. Johnson has started a team-high 15 games as a left-handed pitcher and is 7-4 with a 3.67 ERA. He's hitting .318 with five home runs and 39 RBI. Rodriguez is 3-2 with a 2.04 ERA and three saves.

Fontana is hitting .290 with nine home runs and 28 RBI. He and Zunino also were named to the SEC's All-Defensive team.

In addition, third baseman Josh Tobias (.245, 7 RBI) was named to the All-Freshman team.
May, 25, 2012
5/25/12
11:03
PM ET
HOOVER, Ala. -- The University of Florida Gators saw red Friday night at the SEC baseball tournament. The third-seeded Gators jumped on the South Carolina Gamecocks from the start, putting up four runs in the first three innings on their way to a 7-2 win and a shot at a semifinal rematch against Vanderbilt on Saturday afternoon.

The UF offense started the tournament strong with a 6-1 win over Auburn on Tuesday, but came to a screeching halt Thursday against the fifth-seeded Vanderbilt Commodores, losing 3-2. Coming into the postseason, UF had handled Vanderbilt in 2012, going undefeated in three matchups.

Four batters had multiple hits against South Carolina on Friday night. Catcher Mike Zunino led all hitters with three RBIs, two of which came on a laser home run over the left field fence in the top of the third inning.


May, 25, 2012
5/25/12
12:03
PM ET
May, 25, 2012
5/25/12
12:37
AM ET
HOOVER, Ala. -- The Florida Gators couldn't overcome a lack of timely hits against the Vanderbilt Commodores on Thursday night, losing 2-1 in the third round of the SEC baseball tournament.

The Gators stranded 11 runners on base against Vanderbilt pitching, leaving opportunities on the base paths nearly every inning of the three-hour game. UF mustered just four hits, only one going for extra bases.

Vanderbilt starting pitcher Sam Selman walked away with his ninth win of the year, allowing two hits in seven innings of work. The freshman threw 120 pitches, struggling with control throughout the night. In addition to four walks, he hit two batters. But his above-average fastball and biting curveball were enough to keep the Gators off balance.

"Yeah, he was pretty good. He pitched out of trouble," said VU coach Tim Corbin. "This is something that we have seen here in the last 10 weeks. It is hard to pinpoint one guy, but our success as a team stems a lot from what he was doing.

Selman blew away the UF hitters at points, striking out seven batters. Corbin said after the game that he's been proud of the way Selman has competed throughout the season.

"He has come a long way," Corbin said. "He has a good arm. He has always been able to throw the fastball. The reason he is having success is his ability to throw breaking balls and fastballs for strikes."

UF coach Kevin O'Sullivan said simply to give credit where it was due.

"He beat us," O'Sullivan said of Selman. "It was just one of those nights. I think you have to give all the credit to Selman. He threw the ball really well.

"He threw just enough breaking balls for strikes to keep us off. He really located his fastball [against] the right-handers. He did a really good job of that tonight."

Redshirt freshman Preston Tucker started the game in right field, hitting third in the batting order. Despite driving in UF's only run with a sacrifice fly, he said he was disappointed with the way the team as a whole performed at the plate.

"It's obviously frustrating when you're not swinging the bat well," Tucker said. "Our guys couldn't put anything together. We were getting people on base late in the inning when we couldn't really start anything going. Then when we had runners in scoring position, we couldn't really cash in. It was a combination of things."

Hudson Randall started on the mound for UF but didn't have his normal control, walking two batters in the fourth inning that led to both of the Commodores runs. It was only his eighth and ninth walks of the season in more than 78 innings of work. It's just his second loss of the season.

"I was looking for a better start out of myself," Randall said. "I guess I didn't have my best stuff. I was just competing as hard as I could out there, and they came up with a big hit when they needed it."

Florida will face South Carolina on Friday afternoon.
May, 9, 2012
5/09/12
2:45
PM ET
GAINESVILLE, Fla. -- Florida's 11-inning victory over North Florida on Tuesday night was a typical example of what has happened throughout the season.
The Gators got good pitching -- especially from the bullpen -- and veteran catcher and reigning Southeastern Conference Player of the Year Mike Zunino came through with the game-winning hit. But several true freshmen made huge contributions.
[+] Enlarge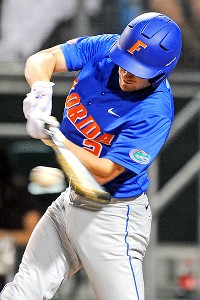 Richard C. Lewis/Icon SMICasey Turgeon has 18 RBIs, second among freshmen, and earned SEC Freshman of the Week honors last week after a game-winning run against Kentucky.
Left fielder Justin Shafer drove in one run on a double, he perfectly executed two sacrifice bunts, and threw out a runner at third base. Third baseman Josh Tobias snared a hard grounder that took a bad hop and was able to get a forced out to keep UNF out of a big inning.
Those plays were generally forgotten in the euphoria of the walk-off victory, but they have been happening all season. UF's freshmen, especially the trio of Shafer, Tobias and second baseman Casey Turgeon, have been a huge part of the Gators' success.
"I'm not surprised with how they're doing," UF coach Kevin O'Sullivan said. "I'm pleased, but I think that we were hoping they would do what we thought they would do."
The fifth-ranked Gators (36-13) weren't expecting Shafer to be as much of a contributor on the field as he has been, but a season-ending ACL injury to center fielder Tyler Thompson in mid-March changed that. O'Sullivan moved left fielder Daniel Pigott to center and Shafer started the next four games in left field. Vickash Ramjit started the next 11 games there, but O'Sullivan went back to Shafer and he has started 14 of the last 15 games.
April, 26, 2012
4/26/12
5:56
PM ET
April, 17, 2012
4/17/12
5:11
PM ET
GAINESVILLE, Fla. -- The Florida baseball team, fresh off a 3-1 performance, come it at No. 2 in
Eric Sorenson's weekly power rankings
.
The Gators (28-8, 9-6 SEC) beat Florida State to finish a 3-0 series sweep of the rival Seminoles and also took two-of-three games at Tennessee last week. Pitcher/DH Brian Johnson had a monster week, hitting .471 (8-for-17) and driving in seven runs in the four games and also pitching six scoreless innings in Sunday's 8-1 victory over the Vols to earn SEC Player of the Week honors.
Florida is second in the SEC's Eastern Division and trails leader Kentucky (32-5, 11-4) by two games.
March, 1, 2012
3/01/12
10:33
AM ET
A rivalry is always better when there's heartbreak involved, and there's no better example of that than the Florida-Miami baseball series.
[+] Enlarge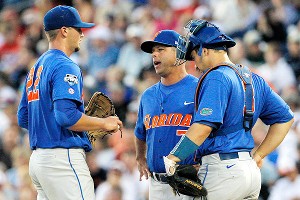 Bruce Thorson/US PresswireKevin O'Sullivan's Florida squad has had the upper hand over Miami in recent years.
The two teams -- which will meet in Coral Gables, Fla., for a three-game series that begins Friday -- have spent the last 27 years bouncing each other out of the postseason. For a while, the Hurricanes controlled the series, ending the Gators' playoff run eight times from 1984 to 2004. Florida, however, has sent Miami home short of the College World Series in each of the last three seasons.
No. 2 Florida (7-1) has won six games in a row against No. 8 Miami (7-0) in the postseason, outscoring the Hurricanes 51-20 in the process. The Gators beat the Canes in the Gainesville Regional in 2009 and 2011, and in a 2010 Super Regional. Florida has won 11 of its last 12 meetings with Miami dating back to an early-season series in 2009, when the Canes out-scored the Gators 26-8 in a three-game sweep in Coral Gables.
"We've had some recent success against Miami, but this is a year-to-year thing," UF coach Kevin O'Sullivan said after the Gators eliminated Miami in the 2011 postseason. "We just have played well against Miami [lately]. We've been at home for three years in a row [in the postseason], and that's a big difference. ... But by no means do we have this thing figured out."
Freshman Quarterbacks A Growing Trend?
SEC SCOREBOARD
Thursday, 9/3
Saturday, 9/5