Florida catcher Mike Zunino was selected as one of three finalists for the Golden Spikes Award, given to the nation's top amateur player. Read it here.
GAINESVILLE, Fla. -- Five Florida baseball players were named to the All-Southeastern Conference teams released Tuesday, including four who were named to the first team.
HOOVER, Ala. -- The University of Florida Gators saw red Friday night at the SEC baseball tournament. The third-seeded Gators jumped on the South Carolina Gamecocks from the start, putting up four runs in the first three innings on their way to a 7-2 win and a shot at a semifinal rematch against Vanderbilt on Saturday afternoon.
Watch today at 5:30 p.m. ET, NCAA Women's Lacrosse Championships, Semifinal 1: #4 Syracuse vs. #1 FloridaToday at 7:30 p.m., NCAA baseball - SEC tournament: Florida vs.
HOOVER, Ala. -- The Florida Gators couldn't overcome a lack of timely hits against the Vanderbilt Commodores on Thursday night, losing 2-1 in the third round of the SEC baseball tournament.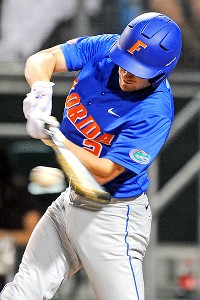 GAINESVILLE, Fla. -- Florida's 11-inning victory over North Florida on Tuesday night was a typical example of what has happened throughout the season.
While Kentucky and Florida State lead the way as top seeds, No. 6 seed Florida will headline the Gainesville regional.
GAINESVILLE, Fla. -- The Florida baseball team, fresh off a 3-1 performance, come it at No. 2 in Eric Sorenson's weekly power rankings.The Gators (28-8, 9-6 SEC) beat Florida State to finish a 3-0 series sweep of the rival Seminoles and also took two-of-three games at Tennessee last week.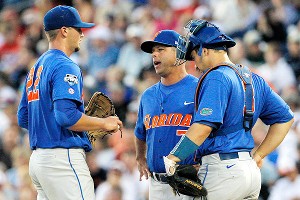 A rivalry is always better when there's heartbreak involved, and there's no better example of that than the Florida-Miami baseball series.The two teams -- which will meet in Coral Gables, Fla.