Florida Gators:

Mike Slive
August, 21, 2013
Aug 21
2:30
PM ET
GAINESVILLE, Fla. -- If Florida fans thought the Gators' 2013 schedule was tough, wait till next year.
The SEC released the 2014 schedule this morning and while Florida has a pretty light non-conference slate next season (Idaho, Eastern Michigan and Eastern Kentucky), the Gators do have to play at Alabama and Florida State and have home games against LSU and South Carolina.

UF also plays at Tennessee and will play its annual game against Georgia in Jacksonville. The Eastern Division opponents remain in the proper rotation for home and away, but the league adjusted the cross-divisional rotating opponents. So instead of playing at Arkansas, which is what the 6-1-1 scheduling format would dictate because the Razorbacks play in Gainesville this season, the Gators will instead play at Alabama on Sept. 20.
The Gators have lost six of the their last eight meetings with the Crimson Tide, which has won three of the last four national titles and begins the 2013 season atop the Associated Press and USA Today and coaches' poll. UF's lone victories in that span came in the 2006 regular season and the 2008 SEC Championship Game.
Alabama has outscored Florida 101-26 in the last three meetings.
The Gators played the Crimson Tide in the regular season in 2010 and 2011 and under the SEC's previous rotating cross-divisional opponent scheduling format the teams were not expected to meet again in the regular season until 2018-19. But the addition of Texas A&M and Missouri last season forced the league to come up with what SEC commissioner Mike Slive called a bridge schedule for the 2013-15 seasons.
Slive said in July that a committee would complete a review of the league's scheduling format in time to complete the 2016 schedule.
An overview of the league's 2014 schedule can be found
here
.
June, 3, 2013
Jun 3
9:00
AM ET
GAINESVILLE, Fla. -- SEC commissioner Mike Slive was subtle, but the message was clear: He wants the league's 14 teams to beef up their nonconference schedules.
Dump the FCS schools and some of the games against smaller directional schools and instead play teams from BCS conferences. Or at least play some of the better team from non-BCS leagues. Not only will that generate more interest nationally and on television, but it would eliminate a lot of the empty seats at those cupcake games like Florida-Jacksonville State.
But, as parents preach to their children, we can't always get what we want.
To continue reading this article you must be an Insider
May, 30, 2013
May 30
9:00
AM ET
DESTIN, Fla. -- If Florida coach Will Muschamp and athletic director Jeremy Foley have their way, both LSU and Florida State will stay on the Gators' schedule regardless of how many SEC games are on Florida's slate.
It's a good call by Muschamp and Foley because both games are big for the program, and big for the money pot. Anyone who knows anything about Florida football recognizes the bitterness and enthusiasm the Gators' rivalry with the Seminoles, which dates back to 1958, exudes.
"The Florida State game is very important to us," Foley said. "I don't see that changing."
[+] Enlarge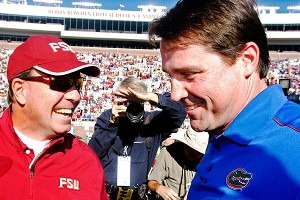 AP Photo/Phil SearsFSU's Jimbo Fisher (left) and Florida's Will Muschamp are good friends and have a lot in common, but this year they have seen their programs head in opposite directions.
Keeping Florida State on the schedule is a no-brainer for the Gators, but there has been plenty of talk about potentially ending the Florida-LSU series, especially from LSU's camp. This game has been played for 42 consecutive years, and the two became permanent cross-division opponents when the SEC split into divisions in 1992. But LSU coach Les Miles and athletic director Joe Alleva have been very public this week about getting rid of permanent crossover opponents.
Muschamp understands LSU's stance on moving from the current 6-1-1 format to a 6-2 format, which has two crossover rotators and no permanent opponent, but he believes this game is too important to scrap.
"It's a great game for our league," Muschamp said. "I've been on both sides of it as a coordinator and now as a head coach. It's a national game for our league.
"At the end of the day, a 6-2 format is probably the fairest format -- if you want to be honest -- but I do enjoy the rivalry."
Miles, whose Tigers already share a division with Alabama and Texas A&M, doesn't want to have to continue playing one of the East's top teams every year if other squads don't face similar challenges.
"I think you play your division, rotate two teams [from the other division]," Miles said. "Everybody in the country can honor and visually see that that's the honest, straightforward way to do it."
I understand where Miles is coming from. Alabama and Georgia are dealing with permanent opponents who have fallen in recent years, while LSU played 11-win teams in Florida and South Carolina last year, going 1-1 against them. This fall, the Tigers host Florida and play at Georgia, both of which will probably be top-10 teams entering the fall.
Alabama's East opponents are Kentucky and Tennessee (permanent), which both have new head coaches.
"I'm totally opposed to permanent opponents," Alleva said. "It has nothing to do with Florida. I think it's a competitive disadvantage to every team in the league to have a permanent opponent. I think they all should rotate. It's better for our fans, it's better for our players. We have players who never get to play against some SEC teams. So from a competitive standpoint, from a student-welfare standpoint, from our fans' standpoint I think we should just play six in our division and rotate the other two."
It's going to be tough for LSU to get rid of Florida because of other more historical crossover rivalries, such as Alabama-Tennessee and Georgia-Auburn. SEC commissioner Mike Slive has been adamant about not getting rid of those games and said a hybrid format with only some teams having permanent crossover opponents hasn't been discussed.
"The rivalry games are important," Slive said. "Otherwise I would have given you the [scheduling] format last Monday."
One rivalry the Gators aren't high on is the one against Miami. This fall, Florida will play Miami for the fifth time since 2002, but Foley doesn't consider the rivalry, which was hot before the 1990s, much of a priority -- especially if the SEC moves to nine conference games.
"You never say never, but that's not high on the agenda right now," Foley said. "For me to sit here and say, 'Well, we'll do that down the road,' there's too many unknowns in scheduling right now. If you're at nine conference games plus Florida State, I'd probably tell you it's unlikely. There's been no conversation between us and the University of Miami."
April, 30, 2013
Apr 30
3:45
PM ET
The adage has always been that if something ain't broke, don't fix it. By all accounts, that mantra has worked just fine for the SEC.
Just look at the seven straight BCS titles.
But changes to scheduling is being talked about in college football's most successful conference, especially with the new College Football Playoff on the horizon.

Currently, SEC teams play eight conference games, but that number could move to nine. Talk of SEC teams playing nine conference games isn't anything new, but with two more teams in the conference and strength of schedule becoming a very important factor in how the playoff committee chooses its four playoff teams, nine-game talk has increased.
SEC coaches fielded questions about increasing the number of conference games during last week's SEC coaches teleconference, and league commissioner Mike Slive addressed a nine-game conference schedule Monday.
"Obviously the playoff impacts how we think about scheduling," Slive said. "Strength of scheduling will be a significant component in the committee's analysis. As far as I am concerned, I am open-minded about how we should schedule, and I anticipate continued discussions about how we schedule in the future."
Nine games is a tricky subject when it comes to the SEC. Coaches have made the argument that the league is tough enough, and adding another conference game makes the road to Atlanta -- and the national championship -- that much harder. Also, SEC championship teams would have to play 10 conference games. That's a lot of wear and tear before heading into a four-team playoff.
Then, you have a schools like Florida, Georgia, Kentucky and South Carolina who annually play nonconference rivals. Those certainly aren't gimmie games, so think about adding another conference game to the slate.
"We're not for nine conference games because of our instate rival Florida State," Florida coach Wil Muschamp said.
While the selfish part of me wants to see all SEC teams playing tougher nonconference games more consistently, I understand why coaches and athletic directors would be against that. Again, scheduling formulas have worked to this point.
Here's what Missouri's Gary Pinkel had to say about moving to nine conference games:
"Most coaches like eight games, and one of the reasons is because it's such a tough league as it is. It would have a huge effect on your nonconference (schedule) going down to three games. There's a lot of aspects to it. And I think TV will have maybe something to say about that also, in terms of what they would like."
But there are arguments for moving to nine games. With a nine-game SEC schedule players would have the chance to play every SEC school during their careers. It would also help bolster teams' strength of schedule for the upcoming playoff. You'd certainly get a much more entertaining game than Alabama taking on a directional school or an FCS opponent.
Strength of schedule is certainly going to be an issue the SEC has to tackle, whether it has eight or nine conference games, but as long as the SEC stays as strong as it is, chances are its champion will continuously sit at the playoff table.
So why alter a working product?
Plus, the SEC still has to figure out its rotation issues with scheduling first. Does the conference stay with a permanent cross-division opponent, regardless of how many conference games teams play?
Like last year's SEC spring meetings, which begin at the end of May, coaches and administors will discuss all things under the scheduling sun, but another thing to consider when it comes to nine conference games is that teams would be giving up a home game every year in order to play another league game. That means a loss of revenue, folks.
There are pluses and minuses to nine conference games, and while the Big Ten is taking on the challenge, the SEC doesn't have to be so fast to copy its northern cousins.
January, 9, 2013
Jan 9
5:00
PM ET
The booming "S-E-C" chants that rang throughout South Beach during Alabama's 42-14 romp against Notre Dame immediately served as another harsh reminder to the college football world that the SEC is still king.
Alabama's utter domination of the No. 1 team in the country gave SEC commissioner Mike Slive and his league one more crystal ball to add to a stellar collection. It made seven BCS titles in row for the SEC, and continued to show the massive stronghold the SEC has built in college football.
Alabama's win also gave the league a 6-3 bowl record, which was the best of any AQ conference. The last time the SEC failed to have a winning record in the postseason? Well, you have to go back to 2005 (3-3). The last time the SEC had a losing record: 2002 (3-4).
More importantly, the league has more crystal hardware for the rest of the nation to glare at.
[+] Enlarge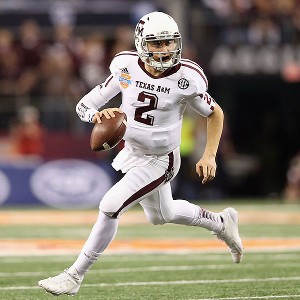 Ronald Martinez/Getty ImagesJohnny Manziel and Texas A&M were part of another dominant postseason showing by the SEC.
Alabama's win helped the SEC's perception after a few sluggish bowl performances from the Tide's peers.
Only days before Nick Saban's squad won its second straight national title and third in four years, fans from all over took to social media to berate the SEC for its bowl shortcomings, thanks to flat performances by Florida, LSU and Mississippi State. It didn't matter that the SEC entered the final weekend of the bowl season with a winning record, those three losses had people screaming that the SEC wasn't the beast it -- and the media -- portrayed it to be.
Sure, six teams finished the regular season ranked inside the top 10 of the BCS standings, but two fell at the hands of teams deemed inferior. First, it was No. 8 LSU, which appeared to have the Chick-fil-A Bowl in hand late in the third quarter before No. 14 Clemson roared back with three straight scoring drives to win 25-24 on a last-second field goal.
The next day, Northwestern blasted Mississippi State 34-20 before No. 3 Florida was run out of the Mercedes-Benz Superdome by No. 20 Louisville in a 33-23 loss in the Allstate Sugar Bowl on Jan. 2.
Those three games had the SEC temporarily hunched over with its tail between its legs, but there was much more to the bowl season than just three losses.
July, 16, 2012
7/16/12
2:15
PM ET
SEC commissioner Mike Slive, who turns 72 later this month, still has unfinished business.
His contract was set to expire on July 31, but he tells the Associated Press that he has
agreed to stay on "at least a couple more years
."
"I have agreed with the league that I will stay at least a couple of more years, and then we'll sit down and decide what happens after that," said Slive, who makes just over $1 million a year. "Don't forget it takes two. It's not just me making a unilateral decision. Both of us need to make that decision."
May, 30, 2012
5/30/12
2:00
PM ET
DESTIN, Fla. -- Dan Mullen doesn't know how much his thoughts on this whole playoff thing will impact any decisions, but he has his own interesting idea on what a four-team playoff should look like.

Mississippi State's coach would like to see the semifinal for the playoff played on the Saturday before Christmas, which Mullen referred to as the "dead weekend," and have the national championship game played after New Year's Day. Teams still could play the other bowls between the semifinal and the final, Mullen said.

"I'd be a fan of that," Mullen said Tuesday at the SEC spring meetings.


May, 30, 2012
5/30/12
1:03
PM ET
DESTIN, Fla. – Alabama coach Nick Saban hasn't held back from talking about his disdain for placing only conference champions in a four-team playoff. He's very much for a four-team playoff, but he won't go for one that alienates teams by only picking the top four conference champions.

The whole reason any of this playoff talk even started is because people outside of the game are passionate about seeing one in college football. To take away the chance for the four BEST teams to play makes no sense to Saban.


May, 30, 2012
5/30/12
1:03
PM ET

DESTIN, Fla. -- The idea of having a four-team playoff drifted into the 2012 SEC spring meetings and was met with a resounding "yes."

You would have been hard-pressed to find anyone toting an ounce of SEC pride who didn't like the idea of having the four best teams in the country playing for a chance to go to the national championship at season's end.

"I think the event is spectacular," LSU coach Les Miles said of a Final Four-like ending to the college football season. "Any play that is tournament-style and ends with a championship is preferred."

And one reason it's really preferred around these parts is that it'll give the SEC an even better shot at competing -- and winning -- more national championships. The conference dripping with power, confidence and championships stacked on championships wants more of those three things and believes it'll get them with this playoff model.


May, 30, 2012
5/30/12
1:02
PM ET
DESTIN, Fla. -- When SEC commissioner Mike Slive and the rest of the SEC elites leave the 2012 SEC spring meetings later this week, the hope is that there will be a concrete scheduling format for the 2013 football season and possibly beyond.

The addition of Missouri and Texas A&M means teams will have to play six divisional games instead of five, making things a little complicated.
Right now, it looks as though the most likely format, which could be set as early as Friday, will be a 6-1-1 model. That gives teams six divisional games, one permanent crossover game and rotating crossover. The rotating crossover no longer would be a traditional two-year home-and-home series. It simply would be a one-year rotation. It's the same model that will be used for the 2012 season.
LSU coach Les Miles said he'd like the structure of future SEC schedules to be "definable," and wouldn't mind if the league re-examined how it chose permanent crossovers.
"Legitimately tell me about how you're picking crossover games," Miles said at the spring meetings Tuesday. "Is it the best team in the East, the best team in the West, top three and top three? OK, if you guys want to do that, let's do that. It might change the matches, but if you want to say, 'Well, we really are going to seed the best teams versus the lesser teams,' well, OK, let's do that, but define the structure and let's stay with it.
May, 29, 2012
5/29/12
1:26
PM ET
DESTIN, Fla. -- The 2012 SEC spring meetings get under way on Tuesday at the Sandestin Hilton.

The SEC football coaches, men's and women's basketball coaches and athletic directors will meet over the next two days, while the presidents and chancellors arrive later in the week.

But there's more to this week in the Sunshine State than just checking out that white sand and the blue ocean. There's a little business that needs to be discussed.

For one, the league is welcoming in two new schools in Missouri and Texas A&M. It's time for everyone to get nice and acquainted with one another. I can't think of a better location to do that at this time of year.

For the football side of the conference, one of the hot topics will be about future scheduling for the regular season. With two new teams, there are a lot of questions about how the league will schedule in the future. Remember, 2012's football schedule is a test run, so future schedules might not look like it.


May, 18, 2012
5/18/12
3:21
PM ET
The days of the Rose Bowl being the bowl of bowls could soon be coming to an end now that the SEC and the Big 12 have agreed on a
five-year bowl partnership
.
The new deal, announced Friday, will have the champions of the Big 12 and SEC meet in a New Year's Day bowl game annually beginning with the 2014 season. So while it won't have the tradition of the Rose Bowl, it'll have the viewers and it'll have the popularity.
We're seeing more and more how power is truly the most important component in college football, and this is a great example. Soon, we'll have the two best BCS conferences going at it in their own special bowl competing with the beloved Rose Bowl.
We're joined on the SEC blog by Big 12 blogger David Ubben to get his thoughts on what this means for the Big 12. We're gentlemen down here in SEC country, so we'll let him go first:
Final Verdict: Hired And Fired