Florida Gators:

Kirby Smart
December, 13, 2014
12/13/14
1:21
AM ET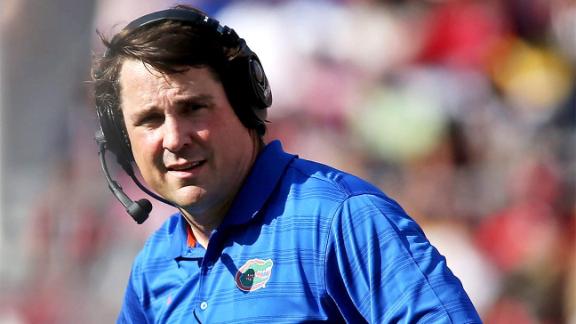 Alabama's Kirby Smart makes $1.35 million per year and, at least for now, is the second-highest-paid defensive coordinator in the state.
How is that possible?
This is how: The price for good defense in college football is skyrocketing, especially in this era of offense being played at breakneck pace and 57 FBS teams averaging more than 30 points per game this season.
It's the reason Auburn went out and made one of Smart's best friends, former Florida coach Will Muschamp, the highest-paid coordinator (offense or defense) in college football. Muschamp's blockbuster deal will pay him in excess of $1.6 million per year, which according to USA Today's recent study, is more than at least 60 FBS head coaches earned this season.
That's some serious dough to be paying a coordinator, but Auburn is serious about establishing the kind of identity on defense that it has on offense under Gus Malzahn.
What's more, there's also the business of keeping up with Alabama, which outgunned Auburn 55-44 a few weeks ago in the Iron Bowl, sending the Tigers to their fourth loss. In all four of those losses this season, Auburn gave up at least 34 points.
Less than 24 hours after the loss to Alabama, Malzahn fired veteran defensive coordinator Ellis Johnson, who has a pretty spiffy résumé of his own. But Auburn struggled to stop people most of the season, and even though the Tigers played for the national championship a year ago, Malzahn felt like he had to make a move on defense.
It was already a foregone conclusion that Muschamp was going to be one of the hottest free agents out there after getting the boot at Florida with two games remaining in the regular season, which made Malzahn's decision to part ways with Johnson only that much easier.
South Carolina and Texas A&M had also set their sights on Muschamp, who had the luxury of sitting back and seeing how everything played out. He walked away from Florida with a $6 million parting gift and his reputation as one of the top defensive minds in the game fully intact.
Few defensive coaches around the country are more respected than Muschamp, who runs the same 3-4 defense Alabama does under Nick Saban and Smart and has a keen eye for the kind of player he's looking for in his scheme.
Muschamp's problems at Florida were on offense. The Gators were a load on defense every year he was there. In fact, they're the only team in the SEC to finish in the top 10 nationally in total defense each of the past four seasons. They allowed just 4.45 yards per play this season; only four teams in the country were better (Clemson, Penn State, Stanford and UCF).
The Gators gave up 21.2 points per game this season, which was their highest average under Muschamp.
His true value goes a lot a deeper than numbers, though. His defenses play with a passion and a bloody-your-nose mindset that are infectious, and it also doesn't hurt that he knows Alabama's defensive scheme inside and out.
Saban has said the two guys who know how to run his defense exactly the way he wants it run are Smart and Muschamp.
The challenge for Muschamp will be incorporating his style of defense into Malzahn's hurry-up, no-huddle system on offense. As a rule, the two don't always go together, and one of the tricky parts is being able to find the right balance on the practice field, where, as a defensive coach, you feel like you're able to be physical enough to keep your edge.
One of the reasons Muschamp was comfortable with signing on as Malzahn's defensive coordinator was that Malzahn, for all the talk about his being a spread coach, believes deeply in running the ball. The Tigers are not one of these spread teams that's going to throw it on every down.
It's an offensive world right now in college football. Every game is on television, and the people who write the checks love points and love being entertained.
Most of the marquee head-coaching jobs are going to offensive guys right now. That's no coincidence.
But it's also no coincidence that the teams winning national championships are also playing championship defense. Only one of the past 10 BCS national champions (Auburn in 2010) has finished outside of the top 10 nationally in total defense.
The game's changing, no doubt, but not to the point where defensive coaches of Muschamp's ilk are devalued.
As Auburn showed us Friday night, people are still willing to pay top dollar to get them.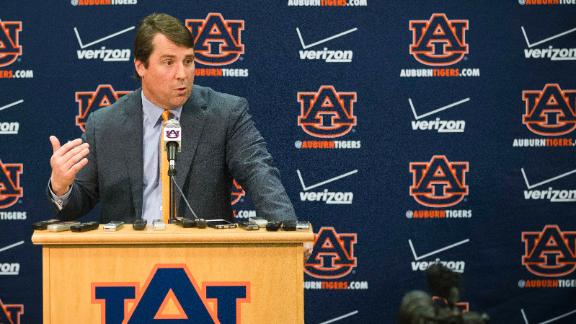 July, 2, 2014
7/02/14
12:00
PM ET
The World Cup run by the USMNT is over, but I'd be remiss if I didn't mention the performance by goalkeeper Tim Howard on Tuesday. His 16 saves were a World Cup record, and there's now talk that he could be
the greatest goalie in history
. Personally, I think he would've made a great safety, but clearly he made the right choice with soccer.
Im proud to suit up w every one of these guys. It's a tremendous honor to represent this country & a ride I'll never forget. Thx for joining

— Tim Howard (@TimHowardGK) July 2, 2014
No, thank you Tim Howard. Now on to Wednesday's lunch links.
October, 17, 2013
10/17/13
5:30
AM ET
The Early Offer is RecruitingNation's regular feature, giving you a daily dose of recruiting in the mornings. Today's offerings: Oregon State coach Mike Riley launched a new Twitter campaign on Tuesday to help the Beavers connect with recruits across the country; LSU's
Frank Wilson
didn't make the first edition of the ESPN recruiting power rankings, but he could be leading the poll by signing day; and a question and answer session on Wednesday helped identify what topics are most important with recruiting fans today.
#SmartRecruitingTool
Oregon State coach Mike Riley has more than 18,900 followers and is great communicating with fans on Twitter. So it was no surprise to see him launch a campaign Tuesday called "Tweet Film Tuesday" where he asked recruits to send him links to their film, and he and his staffers will then select 10 recruits to evaluate each week. With only 140 characters to work with, Riley didn't explain how he and his assistants would pick the 10 recruits to evaluate, but the idea is ingenious. Not only does it help Riley and the Beaver coaches communicate with prospects in a way they're already familiar with, it also allows the OSU coaches to find prospects they might not have been familiar with who are truly interested in the program. Also with Riley's track record of uncovering hidden talent, you can all but guarantee there will be a story a few years down the road where the Beavers found a sleeper through this approach.
October, 15, 2013
10/15/13
8:00
PM ET
Editor's note: For a look at the national recruiter power rankings based only on Class of 2014 success,
click here
.
It's no secret that Southeastern Conference has been the top conference in the country as far as recruiting over the last several years. The league currently has six teams ranked in the top 11 of the team recruiting rankings. Here's a look at the top 10 recruiters around the ultra-competitive conference.
To continue reading this article you must be an Insider
August, 9, 2013
8/09/13
11:00
AM ET
It's time to dip into the SEC recruiting mailbag and answer your questions. Because of the amount of questions we've received, we won't be able to get to all of them today -- but we encourage you to ask again next week by tweeting your questions to
@DerekTysonESPN.

@cpage2911: who are the top SEC assistant coaches recruiting wise?
Derek Tyson:
As evident by having 10 SEC schools ranked in the top 25 of the Recruiting Nation class rankings, the SEC is full of recruiting savvy coaches. The list is long and full of quality coaches, and I could make a case for a number of SEC coaches, but here's a glance at three coaches who stand out to me this year.
Auburn co-offensive coordinator Dameyune Craig is responsible for Auburn landing commits from five ESPN 300 members including
Tre' Williams
,
Nicholas Ruffin
,
Justin Thornton
,
Kamryn Pettway
and
Stanton Truitt
. Florida defensive backs coach Travaris Robinson is the primary recruiter for four committed ESPN 300 prospects --
Dalvin Cook
,
Khairi Clark
,
J.C. Jackson
and
Duke Dawson
. He is also the primary recruiter for ESPN 300 prospects
Ermon Lane
and
Quincy Wilson
, who the Gators have a shot of landing on Monday.
Alabama defensive coordinator Kirby Smart continues to be an outstanding recruiter and has helped the Tide stand firm in the top five of the class rankings. Smart is the primary recruiter for ESPN 300 committed players
Kalvaraz Bessent
,
Stephen Roberts
,
Shaun Dion Hamilton
and Zach Whitley.
@SleeperAthletes: Out of all the #SEC states, which state is most heavily recruited?
DT:
As far as sheer numbers, Florida is always one of the most heavily recruited areas in the country. In fact, 17 percent (52) of the prospects ranked in the ESPN 300 are from the state of Florida. Texas is the next state in SEC territory with 34 players on the ESPN 300 followed by Georgia with 29 players.
Louisiana might not have the total number of prospects as Florida, Texas and Georgia, but what it lacks in numbers it makes up for in quality. Three of the top 10 players in the country including the No. 1 overall prospect,
Leonard Fournette
, and eight of the top 50 players in the country are from Louisiana.
SECfan: Will an SEC team take home the recruiting championship again?
DT:
Five of the top 10 recruiting classes are from the SEC including three -- Alabama, Tennessee and Georgia in the top five. When it's all said and done, though, I believe it will be a battle between Alabama and LSU. Alabama is at No. 2 while LSU is at No. 10, and with several key targets still available LSU could certainly jump to the top.
Louisiana natives and top 10 players including Fournette,
Cameron Robinson
and
Speedy Noil
are high on the Tigers. Linebacker
Clifton Garrett
, wide receivers
Trey Quinn
and
Malachi Dupre
, safety
Laurence Jones
and defensive tackle
Gerald Willis III
are just some of the top prospects considering LSU and the Tigers could end up with a monster class. Alabama, however, is still very much in contention for both Fournette and Robinson which could quickly cement the Tide as the top overall class. Bottom line is, yes, I believe the SEC will land the No. 1 recruiting class for the third straight year.
August, 7, 2013
8/07/13
9:00
AM ET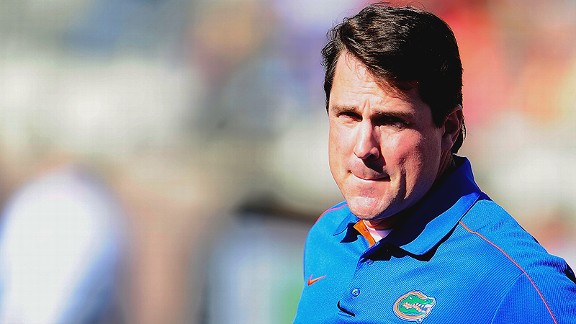 Stacy Revere/Getty ImagesWill Muschamp has never been on the winning side of the Florida-Georgia rivalry, losing three times as a Bulldogs players and dropping the first two meetings as the Gators' coach.
GAINESVILLE, Fla. -- Like every other coach in the country, Florida's Will Muschamp says every game carries equal importance.
The season opener against Toledo is just as significant as the regular-season finale against Florida State.
But whether he admits it or not, the Gators' showdown against Georgia in Jacksonville, Fla., on Nov. 2 will be the biggest game of his three-year head coaching career.
Muschamp is 0-2 against Georgia, where he was a defensive back from 1991-94. UF didn't play well in either game and last season's loss cost the Gators the Eastern Division title and a potential berth in the national championship game.
Making things worse is the fact that the Gators had dominated the series from 1990-2010, winning 18 of the 21 meetings. Even Ron Zook went 2-1 against Georgia, and the game the Gators lost came just five days after Zook was fired. UF slept-walked through the first half and nearly rallied to tie the game but couldn't get a final stop. The Bulldogs ran out the clock from there.
The last two games were similarly quirky. UF blew a 14-point first-half lead and lost 24-20 in 2011, and the Gators turned the ball over six times -- including two interceptions and two fumbles by quarterback
Jeff Driskel
-- in last season's 17-9 loss.
UF's players are reminded about that game every time they step into the football facility. There's a sign that reads '17-9' placed there for motivation. It's already revving the players up, and it's more than three months before kickoff.
"It just reminds us that we got outscored, we got outplayed, we just basically got beat by Georgia," right guard
Jon Halapio
said. "We'll definitely remember that when we play them again."
Muschamp has said the expectations for the Florida program are to win the Eastern Division and reach the SEC Championship Game every season. In order to do that, he'll have to beat Georgia. Florida has won 10 Eastern Division titles and has beaten Georgia in each of those seasonw. The Gators have never won a division title in a season in which they've lost to the Bulldogs.
A victory this season would be a giant step toward reaching the Georgia Dome for the first time since 2009 -- and it would finally give Muschamp a victory in Jacksonville after five tries. His Georgia teams were 0-3 during his playing days (the 1994 game was played in Gainesville because of stadium renovations in preparation for the Jaguars' inaugural season).
Muschamp, though, is only concerned with the last two games.
"I don't really look at it that way," he said. "I think it's really fair to get after me about being the head coach at the University of Florida and being 0-2 and not doing enough to win those two games and having opportunities in those situations. You give the other team credit. They did what they had to do to win the game. To bring my playing days into it is a little much.
"Unfortunately, Georgia's playing with a lot better players than will Muschamp and [former Georgia defensive back and current Alabama defensive coordinator] Kirby Smart these days."
That's true, but it doesn't change the fact that Muschamp needs to win this season's matchup or there's going to a lot of grumbling.
"It's a lot of pressure to win this year," Halapio said. "Last two years we haven't beaten them so definitely this year more than any other year we want to beat them. Lot of pressure."
December, 12, 2012
12/12/12
3:00
PM ET
The head coaches are the ones who make the big money in the SEC.
But without a quality staff, a head coach isn't going to survive very long in this league.

So as we look back on the 2012 regular season, let's pay tribute to 12 assistant coaches who separated themselves from the rest. Each of these guys made a huge difference in their development of players and units.
We'll call it our "Dandy Dozen" of SEC assistant coaches, and they're listed in alphabetical order:
Mike Bobo, Georgia, offensive coordinator/quarterbacks:
A finalist for the Broyles Award, Bobo has the Bulldogs ranked in the top four in the SEC in both rushing and passing offense. They scored 28 or more points in 11 of their 13 games, and did it with an offensive line that was both young and unproven when the season began.
Burton Burns, Alabama, associate head coach/running backs:
Despite injuries to
Dee Hart
and
Jalston Fowler
, Alabama didn't miss a beat in its running game. In fact,
Eddie Lacy
and
T.J. Yeldon
became the first two players in school history to each rush for 1,000 yards in the same season.
John Chavis, LSU, defensive coordinator/linebackers:
Like clockwork, Chavis just keeps on churning out rock-solid defenses at LSU. The Tigers are No. 8 nationally in total defense and No. 11 in scoring defense, and that's despite losing their top playmaker on defense (Tyrann Mathieu) in the preseason.
D.J. Durkin, Florida, special teams coordinator/linebackers:
When you play as many close games as the Gators did this season, you better be good on special teams. They weren't just good. They were excellent in all facets, which is a credit to Durkin and the job he did in coordinating the entire kicking game.
July, 13, 2012
7/13/12
9:41
AM ET

We're always looking for the next best thing. The coaching world isn't any different.
Who's the next Urban Meyer? The next Chris Petersen? What about another Brady Hoke?
Who's that next great assistant who rises up the ranks and takes over a major program ... and succeeds?
I'm not completely sure, but I have a few ideas. Here are some coaches lurking in the SEC who could be on their way to bigger and better things or are ready to take the next step with their current teams:
McElwain discusses new Florida football
SEC SCOREBOARD
Thursday, 9/3
Saturday, 9/5