Florida Gators:

Kentucky Wildcats
June, 12, 2014
Jun 12
5:00
AM ET
1. Bob Stoops said Wednesday on the
ESPNU College Football Podcast
that when Oklahoma beats Texas, he gives his Sooners a couple of hours to enjoy the State Fair of Texas with their families before the buses head back up I-35. Stoops said he doesn't go near the Midway, but he does find a quiet picnic table to munch on a hot dog. After 15 seasons and 160 victories -- the most by any head coach in Oklahoma history -- Stoops remains unimpressed with himself.
2. When Joker Phillips finished the 2012 season as a lame-duck head coach at Kentucky, he discussed the emotions of leaving players and a school to which he had devoted 10 years of his life. That's not how Phillips left Florida.
He resigned Wednesday
for personal reasons at a time when coaches and players are not together. Two years ago, someone asked Phillips about his future. "I'm 50 years old," Phillips said. "I don't have a lot of time. I like to think I'm a young 50, but this game is going fast for me." His departure from Gainesville came way too fast.
3. BYU went into independence four years ago with such optimism, and why not? BYU is a religious school with a national following. But college sports has gotten more exclusive, and even Notre Dame, the ultimate independent, cut a football deal with the ACC. Still, Cougar coach Bronco Mendenhall's
public plea to join the Big 12
sounds like the frustrations of a coach. If BYU were serious about giving up on independence, the university wouldn't use its football coach to make its case.
May, 28, 2013
5/28/13
11:00
AM ET
LSU coach Les Miles doesn't have a problem playing eight SEC opponents every season.
Miles also realizes the Tigers could play nine SEC games in the very near future.
Miles just doesn't think it's fair that LSU has to play Florida every season, while other teams in the SEC West don't.
[+] Enlarge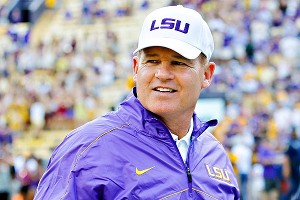 Derick E. Hingle/US PresswireUnder the current SEC scheduling format, Les Miles and LSU play Florida every season.
As SEC presidents, athletics directors and coaches convene this week for the league's annual spring meetings in Destin, Fla., long-term scheduling has become the hot-button issue.
The league is expected to vote whether to change its current 6-1-1 format, in which teams play each opponent from their respective division, along with one rotating foe and one permanent opponent from the opposite division. SEC officials could vote this week to add a ninth conference game or at least eliminate permanent crossover opponents.
The SEC adopted its current scheduling format to ensure that longstanding rivalries like Alabama-Tennessee and Georgia-Auburn would survive expansion.
By drawing the Gators as a permanent crossover opponent, Miles believes the Tigers drew the short end of the stick.
Miles won't complain about the scheduling format publicly, but he knows LSU is at a disadvantage.
And Miles is probably right.
"When they give us our schedule, I'm looking forward to having a great competition," Miles said.
Since 2000, LSU has played Florida and Georgia -- two of the SEC East's best programs -- a total of 17 times. Auburn is the only SEC West team which has faced those teams more often, playing them 19 times. Arkansas, Mississippi State and Ole Miss have faced them a total of 10 times each, while Alabama has played them only eight times.
While it's not fair that LSU has faced the Bulldogs and Gators nearly twice as often as Alabama has played them since 2000, Miles' argument might fall on deaf ears. Auburn and Georgia aren't going to surrender the longtime series -- the Deep South's Oldest Rivalry has been played 116 times since 1892. Likewise, Alabama and Tennessee have played 95 times since 1901, a game so revered it's named for its traditional place on the calendar, the Third Saturday in October.
And Ole Miss would probably rather play Vanderbilt every season instead of Florida, Georgia or South Carolina, and Mississippi State isn't going pass up a chance to play Kentucky every year.
"There's never going to be a fair way," said Texas A&M coach Kevin Sumlin, whose Aggies drew Missouri as a permanent crossover opponent. "If you look back seven or eight years ago, you would have said the SEC East was the strongest division. You can't say what's fair, because things change in this league. You can't look at tradition. Ten years ago, you might have wanted to play South Carolina. Now you don't want anything to do with them. You don't know what Tennessee is going to do with a new coach. I know Butch Jones is going to do a great job."
Florida-LSU has become one of the league's most anticipated games every season. They've been two of the league's most dominant teams over the past decade. They've combined to appear in seven SEC championship games since 2003, and they've combined to play in nine BCS bowl games, including five BCS national championship games. In their past 10 meetings, LSU and Florida were both ranked in the top 25 of the coaches' poll nine times. Conversely, Alabama and Tennessee were both ranked only once in their past 10 meetings.
The loser of the Florida-LSU regular-season game has paid dearly over the past 10 seasons. LSU's 23-10 loss at Florida in 2006 knocked the Tigers out of the SEC championship game (the Gators defeated Arkansas 38-28 and then blasted Ohio State 41-14 to win the BCS title). Last year, LSU's 14-6 loss at Florida probably cost it a spot in the AT&T Cotton Bowl, if not another trip to a BCS bowl game.
Florida's losses to LSU in 2002, '05 and '07 kept them out of the SEC championship game and potentially BCS bowl games.
March, 19, 2013
3/19/13
12:00
PM ET
With No. 3 overall prospect
Julius Randle
committing to Kentucky on Wednesday, we've decided to take one last look at his game to see what he will offer his team at the next level.
The 6-foot-9, 225-pounder was named a
McDonald's All American
and selected to play in the
Jordan Brand Classic
. Randle recently led his Dallas Prestonwood Christian squad to its second consecutive state crown despite missing the bulk of the season with a foot injury.
Here's a final breakdown of Julius Randle's game.
January, 11, 2013
1/11/13
2:09
PM ET
MILWAUKEE -- Sophomore center
Diamond Stone
(Milwaukee/Dominican), the No. 1-ranked prospect in the
ESPN 25
, and his father, Bob, sat down Thursday evening to discuss how Stone's game is progressing and where they are in the recruiting process.
Not surprisingly for the top player nationally in his class, Stone has an elite offer list a mile long but has a plan and is executing it to perfection.
To continue reading this article you must be an Insider
September, 2, 2012
9/02/12
3:47
PM ET
GAINESVILLE, Fla. -- Quarterback
Wade Freebeck
, a 2014 prospect, picked up his first and only offer, from Florida, after camping with the Gators this summer. The 6-foot-3, 168-pound signal-caller from Fort Lauderdale (Fla.) Western returned Saturday to watch the Gators take on Bowling Green.
Freebeck said he is impressed with what Florida has to offer.
"I loved it," Freebeck said. "They treat me right, I liked the experience in general. The atmosphere is unmatched wherever you go. The overall experience was great, though."
To continue reading this article you must be an Insider
August, 16, 2012
8/16/12
11:52
PM ET
By
Chris Fallica, Stats & Information Group
| ESPN.com

It's only year two of the Will Muschamp era at Florida, but Gator fans have to be feeling uneasy about its stagnant offense while winning just five regular-season games against FBS opponents in 2011.
Even more troubling, none of the five wins came against teams that finished the year with a winning record (1-11 FAU, 3-9 UAB, 5-7 Tennessee, 5-7 Kentucky and 6-7 Vanderbilt).
Expanding the scope and looking at the Gators against all automatic qualifiers, you can see just how much they scuffled in 2011.
Florida ranked 65th of 67 AQ schools in both third-down percentage (29.0) and total yards per game (284.0). Its offense also finished 64th in red-zone touchdown percentage (41.7).
Florida's struggles really started with the departures of Tim Tebow and Percy Harvin to the NFL.
Led by Tebow and Harvin in 2007 and 2008, the Florida offense completed 38 touchdown passes and threw eight interceptions in SEC contests.
With Tebow alone in 2009, the Gators managed only nine touchdown passes and five picks in SEC play, illustrating Harvin's importance to the team.
The last two years have been even worse for Florida -- a combined 12 touchdown passes and 14 interceptions against conference opponents.
Quarterback John Brantley never looked comfortable, while
Jacoby Brissett
and
Jeff Driskel
went through predictable freshman growing pains. Not surprisingly, the Gators went 7-9 in the SEC over the last two seasons.
June, 1, 2012
6/01/12
12:52
PM ET
The SEC/Big East Challenge may not quite have the longstanding cachet of its ACC/Big Ten brethren, nor should it. The ACC/Big Ten Challenge is
13 going on 14
, and as the years piled up and the Atlantic Coasters just kept winning -- the ACC won the first 10 challenges, which seems almost impossible, before the Big Ten rebounded with three straight wins -- the dominance created a weird sort of intrigue all its own.


The SEC/Big East Challenge is just five years old, and probably less well-known than its counterpart, but it's getting there -- and the 2012 matchups should only help.
Said matchups were released by the fine folks over at ESPN programming today, and they are as follows:
Thursday, Nov. 29
Marquette at Florida
Seton Hall at LSU
Kentucky at Notre Dame
South Carolina at St. John's
May, 20, 2012
5/20/12
2:13
PM ET
When Seth Greenberg was fired last month from Virginia Tech, ESPN 100 power forward
Montrezl Harrell
(Tarboro, N.C./Hargrave Military) announced he would ask out of his scholarship. After a prolonged period, he was finally released from his letter of intent.
Now that Harrell is free to weigh his options, five programs are in the mix -- Louisville, Florida, Kentucky, Alabama and N.C. State.
Louisville has a unique tie because current Cardinals assistant Kevin Keatts was the head coach at Hargrave Military Academy when Harrell initially agreed to spend his senior season in Chatman. When Keatts left for Louisville, his protégé at Hargrave Military Academy, A.W. Hamilton, kept Harrell and coached him last season. Harrell will visit Louisville on May 31, according to the Rocky Mountain Telegram.
To continue reading this article you must be an Insider
May, 5, 2012
5/05/12
12:28
AM ET
One down, two more to go before we have a winner.
On Friday, power forward
Anthony Bennett
(Brampton, Ont./Findlay Prep) tidied up his remaining list of suitors and removed the Florida Gators from consideration. The Gators, for a long time, had been rumored to be the clubhouse leader.
"At first I really liked Florida but when [Brad] Beal decided to leave it affected me, cause I was looking forward to playing with him," Bennett said.
To continue reading this article you must be an Insider
March, 10, 2012
3/10/12
3:21
PM ET
NEW ORLEANS -- Kentucky once again got all it asked for in the SEC tournament, and the Wildcats once again responded. Quick thoughts from
UK's 74-71 win
against Florida.
Overview:
Billy Donovan referred to 3-pointers as "the great equalizer" Friday, and did that ever prove to be the case. The Gators led for all but 10 seconds of the first half, and built a lead as big as 10 points. The reason? An absurdly hot start from the arc (5-of-8 from deep in the first 12 minutes). The Gators were shooting as well as 62 percent from the field at one point in the first half, but they inevitably trailed off.
When they did, the Wildcats made their move. Kentucky outscored Florida 10-2 in the last five minutes of the first half, and an
Anthony Davis
3 put the Wildcats up 40-39 at the buzzer.


The Gators rediscovered their spark after the break by connecting on their first four shots to re-establish the lead. The game settled into a grinding, physical affair for the next 10 or so minutes before gearing up for a fantastic final five minutes.
It looked like the Wildcats were primed to shrug the upset bid off when
Terrence Jones
blew up for seven points during an 11-0 Kentucky run. The Wildcats took a lead as big as nine points and appeared to have things under control, but the Gators' 3-point shooting once again pulled them close. Successful treys from
Erik Murphy
and
Bradley Beal
made it a 68-66 game entering the final minute.
Turning point:
Holding the ball and the lead, Kentucky drew a foul under the basket with 37 seconds remaining. Jones, who finished with 15 points, sank both free throws to make it 70-66.
March, 10, 2012
3/10/12
12:04
PM ET
NEW ORLEANS -- The moment
Trevor Lacey
's buzzer-beater bricked off the rim and Florida's win against Alabama became final, the thought set in.
The No. 19 Gators put the skids on a three-game losing streak and advanced to the SEC tournament semifinals with a
66-63
win Friday. The only problem is, the menace that awaits them is top-ranked Kentucky, their two-time tormentors from earlier this season. In less than 24 hours, Florida faces the prospect of three losses in three tries to the Wildcats.
"We definitely don't want to be swept," Florida guard
Kenny Boynton
said. "We've got to come out tomorrow and play hard -- stay focused throughout the whole game."
March, 10, 2012
3/10/12
11:41
AM ET
There are a pair of newsworthy pieces of information regarding No. 1
Nerlens Noel
(Everett, Mass./Tilton).
There's been a lot of buzz about Noel's visits to Kentucky and Syracuse. At first, we thought they were official but I was quickly alerted they were not. At the time of his trips to Syracuse and subsequently to Kentucky, Noel was still officially a junior.
This weekend, however, he'll visit the Georgetown Hoyas officially. The implication there is that Noel has been deemed a senior at the Tilton School. If he had not been, then this weekend's visit to Hoyaland would have been unofficial.
To continue reading this article you must be an Insider
February, 7, 2012
2/07/12
9:27
PM ET
LEXINGTON, Ky. -- Some quick initial thoughts after No. 1 Kentucky dismantled No. 7 Florida 78-58 on Tuesday night at Rupp Arena, where UK is now 48-0 under John Calipari:


Overview:
Florida is the most talented team Kentucky has played in several weeks, but the Gators were simply outmatched in just about every phase of this one. The Wildcats played stifling defense, holding one of the nation's highest-scoring and best-shooting teams to just 35 percent from the field and 6-of-27 on 3-pointers (the six makes were a season-low). Meanwhile, they got to the rim nearly at will and hit 9-of-15 3s (a season-high 60 percent) themselves to bust the game wide open in the second half. Yep, this is the No. 1 team in the country.
Turning point:
After trailing 38-26 at the half, Florida scored two quick buckets to get back within eight points. John Calipari called timeout 58 seconds into the half, and his team responded with a quick 11-0 run to seize momentum by the throat.
Marquis Teague
and
Darius Miller
hit 3-pointers during the run, and
Michael Kidd-Gilchrist
capped it with a pretty spin move for a layup and a foul.
December, 19, 2011
12/19/11
5:18
PM ET
GAINESVILLE, Fla. -- City College of San Fransisco offensive tackle
Pierce Burton
visited Ole Miss and Florida this past weekend and is planning to make his decision sometime this week.
Burton said both visits were filled with the normal recruiting activities.
"I got to Ole Miss on Friday, we went out to eat, met all the coaches," Burton said. "I went off with my host Evan Swindall. The next day they showed me around the facilities, talked to the head coach, then got on a plane and went to Florida. I got there around dinner time, then went out with my host Matt Patchan. The next day I saw all the facilities and what not -- then got to watch practice."
To continue reading this article you must be an Insider
Gators Lose Two ESPN 300 Commits
SEC SCOREBOARD
Thursday, 8/28
Saturday, 8/30
Sunday, 8/31