Florida Gators:

Justus Reed
February, 14, 2014
Feb 14
10:00
AM ET
GAINESVILLE, Fla. -- It's hard to find fault with a defense that ranked No. 5 in the nation last season.
Stout defense has been the identity of the Florida Gators under coach Will Muschamp. It has carried the team and its dysfunctional offense for years. But something was off in 2013.
Florida fielded its usual dominant pass defense, allowing just nine TDs through the air (second-fewest in the country). But the run defense slipped from a No. 4 ranking in 2012 to No. 33 last season (allowing 47.5 more rushing yards per game), including an embarrassing loss to FCS Georgia Southern in which Florida gave up 429 yards -- all on the ground.
[+] Enlarge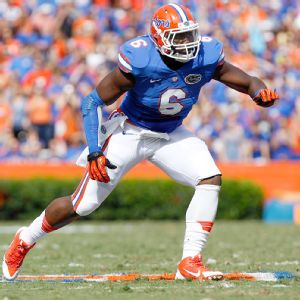 Kim Klement/USA TODAY SportsFormer ESPN 300 defensive end Dante Fowler Jr., who had 3.5 sacks in 2013, needs to be more consistent.
Those numbers, however, still indicate some blame for the Florida offense. Opponents in 2013 typically kept the Gators off the scoreboard, built up a lead and then ran out the clock. So UF's defensive stats are skewed.
But after a week of picking on the offense in identifying
the five position groups that have room to improve
, the final installment of this series has to focus on the defense.
Because everything starts up front, we'll look at the defensive line. It had plenty to do with the run defense getting worse in 2013, and it had its worst season in years in terms of applying pressure to quarterbacks.
Florida had 19 sacks in 12 games last season, down from 30 in 13 games the year before and continuing a downward trend since recording 39 sacks in 14 games in 2009.
Battling for No. 1:
Florida has solid bookends in buck linebacker
Dante Fowler Jr
. and strong-side end
Jonathan Bullard
. Their talent is undeniable, but the production just does not match it. One or two splashy games a season isn't good enough. But UF's ends also need more help from their interior linemen. When Florida lost senior DT
Dominique Easley
to injury, the threat of a push up the middle was gone. The starters at defensive tackle this fall are likely to be seniors
Leon Orr
and
Darious Cummings
, but unless they show dramatic improvement in disrupting opponents, Florida is going to need contributions from some newcomers.
Strength in numbers:
Muschamp said the Gators are excited about three defensive tackles who redshirted last season --
Jay-nard Bostwick
,
Caleb Brantley
and
Antonio Riles
-- saying each has "the athleticism and the girth to play the position." Florida could also get a contribution from
Joey Ivie
. He was the only D-lineman who didn't redshirt in 2013 and can play inside or outside. At defensive end,
Bryan Cox Jr
. and
Alex McCalister
stepped forward as backups last season. It's important for either of those two, or redshirt freshman end
Jordan Sherit
, to take the next step and improve Florida's pass rush this fall.
New on the scene:
The Gators signed a terrific defensive lineman class in 2014.
Gerald Willis III
, a 6-foot-3, 275-pound prospect ranked No. 42 overall in the nation, can play end or tackle and could make an immediate impact. Tackles
Thomas Holley
and
Khairi Clark
are highly touted but raw talents who could redshirt but have the bodies to play immediately. Early enrollee defensive end
Taven Bryan
has already drawn raves from Muschamp, who said, "he's explosive. He's got really good flexibility in his lower body. He's got a great motor, a great work ethic. We are extremely pleased." Florida also signed buck linebacker prospect
Justus Reed
, an ESPN 300 talent with potential who is likely to redshirt while he adds bulk and strength to his 6-3, 215-pound frame.
February, 7, 2014
Feb 7
11:30
AM ET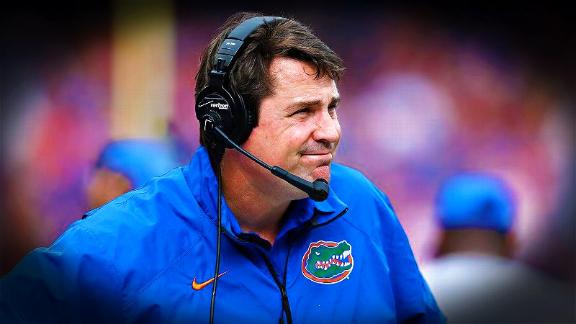 GAINESVILLE, Fla. -- Florida coach Will Muschamp was all smiles on signing day, officially announcing his fourth recruiting class.
The Gators signed all 13 of their commits with no drama and added two more for a total of 24. UF moved up one spot to finish at
No. 6 in ESPN's class rankings
, just missing a third consecutive top five class.
We've already looked at Florida's
nine early enrollees
in this class. Here's a breakdown of the 15 who were added on Wednesday.
David Sharpe
|
Scouting report

Jacksonville, Fla./Providence School
Height/Weight:
6-foot-6, 288 pounds
Ranking:
No. 20 overall, No. 2 offensive tackle
How he fits:
After splitting time between football and basketball in high school, Sharpe will focus solely on offensive tackle, where he has tremendous potential. "He's got great feet," Muschamp said. "You can't coach that." Sharpe is a terrific athlete who will play a position of great need at Florida, but there's a good chance he'll redshirt considering how much he still has to learn and grow.
Gerald Willis III
|
Scouting report

New Orleans/Edna Karr
Height/Weight:
6-3, 275
Ranking:
No. 42 overall, No. 2 defensive tackle
How he fits:
One of UF's recruiting prizes, Willis will have a chance to play right away because of his mature game and versatility. Like Sharrif Floyd and Dominique Easley, Willis can play inside or at strong-side end. "He really uses his hands very well," Muschamp said, "better than most high school defensive linemen."
Thomas Holley
|
Scouting report

Brooklyn, N.Y./Lincoln
Height/Weight:
6-4, 303
Ranking:
No. 51 overall, No. 3 defensive tackle
How he fits:
A basketball player for much of his high school career, Holley is a raw talent but one with perfect measurables to be a dominant presence inside. The Florida coaching staff loves the idea of developing an explosive athlete with Holley's size.
J.C. Jackson
|
Scouting report

Immokalee, Fla./Immokalee
Height/Weight:
6-0, 185
Ranking:
No. 79 overall, No. 11 athlete
How he fits:
With four upperclassmen gone, there is a lot of opportunity at cornerback. Jackson stuck with the Gators in order to take advantage of it. An explosive athlete with good size, Jackson also has a chance to contribute as a special teams return man.
Treon Harris
|
Scouting report

Miami/Booker T. Washington
Height/Weight:
5-11, 186
Ranking:
No. 163 overall, No. 7 dual-threat quarterback
How he fits:
With Kurt Roper bringing the spread and option back into UF's offense, it was imperative that Florida add to its QB depth with an athlete. Harris is that and more. Not the most-polished passer, he sometimes looks like a scatback when plays break down. But his instincts and ability to improvise could put him in the mix to compete for backup minutes this fall.
Moral Stephens
|
Scouting report

Perry, Fla./Taylor County
Height/Weight:
6-3, 200
Ranking:
No. 201 overall, No. 27 wide receiver
How he fits:
Much like Jordan Reed and Aaron Hernandez, Stephens has the look of a playmaker at tight end and H-back once he fills out a bit. The coaches were quick to add him to the class after a spot opened up when
Kent Taylor
transferred.
Khairi Clark
|
Scouting report

Hollywood, Fla./Chaminade
Height/Weight:
6-2, 329
Ranking:
No. 211 overall, No. 16 defensive tackle
How he fits:
A bull in the middle, Clark moves very well for his size. He might need a redshirt year to develop his technique, but there's no doubting his potential as a run-stuffing, lane-clogging tackle.
Justus Reed
|
Scouting report

Clearwater, Fla./Central Catholic
Height/Weight:
6-3, 215
Ranking:
No. 285 overall, No. 25 defensive end
How he fits:
Muschamp called Reed "a very explosive guy" and a hybrid outside linebacker/defensive end who probably needs to redshirt to add about 20 pounds.
Quincy Wilson
|
Scouting report

Fort Lauderdale, Fla./University School
Height/Weight:
6-1, 197
Ranking:
No. 292 overall, No. 15 safety
How he fits:
With a good blend of size and speed, Wilson could play some cornerback. But Florida typically fields elite athletes there, so Wilson could bring his skills to the safety position, where the Gators have good depth.
Ryan Sousa
|
Scouting report

Orlando, Fla./Lake Nona
Height/Weight:
6-0, 177
Ranking:
No. 47 wide receiver
How he fits:
Another prospect who benefited from the Roper hire, Sousa flipped from FSU as soon as the Gators offered. He's smart, plays fast and was ultra-productive in the slot and outside. If he can do the same in Roper's offense, he'll get on the field quickly.
Travaris Dorsey
|
Scouting report

Jacksonville, Fla./Raines
Height/Weight:
6-3, 314
Ranking:
No. 26 offensive guard
How he fits:
He has the size to play in the trenches right away but could use some time to refine his technique. There's no doubt the physical attributes are there, as Muschamp cited Dorsey's "really good lower body, punch and power" as well as his long reach.
Andrew Mike
|
Scouting report

Tucson, Ariz./Sabino
Height/Weight:
6-6, 278
Ranking:
No. 32 offensive tackle
How he fits:
Muschamp admitted Mike was "a guy that we kind of lucked into" after Florida jumped into his recruitment very late and got a commitment the night before signing day. Still, the size, reach and athleticism scream SEC lineman after a redshirt year.
C.J. Worton
|
Scouting report

Homestead, Fla./South Dade
Height/Weight:
6-1, 171
Ranking:
No. 77 wide receiver
How he fits:
He's another signee in whom Florida's interest shot up after Roper took the reins of the offense. The coaching staff loves his competitiveness, and as usual, Florida has a tremendous need for playmakers at receiver. Like Sousa, he'll get a chance to work in the slot.
C'yontai Lewis
|
Scouting report

Tuscaloosa, Ala./Northridge
Height/Weight:
6-4, 230
Ranking:
No. 15 tight end/H-back
How he fits:
Lewis earned his scholarship last summer when he came to UF's camp and showed off great hands and athleticism. The coaching staff is excited about his potential to grow into the position, as he's already put on at least 20 pounds since then.
Deiondre Porter
|
Scouting report

Tampa, Fla./Thomas Jefferson
Height/Weight:
6-1, 167
Ranking:
No. 50 pocket-passing quarterback
How he fits:
Porter will get his first look in the defensive backfield. The coaching staff loves his speed and smarts, so he could stick as a corner or safety. He could also find a home at receiver or even play some quarterback in a pinch.
February, 6, 2014
Feb 6
3:00
PM ET
GAINESVILLE, Fla. -- Signing day is one of those rare times in which every college coach celebrates a win.
And for a Florida program that suffered through seven straight losses to finish a miserable 2013 season, a win is somehow more than a win. It's validation. It's hope.
The Gators put a bow on their fine 2014 recruiting class on Wednesday, and the feeling on campus was like a return to happier times.
Here's a position-by-position breakdown of the Gators' class with a grade for each.
Quarterback
Florida needed to replace two transfers after junior backup
Tyler Murphy
and freshman
Max Staver
left, and the Gators did so with aplomb.
Will Grier
, one of the centerpieces of the class, is a gifted passer with plenty of athleticism to run. Adding
Treon Harris
gives the Gators a talented athlete who is a proven winner with two state titles as evidence. Harris flipped on signing day from Florida State because he felt Kurt Roper's offense at UF would be a better fit. Now Roper has to get both QBs ready for action.
Running back
Losing one of the top tailbacks in the country,
Dalvin Cook
, was a big blow. Losing him to Florida State hurts even more. Cook would have been a perfect complement to UF's already-strong backfield. But Florida recovered quickly and flipped ESPN 300 athlete
Brandon Powell
from Miami. Like Cook, Powell is an early enrollee, which helps. He does a lot of the same things as Cook and likewise see early playing time.
Wide receiver
Again, Florida lost one of the best prospects in the country,
Ermon Lane
, to FSU, which will sting when the schools square off in their annual grudge match. And again, the Gators recovered with a flip of their own.
Ryan Sousa
, a four-star prospect, switched from FSU to Florida. The Gators also got a signing-day boost from former FSU commit
C.J. Worton
. Both project as slot receivers and are good fits for an offense that will feature more spread elements.
Tight end
It's been a rough ride at this position since Jordan Reed's departure. There's really nowhere to go but up. The Gators are excited about all three signees.
DeAndre Goolsby
is already on campus as an early enrollee.
Moral Stephens
is a playmaker who profiles more as an H-back. And despite being less well-known,
C'yontai Lewis
caught the coaches' eyes during summer camp as a big target (6-foot-4, 230 pounds) with good hands.
Offensive line
Florida desperately needed help here and got it in the form of six signees. The big prize is Jacksonville, Fla., offensive tackle
David Sharpe
, the nation's No. 2 offensive tackle prospect. But this group offers plenty more in the way of immediate impact and depth. Guards
Drew Sarvary
and
Nolan Kelleher
have the size to contribute this fall and are already on campus. Offensive tackle
Kavaris Harkless
will also benefit from being an early enrollee.
Travaris Dorsey
gives UF a rock-solid prospect on the interior line. Big, rangy offensive tackle
Andrew Mike
was a late addition, flipping from Vanderbilt to UF the night before signing day.
Defensive line
This might be the strength of the class, a group that Florida recruiters might someday pound their chests over. It started with three prospects on whom the coaching staff is extremely high -- DE
Taven Bryan
, who is on campus now, burly DT
Khairi Clark
and DE
Justus Reed
, a quick and explosive athlete. Then Florida added two huge pieces in pulling DL
Gerald Willis III
out of New Orleans and flipping DT
Thomas Holley
from Penn State. Both are among the finest D-line talents in this class.
Linebacker
Florida didn't have a serious need after signing a fine class of four linebackers last season. They went after some big names, like
Christian Miller
(a one-time commit),
Raekwon McMillan
,
Jacob Pugh
and
Nyles Morgan
but didn't settle for lesser talents just to fill space. We'll give this position and incomplete grade.
Defensive back
This could have been a home run had Florida signed
Adoree' Jackson
. Instead, it was a stand-up triple. The Gators have lost four starters in a backend that typically starts five in the oft-used nickel formation, but Florida has recruited well here for years. The 2014 class was no exception. UF desperately needed a signee who can compete right away as a starting cornerback and got its man in five-star
Jalen Tabor
. Keeping
J.C. Jackson
in the class and signing fellow ESPN 300 talents
Duke Dawson
and
Quincy Wilson
was huge.
Deiondre Porter
, a late flip from South Florida, is an intriguing project who played quarterback in high school.
Overall
The Gators met every one of their biggest needs -- a corner who can start, talented depth for the offensive line, a future starting quarterback (or two), fresh blood at tight end, and some explosive playmakers in the slot on offense. Not enough can be said of the job this coaching staff did to finish with the No. 6-ranked class in the nation after a 4-8 season. It speaks volumes about the resilience of the Florida brand name as well as the recruiting ability of Will Muschamp and his coaches.
December, 24, 2013
12/24/13
12:00
PM ET
GAINESVILLE, Fla. -- With a 15-player senior class and seven players transferring or leaving since the end of the season, Florida has plenty of holes to fill.
Considering all seven of those departing players were from the offensive side of the ball, it's obvious where much of the Gators' recruiting efforts are focused.
Florida has 23 scholarships available with cornerback
Louchiez Purifoy
forgoing his senior season to enter the NFL draft.
Here's a breakdown of Florida's biggest needs in restocking its roster with talent.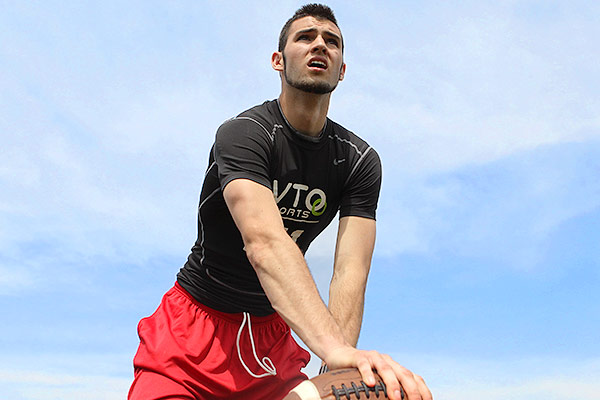 Miller Safrit/ESPNWill Grier is the nation's No. 2-ranked quarterback.
Quarterback:
The Gators have a starter in
Jeff Driskel
, who is expected to recover from a broken bone in his lower leg that required surgery. Their most experienced backup,
Tyler Murphy
, surprised the coaching staff when he decided to transfer, but
Skyler Mornhinweg
remains. He started UF's last three games of the season as a redshirt freshman, but it remains to be seen how Mornhinweg will fit into Florida's new offense.
The numbers are obviously low with just two scholarship QBs on the roster, but help is on the way. Florida expects
Will Grier
, the nation's No. 2-ranked quarterback, to enroll in early January. Now that Murphy has departed, expect the Gators to add a second quarterback to their 2014 class. A dual-threat QB who can bring a more athletic dimension and schematic flexibility to the position makes the most sense. Coach Will Muschamp will let his new offensive coordinator find the right fit.
Offensive line:
Florida graduated three starters and lost reserve
Ian Silberman
to transfer along with two others who were buried at the bottom of the depth chart. That's six departures -- a lot for any season. Muschamp likes to have at least 15 offensive linemen on his roster, so expect a handful of newcomers. Offensive line has been a sore spot for the last two seasons, and injuries decimated Florida in 2013. The Gators return five players with starting experience, but depth must be created as only four other scholarship linemen remain. With so few bodies, at least one of the incoming prospects can expect to make the two-deep roster.
Florida needs the most help on the edges, which is why the headline OL commitment is
David Sharpe
, the nation's No. 2-ranked offensive tackle prospect. The Gators recently signed
Drew Sarvary
, a 6-foot-6, 310-pound juco OT who could also play inside. Of all the newcomers, he'll have the inside track to play first. Florida also has pledges from three of the nation's top-30 guard prospects in
Nolan Kelleher
(6-5, 310),
Travaris Dorsey
(6-3, 314) and
Dontae Angus
(6-5, 310).
Offensive skill positions:
Florida's QBs haven't had much time to develop in the passing game in recent years, and some of the blame can be directed at the offensive line. But nothing is more obviously missing in the Gator offense than playmakers at the wide receiver and tight end positions. The Class of 2013 saw five talented freshmen WRs join the program, three of whom saw action. But with two senior starters leaving, it's imperative that UF continue to add talent and numbers to its receiving corps. The Gators' top wide receiver commit for 2014 is
Ermon Lane
, the No. 2 WR prospect in the country. Keeping him in the fold is a top priority.
UF also has pledges from former FSU commit
Ryan Sousa
and
Moral Stephens
. At 6-3 and 200 pounds, Stephens would give UF a prospect with some size who could play H-back or grow into a full-time role at tight end. Florida has just three scholarship TEs on its roster, but has commitments from
DeAndre Goolsby
and
C'yontai Lewis
, both three-star prospects. The Gators have plenty of talented options returning at tailback but lack a game-breaking home-run hitter who can gain the edge. That's why it's so important they hang onto the commitment of
Dalvin Cook
, the nation's No. 4 RB prospect. Coaches presume he would have a role as a true freshman in 2014.
Defensive line:
Florida is in good shape with 10 returning scholarship players. But Muschamp's multiple-scheme defense, which uses 4-3 and 3-4 alignments up front, puts a heavy emphasis on defensive linemen making plays and disrupting the opponent's offense. Florida has three commitments -- DT
Khairi Clark
, DE
Taven Bryan
and DE
Justus Reed
. Bryan could end up on offense, so the object of much of Muschamp's hard work on the recruiting trail is adding another difference-maker who can rush the passer.
Cornerback:
The Gators graduated two cornerbacks and are losing Purifoy to the NFL. If he is joined by fellow starter
Marcus Roberson
, who is projected as a first-round pick in ESPN Insider Todd McShay's first mock draft, there will likely be immediate playing time available. That's Muschamp's sales pitch. It's also why Florida is trying to load up on DB prospects. The nation's No. 10 athlete,
J.C. Jackson
, is committed, as are
Chris Lammons
,
Quincy Wilson
and
Duke Dawson
. Wilson and Dawson could end up at safety, so Florida must close strong in adding at least one more pure cornerback with the talent to contribute right away. Florida hit the jackpot last year in signing All-SEC first-team CB
Vernon Hargreaves III
. Few prospects enter the college ranks as technically skilled and prepared as he, but the Gators are hoping another recruiting bounty will keep the pipeline of impact cornerbacks flowing.
September, 3, 2013
9/03/13
8:00
AM ET
Each year college coaches prioritize their recruiting needs. Whether it's offensive or defensive linemen or skilled positions, there always seems to be an area that needs more attention than others. Here's a closer look at the most important position for each SEC team in recruiting this year.
To continue reading this article you must be an Insider
August, 26, 2013
8/26/13
8:00
AM ET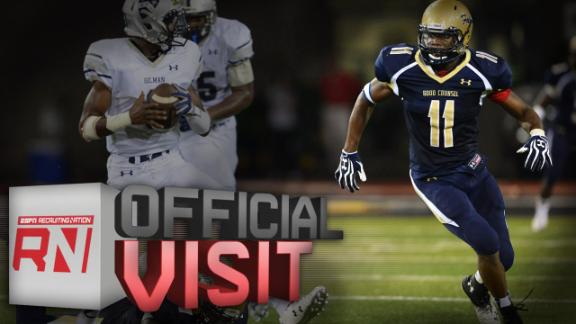 Alabama continued its recruiting dominance by adding an ESPN 300 wide receiver and several SEC commits had huge games to start off the 2013 high school season. Here's a look at the biggest storylines over the weekend.
To continue reading this article you must be an Insider
July, 29, 2013
7/29/13
10:05
AM ET
GAINESVILLE, Fla. -- Running back commit
Dalvin Cook
(Miami/Central) has a message for any Gators fans who might be worried about his visit to Texas today -- follow the lead of Florida head coach Will Muschamp.
To continue reading this article you must be an Insider
July, 25, 2013
7/25/13
10:09
PM ET
Just one day before Florida's Friday Night Lights camp, the Gators picked up their second commit in as many days. Thursday night, ESPN 300 defensive end
Justus Reed
(Clearwater, Fla./Clearwater Central Catholic) gave his pledge to Florida head coach Will Muschamp.
The 6-foot-3, 215-pound athlete chose the Gators over offers from Florida State, Louisville, Ohio State and Miami among many others.
Reed, the No. 262-ranked player in the country, said he has always been a Florida fan.
"It's been my dream school since I was a little kid," Reed said. "I just felt it was right and the right time to do it. I feel really confident and happy about my decision. I just felt it was the right time to do it.
"Just being a Florida boy and growing up around here, there are a lot of people in my area that are big Florida State fans, but after Florida won those two national championships, I've been a really, really, really big fan of theirs and have always dreamed of playing there."
Reed said Muschamp was excited to learn of his decision.
"He was really excited -- he was happy for me," Reed said. "He said they were recruiting me as a defensive end/outside linebacker and all that. He told me he was really excited. He pretty much just welcomed me to the family."
As for what kind of player the Gators are getting, Reed said he will be a beast on the field.
"I'm fast, smart and I'm going to get a lot bigger," he said. "He told me before my freshman year I should be at 245, so I have to put on a lot of weight. I will be a good student off the field and a beast on the field."
If he does continue to add weight, he could be a force on the next level.
"Reed needs to keep filling out his frame but is a good DE prospect with the tools to be a productive college defender," his ESPN scouting report said. "With added size he can be a tough run defender and disruptive pass rusher."
The Gators now have 12 verbal commitments, including seven that are in the ESPN 300.
June, 17, 2013
6/17/13
11:50
AM ET
GAINESVILLE, Fla. -- The Gators finished with the No. 2 overall recruiting class in the country last year and are again off to a hot start for the 2014 cycle. Six of Florida's 10 verbal commitments are in the new ESPN 300 rankings.
[+] Enlarge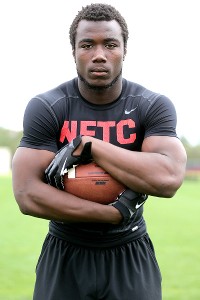 Tom Hauck for Student SportsWorkhorse running back Dalvin Cook remains the Gators highest-ranked 2014 commit.
Running back
Dalvin Cook
(No. 22), who rushed for 1,501 yards and 23 touchdowns as a junior, continues to lead the way for Florida commits. Cook was previously committed to Clemson before making the switch to UF in early April.
Record-setting quarterback
Will Grier
dropped eight slots from No. 45 to No. 53, but will have a chance to improve his ranking with a strong performance at the Elite 11 camp at the end of the month.
To continue reading this article you must be an Insider
June, 17, 2013
6/17/13
8:00
AM ET
GAINESVILLE, Fla. -- Gators fans grumbled through a disappointing month of May, suffering through a couple of decommitments as Florida's 2014 class dropped in ESPN's rankings from No. 2 to No. 10.
But after a week-long summer camp loaded with talent and chocked with big-name visits, UF has firmly regained recruiting momentum and the faith of those frustrated fans.

The first day of the camp set the tone as the Gators got
a commitment from ESPN 150 athlete J.C. Jackson
(Immokalee, Fla./Immokalee) less than a week after he decommitted from FSU. Three days later, Florida landed
a pledge from DE Taven Bryan
(Casper, Wyo./Natrona County).
To continue reading this article you must be an Insider
June, 14, 2013
6/14/13
2:14
PM ET
GAINESVILLE, Fla. -- While bigger-name prospects come and go on unofficial visits to Florida's summer camp, 2014 defensive end
Justus Reed
(Clearwater, Fla./Central Catholic) stood out on Thursday by actually participating.
Reed showed up for the afternoon session, warmed up with a couple hundred other campers and did position drills under the watchful eyes of Florida head coach Will Muschamp and defensive line coach Brad Lawing.
To continue reading this article you must be an Insider
ESPN 300 Ranking Motivates Byron Cowart
SEC SCOREBOARD
Thursday, 8/28
Saturday, 8/30
Sunday, 8/31