Florida Gators:

Jim Delany
May, 30, 2012
5/30/12
1:03
PM ET
DESTIN, Fla. – Alabama coach Nick Saban hasn't held back from talking about his disdain for placing only conference champions in a four-team playoff. He's very much for a four-team playoff, but he won't go for one that alienates teams by only picking the top four conference champions.

The whole reason any of this playoff talk even started is because people outside of the game are passionate about seeing one in college football. To take away the chance for the four BEST teams to play makes no sense to Saban.


May, 30, 2012
5/30/12
1:03
PM ET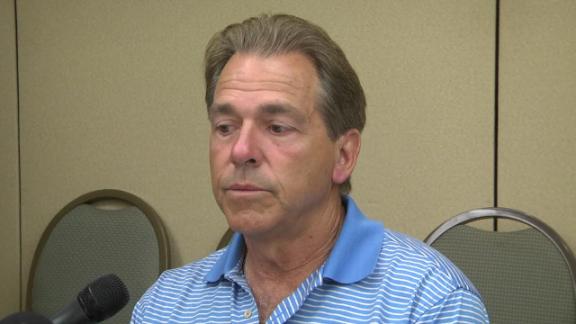 DESTIN, Fla. -- The idea of having a four-team playoff drifted into the 2012 SEC spring meetings and was met with a resounding "yes."
You would have been hard-pressed to find anyone toting an ounce of SEC pride who didn't like the idea of having the four best teams in the country playing for a chance to go to the national championship at season's end.
"I think the event is spectacular," LSU coach Les Miles said of a Final Four-like ending to the college football season. "Any play that is tournament-style and ends with a championship is preferred."
And one reason it's
really
preferred around these parts is that it'll give the SEC an even better shot at competing -- and winning -- more national championships. The conference dripping with power, confidence and championships stacked on championships wants more of those three things and believes it'll get them with this playoff model.
May, 18, 2012
5/18/12
3:21
PM ET
The days of the Rose Bowl being the bowl of bowls could soon be coming to an end now that the SEC and the Big 12 have agreed on a
five-year bowl partnership
.
The new deal, announced Friday, will have the champions of the Big 12 and SEC meet in a New Year's Day bowl game annually beginning with the 2014 season. So while it won't have the tradition of the Rose Bowl, it'll have the viewers and it'll have the popularity.
We're seeing more and more how power is truly the most important component in college football, and this is a great example. Soon, we'll have the two best BCS conferences going at it in their own special bowl competing with the beloved Rose Bowl.
We're joined on the SEC blog by Big 12 blogger David Ubben to get his thoughts on what this means for the Big 12. We're gentlemen down here in SEC country, so we'll let him go first: