Florida Gators:

Jeremy Foley
December, 4, 2013
12/04/13
3:00
PM ET
GAINESVILLE, Fla. -- Ron Zook answers his cellphone on a bright and unseasonably warm autumn day in New York City. His car has almost reached the hotel when a reporter asks for his thoughts on Florida head coach Will Muschamp. Again.
He sighs deeply, painfully.
"What's the gist of the story about?" he asks warily and listens as the reporter says he wants some perspective on what Muschamp is going through now that Florida's season has gone south and fans are calling for his head.
[+] Enlarge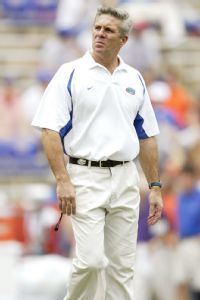 Jason Parkhurst/USA TODAY SportsRon Zook, who went 23-14 overall and 16-8 in the SEC from 2002 to 2004, can relate to what Will Muschamp went through this year.
As a former Florida head coach who experienced the exact same thing in his third season, Zook knows the drill.
He coughs a staccato burst of a laugh. "Heh, I don't know if you can call it an experience," he says and counts the number of times in the last week he's been asked this very same question.
He pauses to collect himself, then he answers.
"Let Will do his job," he says.
That's Zook's message nine years after he was fired by Florida athletic director Jeremy Foley, and he says it with a measure of exasperation, as though he has been given one more chance to speak directly to the fans who compose the proud Gator Nation.
Zook never got much of a chance to do his job. There was too much "noise in the system" as he called it. Many of those outspoken fans turned on him, just as they turned on Muschamp this season. Only for Zook, the honeymoon lasted a matter of hours.
Muschamp was given a mulligan in his first season after being handed a program that
Urban Meyer admitted was "broke a little bit
." What's followed has been more like a roller-coaster ride with the sugar-rush high of Muschamp's superlative second season followed by the sudden crash of 2013.
There are enough similarities between these two coaches that it's understandable how often they are compared. Both were defensive coordinators and recruiting whizzes with no head coaching experience who followed national championship-winning coaches at UF.
Zook went 23-14 with a 16-8 record in the SEC from 2002 to 2004. Muschamp has steered the Gators to a 22-16 record, 13-11 in the SEC over the last three seasons.
But the lows of 2013 are unlike anything Zook ever experienced: Florida's first losing season since 1979, the first loss to Vanderbilt since 1988 (first at home since 1945), the program's first loss to an FCS team, and the end of a 22-year bowl streak that dated back to 1991 when Steve Spurrier led the program out of the darkness of probation into an era of unprecedented heights.
"Obviously there's a lot of negativism going around right now," Zook said. "That's college football. That's part of it. That's one of the things that makes Florida a great place. It's is also one of the things that makes it tough. They want to win, and they want to win now."
Off the field, both coaches had some low moments in wrestling with the realities of their fans' expectations.
After losing this season to Georgia -- his alma mater -- for the third straight year, Muschamp got into a shouting match with a Florida fan as he walked off the field. A week later he acknowledged his emotions got the best of him.
"I made a real mistake over a very passionate, passionate Florida fan telling me his opinion of me," he said. "You know what, that's fine, that's fine. They pay their ticket, they can boo all they want."
A couple of weeks later, Muschamp boiled over again, saying, "there's a lot of negativity out there. Some of our fans need to get a grip."
In contrast, Zook took more heat from fans from the moment he was hired. He famously inspired a Florida fan to launch the website FireRonZook.com one day after he got the job. But nothing was worse than apologizing for
his role in a late-night verbal altercation
with an antagonistic fraternity on campus. Less than two weeks later, Zook was fired.
By the time Muschamp finished his third season, something Zook was unable to do, the pressure had risen to a feverish level. But let the record show that FireWillMuschamp.com is merely another placeholder website for sale.
With the benefit of hindsight, comparing Muschamp and Zook is on the minds of many irate fans. But is it fair?
Foley says it is not, and his opinion is the only one that matters.
"Zooker and I are friends, but it's just not apples-to-apples," he said last Saturday before Florida finished its season with an expected blowout loss to unbeaten archrival Florida State. "It's my job to evaluate and see where the program is headed. At that point in time, I didn't think it was headed where we wanted it to be. This time, I think it's headed where we want it to be. The proof is going to be in the pudding, but I don't think it's apples-to-apples.
"I'm like anybody else, I want to be successful for the University of Florida. The only thing that we want to do is to take care of the Gators. I've been doing that for 38 years. I've been doing it for 22 as athletic director. [It's not a matter of being] patient or impatient or wiser or older. I want to be successful. I'm very confident we're going to be successful moving in the direction we're moving in. That's where it's at."
[+] Enlarge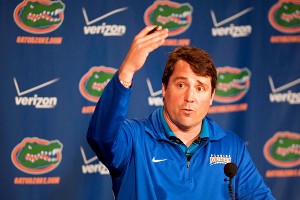 AP Photo/Phil SandlinWill Muschamp knows just how high the expectations are for the Gators and Florida officials say that despite this year's record he has things heading in the right direction.
Muschamp hasn't lost his players, either, despite suffering through an agonizing seven-game losing streak that ended the 2013 season. Many, like senior guard
Jon Halapio
, were upset and defiant about the criticism that bombarded their head coach.
"I strongly disagree with that," he said. "I'll go to battle with that coach any day, his whole coaching staff. I see the grind in his eyes every day. I see what he does every day, the passion he has for this team, and I'll go to war with him any day. He has our backs and I have his back, win or lose."
Senior center
Jonotthan Harrison
elaborated on why Muschamp won his enduring loyalty, why the players still believe in their coach.
"Because he is down to earth, as down to earth as it comes. He's as real as it comes," he said. "There's no sugar-coating anything. There's no BS. He's as black and white as it comes. He's going to tell you exactly how it is. He's going to treat you like you deserve to be treated. So if you're a hard worker -- no matter if you're a scholarship athlete, a third-string, no matter what your position is on the team, as long as you're a hard worker -- you have all of his respect. But if you go out there and you're a scumbag and you really don't want to work hard or whatever, then you're not going to have his support. That's just how it is. He's black and white. He's down to earth. He's a real guy."
The passion with which Muschamp's player support him is obvious. It's something Zook has seen and appreciated from afar.
"I think the fact that the players have circled the wagons for him, now they've got to come out and play for him," said Zook, who is two years removed from being fired as head coach at Illinois and is now a business development officer at Gateway Bank, back in Gator country, just 45 minutes south of Gainesville in Ocala. "I can tell ya he's on the right track. People say they've quit on him, but I do know that all of the negativism just zaps the energy out of your football team.
"Hopefully Will will get it turned around. I think he will."
In other words, let the man do his job.
December, 1, 2013
12/01/13
3:30
PM ET
This is where we find out how good of a coach Will Muschamp is and how much pride and heart Florida's players have.
The
firing of offensive coordinator Brent Pease and offensive line coach Tim Davis
means that the Gators will move in a different direction with their offense in order to attempt to rebound from a disappointing 4-8 (3-5 SEC) season.
[+] Enlarge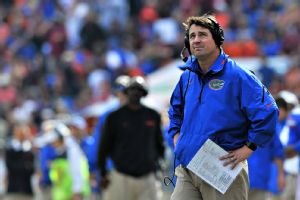 Steve Mitchell/USA TODAY SportsFlorida coach Will Muschamp won't be fired after going 4-8 this season. But he needs to have a great season in 2014 to stick around.
"I think we need to take a look at ourselves schematically,'' Muschamp said after Saturday's
37-7 home loss
to in-state rival Florida State. "There have been some things that have happened that are very difficult to overcome. But schematically there's no question we need to take a look at ourselves."
It's not like this should come as a surprise. Florida lost its last seven games of the season without scoring more than 20 points in any of those contests and finished the regular season with the SEC's worst offense, averaging just 316.7 yards per game and a league-low 4.8 yards per play. Florida also ranks 112th nationally in total offense.
The Gators suffered their first losing season since 1979 and will miss a bowl game for the first time since 1990.
Injuries on both sides of the football ravaged this team, especially on offense, but with Muschamp stating loud and clear that many things on offense have to change, this is where we will find out just how good he is, because there are no more excuses going forward.
While many in Gator Nation will say that Muschamp should have been a casualty as well today, athletic director Jeremy Foley made the right decision to stick with Muschamp. This season was a disaster, but Florida came off an 11-win season and a BCS appearance. Last season, Muschamp was the SEC Coach of the Year, and you'd be hard-pressed to find another staff that coached better in the second half of games. Also, most of 2013 was taken out of the hands of this staff at times because of devastating injuries.
Florida's injury count went into double digits, and lost four key offensive starters in
Jeff Driskel
,
Matt Jones
,
Chaz Green
and
Andre Debose
. Eventually, No. 2 quarterback
Tyler Murphy
, who never quite showed the potential and upside that Driskel possessed, was lost for the season with a shoulder injury, meaning Florida was down to third-stringer
Skyler Mornhinweg
, who was on the practice squad last year.
The offense certainly went through the wringer, but if Muschamp is going to right the ship in Gainesville, he had to make changes. He had to make changes to an offense that regressed each week and was even near the bottom of the SEC barrel last season (334 yards per game). He had to make changes to an offensive line that gave up 27 sacks on the season, injuries aside. He had to make changes to a staff that didn't develop players well enough.
But by making these moves, Muschamp now has to win big in 2014. Year 3 was unacceptable in Gainesville, so Year 4 likely means that it truly is Atlanta or bust for Muschamp. Foley stood by Muschamp this time, but another fall or stagnation in 2014 will force Foley to have to look in another direction.
It's time for Florida to get over the fact that Urban Meyer left this team with a nearly empty cupboard of talent. It's time to get a more functional offense on the field that can move the ball through the air and on the ground and can actually score points. And it's time to develop the guys on both sides of the ball.
The good thing about Florida's injuries is that they will heal. Driskel, Jones, Green and Debose will be back, but they have to be better, as well. Florida needs legitimate competition at every position, and that's where coaching and recruiting comes in.
There's no question that Florida had some offensive misses in its last couple of recruiting classes. That can't happen in the 2014 class, which also has to keep its ESPN 300 prospects, running back
Dalvin Cook
, quarterback
Will Grier
and receiver
Ermon Lane
, who could all make immediate impacts next season. Finding replacement coaches is the crucial first step; keeping this 2014 class together is the second.
The honeymoon with Muschamp faded this year, but there's still time to turn things around, even if it's going to be a toxic time in Gainesville until Florida wins again. At the first sign of failure, this fan base is going to spit fire at its fervent coach, and players could lose trust.
Muschamp has to guard himself and his team against that. He has to instill some pride back into this program and has to make sure that his players don't lose faith, even if the fans have.
It's not going to be easy for a team that will likely take another hit to its defense with the upcoming NFL draft and now has a trip to Alabama on next season's schedule. It won't be easy for a team that went all "woe is me" late in the year. It won't be easy with Florida State, Georgia, LSU, South Carolina and Tennessee still on the schedule, but improvements have to be made.
This team has to compete, and we're about to find out if Muschamp really is the right man for the job.
November, 25, 2013
11/25/13
12:03
PM ET
It wasn't hot much anywhere in the United States this past weekend. Talk about some nasty, cold weather.
But in the realm of SEC football, we saw temperatures both spike and plummet.
Here's a look back at Week 13 in the SEC:
GLOWING EMBERS
[+] Enlarge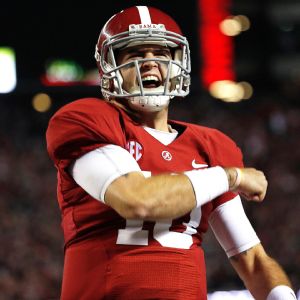 AP Photo/Dave MartinAJ McCarron has the Tide in line for another title shot and himself creeping up on the outside in the Heisman race.
SEC power:
At varying times this season, we've heard talk about the SEC possibly being down or this not being as strong a year in the league, or about other leagues having caught up. It's true that Florida and Georgia have had disappointing seasons and that some of the defensive numbers have been out of whack across the league. But looking at the latest Associated Press Top 25 poll, there are four SEC teams in the top 10 and five in the top 15. Three of the top five teams in the newest BCS standings released Sunday night are also from the SEC, and all three have chances to play their way into the VIZIO BCS National Championship Game if the chips fall just right these last couple of weeks. Two-time defending national champion Alabama is No. 1 and simply needs to win its last two games to get to Pasadena. But Auburn is No. 4, and with a win at home over Alabama this Saturday, could move into great position to play for the national title if the Tigers could follow that up with a win in the SEC championship game and get Ohio State to lose. The same goes for Missouri, which is No. 5. The Tigers would need to beat Texas A&M at home this weekend and then take down Alabama (or Auburn) in the SEC championship game. At that point, if Ohio State were to stumble, Missouri would be in excellent shape to nab one of those top two spots in the final BCS standings. South Carolina is also a top-10 team and still eyeing a BCS bowl berth if the Gamecocks can knock off Clemson this weekend. All in all, not a bad year for a league that was supposed to be down.
HOT
Vanderbilt receiver Jordan Matthews:
They don't get much better than Matthews, as a player or a person. In his past two games, he has 25 catches for 274 yards and is now the SEC's career leader in receptions (246) and receiving yardage (3,491 yards). Matthews is the first receiver in SEC history to post back-to-back seasons of 90-plus catches and is two catches shy of the SEC single-season record. The remarkable thing about what he has done this season is that opposing defenses have shadowed him and doubled him, but he just continues to produce. And if you really want to know what kind of person Matthews is, go watch his news conference following Vanderbilt's 14-10 win over Tennessee on Saturday. He didn't want to talk about himself. Rather, he wanted to talk about all of the people who had helped him get to this point, including coaches, teammates, family members and fans.
NOT
Ole Miss' red zone offense:
The Rebels will be kicking themselves for a while over their inability to take advantage of chances in the red zone in their 24-10 loss to Missouri. On three trips inside the 20, Ole Miss came away with just a single field goal, which pretty well snuffed out any shot the Rebels had of upsetting the Tigers and potentially getting to 10 wins this season.
HOT
LSU cornerback Rashard Robinson:
On your list of true freshmen in the SEC who are destined for stardom, be sure you have Robinson near the top of that list. He did a marvelous job in manning up against Texas A&M receiver
Mike Evans
on Saturday and helped hold Evans to four catches for 51 yards and no touchdowns. Robinson didn't become eligible until right before the season began, so he got off to a late start. But the more you watch him, the more he looks like the next great cornerback to come out of the LSU program.
NOT
Bowl-eligible teams:
Arkansas, Florida, Kentucky and Tennessee have all been eliminated from bowl contention. Mississippi State has to win against Ole Miss this weekend to extend its postseason streak to four straight years. Otherwise, five teams from the SEC will be staying home for the second consecutive year.
HOT
AJ McCarron's Heisman chances:
We can sit here all day and debate about whether McCarron is truly the most outstanding player in college football. Two things that are not debatable, though, are that he's one of the most accomplished winners in college football history and is now right in the middle of the Heisman Trophy race with two weeks remaining until the vote.
Johnny Manziel
,
Marcus Mariota
and
Bryce Petty
all took big hits last week, and who knows how the off-the-field allegations against
Jameis Winston
will play out? If McCarron plays well the next two weeks and the Crimson Tide make it to Pasadena, he could very well become only the second Heisman winner in Alabama's history.
NOT
[+] Enlarge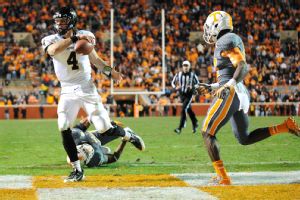 Randy Sartin/USA TODAY SportsPatton Robinette's late touchdown gave Tennessee its first two-game losing streak to Vanderbilt since the 1920s.
Winning seasons at Tennessee:
The Vols are now assured of their fourth straight losing season after falling 14-10 at home to Vanderbilt, the first time since the 1920s that Tennessee has lost two in a row to the Commodores. But you have to go all the way back to 1903-06 to find a stretch when Tennessee had suffered through four straight losing seasons. What's left for the Vols this season is trying to avoid the first eight-loss season in school history when they travel to Kentucky this Saturday. The dubious "firsts" are piling up for a program that had been to five SEC championship games in 12 years before Phillip Fulmer was pushed out following the 2008 season.
FREEZER BURN
Votes of confidence:
OK, I know Florida athletic director Jeremy Foley specified last week that it wasn't the dreaded vote of confidence he was giving third-year coach Will Muschamp. But come on, that's exactly what it was. And how many times has that worked out for a coach, where his boss comes out publicly and says his embattled coach is going to be back and have a chance to fix things? After seeing what happened to Florida last week in an embarrassing 26-20 loss to FCS foe Georgia Southern in which the Eagles won at the Swamp without completing a pass, you can't help but wonder if Foley wishes now that he'd just waited a couple of weeks before he said anything. Why come out this late in the season, at least publicly? All that said, the only choice Florida has (and the right choice) is to give Muschamp another year. Foley knows as well as anybody that there were serious issues with the program when Muschamp took over for Urban Meyer following the 2010 season. Remember, it was Meyer himself who conceded that the program was "broken." You also don't fire a guy a year removed from winning 11 games and going to a BCS bowl. Muschamp simply hasn't been able to get it right on offense, and that has to change if he's going to be around past a fourth season. He will obviously have to make changes on the offensive side of the ball. But here's the problem with that: With Muschamp facing a win-or-else season next year, how many top offensive minds are going to be lining up to come to Gainesville under those circumstances? It's not going to be an easy fix and it's mind-blowing to see the Gators headed toward their first losing season in more than 30 years. But giving Muschamp a fourth season is the right thing to do … with or without a vote of confidence.
November, 19, 2013
11/19/13
12:00
PM ET
Plenty of goings-on in the SEC today. Let's dive right into it:
November, 11, 2013
11/11/13
11:55
AM ET
Now that Week 11 is behind us, we'll break out our weekly thermometer in the SEC.
It's that time again. Who's hot and who's not?
GLOWING EMBERS
[+] Enlarge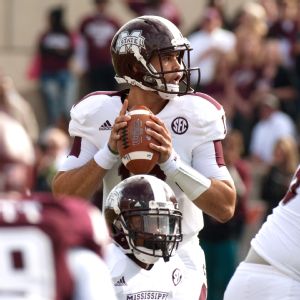 Juan DeLeon/Icon SMIDak Prescott put together a heroic effort against Texas A&M just days after his mother died of cancer.
Dak Prescott's courage:
Less than a week after his mother, Peggy, lost her courageous battle with colon cancer, Prescott honored his late mother with a courageous performance on Saturday against Texas A&M. Mississippi State lost the game 51-41, but Prescott won a lot of hearts and even more respect with the way he dug down deep, channeled his emotions and played lights out against the Aggies. He came off the bench in the first quarter and kept the Bulldogs in the game with 303 yards of total offense. Prescott passed for 149 yards and two touchdowns and rushed for a career-high 154 yards on 16 carries. A couple of different times in the game, Prescott took pretty good hits and was slow to get up, but he kept getting back up and kept making plays for his team. Prescott spent most of last week in Louisiana with his family and attended his mother's funeral on Wednesday. But he was right back with the Bulldogs on Thursday and determined to honor his mother's memory by being there for his teammates. Prescott tweeted last week, "Heaven gained an Angel." You can bet that Angel is one proud mom.
HOT
Missouri receiver Dorial-Green Beckham:
Sort of flying along under the radar this season, Green-Beckham delivered a record-breaking day on Saturday in the 48-17 win over Kentucky. Green-Beckham set a school record with four touchdown catches. In just one game, he nearly doubled his touchdown output for the entire season. He came into the game with five touchdown catches in his previous nine contests.
NOT
Tennessee's run defense:
The Vols are bringing up the rear in the SEC when it comes to stopping the run, and by a wide margin. They gave up 444 yards on the ground last week in a 55-23 loss to Auburn and 339 yards the week before in a 31-3 loss to Missouri. That's 783 yards in two games. The Vols are allowing 225.9 yards per game on the ground, which is 27 more yards per game than they averaged giving up a year ago in what was one of the worst defensive performances in school history.
HOT
Alabama's schedule:
Until last weekend, Alabama's schedule was an easy target. The Crimson Tide really hadn't beaten anybody other than Texas A&M, and perhaps tired of hearing about their cushy schedule, they went out and beat up on then-No. 13 LSU 38-17 thanks to a dominant second half. To be fair to the Tide, when you look at their entire schedule and extend it out through a potential SEC championship game appearance, it will end up being more demanding than the schedules of the other unbeaten contenders in the national championship race. Alabama has already played two top-15 teams in the BCS standings (LSU and Texas A&M) and could face two more -- No. 7 Auburn and either No. 9 Missouri or No. 10 South Carolina in the SEC championship game. Compare that with Florida State, Ohio State and Baylor.
NOT
Manziel's chances to return:
Nobody is really coming out and saying it, but
Johnny Manziel
's five-touchdown performance last week in the win over Mississippi State was almost certainly his final game at Kyle Field. For that matter, it was likely the last game star receiver
Mike Evans
will play at Kyle Field as well. Even back in the summer, the feeling in and around the Texas A&M program was that Manziel would take his shot at the NFL following this season. I'm not sure Kyle Field will ever see another one quite like Johnny Football. The only thing more fun than watching him play would be partying with him. That is, assuming you're a partier.
HOT
[+] Enlarge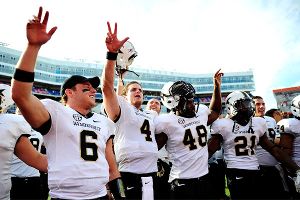 Stacy Revere/Getty ImagesVanderbilt celebrates its first win in Gainesville since 1945.
Vanderbilt's resolve:
A lot of people might have counted Vanderbilt down and out a couple of different times this season, especially with that rape investigation hanging over the program. But third-year coach
James Franklin
is one tough dude and so is his football team. These Commodores have personified resolve, and now they're in great position to go to a bowl game for the third straight season. They hadn't won at Florida since 1945, and this also marks the first time in school history that they've beaten both Florida and Georgia in the same season.
NOT
LSU's ball security:
The Tigers have lost their last two SEC games, to Alabama and Ole Miss, and have turned the ball over five times in those two losses. Three of the five turnovers have come with LSU driving, too. J.C. Copeland's fumble against Alabama came on second-and-goal at the 3 and completely changed the complexion of that game. Against Ole Miss, two of Zach Mettenberger's three interceptions occurred in the end zone for touchbacks, both coming on first down.
FREEZER BURN
Florida's bowl streak:
This is obviously not what anybody is used to at Florida right now. The reeling Gators are 4-5 and have lost four straight after losing 34-17 at home last weekend to Vanderbilt, Florida's first loss at home to Vanderbilt since the end of World War II. The Gators' 22-year bowl streak -- the longest in the SEC -- is in serious jeopardy. They will need to win two of their last three games to qualify for a bowl, which means they would have to upset No. 10 South Carolina in Columbia this Saturday and then take down No. 2 Florida State at home the final weekend of the regular season. In other words, the Gators can plan to spend this postseason at home. Of course, given the halfhearted turnout by Florida fans at the Sugar Bowl last season, I can't imagine they will be stewing over not having the chance to spend a few days in Memphis or Birmingham this December. But what they are stewing over is the direction of the program right now, and in particular the continued struggles on offense. It's not just the offense, either. Some of the dumb penalties have been inexplicable. Third-year coach Will Muschamp is as mentally tough as they come, but he faces an uphill climb. Unless there's a sudden change of heart at the top at Florida, Muschamp is going to get a fourth year. And with all the injuries the Gators have suffered this season, he should get a fourth year. Muschamp and his staff did a super job in 2012 of squeezing out 11 wins and getting to a BCS bowl game. But now he has to prove to athletic director Jeremy Foley that he's the long-term answer for this program. That's going to take some doing, but at the very least, it appears that Muschamp is going to get a fourth year to prove it.
November, 3, 2013
11/03/13
10:00
AM ET
A sluggish first half doomed Florida in its
third-straight loss to Georgia
:

1. Florida's SEC championship hopes are all but gone:
With the loss to Georgia, the Gators are going to need a real miracle to make it to Atlanta. Sitting at 4-4 on the year and with three SEC losses, the Gators can win the SEC Eastern Division if they win out in conference play by beating Vanderbilt next week and South Carolina the week after. The Gators then need Georgia and Missouri to lose out. That would give both of them four SEC losses, and Florida would own the tiebreaker against South Carolina. If there is a four-way tie, the Gators likely won't have the credentials to make it out as the top team. Basically, Florida needs a ton of help and has to actually take care of its own business to have any sort of shot at Atlanta.
2. Coach Will Muschamp's seat is warming up:
If basically being out of the SEC race wasn't bad enough, Muschamp has now dropped to 0-3 against Georgia. Muschamp now has two three-game losing streaks during his three years with the Gators. Before Muschamp arrived in 2011, the Gators had just one three-game losing streak since the 1988 season. Muschamp also dropped to 4-5 against traditional rivals Florida State, Georgia, Miami and Tennessee. To put that into perspective, Ron Zook went 4-7, but was 2-1 against Georgia. Florida athletic director Jeremy Foley gave Muschamp a vote of confidence after the loss to Missouri two weeks ago, but there's a lot of chirping coming from Gainesville and there's a real chance the Gators could finish the season 6-6 with South Carolina and Florida State still remaining. But it isn't a given because Vanderbilt is next, and the Gators are in a terrible slump.
3. The offense isn't going to change for the good:
One major reason for the Gators' slump is the poor play of the offense. Florida entered the weekend with 391 total yards in the previous two losses, and left with 319 yards of offense against a Georgia defense that was allowing nearly 400 yards a game. Florida has the SEC's worst offense and is scoring just 21 points per game. The Gators showed some signs of life here and there, but it's obvious that the passing game is restricted with
Tyler Murphy
's ability. The downfield passing game was still nonexistent, even when the offensive line gave Murphy time to throw. The running game reached 145 yards, but averaged just 3.5 yards per rush. With two weeks to prepare, that's all Florida's offense could muster against a young, struggling Georgia defense. Florida has no more bye weeks, and it's obvious that nothing is going to drastically change with this stale, sputtering offense.
June, 3, 2013
6/03/13
9:00
AM ET
GAINESVILLE, Fla. -- SEC commissioner Mike Slive was subtle, but the message was clear: He wants the league's 14 teams to beef up their nonconference schedules.

Dump the FCS schools and some of the games against smaller directional schools and instead play teams from BCS conferences. Or at least play some of the better team from non-BCS leagues. Not only will that generate more interest nationally and on television, but it would eliminate a lot of the empty seats at those cupcake games like Florida-Jacksonville State.

But, as parents preach to their children, we can't always get what we want.
May, 30, 2013
5/30/13
9:00
AM ET
DESTIN, Fla. -- If Florida coach Will Muschamp and athletic director Jeremy Foley have their way, both LSU and Florida State will stay on the Gators' schedule regardless of how many SEC games are on Florida's slate.
It's a good call by Muschamp and Foley because both games are big for the program, and big for the money pot. Anyone who knows anything about Florida football recognizes the bitterness and enthusiasm the Gators' rivalry with the Seminoles, which dates back to 1958, exudes.
"The Florida State game is very important to us," Foley said. "I don't see that changing."
[+] Enlarge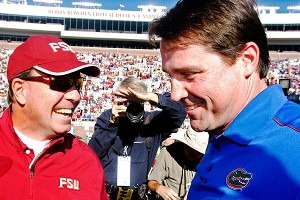 AP Photo/Phil SearsFSU's Jimbo Fisher (left) and Florida's Will Muschamp are good friends and have a lot in common, but this year they have seen their programs head in opposite directions.
Keeping Florida State on the schedule is a no-brainer for the Gators, but there has been plenty of talk about potentially ending the Florida-LSU series, especially from LSU's camp. This game has been played for 42 consecutive years, and the two became permanent cross-division opponents when the SEC split into divisions in 1992. But LSU coach Les Miles and athletic director Joe Alleva have been very public this week about getting rid of permanent crossover opponents.
Muschamp understands LSU's stance on moving from the current 6-1-1 format to a 6-2 format, which has two crossover rotators and no permanent opponent, but he believes this game is too important to scrap.
"It's a great game for our league," Muschamp said. "I've been on both sides of it as a coordinator and now as a head coach. It's a national game for our league.
"At the end of the day, a 6-2 format is probably the fairest format -- if you want to be honest -- but I do enjoy the rivalry."
Miles, whose Tigers already share a division with Alabama and Texas A&M, doesn't want to have to continue playing one of the East's top teams every year if other squads don't face similar challenges.
"I think you play your division, rotate two teams [from the other division]," Miles said. "Everybody in the country can honor and visually see that that's the honest, straightforward way to do it."
I understand where Miles is coming from. Alabama and Georgia are dealing with permanent opponents who have fallen in recent years, while LSU played 11-win teams in Florida and South Carolina last year, going 1-1 against them. This fall, the Tigers host Florida and play at Georgia, both of which will probably be top-10 teams entering the fall.
Alabama's East opponents are Kentucky and Tennessee (permanent), which both have new head coaches.
"I'm totally opposed to permanent opponents," Alleva said. "It has nothing to do with Florida. I think it's a competitive disadvantage to every team in the league to have a permanent opponent. I think they all should rotate. It's better for our fans, it's better for our players. We have players who never get to play against some SEC teams. So from a competitive standpoint, from a student-welfare standpoint, from our fans' standpoint I think we should just play six in our division and rotate the other two."
It's going to be tough for LSU to get rid of Florida because of other more historical crossover rivalries, such as Alabama-Tennessee and Georgia-Auburn. SEC commissioner Mike Slive has been adamant about not getting rid of those games and said a hybrid format with only some teams having permanent crossover opponents hasn't been discussed.
"The rivalry games are important," Slive said. "Otherwise I would have given you the [scheduling] format last Monday."
One rivalry the Gators aren't high on is the one against Miami. This fall, Florida will play Miami for the fifth time since 2002, but Foley doesn't consider the rivalry, which was hot before the 1990s, much of a priority -- especially if the SEC moves to nine conference games.
"You never say never, but that's not high on the agenda right now," Foley said. "For me to sit here and say, 'Well, we'll do that down the road,' there's too many unknowns in scheduling right now. If you're at nine conference games plus Florida State, I'd probably tell you it's unlikely. There's been no conversation between us and the University of Miami."
November, 27, 2012
11/27/12
10:07
AM ET
Florida coach Will Muschamp
received a one-year extension
back in August, meaning he will now be under contract through the 2017 season.
The Gainesville Sun originally reported Muschamp's extension, which is the second one-year extension Muschamp has received this year. He originally signed a five-year deal through 2015 back in 2011.
It says a lot about the faith that athletic director Jeremy Foley and president Bernie Machen had in Muschamp following his 7-6 debut as the Gators' coach in 2011.
"Dr. Machen and I believed in the leadership and direction of the football program this summer and we made a decision to extend Coach Muschamp's contract an additional year this past August, prior to the start of the season," Foley said.
"The financial terms are unchanged but he is now under contract for the University of Florida through the 2017 season."
That confidence certainly paid off, as Muschamp helped guide the Gators to an 11-1 season in his second year and has Florida poised to play in a BCS bowl game in January.
June, 6, 2012
6/06/12
5:41
PM ET
GAINESVILLE, Fla. -- Florida women's basketball coach Amanda Butler has gotten a two-year contract extension through the 2016-17 season, the school announced Wednesday.

Butler's contract was set to expire after the 2014-15 season.

"I like the direction our program is headed," UF athletics director Jeremy Foley said in a statement. "We know Amanda will be our coach for a long time. We're excited about the future of the Gator women's basketball program."

Butler -- who played at UF from 1990-94 -- is the only coach in program history to lead the Gators to the postseason in each of her first five seasons. That includes two trips to the NCAA Tournament in which the Gators lost in the second round to the eventual NCAA champion (Baylor in 2012 and UConn in 2009).

Butler's record in her five seasons at UF is 98-67. She went 40-22 in two seasons at Charlotte before being hired at Florida on April 13, 2007.

"To have the confidence that Jeremy has in my staff and me feels fantastic," Butler said in a statement. "It makes us even more excited about the future of the program and where it's headed. We're at the best university in the country under the best leadership in the country and to have their vote of confidence means everything."
May, 26, 2012
5/26/12
5:00
PM ET
GAINESVILLE, Fla. -- Florida women's golf coach Jan Dowling has resigned, the school announced Saturday. She had just completed her third season with the Gators and led UF to a 12th-place finish in the NCAA championships.

Dowling spent two seasons as an assistant coach at Kent State and one season as an assistant at Duke before being hired at Florida. According to UF, Dowling told athletics director Jeremy Foley of her decision on Friday but did not tell her team until after the completion of Saturday's NCAA championships.

"My decision was extremely difficult," Dowling said in a statement. "However, I have to make the right choices for my personal life, too. I will cherish my time at Florida and wish nothing but the very best for the future of the program and the entire athletic association."
May, 21, 2012
5/21/12
8:07
PM ET
GAINESVILLE, Fla. -- It was another sweep for Florida in the Halifax Media Group's Southeastern Conference All-Sports standings.

The Gators won the overall and men's and women's titles for the 12th time. The overall title was the 22nd for Florida, which remains the only school in the 12-team league to win all three titles in a single season.

"Claiming the SEC All-Sports title is something we take a lot of pride in," UF athletic director Jeremy Foley said. "The level of competition in the Southeastern Conference is so challenging, as so many league teams are among the top contenders for national titles. To win the trophy is a credit to the efforts of our coaches and their athletes."


February, 3, 2012
2/03/12
11:11
AM ET
Will Muschamp is a tell-it-like-it-is guy. Always has been and always will be.
So when he says he feels "leaps and bounds" better about the Florida football program than he did this time a year ago in the immediate aftermath of his first signing day as Head Gator, you know he means it.
[+] Enlarge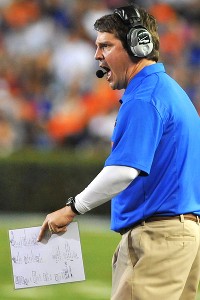 Al Messerschmidt/Getty ImagesFlorida coach Will Muschamp is excited about the team's latest recruiting class.
"The number one thing is that I have a better feel for our football team," Muschamp said. "We were a disconnected group this time last year. We were not on the same page. We were pulling in a lot of different directions. We lacked trust in the program. We lacked discipline in the program, and we were careful to make decisions for the long term.
"I've said this before and I'll say it again: We're building a program and not a team. We're building this for the long haul. We're building this into something that's going to withstand, and that's what I'm excited about. We're doing it the right way, and with this recruiting class, we certainly helped ourselves."
Even with the Gators' ho-hum 7-6 finish last year in Muschamp's first season, a sturdy foundation was laid.
In fact, one of Muschamp's best decisions might have come off the field, and it's a decision that sent a very pointed message to his players.
The Florida Way isn't just another catchy phrase.
Muschamp kicked his best player, All-SEC cornerback
Janoris Jenkins
, off the team prior to the season following Jenkins' second marijuana-related arrest.
Everybody sat up and took notice -- the Gators' current players, prospective recruits and certainly the parents of those prospective recruits.
November, 28, 2011
11/28/11
5:14
PM ET
GAINESVILLE, Fla. -- Here is Florida athletic director Jeremy Foley's statement regarding Ohio State's hire of former Florida coach Urban Meyer:

"We will always be indebted to Urban Meyer and his contributions to the University of Florida. He elevated our program, winning multiple national championships and made a strong impact in this community. Over the past 11 months, he has clearly had an opportunity to determine that now is the right time to return to coaching.

"He is good for college football and we knew he would return to the sidelines to coach again. We wish nothing but the best for him and his family as he embarks on a new chapter in his career."
College Football Minute
SEC SCOREBOARD
Thursday, 8/28
Saturday, 8/30
Sunday, 8/31