Florida Gators:

Jaye Howard
February, 20, 2014
2/20/14
11:00
AM ET
GAINESVILLE, Fla. -- Florida's Class of 2007 only won one national championship, but it stands alone as the single most talent-rich recruiting class in school history.
The list of NFL players is mind-boggling, but as part of our
week-long series
looking at Florida's five most impactful recruiting classes of the last decade, the focus is on college football.
With the 2006 national title under his belt, coach Urban Meyer was cooking with gas at Florida. His recruiting prowess was becoming the stuff of legends, and 2007 is a big piece of evidence to support that contention.
[+] Enlarge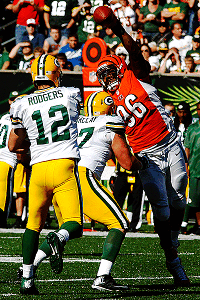 AP Photo/David KohlCarlos Dunlap (96) was one of the many members of Florida's 2007 recruiting class to find great success in the NFL.
ESPN ranked Florida's 2007 class
No. 2 in the nation
. It turned out to be an epic group that kept an already-elite program on top for a few more seasons.
The stars:
Where to begin?
Joe Haden
began his decorated college career with a bang, becoming the first true freshman in UF history to start a game at cornerback on opening day. The Pouncey twins,
Maurkice
and
Mike
, were stalwarts on the offensive line. Six-foot-6, 280-pound
Carlos Dunlap
was a monstrous presence at defensive end. Safety
Major Wright
started 33 of 41 games at free safety and wreaked havoc all over the field. And
Aaron Hernandez
was an exceptional playmaker at tight end and H-back. All six of these standouts played as true freshmen, and only Mike Pouncey stayed for his senior year, as the others jumped to the NFL.
The contributors:
Ball-hawking safety
Ahmad Black
had 13 career interceptions and was a leader on and off the field for Florida. Chaz Henry was UF's punter for four seasons and won the Ray Guy Award in 2010. Defensive linemen
Jaye Howard
,
Justin Trattou
and Duke Lemmens all made their marks as well. Running back
Chris Rainey
and wideout
Deonte Thompson
had their ups and downs at UF but were starters. Still, just seven of the 27 recruits in this class transferred away. So the majority of the class contributed to Florida's success.
The letdowns:
John Brown and Torrey Davis were among the top-ranked defensive tackles in the class -- Nos. 3 and 9, respectively -- but neither did much at Florida, and both transferred. John Brantley was the No. 4-rated quarterback in the Class of 2007 but had a largely undistinguished career at UF. Bo Williams, the No. 11 running back prospect, enrolled early but transferred after one year at UF. Two other highly rated prospects who struggled were guard James Wilson (injuries) and linebacker Lorenzo Edwards (ineffectiveness). Of the six Gators in this category, all but Edwards were among the top 106 recruits in the nation in 2007.
The results:
Florida went 26-2 from 2008-09, winning SEC and national titles in 2008 and recording the second unblemished regular season in school history in 2009. It was an incredible run of success fueled by some terrific talents. Florida had a nation's best nine players selected in the NFL draft in 2010, including three in the first round and a school-record six players in the first two rounds. Haden, Wright, Dunlap, Hernandez and both Pounceys have had great success in the NFL. Black, Howard and Rainey were also drafted. And Trattou, Henry and Thompson have spent time in the league.
The asterisk:
One more player deserves mention. The biggest star in Florida's recruiting class -- heck, the biggest star to emerge from the entire Class of 2007 -- was quarterback
Cam Newton
. He could qualify for all of the categories listed here. He contributed to UF as a backup to Tim Tebow. He was
reportedly caught cheating
and then
arrested and charged
with felony burglary, larceny and obstruction of justice. Newton was suspended by UF before transferring to junior college and ending up at Auburn, where he became a college football legend as a Heisman Trophy winner and a national champion. He's now an NFL superstar for the Carolina Panthers.
The other asterisk:
It wouldn't be a complete story to include Hernandez's accomplishments here without mentioning his long list of legal troubles. In 2013 he was
indicted by a grand jury
on a first-degree murder charge. Hernandez pled not guilty and faces life in prison without parole if convicted. The charges and other investigations he faces prompted the New England Patriots to release Hernandez. Back in Gainesville, the Gators
removed images of Hernandez
from their football facilities and a brick outside the stadium honoring his selection as a first-team All-American in 2009.
April, 30, 2012
4/30/12
10:15
AM ET
GAINESVILLE, Fla. -- Former Florida offensive lineman
Dan Wenger
announced via Twitter that he has been "given an opportunity" with the
New York Jets
.
Wenger, like all draft picks and undrafted free agents, will participate in a mini-camp held within 15 days of the NFL Draft. Wenger started 11 games in 2011 in his only season at Florida (he missed two games with an ankle injury). He transferred to UF from Notre Dame after the NCAA granted him a sixth year of eligibility because of two concussions he suffered early in the 2010 season.
Former UF quarterback John Brantley (
Baltimore Ravens
), receiver Deonte Thompson (Ravens) and defensive end
William Green
(
Cleveland Browns
) also will participate in mini-camps, as will draft picks
Jaye Howard
(Seattle, fourth round) and
Chris Rainey
(Pittsburgh, fifth round).
April, 28, 2012
4/28/12
8:15
PM ET
GAINESVILLE, Fla. -- Florida had just two players drafted over the past three days: defensive tackle
Jaye Howard
(fourth round, Seattle) and running back
Chris Rainey
(fifth round, Pittsburgh). Here are some numbers and stats to put that into perspective:
The Gators have had fewer than three players drafted in one year just five times since 1980: 2012, 2008, 1993, 1982 and 1980.
UF has had at least one player drafted in the first three rounds for the past 18 seasons. The last time UF didn't have at least one player taken in the top three rounds was 1993 (Lawrence Hatch was a sixth-round pick by New England, and Will White was a seventh-round pick by Phoenix).
Florida's streak of consecutive years with at least one first-round selection ends at five. Entering the draft, it was the longest active streak in the nation.
April, 28, 2012
4/28/12
2:31
PM ET
GAINESVILLE, Fla. --
Jaye Howard
finally played with the consistency his coaches wanted, and it got him drafted higher than many projected.
The Seattle Seahawks selected the former Florida defensive tackle in the fourth round (114th pick overall) on Saturday, making Howard the first Gators player taken in the NFL draft. It is the latest round in which the first UF player has been drafted since 1993, when defensive back Lawrence Hatch was selected in the sixth round by New England.
"Congrats to Jaye," UF coach Will Muschamp said on Twitter. "He worked very hard this year to put himself in this position."
March, 13, 2012
3/13/12
4:38
PM ET
GAINESVILLE, Fla. -- It's definitely not a good sign about Florida's NFL Draft prospects when there's significantly more talent watching the pro scout day workouts than participating in them.
Quarterback John Brantley, running back
Chris Rainey
, defensive tackle
Jaye Howard
, and receiver Deonte Thompson worked out in front of NFL scouts from 24 teams and one head coach -- Jacksonville's Mike Mularkey -- on Tuesday morning at Florida Field. None of those players are projected any higher than mid- to late-round selections, which would snap the school's five-year streak of having at least one player taken in the first round.
Contrast that with the talented group of former UF players who watched the workouts. There were four first-round picks -- Maurkice and Mike Pouncey, Travis Taylor, and Percy Harvin -- and four others who were taken in the seventh round or higher: Terry Jackson (fifth), Riley Cooper (fifth) and Kerwin Bell (seventh). Mularkey was a ninth-round pick.
"We need more guys out there in position to be drafted," UF coach Will Muschamp said. "That's pretty evident as you go through our last two pro days.
"We need to do a better job recruiting. We need to do a better job evaluating. We need to do a better job of developing our players and coaching. Bottom line."
Rainey ran a 4.38 in the 40 0n Tuesday. His biggest goal was to prove to the scouts that he can catch the ball out of the backfield. As to where the 5-foot-9, 180-pound athlete fits on the next level, he said he's basically a smaller Harvin clone. He can play receiver or running back, return kicks and punts, and play on kick or punt block units.
"My goal is to confuse the scouts and they do the rest [in figuring out where he should play]," said Rainey, who finished his career with 3,948 all-purpose yards and 21 touchdowns. "If you're going to be a playmaker on the field, that's all that matters."
March, 12, 2012
3/12/12
4:38
PM ET
[+] Enlarge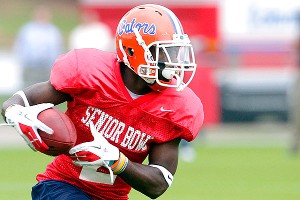 Cliff Welch/Icon SMIChris Rainey's versatility, as a runner, receiver and returner, is one of his most attractive qualities.
GAINESVILLE, Fla. -- Florida's pro day should be a low-key affair Tuesday morning at Ben Hill Griffin Stadium, at least compared to the hoopla surrounding this same event two years ago.
This year the NFL Network won't be on hand for a live broadcast, nor are hoards of NFL head coaches and general managers expected to make the trip, as they did to watch Tim Tebow in 2010. The event is open at 10:30 a.m. ET to the public, but it's doubtful there will be a large number of fans with homemade signs directing their favorite team to draft a certain popular Gator.
No, Tuesday's pro day will feature just two prospects who were invited to the recent NFL draft scouting combine and a host of other former Gators, some who ran out of college eligibility with Tebow in 2009.
It's safe to predict Florida's streak of five straight years with at least one first-round selection will come to an end this April. Former Gator cornerback
Janoris Jenkins
, however, could be picked on the first night.
The highest rated ex-Gator slated to work out in front of NFL scouts at Tuesday's UF pro day is running back
Chris Rainey
, whose speed could make him a mid-round selection. Rainey has a Scouts grade of 69 and is rated the No. 9 running back available. He led the entire combine field in the three-cone drill (6.50 seconds) and led all running back prospects in the 60-yard shuttle (11.06 seconds) and 20-yard shuttle (3.93 seconds). His 4.45 in the 40-yard dash tied for second among all running backs, but Rainey will look to improve upon that and perhaps give himself a shot at being picked in the third round.
February, 7, 2012
2/07/12
11:35
PM ET
GAINESVILLE, Fla. -- Florida's recent struggles on the football field can be seen in its dearth of NFL prospects this spring. Just three Gators were invited to the NFL Scouting Combine, Feb. 22-28 at Lucas Oil Stadium in Indianapolis. Defensive tackle
Jaye Howard
will be joined by running backs
Chris Rainey
and
Jeff Demps
.
Howard, who is 6-foot-3, 292 pounds and has experience at defensive end and tackle, may be Florida's top prospect.
Rainey, who stands to gain the most with a fast time in the 40-yard dash, recently promised as much. At the Senior Bowl last month, he told ESPN's GatorNation he had been training in Orlando and honing his 40 time.
"My goal is a 4.1, so y'all be looking out for it," Rainey said.
January, 4, 2012
1/04/12
6:23
PM ET
GAINESVILLE, Fla. -- Florida defensive tackle Jaye Howard and running back Chris Rainey have been selected to play in the Senior Bowl.

The game will be played Jan. 28 in Mobile, Ala., but it's the week of practice that leads up to the game at Ladd-Peebles Stadium that is most important. Scouts, coaches and general managers from all 32 NFL teams pack the practices to evaluate prospects. Most depart Mobile by the end of the week and very few stay for the game, which will be televised on NFL Network. The practices also will be televised on NFL Network.

A good week would help the two prospects rise up teams' draft boards heading into the NFL Scouting Combine Feb. 22-28. ESPN Scouts Inc., ranks Rainey (5-foot-9, 174 pounds) as the No. 14 running back -- teammate Jeff Demps, who is not participating in the Senior Bowl, is 11th -- while Howard (6-3, 303) is ranked No. 25 among defensive tackles.

Rainey finished his career eighth on UF's career rushing list with 2,464 yards. He also amassed 3,948 all-purpose yards and scored 21 touchdowns. Howard finished his career with 131 tackles and 11.0 sacks.

"I want to prove that I'm one of the elite defenders in this class this year, and it's a business trip for me," Howard said.
December, 29, 2011
12/29/11
5:15
PM ET
JACKSONVILLE, Fla. -- With Florida on pace to end up with the fewest forced turnovers in program history, all the attention is rightly on why the Gators couldn't force more and what they can do to improve in that area in 2012.

Nearly overlooked, however, is the fact that the Gators have been very good at capitalizing when they do force a turnover. Which drives the point home about the importance of getting turnovers.

UF forced only 12 turnovers (16 in 1950 is the fewest) and scored points off all but two: seven touchdowns, three field goals, one punt and one end-of-game situation. That's 58 points, including a pair of interception returns for touchdowns against Furman.


December, 27, 2011
12/27/11
8:08
PM ET
It was a rough first year for Will Muschamp in Gainesville, but he did pass his first year with the Gators:
OFFENSE: F

A year removed from the offensive disaster that was 2010, immediate improvement was expected. With Charlie Weis and his pro-style offense coming in, quarterback
John Brantley
was expected to rebound after his first year as the Gators' starter. There was just no way things could get worse for this offense. Florida was near the top of the SEC in offense after the first four games, and had a star in running back
Chris Rainey
, but after getting blasted at home by Alabama everything changed. Brantley was sidelined for two games after going down with an ankle injury before halftime, and undersized Rainey and
Jeff Demps
just couldn't get going against SEC defenses. The offense completely fell apart. Starting a young, very thin offensive line, the offense averaged less than 300 yards in eight league games. Florida relied on true freshmen quarterbacks
Jacoby Brissett
and
Jeff Driskel
while Brantley was down, but experience was all Florida got from them. Florida also had no consistent receivers and Weis bolted for Kansas after the season, leaving Florida with an offense that's No. 101 nationally.
December, 5, 2011
12/05/11
6:00
PM ET
GAINESVILLE, Fla. -- Florida didn't get shut out on the Associated Press' All-Southeastern Conference team that was released Monday afternoon, but the Gators came pretty close -- and could be headed to their worst showing in more than 60 years.
UF had just one representative on the first or second teams: kicker Caleb Sturgis, who was a first-team selection. If the same holds true when the coaches' team is released on Tuesday, it'll be the first time since 1948 the Gators haven't had at least two players honored as either first- or second-team selections by either the AP or the league's coaches. Chuck Hunsinger was the only UF player honored in '48. He was a first-team selection.
Sturgis leads the SEC with 21 field goals, and three of his four misses were from 49 yards or longer. Only one of his 53 kickoffs went out of bounds, and nine were touchbacks.
UF defensive tackle Jaye Howard earned honorable-mention honors, which means he was on at least one ballot.
For comparison, LSU had 11 players named to the first and second teams, including the league's Defensive Player of the Year Tyrann Mathieu. Alabama had eight players honored, including Offensive Player of the Year
Trent Richardson
.
November, 25, 2011
11/25/11
11:00
AM ET
For Florida senior defensive tackle Jaye Howard, he wouldn't change much about his time in Gainesville.
While his final year hasn't been great, considering the Gators' 6-5 record heading into Saturday's game with Florida State, he says he's grown more as a person and a player in this one year than any of the years prior.
[+] Enlarge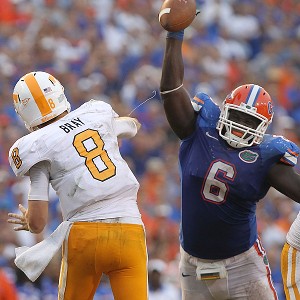 Kim Klement/US PresswireGators defensive tackle Jaye Howard, 6, is third on the team with 55 tackles, including 6.5 for loss and three sacks.
Howard has been one of Florida's most consistent defensive linemen and is third on the team with 55 tackles, including 6.5 for loss and three sacks. He was also considered to be a top defensive tackle draft prospect for next year's NFL draft before the season.
ESPN.com spoke to Howard to discuss is final year, the Gators' struggles and his career at Florida.
Edward Aschoff:
How many emotions will be running through you this weekend in the Swamp with this being your last game and it coming against a rival like Florida State?
Jaye Howard:
It's huge. At this point, I can say that I don't like them. But it really hasn't hit me. Honestly, it won't hit me until I hear my name called on senior day. It's going to be very emotional, man. I just want to get a win for this program and for my senior class.
How important has this game been for you every year since you've been at Florida?
Very important. It's always been a big one for me personally. Now, I have to go out there and play well in order to solidify myself for the next level.
Speaking of solidifying yourself for the next level, earlier in the season you said you were playing the best football of your career. Now that the season is almost over, where do you think you are?
This has been the best year of me being a Gator. The coaches have taught me a lot. Right now, I feel like when I'm out on the field I can play with anyone.
Stats are something that a lot of people harp on, but what do you think is the most impressive part of your game?
I still have a motor. I play hard every play that I'm out there. I play hard and I cause havoc. I haven't put up big numbers as far as having sacks, or TFLs, but I've been causing havoc for offenses.
You said you've learned so much this year. What specifically have you learned from your new coaches?
The technique, man. The technique has been awesome to learn. Both coach Dan Quinn (defensive coordinator) and Bryant Young (defensive line coach) have taught me exactly what it takes to be effective.
Considering what this season has been like, how tough has this year been for you as a senior?
It's been tough, but I try not to think about that. I try to go out there and win every week. Things haven't gone as planned, but I know it's a rebuilding year and these guys are going to be great for years to come.
Even with the struggles, do you still feel like this is one of the closest teams you've been on during your time at Florida?
Yeah, no question. When teams go through tough times, teams get divided, and we haven't been divided. We've stuck together and we've been through the fire. My teammates have the utmost respect from me. A lot of teams would have already broken down.
Going back to your last game in the Swamp, what were some of your favorite memories there?
My first memory was my freshman year, coming out of the tunnel; I got trampled coming out. I can't even remember who trampled me, it happened so fast, but I managed to get up before anyone saw me fall. My favorite memory is probably the 2009 Tennessee game. I made a bet with (former defensive end) Carlos Dunlap that if I made a big play I'd do the Daunte Culpepper (celebration), the "Roll on." I made a big play against Tennessee and "rolled" for about 15 yards and got a penalty and got pulled out of the game.
Was it worth it?
Yeah.
So how would you sum up your career at Florida? You started off as a defensive end, now you're a defensive tackle. You have some good times and down ones. It sounds like it's been a wild ride.
Yeah, it has been. I came in as a defensive end, undersized, and blossomed and turned into a defensive tackle. It's been good, man. I have no regrets about coming to the University of Florida and everything works out for the best.
November, 23, 2011
11/23/11
3:59
PM ET
Quietly, Florida and Florida State will get together inside the Swamp Saturday.
For a rivalry that gained national notoriety during the 1990s and grabbed headlines with the Gators' tremendous runs under former coach Urban Meyer, there hasn't been much -- if any -- excitement around this game.
Outside of northern Florida, you aren't likely to hear much talk about two unranked teams that have a combined 13-9 record.
This once proud rivalry is taking a back seat to the rest of the college football rivalries this weekend.
And it really isn't a surprise considering Florida has its first losing record against conference opponents since 1986 and the Seminoles went from national title contenders to not making it to the ACC championship game.
Still, those on Florida's side insist that this game means a lot to the season and the program.
[+] Enlarge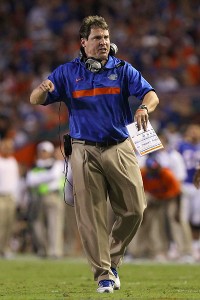 Kim Klement/US PresswireWill Muschamp's Gators are fired up to face Florida State on Saturday.
Like the rivalry, Florida was once in the national spotlight, but is now treading water in an average SEC East. But that mess doesn't matter Saturday. Florida can add a much-needed positive with a win over its archrival, and the same can be said for Florida State.
"It's real big," senior defensive tackle Jaye Howard said.
"It's a battle of respect. The whole year we can talk about how we beat Florida State. We're just playing for pride and it's a big win for our program."
It's big for the program because in a season of misery, it would provide some hope for the future. Five losses will sting, but seeing a win against Florida State could cure everything heading into the offseason. It could provide a spark and momentum for this team heading into Will Muschamp's second year.
Florida's coach, and even the players, have preached that they entertain each opponent as a nameless, faceless adversary. Things are different in rivalry games. They're different to the fans and they should be different to those inside the football program.
Muschamp, who hasn't had the same public excitement toward rivalry games like Meyer did at Florida, has just one win over Florida's major rivals. That came in Week 3 when Florida beat Tennessee 33-23.
Since then, Florida has won just two more SEC games against Kentucky and Vanderbilt.
"This is a huge game," Muschamp said. "There's no question about that."
At the beginning of the week, Muschamp described a win over Florida State as a "shot in the arm" for the team. It would boost Florida as it heads into bowl preparation and it would ensure that Muschamp's first season wouldn't end with a losing record.
Maybe it even gives Florida some recruiting momentum. While Muschamp insists that the outcomes of games don't immediately have an impact on recruits, seeing a "W" at the end of the schedule is always a plus for recruits.
More importantly, the psyche of Florida's players will be altered by Saturday's outcome. The entire state watches this game.
A lot of the players know people from both sidelines and major bragging rights are on the line. This might not have the national flavor that it once did, but it still means a lot to the players who must go home and face friends and family wearing the opposite color combination.
"There's nothing like beating Florida State," Howard said. "We can brag about it for a whole year."
And Muschamp can brag about it too. He won't publicly, but when he gets home and finds that time to relax, he can sit back and see that he's 1-0 in this rivalry. Maybe he'll even joke with Florida State coach Jimbo Fisher, who happens to be a good friend and owns a beach house with him, about it.
For now, Muschamp won't worry about how he'll react to a win or loss. He's more concerned about sending his players out the right way.
"I don't worry about me. I worry about the players and our program," he said. "That's about all I worry about. I'll be fine."
He'll be even better with a win Saturday.
McElwain discusses new Florida football
SEC SCOREBOARD
Thursday, 9/3
Saturday, 9/5