Florida Gators:

Gerald Christian
February, 18, 2014
2/18/14
11:00
AM ET
GAINESVILLE, Fla. -- Urban Meyer's last complete recruiting cycle at Florida, the Class of 2010, was astounding on paper.
On the field, it hasn't quite lived up to such lofty billing.
The Gators signed 27 recruits in 2010, a class that
ranked No. 1 in the nation
. Seventeen players were among the top 150 prospects in the nation, 14 in the top 81.
[+] Enlarge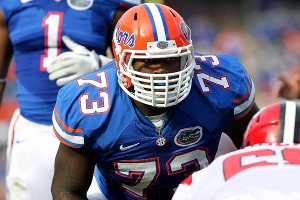 Kim Klement/USA TODAY SportsSharrif Floyd was one of too few gems to come out of Florida's top-ranked 2010 recruiting class.
Much was expected of such an impressive array of top-rated players, but instead of playing for championships, this class became better known for falling short of those goals.
Still, the class produced a few obvious stars and a sizable group of starters and role players. It clocks in at No. 4 in
our weeklong series
looking at Florida's most impactful recruiting classes in the last decade.
The stars:
Defensive linemen
Dominique Easley
and
Sharrif Floyd
and safety
Matt Elam
were rated among the top 25 prospects in the nation and lived up to the hype at Florida. Floyd and Easley quickly proved to be dominant forces at defensive tackle, and Elam showed elite instincts as a playmaker in center field. Floyd and Elam were first-round picks in the 2013 NFL draft. Easley has suffered some setbacks with two torn ACLs and chose to forgo a fifth season of eligibility at Florida to enter the NFL draft this May.
The contributors:
Ten players rode out the transition from Meyer to Will Muschamp to make their mark as starters. Several others found useful roles. Defensive back
Jaylen Watkins
and wide receivers
Solomon Patton
and
Trey Burton
all avoided redshirts, grew into starting roles and made significant contributions on and off the field. WR
Quinton Dunbar
, OL
Chaz Green
, DT
Leon Orr
and LBs
Michael Taylor
and
Neiron Ball
return as likely starters in 2014.
The letdowns:
One could argue that
Ronald Powell
belongs in this group because he was the No. 1 overall prospect in the Class of 2010 and was expected to be a star. In four years he overcame two ACL surgeries on the same knee, had a fantastic attitude and was productive when he was on the field. It's easier to look for letdowns among the 11 players in this class who transferred. Safety
Jonathan Dowling
, the No. 10 overall recruit in the nation, transferred after he was dismissed for violating team rules.
Josh Shaw
, the No. 3-ranked cornerback prospect, started out well at UF but transferred closer to home in the Los Angeles area and has played well for USC.
Gerald Christian
(No. 2 TE prospect in 2010) and
Chris Dunkley
(No. 7 WR) were two other high-profile transfers. QB
Tyler Murphy
, CB
Cody Riggs
and OL
Ian Silberman
recently transferred after spending their first four years at Florida.
The results:
When crowning Florida's 2010 recruiting class as No. 1 in the nation, ESPN called it one of the best classes ever. Everything clicked in 2012, when the Gators went 11-1 in the regular season and played in the Sugar Bowl. But sandwiched around that were 7-5, 6-6 and 4-8 regular-season records in 2010, 2011 and 2013. The class produced two high draft picks in Floyd and Elam. Easley is likely to be a second-rounder this spring, and Watkins could go anywhere from the second through fourth rounds. But after those four, there aren't any sure bets in the NFL. That's surprising for a class that was so highly touted.
January, 29, 2014
1/29/14
11:00
AM ET
GAINESVILLE, Fla. -- Every year on signing day, Florida coach Will Muschamp takes a moment to throw a jab at the media.
The circus surrounding college football recruiting has grown to epic proportions, and he clearly bristles at the thought of ranking classes or players before they don cleats.
"You judge a recruiting class after it's been on your campus for two or three years," he's said. "Everybody wants to judge it in February and rank them and say this class is great. That's ridiculous to be able to rank a class in February when these guys haven't even stepped on campus yet and been through a spring practice and been in fall camp.
"I've been around a lot of guys who were two-stars who ended up playing in the NFL for a really long time. They were really good players. And I've been around some five-stars who couldn't play."
With that sentiment and the passage of four years, we review Florida's 2010 class.
It ranked No. 1 in the nation with four five-star players, 15 four-star recruits and 17 players from the ESPN 150 (including 11 of the top 50). ESPN called it "simply one of the best classes ever."
The stars
[+] Enlarge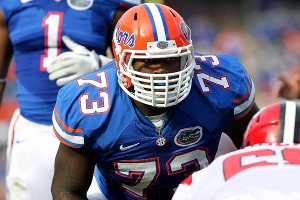 Kim Klement/USA TODAY SportsSharrif Floyd became everything the Gators hoped he would when they signed him in 2010 and was Minnesota's first-round pick in 2013.
Sharrif Floyd (No. 3 DT prospect in the nation):
He just about embodied the blueprint for how you'd like a top prospect to go through school. Floyd grew into a dominant force in the middle for Florida, was a leader and became a first-round NFL draft pick after his third season.
Matt Elam (No. 2 ATH):
Like Floyd, Elam played right away and became a team leader at safety for the Gators, starting every game of his final two seasons. And like Floyd, Elam was a first-round pick after three years in college.
Dominique Easley (No. 1 DT):
Easley's flame burned bright on and off the field. His magnetic personality made him a team focal point right away, and his ability to torment offensive linemen made him a standout on the field. If it weren't for two surgeries on torn ACLs in each knee, Easley would be a lock for the first round of the NFL draft this May.
The contributors
Ronald Powell (No. 1 ATH):
The No. 1 overall player in the country, Powell was the headliner for Florida's vaunted class. But he never truly lived up to the hype, compiling modest stats and suffering two torn ACLs in the same knee. After a healthy season as a fourth-year junior, Powell hopes to be picked in the middle rounds of the upcoming NFL draft.
Mack Brown (No. 4 RB):
He was supposed to be the first premier running back then-coach Urban Meyer had ever recruited, but it took Brown time to adjust to the college game. He finally contributed as a junior and will be a key reserve in 2014.
Chaz Green (No. 4 OT):
Started nine games as a redshirt freshman and 10 games as a sophomore before missing last season to injury. He's expected to be a key member of UF's O-line in 2014.
Jaylen Watkins (No. 5 CB):
He never got the hype of some teammates, but Watkins quietly had a solid career at UF. He started 28 of 48 games played in four seasons at cornerback and safety.
Cody Riggs (No. 7 CB):
Like Watkins, Riggs has proven to be a versatile member of the Gators secondary. After redshirting the 2012 season due to injury, he'll be back as a senior this fall.
Leon Orr (No. 8 DT):
Returns for his senior season after finally breaking through as a starter last season.
Michael Taylor (No. 12 OLB):
Became a starter in 2013 after two seasons as a backup. He'll return for his final year.
[+] Enlarge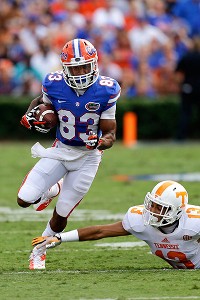 AP Photo/John RaouxIt took time for him to develop but WR Solomon Patton made an impact in his senior season.
Solomon Patton (No. 17 WR):
Had a standout senior season after toiling in anonymity the previous three.
Gideon Ajagbe (No. 23 OLB):
Never a factor at linebacker, he finally saw action last season after switching to fullback.
Neiron Ball (No. 28 OLB):
A quiet contributor, he made seven of his nine career starts in 2013 and will be counted on this fall.
Trey Burton (No. 30 ATH):
Played every skill position on offense during his four seasons and was a consummate leader.
Quinton Dunbar (No. 42 WR):
Has been a solid starter for most of the last two seasons and looks to do the same as a senior.
Darrin Kitchens (unranked LB):
Was a valuable reserve for the last four years.
The transfers
Jonathan Dowling (No. 1 S):
Was kicked off the team and transferred to Western Kentucky, where he became a two-time first-team All-Sun Belt selection. He's skipping his senior year to enter the NFL draft.
Josh Shaw (No. 3 CB):
Played in 10 games with one start as a redshirt freshman before transferring to USC. He emerged last season, finishing third on the Trojans with 67 tackles and four interceptions.
Gerald Christian (No. 2 TE):
Played eight games for UF after redshirting, then transferred to Louisville and caught 26 passes for 401 yards and four TDs last fall.
Chris Dunkley (No. 7 WR):
Redshirted, then transferred to USF. He finally got playing time in four games last fall after being plagued by suspensions.
Ian Silberman (No. 3 OT):
Never rose above the level of reserve in three seasons at UF. He graduated in four years and transferred to Boston College.
Chris Martin (No. 10 DE):
After an arrest for marijuana possession, he transferred to two junior colleges, then transferred to Kansas and was dismissed after an arrest for an alleged robbery.
Jordan Haden (No. 44 S):
Enrolled early but transferred before his first season. Haden has played the last two seasons for Toledo.
Robert Clark (No. 48 CB):
Played two seasons before transferring to Louisville, where he caught 23 passes for 209 yards and one touchdown in 2013.
Tyler Murphy (No. 54 ATH):
Started six games at QB as a junior in 2013, graduated, then transferred to Boston College for his final season.
Lynden Trail (No. 63 DE):
Redshirted and saw no action in 2011 before transferring to Norfolk State.
Michael McFarland (unranked TE):
Redshirted, then transferred to USF, where he's worked his way up the depth chart. Was second on the team with 23 catches for 288 yards and two TDs in 2013.
December, 2, 2012
12/02/12
8:53
PM ET
GAINESVILLE, Fla. -- Florida's return to a BCS bowl comes against some familiar faces.
When No. 3 UF (11-1) plays Louisville (10-2) in the Allstate Sugar Bowl on Jan. 2, the Gators will be facing three former coaches and three former players -- including former defensive coordinator Charlie Strong, who is finishing his third season as head coach of the Cardinals.
Florida will be making its ninth appearance in the Sugar Bowl and first since 2010. The Gators are 3-5 in their previous appearances, with victories over West Virginia (1994), Florida State (1997) and Cincinnati (2010).
The Gators have reached a bowl game in 22 consecutive seasons, which is the longest active streak in the SEC.
UF is 2-0 against Louisville, winning 13-0 in 1980 and 31-17 in 1992.
Strong was UF's defensive coordinator twice, from 2003-09 and from 1991-94, and he had two other stints in Gainesville (1988-89 and 1983-84). Strong was a huge part of UF's two national titles under coach Urban Meyer. UF smothered Ohio State in the 2007 BCS National Championship Game, holding the Buckeyes to just 82 yards in a 41-14 victory. In the 2008 title game, Strong's defense held Oklahoma, which averaged 54.0 points per game and had scored a Football Bowl Subdivision record 702 points, to just 14 points.
In addition, two other former UF coaches are members of Strong's staff: running backs coach/special teams coordinator Kenny Carter and defensive coordinator Vance Bedford. Both were members of Meyer's staff in 2008-09.
The Cardinals also have three former UF players on the roster. WR
Robert Clark
and TE
Gerald Christian
left UF in October 2011 before transferring to Louisville. CB
Adrian Bushell
left for Cedar Valley junior college following the 2009 season and transferred to Louisville in 2011.
July, 25, 2012
7/25/12
10:59
AM ET
GAINESVILLE, Fla. -- Neither
Jeff Driskel
nor
Jacoby Brissett
was able to separate himself from the other during spring practice and summer workouts, so Florida's quarterback situation is still unsettled heading into the first day of practice Aug. 4.
As a primer, GatorNation is taking a look at each player's resume. What they did in high school doesn't matter. Neither does what they did in the spring game, either, because it was under controlled conditions and against watered-down defenses. The only evidence is what they did last season in limited playing time.
Neither put up decent numbers, but both were thrown into tough situations because of injuries to starter John Brantley.
[+] Enlarge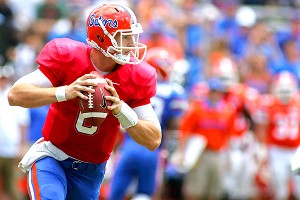 Phil Sears/US PresswireQuarterback Jeff Driskel was the No. 1 quarterback in the nation for the recruiting class of 2011.
Today we'll take a detailed look at Driskel's play in 2011. On Thursday we'll look at Brissett.
Jeff Driskel
Driskel played in five games and completed 16 of 34 passes for 148 yards and two interceptions. We broke the stats down from the 17 drives in which he either threw a pass or carried the ball. In those 17 drives, the Gators managed just 21 first downs, scored only 10 points, and turned the ball over four times. Driskel accounted for three of those (two interceptions and a fumble).
Here's a look at his game-by-game stats in those 17 drives. (Note: To make this easier to read, not every play in the drive is listed.)
July, 4, 2012
7/04/12
8:00
AM ET
ESPN's GatorNation brings you the 30 things you need to know about Florida's upcoming 2012 season. For 30 weekdays we'll preview games, talk about trends, spotlight players and positions, and give you pretty much everything you need to know to be ready for the season before the Sept. 1 opener against Bowling Green.
GAINESVILLE, Fla. -- Florida is one of only five SEC programs to make the top 25 in ESPN's team recruiting rankings in each of the past five seasons.
In fact, the Gators finished in the top five in four of those five years. But somehow that hasn't translated to consistent on-field success.
Florida lost just two games combined in 2008 and 2009, but very few of the members of those signing classes contributed significantly -- which shows how good UF's roster was in those two seasons. Since then, however, the Gators are a combined 15-11, and while some of those highly touted signees have turned into very good players, UF has slipped from its spot among the national elite.
But things are looking brighter entering 2012. The core of this year's team is comprised of members of the 2009 and 2010 classes, and several members of the 2011 class appear to be ready to become significant contributors or are on the verge of being elite players.
Here's a look at those signing classes (see chart below):
November, 29, 2011
11/29/11
4:33
PM ET
GAINESVILLE, Fla. -- Safety Josh Shaw and defensive end Lynden Trail are leaving the Florida program, which brings the total number of players to leave the program since coach Will Muschamp was hired to 11.

Shaw is a redshirt freshman who has played in 11 games in his career. He missed the Furman game earlier this month because he went home to Palmdale, Calif., to be with his ailing grandfather.

"I enjoyed my time at Florida but I feel like I need to be closer to my family right now," Shaw said in a statement. "This is not a football decision, this is a family decision. I need to be with my family."

Trail is a redshirt freshman from Miami who has yet to play in a game.

"We wish Lynden and Josh the best of luck in the future and we certainly appreciate their contributions to the football program," UF coach Will Muschamp said in a statement.

Florida now has 70 players on scholarship, which includes the four walk-ons awarded scholarships before the season began. The Gators will lose nine scholarship seniors and redshirt junior offensive lineman David Young, who decided to forgo his senior season, which means the Gators will go into the off-season with 60 players on scholarship -- well below the NCAA maximum of 85.

Of the 11 players who have left the program since Muschamp's hiring, only cornerback Janoris Jenkins was anything more than a little-used reserve. Muschamp dismissed Jenkins, who is a potential first-round NFL Draft pick, after his third arrest in 23 months (two for marijuana). He is now at North Alabama.

In addition to Trail and Shaw, three other players have left the program this season: redshirt sophomore linebacker Dee Finley, sophomore receiver Robert Clark and sophomore tight end Gerald Christian.

The other five players who left the program did so between January and the start of the 2011 season: running back Mike Blakely, receiver Chris Dunkley, tight end Michael McFarland, defensive end Chris Martin and receiver Javares McRoy.
McElwain discusses new Florida football
SEC SCOREBOARD
Thursday, 9/3
Saturday, 9/5