Florida Gators:

Devonta Freeman
November, 30, 2013
11/30/13
7:00
AM ET
GAINESVILLE, Fla. -- Here are five things to watch as the
Florida Gators
(4-7, 3-5 in the Southeastern Conference) play host to the
Florida State Seminoles
(11-0, 8-0 in the Atlantic Coast Conference) on Saturday at noon ET (ESPN) in the final game of the regular season.


1. Stopping Jameis:
Florida's defense has gradually gotten worse with almost every passing week during a six-game losing streak. The Gators gave up 429 yards to FCS Georgia Southern last week, and while those yards were all on the ground, simply getting stops has become an issue. Injuries have continued to pile up, and the timing couldn't be worse with Heisman Trophy candidate
Jameis Winston
in town. The Seminoles are a juggernaut on offense, having already scored a school- and ACC-record 607 points this season. Winston leads the nation in passing efficiency, has thrown the third-most TD passes (32) and is second in the nation in yards per attempt (11.1). "He can make all the throws and he does make all the throws," UF defensive coordinator D.J. Durkin said. "He's got great confidence in his arm and you can understand why. It'll be our biggest challenge of the year."
2. Stopping the FSU running game:
The Gators know Winston will be a handful, but it would be wise not to overlook the Seminoles' ground game. FSU actually runs (399 attempts) more than it passes (344). The Noles will look to challenge that suddenly suspect Florida run defense. FSU junior tailback
Devonta Freeman
has 808 yards (6.2 yards per carry) this season and appears on his way to being the Seminoles' first 1,000-yard rusher since Warrick Dunn in 1996.
James Wilder Jr.
also has been coming on strong after missing FSU's game against NC State with a concussion. Wilder has run for six touchdowns and 285 yards on 22 carries (13.0 YPC) in his last four games.
3. Florida's quarterback:
For the third week in a row, the Gators are preparing redshirt freshman QB
Skyler Mornhinweg
to play. Junior
Tyler Murphy
, who is listed as questionable, has thrown some passes in practice the last couple of weeks, but is clearly still feeling the effects of a sprained AC joint in his right shoulder. The problem for Florida is the limitations Mornhinweg presents to an already foundering offense. If he makes his third career start, there might not be much that can be expected in the way of sudden improvement in Mornhinweg's arm strength or decision-making. He did, however, direct a pass-heavy two-minute offense in the fourth quarter of last week's loss to GSU. Perhaps with nothing to lose in the season finale, the UF coaching staff will allow the Gators quarterback -- whoever it is -- to take some shots down the field.
4. Can the Gators score any points?
With Mornhinweg likely at the helm and the Gators' kicking game a season-long sore spot, there is a real possibility Florida could be held off the scoreboard. Factor in a Seminoles defense that is hungry for revenge after being gutted in last season's 37-26 home loss to Florida, and this game could be a feeding frenzy. FSU has the nation's No. 2 pass defense and leads the nation in interceptions with 23. As it did last year, Florida State has one of the nation's best run defenses, allowing just four rushing TDs in 11 games this season. Florida's beleaguered offensive line expects to have its hands full up the middle against defensive tackle
Timmy Jernigan
, who has 43 tackles, 10.5 tackles for loss and 4.5 sacks.
5. Familiar faces:
One of the reasons this series, which UF leads 34-21-2, is so special is the familiarity of most of the players. There are 36 players on both sidelines who were once high school teammates. FSU has 93 players from the state of Florida on its roster. Florida has 83. Many of these players knocked helmets in high school grudge matches, so the old adage that familiarity breeds contempt is certainly fitting. For the head coaches, however, it's done nothing of the sort. Florida's Will Muschamp and his FSU counterpart, Jimbo Fisher, remain close friends after first working together under Auburn coach Terry Bowden in the mid-90s and again under LSU coach Nick Saban. They even share a beach house in Panama City, Fla. Bragging rights are on the line on Saturday, as their head-to-head record is 1-1.
November, 29, 2013
11/29/13
11:30
AM ET
TALLAHASSEE, Fla. — For the past two weeks, all the rumors and accusations and lawyers and headlines disappeared as soon as
Jameis Winston
trotted through the tunnel and bursted onto the field at Doak Campbell Stadium, as 70,000 of his most ardent supporters roared their approval.
On the field, life is still normal, and that's provided some solace as the Florida State quarterback deals with the ongoing legal drama of a sexual assault case in which he's been named a suspect but has not been charged.
[+] Enlarge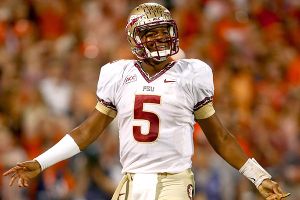 Streeter Lecka/Getty ImagesJameis Winston knows he's likely to be a focal point of taunts from Florida Gators fans.
"The football field is our sanctuary," Winston said.
But as the field in Tallahassee offered shelter on each of the past two Saturdays, it's more likely to be the eye of the storm this week when Florida State travels to Gainesville to take on rival Florida.
The Gators (4-7) have little left to play for, but that doesn't mean their fans are likely to be any more forgiving when Winston leads the Seminoles onto the field. Gone will be the rousing ovations Winston received against Syracuse and Idaho the past two weeks. For vocal Florida fans, he'll be a lightning rod for taunts.
"Florida fans? Of course they're going to be tough," Winston said. "But when we get on the football field, clear the mechanism, we're locked and loaded, and we're ready to play football."
Part of Winston's legend this season was built on his resolve in the face of a vociferous opposition. In his debut at Pittsburgh, he was nearly flawless. Amid the overwhelming noise at Clemson, he told his teammates to soak in the atmosphere before they silenced the crowd with a dominant performance.
So far, at least, Winston has enjoyed the taunts as much as the cheers.
"We block all that out," tailback
Devonta Freeman
said. "He's heard some of the worst things before, and none of that matters when you're on the battlefield. When we're warming up, we just don't pay attention to them."
Still, this week is different. Against Pitt and Clemson, Winston's sin was simply the color of his jersey. When he takes the field at Ben Hill Griffin Stadium on Saturday, the dark cloud of this legal morass offers far more stinging ammunition.
Jimbo Fisher doesn't expect his quarterback to be rattled by the barbs, though. In fact, Fisher's quite certain Winston will handle The Swamp with the same confidence he used to tame Death Valley. But staying quiet in the face of such potentially damaging criticism is far from ideal, and that's been the continued stance of Fisher, Winston and the rest of the Florida State football program.
As the accusations were made and the news stories followed, and Florida State has made just one unremarkable statement of support for Winston before closing ranks around him.
"We'll let the facts come out," Fisher said. "I don't want to comment on it too much. Let's just wait and see how things turn out."
And yet, while Winston and the Seminoles remain quiet about the investigation off the field, they've provided emphatic statements on it. Since the news of the case broke two weeks ago, Florida State has won its games over Syracuse and Idaho by a combined 139-17.
It might not be quite as easy this week, but all season Winston has shown that the field is his playground, regardless of the chaos that surrounds it.
"I think he understands the whole circumstances when you go on the road," Fisher said. "When you become the guy, one of the faces of the organization, people are always going to get on you. That's part of it."
November, 27, 2013
11/27/13
8:00
AM ET
GAINESVILLE, Fla. -- Florida hit rock bottom last Saturday when it lost to a mediocre FCS team inside Ben Hill Griffin Stadium.
Or did it?
Don't look now, but there could still be a new low to come. The Gators' arch-rivals to the west are visiting this week to put an end to UF's season of misery, and the Seminoles have just the unbeaten juggernaut to inflict something even more painful than last week's loss.
"Very big game," said FSU coach Jimbo Fisher on Monday. "Always a very difficult place to play there in Gainesville, one of the most difficult in the country. They'll be ready to play. I know they will bring their 'A' game and we'll have to bring ours."
[+] Enlarge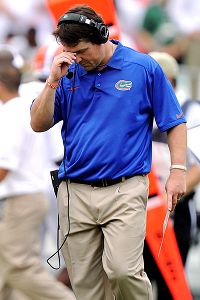 Brad Barr/USA TODAY SportsIt's been a tough year for Will Muschamp and the Gators, but a win over the No. 2 FSU could salvage a losing season.
On paper, Florida (4-7, 3-5 in the SEC) has plenty to play for when it hosts No. 2 Florida State (11-0, 8-0 ACC) Saturday at noon. There are the 15 seniors who will be honored in a pre-game ceremony. There's basic pride. There's an opportunity to wipe away the bitter taste of a season gone wrong. And there's the chance -- however faint -- to ruin FSU's season and end the Noles' hopes of playing for the national championship.
The problem is this game will be played on turf, not paper, and the matchup tilts clearly in the Seminoles' favor. Florida State averages 55.2 points a game, while Florida averages 19.9. FSU allows 11.4 PPG. UF allows 19.6, which highlights the Gators' minuscule margin of error.
"Last one. Our bowl game," Florida senior guard
Jon Halapio
said. "We have a chance to go out there and resolve our whole season playing against the No. 2 team in the nation, and they're a very good team.
"With everything we've had this year, I feel like a win against this group of guys would uplift our spirits as a football program."
Although it will be facing Heisman Trophy candidate
Jameis Winston
and the Noles' high-powered offense, the Gator defense still provides a source of hope. Despite the team's struggles, Florida still ranks No. 7 in the nation in total defense and No. 3 in pass defense.
"Fifty-five points is a lot," said Florida senior defensive tackle
Damien Jacobs
, who was once an FSU signee before enrolling in junior college. "I honestly think they haven't seen our type of defense all year in their league. We'll be able to cut that down."
Florida may be down this year, but the Gators can expect no mercy from Florida State.
"If we let up they might hit us in the mouth, but we ain't letting up," Florida State running back
Devonta Freeman
said. "I know for a fact we ain't going to let up."
Led by their seniors, the Gators know they don't have a prayer of winning if they don't first believe it can be done.
"I think we have a chance," Halapio said. "If we go out there and play like we're capable of playing, I think we still have a good chance of playing a good game and possibly beating them. We've just got to execute."
Therein lies Florida's challenge -- execute or be executed.
November, 26, 2012
11/26/12
8:00
AM ET
GAINESVILLE, Fla. -- Here's an analysis of three key plays in Florida's 37-26 victory over Florida State on Saturday.
Manuel to O'Leary
FSU cuts into UF's lead
November, 23, 2012
11/23/12
8:00
AM ET
No. 4 Florida (10-1) at No. 10 Florida State (10-1)
Saturday, 3:30 p.m. ET
Doak Campbell Stadium, Tallahassee, Fla.
ABC
Gators to watch
[+] Enlarge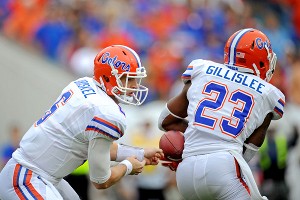 Kevin Liles/US PRESSWIREMike Gillislee is nearing the 1,000-yard mark on the season.
RB Mike Gillislee:
The senior needs just 36 yards to become the first Florida player to rush for 1,000 yards in a season since Ciatrick Fason in 2004. He'll certainly get his chance. The Gators are going to try and pound the football, similar to the way they did against LSU. The running game might not gain much early, but the hope is that the OL eventually wears down FSU's DL and Gillislee will have more success in the fourth quarter. Gillislee hasn't rushed for more than 100 yards against an FBS school since he had 146 against LSU on Oct. 6. He had a career-high 34 carries in that game and it would be a surprise if he doesn't get at least 25 against FSU.
NT Omar Hunter:
FSU is averaging about 100 yards more per game rushing this season than during 2011 and the Noles have run for at least 237 yards in two of their last three games (they had minus-15 vs. Virginia Tech). Stopping the running game starts with stopping up the middle of the line, and that's Hunter's job. The fifth-year senior is having his best season (36 tackles) and is a big part of the Gators' success against the rush (95.2 yards per game, sixth nationally).
CB Marcus Roberson:
Roberson has a tough job on Saturday because FSU's top three receivers are a handful. They're big, physical players -- especially
Rodney Smith
(6-foot-6, 219 pounds) and
Kelvin Benjamin
(6-5, 242) -- and Roberson is not exactly the most physical corner. UF plays almost exclusively man coverage so he'll match up with each of them and the Gators need him to keep them from making big plays down the field. Plus, he'll likely return punts again this week. He did a good job last week of running up and making a fair catch in traffic to save the Gators yardage. He needs to do that against the Noles.
July, 3, 2012
7/03/12
8:00
AM ET
ESPN's GatorNation brings you the 30 things you need to know about Florida's upcoming 2012 season. For 30 weekdays we'll preview games, talk about trends, spotlight players and positions, and give you pretty much everything you need to know to be ready for the season before the Sept. 1 opener against Bowling Green.
GAINESVILLE, Fla. -- GatorNation is previewing each of Florida's 2012 opponents. Today is Florida State (Nov. 24 in Tallahassee, Fla.).
FLORIDA STATE
2011 record:
9-4 (5-3 ACC), beat Notre Dame 18-14 in Champs Sports Bowl.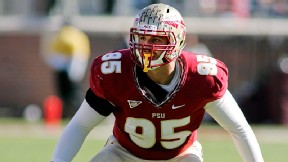 Phil Sears/US PresswireDefensive end Bjoern Werner is one of the Florida State Seminoles' top pass-rushers.
Coach:
Jimbo Fisher, third season (19-8).
Series record:
Florida leads 33-21-2.
Top returners:
QB
E.J. Manuel
(203-311-8, 2,666 yards, 18 TDs); RB
Devonta Freeman
(579 yards, 8 TDs); DE
Bjoern Werner
(37 tackles, 7 sacks); CB
Greg Reid
(32 tackles, 2 INTs).
Did you know?
FSU has not had a running back surpass 1,000 yards since Warrick Dunn in 1996. Only three backs since then have rushed for 900 yards.
November, 27, 2011
11/27/11
12:26
AM ET
GAINESVILLE, Fla. -- It was Senior Day for the Florida Gators on Saturday, but a few underclassmen played key roles in Florida State's 21-7 victory over Florida.

CB Greg Reid
The junior from Valdosta (Ga.) had two momentum-changing interceptions. The two interceptions were his first and second of the year. In addition to his play on defense, Reid had a 39-yard punt return in the third quarter that helped flip the field position for FSU.

S Matt Elam
Florida safety Matt Elam led a defense that surrendered 95 yards of total offense. Elam totaled eight tackles, a tackle for a loss, a forced fumble and two pass breakups. FSU's two touchdown drives totaled 24 yards.

RB Devonta Freeman
With 44 yards rushing, the true freshman running back didn't necessarily light up the stat sheet, but Freeman had two tough touchdown runs that Florida could never recover from. They were Freeman's seventh and eighth rushing touchdowns of the year.

TE A.C. Leonard
If there was a bright spot for the Florida offense, it was the true freshman tight end. The 6-foot-4, 245-pounder matched career highs with three receptions for 65 yards. Leonard received a majority of the work at tight end because starter Jordan Reed was out with an ankle injury.

Florida State secondary
The FSU secondary limited Florida to 12-of-26 passing for 121 yards and four interceptions. Reid accounted for two picks, Mike Harris intercepted an underthrown John Brantley pass and returned it 89 yards to set up FSU's second touchdown, and Terrance Parks intercepted Jacoby Brissett and returned the ball 29 yards for the game-clinching touchdown with 12:48 to go in the fourth quarter.
November, 26, 2011
11/26/11
8:39
PM ET
Turning point: Florida State cornerback Mike Harris picked off John Brantley inside the FSU 5-yard line and returned the ball 89 yards to the Florida 4. Three plays later, FSU's Devonta Freeman scored on a 1-yard run to give the Seminoles a 14-0 lead. Brantley was trying to hit Chris Rainey out of the backfield but he threw across the field where four FSU defensive backs had a chance to intercept the ball.

Stat of the half: Florida has out-gained Florida State by 101 yards (140-39) yet trails by 14 points because of three Brantley interceptions. The Seminoles have minus-1 yards rushing on 20 carries.

Best player in the half: Freeman ran for only 38 yards on 13 carries, but he did score both Florida State touchdowns. He also was the only Seminoles ball carrier with positive yardage. E.J. Manuel was at minus-27 and Rashad Greene was at minus-12.

Best call: Florida used a fake punt to gain a first down inside the Florida State 30 in the second quarter. The Gators faced a fourth-and-1 at the FSU 27 and lined up for a field goal. Trey Burton lined up at holder instead of John Crofoot, and the Gators quickly snapped the ball before the Seminoles noticed. Burton gained 3 yards. The Gators would end up turning the ball over on downs four plays later when Burton went for minus-14 yards on fourth-and-1.

What Florida needs to do: With Brantley's status uncertain for the second half -- he got sandwiched between Timmy Jernigan and Brandon Jenkins and Jenkins' helmet smacked into Brantley's facemask -- the Gators are going to have to come up with something offensively that backup Jacoby Brissett feels comfortable with. The Gators have to throw the ball or FSU will continue to put nine in the box, and the game's over.
McElwain discusses new Florida football
SEC SCOREBOARD
Thursday, 9/3
Saturday, 9/5