Florida Gators:

Deonte Thompson
February, 20, 2014
2/20/14
11:00
AM ET
GAINESVILLE, Fla. -- Florida's Class of 2007 only won one national championship, but it stands alone as the single most talent-rich recruiting class in school history.
The list of NFL players is mind-boggling, but as part of our
week-long series
looking at Florida's five most impactful recruiting classes of the last decade, the focus is on college football.
With the 2006 national title under his belt, coach Urban Meyer was cooking with gas at Florida. His recruiting prowess was becoming the stuff of legends, and 2007 is a big piece of evidence to support that contention.
[+] Enlarge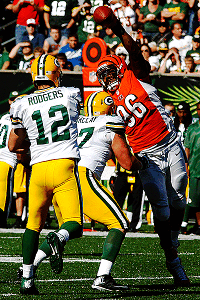 AP Photo/David KohlCarlos Dunlap (96) was one of the many members of Florida's 2007 recruiting class to find great success in the NFL.
ESPN ranked Florida's 2007 class
No. 2 in the nation
. It turned out to be an epic group that kept an already-elite program on top for a few more seasons.
The stars:
Where to begin?
Joe Haden
began his decorated college career with a bang, becoming the first true freshman in UF history to start a game at cornerback on opening day. The Pouncey twins,
Maurkice
and
Mike
, were stalwarts on the offensive line. Six-foot-6, 280-pound
Carlos Dunlap
was a monstrous presence at defensive end. Safety
Major Wright
started 33 of 41 games at free safety and wreaked havoc all over the field. And
Aaron Hernandez
was an exceptional playmaker at tight end and H-back. All six of these standouts played as true freshmen, and only Mike Pouncey stayed for his senior year, as the others jumped to the NFL.
The contributors:
Ball-hawking safety
Ahmad Black
had 13 career interceptions and was a leader on and off the field for Florida. Chaz Henry was UF's punter for four seasons and won the Ray Guy Award in 2010. Defensive linemen
Jaye Howard
,
Justin Trattou
and Duke Lemmens all made their marks as well. Running back
Chris Rainey
and wideout
Deonte Thompson
had their ups and downs at UF but were starters. Still, just seven of the 27 recruits in this class transferred away. So the majority of the class contributed to Florida's success.
The letdowns:
John Brown and Torrey Davis were among the top-ranked defensive tackles in the class -- Nos. 3 and 9, respectively -- but neither did much at Florida, and both transferred. John Brantley was the No. 4-rated quarterback in the Class of 2007 but had a largely undistinguished career at UF. Bo Williams, the No. 11 running back prospect, enrolled early but transferred after one year at UF. Two other highly rated prospects who struggled were guard James Wilson (injuries) and linebacker Lorenzo Edwards (ineffectiveness). Of the six Gators in this category, all but Edwards were among the top 106 recruits in the nation in 2007.
The results:
Florida went 26-2 from 2008-09, winning SEC and national titles in 2008 and recording the second unblemished regular season in school history in 2009. It was an incredible run of success fueled by some terrific talents. Florida had a nation's best nine players selected in the NFL draft in 2010, including three in the first round and a school-record six players in the first two rounds. Haden, Wright, Dunlap, Hernandez and both Pounceys have had great success in the NFL. Black, Howard and Rainey were also drafted. And Trattou, Henry and Thompson have spent time in the league.
The asterisk:
One more player deserves mention. The biggest star in Florida's recruiting class -- heck, the biggest star to emerge from the entire Class of 2007 -- was quarterback
Cam Newton
. He could qualify for all of the categories listed here. He contributed to UF as a backup to Tim Tebow. He was
reportedly caught cheating
and then
arrested and charged
with felony burglary, larceny and obstruction of justice. Newton was suspended by UF before transferring to junior college and ending up at Auburn, where he became a college football legend as a Heisman Trophy winner and a national champion. He's now an NFL superstar for the Carolina Panthers.
The other asterisk:
It wouldn't be a complete story to include Hernandez's accomplishments here without mentioning his long list of legal troubles. In 2013 he was
indicted by a grand jury
on a first-degree murder charge. Hernandez pled not guilty and faces life in prison without parole if convicted. The charges and other investigations he faces prompted the New England Patriots to release Hernandez. Back in Gainesville, the Gators
removed images of Hernandez
from their football facilities and a brick outside the stadium honoring his selection as a first-team All-American in 2009.
July, 26, 2012
7/26/12
5:15
PM ET
GAINESVILLE, Fla. -- Neither
Jeff Driskel
nor
Jacoby Brissett
was able to separate himself from the other during spring practice and summer workouts so Florida's quarterback situation is still unsettled heading into the first day of practice on Aug. 4.
As a primer, GatorNation is taking a look at each player's resume. What they did in high school doesn't matter. Neither does what they did in the spring game, either, because it was under controlled conditions and against watered-down defenses. The only evidence is what they did last season in limited playing time.
Neither put up decent numbers, but they were thrown into tough situations because of injuries to starter John Brantley.
[+] Enlarge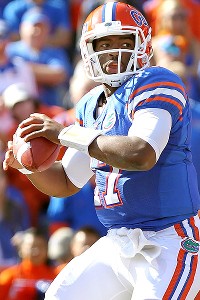 Kim Klement/US PresswireJacoby Brissett was first to earn a college start. Only problem was that it was against LSU on the road.
Today we'll take a detailed look at Brissett's play in 2011.
We looked at Driskel on Wednesday
.
Brissett played in eight games -- five as a situational player -- and completed 18-of-39 passes for 206 yards with two touchdowns and four interceptions. Brissett spent extensive time at quarterback in three games (LSU, Auburn and Florida State) and only played situationally in five others (Georgia, Vanderbilt, South Carolina and Furman). We broke down the stats from the 23 drives in which he either threw a pass or carried the ball in the LSU, Auburn and FSU games.
In those 23 drives, the Gators managed 17 first downs and scored 24 points.
Here's a look at his game-by-game stats in those 23 drives:
LSU
Opening possession of the game.
Gators begin drive on their own 19.
3-11 (UF18): Brissett pass complete to Chris Rainey for minus-7 yards.
Drive summary: 3 plays, minus-8 yards, 0 first downs, 0 points
Passing stats: 1-1-0, minus-7 yards
April, 30, 2012
4/30/12
10:15
AM ET
GAINESVILLE, Fla. -- Former Florida offensive lineman
Dan Wenger
announced via Twitter that he has been "given an opportunity" with the
New York Jets
.
Wenger, like all draft picks and undrafted free agents, will participate in a mini-camp held within 15 days of the NFL Draft. Wenger started 11 games in 2011 in his only season at Florida (he missed two games with an ankle injury). He transferred to UF from Notre Dame after the NCAA granted him a sixth year of eligibility because of two concussions he suffered early in the 2010 season.
Former UF quarterback John Brantley (
Baltimore Ravens
), receiver Deonte Thompson (Ravens) and defensive end
William Green
(
Cleveland Browns
) also will participate in mini-camps, as will draft picks
Jaye Howard
(Seattle, fourth round) and
Chris Rainey
(Pittsburgh, fifth round).
April, 28, 2012
4/28/12
9:26
PM ET
GAINESVILLE, Fla. -- John Brantley's career at Florida certainly didn't go as planned, but he's still getting a shot to make it in the NFL.

The 6-foot-3, 219-pound Brantley signed a free-agent contract with the Baltimore Ravens on Saturday night, about an hour after the NFL draft concluded.

Brantley finished his UF career with 4,750 yards passing and 30 touchdowns with 18 interceptions. He threw for 2,044 yards with 11 touchdowns and seven interceptions this past season. He is the fourth quarterback the Ravens have under contract, joining starter Joe Flacco and backups Tyrod Taylor and Curtis Painter.

Brantley will at least have one familiar face with him in Baltimore. Receiver Deonte Thompson also signed a free-agent contract with the Ravens. Thompson finished his UF career with 101 catches for 1,446 yards and nine touchdowns. Baltimore already has eight receivers under contract and drafted Miami's Tommy Streeter in the sixth round.

In addition, defensive end William Green signed with the Cleveland Browns, where he will join former UF standout Joe Haden. Haden was the Browns' first-round draft pick (No. 7 overall) in 2010.

Defensive back Moses Jenkins and offensive lineman Dan Wenger are the other players who wrapped up their careers in 2011. They have not signed free-agent deals.
March, 13, 2012
3/13/12
4:38
PM ET
GAINESVILLE, Fla. -- It's definitely not a good sign about Florida's NFL Draft prospects when there's significantly more talent watching the pro scout day workouts than participating in them.
Quarterback John Brantley, running back
Chris Rainey
, defensive tackle
Jaye Howard
, and receiver Deonte Thompson worked out in front of NFL scouts from 24 teams and one head coach -- Jacksonville's Mike Mularkey -- on Tuesday morning at Florida Field. None of those players are projected any higher than mid- to late-round selections, which would snap the school's five-year streak of having at least one player taken in the first round.
Contrast that with the talented group of former UF players who watched the workouts. There were four first-round picks -- Maurkice and Mike Pouncey, Travis Taylor, and Percy Harvin -- and four others who were taken in the seventh round or higher: Terry Jackson (fifth), Riley Cooper (fifth) and Kerwin Bell (seventh). Mularkey was a ninth-round pick.
"We need more guys out there in position to be drafted," UF coach Will Muschamp said. "That's pretty evident as you go through our last two pro days.
"We need to do a better job recruiting. We need to do a better job evaluating. We need to do a better job of developing our players and coaching. Bottom line."
Rainey ran a 4.38 in the 40 0n Tuesday. His biggest goal was to prove to the scouts that he can catch the ball out of the backfield. As to where the 5-foot-9, 180-pound athlete fits on the next level, he said he's basically a smaller Harvin clone. He can play receiver or running back, return kicks and punts, and play on kick or punt block units.
"My goal is to confuse the scouts and they do the rest [in figuring out where he should play]," said Rainey, who finished his career with 3,948 all-purpose yards and 21 touchdowns. "If you're going to be a playmaker on the field, that's all that matters."
January, 25, 2012
1/25/12
10:43
AM ET
GAINESVILLE, Fla. -- Here are some more Florida players who were under consideration for inclusion in the 10 Who Never Were …

Dee Finley
S Dee Finley, Auburn, Ala./Auburn High School, 2008 --
He was a USA Today second-team All-American and participated in the Under Armour All-American Game. He failed to qualify and enrolled in prep school. He eventually enrolled at UF and was moved to linebacker. He was a reserve who never made an impact on the field. He was suspended for the 2011 Tennessee game after his arrest for driving with suspended license and misdemeanor resisting arrest without violence. He left the team shortly thereafter.
QB Luke Bencie, Sarasota, Fla/Riverview High School, 1991 --
Bencie was a Parade All-American, and National High School Recruiting Service named him the No. 2 overall prospect in nation among QBs who combined throwing and running ability and the No. 3 overall player in Florida. He was an honorable mention All-American by USA Today. SuperPrep ranked him among top 10 players in the south. The Sporting News ranked him among top 10 quarterbacks. He never played a down at UF.
January, 10, 2012
1/10/12
8:04
PM ET
[+] Enlarge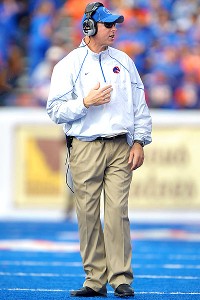 Kirby Lee/US PresswireBrent Pease will take the reins of Florida's offense.
GAINESVILLE, Fla. -- The biggest beneficiaries of offensive coordinator Brent Pease's hiring at Florida -- other than quarterbacks
Jeff Driskel and
Jacoby Brissett -- might end up being the Gators' receivers.
Pease was the offensive coordinator at Boise State for just one season, and he helped the Broncos finish ninth in the nation in total offense (481.31 yards per game), sixth in scoring (44.23 points per game), 41st in rushing (171.92 yards per game) and 11th in passing (309.38 yards per game) behind record-setting quarterback
Kellen Moore
. But he spent the five previous seasons tutoring Boise State's receivers and developed two into NFL receivers.
Austin Pettis is the school's all-time leader in receptions (229) and receiving touchdowns (39) and is second in career yardage (2,838). Titus Young is the all-time leader in receiving yards (3,063) and is second in career receptions (204). They were third- and fourth-round draft picks, respectively, last April.
To continue reading this article you must be an Insider
December, 27, 2011
12/27/11
7:37
PM ET
JACKSONVILLE, Fla. -- Florida coach Will Muschamp said Internet reports that he had hired a strength and conditioning coordinator are incorrect.

"I haven't hired anybody," Muschamp said after the Gators' light workout at Jacksonville University on Tuesday afternoon. "I've talked to a lot of people at the strength position and the offensive coordinator's position, and when I make the hire everybody will know. No one has been hired. No one's been offered a job yet."

Earlier this week, coaching websites CoachingSearch.com and FootballScoop.com reported that Muschamp had hired Jeff Dillman, who is the head of physical conditioning at the IMG Performance Institute in Bradenton, Fla., to replace Mickey Marotti, who is now at Ohio State. Dillman has worked at LSU, Appalachian State and Louisiana-Monroe. His time at LSU (2003-06) overlapped Muschamp's tenure there (2001-04).

McCray, Wenger battling injuries

Muschamp said linebacker Lerentee McCray is doubtful for the TaxSlayer.com Gator Bowl against Ohio State because of a shoulder injury. Center/guard Dan Wenger, who has been battling a nagging ankle injury, should play, Muschamp said. Both of them, along with injured cornerback Jeremy Brown (knee) did not participate in UF's workout on Tuesday.

"Lerentee, again with his shoulder, we've exhausted about every measure we can as far as the shoulder's concerned trying to work and get total range of motion and strength back," Muschamp said. "It just has not come back to this point."

McCray has started five games and has 24 tackles. Wenger has started 11 games.

Missing practice

Running back Jeff Demps missed practice with what Muschamp said was a personal issue. He will join the team on Wednesday. Receiver Deonte Thompson also missed practice because of illness. He remained at the team hotel.
SEC players featured on Kiper's Big Board
SEC SCOREBOARD
Thursday, 9/3
Saturday, 9/5