Florida Gators:

David Palmer
April, 30, 2014
4/30/14
3:45
PM ET
Herschel Walker said recently that even at 50 he could still play in the NFL.
I'm not about to doubt him. Walker remains the greatest college football player I've ever seen play, and more than 30 years after he played his last game at Georgia, I'd still pay a lot of money to watch him play again.
[+] Enlarge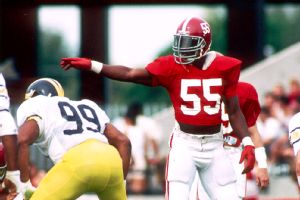 USA TODAY SportsDerrick Thomas set an NCAA single-season record for sacks while at Alabama.
In the immortal words of the late Larry Munson, "Oh, you Herschel Walker!"
But his comments got me to thinking: Other than Walker, who are those SEC players no longer playing that I'd most like to see play again?
Below are the five I came up with, and for clarification, they all played during my lifetime and I had a chance to see them play. I go back to the mid-to-late 1970s.
Here goes:
Eric Moulds, WR, Mississippi State:
I can still see No. 1 making a catch, shaking off a defender and exploding up the field with that imposing 6-2, 225-pound frame. Even though he didn't play in a pass-first offense, Moulds was tremendously productive and a nightmare matchup for opposing cornerbacks. In 1994, he averaged 21.7 yards per catch, and seven of his 39 catches that season went for touchdowns. He also led the country that season with a 32.8-yard kickoff return average. You just don't see receivers every day with his size, strength, speed and hands -- nor his sense of humor. He once had a pizza delivered to a Mississippi State practice.
David Palmer, WR/QB/RS, Alabama:
He was pure excitement no matter where he lined up and the ultimate ankle-breaker in the open field. A receiver by trade, "Deuce" was running the spread from the quarterback position before there really was a spread, and he was also a dynamic punt returner. He averaged 16.1 yards on punt returns in 1991 and 15.8 yards per catch for his career (1991-93). In 32 career games, he averaged 122.4 all-purpose yards, which is third all-time in Alabama history. He was a big part of Alabama's 1992 national championship team, finished third in the 1993 Heisman Trophy balloting and was easily one of the most entertaining players to play in the SEC in my lifetime.
[+] Enlarge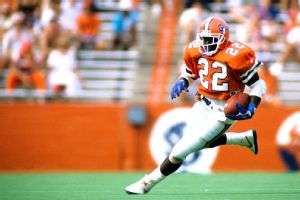 USA TODAY SportsEmmitt Smith twice led the SEC in rushing.
Emmitt Smith, RB, Florida:
Most people in thinking back to Smith's career remember his days with the Dallas Cowboys and all those Super Bowl championship teams he played on in Big D. But before he rose to fame in the NFL, Smith was a tackle-breaking machine with the Gators. Nobody ever seemed to be able to get a good shot in on him. Tackling the guy was like trying to tackle a beer keg, and he had deceptive acceleration. The coaches voted him SEC Player of the Year in 1989, and he set 58 Florida records. He led the SEC in rushing in 1987 and 1989, and in my mind, remains the standard in this league when it comes to getting the tough yards.
Derrick Thomas, OLB, Alabama:
Sadly, we lost Thomas in 2000 following a car accident. Those who saw him play with the Kansas City Chiefs know what a disruptive force he was coming off the edge. Seven sacks in one game speaks for itself. But before he carved out a Pro Football Hall of Fame career, Thomas was terrorizing SEC quarterbacks. He set an NCAA record in 1988 with 27 sacks and finished his career with 52 sacks. His pass-rushing ferocity was something to behold. Coaches throw around the term "unblockable" pretty freely these days, but Thomas was the essence of the term and one of the true measuring sticks in this league when it comes to rushing the passer.
Al Wilson, LB, Tennessee:
The heart and soul of Tennessee's 1998 national championship team, Wilson played every game as if it were his last. He almost single-handedly willed the Vols to their dramatic 20-17 win over Florida in 1998 with 12 tackles and a school-record three forced fumbles. It's no coincidence that in Wilson's three seasons as a starter at Tennessee that the Vols were 34-4 with a pair of SEC championships and a national championship. Wilson played the game with a fire that filtered down to his teammates and was at his best when it meant the most. He finished his career second all-time on Tennessee's tackles-for-loss list and remains one of the most revered players in school history.
March, 28, 2013
3/28/13
4:54
PM ET
In honor of Florida Gulf Coast's stunning run in the NCAA basketball tournament, I started thinking back to some of the biggest SEC football upsets of my lifetime.
The mid- to late-1970s is about as far back as I go, but I've gone back and picked out some of the more memorable ones over the past 30 or 35 years.
These are all SEC vs. SEC matchups, and I'll rank the top 5 as well as five more that just missed the cut. I'll come back later Thursday with a few more, including some upsets in non-conference and bowl games.
Here goes:
1. Mississippi State 6, Alabama 3 (1980):
The No. 1-ranked Crimson Tide had won 28 straight (and an SEC-record 27 straight conference games) and were heavily favored against the unranked Bulldogs. But Mississippi State played suffocating defense that day in Jackson, Miss., and snuffed out a late Alabama drive. The Crimson Tide had moved to the Bulldogs' 4, but were out of timeouts. Alabama quarterback Don Jacobs took the snap and started down the line of scrimmage to the right side. Mississippi State's Tyrone Keys shot through and tackled Jacobs, forcing a fumble that Billy Jackson recovered to seal one of the greatest wins in Mississippi State history. Alabama's wishbone attack, which had been averaging more than 300 yards per game, mustered just 116 rushing yards against the Mississippi State defense. The Crimson Tide lost four fumbles in the game. And in a classy gesture afterward, Alabama coach Paul "Bear" Bryant visited the Mississippi State locker room to congratulate the Bulldogs on the win.
2. LSU 17, Alabama 13 (1993):
The No. 5 Crimson Tide had gone 31 straight games without a loss and were coming off an unbeaten national championship season. Inexplicably, they lost at home to an unranked LSU team that had lost five of its first seven games that season and finished 5-6. The Tigers were a 24-point underdog that day and in the midst of their fifth straight losing season. Alabama starting quarterback Jay Barker was out with an injured shoulder, and the Tide -- using three different quarterbacks -- threw four second-half interceptions. Coach Gene Stallings finally went to David Palmer at quarterback late in the third quarter, and "The Deuce" directed the Tide on a pair of scoring drives. But LSU held on for the win, and Stallings said afterward that he waited too long to go to Palmer, who was normally a receiver.
[+] Enlarge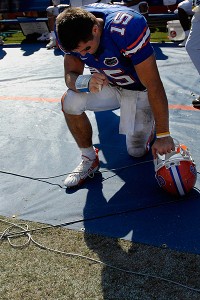 AP Photo/Phil SandlinTim Tebow bows his head in dejection after his No. 4 Gators lost 31-30 at home against Mississippi on Sept. 27, 2008.
3. Ole Miss 31, Florida 30 (2008):
The Rebels would go on to have a very good season, but ventured into the Swamp that day as a 22-point underdog with losses to Wake Forest and Vanderbilt during the first month of the season. Nobody gave them a chance. The Gators were ranked No. 4 and riding high with Tim Tebow running the show. But the Rebels stuffed him on fourth-and-short late to pull off an improbable road win. The game is best remembered for Tebow's emotional speech afterward, when he promised that nobody would work harder than him and his teammates the rest of the season. The Gators would go on to win their next 22 games in a row, including the 2008 national championship.
4. Auburn 23, Georgia 23 (1994):
Even though it wasn't a loss, it sure felt like one for No. 3 Auburn, which had its 20-game winning streak under Terry Bowden stopped. The Bulldogs were unranked and had lost at home to Vanderbilt a few weeks earlier. But they rallied from 14 points down on the road thanks to a couple of Eric Zeier touchdown passes and survived a missed 44-yard field goal attempt by Auburn's Matt Hawkins with 13 seconds to play. That was Ray Goff's next-to-last season at Georgia, which finished 6-4-1 and didn't play in a bowl game. It didn't get any better the next week for Auburn. The Tigers, who were on NCAA probation, lost to Alabama.
McElwain discusses new Florida football
SEC SCOREBOARD
Thursday, 9/3
Saturday, 9/5