Florida Gators:

Chris Leak
June, 12, 2014
6/12/14
10:30
AM ET
GAINESVILLE, Fla. -- One thing is clear in the wake of
Joker Phillips' sudden departure from Florida
on Wednesday: The Gators haven't had much luck with wide receivers coaches in recent years.
It's no coincidence that Florida hasn't had a wideout with more than 600 yards since
Riley Cooper
led the team with 961 yards in 2009. That was UF's last season of stability at a coaching position that has been turbulent ever since.
In 2009, Billy Gonzales ended a five-year run as Florida's wide receivers coach when he
reportedly resigned with a sticky note
that said, "I'm going to LSU."
Then-Florida head coach Urban Meyer replaced Gonzales with Central Michigan receivers coach Zach Azzanni, who only lasted one season. He was not retained when new head coach Will Muschamp took over for Meyer and assembled his staff in 2011.
Muschamp brought in former Gators standout Aubrey Hill, who coached one season before
resigning amid allegations
of involvement with improper benefits in his previous coaching job at the University of Miami.
Hill's departure came in August 2012, weeks before the season began.
"Aubrey informed me he was resigning for personal reasons that have nothing to do with the University of Florida," Muschamp said in a statement at the time.
Muschamp promoted graduate assistant Bush Hamdan to replace Hill and then hired Phillips after the 2012 season.
At the time, Phillips was
quoted on the school's official website
as saying, "I'm looking forward to contributing to the long-term vision that [Muschamp] has for this program."
Surely that vision wasn't one of nearly constant turnover, as Phillips left for "personal reasons" of his own.
With graduate assistant Chris Leak's promotion on Wednesday, Florida is on its sixth wide receivers coach in six seasons.
Perhaps that's why Muschamp made sure to mention Leak's standing, saying, "He is one of the all-time Gator greats and being at Florida is very important to him."
In promoting Leak, Muschamp is hoping the former star quarterback is ready to be a full-time assistant coach at the age of 29 and can bring the continuity that has been missing for so long.
Leak inherits a
receiving corps
largely comprised of talented youngsters who must be developed. Florida has six wide receivers entering their first or second season this fall.
When asked early in spring practice if this group is the most talented he's had in his three years at Florida, Muschamp said, "I don't think there's any question."
Now, after Phillips' departure, the unit and its inexperienced coach are surrounded by questions.
If the Gators are to rediscover their winning ways through the air, Leak and his receivers will have to factor in prominently. If they do that, perhaps Florida will have something as rare as a 1,000-yard receiver -- a wide receivers coach roaming the sidelines for a second season.
May, 7, 2013
5/07/13
8:30
AM ET
GAINESVILLE, Fla. --
Jeff Driskel
is entering his second season as Florida's starting quarterback, and that comes with expectations.
[+] Enlarge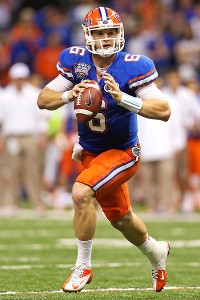 Matthew Stockman/Getty ImagesIt seems likely that Jeff Driskel will run more in Florida's new offense in 2014.
The bar was set somewhat low in 2012, because Driskel and Jacoby Brissett were sophomores who had seen minimal playing time in 2011 -- and neither was very good when they did get on the field. Driskel did have some very good moments in his first season as a starter, but he also had some terrible ones, too.
Now that he has a year in coordinator Brent Pease's system, the left side of the offensive line has been upgraded, and he has improved his ability to read coverages and change the pass protections when needed, Driskel should be better. That's what UF coach Will Muschamp is hoping, anyway.
If the past is an accurate indicator, then Driskel will be. Most of UF's recent quarterbacks were better in their second season as a starter than they were in their first season. Here's a look:
Shane Matthews
1990:
Completed 239 of 328 passes (60.6 percent) for 2,962 yards with 23 touchdowns and 12 interceptions. He was a consensus All-SEC first-team pick and was the league's player of the year after posting four of the top 10 single-game passing totals in SEC history.
1991:
Completed 218 of 361 passes (60.4 percent) for 3,130 yards with 28 touchdowns and 18 interceptions. He was a consensus All-SEC first-team pick and was the league's Player of the Year again -- becoming just the fifth player in SEC history to earn that honor twice. He set 14 school and five SEC records.
Matthews was certainly better in his second season, which was also coach Steve Spurrier's second season in Gainesville. Spurrier and Matthews shredded the SEC and established the Gators as a program that would annually compete for the national championship.
Danny Wuerffel
1993:
Completed 159 of 273 passes (58.2 percent) for 2,230 yards and 22 touchdowns with 10 interceptions. The 22 touchdowns were an NCAA freshman record. He threw for at least three touchdowns in four of his seven starts and set a school record by throwing for at least three touchdowns in four consecutive starts.
1994:
Completed 132 of 212 (62.3 percent) passes for 1,734 yards and 18 touchdowns with nine interceptions. He had a streak of 67 consecutive passes without an interception and led UF to the second of their four consecutive SEC titles. He set three Sugar Bowl records, tied another and set two UF bowl game records in the Gators' loss to FSU.
Wuerffel split time each season with Terry Dean but was the Gators' leading passer both years. The experience he gained turned out to be invaluable and set the state for his monster seasons in 1995 and 1996, which ended with him winning the Heisman Trophy and the Gators winning the school's first national championship.
Rex Grossman
2000:
Completed 131 of 212 passes (61.8 percent) for 1,866 yards and 21 touchdowns with seven interceptions. Grossman rotated with Jesse Palmer and Brock Berlin early in the season but eventually won the starting job and started eight games as a redshirt freshman, earning Freshman All-American honors. Grossman was the first freshman to win SEC Championship Game MVP honors.
2001:
Completed 259 of 395 passes (65.6 percent) for 3,896 yards and 34 touchdowns with 12 interceptions. The 3,896 yards is still a school single-season record and is second on the SEC's single-season list. Grossman finished second in the Heisman Trophy balloting and was a first-team All-American and The Associated Press' Offensive Player of the Year.
Grossman's second season as the starter was one of the best in SEC history. He should have won the Heisman Trophy in 2001 and certainly would have been the favorite to win it in 2002 had Spurrier not left for the NFL's Washington Redskins.
Chris Leak
2003:
Completed 190 of 320 passes (59.4 percent) for 2,435 yards and 16 touchdowns with 11 interceptions. After rotating with Gavin Dickey and Ingle Martin in the season's first four games, Leak was given the starting job and led the Gators to a 21-20 come-from-behind victory over Kentucky.
2004:
Completed 238 of 399 passes (59.4 percent) for 3,197 yards and 29 touchdowns with 12 interceptions. Leak averaged 277 yards per game in the last seven games of the season. He threw six touchdown passes against South Carolina, which tied Wuerffel's school record for most TD passes in an SEC game.
Leak had more success in his second season as a starter, which came in Larry Fedora's first and only season as the Gators' offensive coordinator. Ed Zaunbrecher was the coordinator in 2002-03. Leak and UF's offense struggled in 2005 in the transition to Urban Meyer's spread-option offense, but he led the Gators to the 2006 national title.
Tim Tebow
[+] Enlarge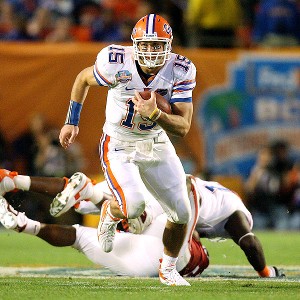 Doug Benc/Getty ImagesTim Tebow's second year as a starter at Florida resulted in a national championship for the Gators.
2007:
Completed 234 of 317 passes (68.5 percent) for 3,132 yards and 32 touchdowns with six interceptions and ran for 895 yards and 23 touchdowns. Tebow was the first sophomore to win the Heisman Trophy. He also claimed the Maxwell and Davey O'Brien awards, was The Associated Press' Offensive Player of the Year, and was a consensus first-team All-American. He became the first player in NCAA history to rush and pass for at least 20 touchdowns.
2008:
Completed 192 of 298 passes (64.4 percent) for 2,746 yards and 30 touchdowns with four interceptions and ran for 673 yards and 12 touchdowns. Tebow was a Heisman finalist and won the Maxwell and Manning awards. He also repeated as The Associated Press Offensive Player of the Year. He had a school-record streak of 230 consecutive passes without an interception.
Tebow's first year as a starter is hard to top, but he came pretty darn close in his second season to equaling what he did in 2007. More importantly, Tebow led the Gators to the program's third national title in 2008. Tebow will go down as one of the greatest players in college football history. When his career finished, he either tied or owned five NCAA, 13 SEC and 27 school records.
John Brantley
2010:
Completed 200 of 329 passes (60.8 percent) for 2,062 yards and nine touchdowns with 10 interceptions. Brantley started every game, but rotated at times with
Trey Burton
and Jordan Reed.
2011:
Completed 144 of 240 passes (60.0 percent) for 2,044 yards and 11 touchdowns with seven interceptions. Brantley suffered an ankle injury against Alabama and missed the next two games. He also left the FSU game with a concussion.
Brantley's numbers were roughly the same in 2011 as they were in 2010, but in fewer games. Brantley had different head coaches and offensive coordinators in successive seasons, plus he didn't have anything close to the same weapons around him that the previous quarterbacks did.
October, 24, 2012
10/24/12
8:00
AM ET
GAINESVILLE, Fla. -- It's Florida-Georgia week, which means it's time to take a look back at the annual series between the two Southeastern Conference rivals.
[+] Enlarge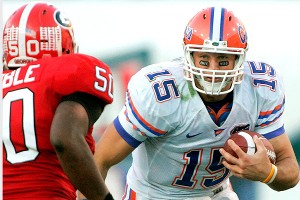 AP Photo/Phil CoaleTim Tebow and the Gators got revenge for the 'Gator Stomp' in 2008, putting a 49-10 beating on the Bulldogs.
Each day this week, GatorNation will have a top five list that captures the colorful history of the series.
Today's list:
Top 5 heartbreaking moments in series history for Georgia:
2002: Florida 20, Georgia 13
No. 5 Georgia was unbeaten. Florida was unranked and lost its best receiver to a knee injury on the first series. Easy victory for the Bulldogs? Nope. Backup WRs Kelvin Kight (nine catches, 115 yards) and Carlos Perez (12 catches, 115 yards) responded with career days while UF's defense kept Georgia from converting a single third down (0 for 13). Georgia WR Terrance Edwards also dropped a potential touchdown pass with less than three minutes to play.
The heartbreak:
That loss is what kept Georgia from playing for a national title. The Bulldogs finished 13-1.
1993: Florida 33, Georgia 26
On a muddy, rain-soaked field, Georgia QB Eric Zeier threw an apparent game-winning 12-yard touchdown pass to WR Jerry Jerman in the final seconds. Except it didn't count because officials ruled that UF freshman CB Anthone Lott signaled time out just before the snap. Lott was penalized for face guarding on the ensuing play, and Zeier got one more chance to win the game. His final pass bounced off the hands of WR Jeff Thomas.
2003: Florida 16, Georgia 13
The fourth-ranked Bulldogs were very much in the national title race until a Saturday afternoon in Jacksonville. Georgia ran for 202 yards and held unranked Florida to 1-for-12 on third down, but the Gators sacked QB David Greene four times and intercepted him twice. QB Chris Leak drove the Gators from their 17 to the Georgia 15, where Matt Leach kicked a game-winning field goal with 33 seconds remaining.
1995: Florida 52, Georgia 17
Why is this a heartbreaking loss? The game was being played in Athens, Ga., because of renovations to the Gator Bowl in Jacksonville, Fla., which is significant because UF coach Steve Spurrier found out that no team had ever scored 50 points on the Bulldogs in their home stadium. That's why he scored a TD with 1:10 remaining in the fourth quarter. "We wanted to score 50 because it had never been done," Spurrier said after the game. "Isn't that what you're supposed to do?"
2008: Florida 49, Georgia 10
Florida coach Urban Meyer delivered payback for the Gator Stomp – Georgia's end-zone celebration after Knowshon Moreno's first-quarter TD run -- the year before by calling two timeouts with less than a minute remaining to prolong the Bulldogs' misery.
October, 15, 2012
10/15/12
1:24
PM ET
Halfway through the 2012 season, the comparisons are already coming: Is this Florida team destined to repeat what it accomplished in 2006?
It sounds crazy, it really does, but the similarities are there. The offense isn't exactly pretty, but the defense is stellar. Both running games have bulls in the backfield (2006 had a young Tim Tebow and power back DeShawn Wynn). Urban Meyer used more of a pounding spread, while Will Muschamp (also in his second year, like Meyer) has his team grinding along and outplaying everyone in the second half.
[+] Enlarge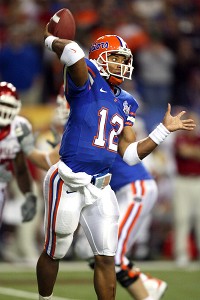 Bob Leverone/Sporting News via Getty ImagesChris Leak was a legitimate threat throwing the ball for the 2006 Florida team, something that lacks in this season's version.
The 2006 team didn't really feel like a true national championship contender halfway through the season because it never blew anyone away with the offense dragging along.
But somehow, the wins kept piling up, as toughness, not flash, got it done ... just like this year's team.
But can these Gators make a run to the national championship, or even the SEC championship? Can a team that has averaged 69 passing yards in its past two games really make it through the rest of its SEC schedule and beyond?
So far a mediocre passing game has been enough with that tremendous defense and rugged running game. But for this team to get on the 2006 team's level, some things have to change, especially with No. 7 South Carolina venturing into the Swamp on Saturday.
For starters, the Gators have to be a threat to throw. In 2006, Chris Leak, who eventually became Florida's all-time leading passer, was very much a passing threat. He didn't throw for a lot of yards, averaging just 210 yards a game, but defenses had to account for a balanced Gators offensive attack.
This year's team doesn't really have that in
Jeff Driskel
. He's a tremendous athlete and can throw a good ball, but he's averaging just 139 yards a game and has four touchdown passes.
Now, Driskel doesn't have the receiving threats Leak had.
Frankie Hammond Jr.
,
Quinton Dunbar
,
Jordan Reed
and
Andre Debose
just don't generate the same excitement as Percy Harvin, Andre Caldwell, Dallas Baker and Cornelius Ingram.
Sure, the Gators haven't exactly needed to throw the ball with their running game and defense, but when Driskel
has
to pass against good defenses, will he be able to? It's still a mystery, and that has to be concerning.
When you compare the defenses, the pass rushes are very different. The 2006 team had Jarvis Moss and Derrick Harvey, who combined for 18.5 sacks. That team had 34 sacks. This one has just 12. Quick passing teams hurt Florida's pass rush to start the year, but it has to be more consistent in SEC play.
This year's team does win the kicking battle with All-American hopeful
Caleb Sturgis
, and you could argue that the running game is stronger with
Mike Gillislee
.
Even with Tebow and Harvin helping out Wynn, those Gators averaged 160 rushing yards a game. Having more of a passing game cut into the rushing numbers, but Wynn wasn't Gillislee, who leads all SEC running backs with 615 rushing yards and is one of only two backs to average 100 or more yards a game (102.5). Wynn finished the 2006 season with just 699 yards.
[+] Enlarge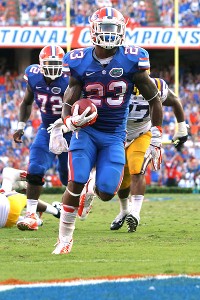 Kim Klement/US PresswireMike Gillislee is averaging 5.1 yards per carry this season.
Add Driskel,
Omarius Hines
,
Solomon Patton
and
Trey Burton
, and these Gators are second in the SEC in rushing, averaging 233.3 yards per game and 236 in conference play.
When it comes to points, both teams are pretty even. The 2006 team averaged 29 points and gave up 9.5 through the first six games (all wins as well), while this year's team is scoring 27.8 and allowing 12.3. This year's team is also averaging around 20 yards fewer (378.3) and giving up 40 more yards (297.2).
So the similarities are obvious, but this team doesn't have the experience the 2006 team had, and you have to wonder if that will eventually catch up to it.
I have to admit I was very surprised to see Florida at No. 2 in the first BCS standings. Don't get me wrong, the Gators have been impressive with those back-to-back SEC road wins, the second-half pushes, the win over LSU, and that defense and running game.
But No. 2?
In the right light, is this Florida team really a 2 or is it more like a 4, or even a 5? We'll find out with South Carolina and Georgia next.
Florida might be a tough team to truly figure out, but the 6-0 start is a pleasant surprise. A team that was expected to be nothing more than a distant third in the East could be playing in Atlanta in early December.
That's something the 2006 team would be very proud of.
September, 13, 2012
9/13/12
9:00
AM ET
Bragging rights will certainly be on the line Saturday when Tennessee hosts Florida at Neyland Stadium in Knoxville, Tenn. However, there could be even more at stake.

While the Volunteers and Gators don't regularly square off in recruiting battles, it does happen -- sometimes with huge consequences. Here are some of the biggest battles between the two SEC East rivals:


Gator Gets
QB Steve Spurrier (Johnson City, Tenn./Science Hill): Over the past 50 years, Spurrier and Tim Tebow are easily the most recognizable names associated with Florida football. Spurrier decided to leave his home state of Tennessee because the Volunteers ran a single wing offense, and Spurrier, as everyone knows by now, wanted to throw the ball. Spurrier, who was a two-time All-American and Heisman Trophy winner, finished his three-year career at Florida with close to 5,000 passing yards and 37 touchdown passes. After playing in the NFL for the 49ers and Buccaneers, he went on to coach Florida to a national championship and six SEC titles.
June, 13, 2012
6/13/12
8:00
AM ET
ESPN's GatorNation brings you the 30 things you need to know about Florida's upcoming 2012 season. For 30 weekdays, we'll preview games, talk about trends, spotlight players and positions, and give you pretty much everything you need to know to be ready for the season before the Sept. 1 opener against Bowling Green.
[+] Enlarge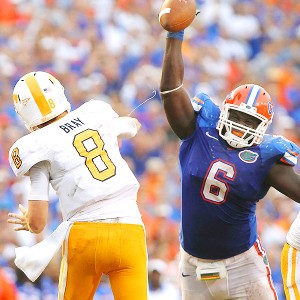 Kim Klement/US PresswireThe Gator defense was tough on Tennessee quarterback Tyler Bray last season in a 33-23 victory in Gainesville, Fla.
GAINESVILLE, Fla. -- Florida-Tennessee used to be one of the better rivalries in the Southeastern Conference.
And Florida used to own it under Steve Spurrier, going 8-4 against the Vols from 1990-2001. But UF lost control of the series during Ron Zook's tenure, losing two of the three games from 2002-04. And they were heart-breakers -- the Hail Mary right before halftime in 2003 and the late Dallas Baker personal foul in 2004.
That changed under Urban Meyer, who placed a huge emphasis on winning "rivalry games." He went 17-2 in games against Tennessee, Georgia, Miami and Florida State, including a 6-0 mark against the Vols.
Will Muschamp went 1-2 in rivalry games in his first season -- but the one victory was over Tennessee.
The Gators have won seven in a row over the Vols, including the last three meetings in Knoxville. This year's game will be Sept. 15 in Knoxville. Here's a look at the winning streak:
June, 6, 2012
6/06/12
8:00
AM ET
ESPN's GatorNation brings you the 30 things you need to know about Florida's upcoming 2012 season. Over the next 30 weekdays, we'll preview games, talk about trends, spotlight players and positions, and give you pretty much everything you need to know to be ready for the season before the Sept. 1 opener against Bowling Green.

GAINESVILLE, Fla. -- For a lot of us, it's hard to remember what happened in 1986. Here's some help:

Gas cost 89 cents a gallon.

The Soviet Union was still reeling from a nuclear reactor explosion in Chernobyl.

The U.S. was still reeling from the Challenger explosion.

"Top Gun" was the year's top-grossing movie.

"The Cosby Show" was television's top show.

And Kentucky beat Florida.

That last thing is pretty significant because the Gators haven't lost to the Wildcats since. Florida has won 25 consecutive games over Kentucky, which is the longest current winning streak in the FBS by a team over a major opponent in an uninterrupted series. It's also the fourth-longest streak in FBS history by a team over a major opponent in a current uninterrupted series.


June, 1, 2012
6/01/12
3:40
PM ET
ESPN's GatorNation brings you the 30 things you need to know about Florida's upcoming 2012 season. Over the next 30 weekdays, we'll preview games, talk about trends, spotlight players and positions, and give you pretty much everything you need to know to be ready for the season before the Sept. 1 opener against Bowling Green.
GAINESVILLE, Fla. -- Sophomores
Jeff Driskel
and
Jacoby Brissett
will continue their battle to be Florida's starting quarterback into August. The competition, UF coach Will Muschamp has said at various Gator club gatherings this spring, is too close to call.
Neither was particularly impressive last season when forced into action because of injuries to starter John Brantley. Brissett completed 46.2 percent of his passes for 206 yards and two touchdowns with four interceptions, while Driskel completed 47.1 percent of his passes for 148 yards with two interceptions.
Brissett started the LSU game and understandably struggled against a Tigers defense loaded with NFL talent. But he and Driskel each played a half against Auburn (Brissett started), and all they could manage was six points against a defense that gave up at least 34 points seven times last season.
They should be better this season. They're a year older, have SEC experience and are much more comfortable with offensive coordinator Brent Pease than Charlie Weis. There's historical evidence to suggest that the one who does win the job will have a solid season. Of the 10 first-year starters at quarterback at UF since 1980, seven threw more touchdowns than interceptions, and all but four threw for at least 2,000 yards.
McElwain discusses new Florida football
SEC SCOREBOARD
Thursday, 9/3
Saturday, 9/5