Florida Gators:

Chris Johnson
January, 3, 2013
1/03/13
9:00
AM ET
NEW ORLEANS -- Florida wrapped up its 2012 season with a surprisingly poor performance against Louisville in the Allstate Sugar Bowl. The Gators' defense, which had been so good all season and was the reason they were in the national championship hunt in late November, played its worst game of the season.

Here is the good and the bad from the 33-23 loss, which snapped UF's four-game bowl winning streak.

THREE UP
December, 30, 2012
12/30/12
8:00
AM ET
Editor's note: Each day between now and Florida's Allstate Sugar Bowl date with Louisville, GatorNation will review the season for a key Gators player and attempt to project what's next. Today we'll look at RB Chris Johnson.
RB Chris Johnson
Sophomore
5 carries for 35 yards; 11 tackles, 1 fumble recovery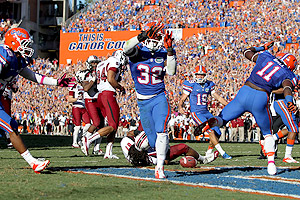 Kim Klement/US PresswireFlorida's Chris Johnson (32) made an impact on special teams.
Role in 2012:
Johnson made little impact offensively, but he was a special-teams standout who led the Gators with 11 tackles on special teams.
The good:
The 5-foot-9, 202-pound Johnson has a knack for knifing through kickoff and punt coverage and making the tackle. Not only does he lead the team in special teams tackles, he leads them in solo stops on special teams as well (five). He also was in the right spot at the right time to help deliver one of the most important plays of the season. His fumble recovery on a kickoff set the Gators up inside the South Carolina 15-yard line and led to a touchdown and 21-3 first-half lead.
The bad:
Johnson needs some stability. He's played three positions since signing with Florida in 2011. He started out as a safety and was playing linebacker when UF coach Will Muschamp asked him to move to running back this past spring. But it doesn't look like he'll get to be a significant contributor on offense because the Gators bring in two high-profile recruits in
Kelvin Taylor
and
Adam Lane
.
Matt Jones
enters the offseason as the starter.
Crystal ball:
Johnson will likely make his biggest impact on special teams in 2013 and beyond. There's too much talent at running back, including
Trey Burton
, for him to get many touches. But there are worse things than being a special-teams standout, especially for a Muschamp-coached team. The Gators' special teams are among the best in the nation and Johnson will eventually end up being a captain of the unit.
December, 21, 2012
12/21/12
8:00
AM ET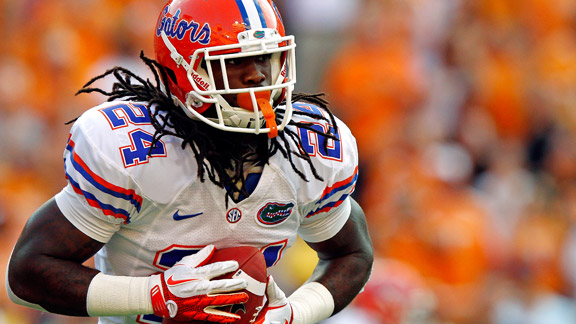 AP Photo/Wade Payne
Editor's note: Each day between now and Florida's Allstate Sugar Bowl date with Louisville, GatorNation will review the season for a key Gators player and attempt to project what's next. Today we'll look at RB Matt Jones.
RB Matt Jones
Freshman
49 carries for 259 yards and 2 TDs; 3 catches for 10 yards
Role in 2012:
After a somewhat slow start, Jones emerged as the top backup to
Mike Gillislee
. He is third on the team in carries and rushing yards and finished the regular season by setting career highs in back-to-back games.
The good:
The 6-foot-2, 226-pound Jones is built like a power runner, but he didn't start the season playing that way. He was tentative and danced a bit in the backfield before hitting the hole. That changed after a chat with coach Will Muschamp, and Jones started hitting the hole aggressively and decisively. He played his best football in November, rushing for 65 yards against Jacksonville State and 81 yards and a touchdown against Florida State. With Gillislee on the sideline with sore ribs, Jones iced the victory over the Seminoles with a 32-yard TD run in the fourth quarter.
The bad:
Despite his size, Jones isn't a great short-yardage back ... yet. It was much easier for him in high school, but gaining a yard or two to convert a first down in the SEC is a little tougher. It's a pad-level and leg-drive issue, and Jones will eventually get it fixed.
Crystal ball:
Gillislee's final game will be the Allstate Sugar Bowl, and Jones will enter spring practices as the top tailback.
Mack Brown
and
Chris Johnson
will be the only other experienced backs. Recruit
Kelvin Taylor
is expected to enroll in January and participate in spring practice, but Jones' experience in the system should enable him to enter fall as the starter. Recruit
Adam Lane
gets added to the mix then as well, but Jones likely will be the opening day starter.
November, 9, 2012
11/09/12
8:00
AM ET
Louisiana Lafayette (5-3) at No. 6 Florida (8-1)
Saturday, 12:21 p.m. ET
Florida Field, Gainesville, Fla.
SEC Network
Gators to watch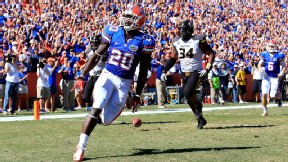 Sam Greenwood/Getty ImagesFlorida senior Omarius Hines will have an expanded role, including kickoff returns, on Saturday.
RB Omarius Hines:
With WR/KR
Andre Debose
out with a knee injury, Hines will have to take over the role as the Gators' primary ball carrier on the jet sweeps and the kick returner. He did it last week against Missouri and had a 36-yard TD run on a jet sweep. Hines isn't as fast as
Solomon Patton
, but he is a more physical runner and that allows the Gators to use him in other ways, too. He's a player who needs to touch the ball more and will get his chance again.
FS Josh Evans:
Evans is having the best season of his career, and not only because he leads the Gators with 62 tackles. He has picked off two passes, broken up three others and has two sacks as a blitzer. His improvement has allowed the Gators to walk SS
Matt Elam
up to the line of scrimmage without worrying about giving up the big play.
RB Chris Johnson:
He has only touched the ball five times on offense, but Johnson is pretty much everywhere on special teams. He nearly had a touchdown on a fumble return against South Carolina and he leads the Gators with nine special teams tackles.
Ragin' Cajuns to watch
QB Terrance Broadway:
He has filled in capably for
Blaine Gautier
(broken hand) and is coming off back-to-back games in which he has accounted for at least 349 yards of total offense. He threw for 265 and rushed for 84 against Arkansas State and threw for 373 and rushed for 87 against Louisiana-Monroe. He'll have a tougher time against UF, which is giving up only 140.1 yards passing per game.
October, 21, 2012
10/21/12
10:16
AM ET
GAINESVILLE, Fla. -- Florida moved a step closer to an SEC East championship by routing South Carolina and former coach Steve Spurrier on Saturday. The Gators didn't look impressive on offense but -- as usual -- made some adjustments at halftime and were better in the second half.
Here are the good and the bad from the 44-11 victory at Florida Field, which marked the first time the Gators have beaten former coach Steve Spurrier without Tim Tebow on the roster:
THREE UP
To continue reading this article you must be an Insider
September, 2, 2012
9/02/12
4:56
PM ET
GAINESVILLE, Fla. -- Florida coach Will Muschamp knows that 21 passes aren't going to get it done against Texas A&M on Saturday.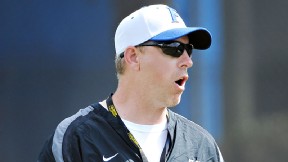 UF CommunicationsFlorida offensive coordinator Brent Pease was told to run the ball in the opener, and the Gators stuck with it against Bowling Green.
The Gators will need to be a little more equitable than they were against the Aggies, running the ball on 67 percent of their offensive snaps. They will have to throw the ball, and not just wide receiver screens, either. They'll have to take shots down the field.
Muschamp says that will happen, that he won't handcuff offensive coordinator Brent Pease the way he did against Bowling Green.
"As our competition heats up a little bit we've got to be able to open up our offense more," Muschamp said moments after the Gators' 27-14 victory. "We will. It's a long season and you've got to understand that it's not just about emptying your bullets [from your gun] here in Game 1. We've got to win the game, do what we need to do to win the game, and that's what we did.
"As we move to Week 2, we need to be able to open ourselves up a little bit more."
That means throwing the ball more than 10 yards down the field, which the Gators rarely did against Bowling Green.
Jacoby Brissett
overthrew
Andre Debose
on a post pattern but did hook up with
Quinton Dunbar
on an 18-yard throw. Frankie Hammond's 50-yard touchdown came after he broke a tackle on a 10-yard pass, and
Jordan Reed's
16-yard catch-and-run came off a 10-yard pass.
Other than those three plays, the Gators had just one other pass play gain more than 10 yards.
The game plan was conservative by design. Muschamp said he wanted the Gators to establish their identity as a power-run team and the only way to do that was to run, run and run some more. He told Pease to pound the football.
"Brent's a lot more imaginative, I can assure you of that, but I told him we're going to run the football," Muschamp said. "We need to establish what we are. You can't talk about it. You've got to be about it and you've got to do it. And we made the decision going into the game that's what we were going to do in this football game.
"… I think that you can preach a certain sermon over and over and over again but until you're willing to go do it out there in front of the Gator Nation and fans, it's not what you're actually about. We're going to be a physical organization and you've got to do it. You can't talk about it."
So the Gators played power football, which at times turned out to be difficult because Bowling Green put extra players near the line of scrimmage. But Muschamp said he was stubborn about sticking with it.
The cost was a chance to really get a look at the two young quarterbacks who have been competing for the starting job since the spring, which is what Muschamp said he wanted to do by rotating Brissett and Driskel. Driskel ended up playing the bulk of the game and threw 16 passes -- all conservative throws. Brissett was on the field for 11 snaps and threw five passes. But even though Driskel got significantly more work, Muschamp said he wasn't ready to name a starter for the game in College Station yet.
Regardless of which quarterback starts or if they rotate, Muschamp has to give Pease more freedom to call the offense he brought with him from Boise State. That means going full bore with the motions and shifts, which weren't used heavily against Bowling Green, and using the passing game as a weapon and not a change of pace.
"It makes the game easier," Hammond said. "It makes defenses back up off you and makes the run game easier because it will open things up for us vertically."
Three observations
Three things of note in Saturday's game:
CB Loucheiz Purifoy lined up at receiver several times, which seems a bit odd. Unless there were suspensions we didn't know about, the Gators had six healthy receivers available: Hammond, Quinton Dunbar, Debose, Solomon Patton, Stephen Alli and Latroy Pittman. Plus, Raphael Andrades was dressed (though he didn't play, according to the game book) and TE Kent Taylor is essentially being used as a slot receiver. It would seem to indicate that the coaching staff has little confidence in the group -- unless it was a move designed to get a better blocker on the field. Purifoy is 6-foot-1, 189 pounds and bigger than Patton, Hammond and Debose.
To continue reading this article you must be an Insider
August, 20, 2012
8/20/12
12:25
PM ET
GAINESVILLE, Fla. – The request came out of nowhere.
[+] Enlarge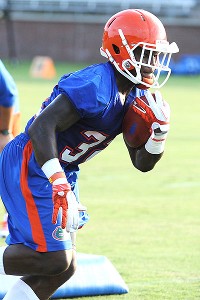 Courtesy of UF CommunicationsSpecial-teams standout Chris Johnson says his two-way playing days before coming to UF will help his transition to RB.
Would you be willing to move to running back?
Chris Johnson
came to Florida in 2011 as a safety but had been playing linebacker when Gators coach Will Muschamp came to him in the spring and asked him that question. He had no idea it was coming and wasn't sure what to make of it at first.
But the more he thought about it, the more he liked it.
"It was shocking at first, but at the same time I'm happy," Johnson said. "I just want to play football and be on the field. I guess I have to adjust to it and learn and whatever can get me on the field quicker I have to go with it.
"For somebody to can think I can play offense, I took it as a compliment."
Johnson was a two-way player at Ocala, Fla./Trinity Catholic, starring at safety but also playing running back. He was recruited as a safety, though he was moved to linebacker shortly after arriving at UF.
August, 18, 2012
8/18/12
1:57
PM ET
GAINESVILLE, Fla. -- Sunday will be a big day for the Florida football team.
The players will have their first day off after 18 consecutive days of practice, but the coaching staff will be hunkered in the football facility trying to figure out which players need to be on the field and in what roles before game-planning for the season opener against Bowling Green begins.
[+] Enlarge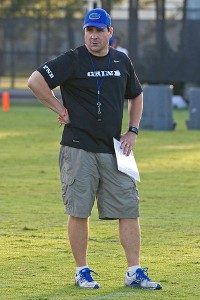 UF CommunicationsWill Muschamp, shown earlier during Florida's preseason camp, said on Saturday that decisions will soon be made about players' roles.
"We've got to start figuring out where these reps are going," UF coach Will Muschamp said. "That includes special teams, offense and defense. So right now certainly it's a critical time these past two days for our players to take a step forward."
The Gators scrimmaged on Friday and had a two-hour workout in front of about 1,000 fans in the Swamp on Saturday. That's the final impression the staff will have before making decisions about the depth chart. There won't be a decision made on the starting quarterback, however. That won't be made until the end of next week, Muschamp said.
"We do this every day, but it'll be in major detail tomorrow," Muschamp said. "Who are we going to win the SEC championship with? That's my question. It's not about who we can win with. We understand what our goal is here and where we need to go. It'll be probably a couple hours at least. We'll go through it. Who does D.J. [Durkin] really need to concentrate on on special teams? Who's ready for this opportunity?
"No decisions tomorrow are made about freshmen, whether they're going to play or not. That's not really what it is. We're still investing time in everybody, but we need to start dwindling the reps down and we need these guys to continue to pick it up."
August, 17, 2012
8/17/12
9:00
AM ET
ESPN's GatorNation is previewing each position leading up to the start of the season with a short video. Each Friday until the season kicks off, Michael DiRocco and Jeff Barlis will analyze a position group, tell you who is starting and why, and provide a breakdown of the depth at the position. This week it's running back/fullback.
The starters:
RB
Mike Gillislee
(Sr.) and FB
Trey Burton
(Jr.)
The backups:
RB
Mack Brown
(Rso.), RB
Chris Johnson
(So.), RB
Omarius Hines
(RSr.), RB
Matt Jones
(Fr.), FB
Hunter Joyer
(So.)
Comment:
UF needs a back that is capable of carrying it 20 times and running between the tackles, and Gillislee won the starting job in the spring by proving he can stay healthy and be a reliable pass-blocker. He has produced in the limited opportunities he's had (920 yards in three season). If he falters, Brown and Jones likely will get the next chance. Burton is versatile enough to line up at several positions, including wildcat QB. Joyer is a bruising blocker and short-yardage runner.
August, 10, 2012
8/10/12
1:17
PM ET
GAINESVILLE, Fla. -- Florida has lost a pair of reserve defensive linemen to knee injuries this week, and at least one is definitely out for the season.
UF coach Will Muschamp said Friday that senior defensive tackle
Nick Alajajian
suffered a fractured right knee and will miss the 2012 season and redshirt junior defensive end
Kedric Johnson
suffered a dislocated left knee and will miss a significant period of time. Both players were involved in special teams and haven't made any impact on defense, but losing those two does hurt the Gators in terms of veteran depth.
Alajajian (6-foot-4, 285 pounds) was a reserve offensive lineman for his first three seasons but was moved to defensive tackle in the spring. Johnson has just nine tackles and one sack in 25 career games.
April, 7, 2012
4/07/12
7:06
PM ET
GAINESVILLE, Fla. -- Defensive end/linebacker
Ronald Powell
was having the best spring of his career until he was forced to leave Saturday's spring game with a left knee injury.
Florida coach Will Muschamp said Powell suffered a sprain and seemed to indicate that the injury was not particularly serious. However, Powell was on crutches during the second half of the Blue's 21-20 victory over the Orange at Florida Field.
Powell (6-foot-4, 250 pounds) had been UF's best defensive player throughout the spring. He was named the defensive player of the day during both of UF's scrimmages and appeared to be on the verge of becoming the elite pass-rusher many predicted he would become when UF signed him as the nation's top recruit in 2010.
To continue reading this article you must be an Insider
March, 17, 2012
3/17/12
6:47
PM ET
GAINESVILLE, Fla. -- Here are some observations/thoughts from Florida's open spring practice on Saturday afternoon:
[+] Enlarge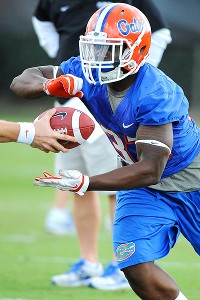 Courtesy UF CommunicationsFlorida running back Mack Brown showed off a nice jump-cut during practice.
Cornerback
Jaylen Watkins
had two interceptions, giving him three in the two open practices. He picked off
Jeff Driskel
's pass intended for
Andre Debose
in 11-on-11 work and then out-fought
Frankie Hammond
for an under-thrown ball by
Tyler Murphy
on a play in which Murphy scrambled to his left. Debose, however, got a bit of revenge in one-on-one passing drills. He knocked Watkins toward the sideline and cut inside and got away clean -- although he dropped the pass.
The Gators were in full pads for the first time and spent about 10 minutes in the Oklahoma drill. Offensive linemen
Sam Robey
and D.J. Humphries had two impressive blocks in the drill.
To continue reading this article you must be an Insider
March, 16, 2012
3/16/12
10:01
PM ET
GAINESVILLE, Fla. -- Here are some observations/thoughts from Florida's open spring practice on Friday afternoon:
[+] Enlarge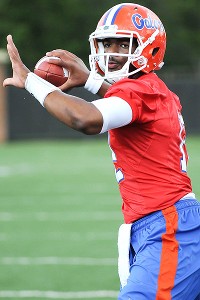 Courtesy UF CommunicationsFlorida quarterback Jacoby Brissett found Omarius Hines for a long TD pass on Friday.
• Neither quarterback looked particularly impressive on Friday. Both had several good throws --
Jeff Driskel
hooked up with
Ja'Juan Story
on a deep pass,
Jacoby Brissett
and running back/tight end
Omarius Hines
combined for a long TD pass -- and both had several poor throws. Brissett did throw two interceptions, including and overthrown ball that cornerback
Jaylen Watkins
grabbed. The other was a nice play by safety
Valdez Showers
.
•
Chris Johnson
has been moved from safety to running back. He spent some time there at Ocala (Fla.) Trinity Catholic but was supposed to be a full-time safety at UF. He played mainly on special teams last season as a freshman. The move was made to create depth at the running back spot behind
Mike Gillislee
and
Mack Brown
. Hines also is working there, and he had a few nice runs Friday.
To continue reading this article you must be an Insider
November, 25, 2011
11/25/11
3:40
PM ET
GAINESVILLE, Fla. -- Florida running back Jeff Demps said earlier this week that he'd pursue an NFL career instead of attempt to qualify for the 2012 Olympics in London.

And offensive coordinator Charlie Weis, who coached in the NFL for 16 years and has four Super Bowl rings, said Demps' speed will certainly get him drafted, despite his size (5-foot-8, 188 pounds).

"I think anyone who runs that fast, you know, you can't ignore it," Weis said. "You can't coach speed. When you can run that fast, that immediately puts you in the discussion in everyone's draft room. There isn't a draft room that he won't get discussed in. And he'll probably get taken higher than his stats would be because of those physical attributes. That speed is rare."

Demps has elite speed. He has a personal-best 10.01 seconds in the 100 meters, which he ran in high school, and he has won NCAA indoor and outdoor titles in the event.

Football players, though, are measured in 40-yard dash times. Depending on where you look, Demps' 40 time is listed as either 4.26 or 4.24 seconds. If he were to post either of those times at the NFL Combine, they would rank among the fastest times ever recorded electronically in NFL history.

The NFL has only been electronically recording 40 times since 2000, and the only player to have posted a time that would beat Demps' 4.26 is Tennessee running back Chris Johnson. He ran a 4.24 at the combine in 2008, a number which helped get him taken with the 24th pick of the first round by the Titans. That's the fastest timed 40 in NFL history.

The 40 was hand-timed before 2000, and there are 11 players who posted better times than Johnson's 4.24, including Bo Jackson (4.12), Michael Bennett (4.13), Alexander Wright (4.14) and Darrell Green (4.15).

Weis' statement that Demps probably will be taken higher than his stats would warrant -- 3,547 all-purpose yards (2,448 rushing) -- poses an interesting question: In which round would a team select Demps? Research seems to indicate he'd be gone by the fourth round.

Nine of the 14 players with the 10 fastest 40 times since 2000 were taken in the fourth round or higher, including six in the first round. Kansas State receiver Aaron Lockett was taken in the seventh round by Tampa Bay in 2002.

Here's something that shouldn't be a surprise: The Oakland Raiders have drafted five of those players, including two in the first round.

Here's a look at the 10 fastest 40 times since 2000 and where each player was selected:

" East Carolina RB Chris Johnson (4.24 seconds) -- first round by Tennessee (24th overall pick) in 2002.

" Hampton WR Jerome Mathis (4.28) -- fourth round by Houston in 2005.

" Clemson WR Jacoby Ford (4.28) -- fourth round by Oakland in 2010.

" Tennessee State CB Dominique Rodgers-Cromartie (4.29) -- first round by Arizona (16th overall) in 2008.

" Houston CB Stanford Routt (4.29) -- second round by Oakland in 2005.

" Nebraska CB Fabian Washington (4.29) -- first round by Oakland (23rd overall) in 2005.

" Maryland WR Darrius Heyward-Bey (4.30) -- first round by Oakland (seventh overall) in 2009.

" Kansas State WR Yamon Figurs (4.30) -- third round by Baltimore in 2007.

" Oklahoma State CB Darrent Williams (4.30) -- second round by Denver in 2005.

" Connecticut CB Tyvon Branch (4.31) -- fourth round by Oakland in 2008.

" Penn State CB Justin King (4.31) -- fourth round by St. Louis in 2008.

" South Carolina CB Jonathan Joseph (4.31) -- first round by Cincinnati (24th overall) in 2006.

" Kansas State WR Aaron Lockett (4.31) -- seventh round by Tampa Bay in 2002.

" Miami WR Santana Moss (4.31) -- first round by the New York Jets (16th overall) in 2001.

Of those 14 players, nine are still in the NFL. Three of the five who aren't active played at least three years (Mathis, Washington, Figurs), one played two years (Williams) and one didn't make a roster (Lockett).
College Football Minute
SEC SCOREBOARD
Thursday, 8/28
Saturday, 8/30
Sunday, 8/31