Florida Gators:

Aubrey Hill
June, 12, 2014
6/12/14
10:30
AM ET
GAINESVILLE, Fla. -- One thing is clear in the wake of
Joker Phillips' sudden departure from Florida
on Wednesday: The Gators haven't had much luck with wide receivers coaches in recent years.
It's no coincidence that Florida hasn't had a wideout with more than 600 yards since
Riley Cooper
led the team with 961 yards in 2009. That was UF's last season of stability at a coaching position that has been turbulent ever since.
In 2009, Billy Gonzales ended a five-year run as Florida's wide receivers coach when he
reportedly resigned with a sticky note
that said, "I'm going to LSU."
Then-Florida head coach Urban Meyer replaced Gonzales with Central Michigan receivers coach Zach Azzanni, who only lasted one season. He was not retained when new head coach Will Muschamp took over for Meyer and assembled his staff in 2011.
Muschamp brought in former Gators standout Aubrey Hill, who coached one season before
resigning amid allegations
of involvement with improper benefits in his previous coaching job at the University of Miami.
Hill's departure came in August 2012, weeks before the season began.
"Aubrey informed me he was resigning for personal reasons that have nothing to do with the University of Florida," Muschamp said in a statement at the time.
Muschamp promoted graduate assistant Bush Hamdan to replace Hill and then hired Phillips after the 2012 season.
At the time, Phillips was
quoted on the school's official website
as saying, "I'm looking forward to contributing to the long-term vision that [Muschamp] has for this program."
Surely that vision wasn't one of nearly constant turnover, as Phillips left for "personal reasons" of his own.
With graduate assistant Chris Leak's promotion on Wednesday, Florida is on its sixth wide receivers coach in six seasons.
Perhaps that's why Muschamp made sure to mention Leak's standing, saying, "He is one of the all-time Gator greats and being at Florida is very important to him."
In promoting Leak, Muschamp is hoping the former star quarterback is ready to be a full-time assistant coach at the age of 29 and can bring the continuity that has been missing for so long.
Leak inherits a
receiving corps
largely comprised of talented youngsters who must be developed. Florida has six wide receivers entering their first or second season this fall.
When asked early in spring practice if this group is the most talented he's had in his three years at Florida, Muschamp said, "I don't think there's any question."
Now, after Phillips' departure, the unit and its inexperienced coach are surrounded by questions.
If the Gators are to rediscover their winning ways through the air, Leak and his receivers will have to factor in prominently. If they do that, perhaps Florida will have something as rare as a 1,000-yard receiver -- a wide receivers coach roaming the sidelines for a second season.
January, 10, 2013
1/10/13
4:00
PM ET
GAINESVILLE, Fla. -- I was unable to get to all the questions on Wednesday's weekly chat, but since there were so many -- and the angst from Florida's Allstate Sugar Bowl loss to Louisville was still fresh -- we decided to answer them today.
Dave (New Jersey): Mike you say we are done with our class at 26? Don't we have 8 EEs that can date back to next year giving us another 6-7 spots open in this class? We lost a lot of bodies so the staff must get at least 31 in this class IMO. Thoughts?
The Gators will try and sign several more players, but Muschamp has gone on record before saying he's not going to sign players just to fill out a class. I anticipate only two to three more commitments, if that. UF is still after DT
Jarran Reed
,
Jay-nard Bostwick
,
Montravius Adams
,
Elijah Daniel
,
Jason Hatcher
,
Chris Jones
,
James Clark
,
Alex Collins
,
Jalen Ramsey
,
Kennard Swanson
and
Quinton Powell
. If Muschamp can get some of those guys, fine, but if not, he won't just sign guys so he can fill out the class.
RemmyR (Maple Shade, N.J.): Just want to say thanks to you for dropping UF science on us every week!!!
You're welcome. I enjoy interacting with fans. You guys are the lifeblood of what I do so these chats are the least I can do.
August, 3, 2012
8/03/12
9:54
PM ET
GAINESVILLE, Fla. – Florida coach Will Muschamp said he was surprised when receivers coach and recruiting coordinator Aubrey Hill turned in his resignation on Thursday night, but it didn't take him long to decide how he wanted to replace the former Gators receiver.
[+] Enlarge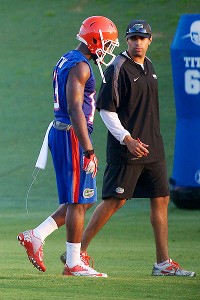 UF CommunicationsFlorida offensive graduate assistant Bush Hamdan will help coach receivers after the resignation of Aubrey Hill.
He immediately chose graduate assistant Bush Hamdan.
The former backup quarterback at Boise State came to UF in January with offensive coordinator Brent Pease, is intimately familiar with Pease's offense and has experience coaching at the BCS level at Maryland. It was a no-brainer for Muschamp.
"He's a very mature guy," Muschamp said after the Gators' first day of practice on Friday. "He's an outstanding football coach. Bush has got a really great background with the offense. I feel very comfortable with that situation. I'm not at all worried. I never blinked."
After playing at Boise State from 2005-08, he spent a year at Colorado before becoming an offensive GA at Maryland in 2010 under Ralph Friedgen. When assistant coach James Franklin left to become the head coach at Vanderbilt at the end of the season, Hamdan coached the Terps' quarterbacks in the bowl game.
Hamdan coached tight ends at Sacramento State in 2011 before joining UF's staff when Muschamp hired Pease.
"Bush is very experienced and knows the offense terminology," Muschamp said. "He's got a great rapport with our players. They're disappointed (in Hill resigning) obviously, but fully embraced (Hamdan) this morning."
August, 3, 2012
8/03/12
12:22
PM ET
Florida opened practice to some interesting news when wide receivers coach
Aubrey Hill resigned
for what he and the school said were for "personal reasons."
With Hill moving on, Will Muschamp will now look to offensive coordinator Brent Pease and graduate assistant Bush Hamdan to work with the Gators' wide receivers. That means Pease will be running Florida's offense, working with the quarterbacks and tending to the receivers. That might sound like a lot to put on a new coordinator's plate, but Hamdan should help ease Pease's workload.
[+] Enlarge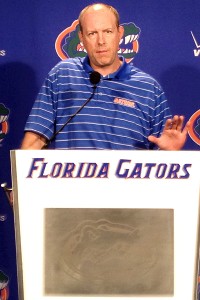 Jeff Barlis/ESPN.comBrent Pease will now work with receivers, in addition to working with quarterbacks and coordinating the offense.
Pease probably wouldn't have much of an issue working with receivers more because he has coached receivers before at Boise State and Montana, but that's still a lot to ask of him in his first year. So having Hamdan there is a plus. He was a backup quarterback at Boise while Pease was there, meaning he knows the terminology and the ins and outs of Pease's offense. Relaying info to receivers shouldn't be too tough for him and he'll be looked at as an educator at times.
Hamdan has experience coaching pass-catchers, as he was the tight ends coach at Sacramento State before joining Florida's staff in January. Also, being a quarterback means he knows a thing or two about working with wide receivers and knows most of their tendencies.
With Hill's connection to the Miami probe involving booster Nevin Shapiro, Muschamp had to be prepared if something were to happen with Hill. Hamdan isn't a big name by any means, but Muschamp wouldn't have promoted him if he didn't trust him to fill in.
Word out of Florida's camp is that Hamdan started working with the receivers mostly by himself during Friday morning's practice, so the transition has already begun.
While Pease will have new responsibilities this fall, he won't have to carry the entire load himself. And that's a very good thing for the Gators, as players try to get more familiar with their new coordinator.
One thing to point out is just how vocal and interactive Hamdan is with players. While I was on the sideline for Florida's spring game I saw Hamdan making sure he was the most involved coach on my side of the field. He was directing the quarterbacks -- on and off the field -- after every single pass. He was barking out plays, shifts and suggestions to just about everyone lining up on offense.
He clearly knows Pease's offense very well and he didn't just keep his comments to the quarterbacks. He was instructing receivers and running backs on footwork and routes when he saw something he didn't like.
Losing Hill this close to the start of the season certainly isn't what Florida wanted, but the duo of Pease and Hamdan should be enough to get the Gators through the fall.
August, 3, 2012
8/03/12
11:20
AM ET
GAINESVILLE, Fla. -- Aubrey Hill's resignation could cost Florida at least one 2013 commitment.
Four-star receiver
Rodney Adams
(St. Petersburg, Fla./Lakewood) told GatorNation Friday morning that he was going to reopen his recruitment after hearing that Hill had quit as the Gators' receivers coach and recruiting coordinator.
"Now that he's resigned, I'll look into what receivers coach they're going to bring in," the 6-foot-1, 166-pound Adams said. "Right now I'm going to open up my recruitment."
January, 24, 2012
1/24/12
7:54
PM ET
GAINESVILLE, Fla. -- Florida has hired Jon Haskins as its new director of player personnel.

Haskins spent the 2011 season at Nevada after spending the previous three at Stanford, where he was a four-year starter as a linebacker from 1994-97. At Nevada, Haskins oversaw all aspects of recruiting, according to the school's web site.

Haskins takes over for Mark Pantoni, who left in November to join former UF coach Urban Meyer at Ohio State. Pantoni's duties included football operations, working with recruiting coordinator Aubrey Hill and helping run UF's Friday Night Lights, a popular one-night summer camp and recruiting showcase. Haskins' exact duties are not yet established.
McElwain discusses new Florida football
SEC SCOREBOARD
Thursday, 9/3
Saturday, 9/5